10 Creative Craft Rooms with Style!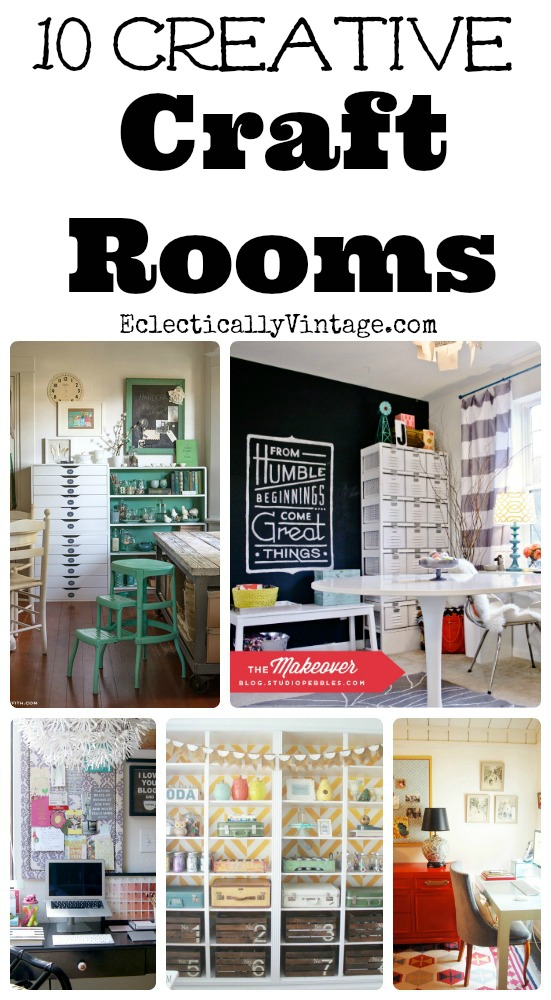 I have a dream.
A dream that when I walk into my guest bedroom turned craft room/office/mom cave/great escape, I will be in organized nirvana.
The heavens will part …
the choirs will sing …
and little winged cherubs will descend down upon my space and magically turn it into a "so organized that you can bounce a quarter off of it" room.
The saga began with my blinged out cowhide and continued to my organized craft closet (with my DIY chalkboard labels to save serious cash) and I've been feverishly working behind the scenes (with the cherubs) to finish my plan for world domination.
In the meantime enjoy some of my favorite, creative craft room/home offices.
Jennifer of Studio Pebbles has a glam craft room that I covet and don't even get me started on that fun wall saying, the lockers and that chandelier of bingo cards!
Beckie of Infarrantly Creative has the mother of all craft rooms.
She DIY'd all of those built-in cabinets and that fabulously huge counter height island and I love the creative way she stores her paint!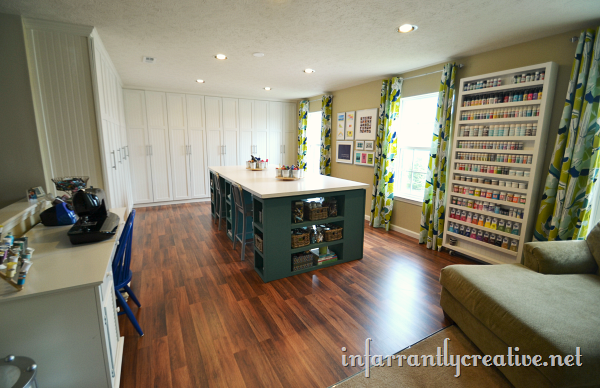 With all of the color and glitz going on from various projects, I love a clean, white craft area and double sided desk for two from Scrapbook.
What's not to love about vintage suitcase & crate storage from Lolly Jane!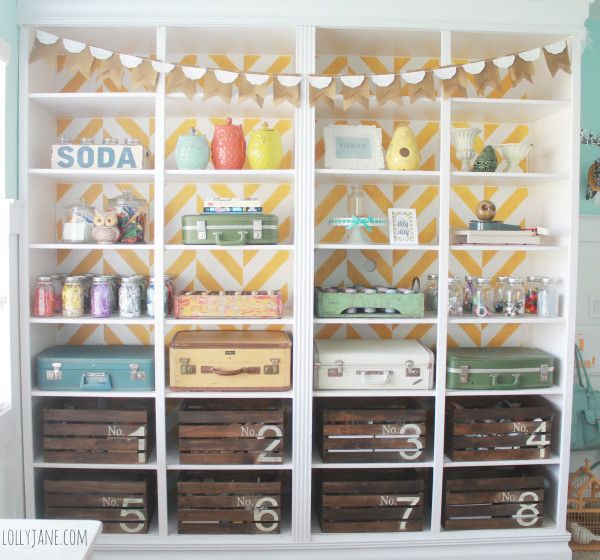 I want to wear camouflage and hide in the bushes until Lia Griffith falls asleep then roll that amazing wood plank photo table and vintage stool out of her house and into mine!
I love the everything within reach storage of Beth at Unskinny Boppy's craft room.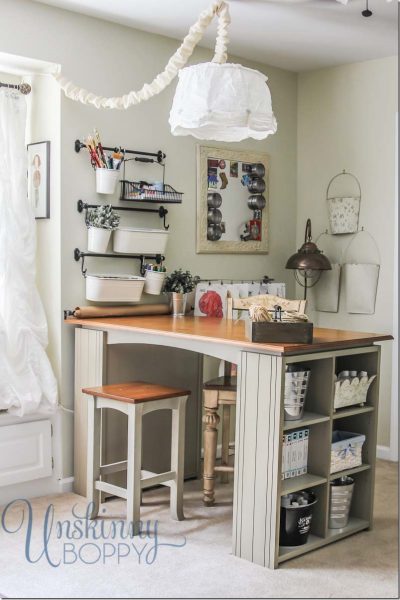 Little Green Notebook had me at red lacquer console table – perfect for storing all the chaos!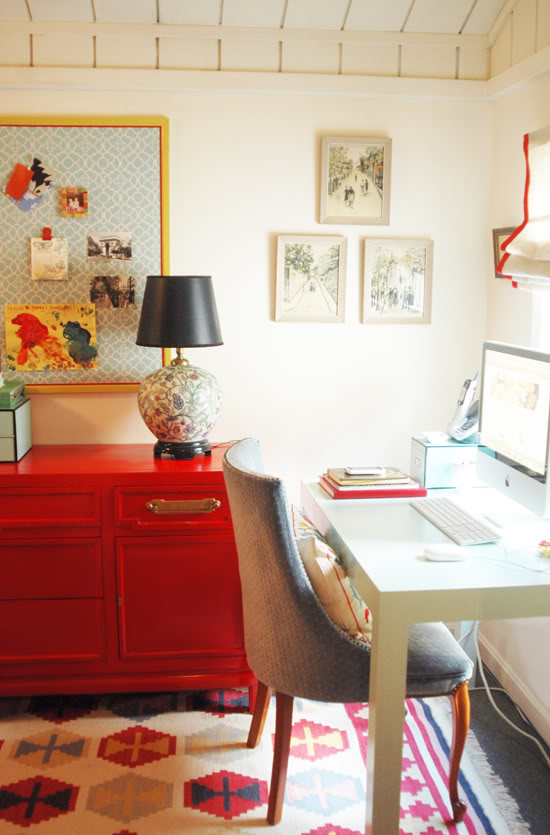 I love how Rhoda of Southern Hospitality used color and open shelves in her cheery office.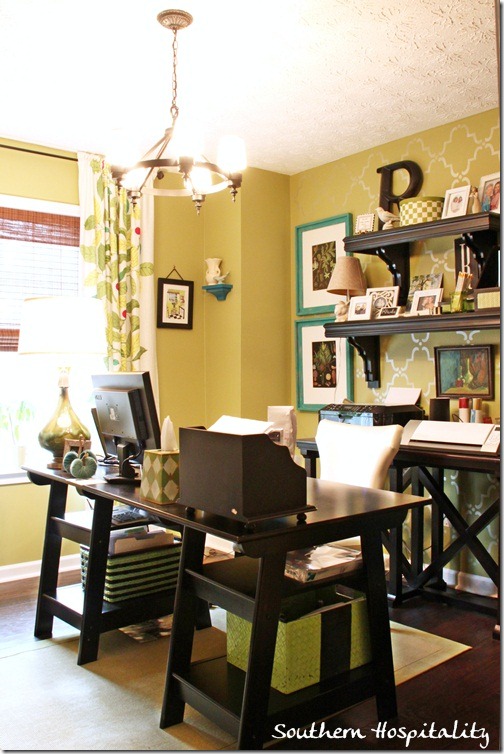 Think there's no room for a home office, think again!
Meredith, of Meredith & Gwyneth the New Yorkie, carved out a chic little workspace right as you enter through her fun pink door.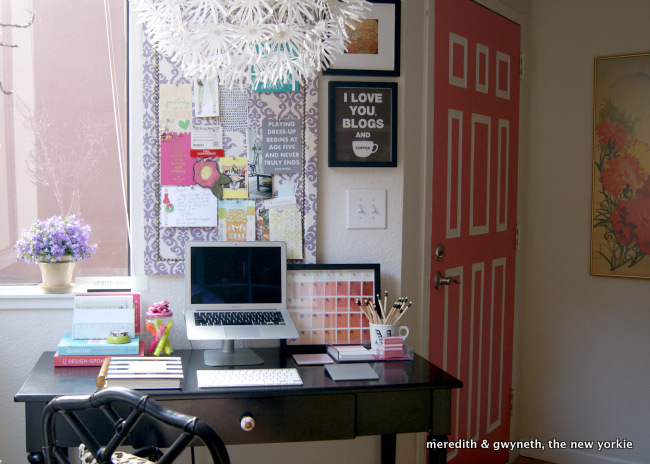 Kim at Living Vintage has the most vintage goodness office I've ever seen.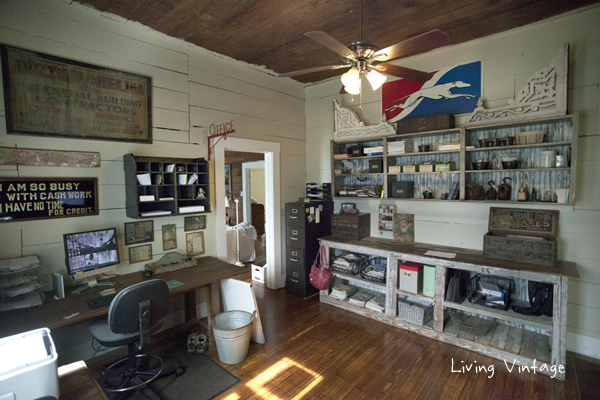 So while I wait for the cherubs to arrive to help me work my craft room goodness, I'll be dreaming of these dreamy creative spaces.