10 Favorite Trader Joe's Gift Ideas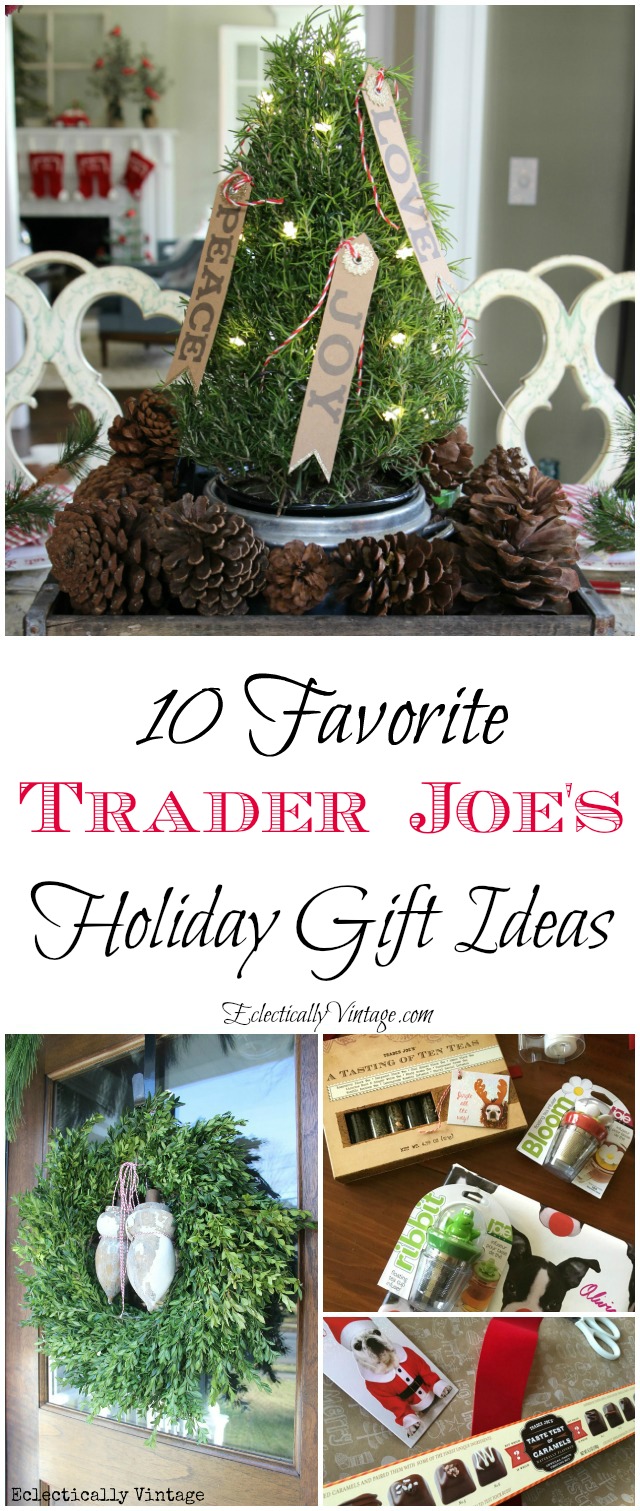 You're invited to a last minute party.
What do you bring?
Wow your host or anyone else on your gift list with these thoughtful (and affordable) gift ideas from Trader Joe's.
Trader Joe's and I are having an affair.
Sometimes, I sneak off in the middle of the day to meet Joe.
He showers me with me organic fruit and veggies, coconut oil, my favorite olive tapenade, sparkling lemonade in the cutest glass bottles.
I could go on.
At Christmas time, the store becomes even more magical when filled with delicious delights and more as far as the eye can see.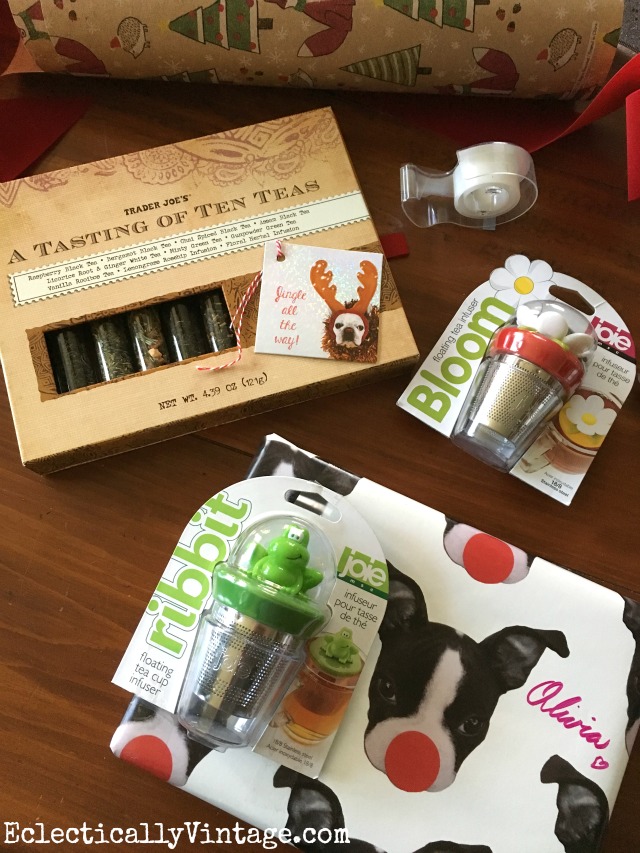 10 Trader Joe's Christmas Gift Ideas
Rosemary Tree ($12.99) – the perfect hostess gift (especially when put in a fun container like an old ice bucket or milk glass (I love the little glitter trees too)
Boxwood Wreath ($9.99) – a classic
Fresh Garland – I love hanging two garlands (for fullness) around my front door
Amaryllis Bulb Kit ($8.99) – boxed up and ready to plant complete with soil and cute tin container
Gingerbread Chalet ($7.99) – a traditional German hexenhaus (witch's house) comes complete with a candy little old lady, kids and dog and more candy for decorating – we decorate one every year
A Tasting of Ten Teas ($12.99) – 10 little glass vials filled with a variety of teas from different countries (I taped cute tea infusers from HomeGoods onto the package for a fun replacement to a typical bow)
Taste Test of Caramels ($5.99) – a dozen unique flavors in a long box but which is which? Invite your friends and have a caramel tasting party! Hurry, the sales girl told me they sell out quickly!
Body Butter Trio ($7.99) – orange clove, coriander cilantro and fresh pear come in a boxed set. Or try the single container of pomegranate body butter (it's going in my pomegranate loving daughter's stocking)
Popcorn Tin ($9.99) – caramel, white cheddar, kettle and olive oil in a reusable tin ($9.99)
A Close Shave Shaving Kit ($9.99) – the perfect gift for the hard to shop for guy in your life – complete with wood handled shaving brush, soap and balm all boxed up for an easy to give gift
Check out some more of my favorite hostess gift ideas here.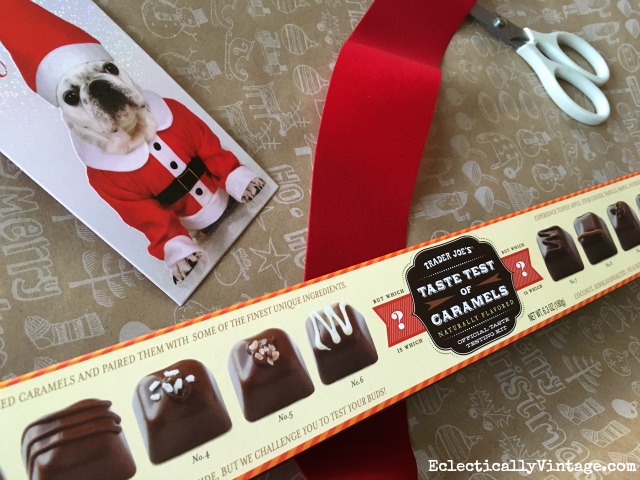 Boxwood wreaths are so festive.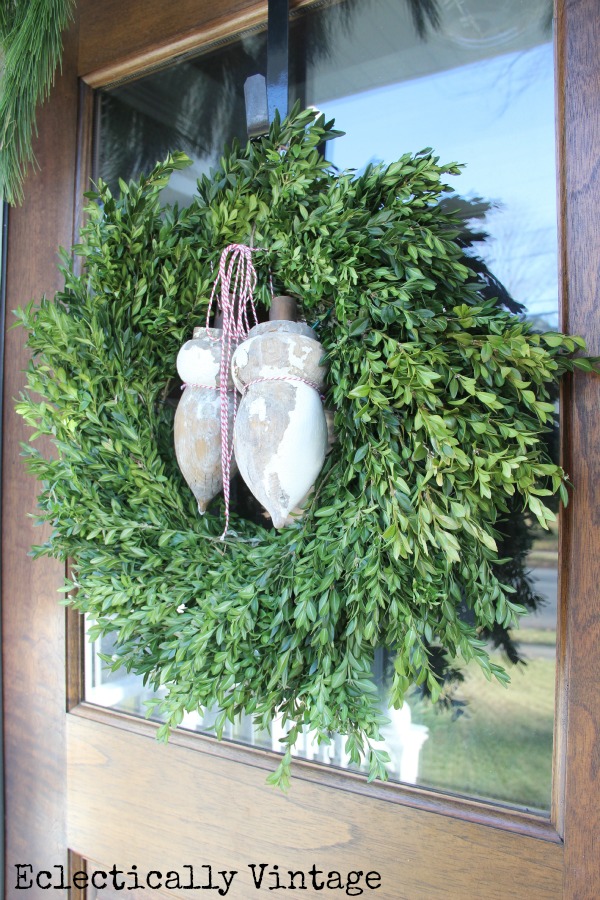 Fresh garland – layer two garlands for a fuller look.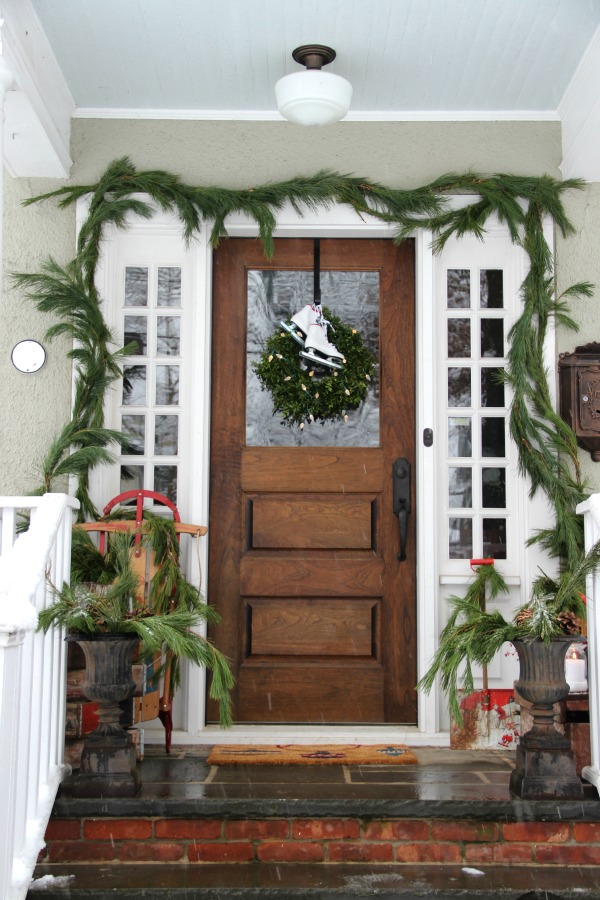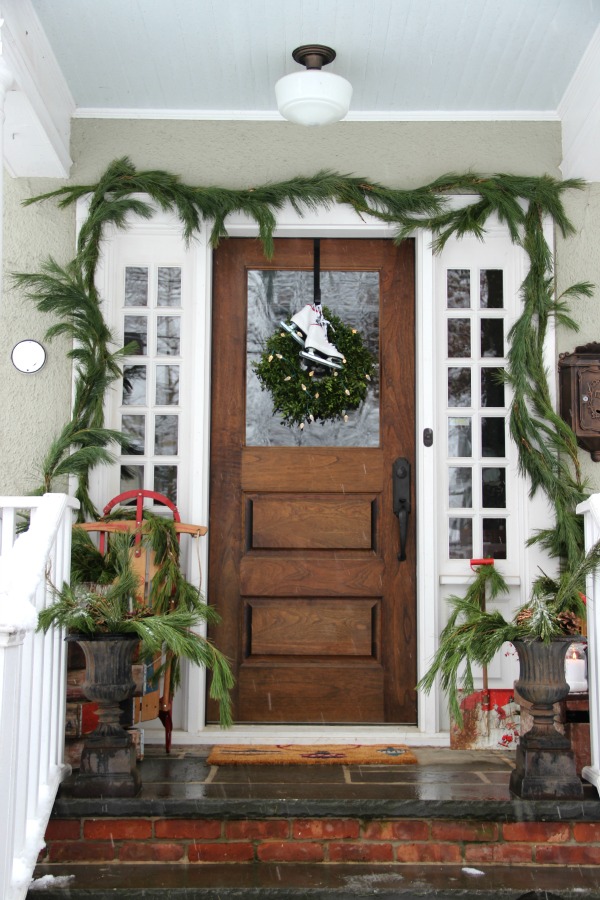 When you're done picking up gifts for everyone on your list, stock up on some of my party must haves including sparkling lemonades in glass bottles, olive tapenade (perfect for the appetizer platter), pomegranate seeds (pop a few in champagne glasses), Candy Cane Joe Joe's (cookies) and eggnog ice cream.
What are your Trader Joe's must haves?
P.S. Need a gift for that hard to shop for person in your life – check out these great ideas here.
P.S. I made the wrapping paper – it's my little Sushi the Rudolph. You can get it HERE.