My Thanksgiving Tablescape (and 25 More)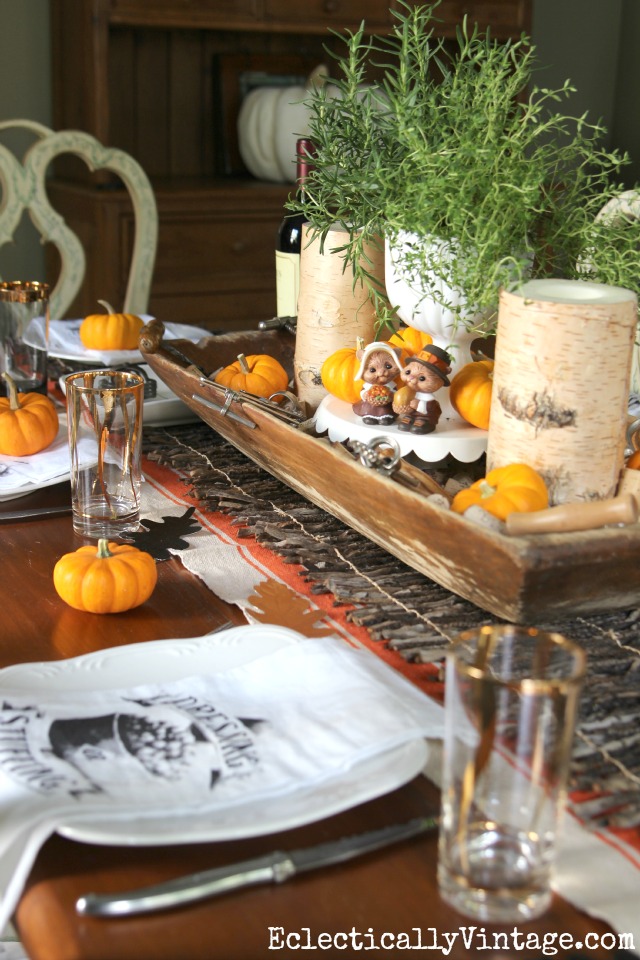 Thanksgiving is all about friends, family, elastic waist pants and carbs, lots and lots of carbs!
So when my friend Bre asked me to join 25 other creative friends for the mother of all Thanksgiving tablescapes tours, I was happier than the pardoned White House turkey.
I've shared my full fall home tour here but now it's time to pull up a chair and pass the biscuits (full source list at end of post).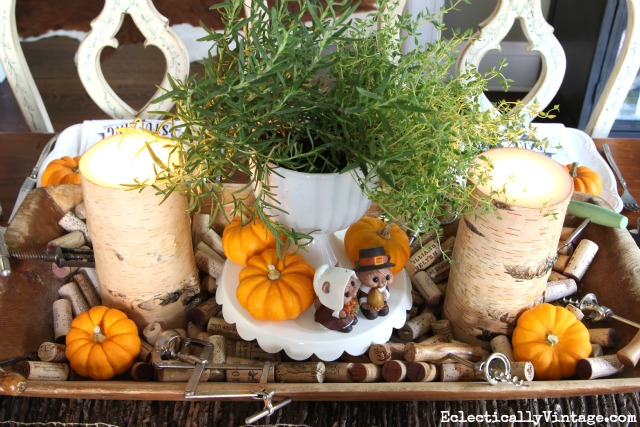 Think outside the bouquet when setting a table.
A vintage dough bowl is filled with corks (buy corks complete with wine stains at a great price here), birch bark candles, vintage corkscrews and rosemary and thyme from the supermarket.  Mini pumpkins add color.
Do you prefer light or dark meat?  Love this set of three Thanksgiving dish towels turned napkins that will have guests discussing the age old debate of light or dark, dressing or stuffing, whole or jellied cranberries!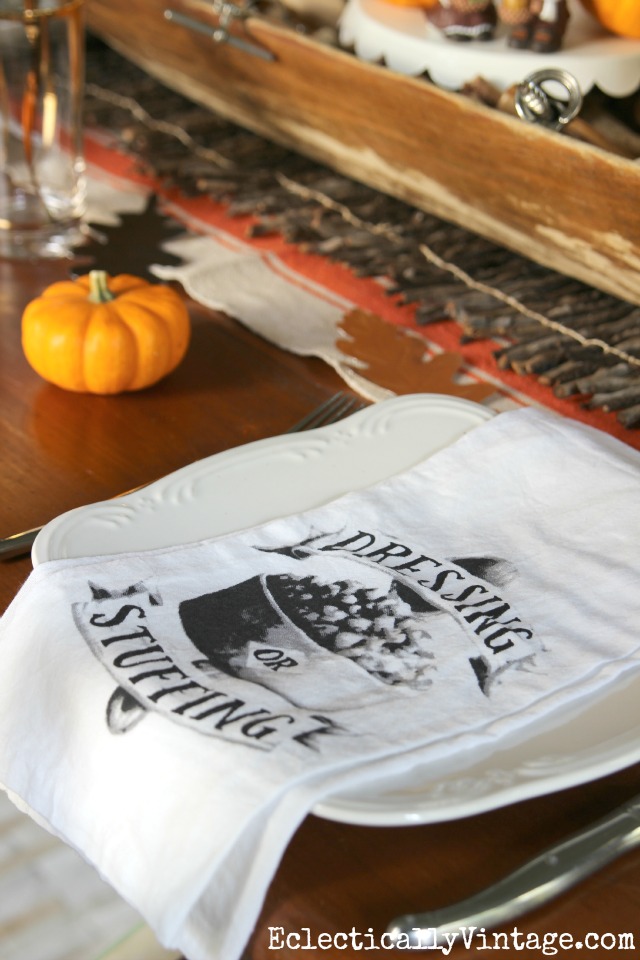 It's all about layering and texture and the orange striped table runner sets off the rustic twig runner on top.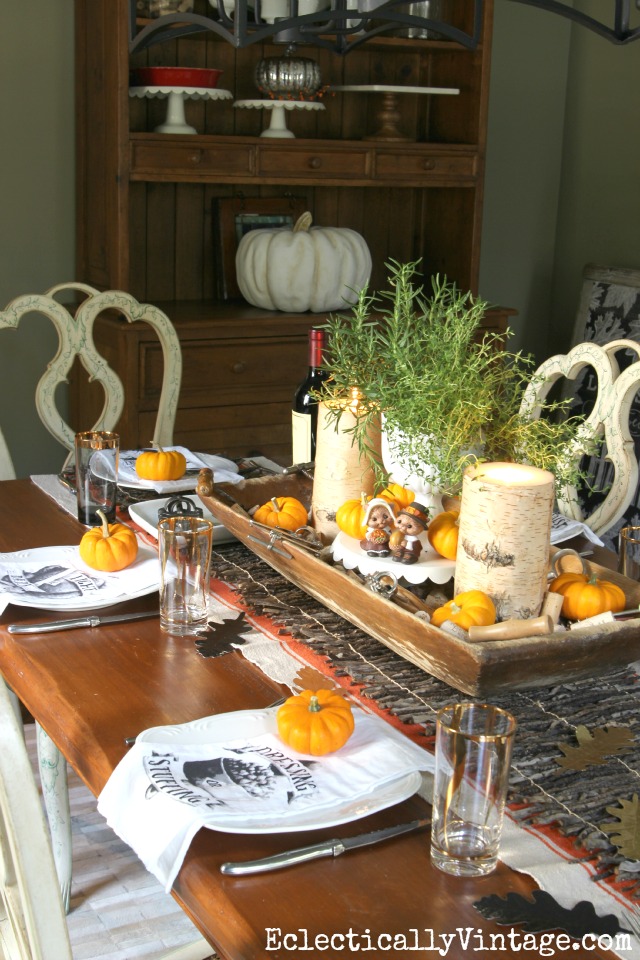 See how I made these embossed metal leaves to scatter across the table for some bling.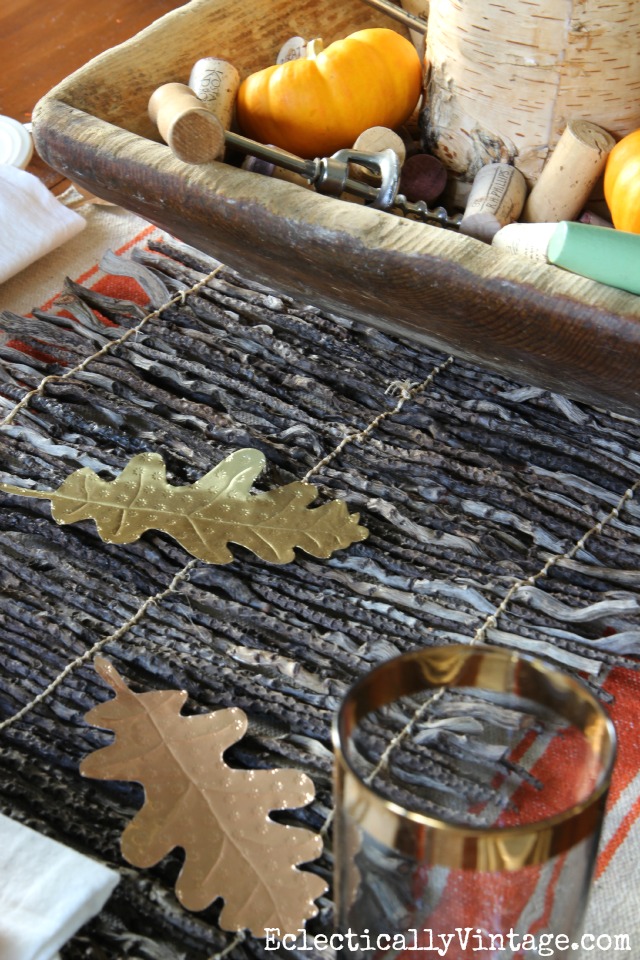 I'm nuts about my squirrel plates but I'm coveting these wishbone plates and they're on sale!
Back in the day when I was a big haired college girl, I scooped up these salt and pepper shakers when I worked at a Hallmark store.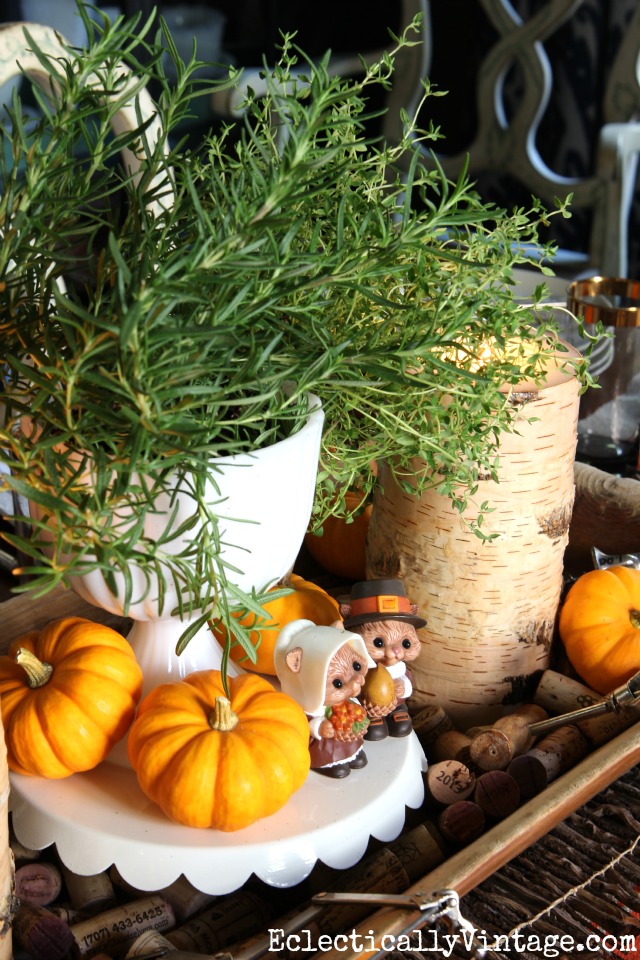 Wine anyone? Today, my huge bottle drying rack (see a smaller one HERE at an amazing price) holds bottles but it would be perfect for holding Christmas ornaments, mugs and anything else I can dream up.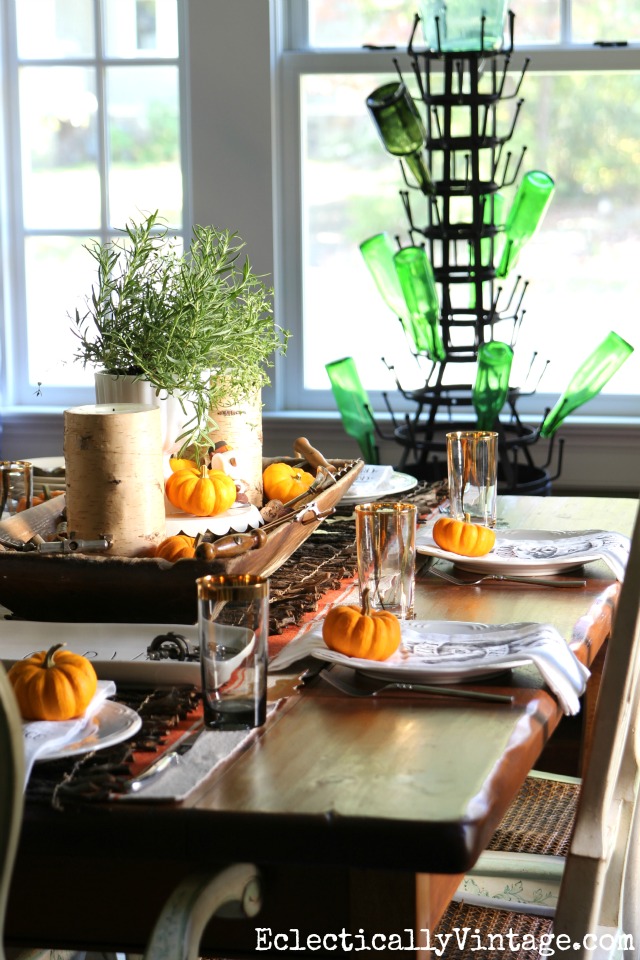 Happy Thanksgiving.
P.S. Let's end this debate once and for all.
Dressing or stuffing?
Light or dark meat?
Whole cranberries or jellied?
SALE ALERT
P.P.S. Williams Sonoma is having 20% off all their dinnerware, flatware and tabletop with their Thanksgiving Tabletop Event.  Crate and Barrel is also having a 20% off dinnerware wine and dine sale
P.P.P.S. Make sure to check out my Fall Home Tour.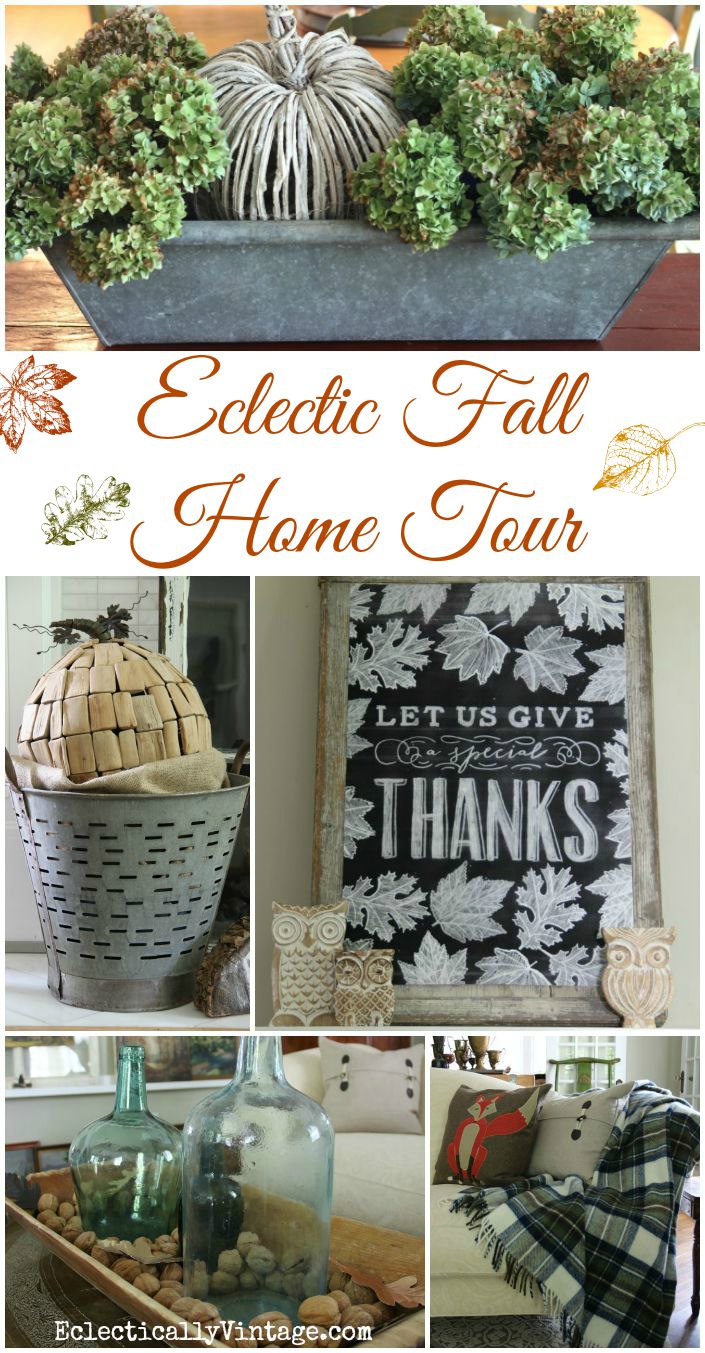 Check out all the tablescapes today and stay tuned throughout the week for more.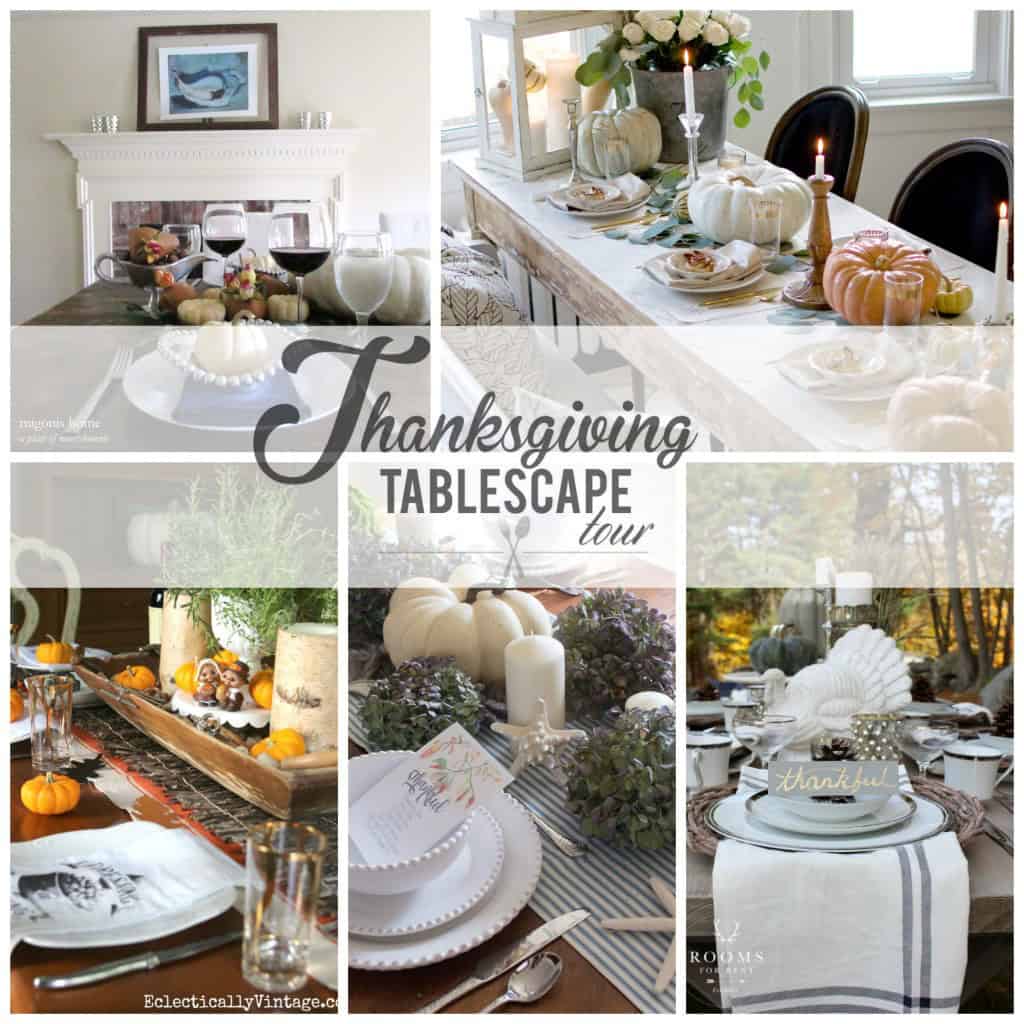 Rooms FOR Rent | Finding Silver Pennies | Eclectically Vintage | Migonis Home | Kindred Vintage Co
Sources:
Bottle Rack (smaller version at a great price)
Thanksgiving Dishtowels – napkins
Similar Doughbowls
Squirrel Plates
Orange Striped Table Runner, Ceramic Pumpkin in Hutch and Serve Tray – HomeGoods
Birch Bark Candles