A Day in Ivy League Princeton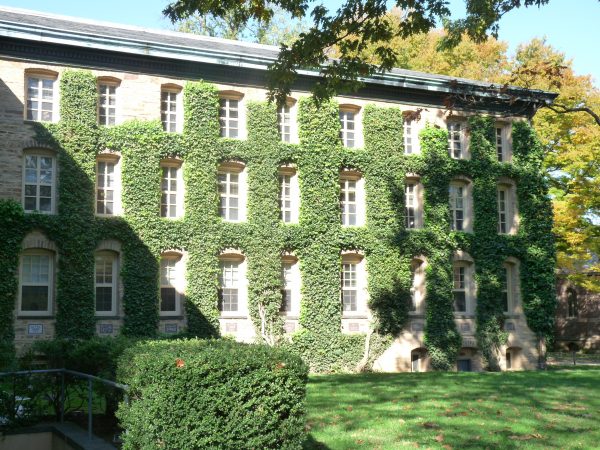 With six days to kill when you have no power and school has been cancelled, you either find fun activities to fill the days or drink excessively and go crazy – I chose the former (ok, a smidge of the latter too)!
On a beautiful fall day, the family hopped into the car and drove to the charming little town of Princeton NJ.  My girls were born here (almost 12 years ago!) and I had my first lunch date with The Hubs here too so the town is near and dear to me.  I live a bit farther now so haven't been there in awhile and it was great to check out old haunts and discover some fun new places.
First stop – lunch at Teresa Caffe which is a tasty little Italian place right on Palmer Square (the main square in town surrounded by shops and restaurants).  Fortified with pasta and paninis, we headed out to explore the Princeton University campus (originally called The College of New Jersey for the first 150 years).  The school was founded in 1746 and moved to it's current location 10 years later. There are 180 buildings on 500 acres – you can easily get lost here and the architecture and grounds are stunning!
Ivy covered Nassau Hall is the oldest building on campus with the front entrance flanked by two huge bronze tigers (Princeton's mascot), a gift of the Princeton Class of 1879 (show-offs!).
Hunger pangs hit again so we headed off to Thomas Sweet for ice cream (they have been here more than 30 years and have two shops in Princeton – one serves ice cream and the other, chocolates).  I introduced the girls to my all time favorite – a chocolate shake with malted milk balls and they gave it two thumbs up.  We cracked up in front of the old fun house mirror (I need one of them in my house).
After our yummy shakes, we headed up Nassau Street which is the main drag in town and right across from the University.  We stopped in Landau which is a third generation family run woolen shop.  They have the best tights and the cutest selection of animal hats and mittens (on the girls Christmas list).  We also passed Paper Source which had the best paper gnome window display (I love gnomes)!
Then back to Palmer Square where we picked up some chocolates for Grandma at Thomas Sweet and window shopped.  One store had an amazing window and called for me to investigate.  
Bucks County Dry Goods
 reminds me of a well edited Anthropologie with mid century furniture, unique lighting, gifts, clothes and local artwork.
The lighting really caught my eye and is created by 
Robert True Ogden
 using old found objects – so cool!
There is so much more to discover in Princeton but we had to head home.  On our way out, we pulled over near Lake Carnegie (a man made lake built in 1906 for the rowing team) where we saw members of the Crew team – a great way to end our day.