Conquer Clutter Challenge
It's time to get organized! Take the Conquer Clutter Challenge and finally banish clutter from your home. See how to devote just 15 minutes a day to become clutter free.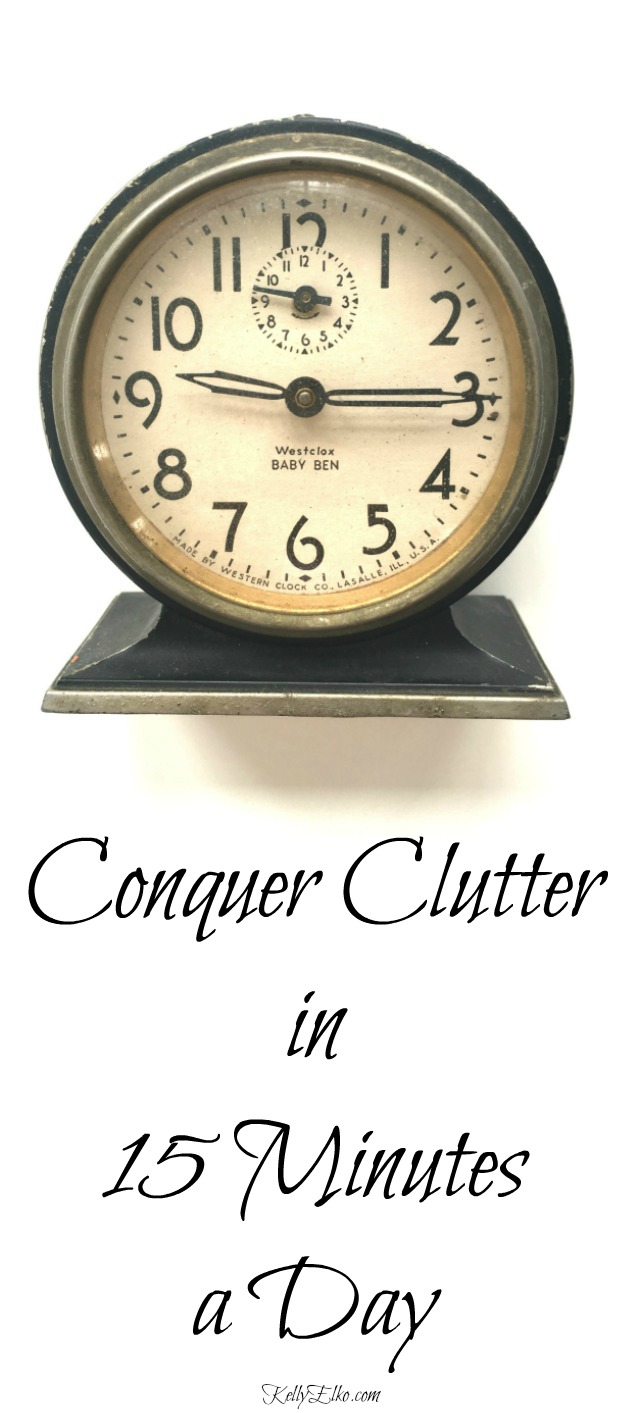 Who's with me – I declare this the year I finally conquer clutter!
My goal: 15 minutes a day spent decluttering and filling one bag a day to donate or toss.
While 15 minutes may not sound like much, think of it like this.
15 minutes x 365 days = 5,475 minutes = 91.25 hours.
1 bag a day = 365 bags of useless things cluttering up our lives.
Let's get organized together. Let's be able to find things instead of constantly searching through piles of stuff. Let's surround ourselves with things we love and that make us happy. Let's let go of all the rest.
Read my Decluttering Tips if you don't know where to begin. I confess that I haven't kept up with it that's why I started this challenge and would love you to join me.
15 Minutes a Day Keeps the Clutter Away

This is not about organizing – this is about clearing out the clutter! Organizing will come later and be easier once we pare down our belongings.
We are all busy but I know we all have 15 minutes a day to devote to living a better life.
Coming from a self professed hoarder, I know how hard it is to part with stuff. But as I get older, I am definitely all about letting go and surrounding myself with only things I actually use and love.
This is a daily process that will hopefully turn into a habit that gets easier and easier as the bags get smaller and smaller.
I started with my girls sock drawers and filled a shopping bag with holey socks and size 6 kids underwear (my girls are 17)!
It felt amazing!
Be brutal when going through those drawers, cabinets, closets, garages, attics and every other nook and cranny.
What are you going to fill your first bag with?
P.S. Here are some other posts you might find helpful
How to sell your stuff in a Facebook Sale Group 
and my favorite …