Craft Supply Organization Tips and Make Chalkboard Labels for Pennies!
Get creative craft supply organization tips and storage ideas plus see how to make chalkboard labels for pennies! Get organized on a budget!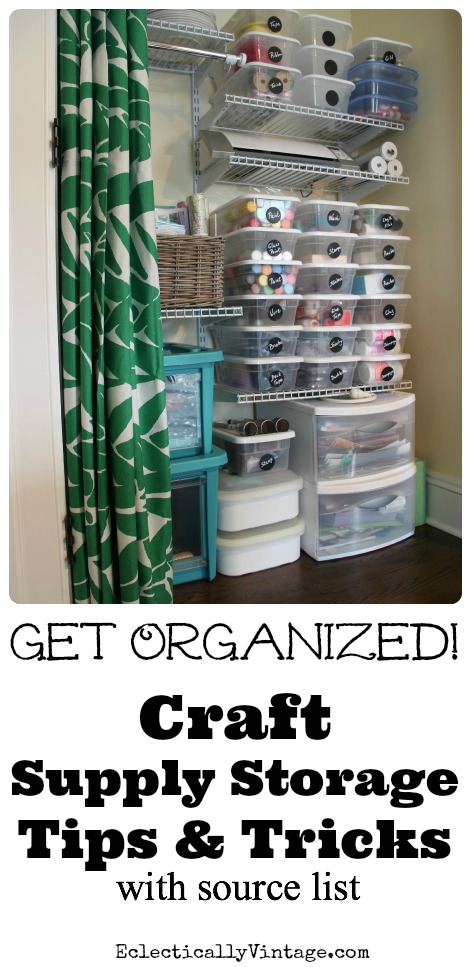 They threatened to bury me alive … my craft supplies.
Who knew glitter and glue could be so dangerous?
So I took over the seldom used guest room as my office/craft room/mom cave/escape!
Forget coats, sweaters and scarves.
This closet now holds every imaginable craft supply known to woman.
You know I'm all about decluttering – make sure to read my Decluttering Tips.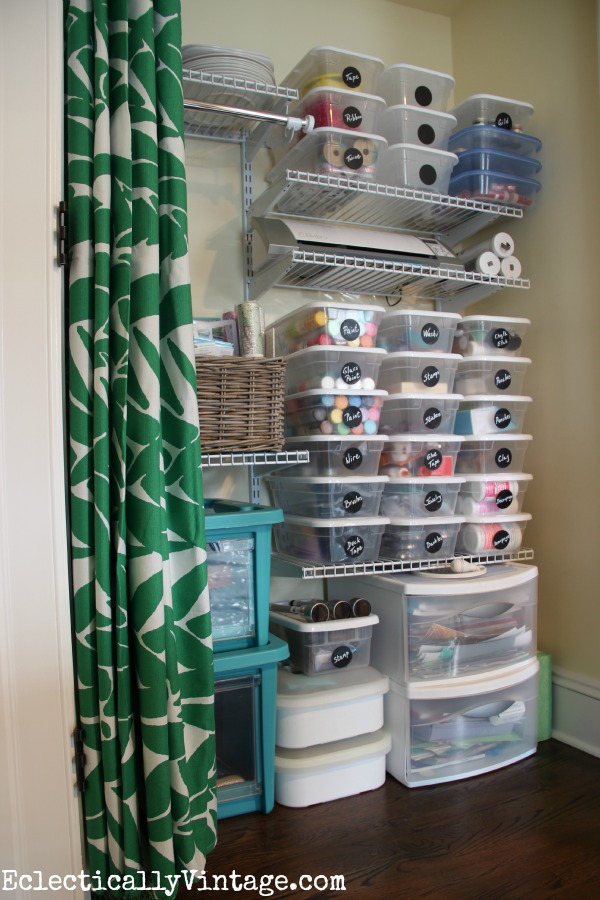 Craft Supply Organization Tips
Less Time Digging and More Time Doing!
1) One Space
Whether you have a room dedicated to crafting or have carved out a niche in an armoire, desk or drawer, keep everything together in one spot and one spot only.
I turned a clothes closet into a craft closet and love this closet hanging system that is so affordable with shelves that can be arranged to your liking.
2) Store Where You Work
Store your supplies where you like to craft, whether it's near the tv or in your kids playroom so you can hangout with them while creating.
You don't want to keep running into another room when you need something.
3) Choose Containers
Clear containers are ideal for most things – the dollar store has a great selection.  Measure your space and start shopping.
Baskets which are perfect for filing things vertically (instead of flat) so you can flip through them easily.  This is where I store stencils.
Flat paper storage containers or scrapbook file boxes are perfect for storing stacks of paper.
I love these storage containers with pull down front panels for easy access.
4) Container Size
Smaller is better so things don't get buried at the bottom of a giant container.
5) Label
I prefer chalkboard labels since they can be updated as your supplies change.
I made my own chalkboard labels for pennies (see how below) and love using a chalk marker which is much neater than chalk.
6) Separate Frequently Used Supplies
For those items you use everyday, keep them in a separate container or within easy reach.
I have a tray with vintage milk glass on my desk which I filled with scissors, markers, glue and other things I use a lot.
7) Replace
Being organized means not buying things you already have (but forgot about).
Keep a running list of what you run out of and make sure to replace those items.
8) Put it Back
Get in the habit of putting everything back where it came from when you complete a project.
9) On the Go
Do you move from room to room or take your supplies on the road?
A rolling storage case will have you organized on the go.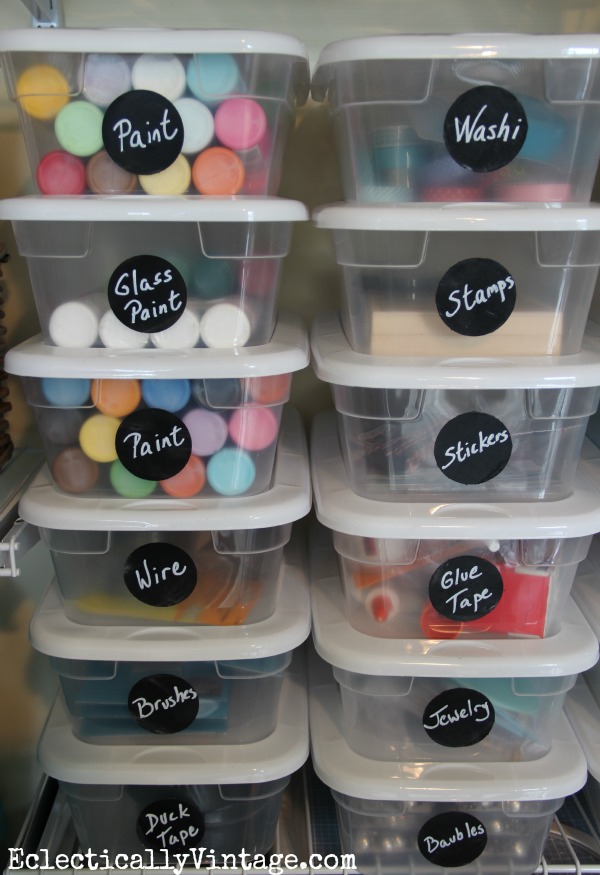 What lurks inside those mysterious boxes?
Labels were needed but since I'm cheap …
I mean, since chalkboard tags are mucho expensivo – I decided to make my own for pennies.

Make Chalkboard Labels for Pennies
Supplies:  
Round Label Stickers
Chalkboard Paint
Paintbrush
Chalk Marker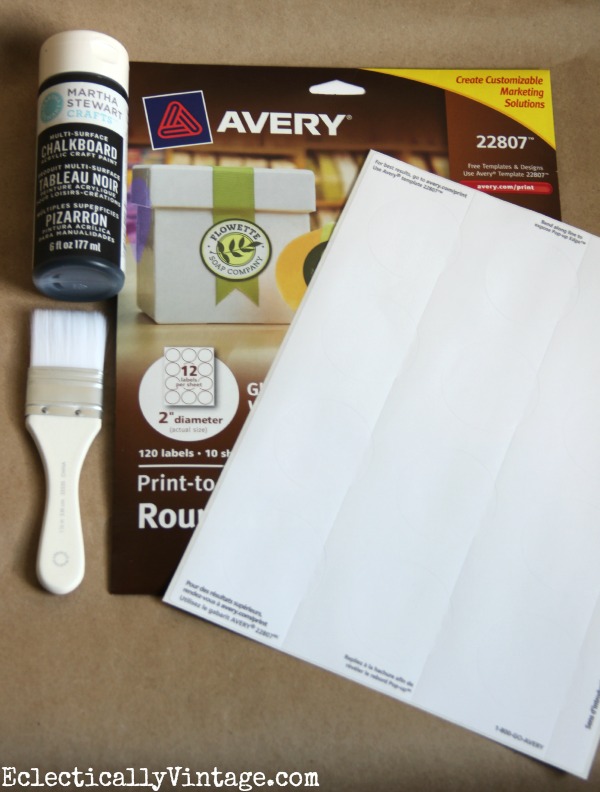 1) Paint two coats of chalkboard paint onto round label stickers – letting dry between coats
2) Peel and stick onto bins and boxes
3) Use a chalk marker – so much easier to write neatly than chalk – to label your supplies
4) Sigh with relief that you can now find your glitter, glue and paint at a glance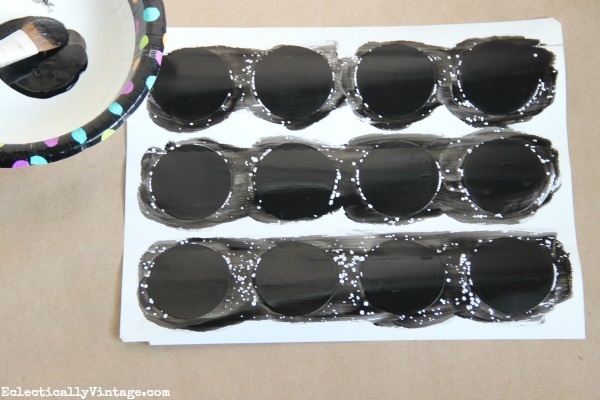 And now my craft supplies are happy and have stopped their evil plans to murder me in my sleep.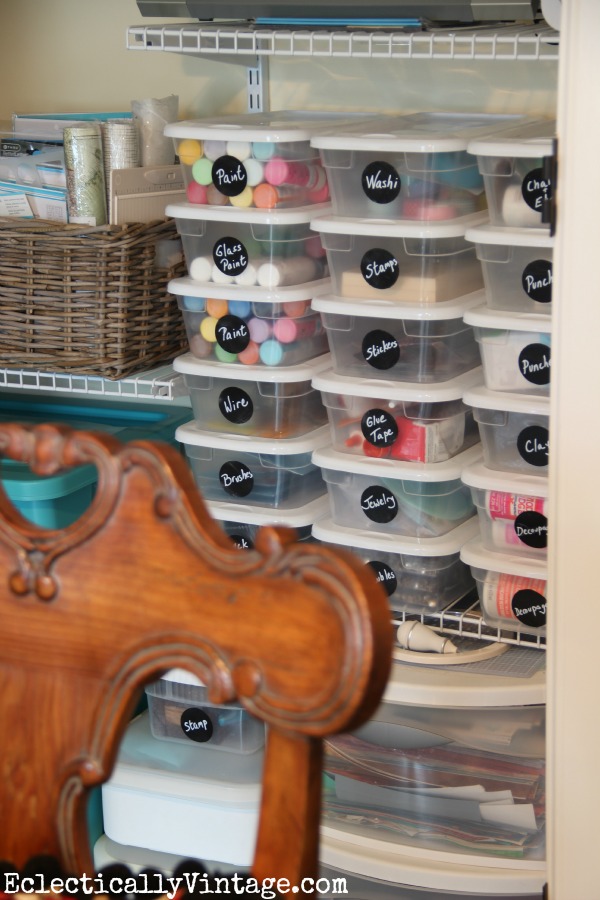 Get on the organizing bandwagon.
Don't miss my Decluttering Tips