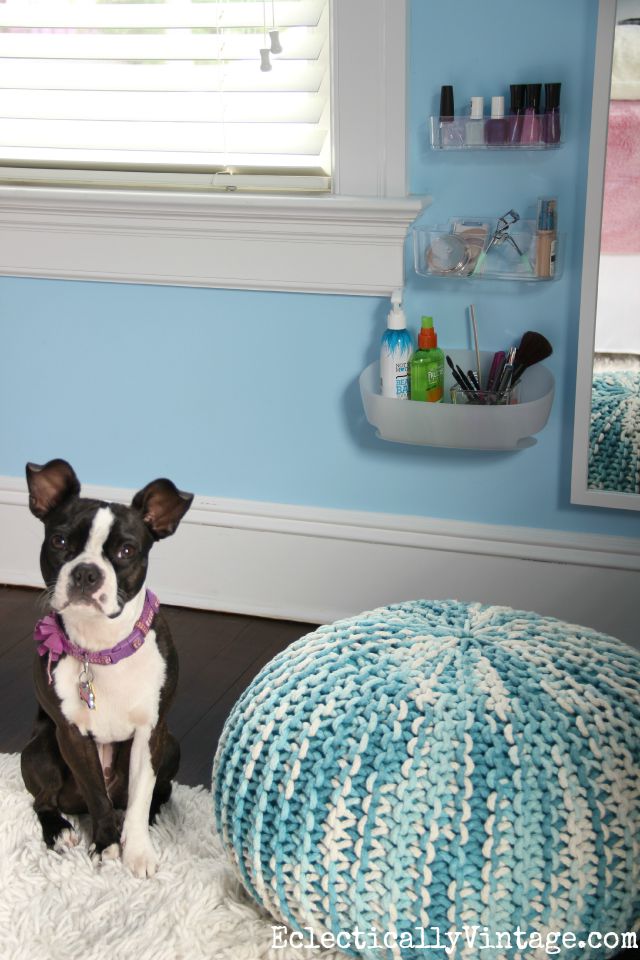 I have teen girls.
Identical twins.
They are beautiful, funny, smart …
but when I walk by their messy, unorganized rooms, I want to run screaming for the hills.
So while they were away at camp, I prepared to do battle with their rooms and turn them into their own functional mini dorm rooms with the help from some of my favorite Command™ Brand products.
Out of sight, out of mind no more. I made sure their daily necessities were front and center. No more dramatic teen angst or tears of frustration when they can't find their eyelash curlers or favorite headbands.
Here's the before …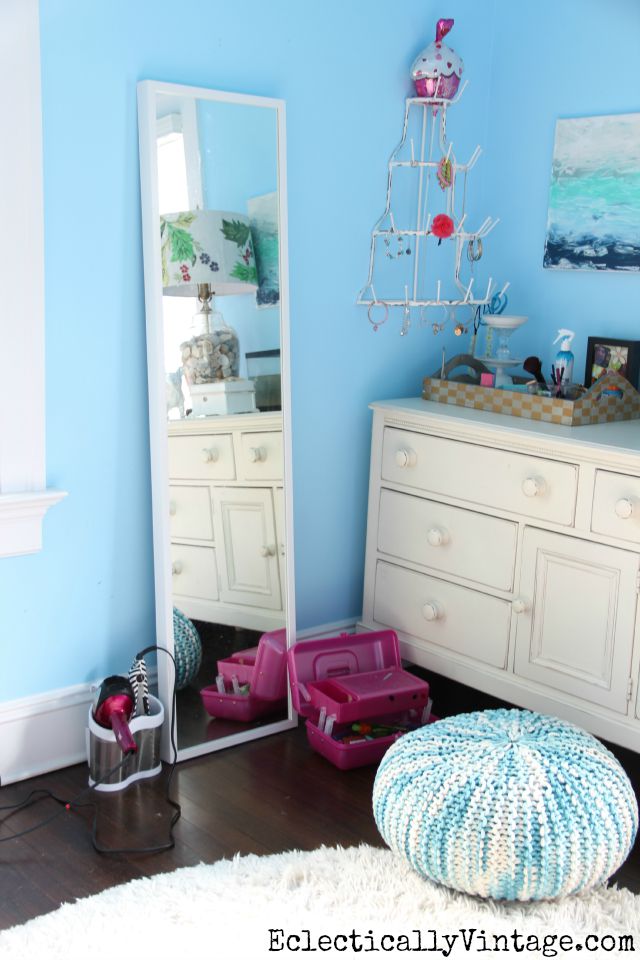 Supplies:
Command™ Bath Caddy (I used 1)
Command™ Large Clear Caddy (I used 1)
Command™ Medium Clear Caddy (I used 1)
Command™ Quartz Jumbo Hook (I used 1)
Command™ Large Clear Hook (I used 1)
Mirror
Makeup, hair products, nail polish, etc.
Note: Follow all Command™ Brand package instructions for proper surface cleaning and prep, adhesive strip placement and recommended weight claims.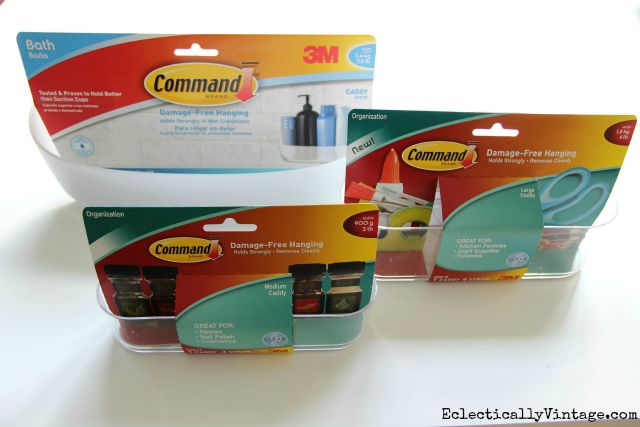 Teen Makeup Station
Determine where you plan to create your makeup organization area near a mirror.
1) Adhere two Command™ Clear Caddies (I used medium and large) on the wall near the mirror then mount a Command™ Shower Caddy.  Be sure to leave enough space in between the caddies to stretch and remove the adhesive.
2) Fill the caddies with all of the essentials for getting dolled up – makeup, makeup brushes, hair spray, nail polish, cotton balls and more ensuring all things put into the caddies are within weight restrictions.
3) Hang a Command™ Quartz Jumbo Hook and a Command™ Large Clear Hook on the opposite side of the mirror to hang headbands, hair ties and other accessories.
4) Add a cute pouf for your teen to perch on while getting ready.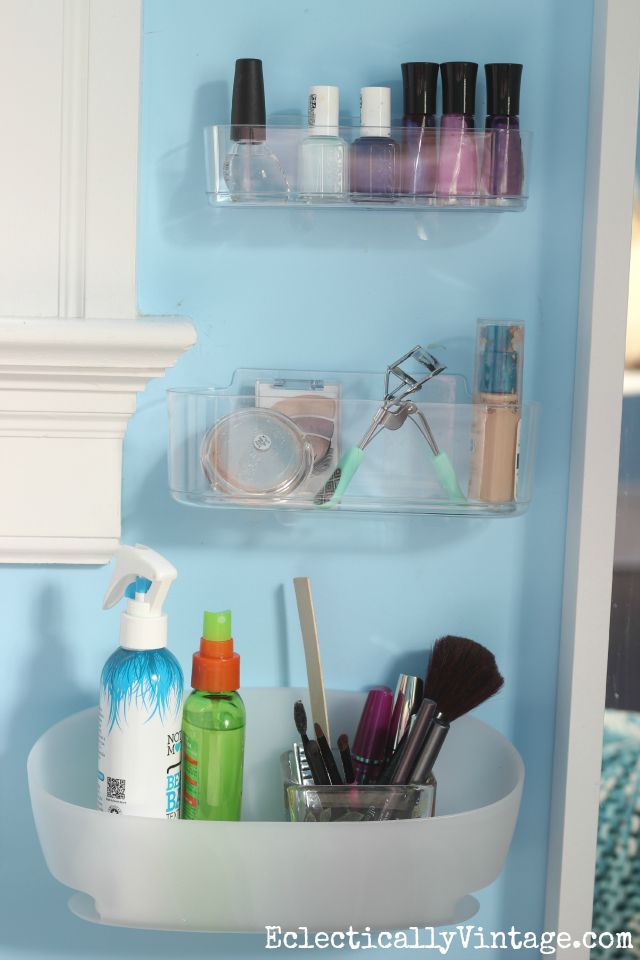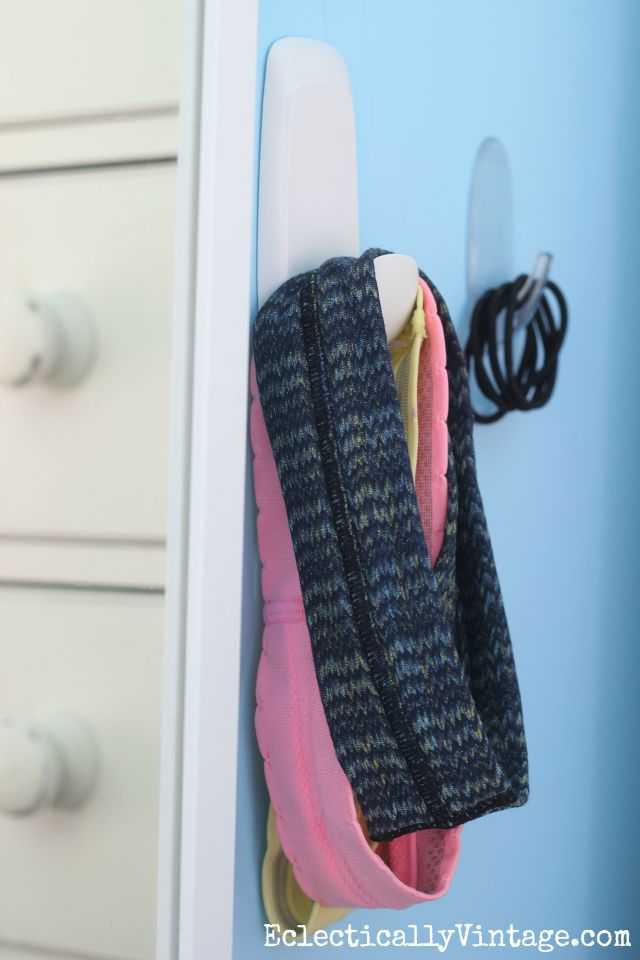 There you have it – a makeup station with a place for everything and everything in its place.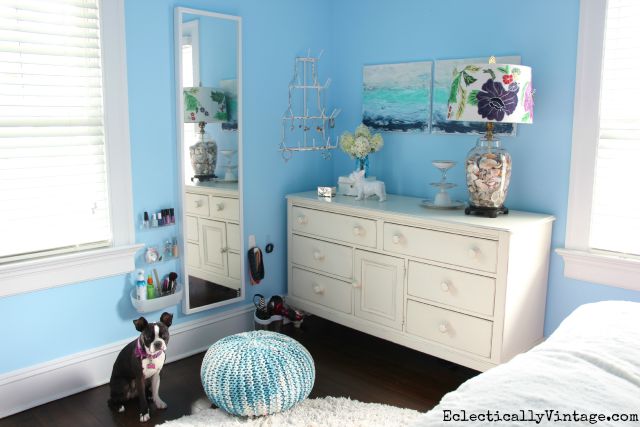 One problem though.
Now Sushi the Boston Terrier wants her own place to primp.
I am a Command™ Brand Ambassador and truly love the company and their products.  Thanks for supporting the brands that make this blog possible.