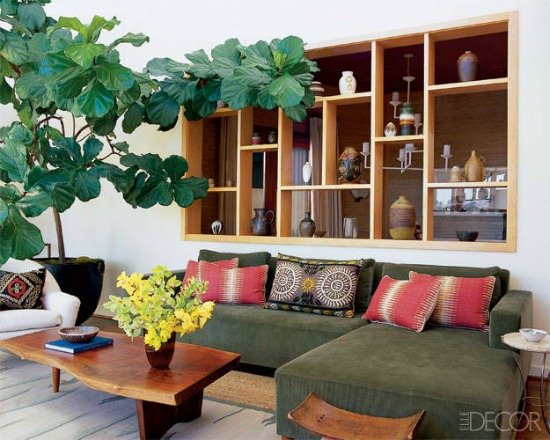 This is the story of a newly married working girl who didn't have time for things like cooking (I made lots of microwave popcorn back then),
cleaning (dust bunnies were breeding like rabbits),
or taking care of pets and plants (it was a very quiet house).
So I bought a fake ficus tree and popped it into the corner of my family room.
Eventually, the sad little guy became covered in a 7 inch thick layer of dust (remember, I didn't have time to clean).
So off to the thrift shop that ficus tree went.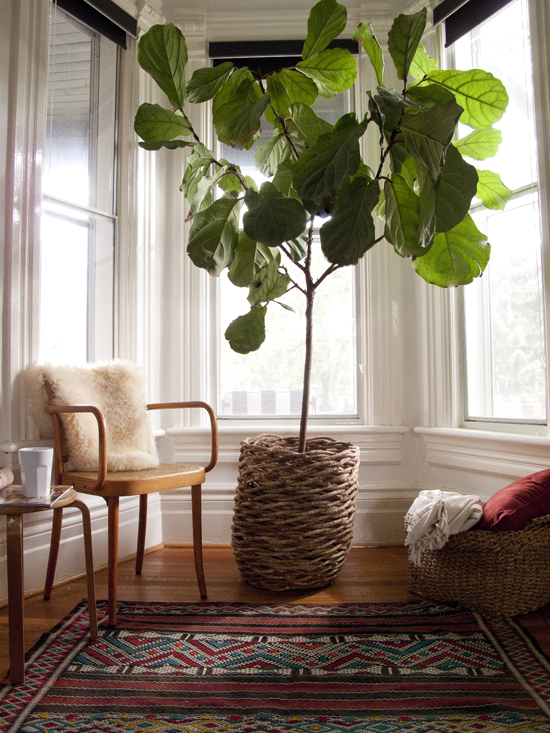 Source:  The Marion House Book
After 18 years of marriage and …
learning to cook a lot more than just popcorn,
2 kids,
1 failed dog adoption (don't ask),
1 guinea pig (RIP Little John Fellow),
a few hamsters (one of which had babies),
2 frogs and
a school of goldfish …
I know I'm now ready to be responsible for something I've been wanting for a very long time …
a fiddle leaf fig tree (cue the choir)!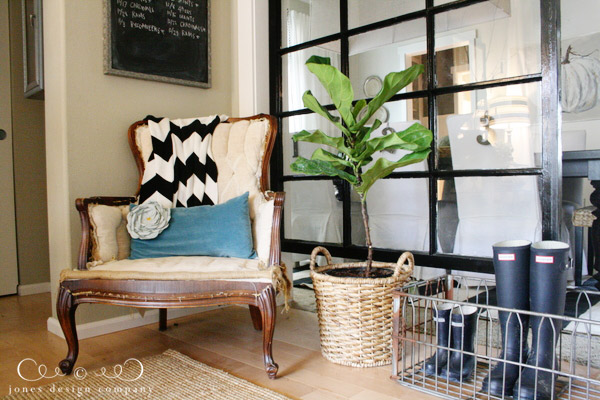 Source:  Jones Design Company
Just saying the word elicits happiness and joy.  I can picture it now sitting happily in my sunroom …
screech …
wait, I've read fiddle leaf figs are fickle plants that don't like harsh sunlight (forget my sunroom), hate to be moved, demand the just right amount of water – not one drop to much or too little.
In short, the fiddle leaf needs to be babied.
While I may have come a long way since my newlywed days, I don't know if I have the time to baby a plant, even one as fabulously cute and amazing as the fiddle leaf fern.
Well I spotted the fiddle leaf at Home Depot for only $17!
Should I do it?  Do I dare?  Can I handle the pressure?
I mean let's face it, the fiddle leaf would probably also become covered in a thick layer of dust that I just don't have time to clean (some things never change).
Maybe one day I will be brave enough to adopt a fiddle leaf fig so it can cozy up my house.
Going green is Tip #9 of my 10 Cozy Decorating Ideas on the Lamps Plus blog so go check them out.
Sharing:  Savvy Southern Style