DIY Swarming Spiders Tablecloth for Halloween
I'm showing you how to make the creepiest swarming spiders tablecloth for Halloween! It will be the hit of your Halloween dinner or party even if it does creep everybody out … in a good way! A few supplies from the craft store are all you need to create a tablecloth that everyone will remember!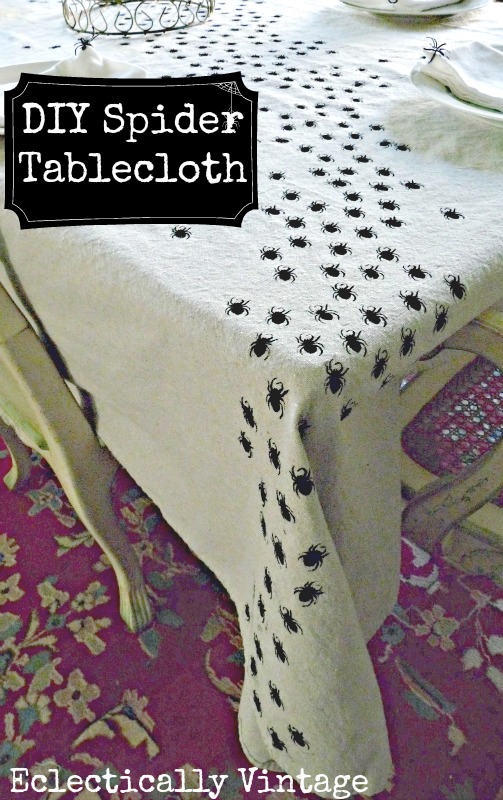 Avert your eyes if you hate creepy crawly things.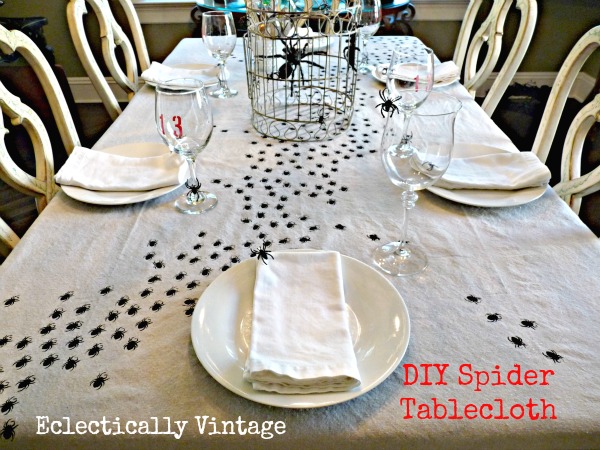 post contains affiliate links
Make a Swarming Spider Tablecloth
1) Wash a dropcloth (mine is 6′ x 9′) Get Dropcloth Here
2) Spread it on your table
(put a brown paper grocery bag under each section as you stencil to protect your table)
3) Simply stick the self-adhesive spider stencil onto the drop cloth – mine is sold out but you can get a similar spider stencil here
4) I used a small paint brush and applied this black craft paint in a pouncing motion
5) Remove stencil and repeat, and repeat, and repeat … until you have a swarm!
Tip:  rinse stencil after every 30-40 spiders and dry on old dish cloth (not paper towel – too much lint)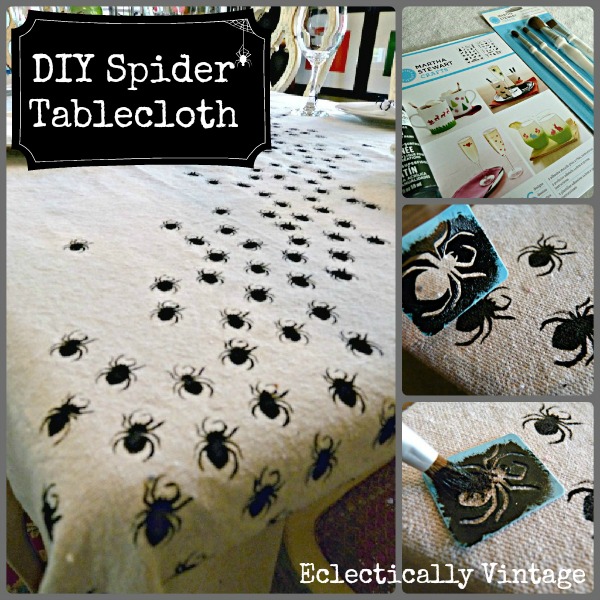 I couldn't stop there.
I was married on Friday the 13th so I consider it a lucky number (most days anyway)!
A couple of self-adhesive stencils and red glass paint made it simple to whip up these wine glasses.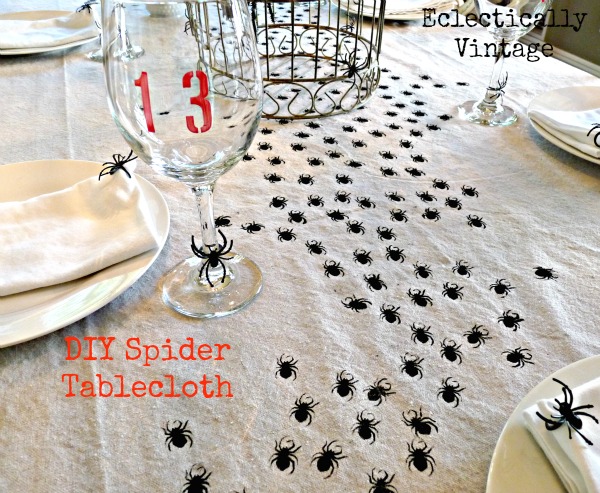 Make an Unlucky 13 Wine Glass
1) Wash and dry glasses (from dollar store)
2) Apply self-adhesive Martha Stewart Crafts number stencils
3) Brush on Martha Stewart Habanero Frost glass paint with a small paint brush
4) Remove stencils while paint is still wet
5) Pour a glass of red wine and don't walk under any ladders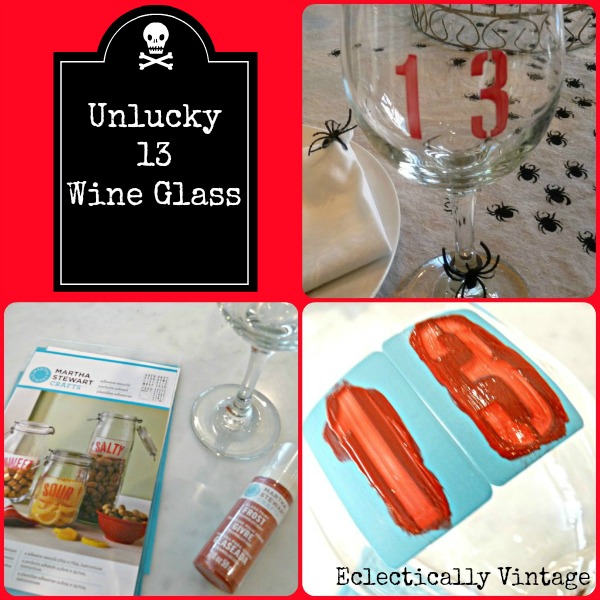 Is your skin crawling yet? This swarm of spiders is sure to be the hit of your party!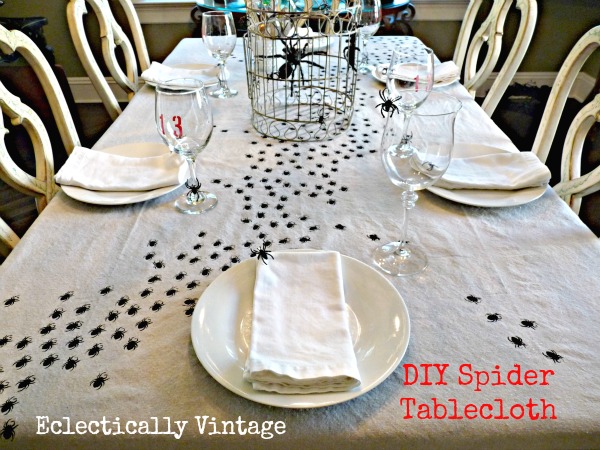 Love Halloween? Don't miss all of my Halloween decorating and crafting ideas including …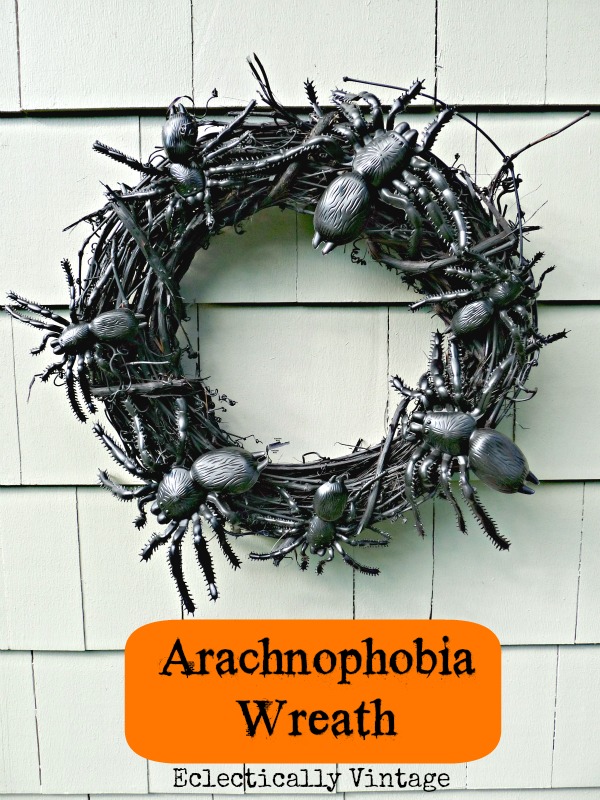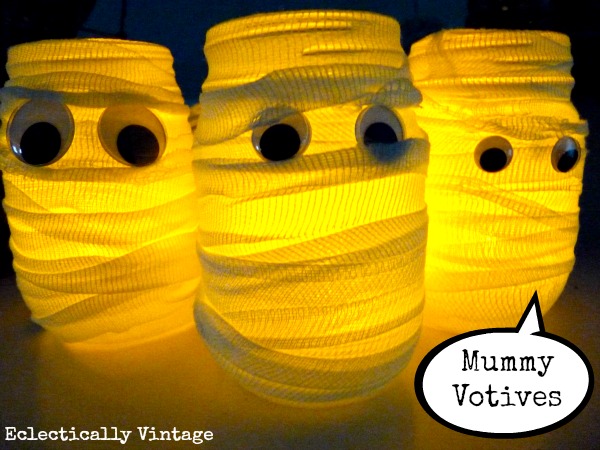 BOO!