Dollar Store DIY Monogrammed Gifts – Drinking Glasses
By the end of the day, we usually have a dozen dirty glasses lined up on the counter …
but there are only four people in my family.
Where are these glasses coming from?
They multiply like rabbits when I turn my back to put away the Reese's Puffs.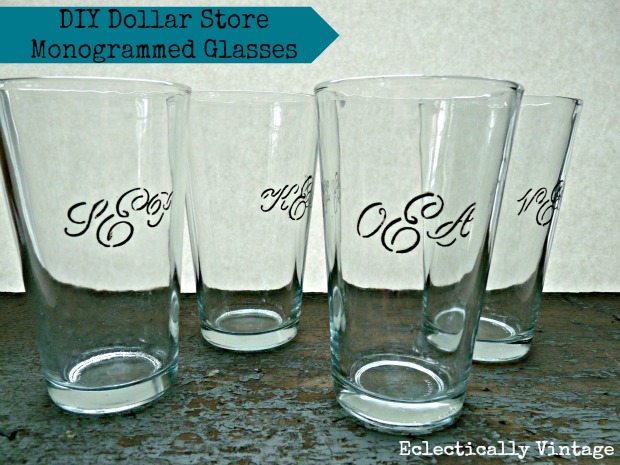 I am rebelling against my dishpan hands and creating a simple solution to this serious problem.
A monogram.
Yes, one for every member of the family.
Talk about a cinch.
The Deets:
* Apply large initial (for the last name) self-adhesive stencil (I used Martha Stewart for Plaid)
* Apply glass paint with a paint brush (I used Martha Stewart for Plaid – Obsideon Glitter)
* Peel off stencil while paint is still wet
* Let dry completely (I waited one day)
* Apply smaller initials (first name first and middle name last)
* Repeat painting process and remove stencils
* Let "cure" before using (follow paint directions for curing times)
Notes:
– I did this over two days so I could get my initials closer together.
– Make sure to rinse paint from stencils and dry before reusing (learned my lesson the hard way)!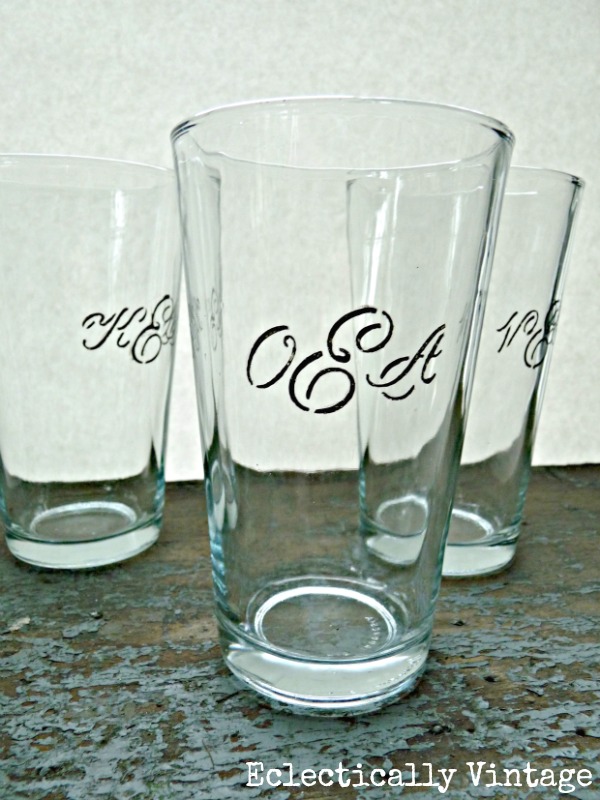 Know of someone who wants to adopt all of my extra glasses …
we won't be needing them anymore.
Check out more of my simple project ideas.