Eclectically Fall Home Tour
Love fall? Love fall decorating? Tour this eclectically fall home decked out in all it's fall finery. Get tons of creative fall decorating ideas too.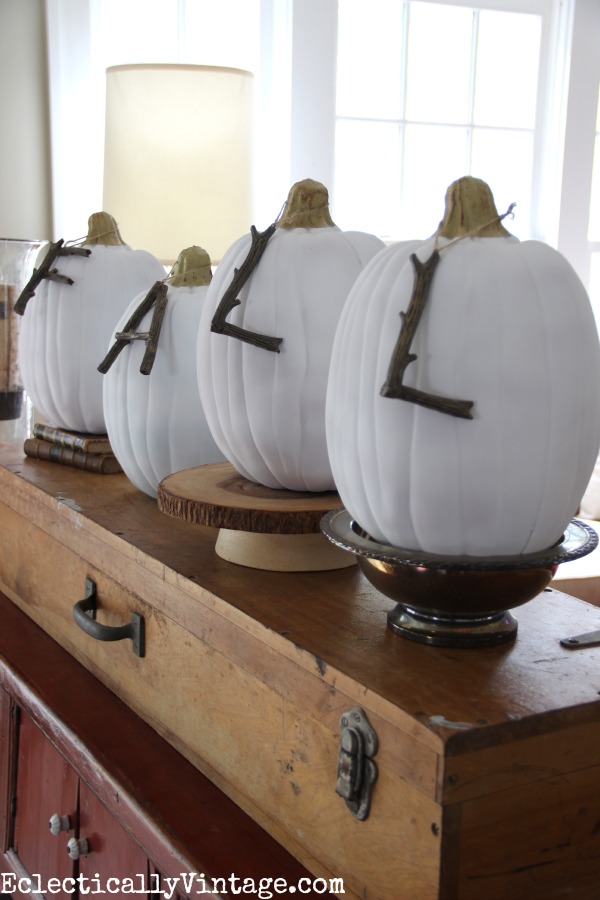 What's that I hear?  Crunching leaves.
What's that I smell?  Apple pie.
It's time to mix up two of my favorite things …
Eclectic + Fall  = My Eclectically Fall Home Tour
I'm kicking off 15 fabulous fall home tours (3 per day every day this week) so sit back, relax with a coffee (or spiked cider) and enjoy.
It's my usual mix of old and new with some fun new things thrown in for good measure.
It's fun to spell out your favorite words on some pumpkins and don't overlook the lowly popcorn kernel when decorating.
The kitchen is where the magic happens …
or at least where the turkey gets it's goose cooked.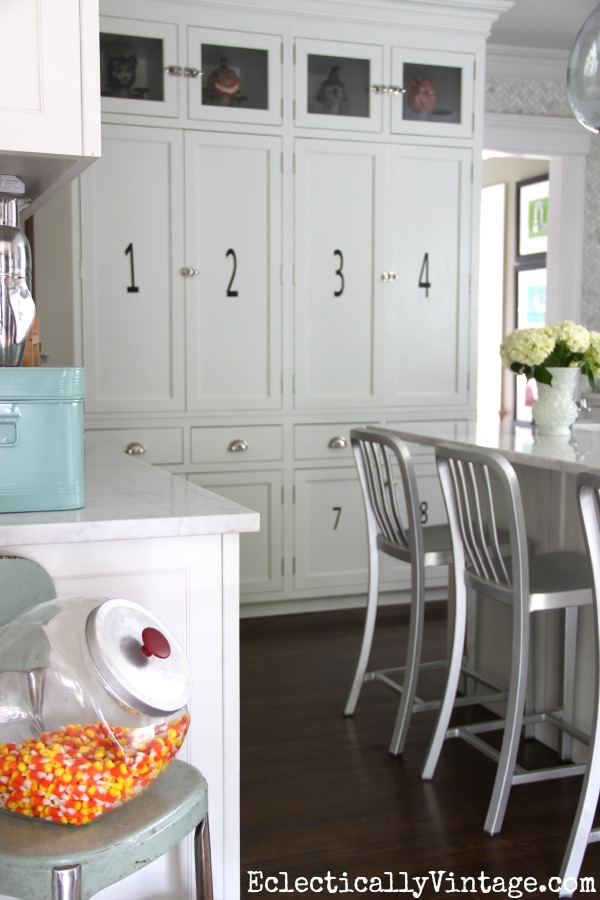 I'm the only one in my family that eats these things …
the candy jar will be empty within weeks (don't judge me).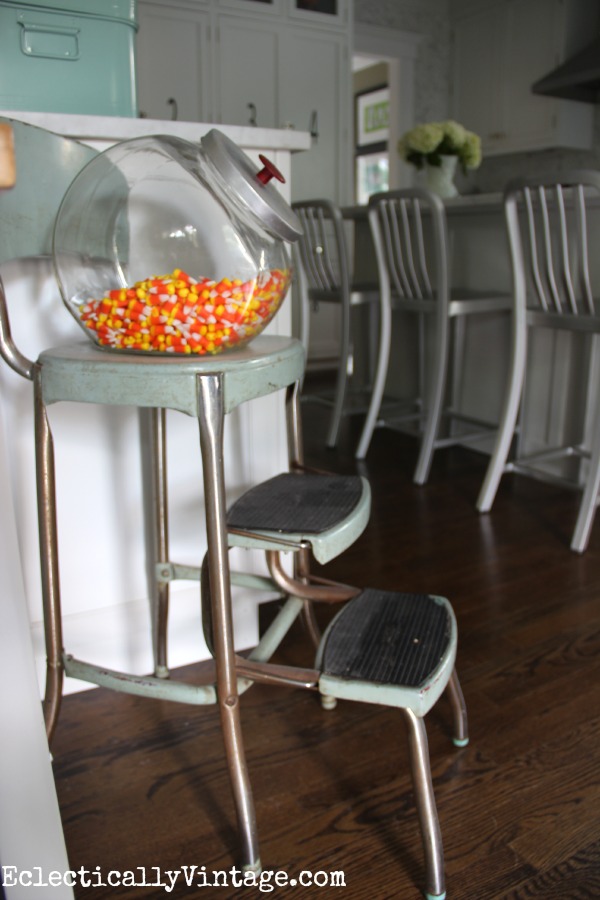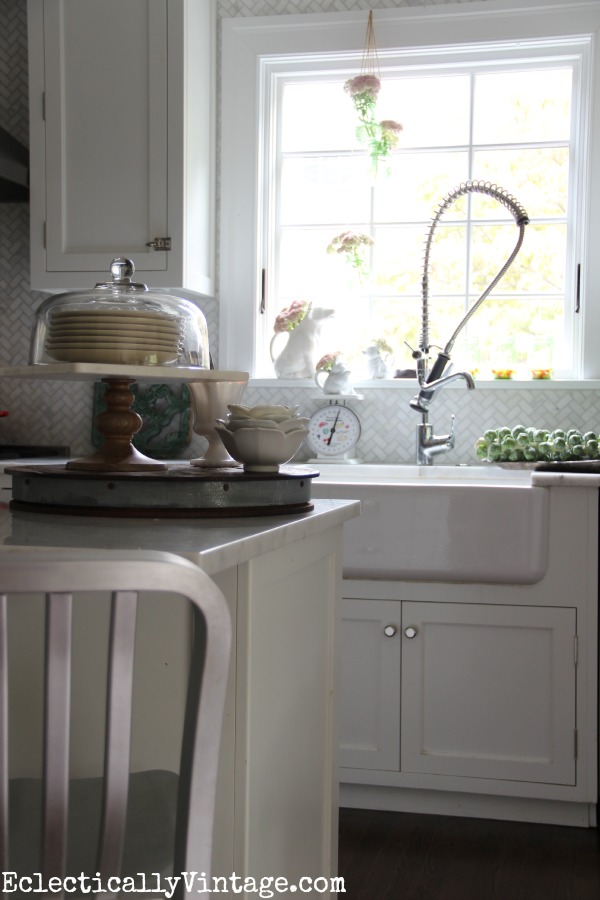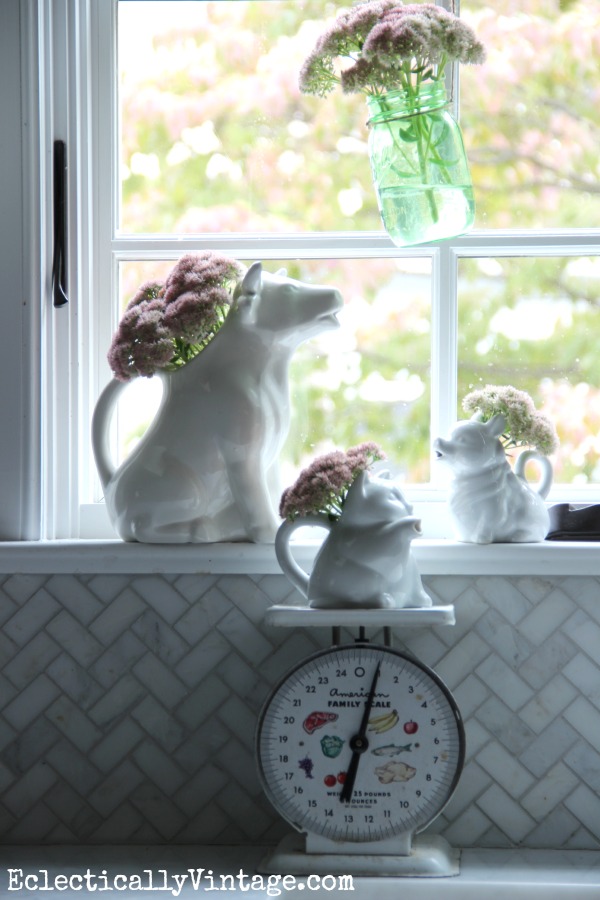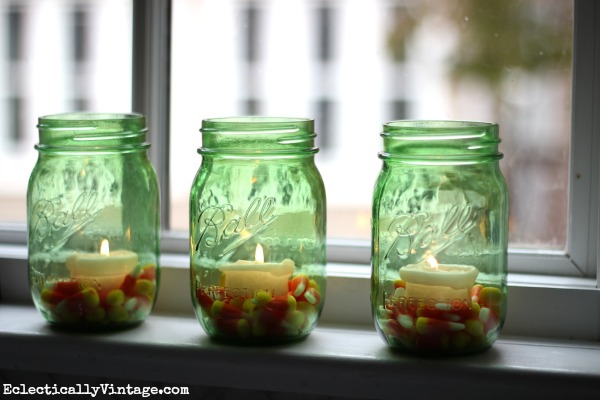 I love brussels sprouts, especially the ones that come on these long stalks – perfect for setting out on your counter before you turn them into a tasty side dish.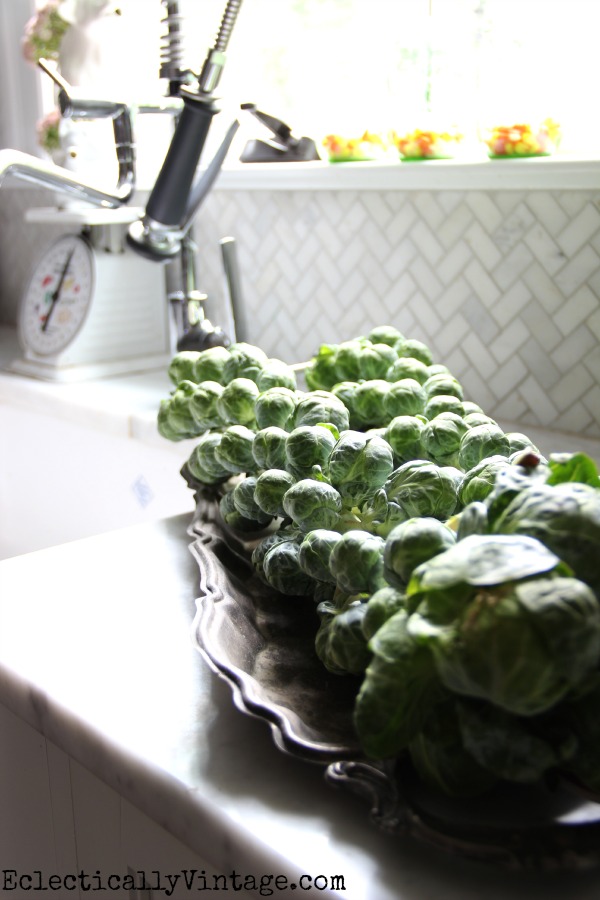 One of my favorite finds is this marble cake stand.
I love the square shape – perfect for displaying a favorite plate collection (and less calories).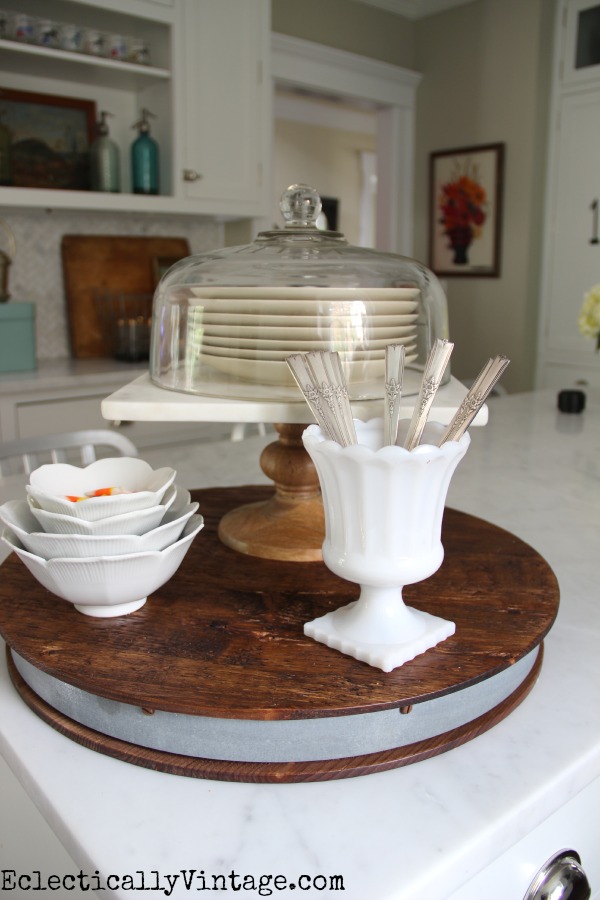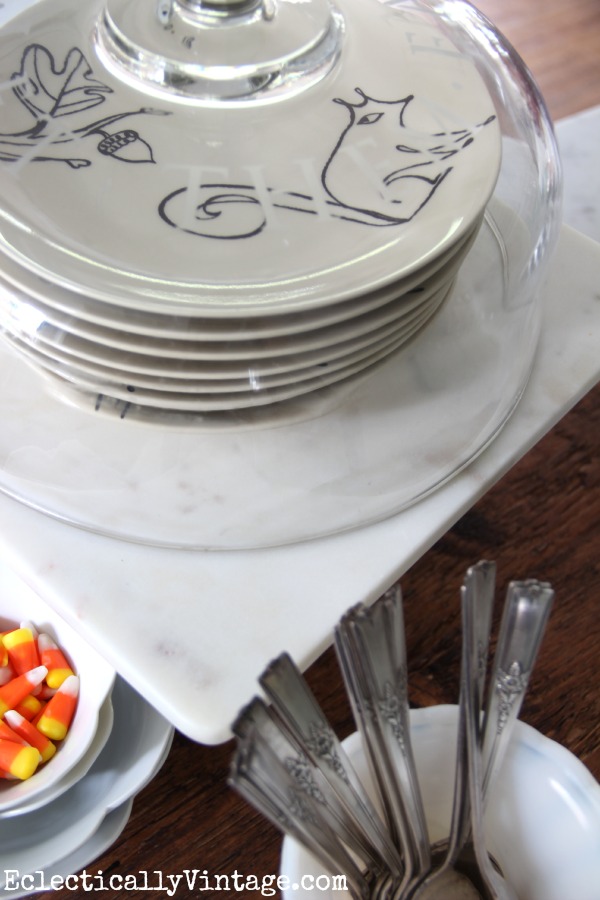 I love these glass jars that come in different sizes – perfect for countertop storage with cute measuring cup scoops.

Ta da!  I found this vintage blue medical cabinet at an estate sale a couple of months ago.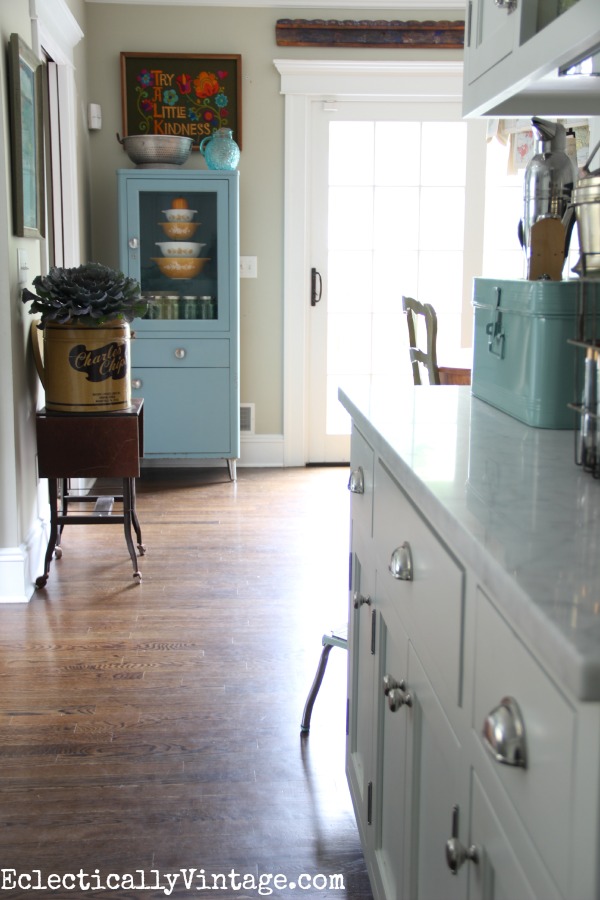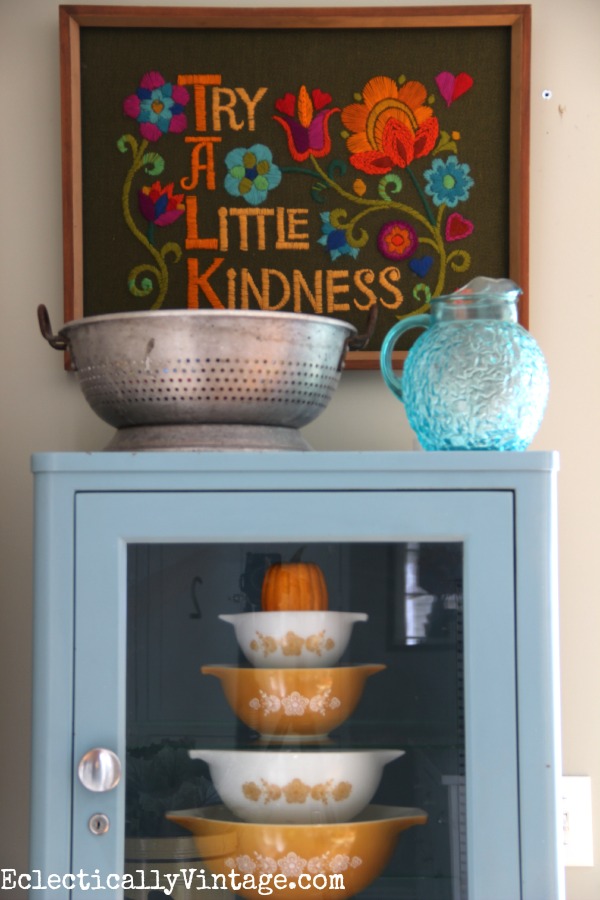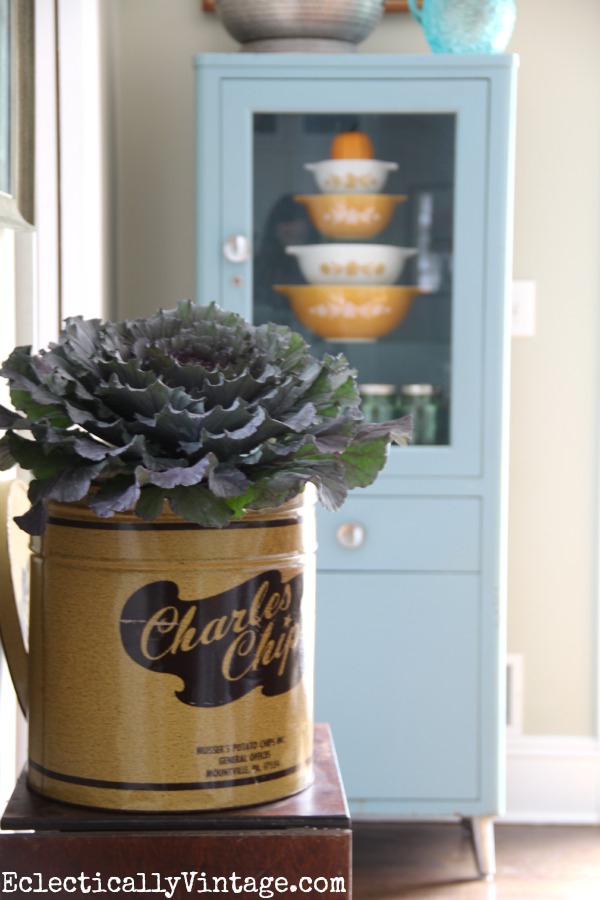 Anyone remember the Charles Chips man delivering these tasty morsels?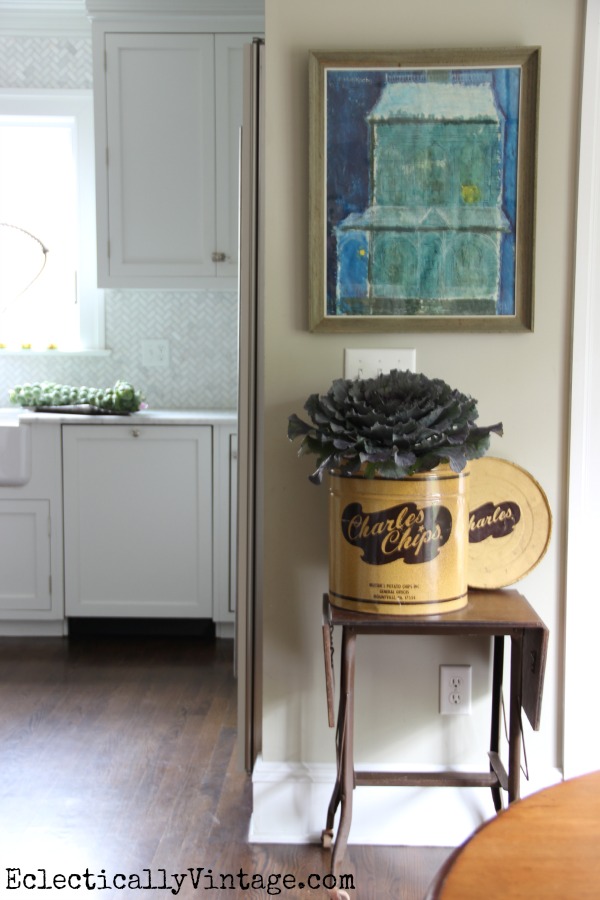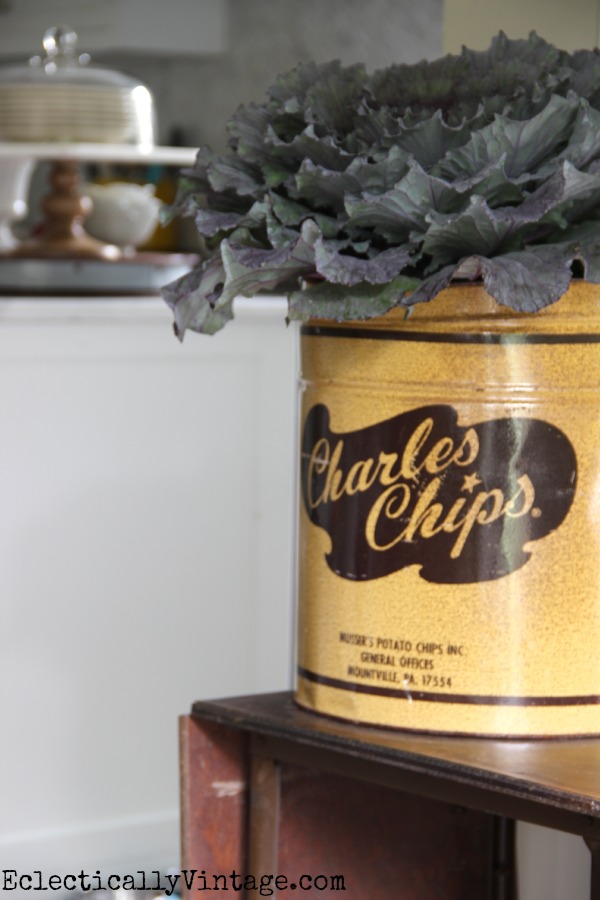 I love mixing unexpected things like vintage landscapes into my kitchen.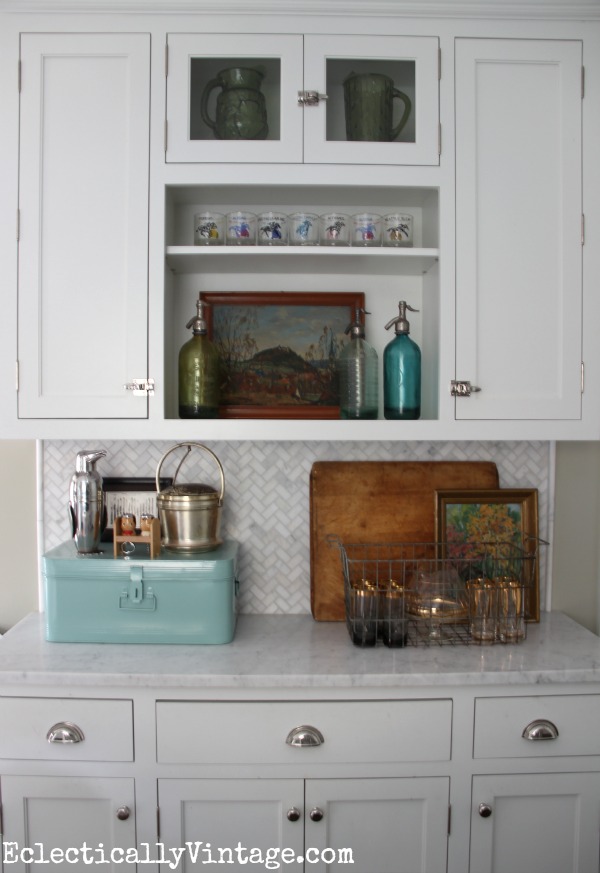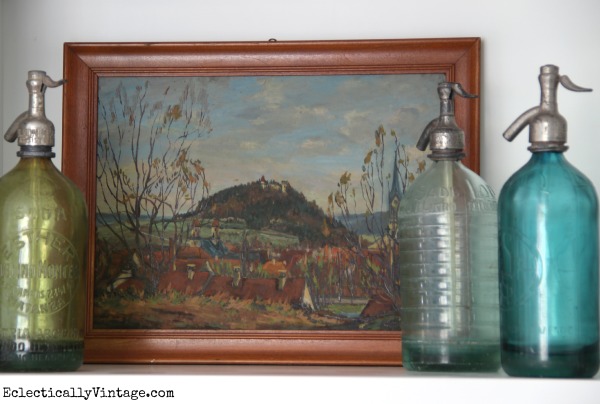 Cheers!  Love these monogram mugs but who needs coffee when they can hold colorful vintage lightbulbs instead.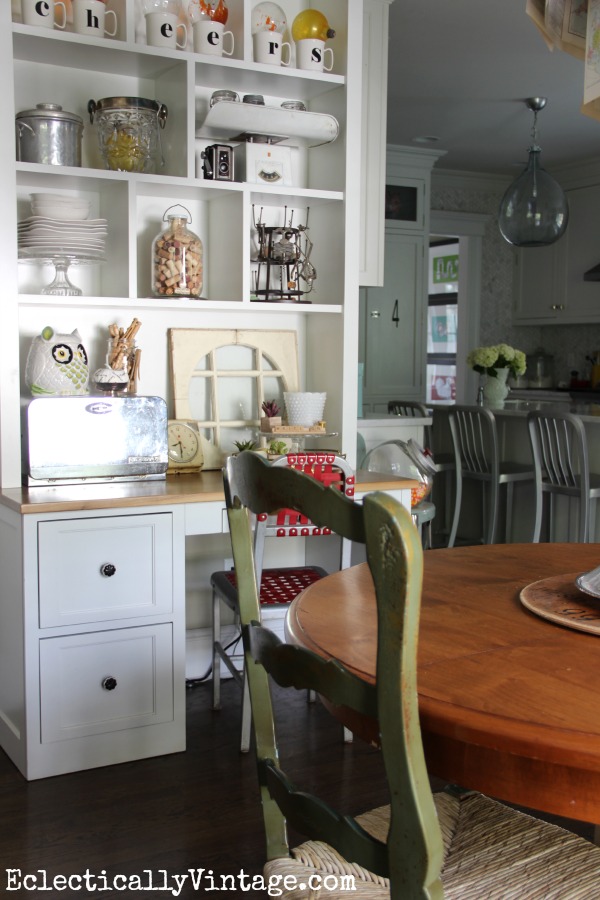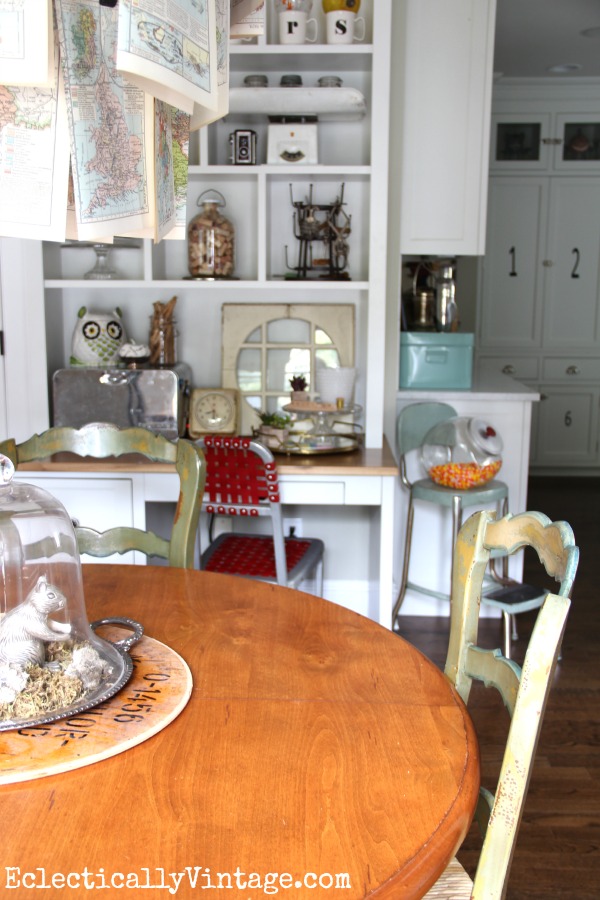 I've always wanted a vintage bottle drying rack and this mini version from World Market is perfect for my vintage corkscrew collection.
My vintage squirrel nutcracker is a thrift store find.
I can neglect these faux succulents all I want.
Pillows are one of the easiest way to get some seasonal color into a room.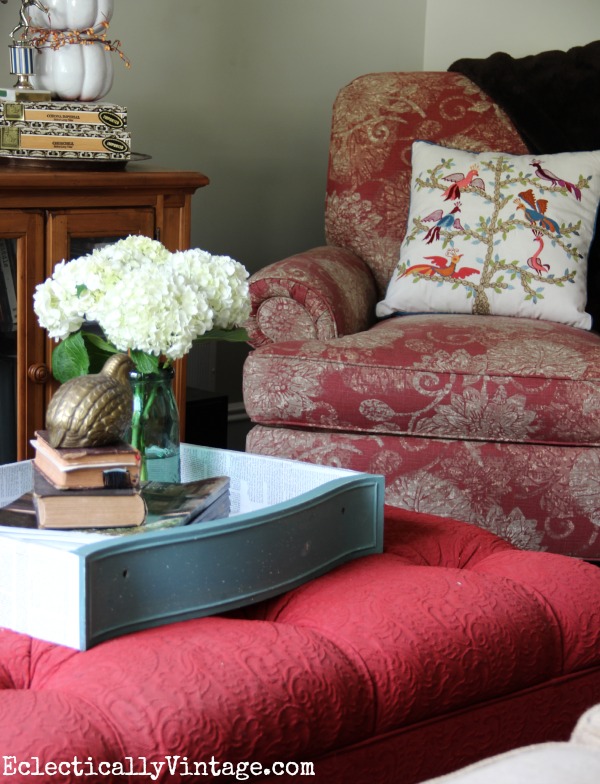 I turned an old drawer into a fun little tray for my ottoman.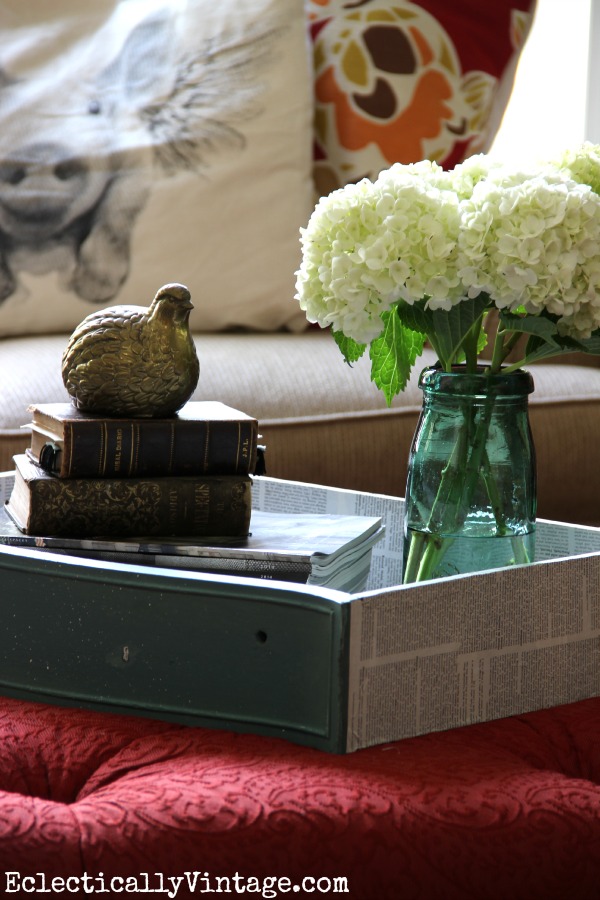 Our Thankful Pumpkin from last year gets a spot of honor – we'll make more this Thanksgiving.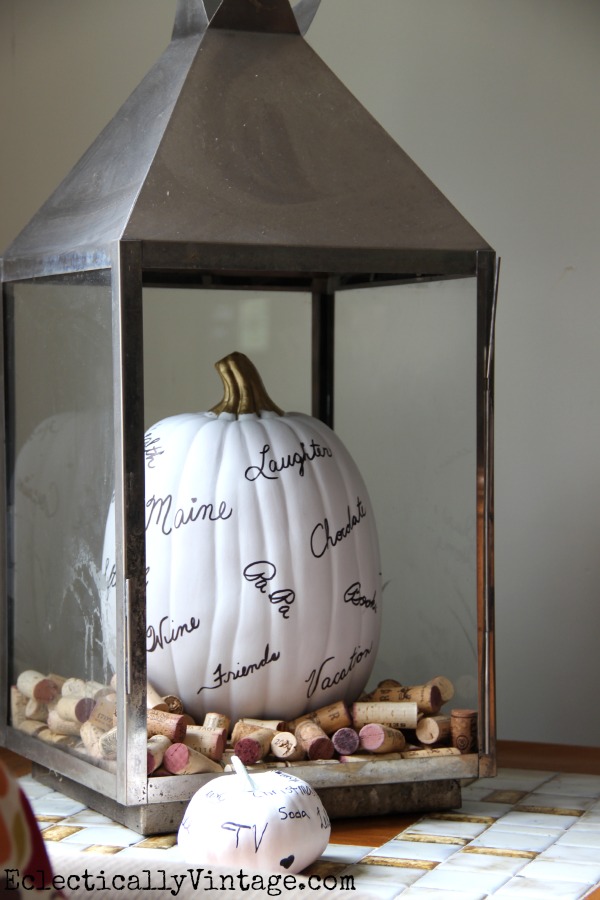 My pumpkin topiary decided to come inside this year and got a trophy for her effort.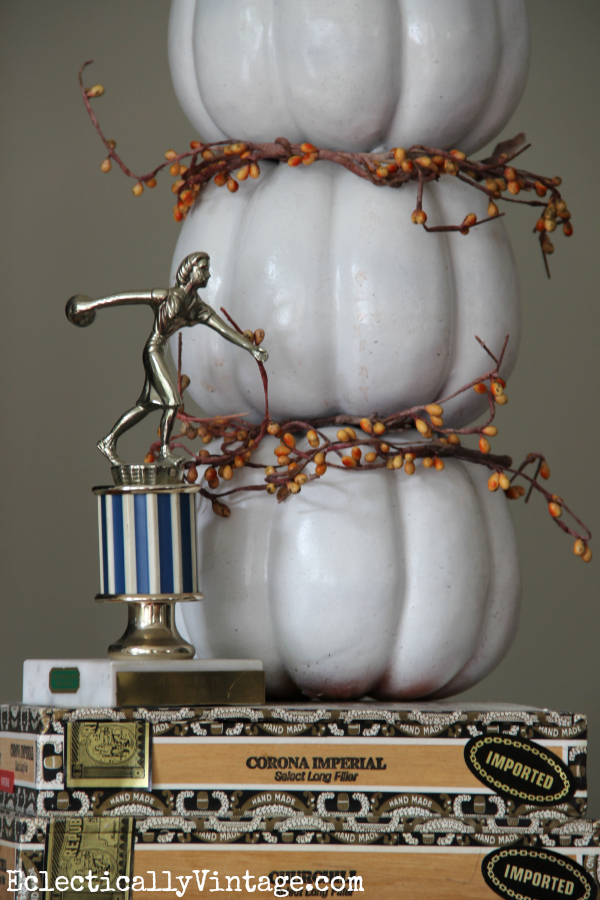 My foyer is even falling for fall.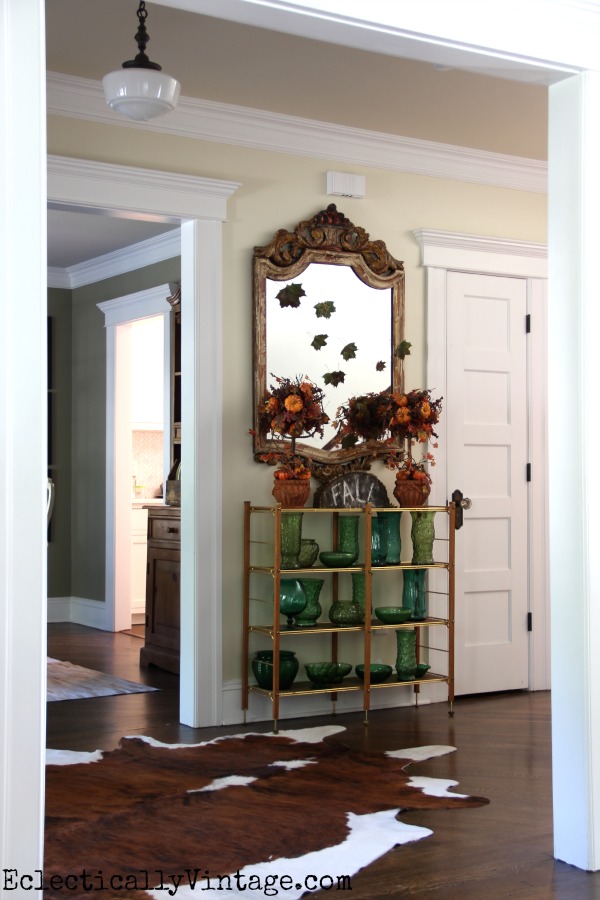 See how to preserve leaves to keep them looking beautiful all year long.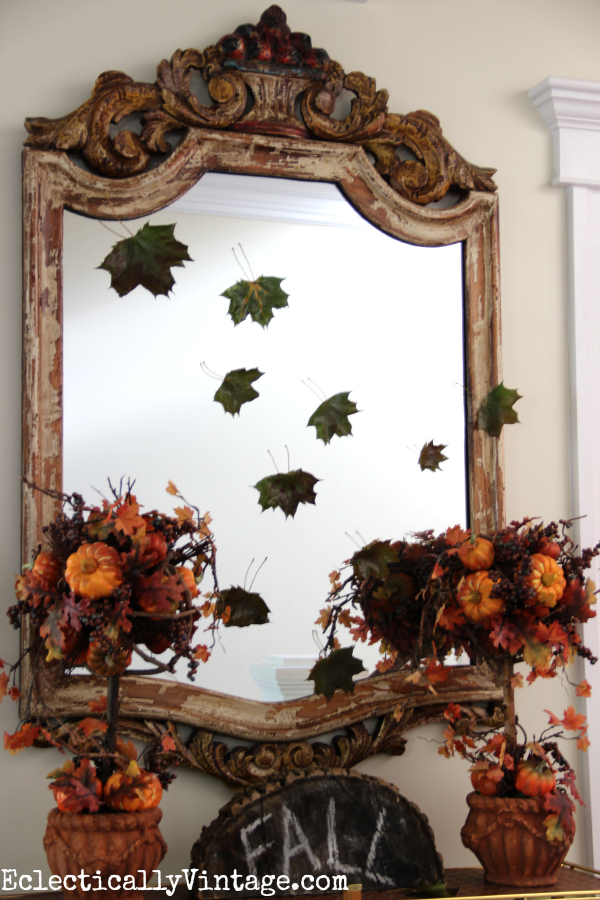 Turkey time calls for a warm and welcoming dining room (and lots and lots of wine).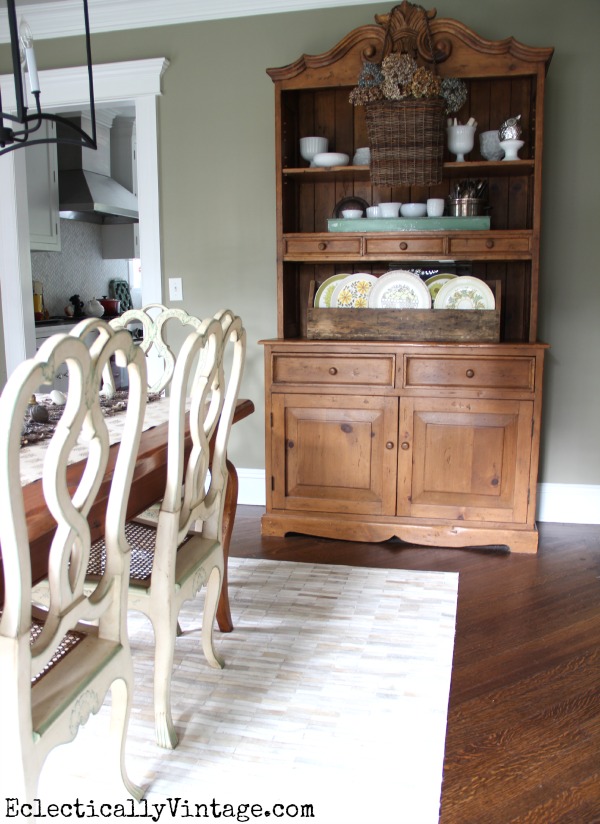 An old ironing board will do double duty as a buffet – pass the giblets please.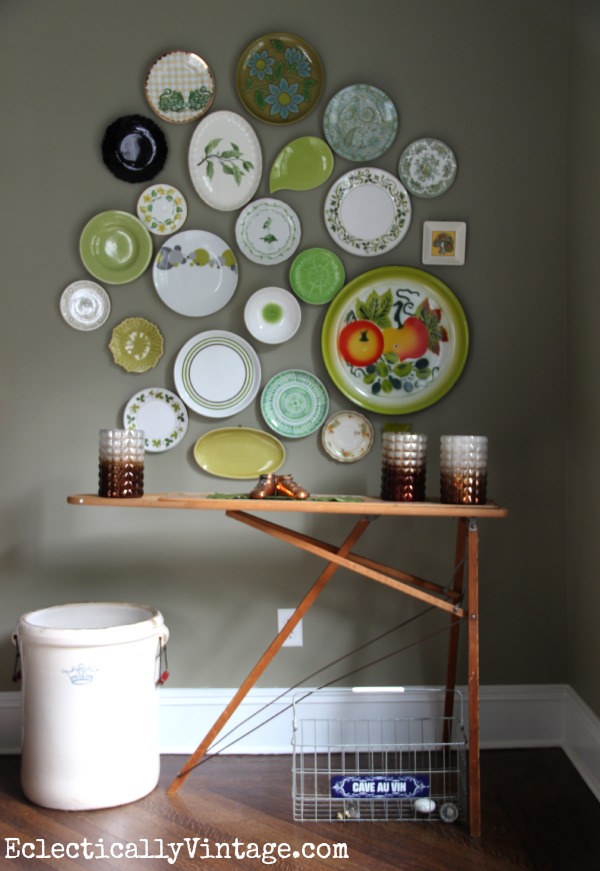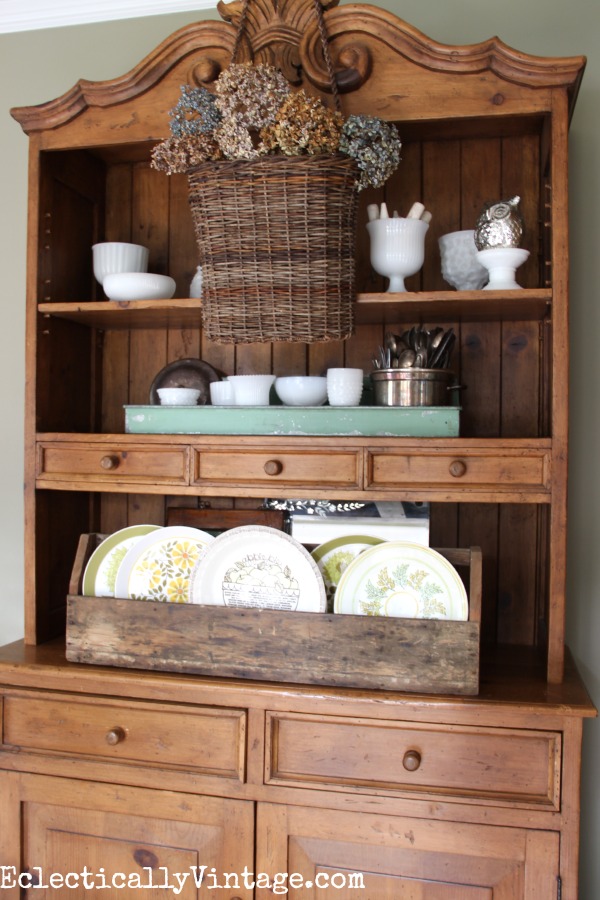 I love the texture of the hanging basket – perfect for showing off dried hydrangeas.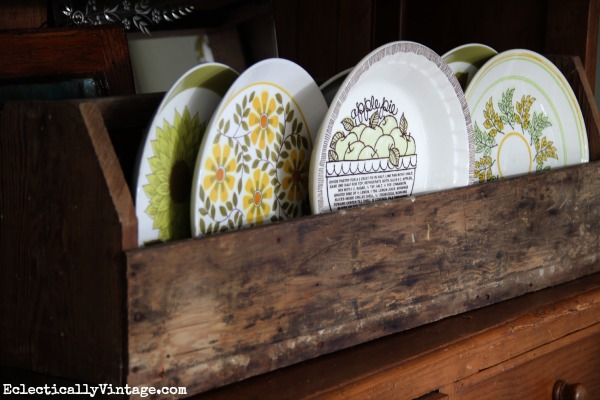 Fall is all about good friends and good wine so I created these vintage corkscrew free printables.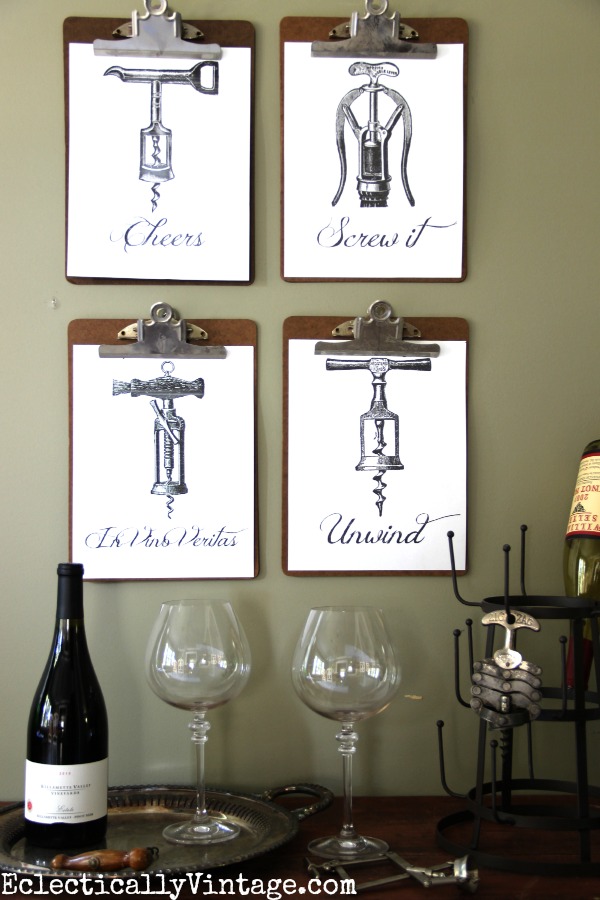 To make the coconut table runner stand out again my dark table, I layered a little blinged out wrapping paper underneath.
Who says terrariums are just for plants?  Layer some moss, a birch candle and a little gnome and it's the perfect fall centerpiece.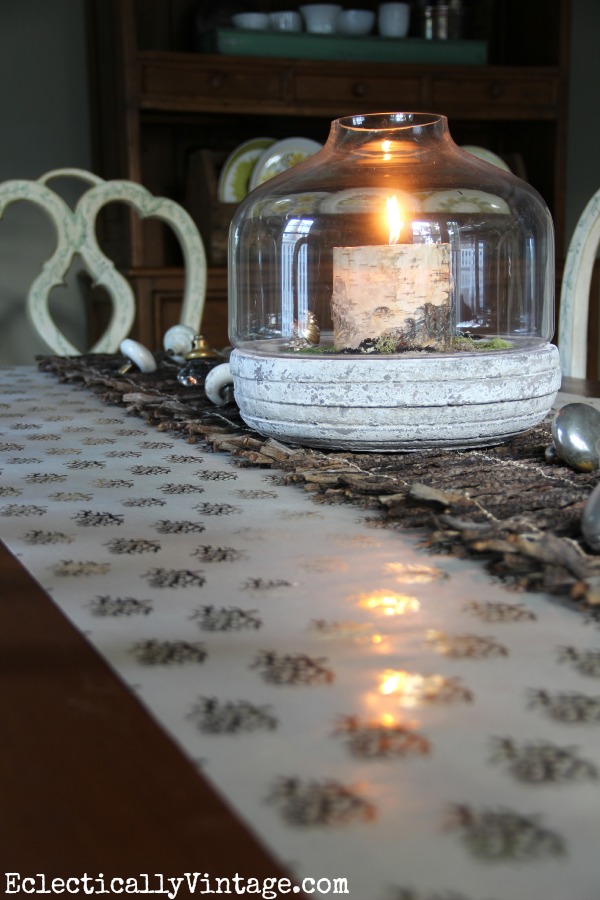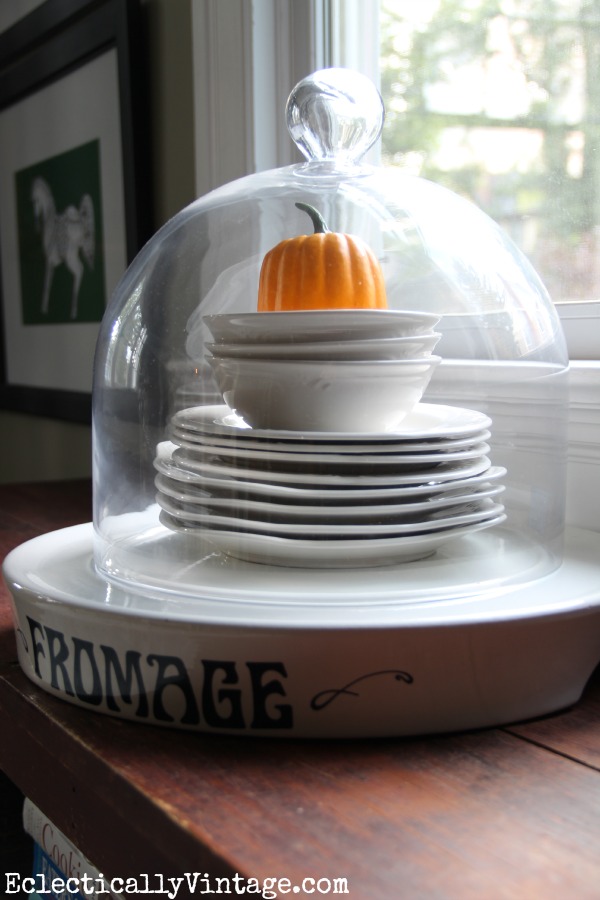 Don't let the rush of activity and commotion stress you out this fall.
Do what I do, decorate then keep calm and drink lots of wine – cheers!