Exceptionally Eclectic – Fabulous Foyer Fix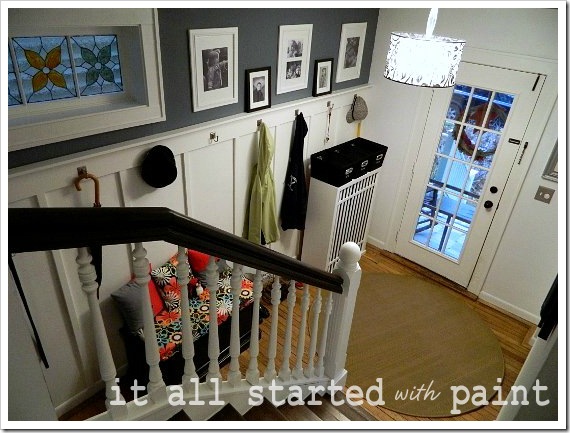 Here's the second installment of 
Exceptionally Eclectic
 – where I highlight cool things that catch my eye every week – enjoy!
It was blah and boring.  Now it's a fresh and fab foyer!  Linda at It All Started with Paint has a goal to fix up each room in her 100 plus year old Chicago house for less than $500 per room! She is a true DIYer and she and her hubs re-did the foyer with their own four hands (and a little help from an electrician).
I knew I liked her style right away but when I discovered that she's from Jersey (no, she doesn't have big hair either!), that was the icing on the cake.
Now, onto her foyer!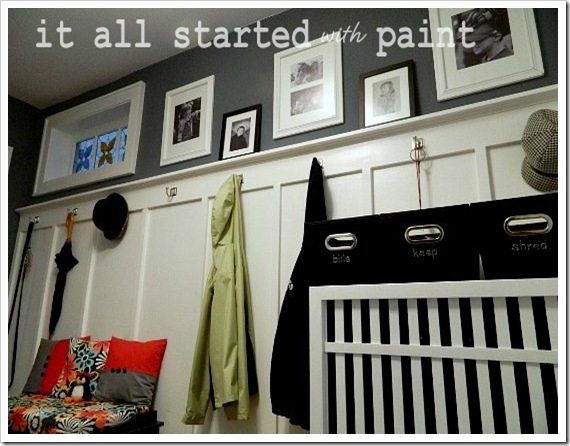 She used some elbow grease and lots of imagination to transform this space with faux board and batten on the walls, bold paint and a great new radiator cover.  My favorite part is the transformation of the 100+ year old bannister with a rich dark stain on the railing, and fresh white paint on the spindles.  It makes a world of difference in transforming the original  into a real stunner.
I even had a moment of inadequacy when I saw that Linda painted a "rug" on her front porch but I have forgiven her!