Fab Friday Finds – Unique Memo Board & Curbside Castoff Table
Here's the story of a lovely lady of an unlikely memo board combined with a curbside castoff to create the perfect landing spot by my back door for notes, keys, shades … and other random things!
At an estate sale a few months ago, I spotted an old crib in the dark recesses of the attic (picture me doing the happy dance)!
I politely declined the possibly bedbug ridden mattress though – getting itchy just thinking about it.
Right away I knew it would be the perfect memo board – one day.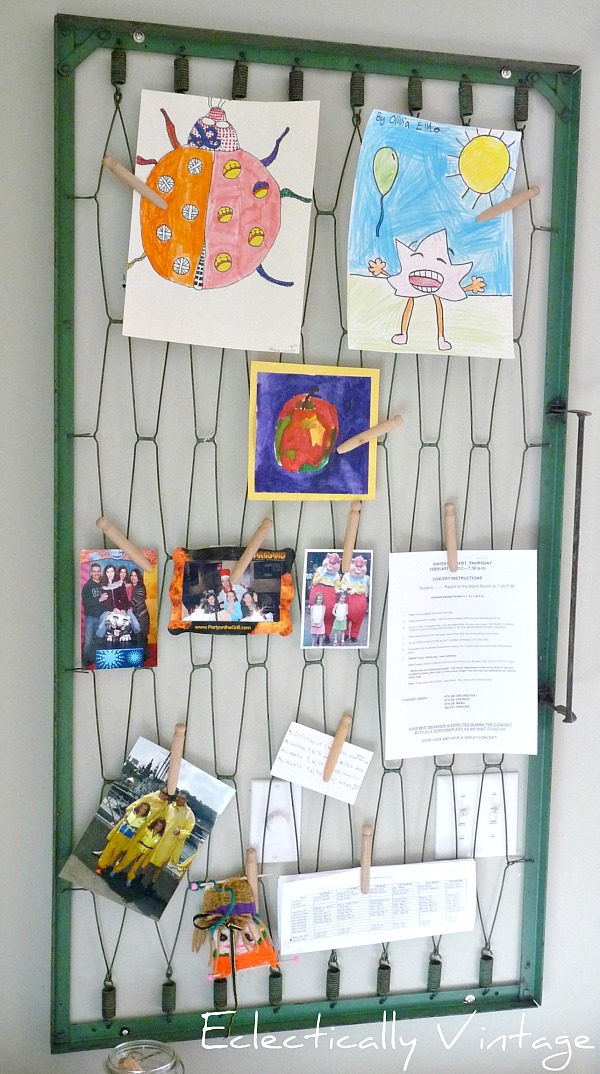 But since it was almost Christmas when I found it, the crib spring made it's first appearance on my Christmas mantel.
Christmas came and went and the crib spring came down (much to the hubs delight)!
But alas, he didn't have time to rejoice for long because before he knew what hit him, he was hanging that spring on the kitchen wall where it's our new memo board.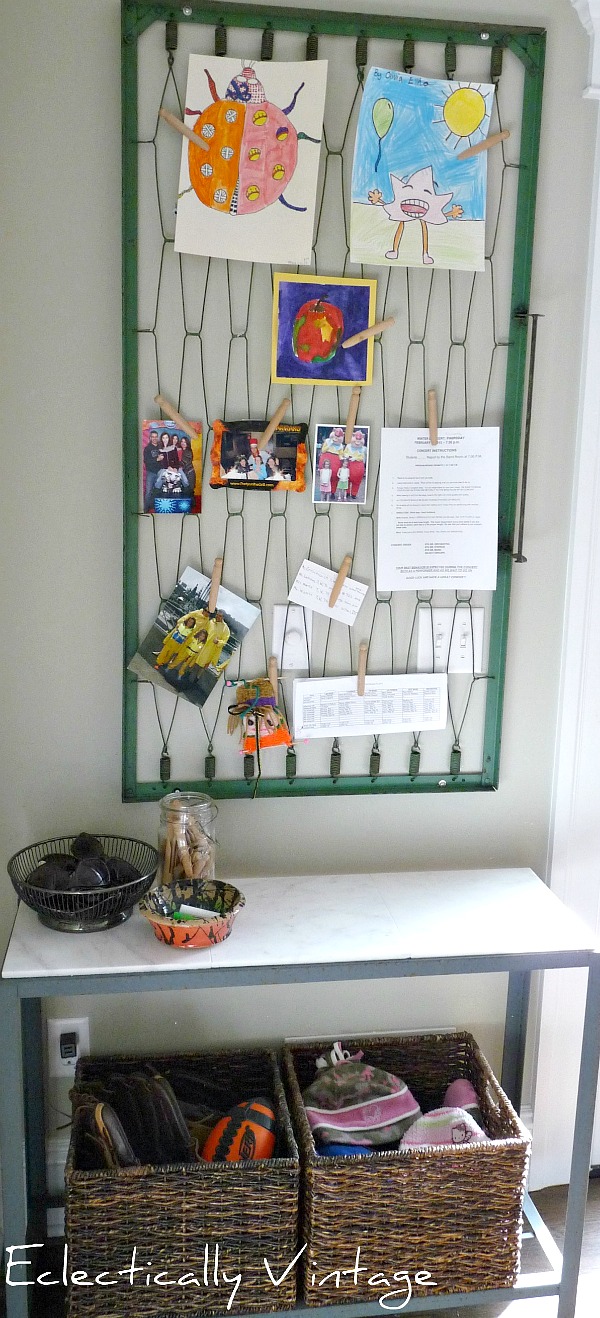 The blue metal table under the spring is a curbside castoff I rescued from the side of the road.
I still laugh out loud when I think of getting caught in the act by the hubs.
Can you believe that at the same moment I was wrestling the table into my car (far from my house, I might add), he drove by shouting, "Just Leave It There"!
He scared the bejeebers out of me but it didn't deter me from my mission.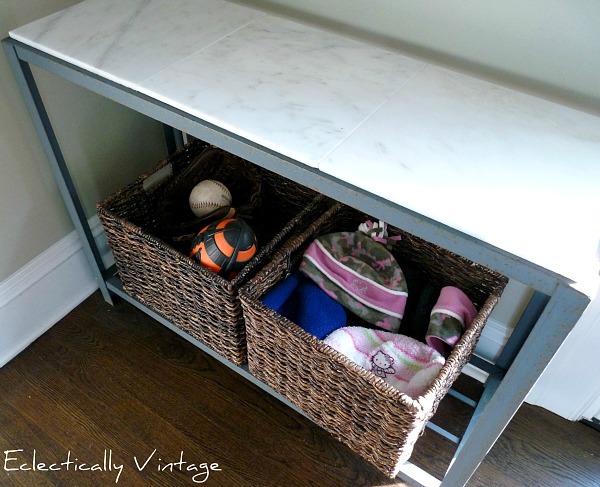 The table (did I mention it was FREE!) was topless (how embarrassing!) so I had grand plans of getting a piece of marble cut for the top.
Months went by and she still had no top – until fate intervened.
While cleaning out my basement (which resembled a scene from Hoarders), I spotted some leftover tile used in our house reno.
Three marble tiles fit perfectly!  Entire table = FREE!
The perfect fit around the light switches!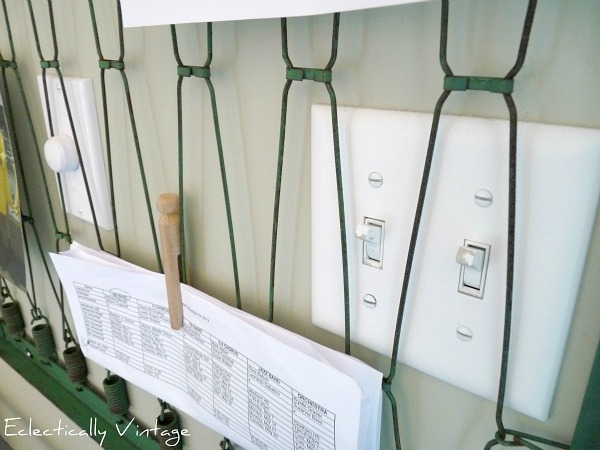 Old clothes pins are perfect for hanging all those A+ (hopefully) papers!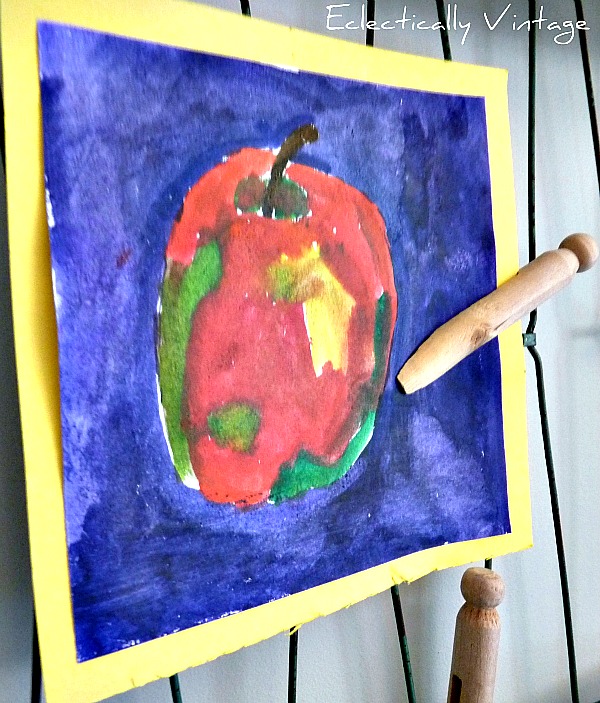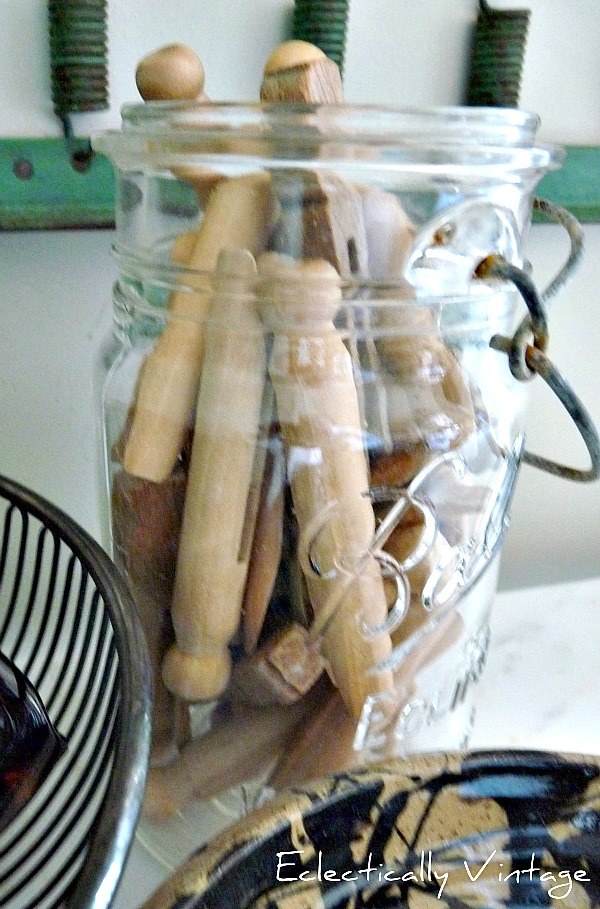 Keep your eyes peeled at yard sales and thrift shops (and by the side of the road) for hidden gems.
Hold your head high while you're diving into that dumpster and you'll probably find some pretty cool things too!
And don't be afraid to shout it from the rooftops – I found it in the trash!