My Favorite Things Living Room Updates!
See how you  can turn any photo into art! Print family photos on canvas, wood, glass, acrylic and more.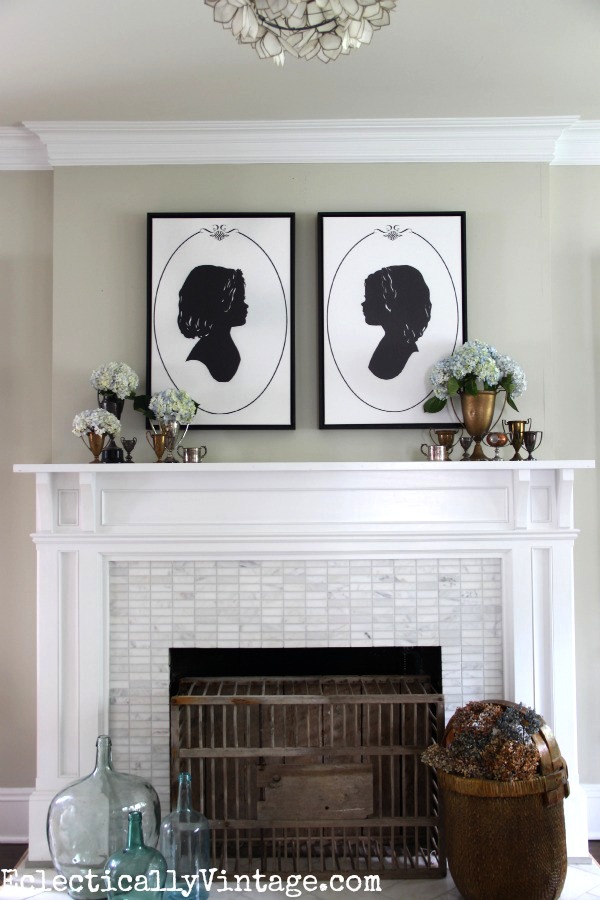 What's black and white decor and read all over?
My living room (I do read in here you know).
Our living room is in the center of our house.  I love that we have to pass through it often and it's not in a forgotten area gathering cobwebs and only used on special occasions.  It's the perfect place to read a book, have a cocktail or sit before a roaring fire (or an old chicken crate when the weather is warm).
It's definitely a well lived in room so why not showcase family in a big way.
When Shutterfly and Martha Stewart Living Omnimedia asked me to be part of Shutterfly by Design, I leapt tall buildings at the chance.  Seeing Kevin Sharkey's apartment and his Shutterfly products inspired me to get really creative.  Plus they are currently running a promotion through 9/3 for 40% off the entire site with code LABORDAY40!  I hope my living room update inspires you to get creative too.
I was smitten with the idea that their blank white home decorating items can be completely personalized with favorite photos, quotes, sayings … whatever strikes your fancy.
My inspiration includes a few of my favorite things (cue Julie Andrews on a mountain top) …
Silhouettes
I'm a huge fan of silhouettes and have a small vintage collection (surprise).   I scanned small silhouettes of my girls, flipped one around so they face one another and uploaded them to Shutterfly to turn them into the most amazing framed canvas focal point over my mantel.
But why stop there?  Their cute little profiles also grace a fleece blanket that's perfect for cuddling.  I used the same two silhouettes of my girls and tiled them onto a fleece blanket from Shutterfly for a total of 12 silhouettes.
Family
What's a family gathering space without showing off the family?  My gallery wall mixes some of my all time favorite photos.  One huge family photo turns into wooden wall art alongside large canvas prints coupled with lots of framed photos.  Display ledges make it easy to switch things up.
I love mixing large canvas photo prints from Shutterfly with framed photos (did you know you can pick up prints at your local print shop)?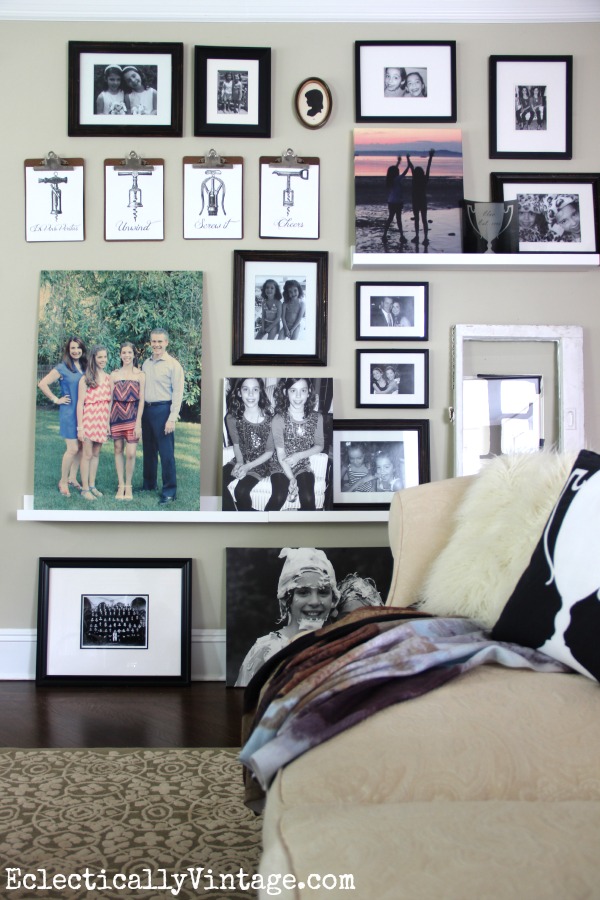 It's rare to get me out from behind the camera so family photos aren't common.  This one takes center stage as a piece of wood wall art from Shutterfly.  The photo is printed right onto the wood and I love that the wood grain can be subtly seen in the photo.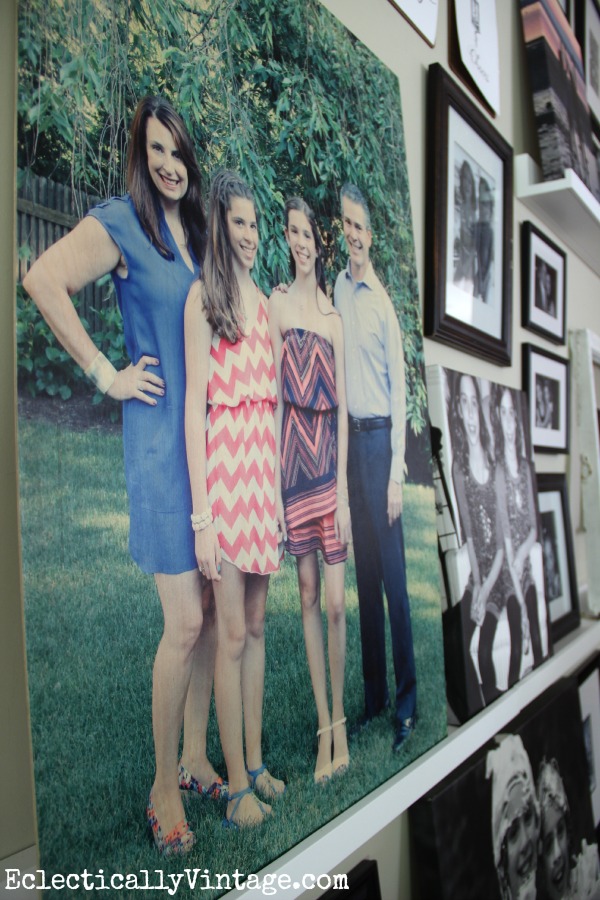 Mixing up a gallery wall with a few unexpected pieces like these vintage clipboards makes it fun and I think we all know about my love affair with a good glass of wine.  I created these fun corkscrew printables for you to print for free!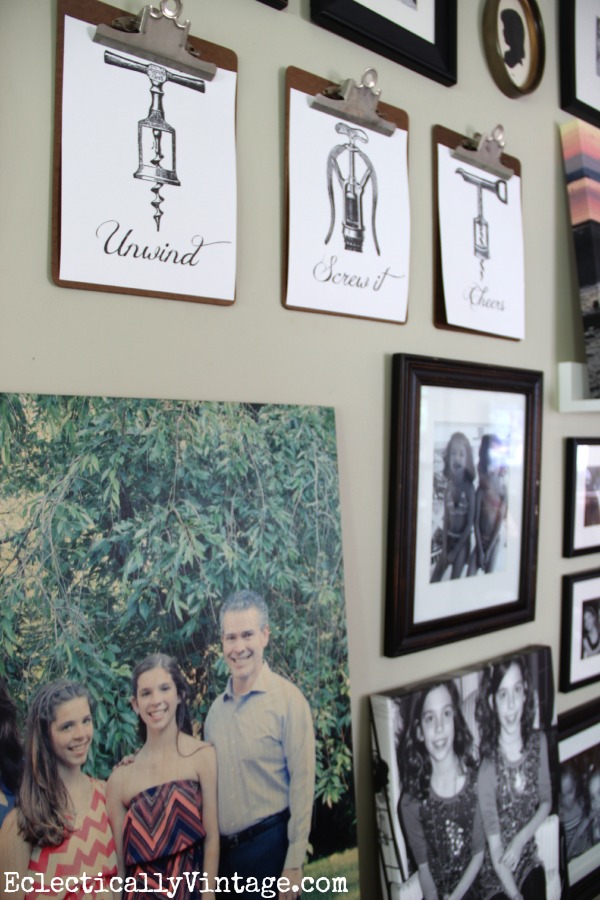 Loving Cups
I created a loving cup pillow which is a nod to one of my favorite collections.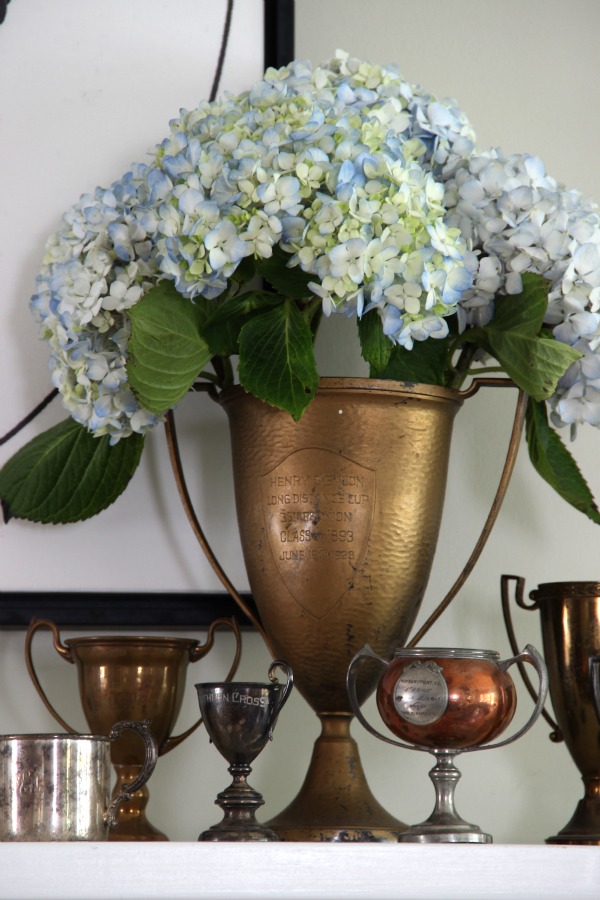 Of course, the background is chalkboard because you know I have a mild obsession for those too.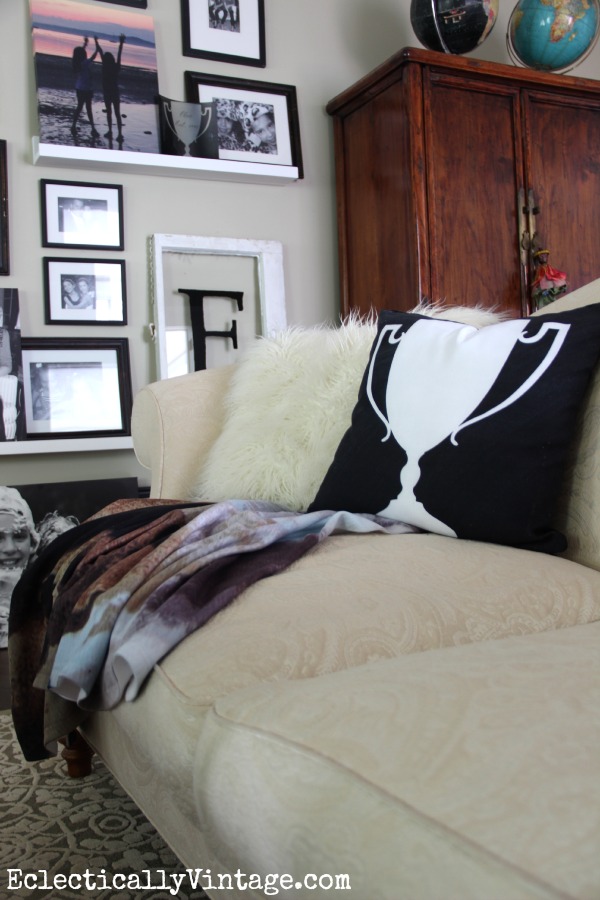 I added our family crest – I mean our last initial – to the loving cup and printed it on curved glass from Shutterfly.  Elko's Est. 1995 (no pressure but my hubby better come up big for our 20th anniversary).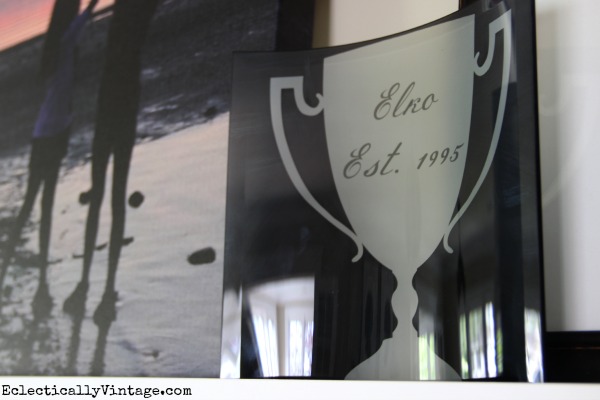 Leopard
I live in Jersey after all so I'm all about a little leopard and consider it a neutral.  The idea for the leopard print pillow and fleece throw came straight from my closet.  I simply took a close up photo of a favorite top and uploaded it to Shutterfly and they worked their magic to transform my photo into something with real animal magnetism.
The best thing about having a white sofa is that I can change out the accessories on a whim for a completely different look.  The fleece pairs with a few Shutterfly throw pillows inviting anyone who enters to cuddle (hmmm, that could get awkward).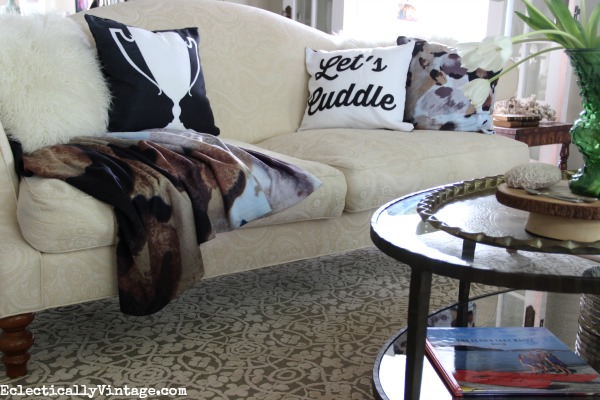 Laughter
I calculate that on average, I laugh, smile, guffaw or titter at least 724 times per day.  These fun sayings make me smile every time I look at them.   I chose a whimsical font to create to create these and now Handsome and Gorgeous know exactly where to sit.
Art
I was almost an art major in college until I realized my creations are better left undiscovered!  That didn't stop me from turning a watercolor of my house (see how easy it is to turn any photo into a watercolor- no at skills required) into a Shutterfly acrylic block.  I love the way it glows in the sunlight.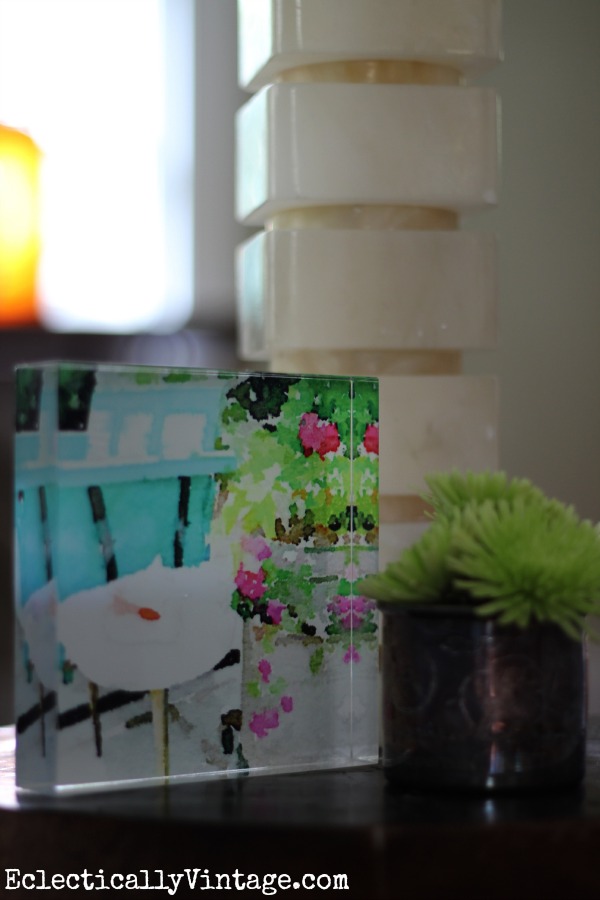 I'm also a big fan of decorating with books and love stacking family photo books with them.  I've been creating an annual photo book of our adventures for years and  I thought chronicling our summer vacation in Maine last summer  deserved it's own book of honor in a big 12″x12″ photo book.  There are so many beautiful styles to choose from that finding one that worked for our vacation and our personal style was a breeze.
It's easy to get creative with all of the fun colors, patterns and layout options.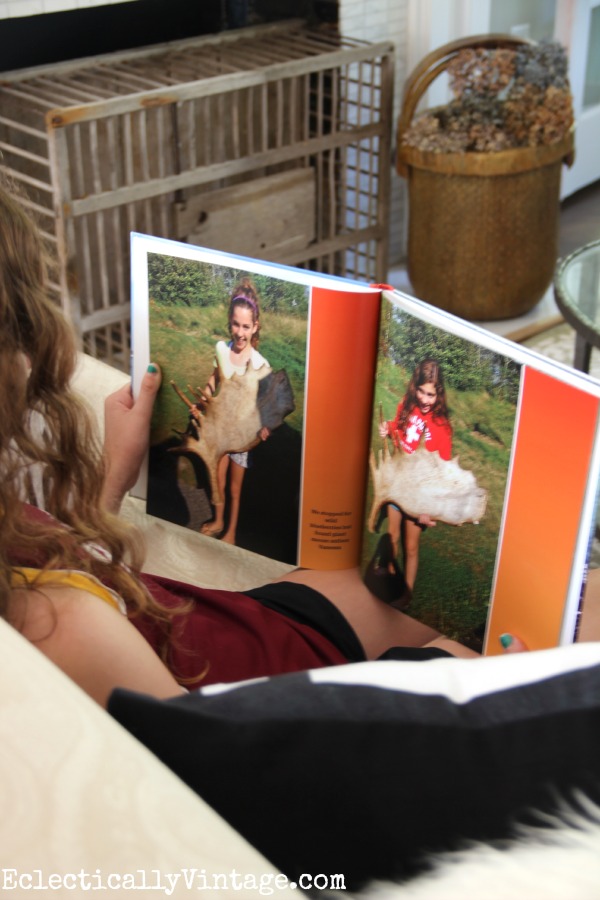 When we gather with friends, they love looking through the photo books and my girls love remembering how we attempted about 40 family selfies atop Cadillac Mountain until we finally got the shot!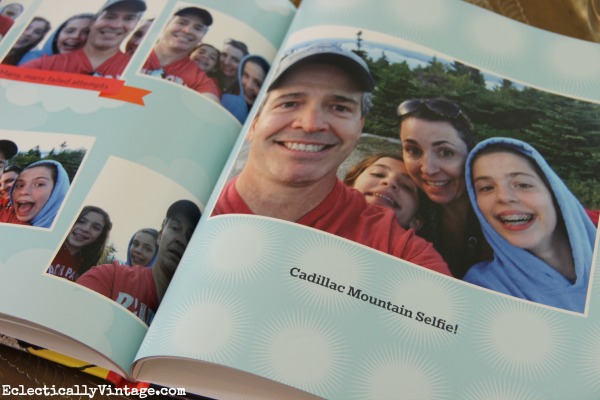 The living room is a fun family gathering space filled with things that mean something to us.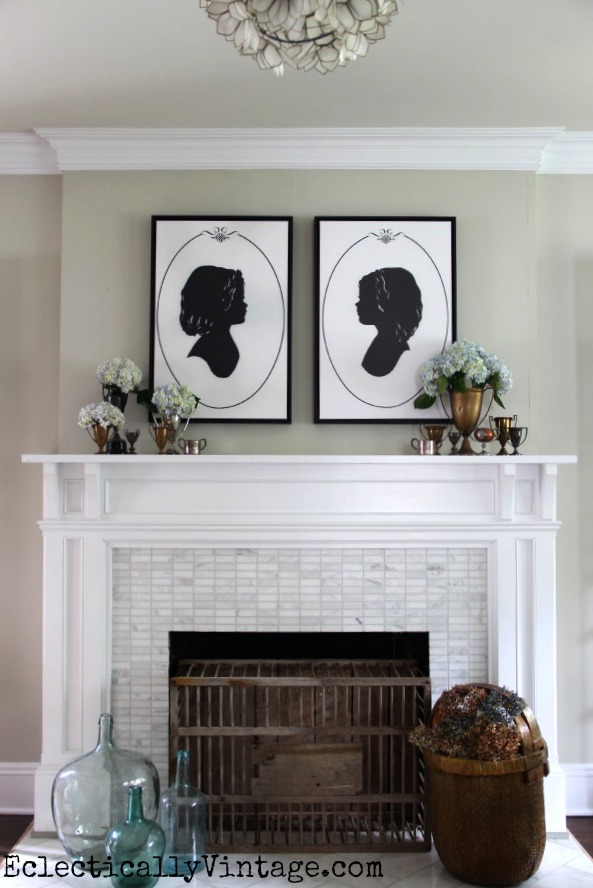 What inspires you?  How would you personalize your space?
Feel free to use my designs for yourself.  Just download them to your computer then upload them to Shutterfly.
Trophy Pillow 18″ x 18″ Download
Hey Gorgeous Pillow 18″ x 18″ Download
Hello Handsome Pillow 18″ x 18″ Download
Let's Cuddle 18″ x 18″ Download
Leopard Pillow 18″ x 18″ and Fleece Throw Download
Hop, skip or jump but just get over to Shutterfly and check out what I consider to be one of the greatest ideas since selfies.
Check out my full home tour here.
Thanks Shutterfly and Martha Stewart Living Omnimedia for asking me to be part of Shutterfly by Design.  I only speak the truth.