How to Clean Vintage Luggage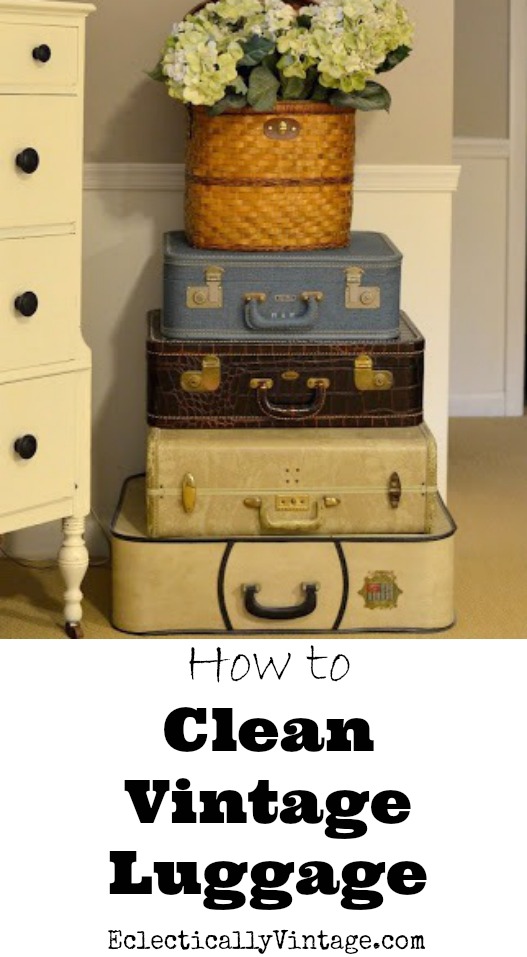 Oh the places you'll go …
but if you're stuck at home, you can at least have a suitcase that's been around the world (or the block at least).
Vintage suitcases have so much character – the aged leather, the monograms, the travel stickers.
They harken back to the days when people dressed for a flight …
you'd never see a pair of pink Juicy sweatpants on that woman with the beehive hairdo gliding through the airport in kitten heels and flouncy dress in 1952.
If you're lucky enough to snatch up a vintage beauty, bring it home and give it a good bath and it will be good as new …
and will smell like springtime and butterflies (or at least won't smell like mold and mildew) with these tips.
How to Clean Vintage Luggage
Supplies:
Magic Eraser (I found a no name at the dollar store that works just as well)
Vacuum Cleaner
Mild Cleanser – I like Simple Green spray
Old Toothbrush
Paper Towels
1) Magically erase scuff marks with the magic eraser
2) If your luggage is leather – be gentle and don't scrub but if you have hard luggage, use an old toothbrush and mild cleanser (Simple Green) to get into the grooves around handles and latches.
3) Wipe down suitcase with damp paper towels then dry
4) Vacuum the inside of the suitcase with a hose attachment to get rid of years of travel memories – aka, dust, crumbs, random bugs and cobwebs.
5) Take the sniff test.  If your luggage doesn't pass, just set a bowl of baking soda inside and shut it for a few days.
6) Use your newly spiffed up luggage to store stuff or stack or do something crazy like take it on a trip to the Bahamas!
Tip:  once clean, put a dryer sheet in the suitcase to keep it smelling fresh
Bon Voyage.
P.S. Want to learn my secret tips for scoring the best vintage finds?