Got pets? Read my tips on how to have a clean house with pets.
I have a confession to make.
Less than 24 hours after bringing our dog Sushi home, I broke down in a fit of uncontrollable sobs!
I feared this adorable little creature would wreak havoc on my house. Almost four years later, I couldn't imagine life without her.
Did you know that May is National Pet Adoption Month and I'm thrilled to be teaming up with Swiffer to celebrate and let everyone know that fearing pet messes should never hinder anyone from adopting a furry friend.
To combat the messes and smells that come with the territory of having pets, I'm sharing my tips for keeping the house smelling and looking great because we all know that dogs are pretty messy beasts and that shed happens.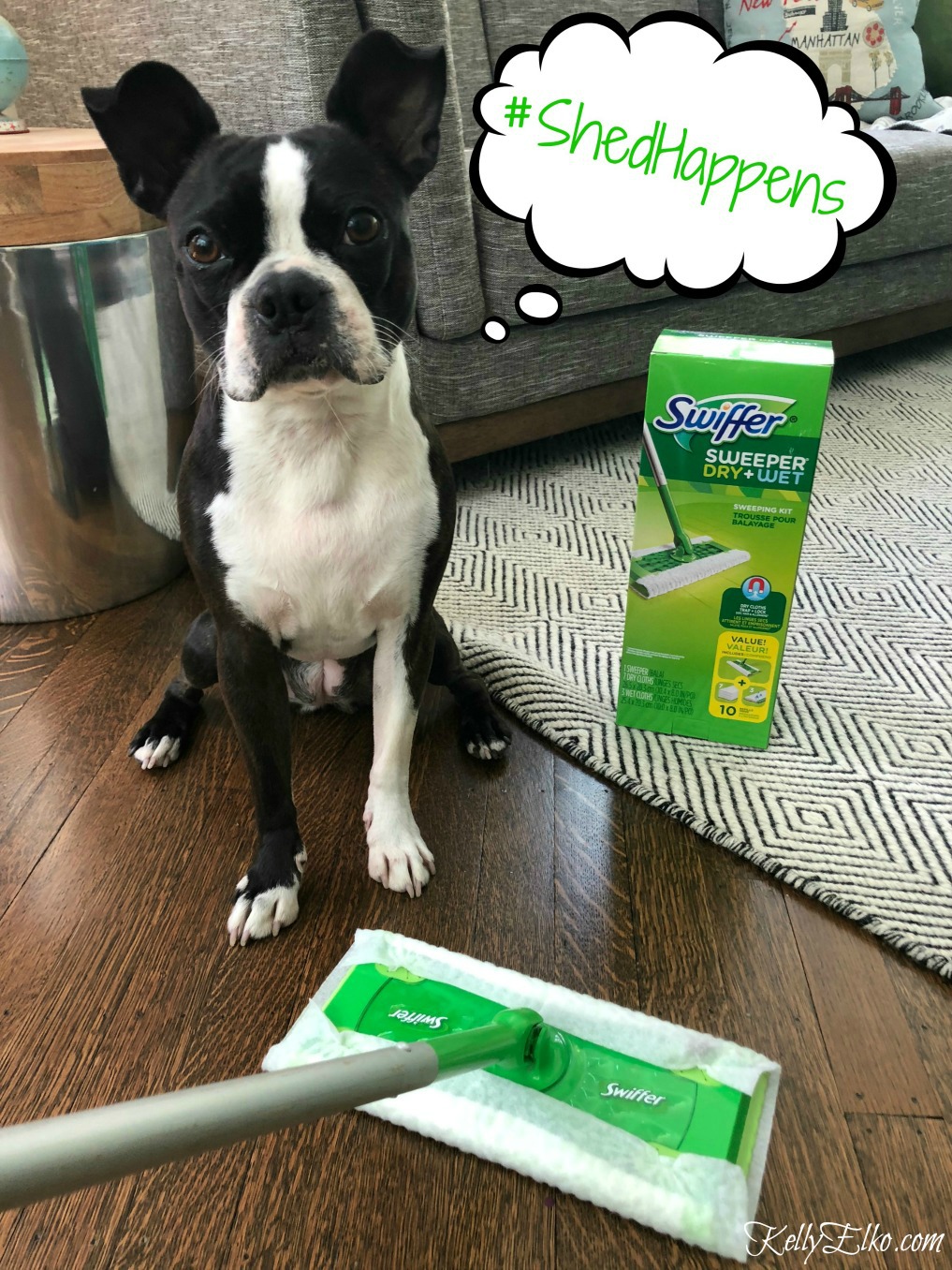 How to Have a Clean House with Pets
Baking Soda Shampoo
Let's face it – dog's stink! We can't bathe them every time they stink and I don't recommend bathing dogs more than once a month (it dries out their skin) but sometimes dogs need a little freshening up. Baking soda makes a perfect "dry shampoo" – just sprinkle some on your dog's coat, brush it out and smile because your dog no longer stinks!
Pet Wipes
Keep a container of pet wipes (make sure you use ones specifically made for pets) by the door and wipe down your dog's coat if she gets really dirty. Wipes are also great for getting pollen out of dogs fur.
Brush
Even short haired dogs like mine benefit from brushing. Brush daily – outside – to remove excess fur and keep shedding to a minimum.
Paws
My number one tip that will save you tons of clean up time is cleaning your dogs paws. I keep an old towel by the door so I can clean muddy paws before they enter the house.
Throw Blankets
Protect furniture from dirt, shedding and scratches with throw blankets. Stash extras in a pretty basket so you can rotate them from sofa to washing machine and back.
Rubber Gloves
Don a pair of rubber cleaning gloves, run them under the faucet to dampen them (not sopping wet) and run your hands over your sofas, chairs and rugs then watch the hairs magically stick to the gloves. You can do this on rugs too!
Floors
Every day, I use my Swiffer Sweeper on my hardwood floors and I'm always amazed at the amount of dog hair mixed in with the dust bunnies! I love the deep ridges on the Swiffer dry cloths because they really trap and lock in dirt, dust and hair. If things get really messy, I use a Swiffer wet cloth (wet and dry are interchangeable on the same mop). Spending just a few minutes a day doing this makes a huge difference.
Rugs
Try to vacuum every day using a quality vacuum with a HEPA filter which eliminates fine particles of dust.
Bedding
Forget comforters, duvet covers are your friend since they can be easily washed.
Dog Bed
Wash your dogs bed once a week in the hottest water the bed can handle (using baking soda or pet friendly detergent). I have two beds that I rotate.
Toys
Keep your pets toys germ free by popping plastic toys in the dishwasher and soft toys in the washing machine.
Collars
Collars pick up grime and germs so it's important to clean them often. Soak them in a mixture of pet shampoo and water then scrub well and let air dry.
Pet Bowls
Stainless steel bowls are best and are dishwasher safe (plastic bowls develop scratches over time which may trap bacteria). Keep a placemat under pet bowls to catch spills and wipe daily.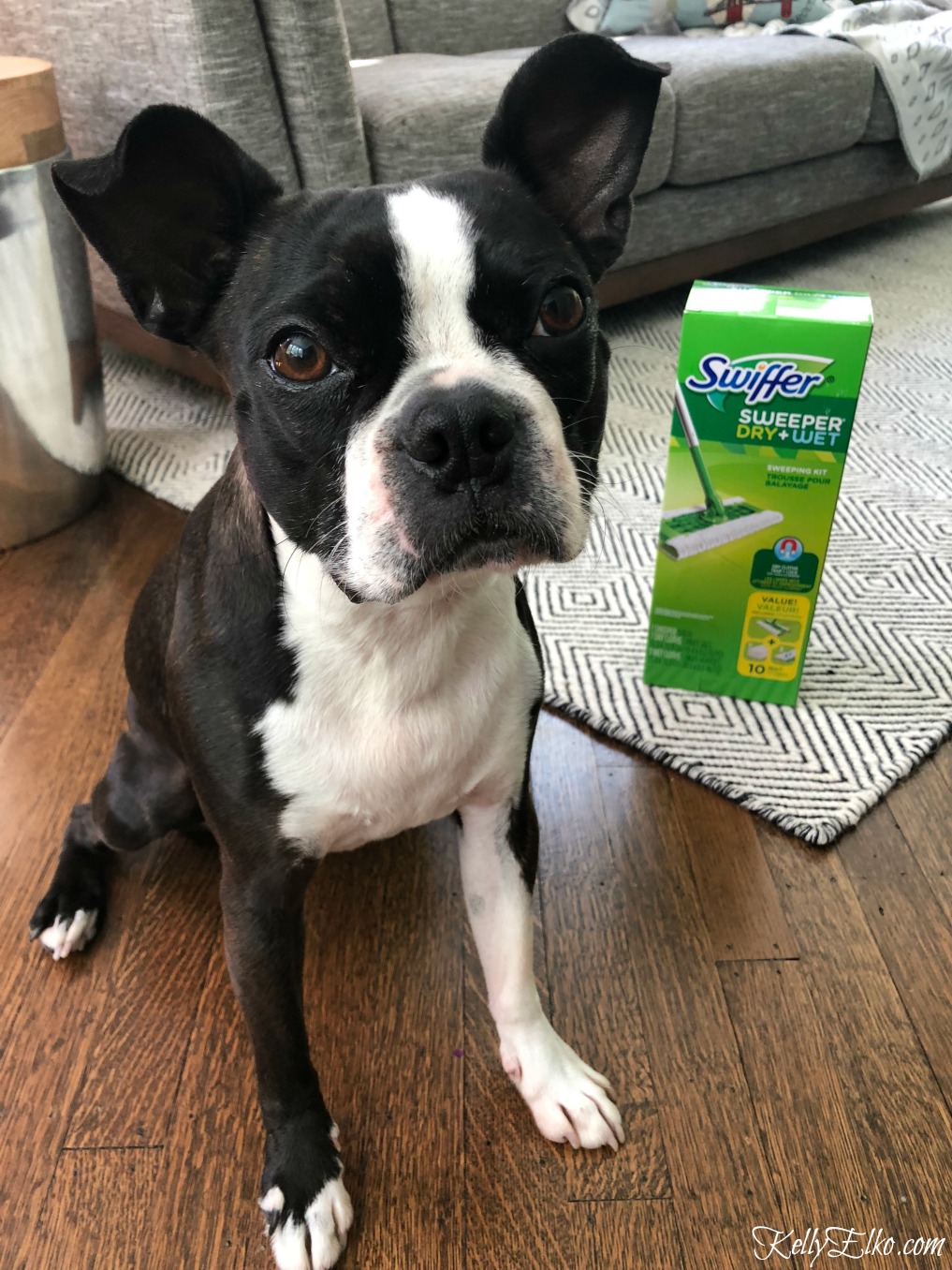 #ShedHappens! You can have a clean house with pets and it's definitely worth a little extra clean up time so don't let the thought of shedding pets keep you from enjoying a furry friend.
P.S. The Target Cartwheel app has some great Swiffer discounts through June 2 including $2 off Swiffer Sweeper Starter Kit and $2 off Swiffer Sweeper Refills. If you don't have the app, you can access the coupons at Target HERE: