How to Mix Colors in Decorating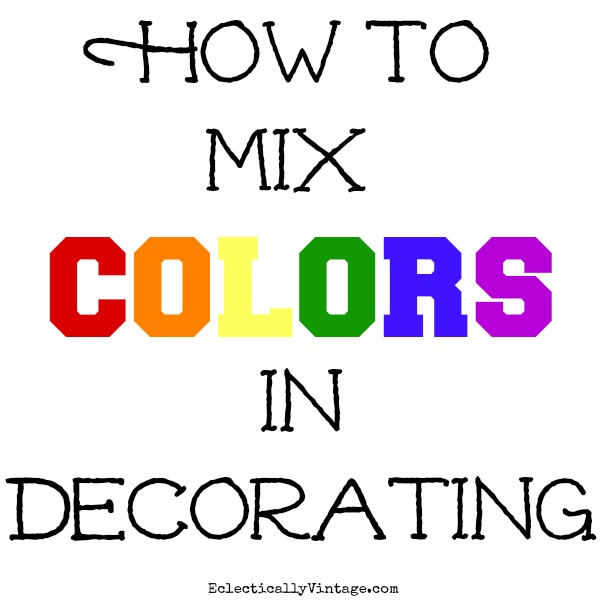 Can I have a whoot whoot?!
Yes, my colorful little sunroom is in the running for the Apartment Therapy Room for Color award!
I would love it if you'd pop over – just click here to vote for my sunroom (you have to register with an email but don't worry, they won't sign you up for anything else).
Thank you soooooo much – you are all amazing and I love every single one of you for stopping by and supporting me each and every day.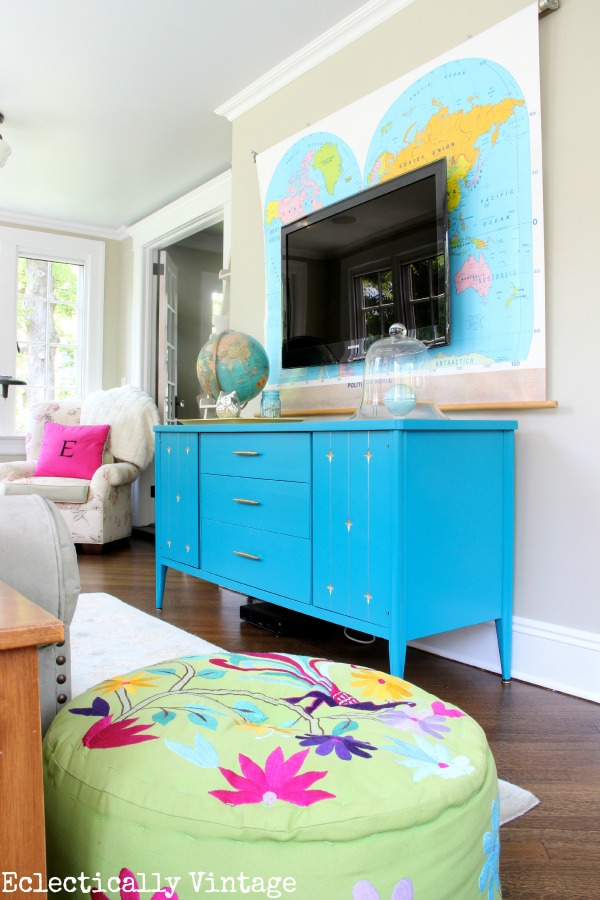 My house is the lady in red while everyone else is wearing tan.
Yes, just like The Nanny, I love color (and leopard print).
But how to successfully mix color without looking like an explosion at the paint factory?
Sure you can go out and buy everything at once – ensuring that everything goes together …
but where's the fun in that?
A home should reflect the personalities of the fabulous people who live there.
But how to mix your treasures and finds in with what you already own?
Let's use my sunroom as an example of how I used pretty much every color in the rainbow and why it works.
How to Mix Colors in Decorating
1) Buy what you love – sounds simple but if you can't live without it, it will probably look amazing with what you already own.
I fell in love with the shape of this vintage console table.  It was brown, the veneer was peeling and I knew it needed a little facelift to turn it into a happy piece for my sunroom.  Was there anything else blue in the room?  No.  Did that stop me from painting it a vibrant shade of teal (SW – Intense Teal)?  No.  Now, it's the focal point in the room.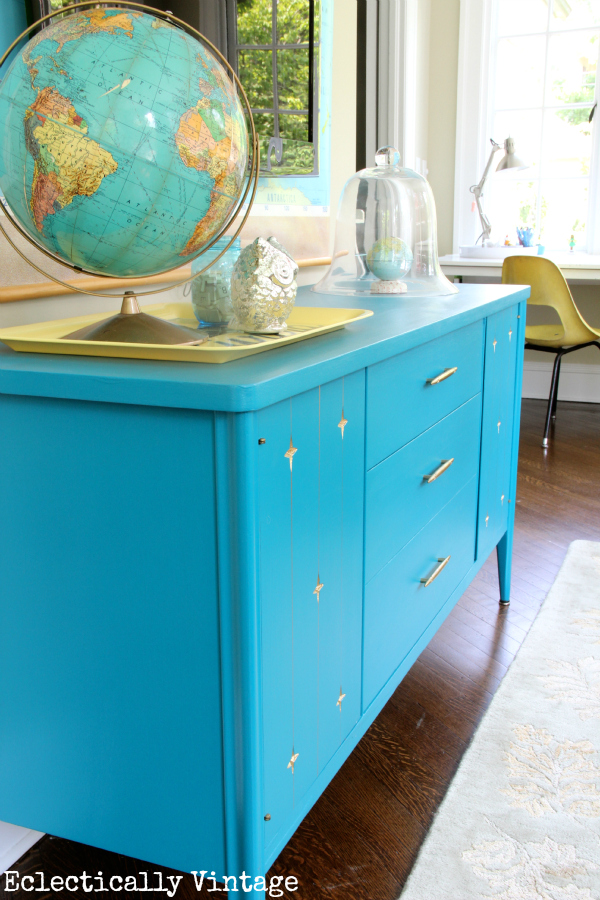 2) Take your cue from your largest pieces – big ticket items like sofas and rugs will help set the tone for what will work in the rest of the room.  If you have a neutral sofa, you can pile on lots of fun pillows but if your sofa has a floral pattern, you may want to pull a couple of key colors from the pattern and sprinkle them around the room with accessories.
I already owned the big pieces of furniture (sleeper sofa, rug, desk, desk chair, floral upholstered chair) in this room when we moved into this house.  The floral chair had been in my daughter's room, the sofa in our old office, and the rug in my former foyer.  This is a prime example of Tip #1 above.  Because I had bought things I loved and that reflected my taste, it made it easier to move pieces from room to room – where they all work together.
Luckily, the sleeper sofa is a neutral shade of green so it was easy to mix in fun colors.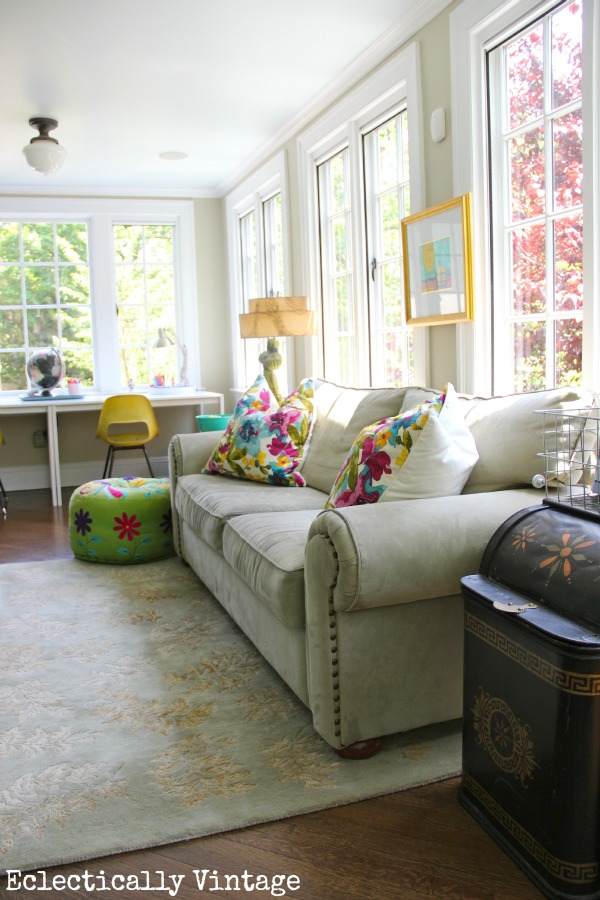 3) Use lots of white.  White window trim and moulding, white bookshelves, white Ikea tables used as desks, a furry white throw … this helps lighten up the intense colors.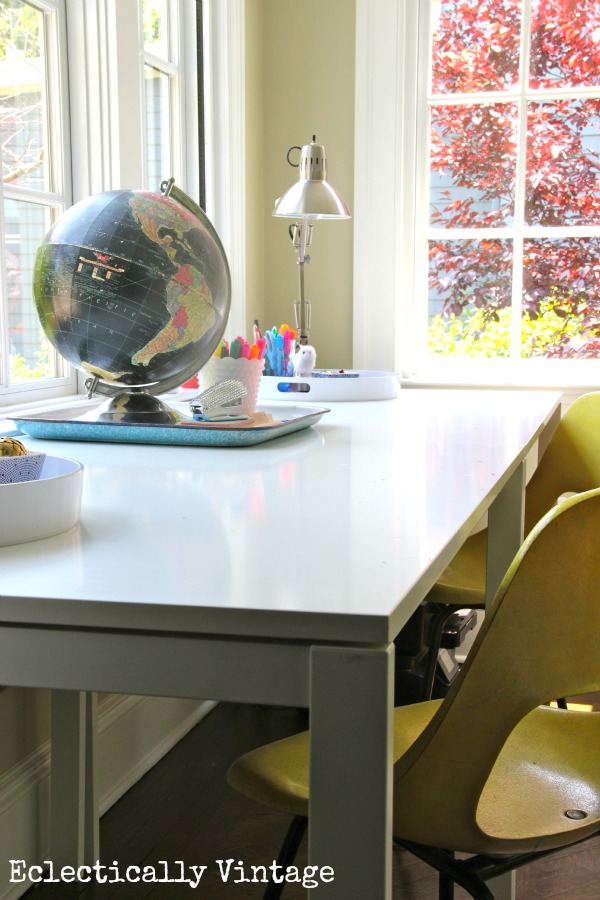 4) No color should be out of bounds.  So many people have said to me when I suggest something for their house, "but I don't have any (insert color) in that room."  That doesn't mean you can't try a new color.  Which leads me to point #5.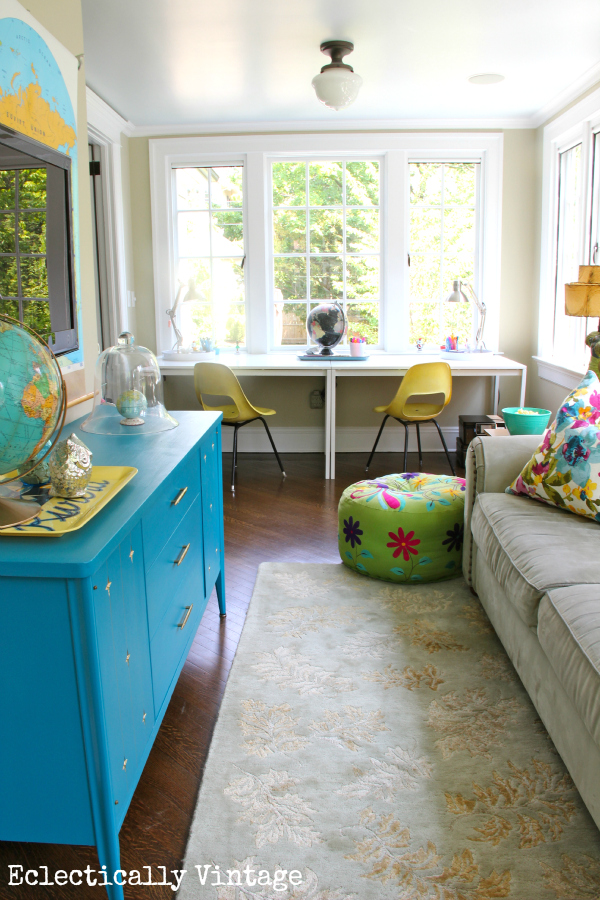 5) Be brave.  It's only color so go for it and live with it for awhile.  If you truly hate it, it's easy to return the rug or pillows but you may just surprise yourself and find you love your unexpected choice – like a hot pink pillow!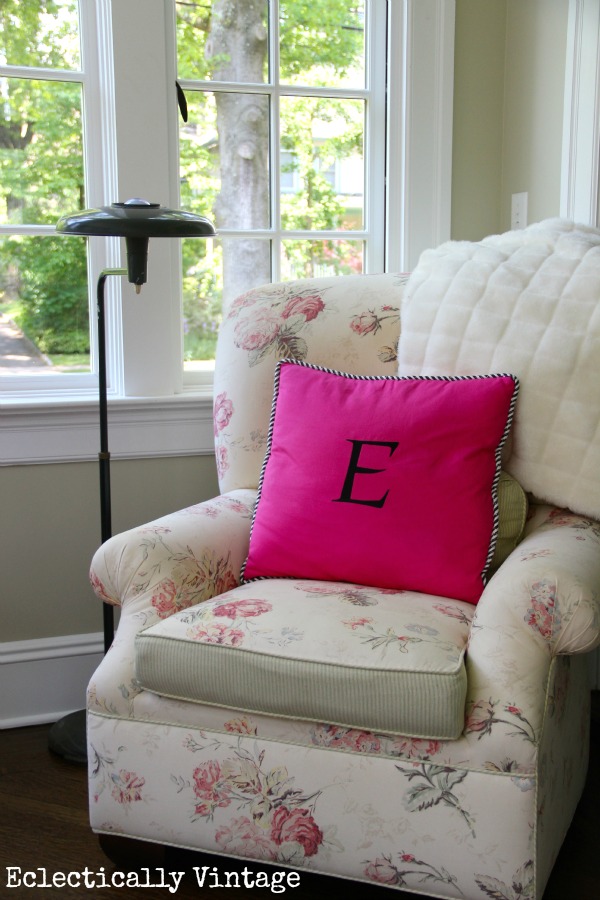 6) Dark colors can ground a room.  Notice my dark stained wood floors and black accessories scattered around the room (coal bin used as a side table, black globe, vintage floor lamp).  This keeps the room from feeling like a nursery!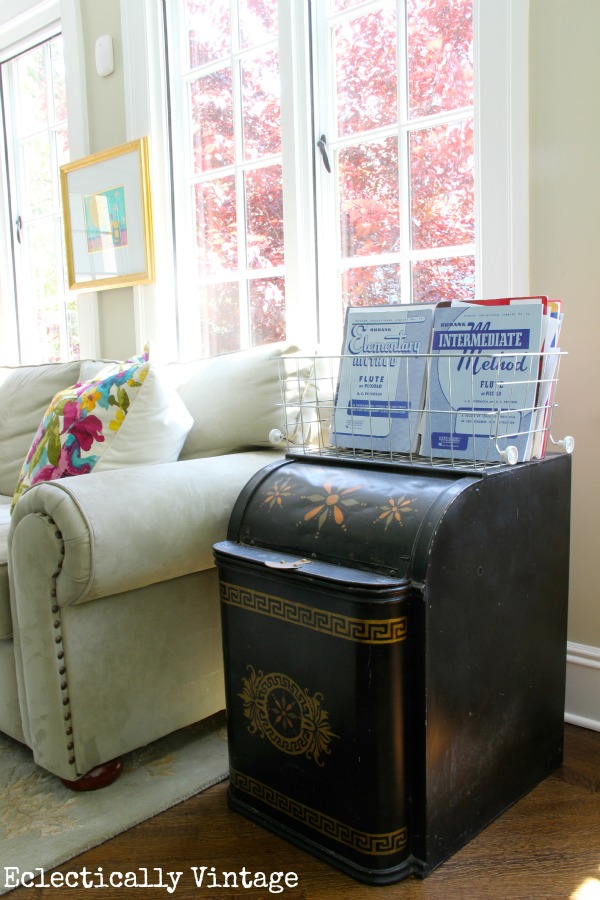 7) Embrace the collected look.  The most memorable rooms evolve over time.  Half the fun is in the hunt so be on the lookout for things you love and surround yourself with things that make you happy and you'll have a house that reflects your one of a kind look.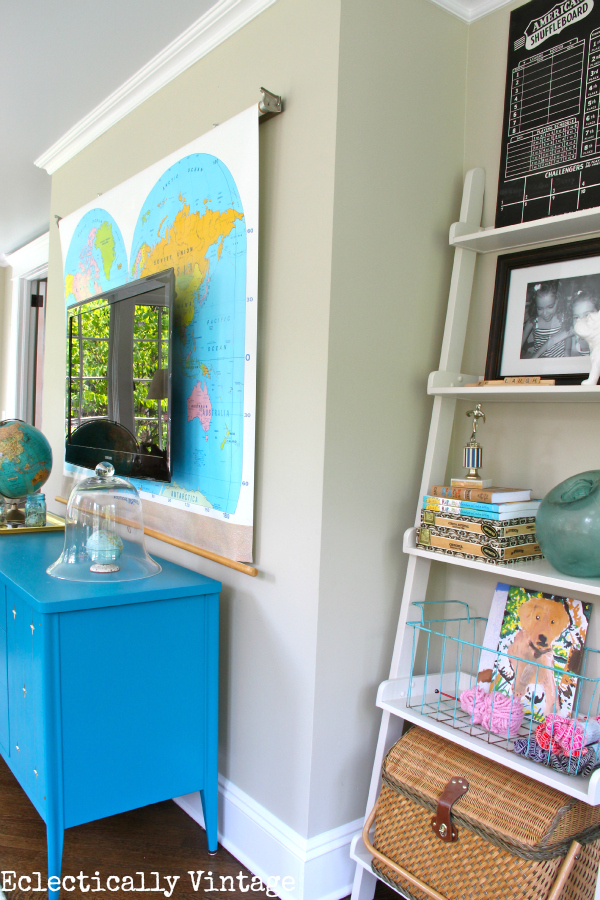 8) Don't forget to take pics of your room (close ups of rugs, pillows, sofas, etc.) on your cell phone and bring them with you to flea markets and yard sales.  This will help you decide if a piece will work with what you already own.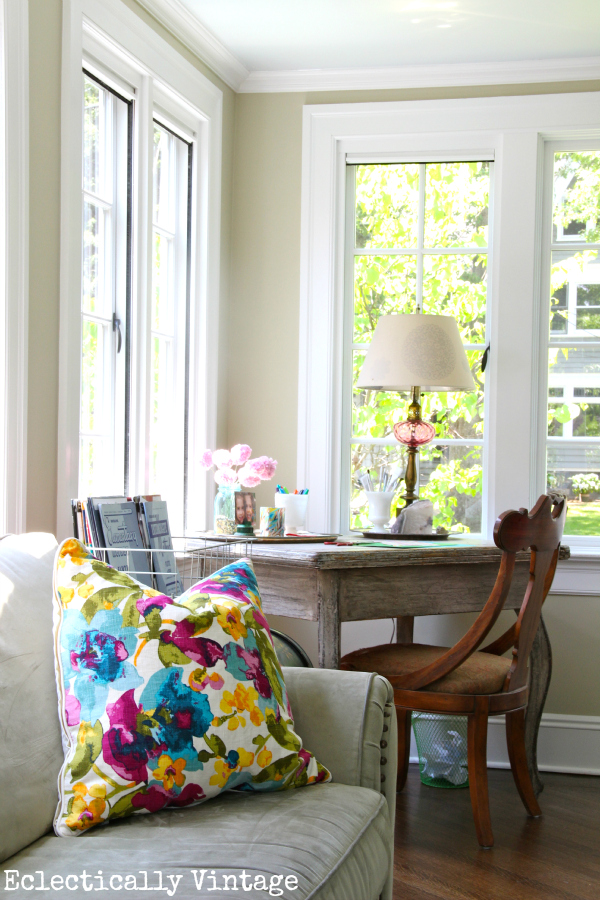 Here's to showing our true colors!
P.P.S.  Did you know Dazzling Blue is the color for spring?  See how to use it in your home – I'm sharing at the Lamps Plus blog.