How to Paint Fabric & DIY Nautical Dishtowels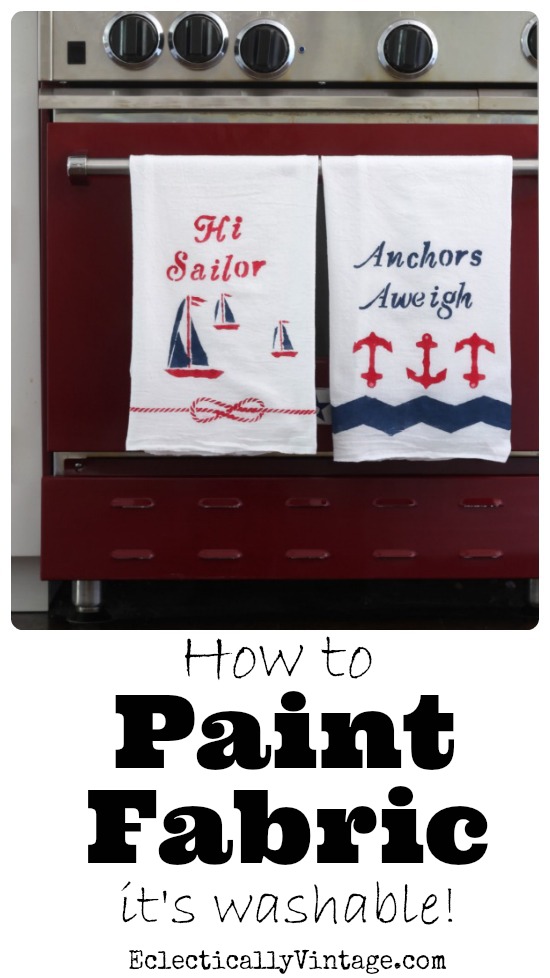 Have you ever stumbled across something that can solve all of the world's problems?
Well I have.
Ok – maybe I exaggerate a tad but this is definitely life changing.
Drumroll please …
fabric medium.
I know what you're thinking, "Kelly, have you been living under a rock" or "Kelly, you really need to get out more."
Mix this stuff with any paint, apply it to fabric and poof –  it magically becomes washable!
Since I'm on a nautical kick, I whipped up some towels to match my red stove (you can take a tour of my kitchen to see more).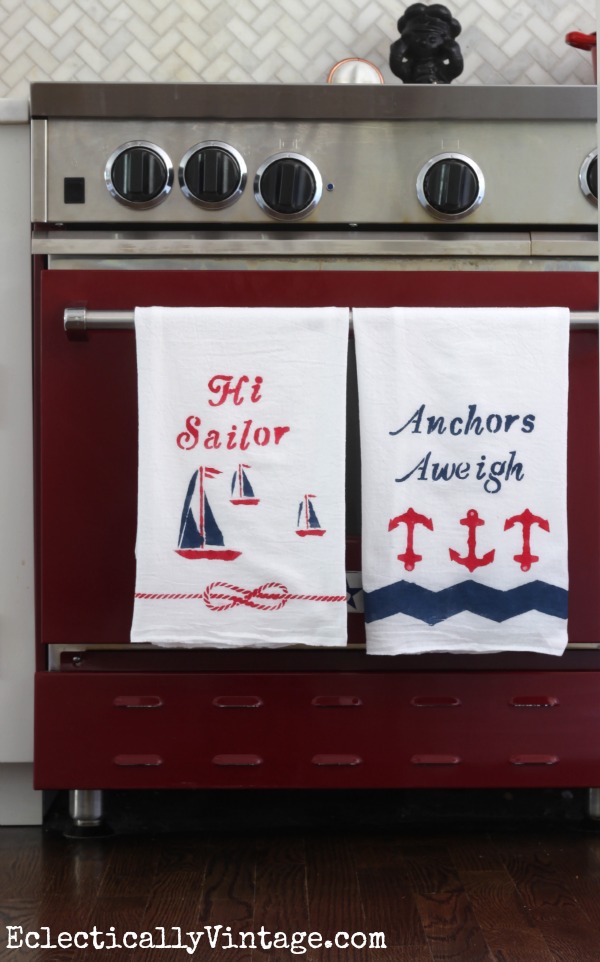 How to Paint Fabric
Supplies:
Fabric (I used flour sacks from Target or you can use these)
Fabric Medium
Craft Paint (I used Martha Stewart Wild Blueberry and Habanero)
Foam Pouncers
Stencils (I used these)
Paint Mixing Tray – or paper plate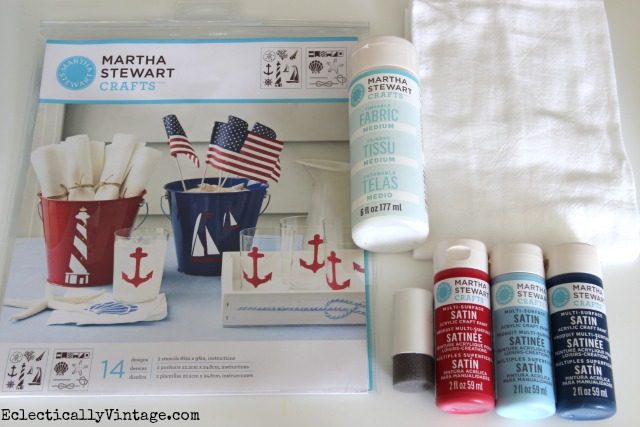 1) Protect your work surface (I like using big rolls of craft paper).
2) Wash and dry your fabric – DO NOT SKIP THIS STEP.
3) Decide which area of fabric will be painted and portion off that section (I folded the fabric like it would hang when done to make sure I only painted within that area – I put two small pencil marks near the bottom of the fabric so I could see where to paint once the fabric was unfolded).
4) Shake fabric medium then pour 1 part fabric medium to 2 parts craft paint onto your plate.  Mix well – I use the end of a paintbrush.  Mix up a bit of each color.
5) Position your stencils or tape off an area (I used chevron Frog Tape on one) and use foam pouncers to apply paint.  The fabric will soak up the paint so be generous – you may have to apply a few times to the same area.
6) Rinse and dry stencil before moving it to prevent excess paint from rubbing off onto fabric.
7) Let paint dry for 24 hours then heat set with an iron.
8) Start using your dishtowel (or whatever else you've painted) and don't be afraid to throw it into the washing machine!
In case you're wondering, I did have to google the spelling of aweigh.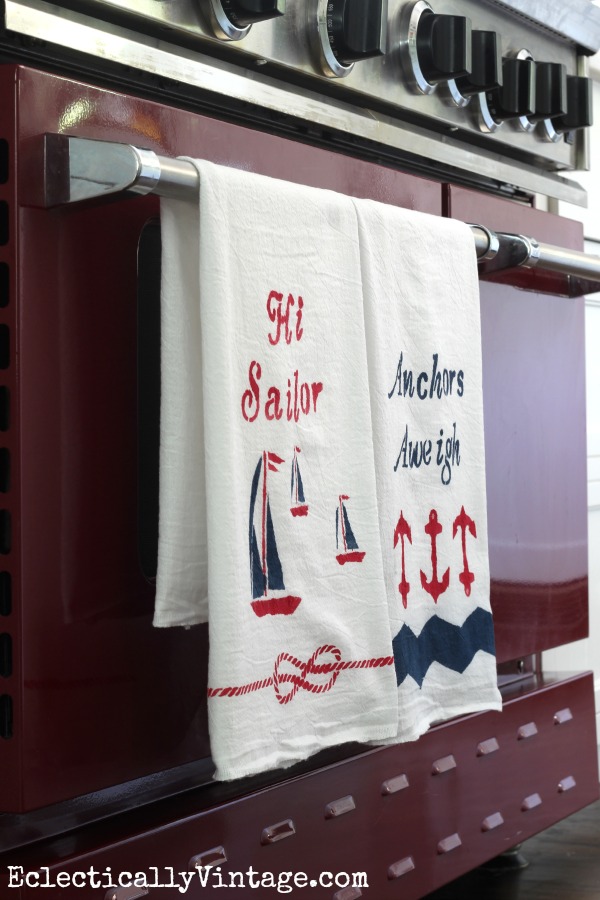 Don't judge the wee bit of grime on my stove – I actually use this thing – a lot.
Plus I'm too busy painting dish towels to be constantly cleaning.
P.S. I actually had to ask my hubby where our ironing board was since it's my most dreaded chore – a close second behind cleaning the oven.
P.P.S. Remind me to tell you the story of when our hamster, Susan, kept escaping from her cage and building a nest underneath the stove.
P.P.P.S. Love simple projects – it's my middle name.
I'm part of the #12MonthsofMartha team where my BFF Martha Stewart sends me a box brimming with supplies each month to create something fabulous – I only speak the truth.