How to Stencil a Wall Like a Pro
I have an embarrassing confession.
I'm afraid of something that probably wouldn't scare most normal people.
You see, I have a fear of stencils!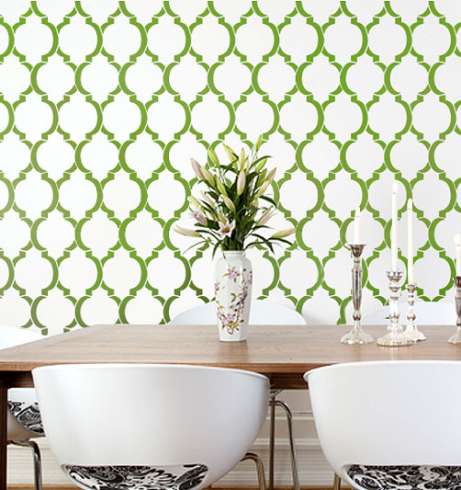 Strange but true.
Not the small stencils made for crafting – but those great big stencils for walls.
I've had a few sitting in a box for over a year, collecting dust, just waiting to be used to make an amazing focal point.
Luckily, our Bloggers Day Out was at Cutting Edge Stencils where I learned a few tips and tricks on how to stencil a wall like a pro from Janna & Greg, the owners (who have 20+ years of faux finishing experience under their belts), to help me overcome my fear.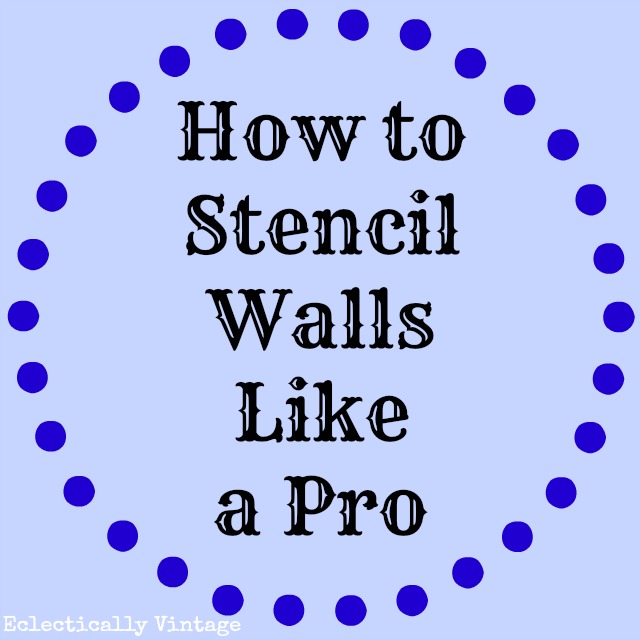 Stencil a Wall Like a Pro – Insider Tips From Cutting Edge Stencils
1) Use flat or eggshell basecoat on walls ( not gloss/semigloss if possible)
2) Tape your stencil to the wall with a few pieces of painters tape (no need to use self adhesive spray)
3) Start at upper left corner (or the middle if symmetrical corners are desired)
4) Make sure the stencil is level
5) Load a small dense foam roller (not a regular paint roller) with flat or eggshell latex paint (Ben by BM is a great choice) and make sure paint is absorbed evenly on roller
6) Offload excess paint onto paper towel
7) Roll over stencil with medium pressure
8) Check for coverage and remove stencil when finished
9) For next stencil, align using the elements of the previous stencil you just completed (by overlapping stencil onto a part of the previous design)
10) Repeat the process
11) For top of wall, you can use a special top edge stencil if desired
12) Finish edges after the main wall is done
13) For corners, tape the next wall with blue painters tape, bend stencil so it fits into corner, then roll straight into the crease and finish with a stencil brush
Watch this short video from Cutting Edge Stencils to see how a pro stencils! 
Janna & Greg, the owners of Cutting Edge Stencils, have over 20 years of professional faux finishing experience under their belts so they really know their stencils!
Here's our practice wall – isn't it gorgeous!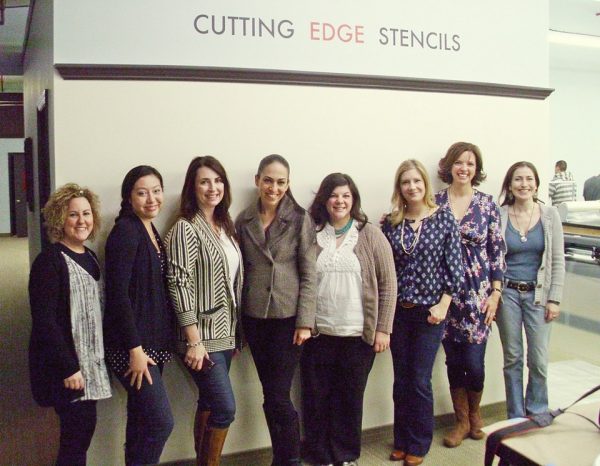 I'm happy to say that I've conquered my fear of stencils (but I'm still scared of mimes).
No non-moving object is safe from me or my stencils now.
Who am I kidding, I may even stencil my kids and our goldfish!
Thanks Janna & Greg of Cutting Edge Stencils for hosting our outing, providing us with fabulous food and stencil swag!  All opinions are my own.