My Kitchen Tour – Everything and the Farmhouse Sink!
When we bought this run down house, I was thrilled with the prospect of being able to create my dream kitchen!
Ceiling high white cabinets (they are actually gray for a warmer feel but look white), marble counters,
a fun red stove and a farmhouse sink were on my wish list.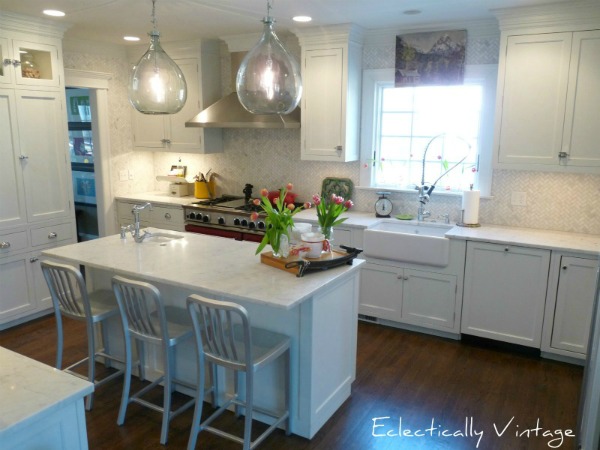 Here's what I was working with – scary!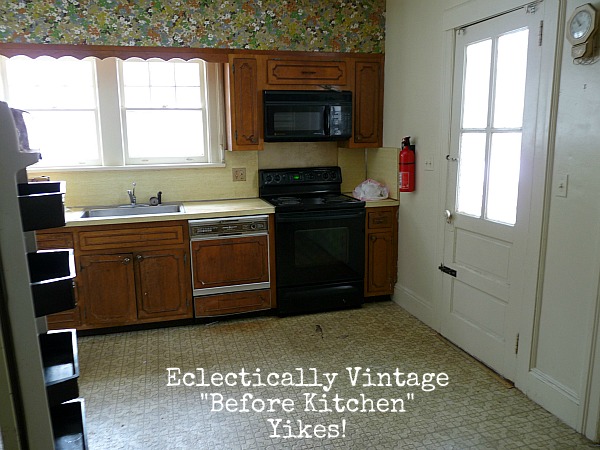 I desperately wanted a glass front fridge but didn't want to stare at pizza boxes and ketchup containers
(hey, I'm no Martha Stewart!) so I got the look I wanted with a Liebherr glass wine fridge with a freezer underneath and the fridge remains behind closed doors.  Cheers!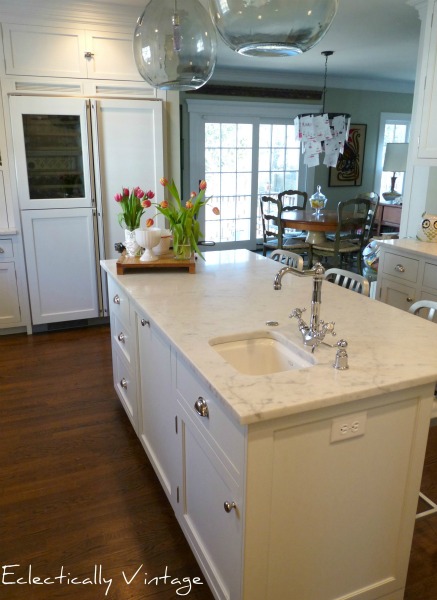 Honed carrera marble for the counters.
They get better with age but perfectionists be warned  –  stay away since anything acidic leaves etch marks.
Go straight to the fabricator and you'll save tons of money.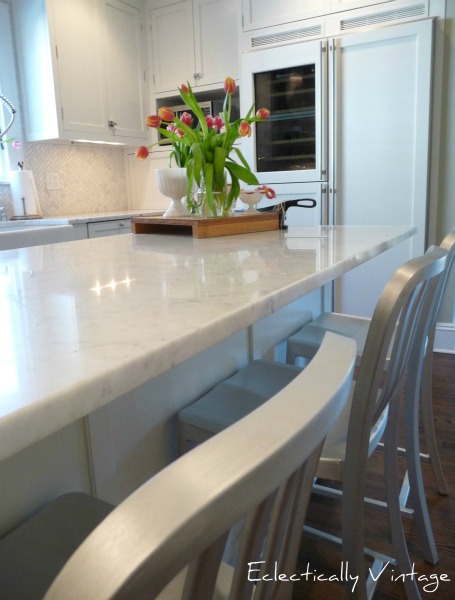 I l
ove the look of open shelving but didn't want to deal with the constant clean up soI added a small amount to display my collections.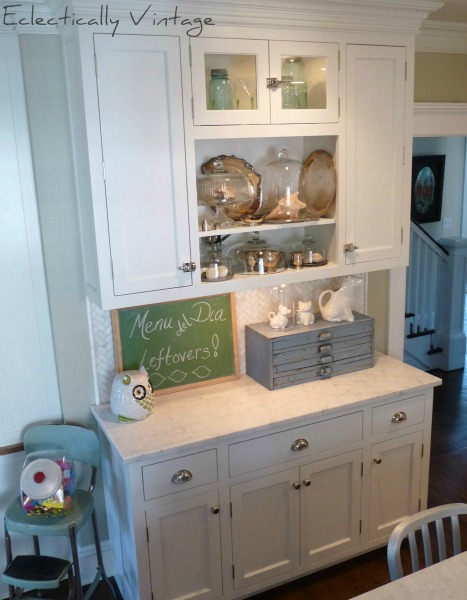 I worked directly with a custom woodworker – no middleman involved which saved tons of money.
Thrift shop Japan creamer collection includes a kitty, pig and cow.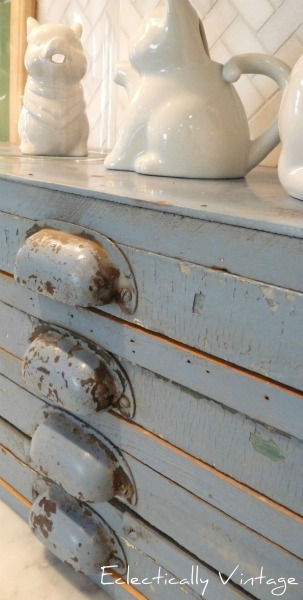 The pantry is behind these cabinet doors which have slide out drawers so everything is easy to reach.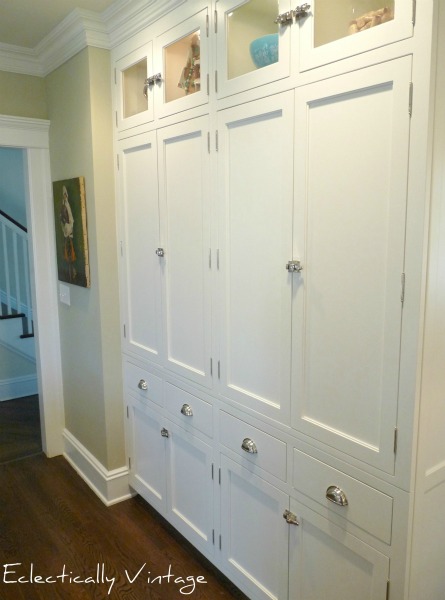 My friend had a yard sale and her hubs put this out without her knowing – she let me buy this señorita anyway!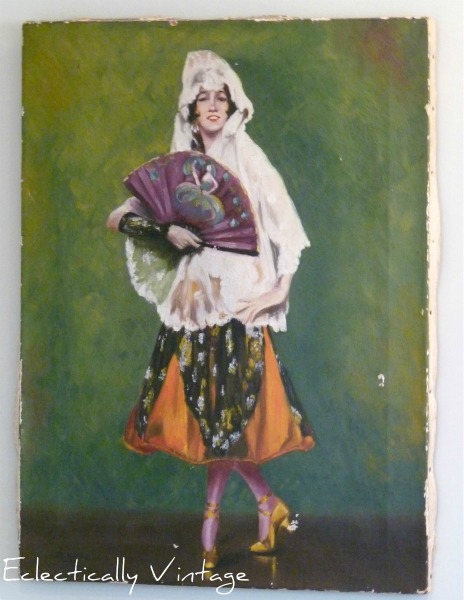 Choosing lighting for the house was one of the best parts of the reno.
These wine jug lights (called demijohns) are my absolute favorites!
They remind me of the collection of vintage demijohns in my dining room (see them 
here
).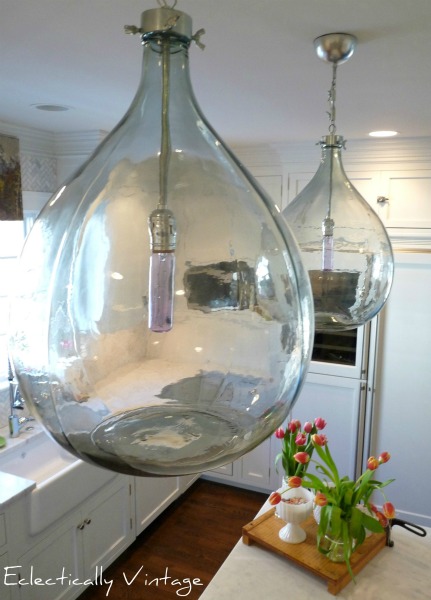 Instead of a red convertible, I prefer a red oven!
This BlueStar is ready for work with six burners, a griddle and two ovens.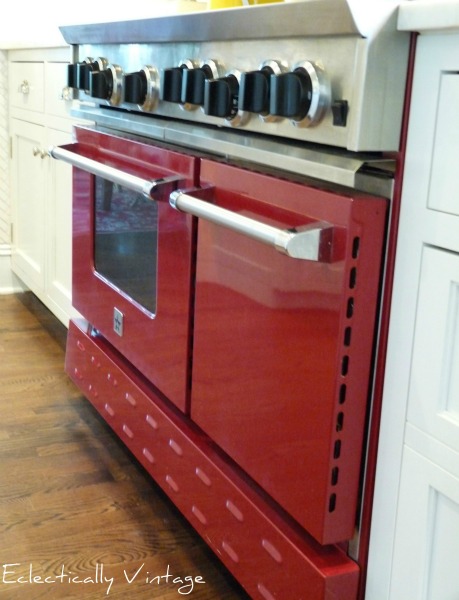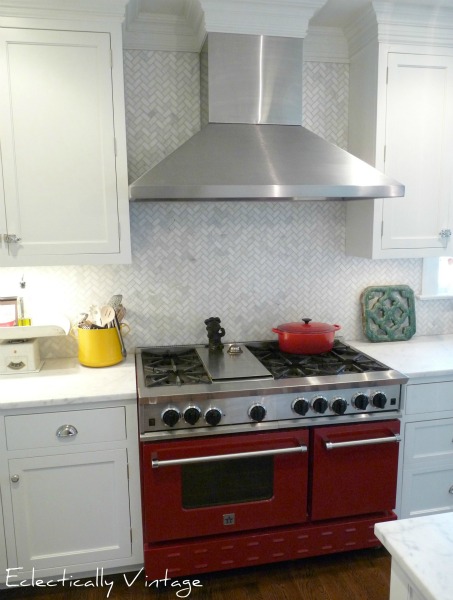 Vintage cast iron toy mold and a bell the kids love to ring and say "dinner's up"!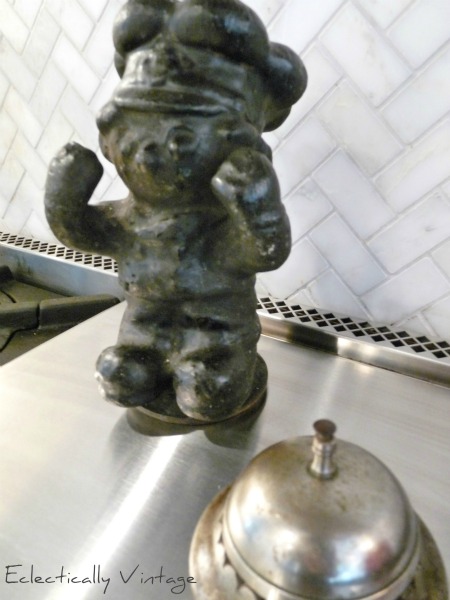 Bet I could wash a small child in this deep farmhouse sink!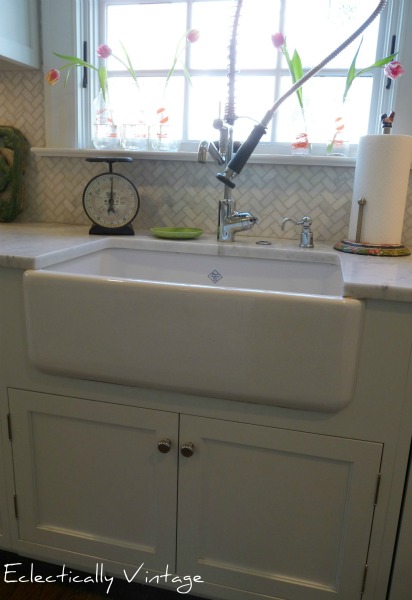 A huge restaurant style faucet for a fun mod touch.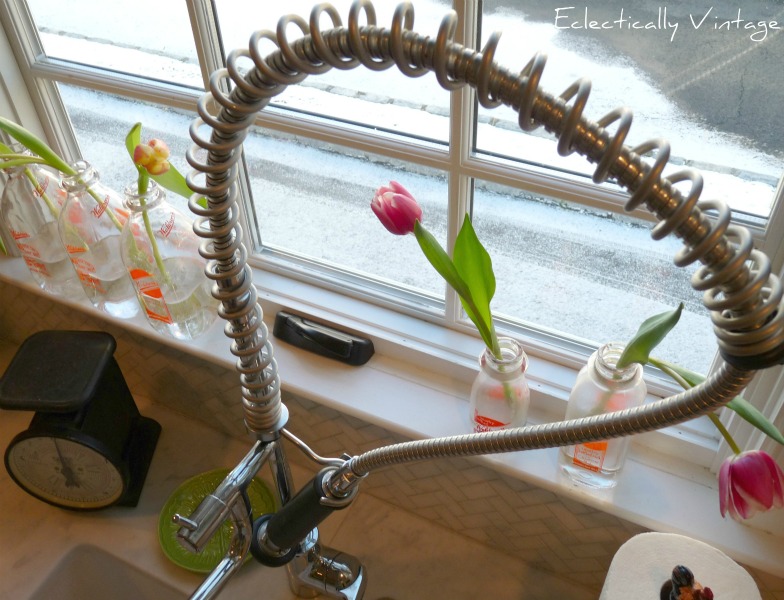 Found these glass milk bottles buried in the garage at an estate sale.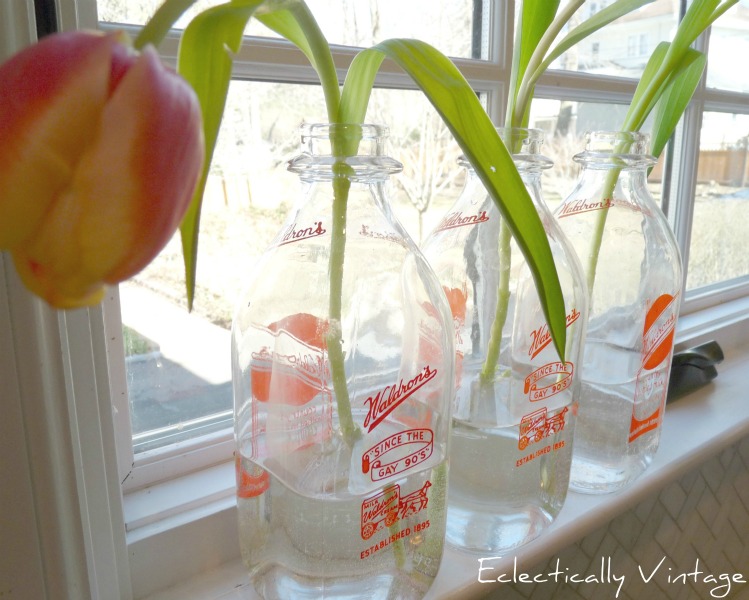 One day I'll get around to a window treatment but in the meantime, this old landscape adds some color.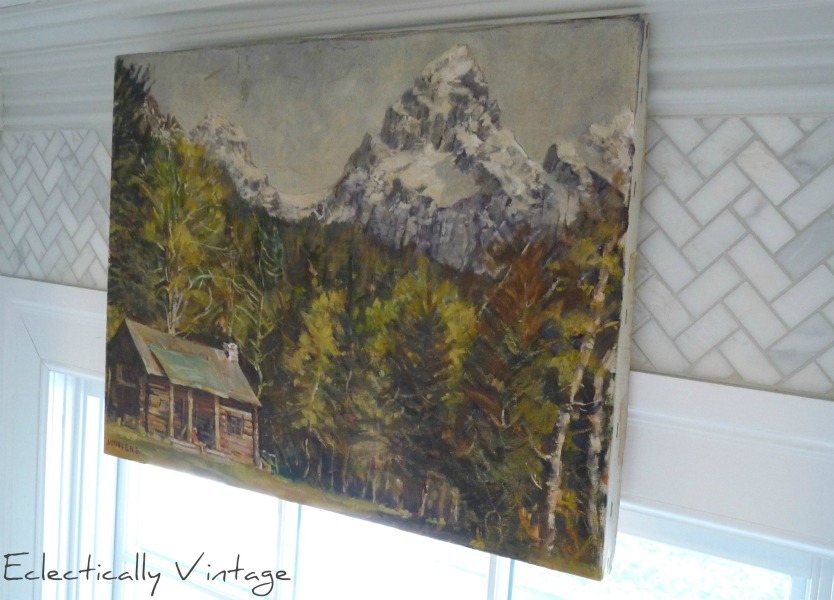 My $1 estate sale Cosco step stool holds a vintage candy jar.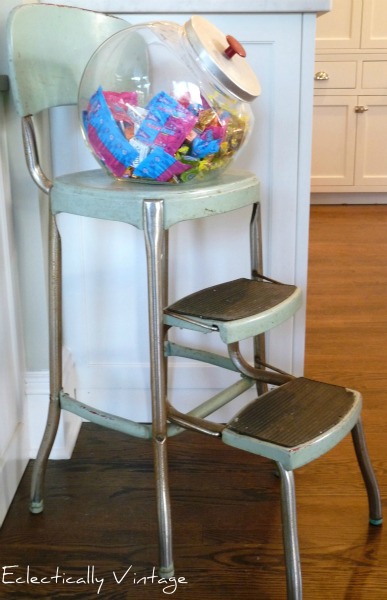 The Hubs old baby scale holds kitchen essentials – yes, we go through lots of garlic in our house!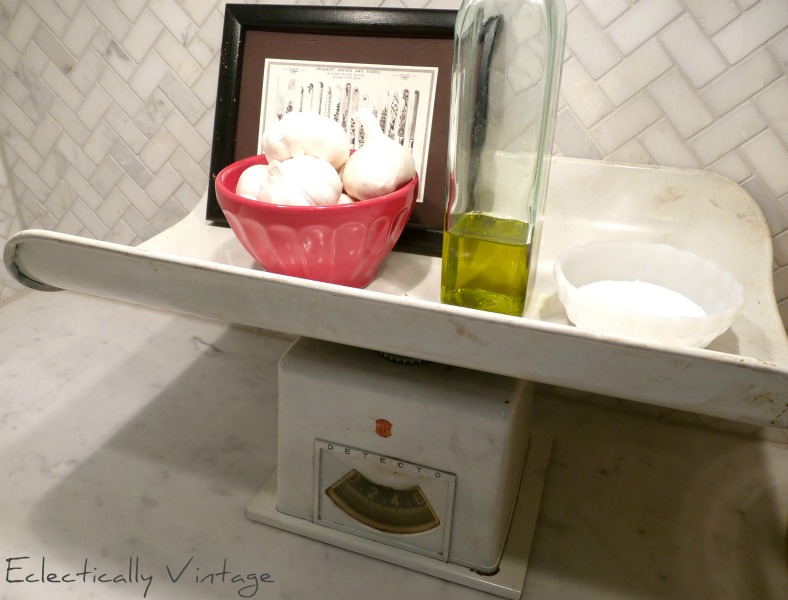 Kitchen necessities:  fresh flowers and music (with built in speakers throughout the first floor).
I used three types of hardware – vintage look latches, cup pulls and knobs look great together.
Carerra marble tile (bought on Ebay!) up to the ceiling and around a doorway.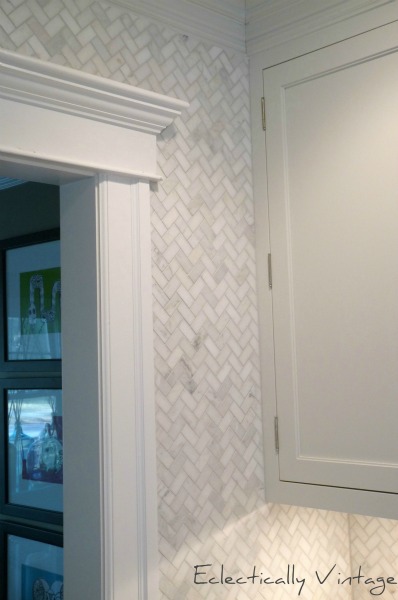 Vintage feel to the island faucet.
An old paper cutter is the perfect kitchen tray!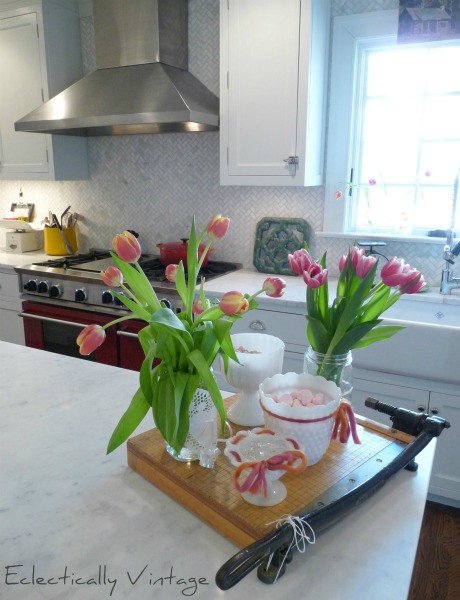 Backsplash – Ebay
Cabinet Color – Nebulus White (Sherwin Williams)
Demijohn Lights – Bobo Intriguing Objects
Red Stove – BlueStar
Fridge/Freezer/Wine – Liebherr
Farmhouse Sink – Shaws Original
Barstools – Crate & Barrel
I'll be adding more room tours so stay tuned!
Check out My Whole House Tour Here!
Featured Here: