Living Room Before & After!
When I shared my Color Lovers Living Room Makeover, I showed you the beautifully styled after photos.
Nothing can really show the dramatic difference until you see the before pics.
I snapped the before pics in all of their embarassing glory as I was rearranging and purging so forgive the mess!
Now for the side by side living room before after photos …
I LOVE the sofa facing the fireplace now.
The before arrangement cut off the room and the old oversized sofa didn't help matters.

The view from the foyer shows how the old rug looked like a tiny little island with the furniture clinging on for dear life.
The after custom cut rug adds texture and allows all of the furniture fit comfortably.

Seriously, what was I thinking! The new arrangement has such better flow.

The old wallpaper pasting table in front of the window was nice but now the chairs make this part of the room more usable and it's the perfect place to read thanks to the light streaming in from the huge window.

The shelves remain to show off some of my favorite collections and I love the addition of lots of plants in the room.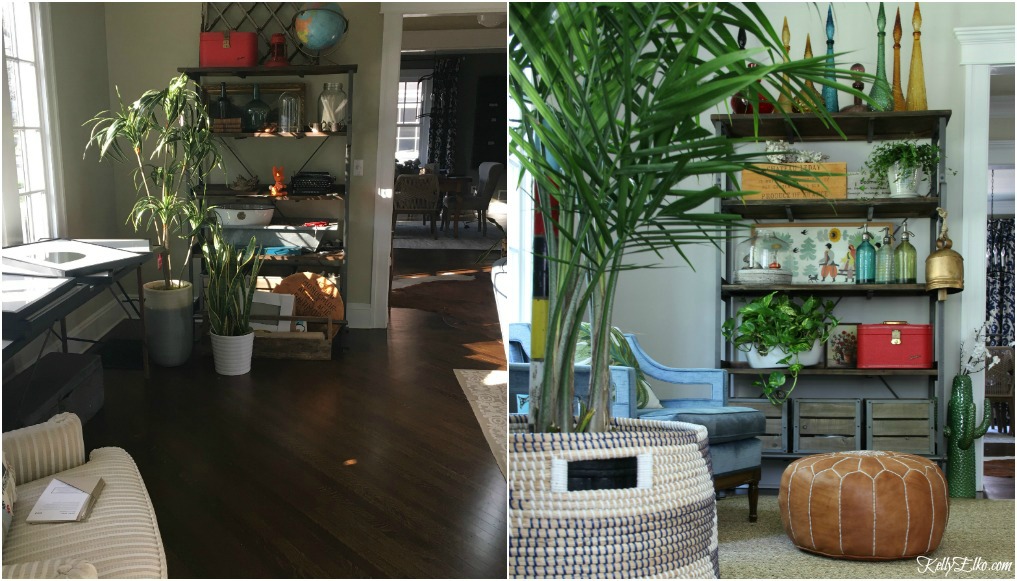 See more of my colorful living room makeover
with links to all of my sources HERE.