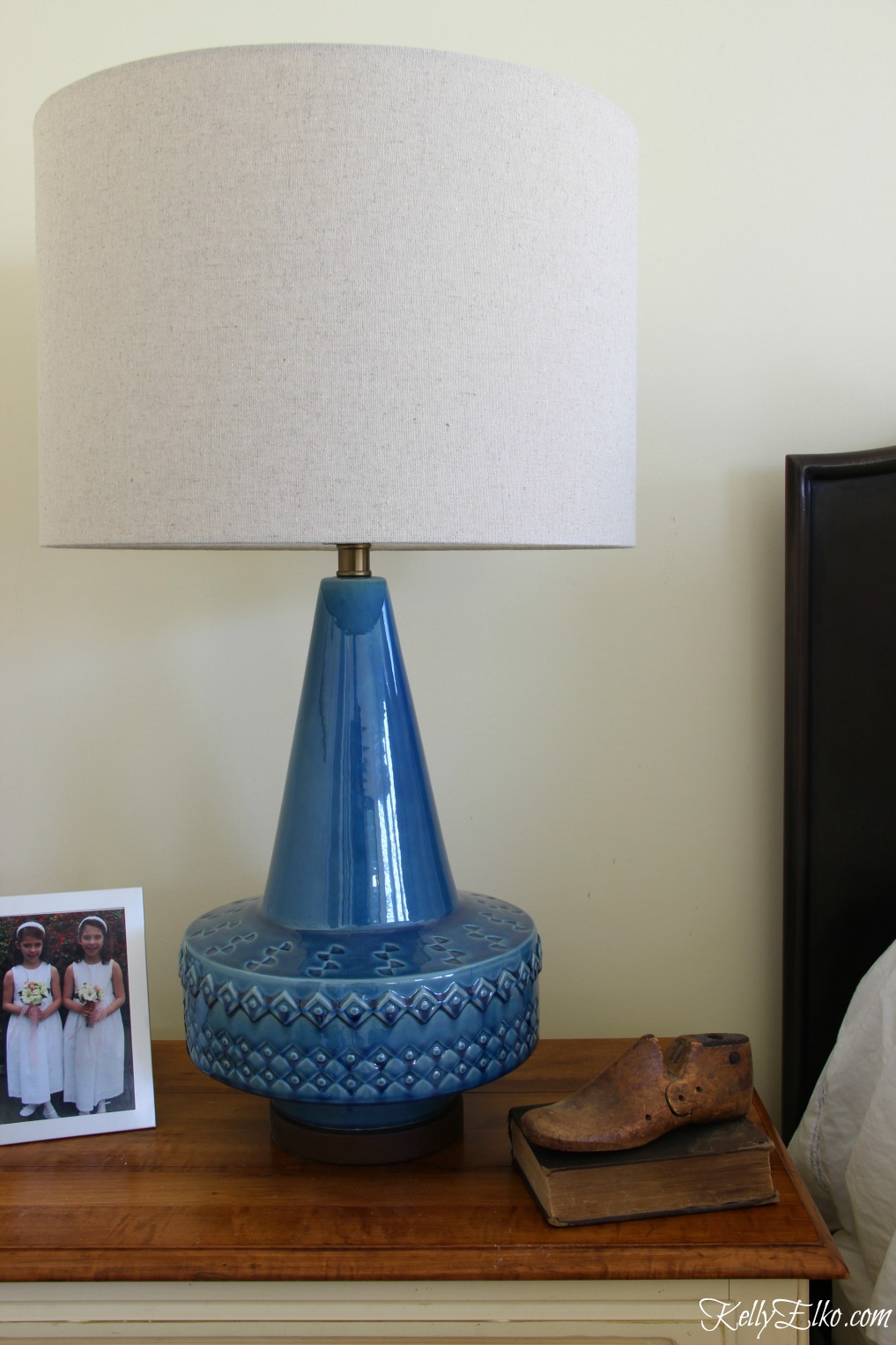 I tried.
I really tried to live with a neutral bedroom but mama needs a little color in her life!
I love my white bedding and adding pops of color with pillows and throws but something was missing in my life.
When I spotted these blue lamps with a mid century shape, I knew I had to have them (and gift them to myself for my birthday).
post contains affiliate links
They are the statement jewelry, the lipstick, the bling, the finishing touch this room needed.
(P.S. if you're my friend, you'll ignore the missing pulls on my 20+ year old nightstand)!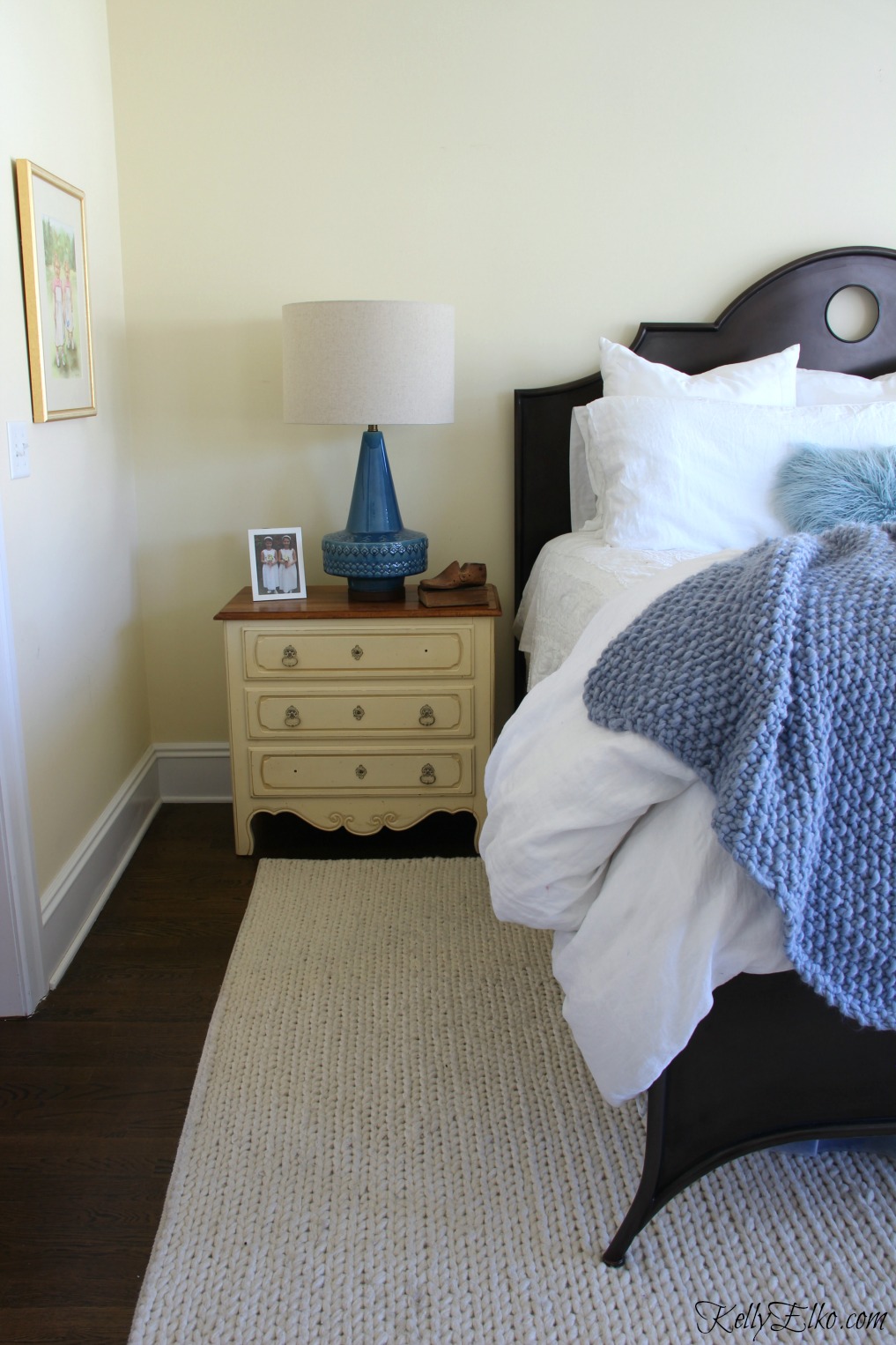 I asked a friend what she thought and she loved them but asked me if I would get tired of them.
I told her I probably would eventually but since I couldn't get these lamps out of my head, I knew I had to have them. I am not going to worry that I will tire of them in years to come – I want to enjoy them now!
The best part is their size. They are tall – perfect for reading in bed (my other lamps always seemed a bit too squat).
I did make sure to measure before I ordered since these lamps are on clearance and not returnable.
(P.S. you also need to ignore the dust bunnies)!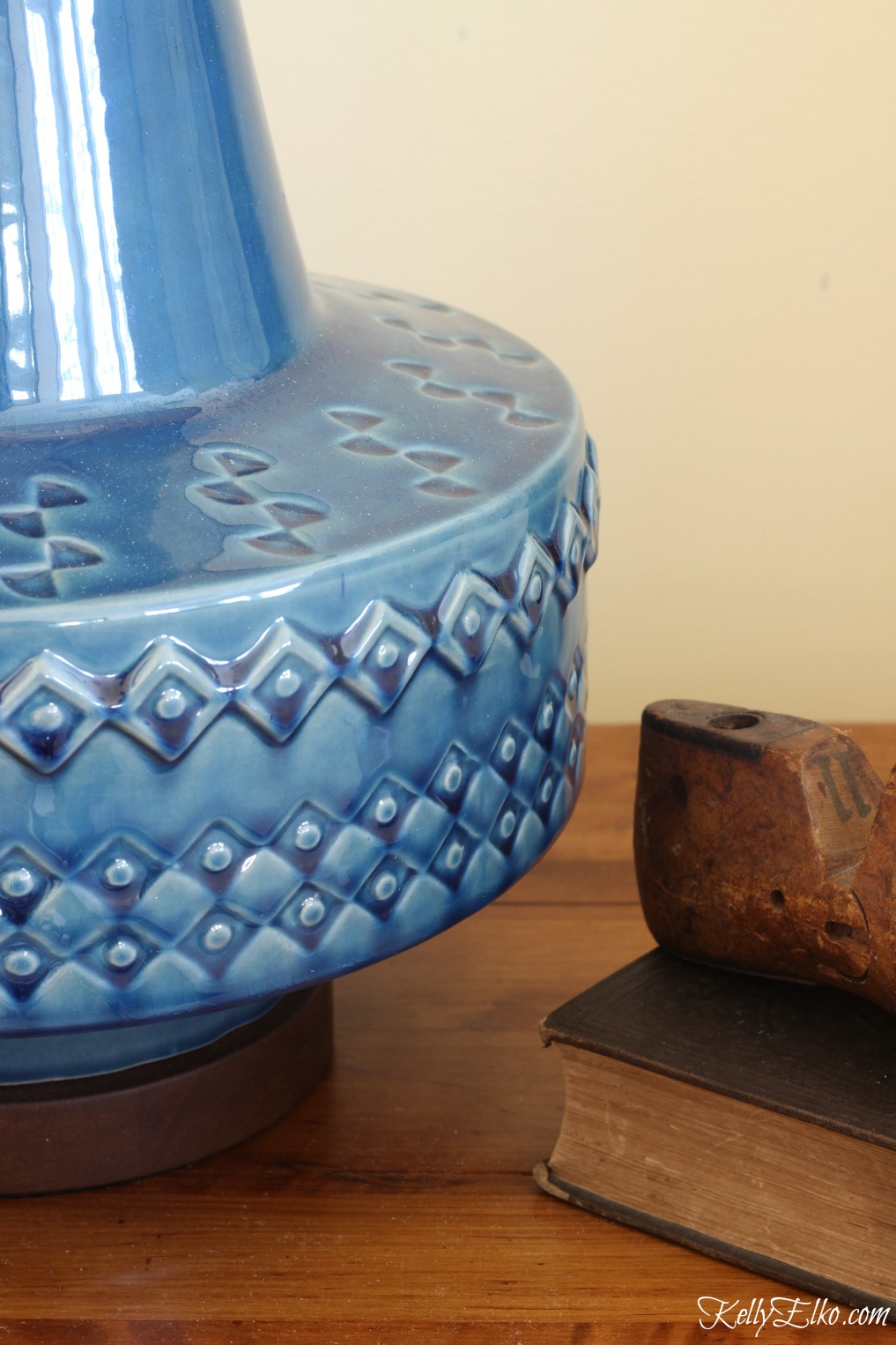 These are my absolute favorite lamps ever! I love the texture and the variations in color from light to darker blue.
They really pop against my neutral walls and rug.
Sushi the Boston Terrier woke from her nap to give her opinion – 4 paws up! (and she's a hard to please diva)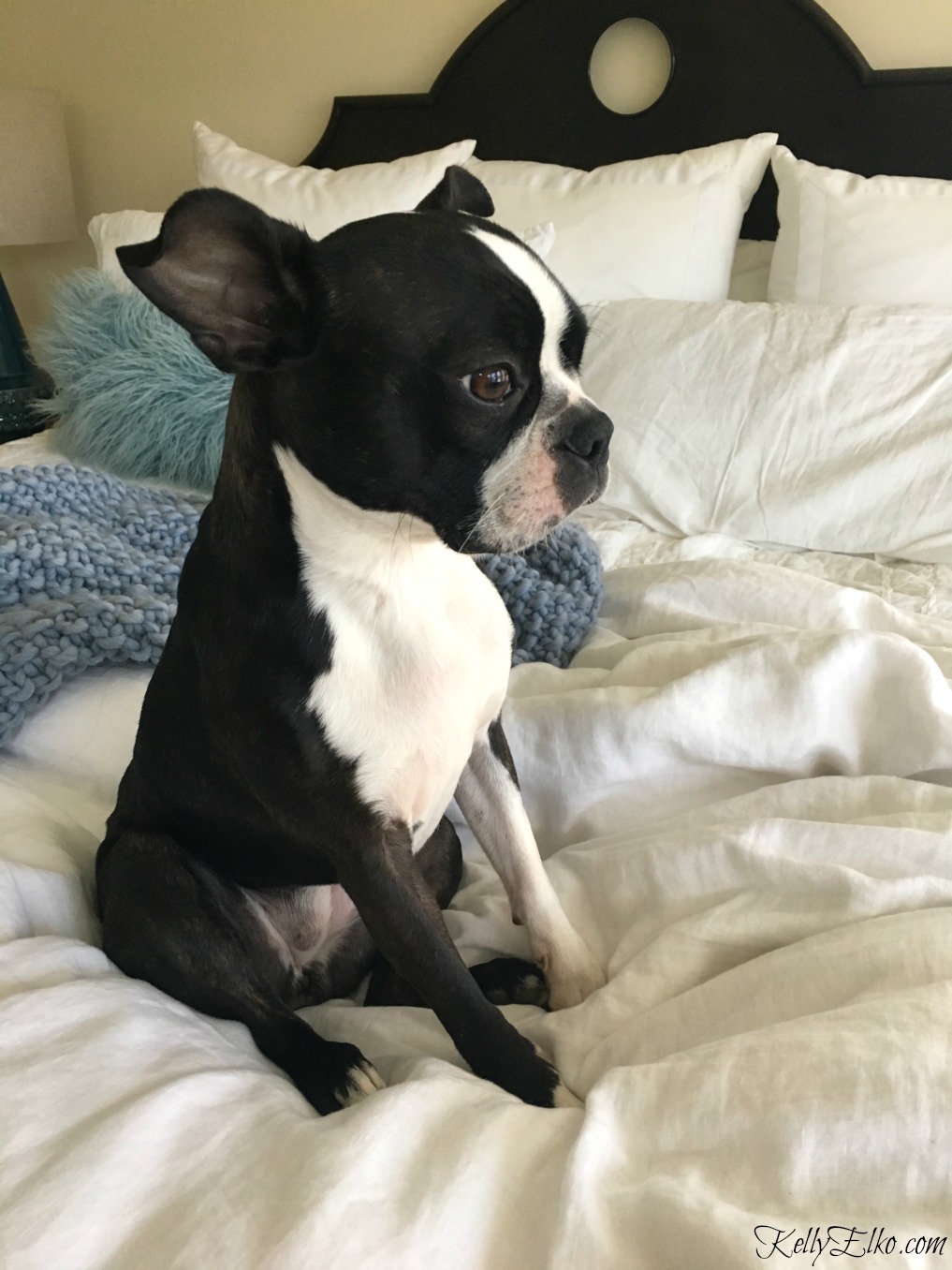 A few blue accessories tie everything together but I want to have more fun mixing different colors.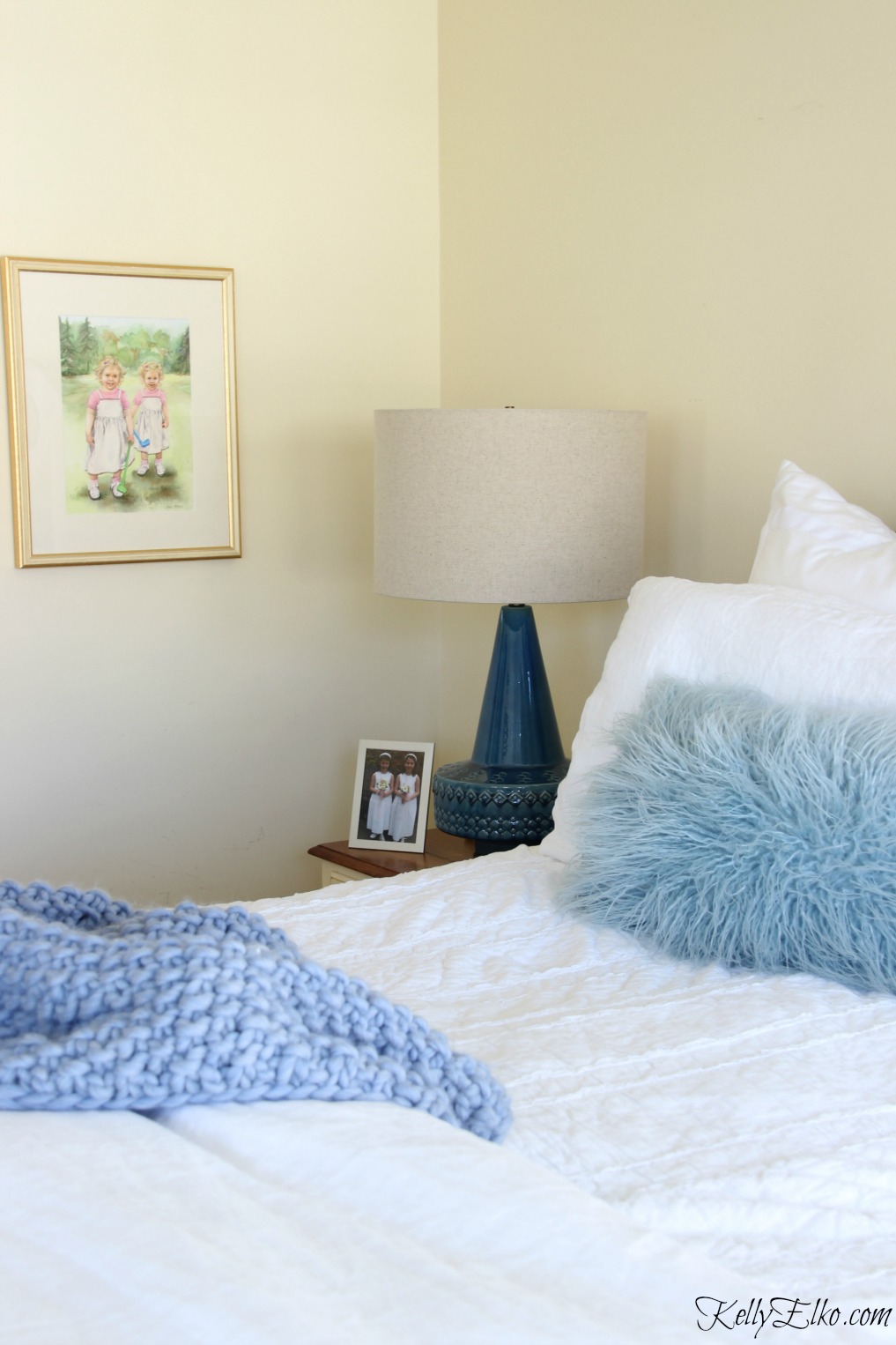 I tried being completely neutral but I guess my bedroom wants to be the lady in blue while everyone else is wearing tan.
This is a case of go with your gut and if you can't get something out of your mind, it's probably a good idea to get it.
Money Saving Tip: When I bought my sectional sofa (read all about it here), I opened up a credit card account and earned a credit back with my purchase – which I used to buy these lamps. It's a great idea if you are buying a big ticket item – you can always close the card once you're done.
Sources:
Lamps
Bed – Restoration Hardware
Rug
Knit Throw
Linen Duvet and Shams
Quilt – HomeGoods
Blue Pillow