Ever wonder why your peonies won't stand upright and flop onto the ground? Get my peony growing tips and learn all about peony supports plus tips on making them thrive!
I used to have peony envy when I spotted these glorious bushes bursting with blooms in my neighbors yards.
No longer am I wrought with jealousy because three springs ago, I planted three peony bushes and they have been rewarding me with armloads of the most amazing pink blooms every since.
I look forward to peony season more than I anticipate a new season of Outlander, a new pair of shoes or a frosty cold margarita (well almost). For those of you who live in areas where peonies won't bloom, you have my sympathies.
If you've always wanted to grow peonies, start with this post …
How to Grow Peonies
(it's got all my tips for making sure you have peony success)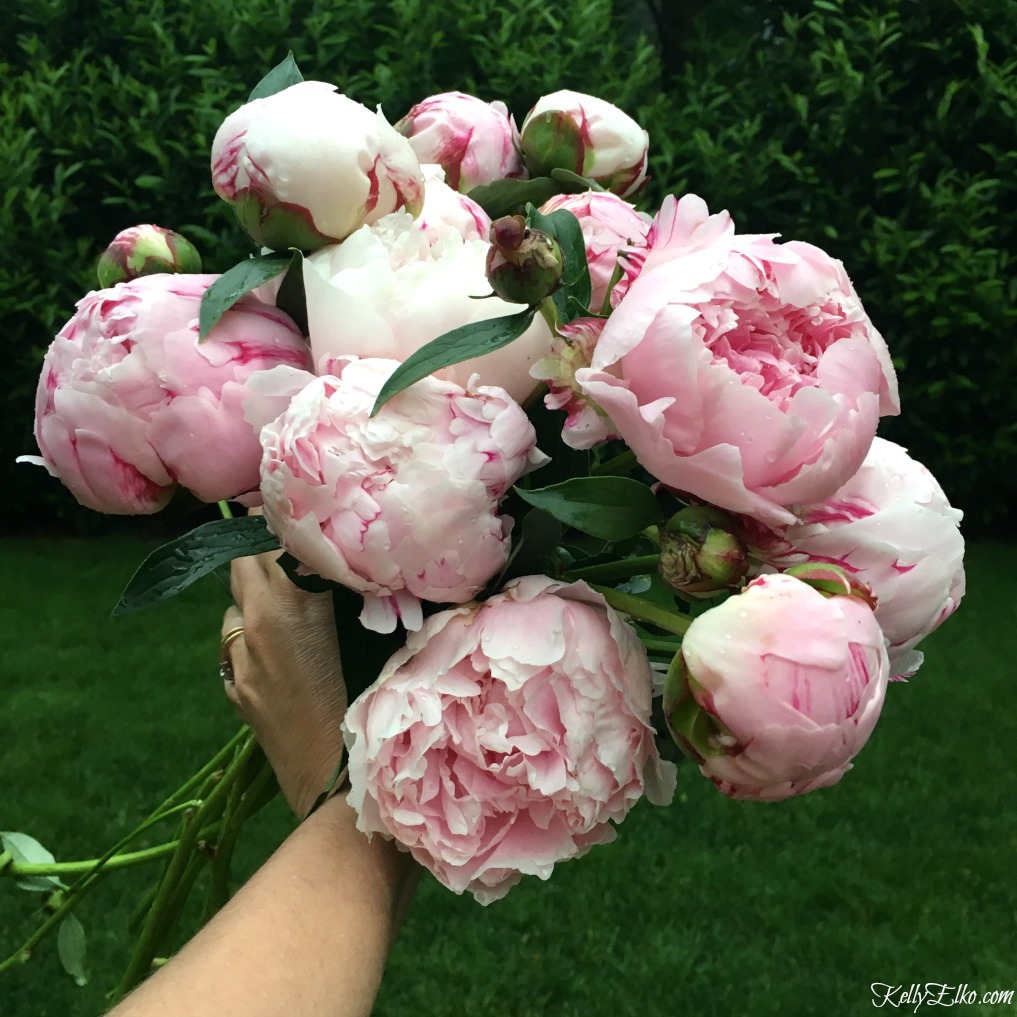 Get my FREE Peony Printable HERE
post contains affiliate links
Peony Supports
Once you have your peonies (I like instant gratification and like to buy large 2 gallon peonies in containers).
Peonies need support (and not the emotional kind).
It takes every thing in me to hold myself back from knocking on people's doors when I see their poor peonies flopping all over the ground.
GET THOSE PEONIES SOME SUPPORT, I shout at them (in my mind). Obviously, I'm the one in need of emotional support but enough about me.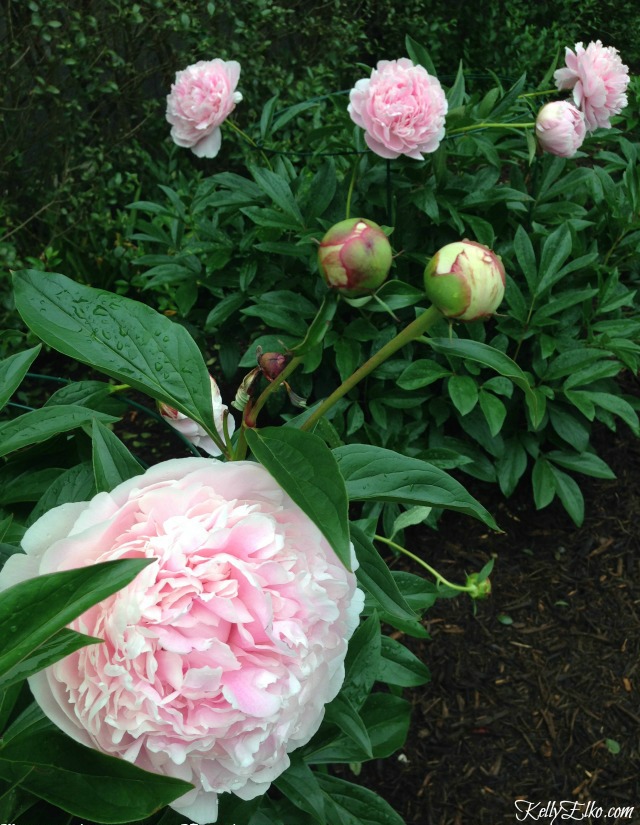 Why are My Peonies Falling Over?
If peonies don't have support, the big blooms will cause them to flop onto the ground and they won't last long. Also, rain likes to batter peonies into the ground which is yet another reason to support them.
In early spring, when peony shoots begin to pop through the ground, I make sure to get my peony support rings into the ground so my peonies will have a shoulder to lean on when the weight from their giant blooms begin to emerge.
What Size Peony Support?
There are many types of supports but I like peony grids. They come in a few different sizes so choose the one right for your size shrub.
The diameter of your cages should be larger than the diameter of the peony rootball.
If the support is too small, you could damage the peony roots when trying to push the cage legs into the ground.
24″ diameter peony support – these are the ones I have for my large, overflowing peony bushes
18″ diameter peony ring – good for smaller peonies
Once your peonies blooms, you will barely see the green support wires.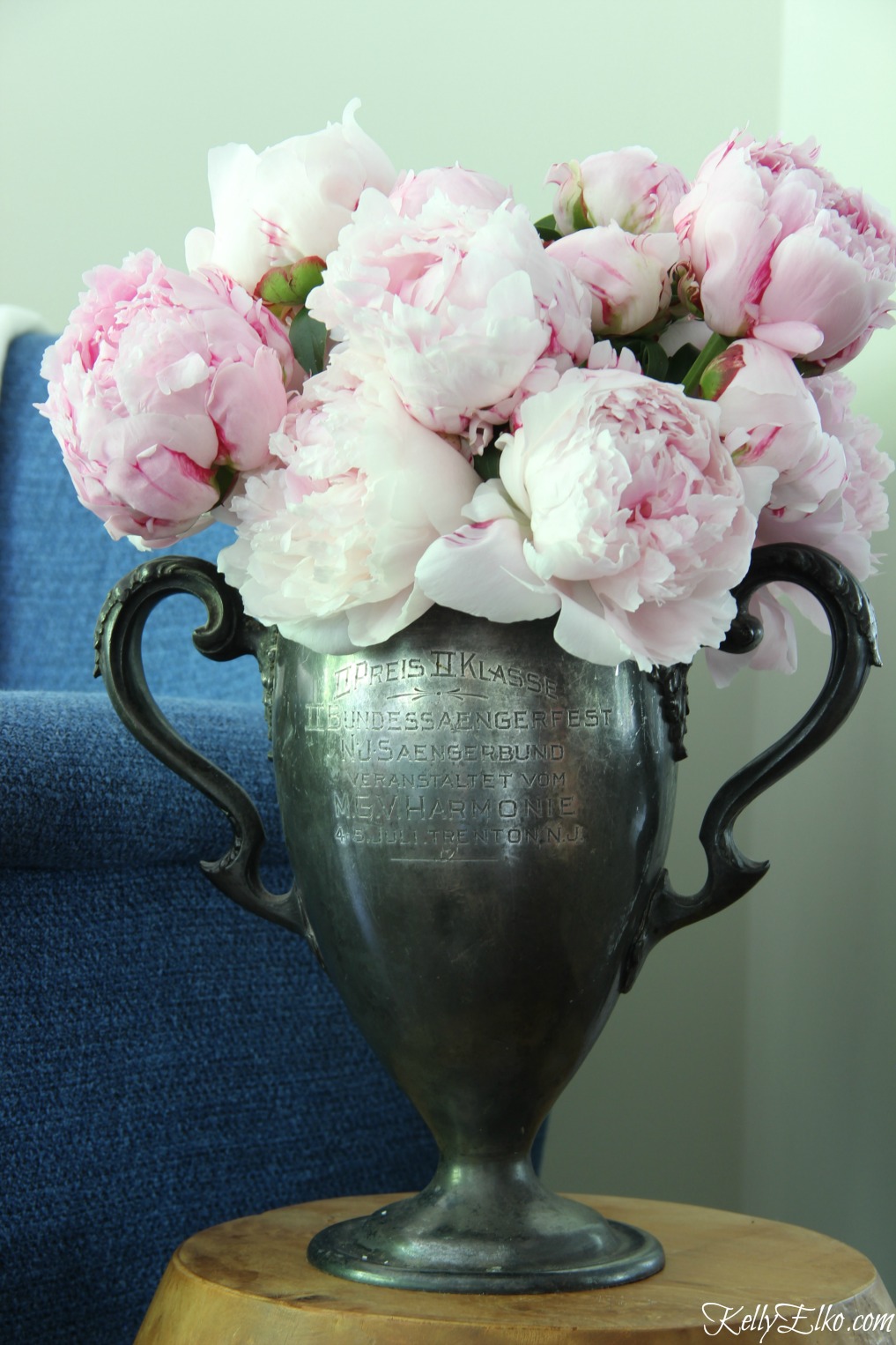 Peony Care Tips
Peonies are meant for cutting so don't be afraid to clip them and bring them inside using a clean, sharp pair of shears (these are my favorite pruning shears).
Make sure to remove peonies from the bush when they die (they will turn brown).
When your peony bush is done blooming and you've removed all the dead flowers, leave it alone until fall.
Cut your peony down to the ground in late fall or after frost has killed the leaves (don't cut it down in the spring or summer or it may not bloom next spring)!
I like to store my peony supports in the garage until next spring.
I'm so glad I no longer have peony envy!
My favorite peony supplies …
2 Gallon Container Sarah Bernhardt Peony