Spring / Summer Dresses (5 Under $40)!
Do you look into your closet and silently scream … "I HAVE NOTHING TO WEAR!" I went on the hunt for some cute dresses and found some really amazing and affordable ones that are flattering while hiding a multitude of sins … and the best part (besides five dresses are under $40) is that THEY ALL HAVE POCKETS! I love that you can throw on a dress and look polished without having to figure out a whole outfit. It makes getting ready painless! I'm sharing pics of these affordable spring summer dresses 2022 plus a fun little try-on video so you can see how the dresses move.
I washed my hair and put on makeup just for you (please ignore my pasty, pale skin) …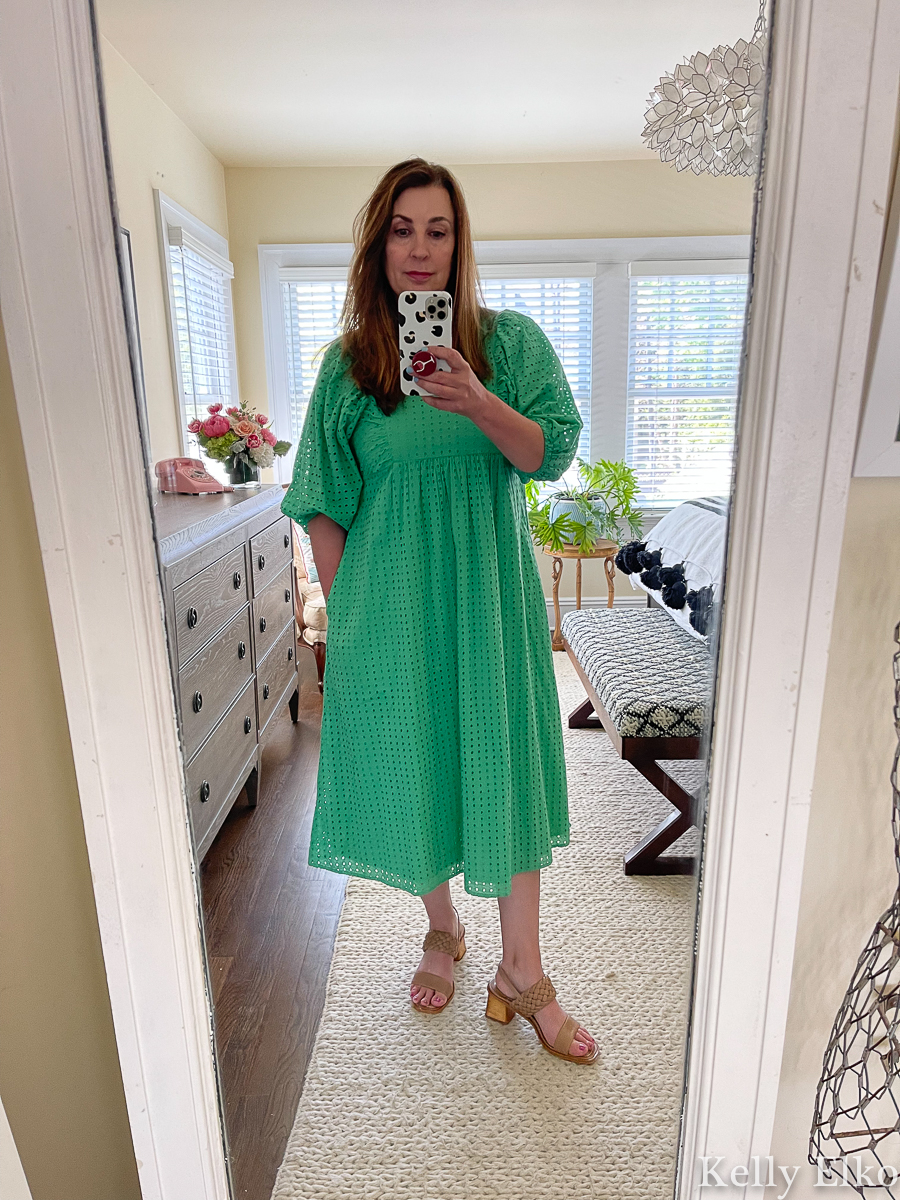 This post contains affiliate links which means if you make a purchase, I may earn a small commission at no extra cost to you.
I love that this green eyelet midi dress is 100% cotton so it's nice and breathable for those warm spring and summer days. I paired it with a new pair of shoes that I treated myself to because this mama needs comfort and these block heels provide it. They are a little pricy but I will wear them for years.
Green Dress – Size Down – I'm wearing M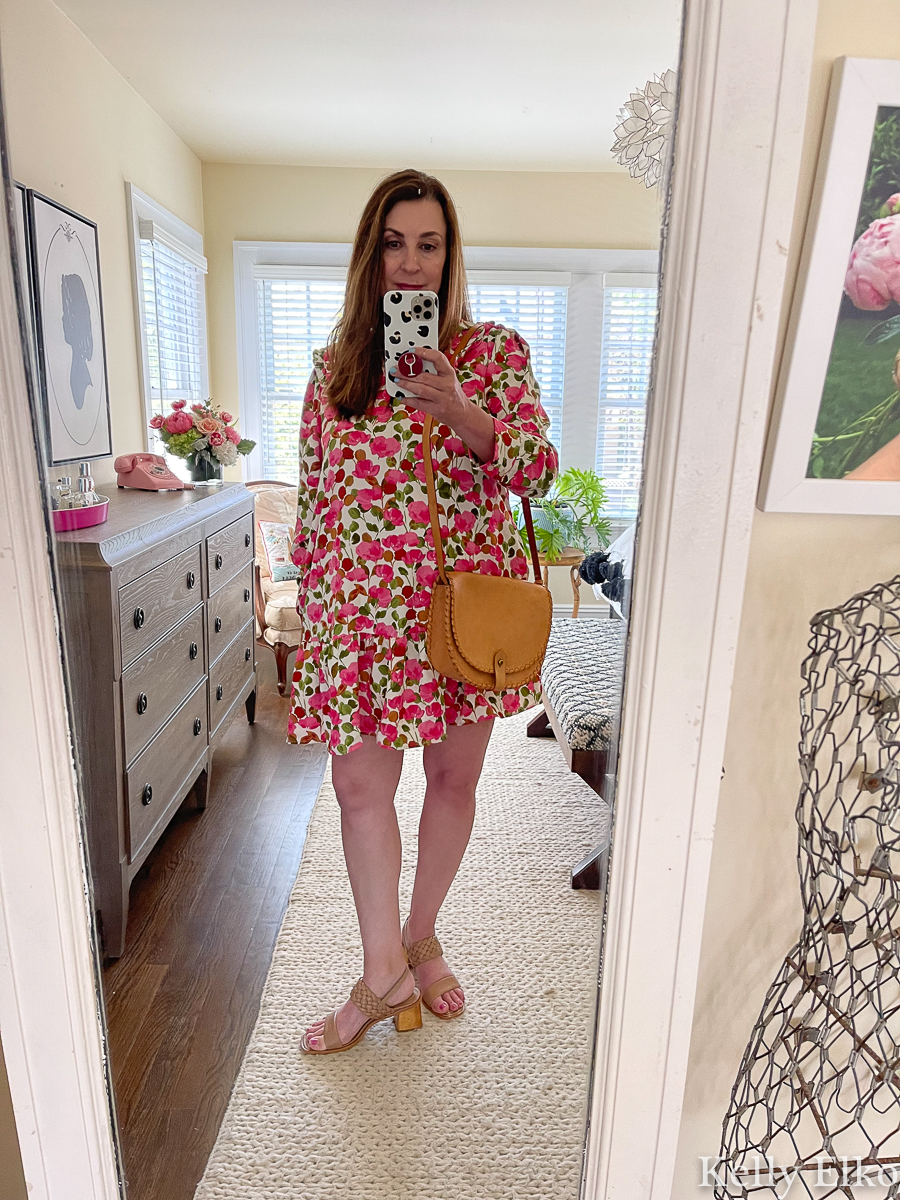 I was a little on the fence about his floral dress but I decided to get out of my comfort zone and embrace this colorful pattern. I love the frilly ruffle on the bottom! This dress is polyester but doesn't look cheap. I plan to pair it with a denim jacket on cooler days.
My thighs aren't the most toned (I'm looking at you cellulite!) but this dress doesn't feel too short (I'm 5'7″).
Floral Dress – True to Size – I'm wearing L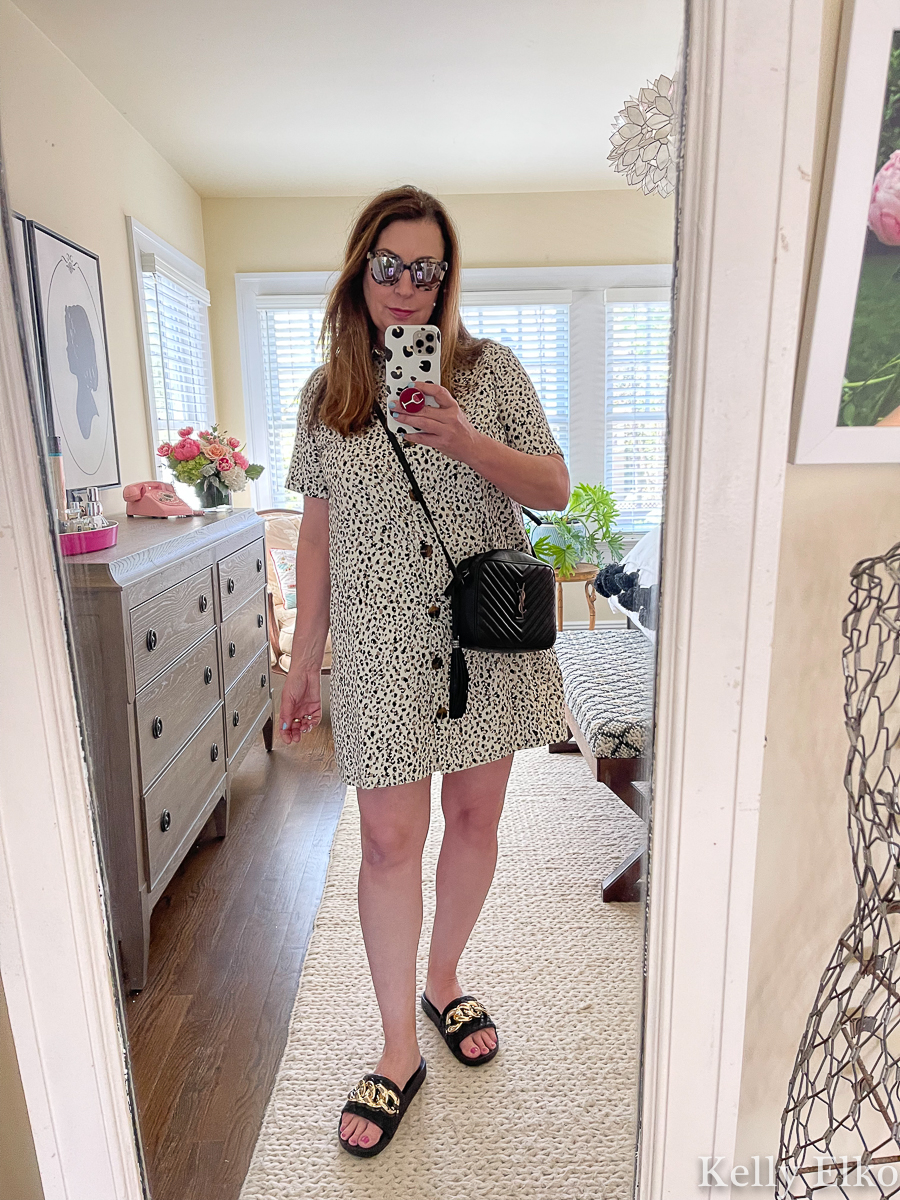 This shirtdress! It's called a trapeze dress but don't let that scare you! I loved it so much, I got it in two patterns (it also comes in solid colors). It's the perfect throw on dress to run errands but can be dressed up with a cute pair of heels and fun jewelry. I sent a pic of these black slides to my girls and one liked them so much, I got her a pair too!
Shirtdress – Size Down – I'm wearing M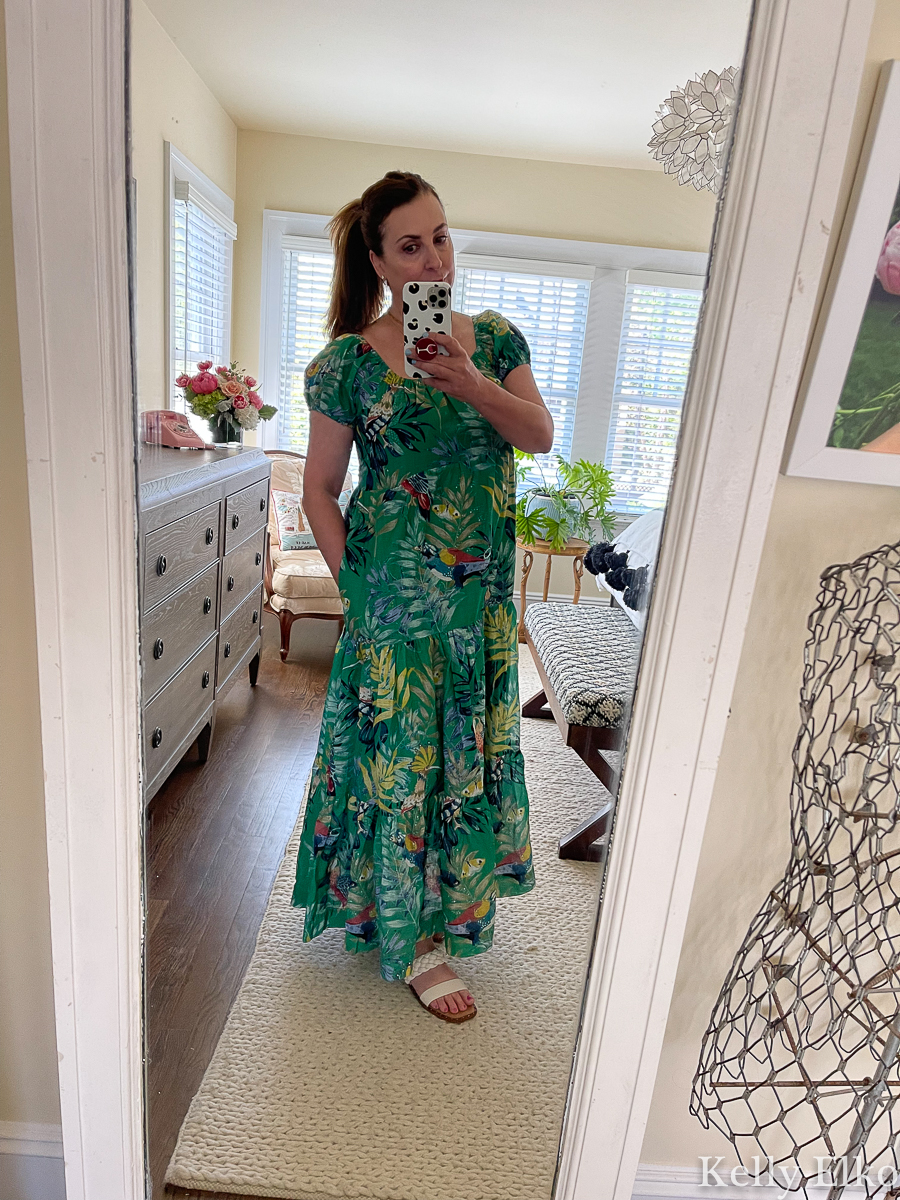 This tropical print green dress is my favorite of the bunch and I love that it can be worn off the shoulder too. I'm wearing braided flat sandals that are so in this season. I found them at TJ Maxx but linked to a similar pair.
Maxi Dress – Size Down – I'm wearing M and probably could have fit into a S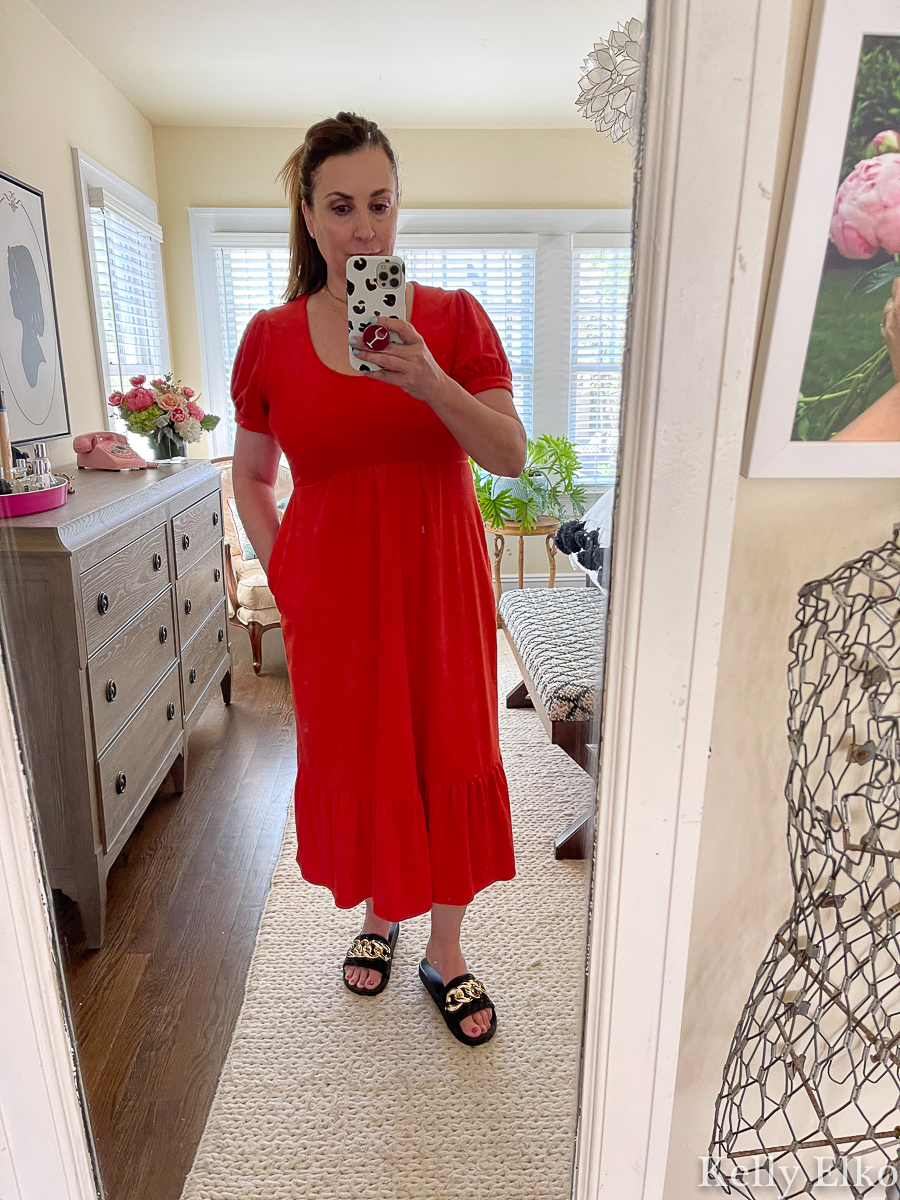 Remember terrycloth?! I loved it as a kid and love it even more in this vibrant red dress.
Red Dress – True to Size – I'm wearing L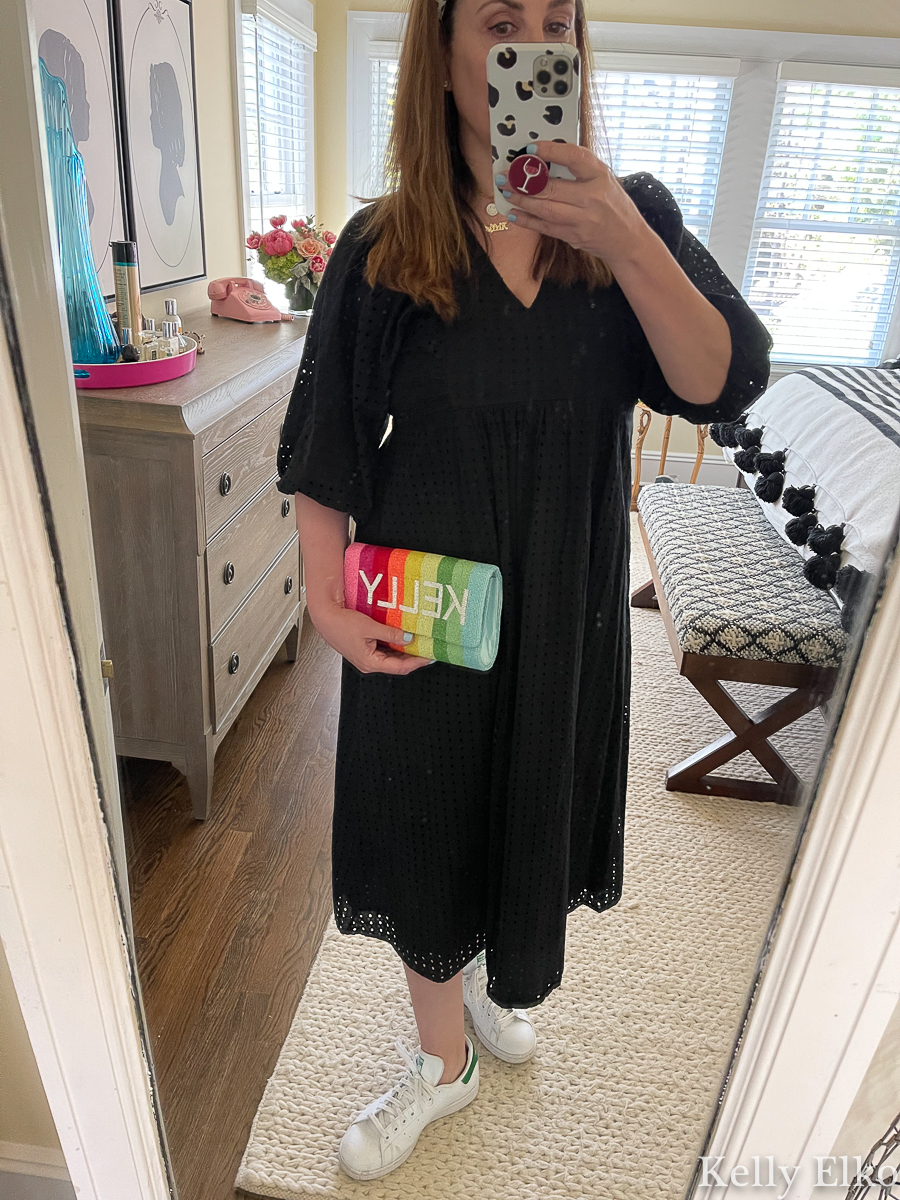 Yes, I got the green eyelet dress in black too! It's so cute paired with a pair of white sneakers (I love the little pop of green on the back of this pair of Adidas).
Black Eyelet Dress – Size Down – I'm wearing M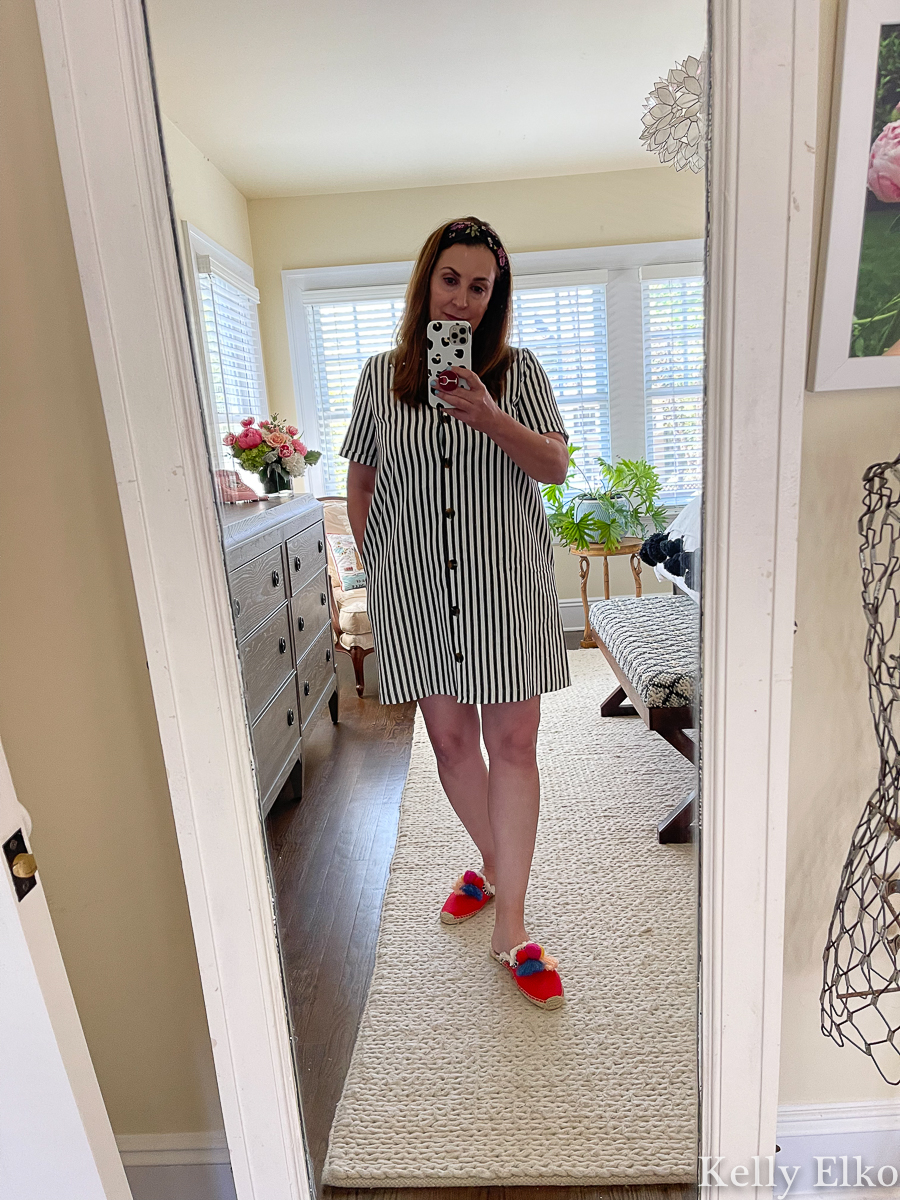 I told you I got the leopard dress in another pattern and here it is! I love a shoe that adds a pop of color to an outfit and these pom pom mules fit the bill. Sadly, they are no longer for sale (I got them a few years ago).
Striped Dress – Runs Large – I'm wearing M
Seven dresses should keep me looking good this spring and summer. Do you have a favorite?