I Finally Found an Outdoor Dining Set That I LOVE!
When you have mushrooms growing out of the splintered, rickety, old wooden table that you got for free, you know it's time to replace it! For years, I have been on the hunt for an outdoor dining table and chairs that I love. While I like the look of real wood, I'm an outdoor furniture low-maintenance kind of girl. Low-maintenance and stylish has been a difficult combo to find … until now! My new POLYWOOD dining table and chairs (and even a fire pit table that I am head over heels in love with) are the perfect combination of the two. I'm excited to share how beautiful my plant-filled patio looks, but I also made an unboxing and assembly video so you can see just how easy it is to put together (make sure to watch the video of my POLYWOOD dining set review with the volume on as I walk you through the process).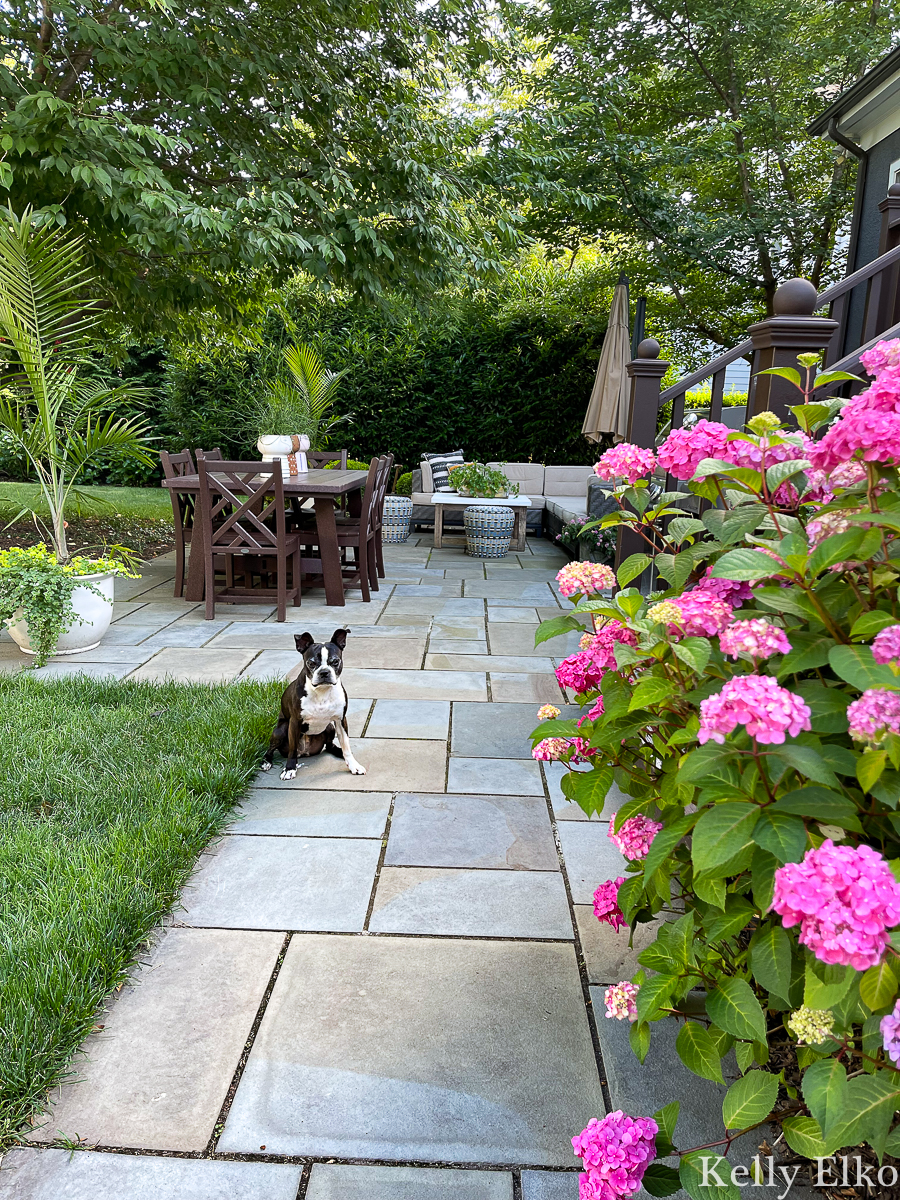 When POLYWOOD asked me if I would like to work with them again, I jumped at the chance because they are my favorite outdoor furniture brand!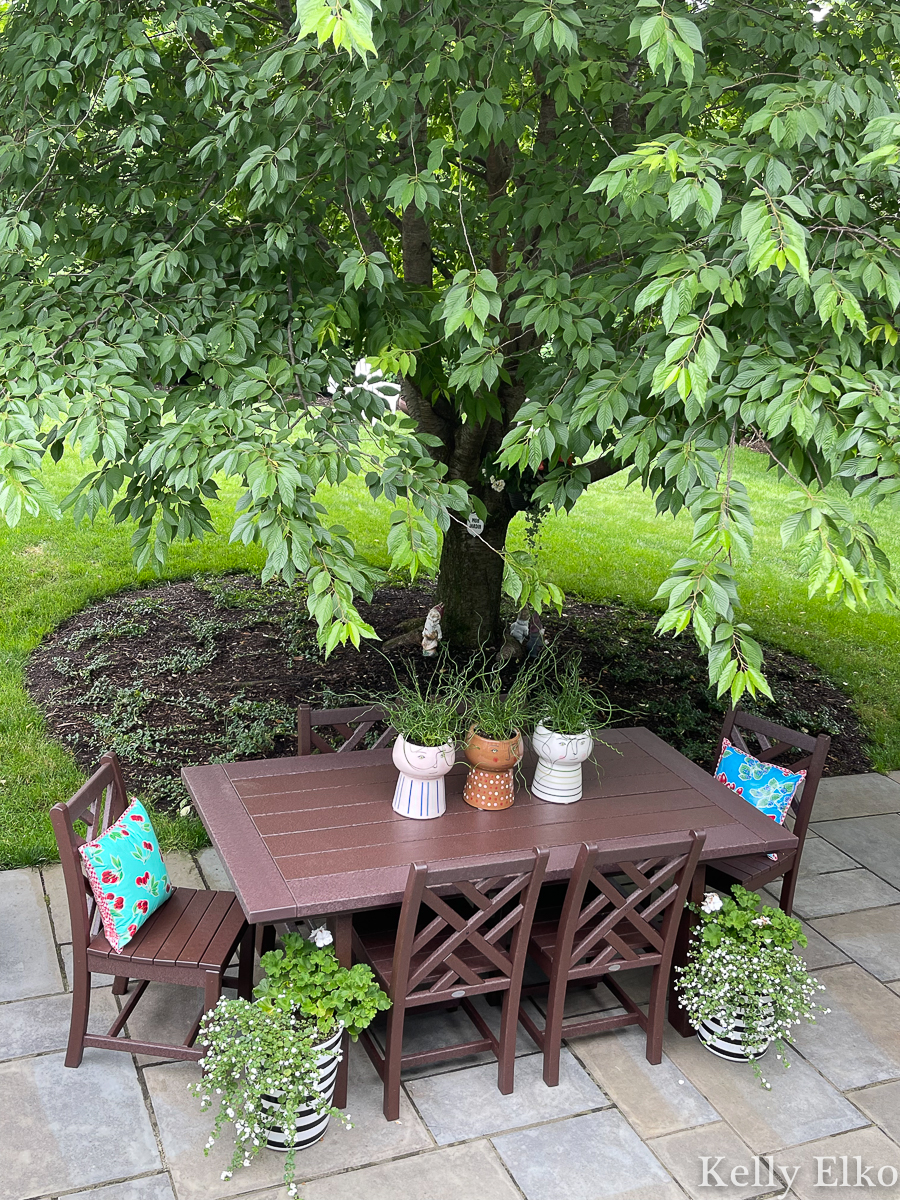 Because my old table was such a splintered eyesore, I never used it! Now that I have this beautiful new table and chairs, you'll usually find me hanging out here with my morning tea, eating meals, working, and just all around enjoying the beautiful weather.
I speak from first hand experience on the quality and durability of this brand because I've been the happy owner of four POLYWOOD Adirondack chairs for eight years and they still look as good as the day we got them.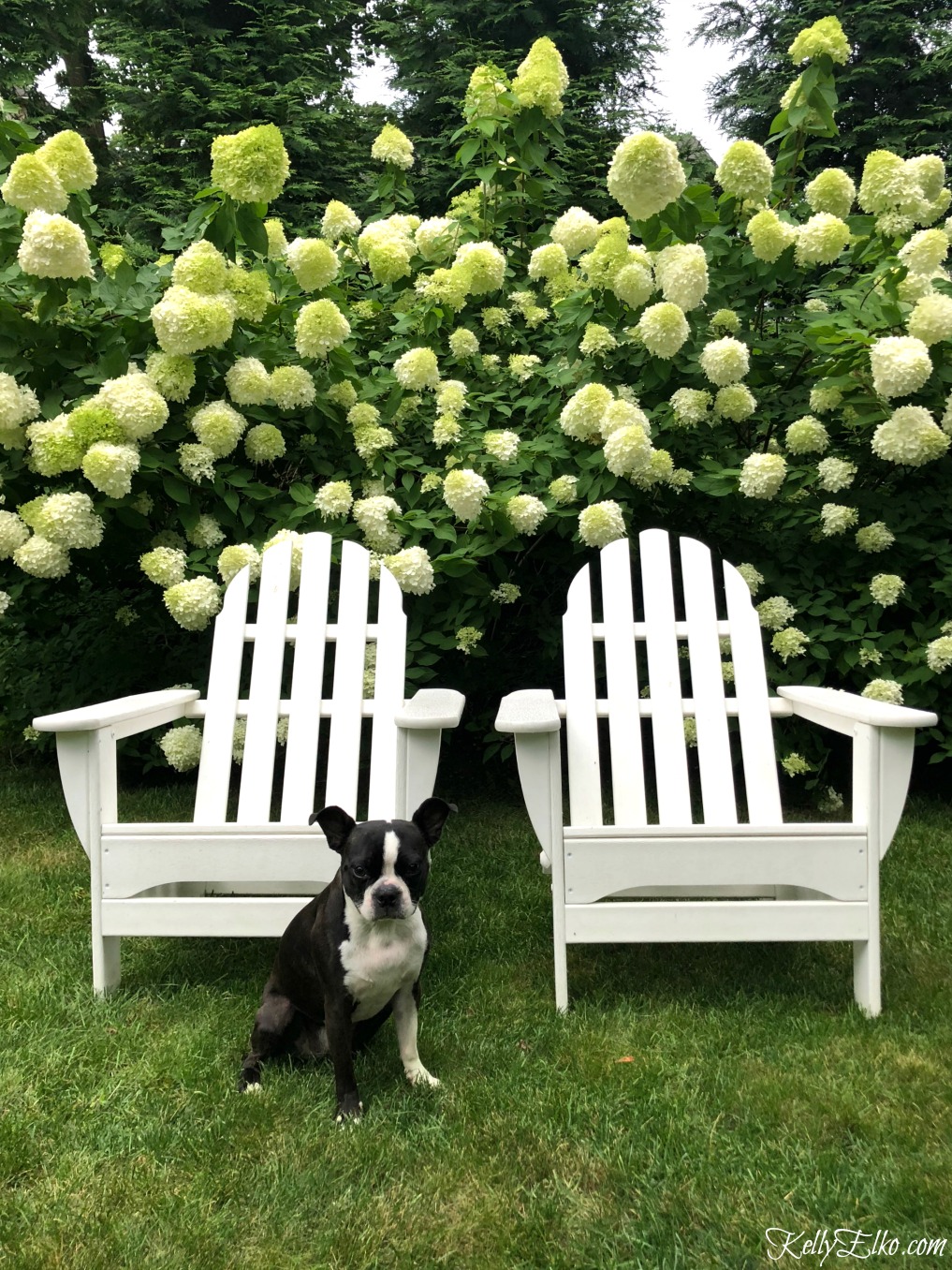 I chose the Rustic Farmhouse Dining Table and six Chippendale Side Dining Chairs in the color "mahogany" and could not be happier with my choices.
1) Eco-Friendly – plastics that would otherwise end up in landfills or the ocean are used to make POLYWOOD furniture!
2) Stylish – choose your color (this table and chairs comes in seven colors and I was very tempted to choose green).
3) Comfortable – the chair seats and backs are contoured for comfort so we can sit for hours, reading and sipping lemonade.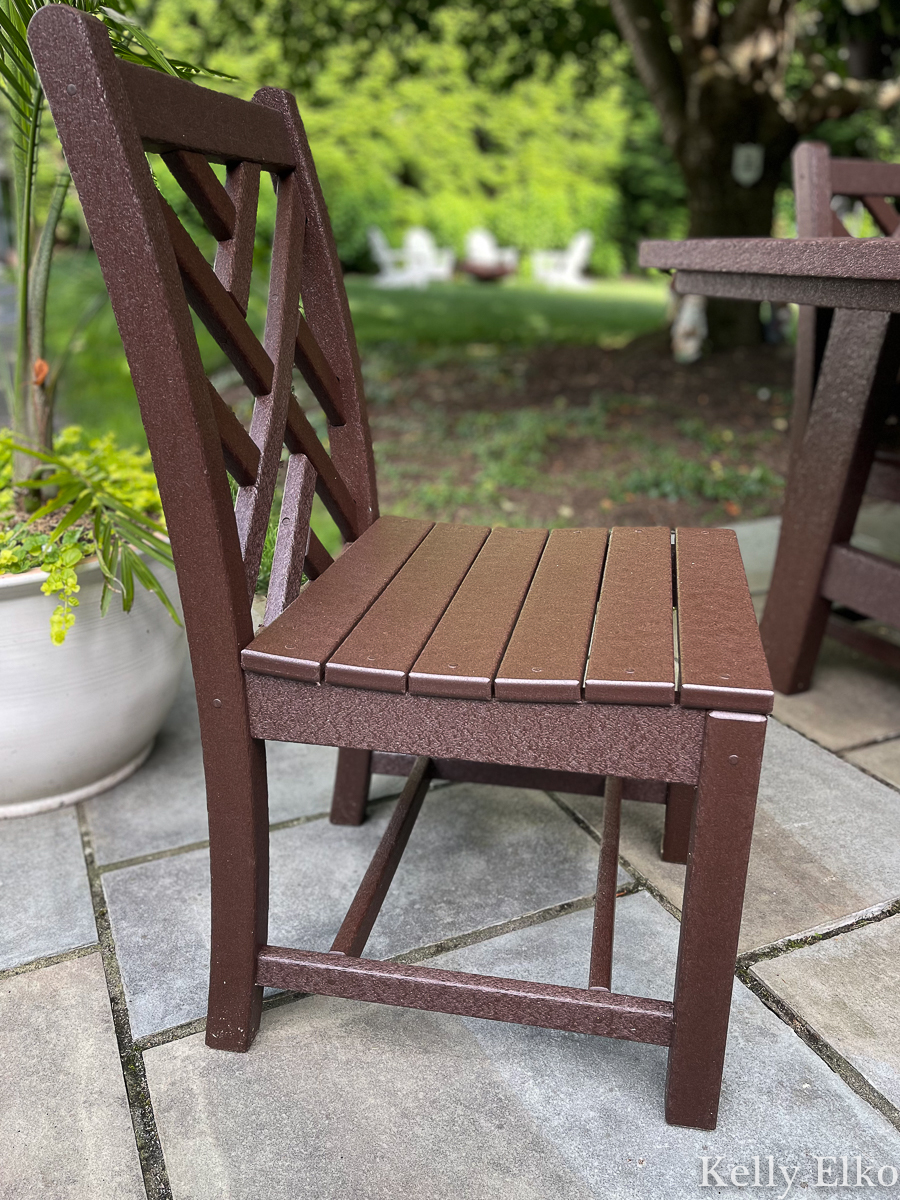 4) Durable – POLYWOOD survived Hurricane Sandy!  Yes, my friend's good friend couldn't believe they were still looking good as new after Sandy devastated their beach house. It won't splinter, crack, warp or rot!
5) Simple – beyond easy to put together with the table taking around 45 minutes to assemble and the chairs no time at all since they come pre-assembled!
6) Made in the USA – I'm all about supporting made in America products!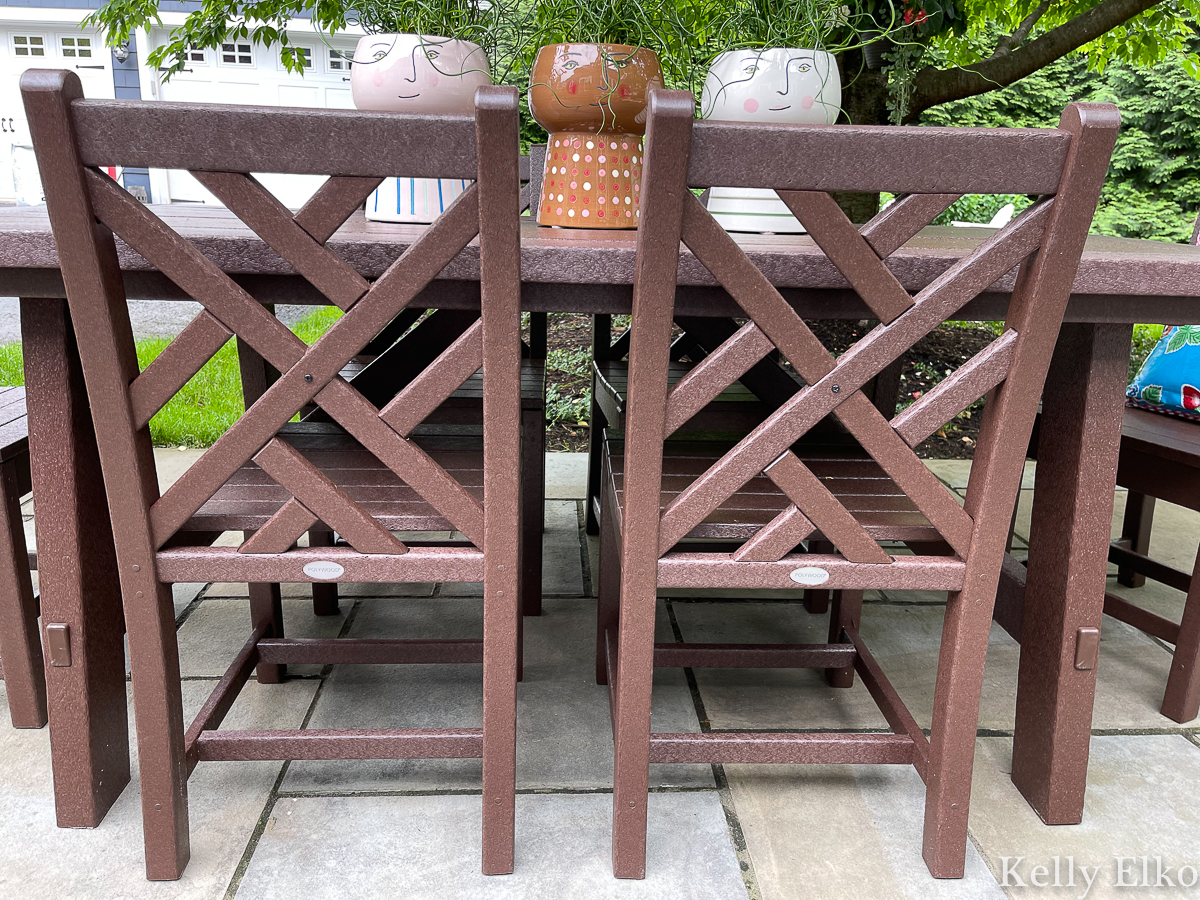 7) Low-Maintenance – I leave my POLYWOOD furniture outside, uncovered, all year long … even during the harsh winter weather. To keep them looking their best, I just give them a good power washing every spring.
8) Variety – there is something for every style and taste and I love that you can mix and match tables and chairs for a one-of-a-kind look.
9) Value – the fact that this furniture is so low maintenance (no scraping, staining, painting, covering) makes it an exceptional value.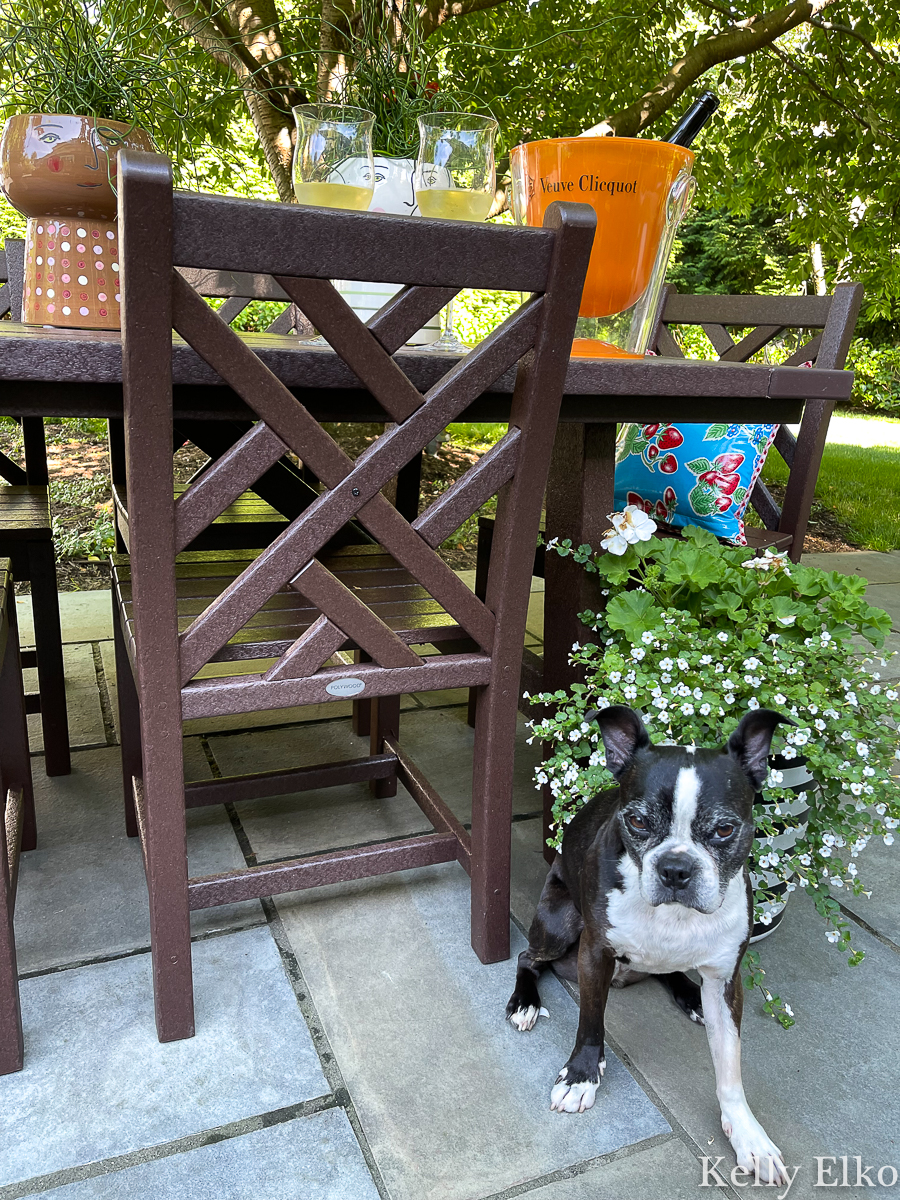 10) Free Shipping – no matter how much your order.
11) Great Warranty – I'm covered for 20 years!
I am a big believer in waiting for exactly what you want so I love the fact that POLYWOOD has quick ship options that are in stock and ready to go as well as custom options/colors.
I chose to wait a few weeks longer for my table and chairs to ensure I got exactly the look I was after.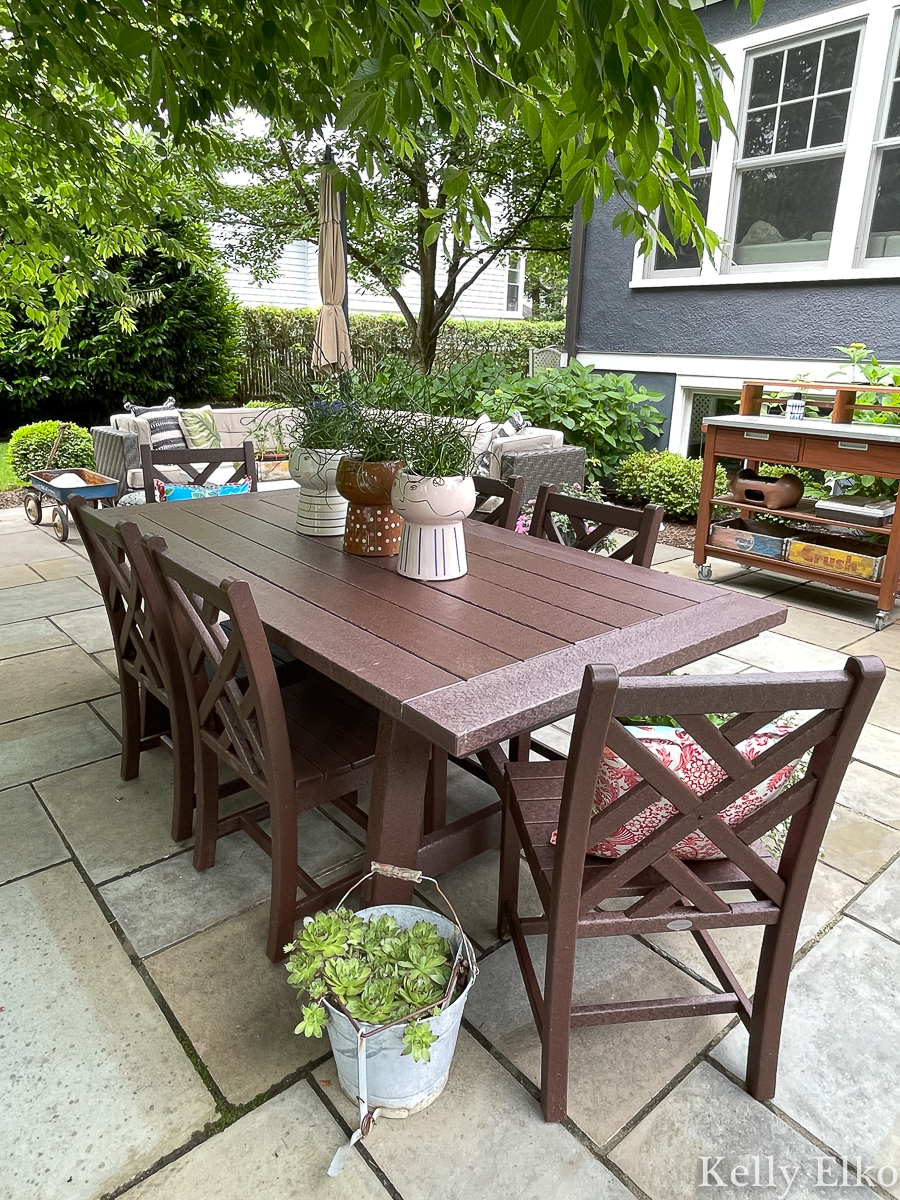 Whether the table is set for everyday with favorite plants or for a casual dinner party, it always looks great.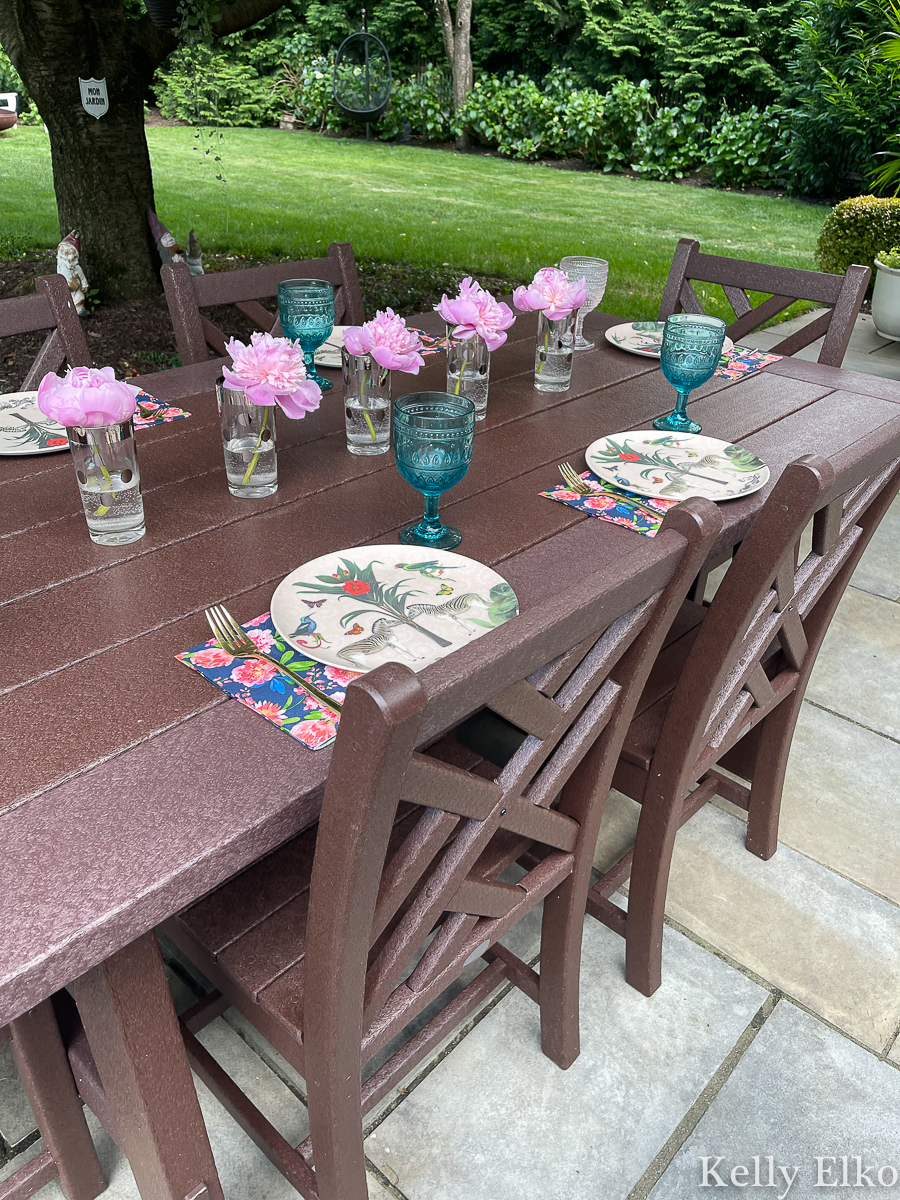 There's more! As my girls would say, my new POLYWOOD fire pit table is fire!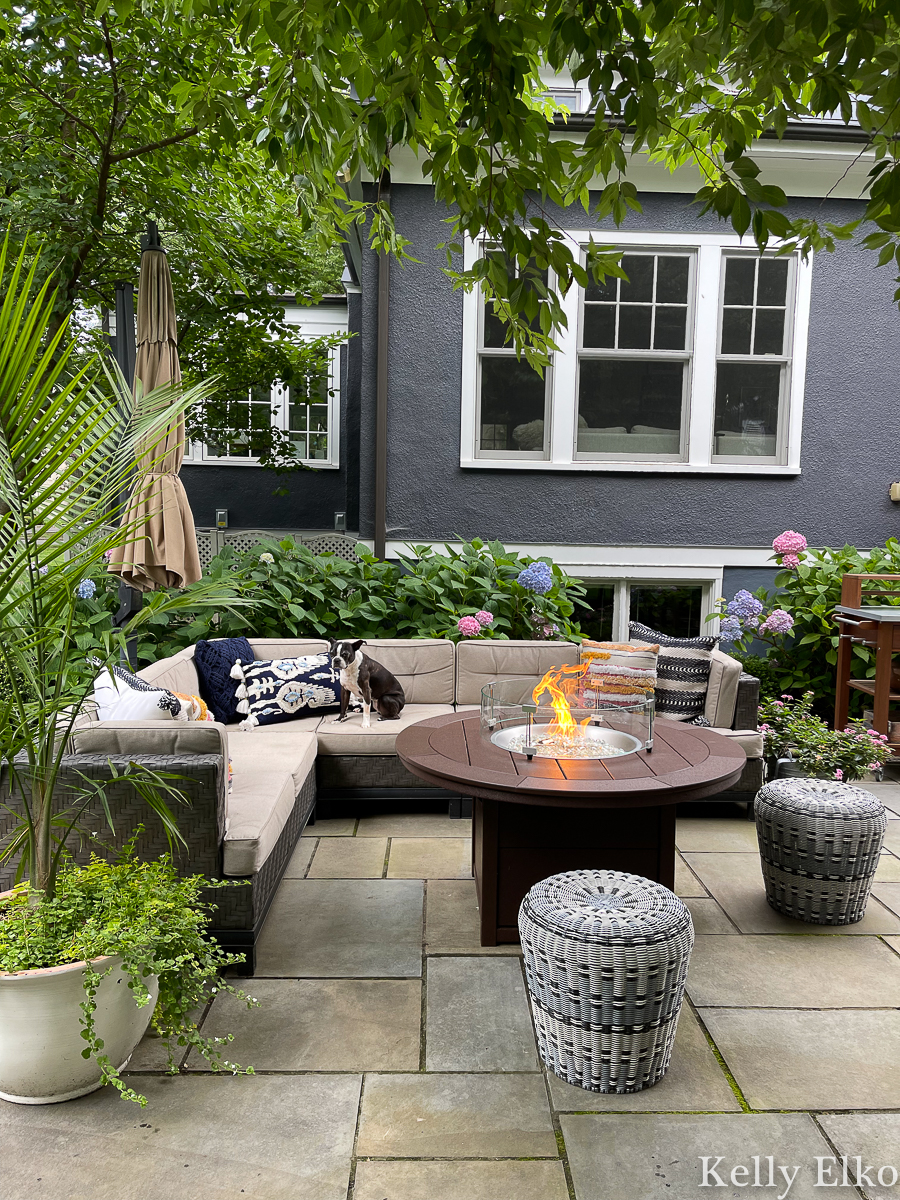 It matches the dining set perfectly and I love that it does double duty as a coffee table with plenty of room for drinks and snacks.
It's powered by a propane tank that's hidden under the fire pit and can be turned on and off with the turn of a knob and it even comes with a cover to keep it protected from downpours.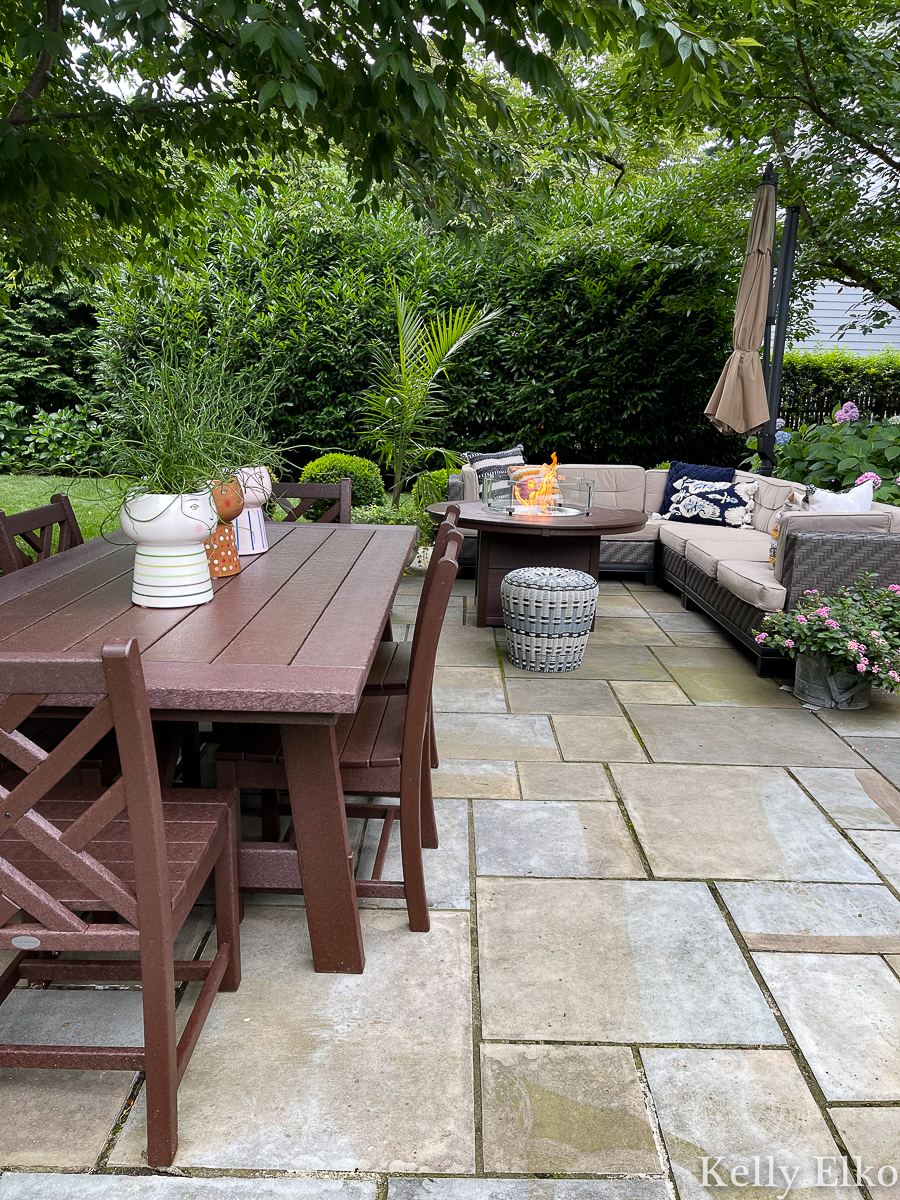 Here's to spending more time outside.
Below are the links to the pieces I chose …
Click Here to visit POLYWOOD to see their huge selection of outdoor furniture.