As he reclined in his new adirondack chair, ice cold lemonade in hand, a huge smile spread across my hubby's face as he said, "my vision quest has come to an end" (did I mention he's a tad bit dramatic?).
After 20 years of wanting, thinking and dreaming of owning comfy adirondack chairs, his dream has finally been fulfilled – and on Earth Day too (April 22!) which is perfect since POLYWOOD is made from over 90% plastic bottle waste (keeping it out of landfills).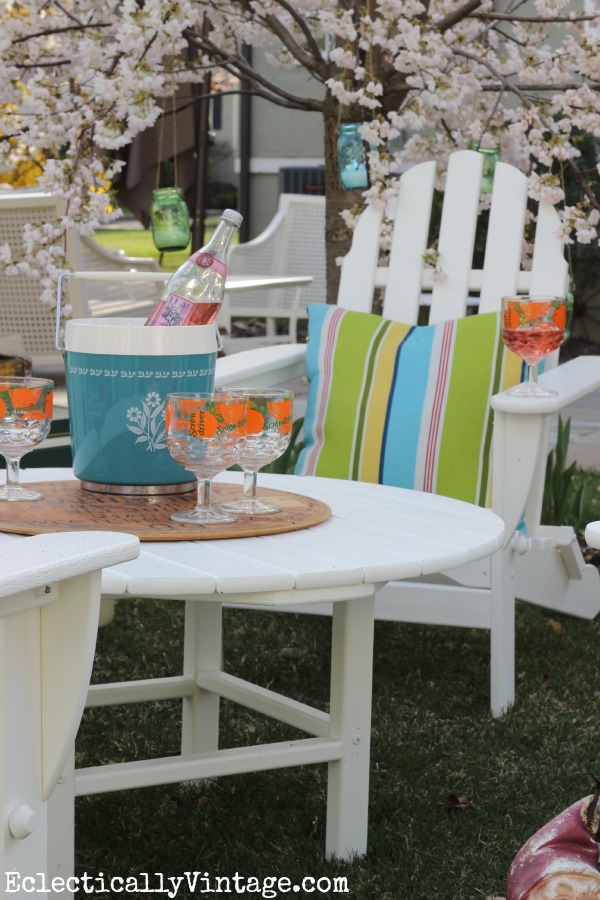 I've always envisioned white adirondack chairs on my lawn, croquet set nearby, lemonades perched on chair arms …
very Nantucket style.
I couldn't be happier with my POLYWOOD adirondack chairs conversation set – four chairs and a big round (38″) table perfect for holding icy cold drinks.
What I had instead were two $5 plastic adirondack chairs from the supermarket that were so flimsy, we were afraid to sit in them (yes, we may have toppled over once or twice when we sat).
Legs in the air and spilled lemonade (not to mention margaritas) was not quite what I had in mind.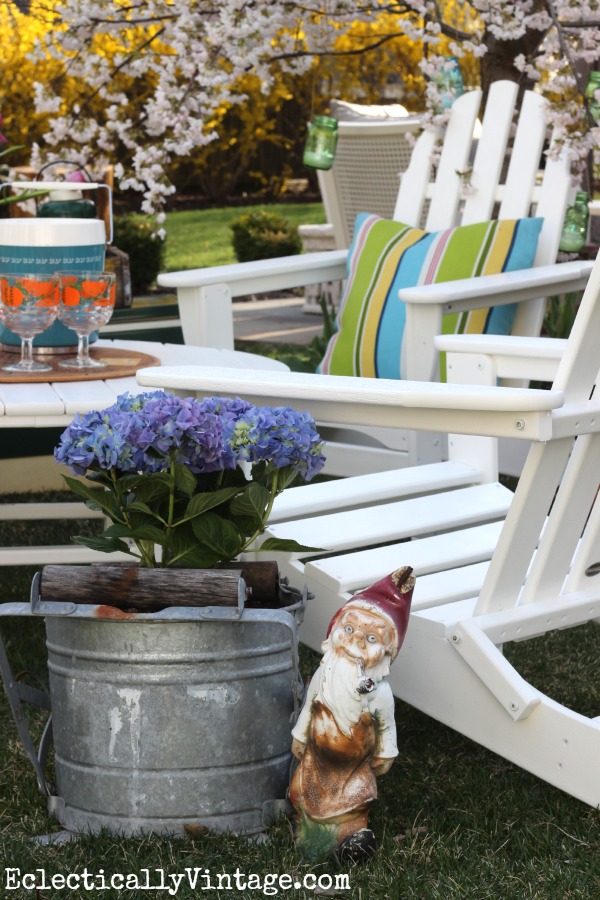 So I replaced them with something built to last, with style.
Why I Heart POLYWOOD:
1) Earth Friendly – there's the equivalent of 500 milk jugs in each one of my adirondack chairs!
2) Stylish – choose your color (I was tempted by the blue and green chairs … the red and orange are pretty amazing too … choose from 13 colors).
3) Comfortable – we sit for hours, reading and sipping lemonade of course.
4) Durable – POLYWOOD survived Hurricane Sandy!  Yes, my friend's good friend couldn't believe they were still looking good as new after Sandy devastated their beach house.
5) Simple – beyond easy to put together with each chair taking just minutes!
6) Compact – remove two pegs from each chair and they fold up for easy storage.
7) Maintenance Free – who wants to paint and stain every couple of years when they can be lounging with a margarita.  Bonus – I can leave them outside all year long.
8) Great Warranty – I'm covered for 20 years – just imagine the amount of margaritas I can consume in that amount of time!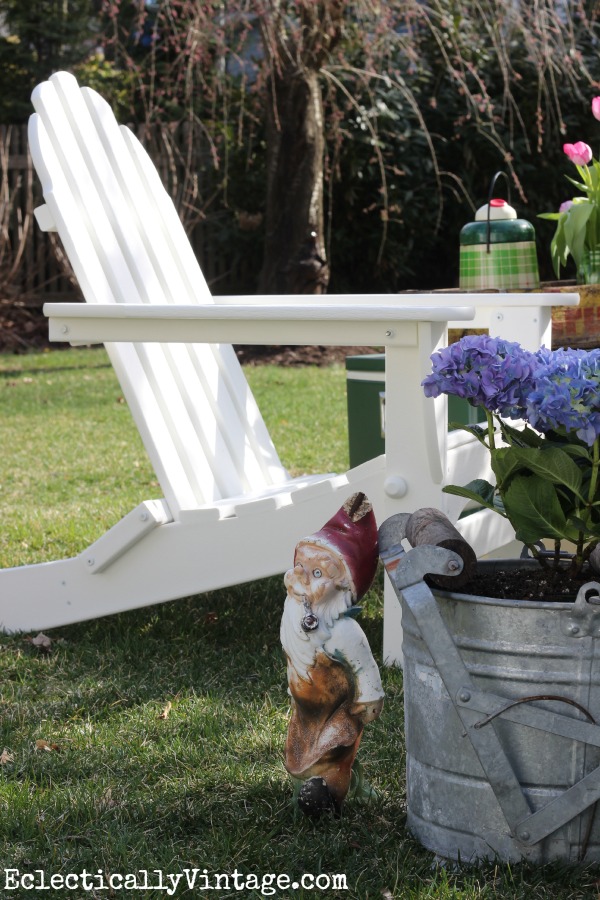 See the grain on the arm of the chair – I love that it looks like real painted wood (without the maintenance)!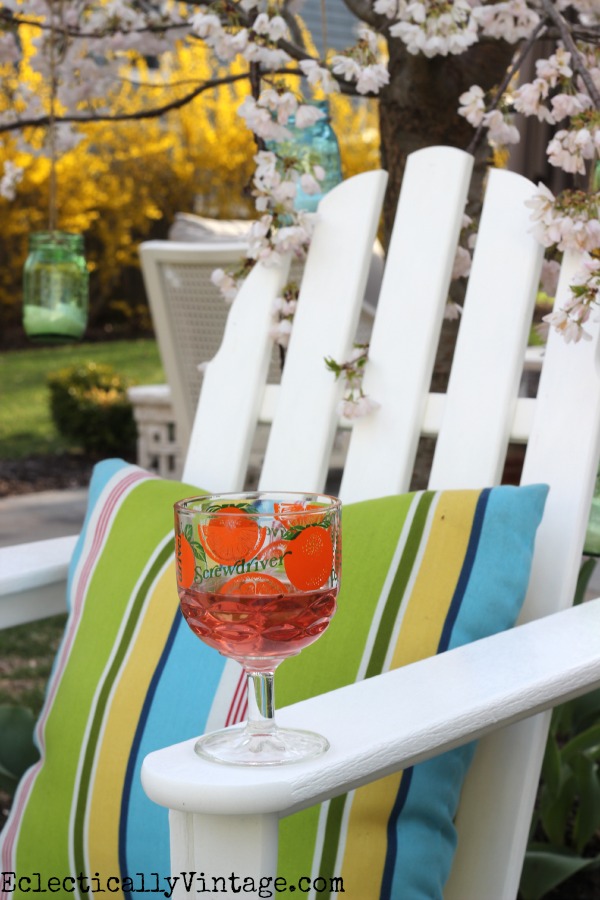 Giveaway Has Ended
Win an Adirondack/Side Table Set – your choice of 13 colors!
Just go the POLYWOOD contest page to enter
Nitty Gritty:  Giveaway ends Wednesday, April 30th, 11:59 EDT, open to US residents only.
There's more!  Five of my fabulous friends each chose a different POLYWOOD set – and each one looks amazing in their yards.
Go check them out …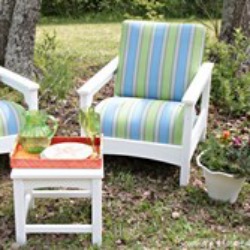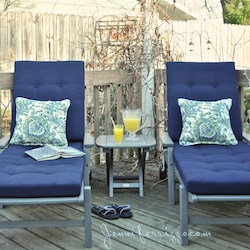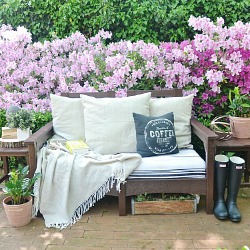 Disclaimer:  Thank you POLYWOOD for the fabulous furniture and making me feel like I've got Nantucket in my yard.  I only speak the truth.