These summer home tour decorating ideas will have you making your own home a cozy place to be in summer.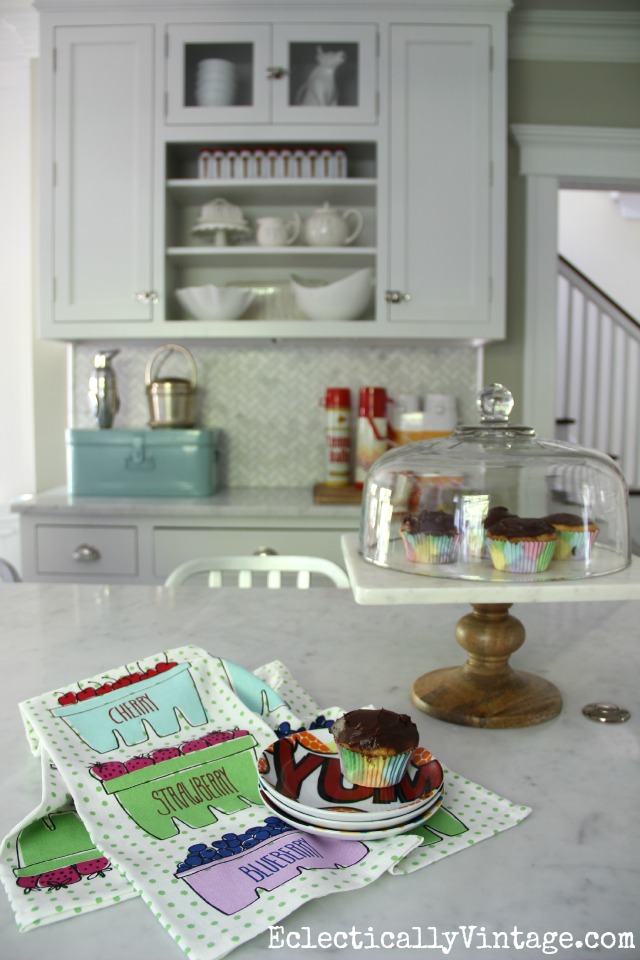 Summer.
The days are longer, warmer, brighter and just all around happier.
Plus I love a good bomb pop from the freezer (and an ice cold margarita).
It's also the perfect excuse to decorate my house, so without further ado, my summer home tour …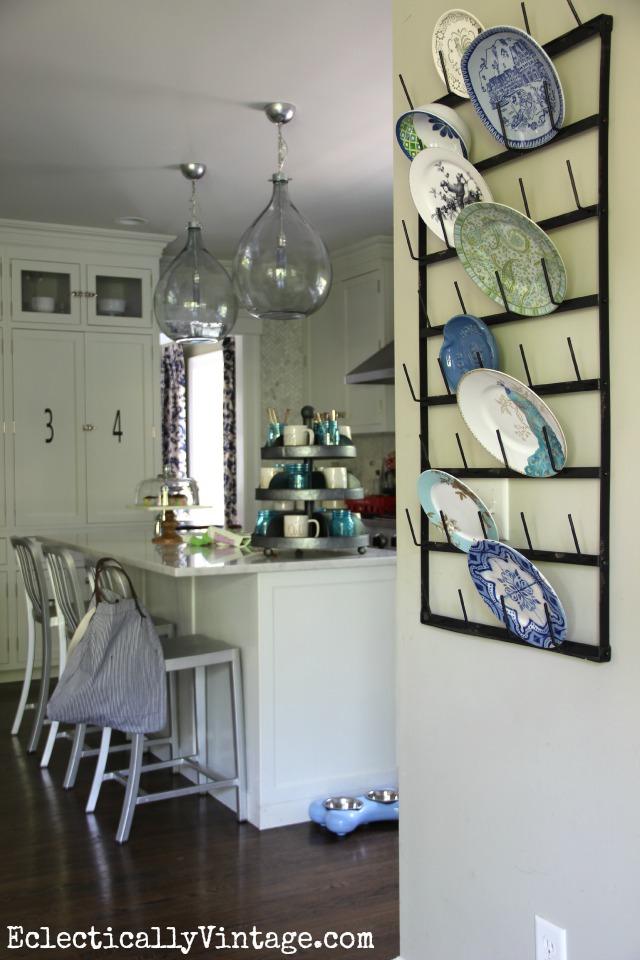 It's a bottle drying rack but I don't like being told what to do so I display plates on mine.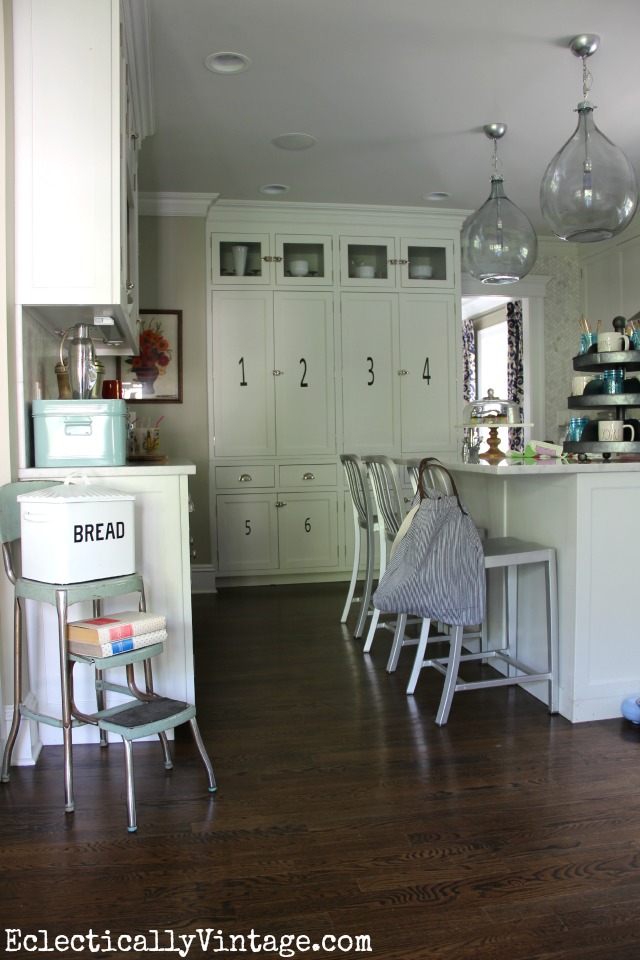 There's nothing I like better than a buttered baguette but this bread box holds my dog's treats.
A couple of vintage Julia Child cookbooks are waiting patiently for me to whip up a pot of boeuf bourguignon.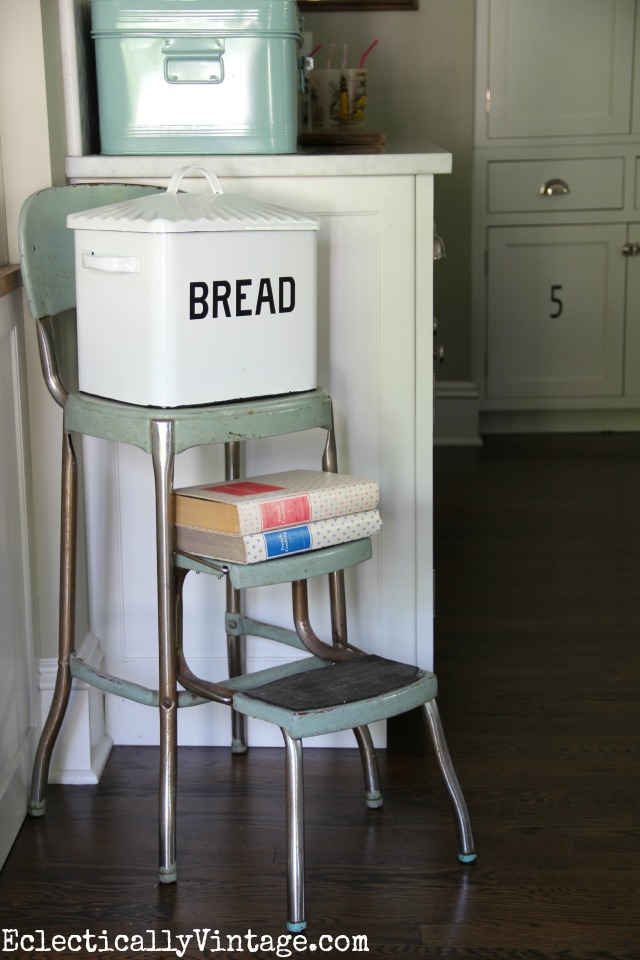 I'm loving the white on white so I filled up my open shelves with HomeGoods finds.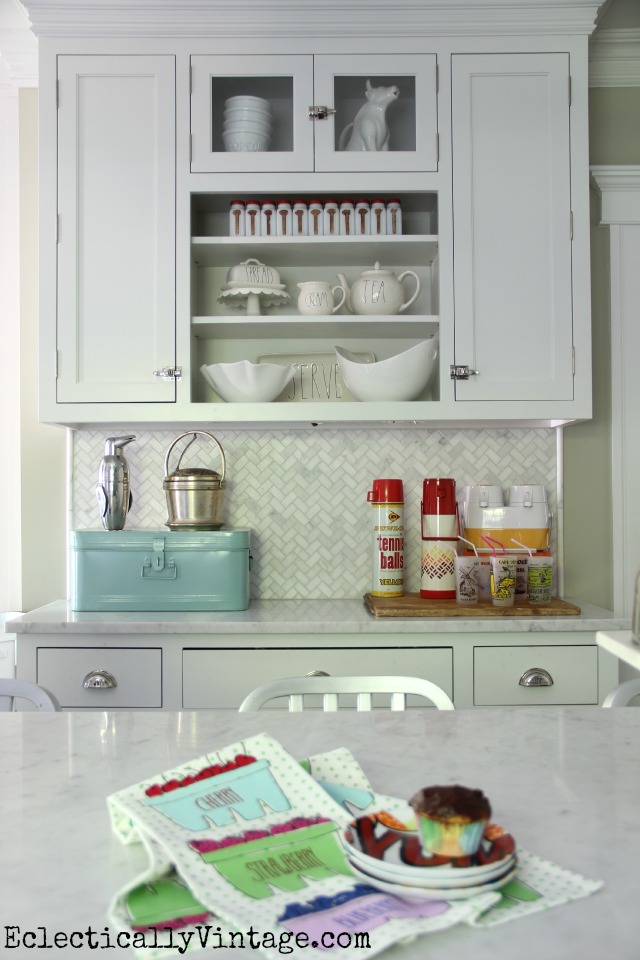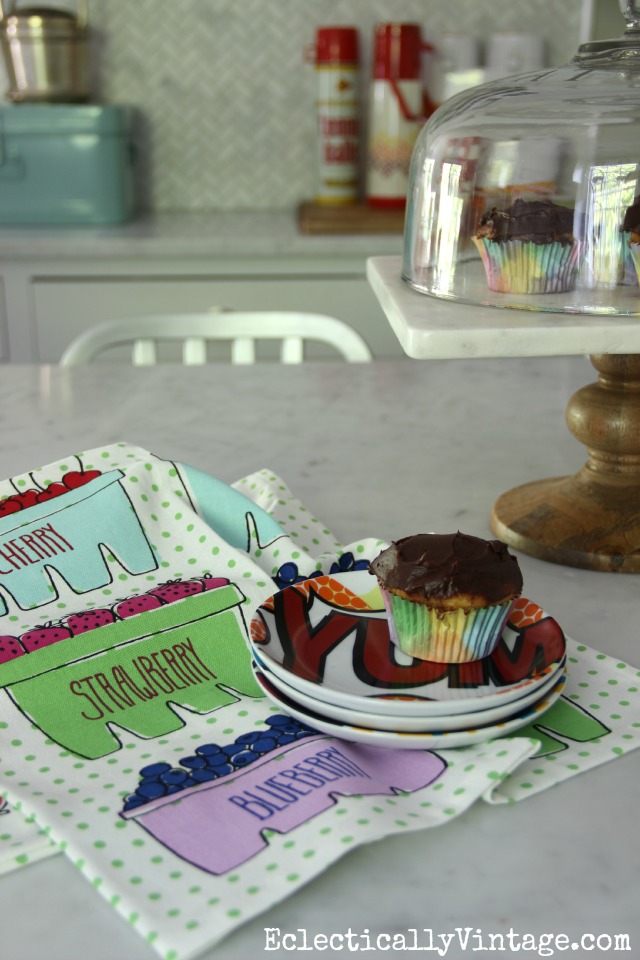 Vintage thermoses and state glasses are ready for lemonade (with or without vodka).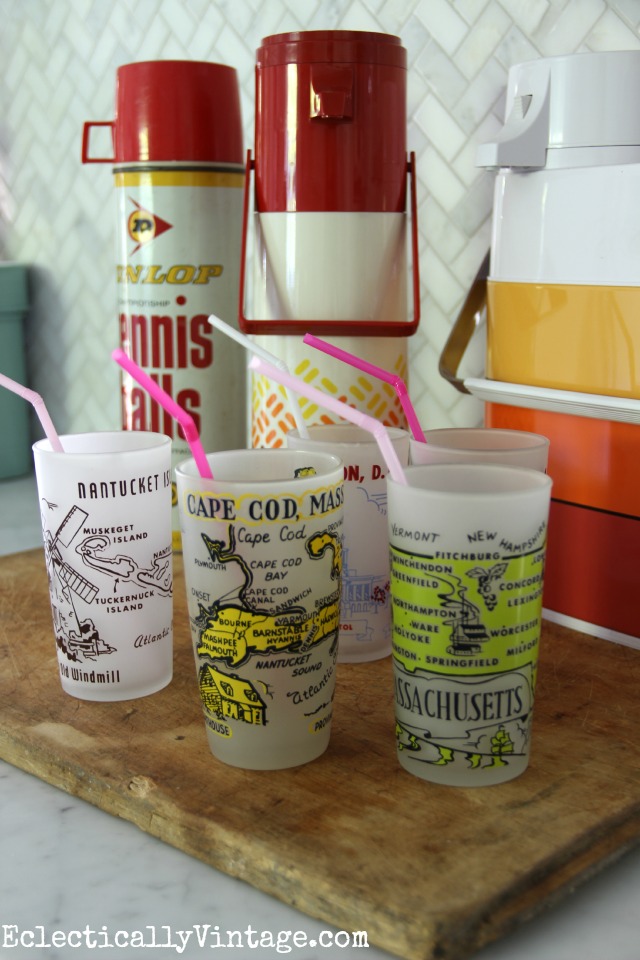 I went a little crazy with these cute mugs from HomeGoods in my favorite industrial tray.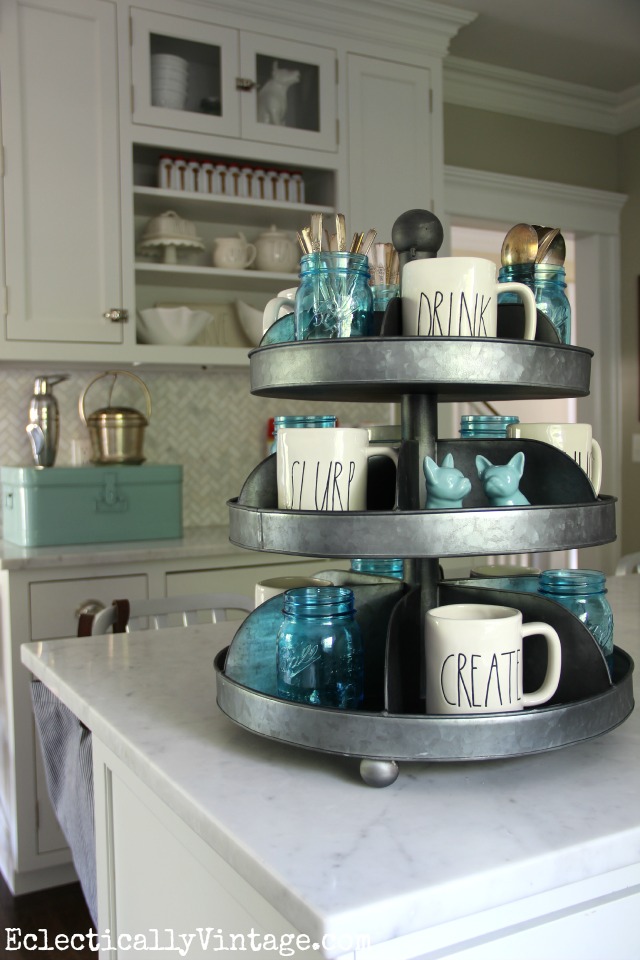 My favorite tip for making a kitchen look high end: bring tile up to the ceiling. Can you believe I found my herringbone tile on ebay!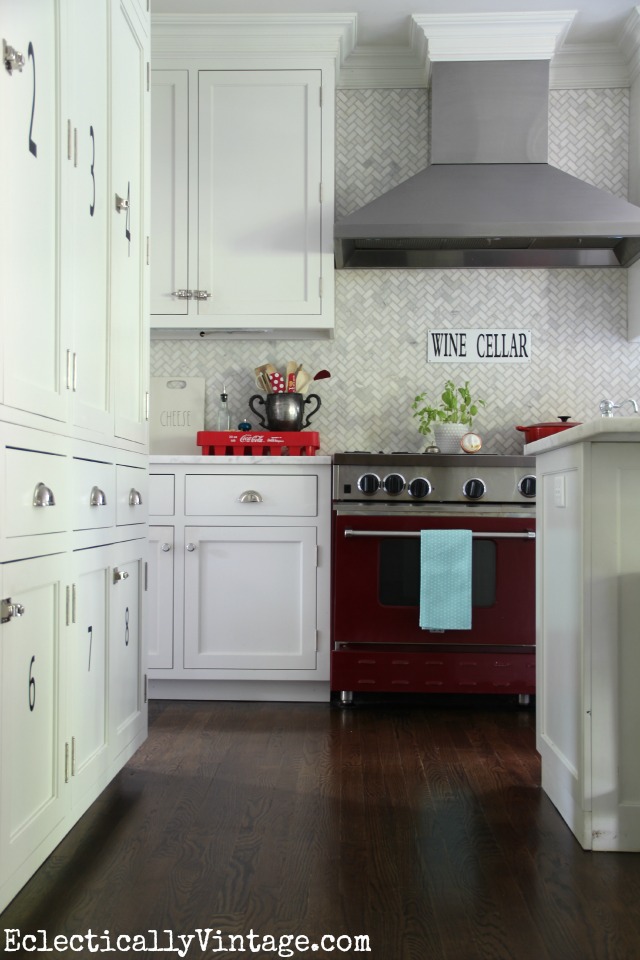 The trophy goes to me for being a mediocre cook!
If you're going to cook, you might as well have fun utensils like these from HomeGoods.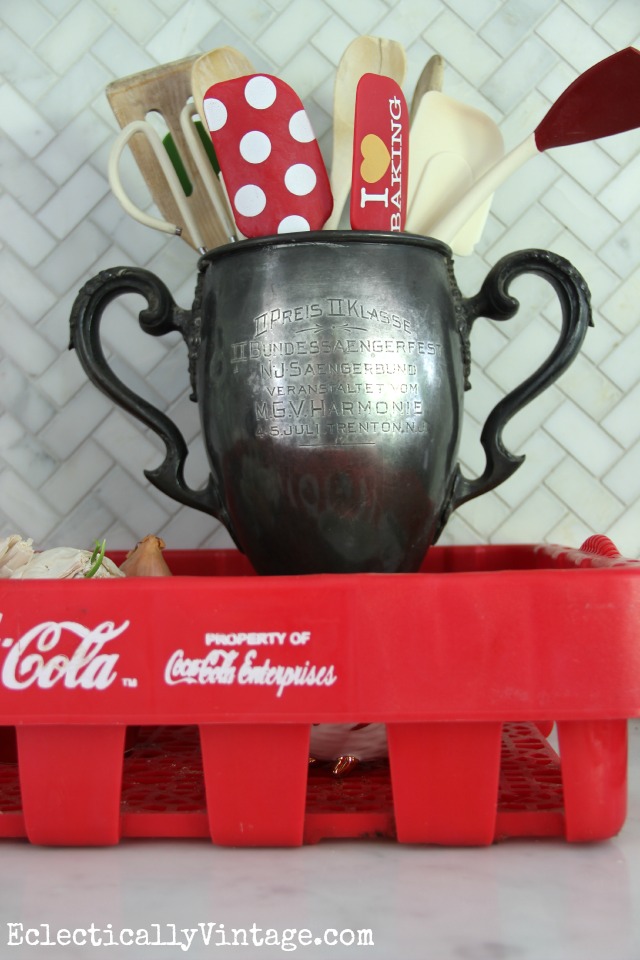 Every kitchen needs gold hedgehog measuring cups.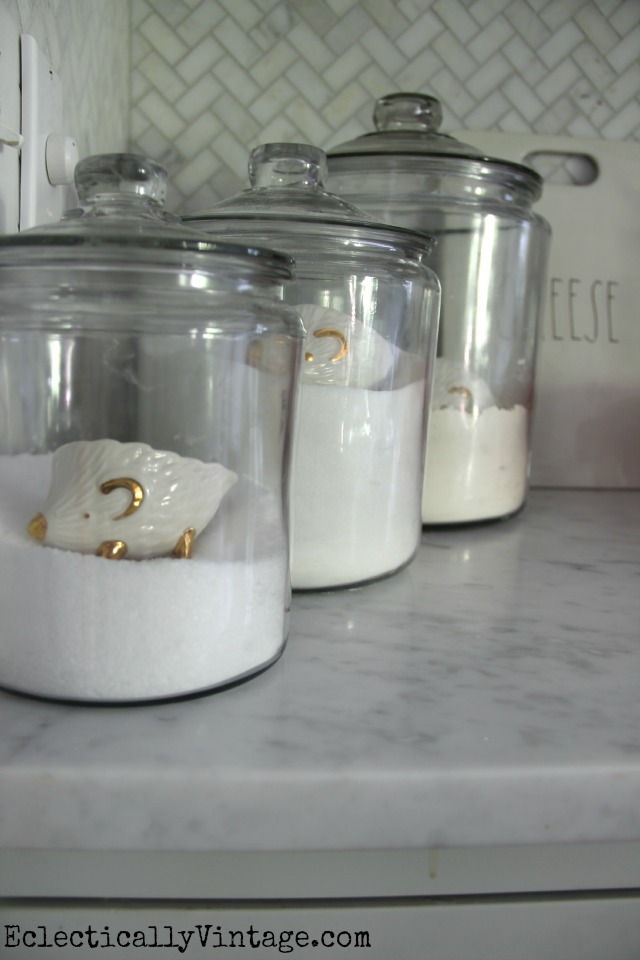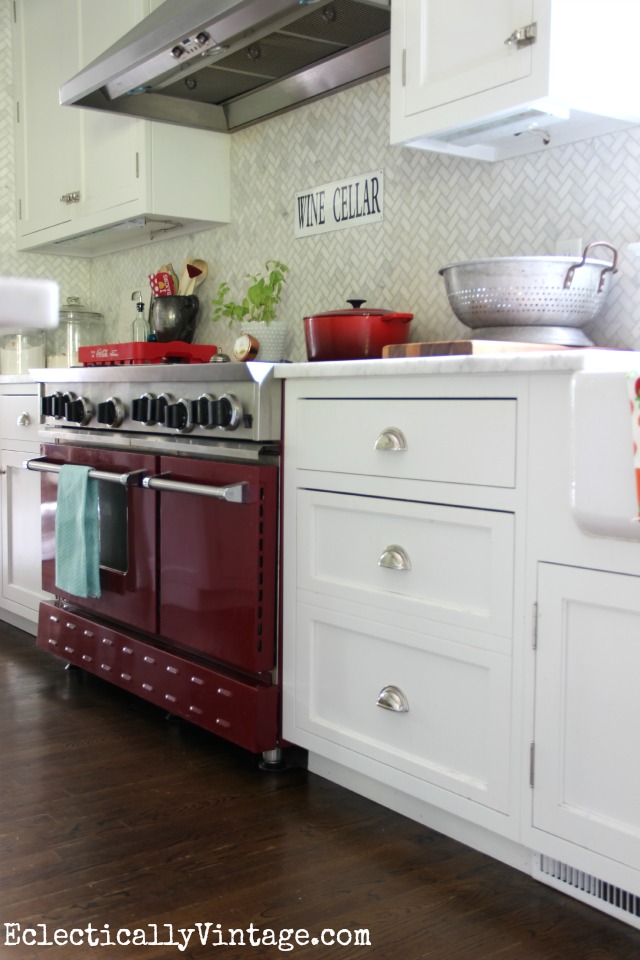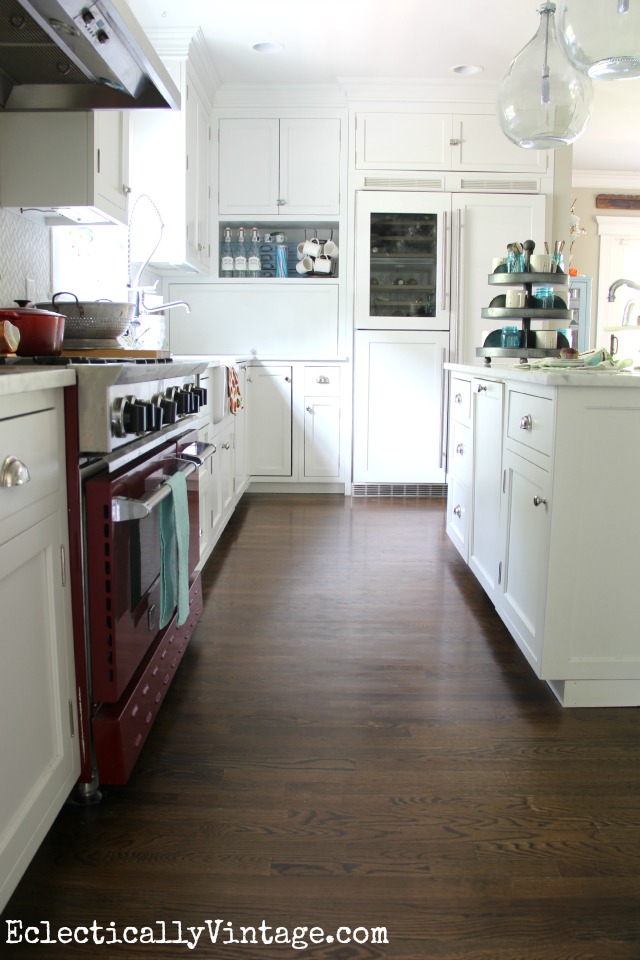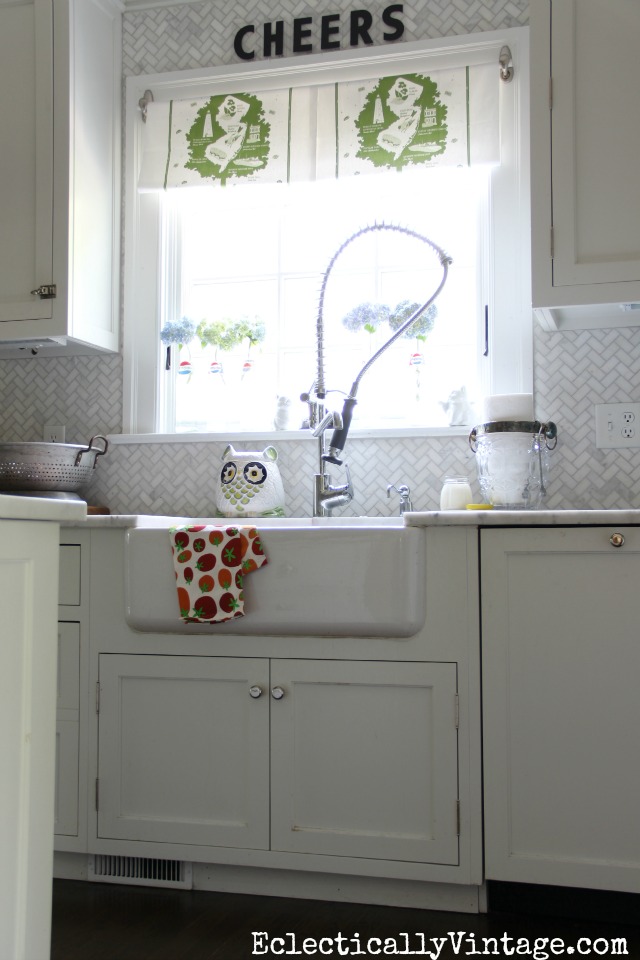 Doesn't everyone store their paper towels in a vintage ice bucket?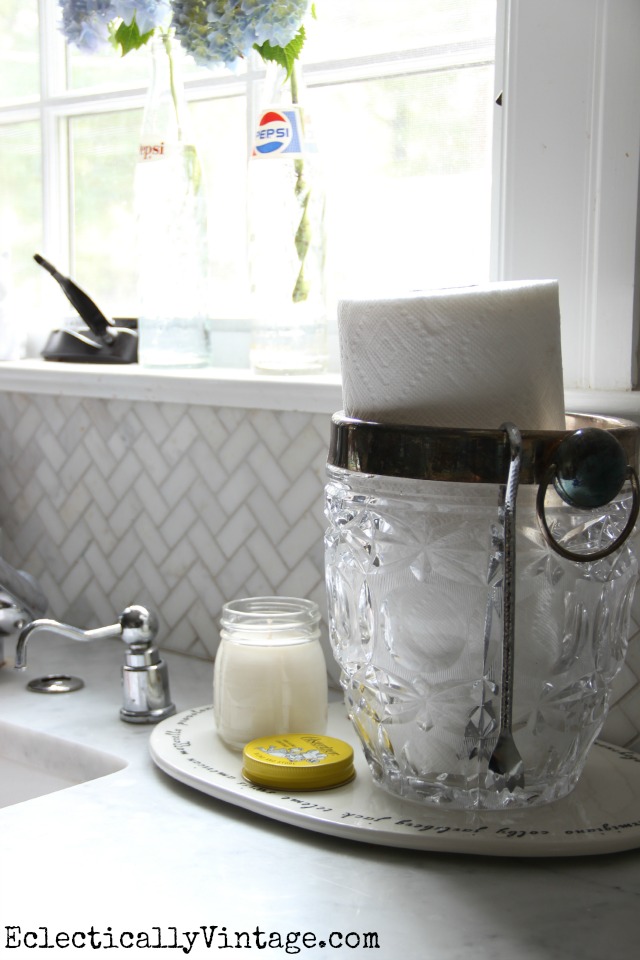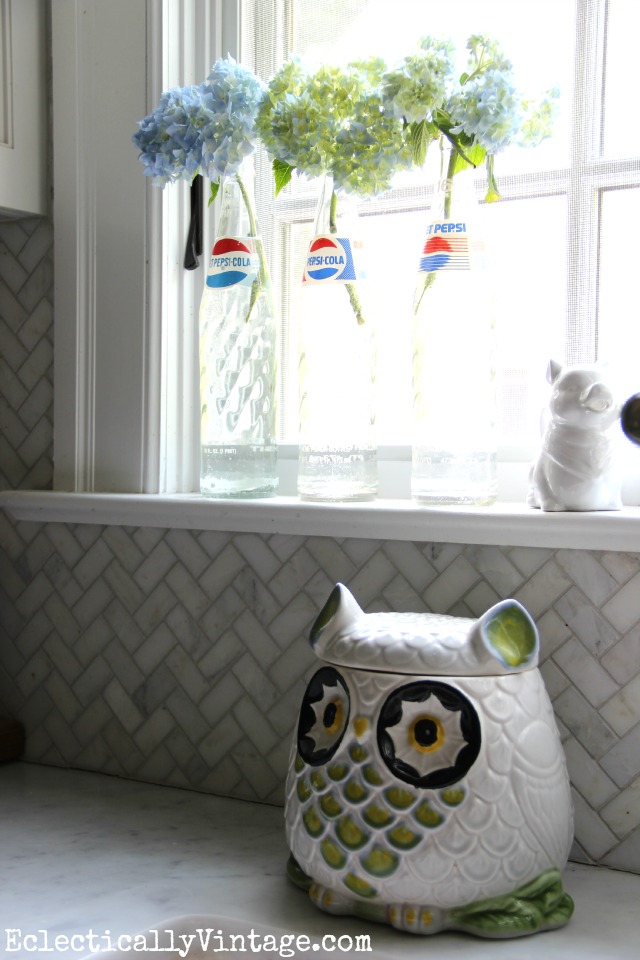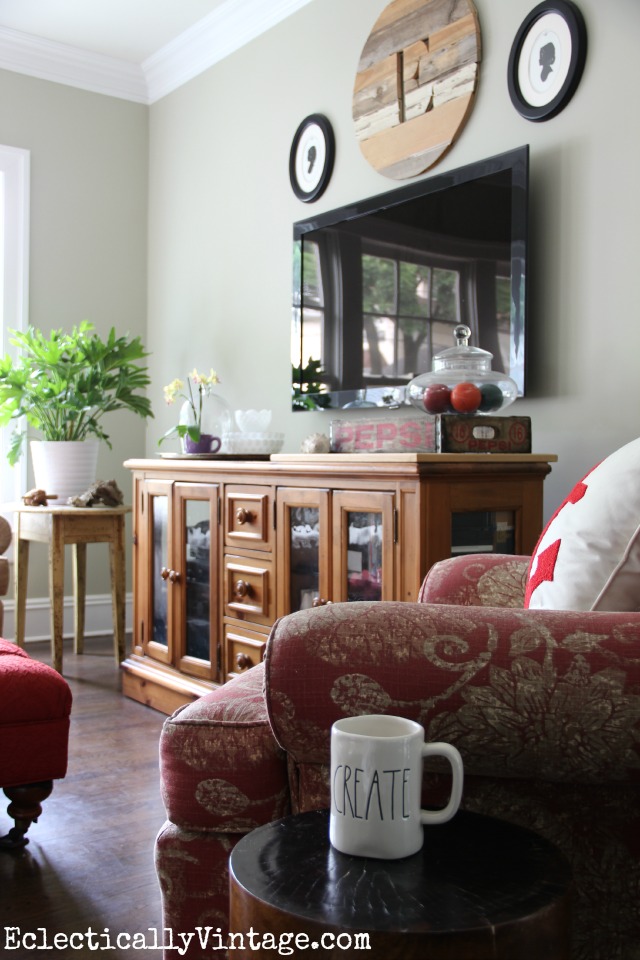 I searched high and low for the perfect thing to hang over my tv and finally found it in this custom made, reclaimed wood monogram.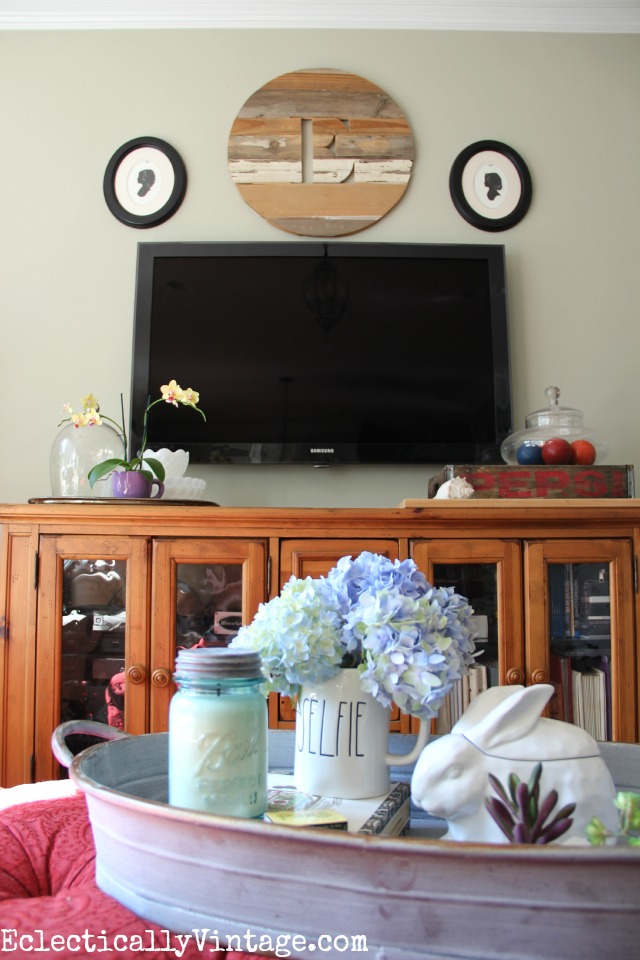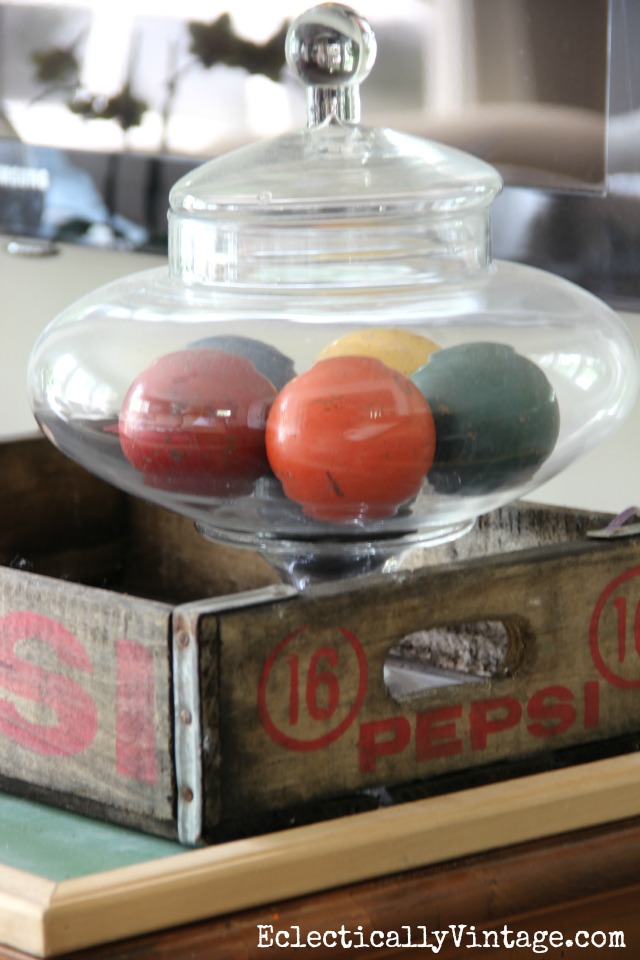 I can't get enough of hydrangeas straight from my yard and they look even better in a selfie mug from HomeGoods.
I have a small tray obsession – perfect on an ottoman.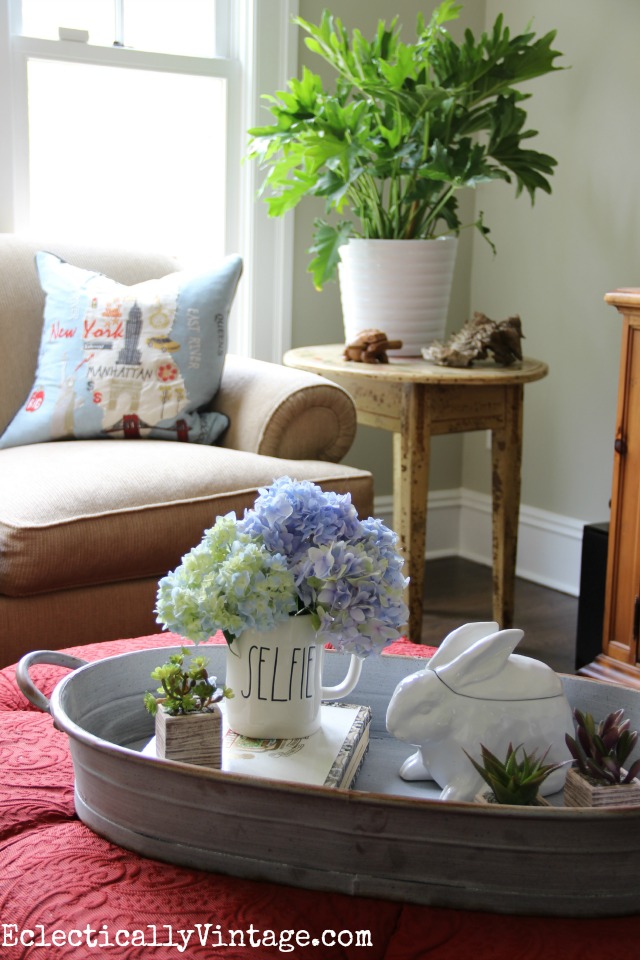 I also have a pillow addiction and always find the best selection like these from HomeGoods.
I went a little crazy at Ikea and love the way this philodendron brings life to a corner of my family room.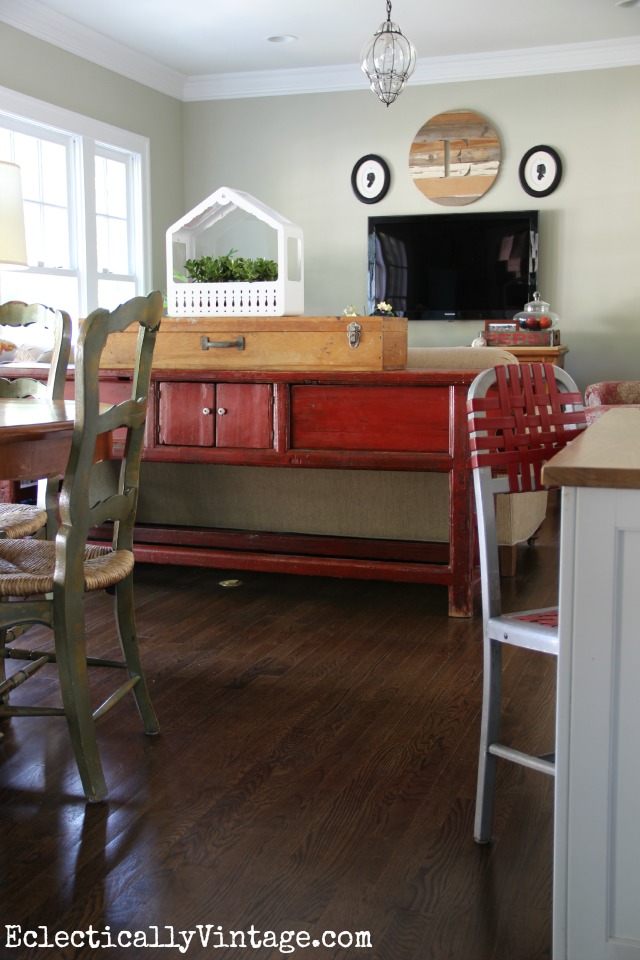 Let's talk about the elephant in the room.  That cute little white elephant from HomeGoods holds our phones while they charge.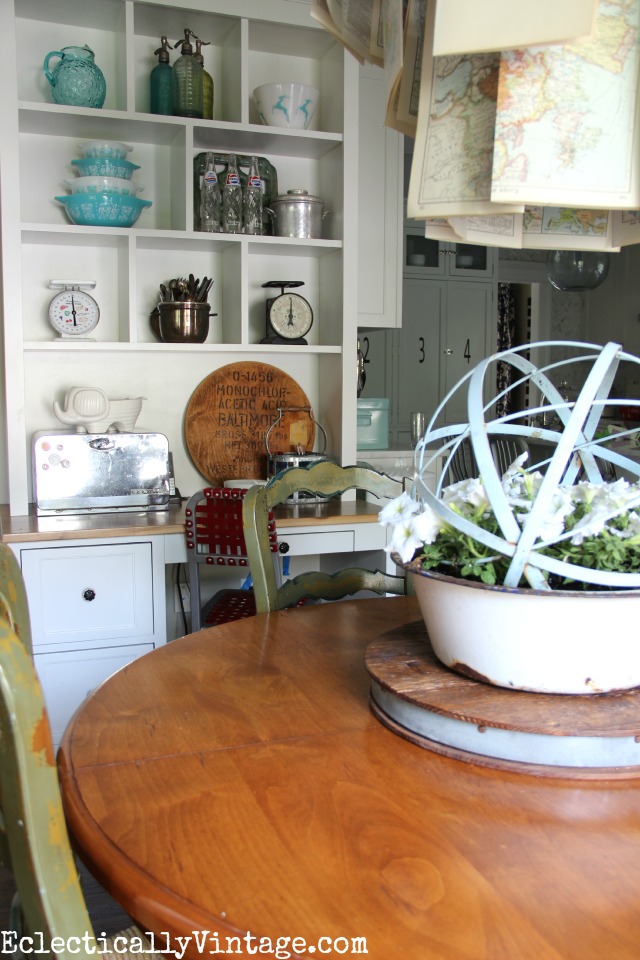 Last year, I trained ivy around this orb I got from HomeGoods.  This year, it's petunias in a vintage enamel bowl.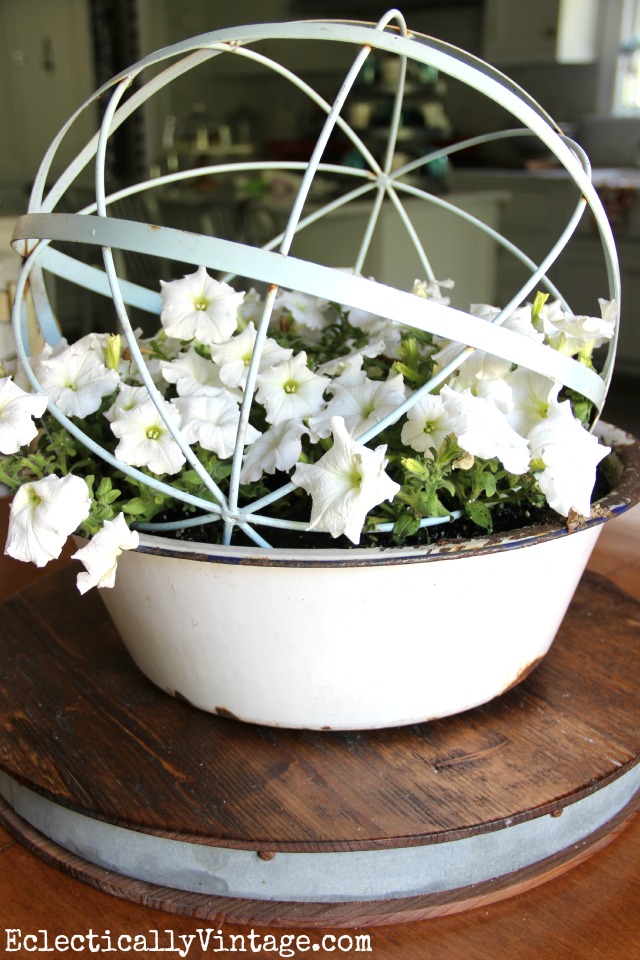 Another Ikea find – how cute is this little terrarium.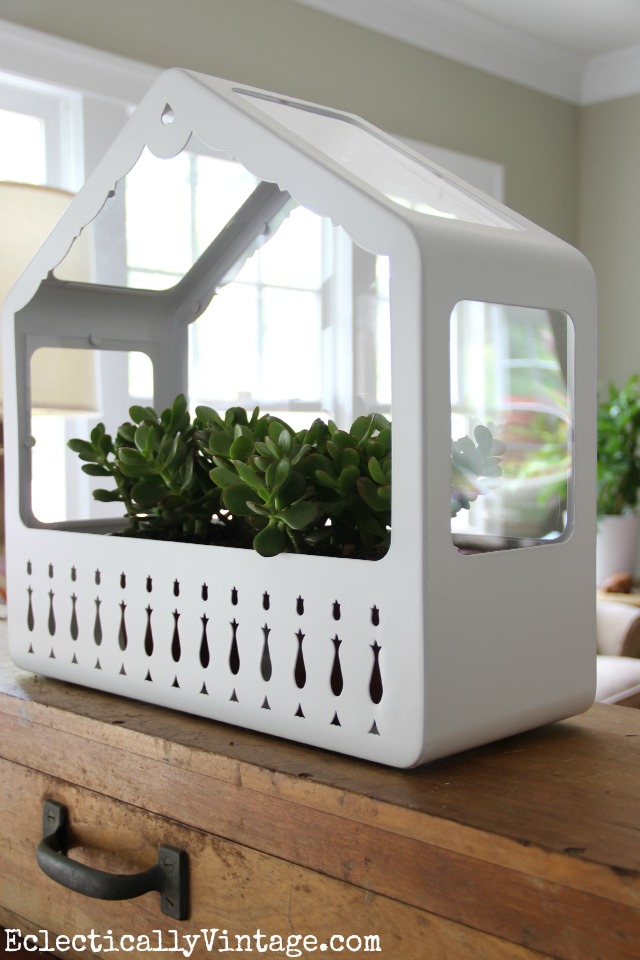 A peek into my family room from the living room.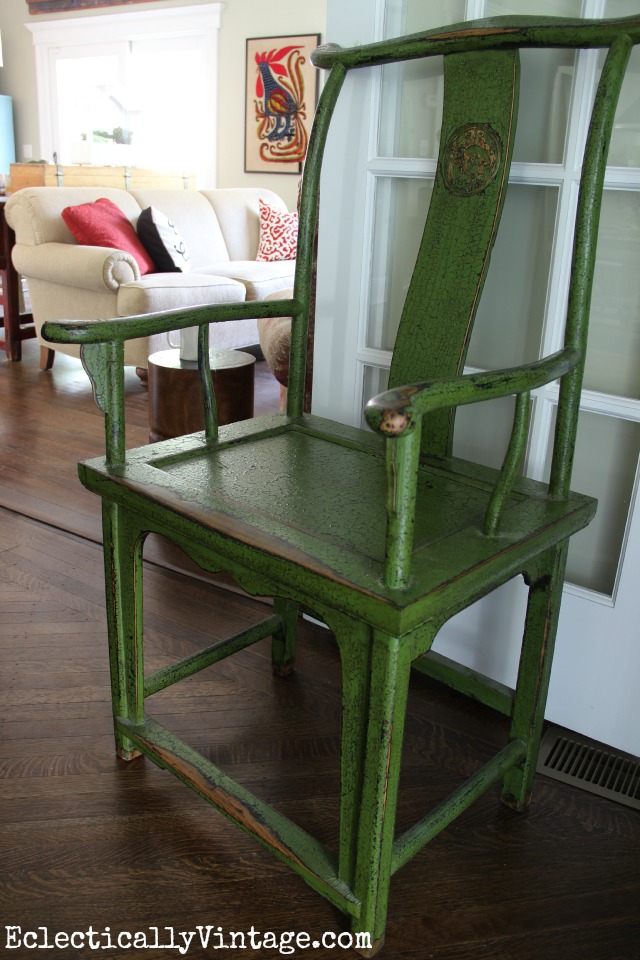 Did you know that another name for a snake plant is mother-in-law's tongue? I love the way they look in my vintage olive buckets (along with this gorgeous dough bowl).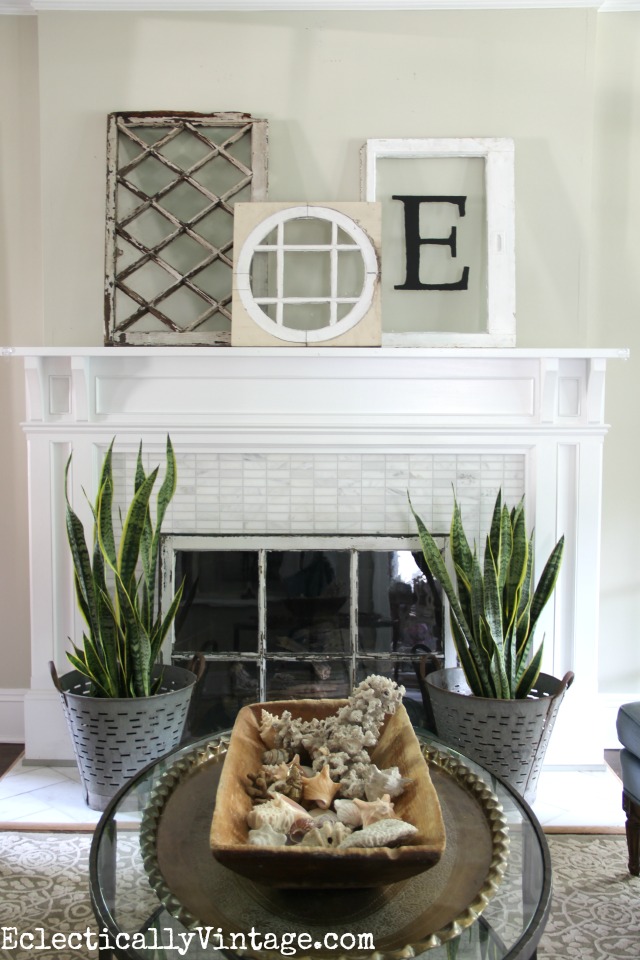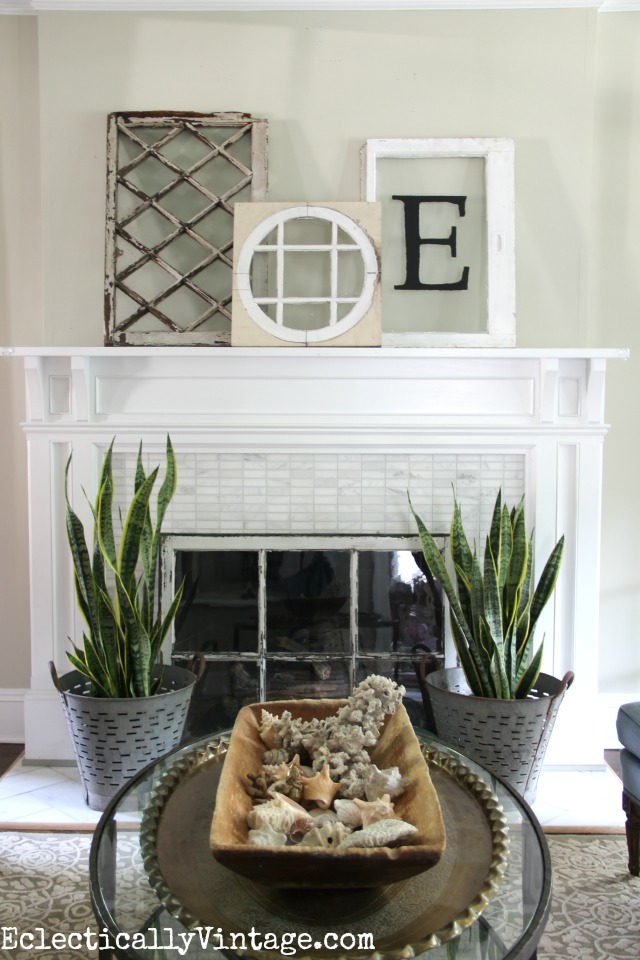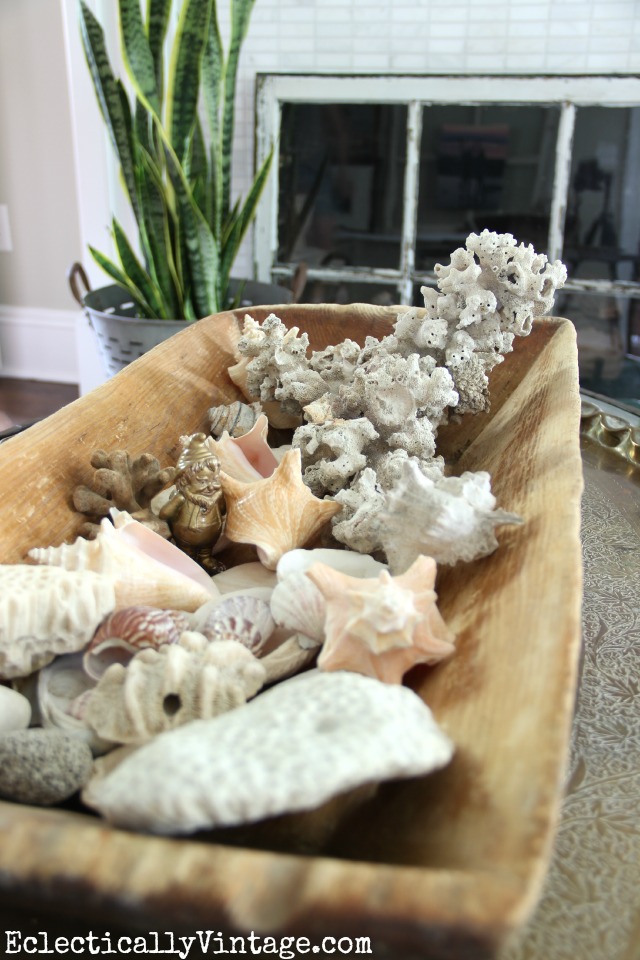 I love everything about my console table that reminds me of a vintage radiator screen.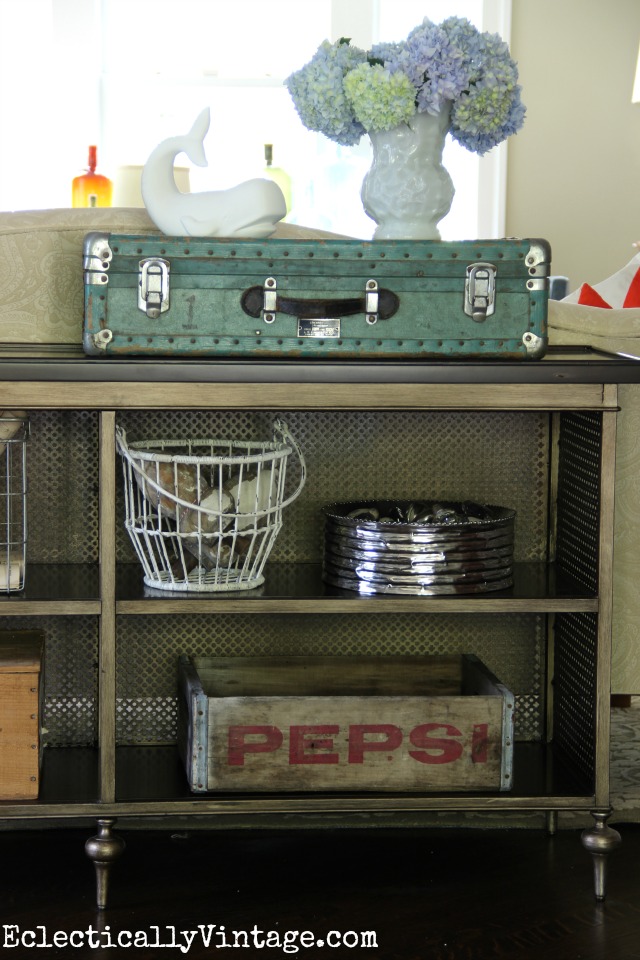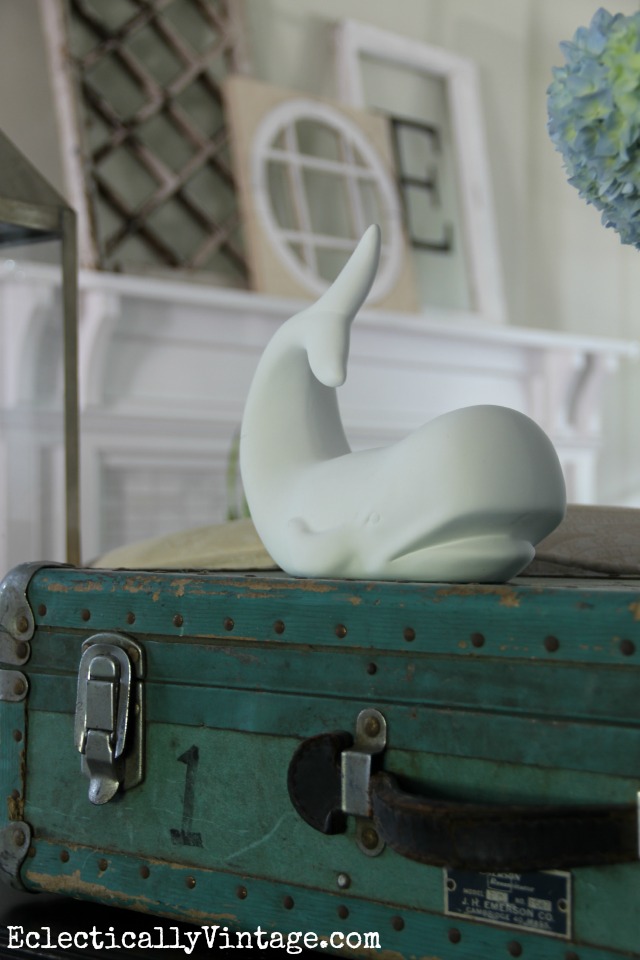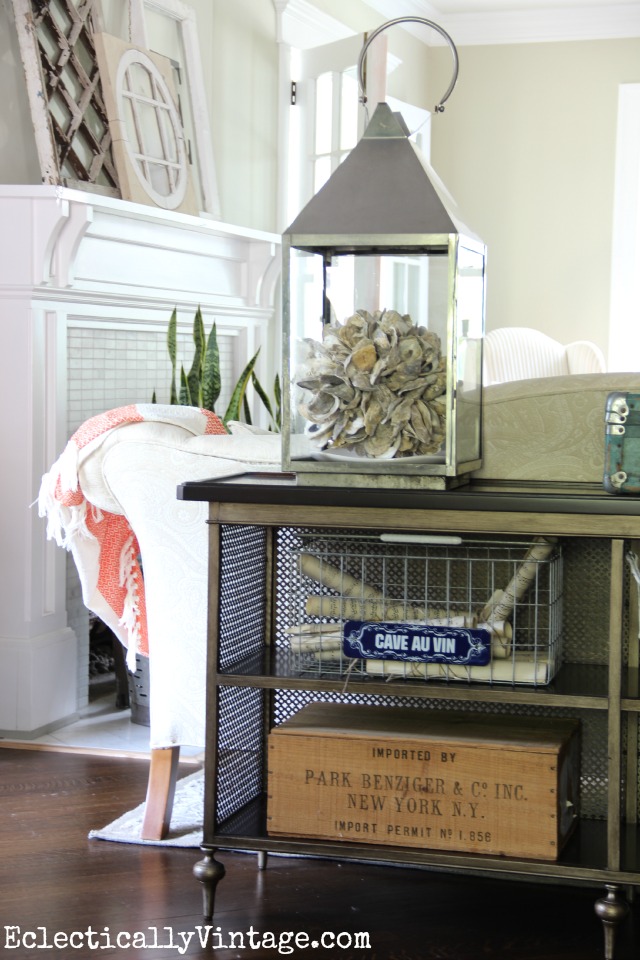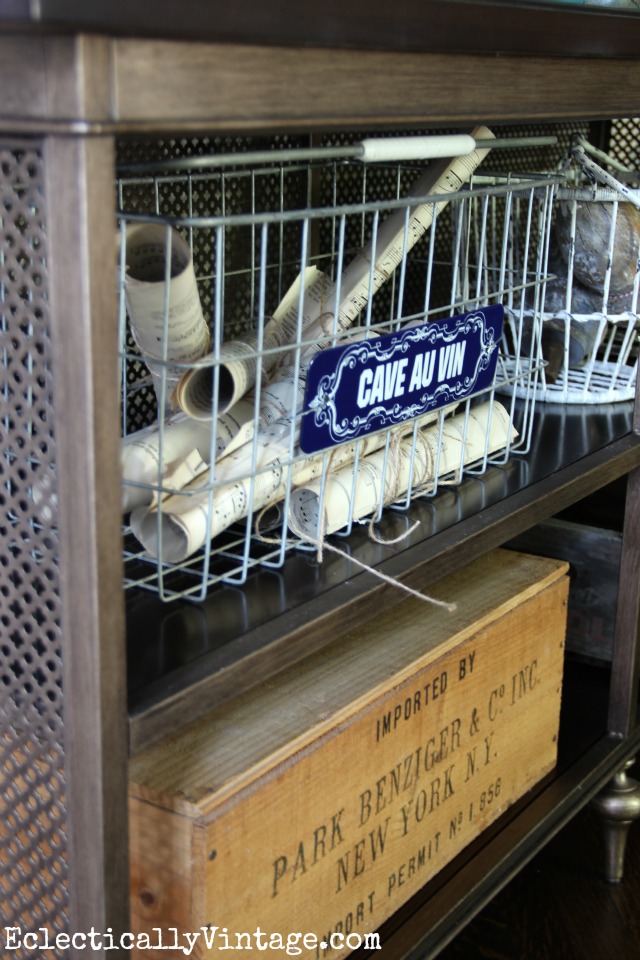 Picture ledges make it easy for me to change out art and photos.
Print FREE corkscrew printables for your favorite wine lover.
The crabby corner – I can't get enough pillows and these were all found at HomeGoods.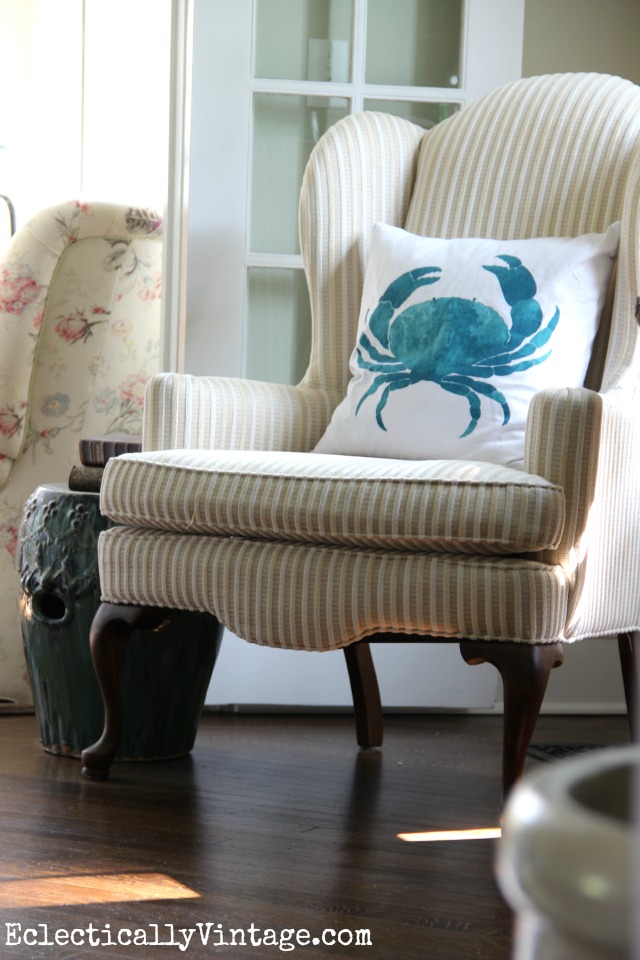 I've been working on my dining room making changes slowly but surely and I'm loving how it looks right now.  You can see much more of my dining room here.
My pieced cowhide rug is from RugsUSA.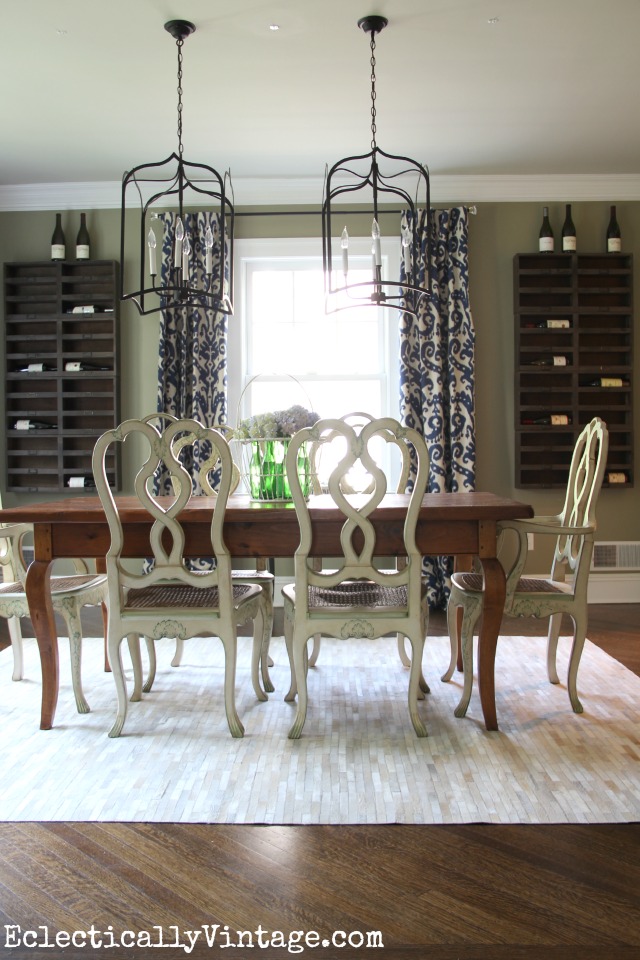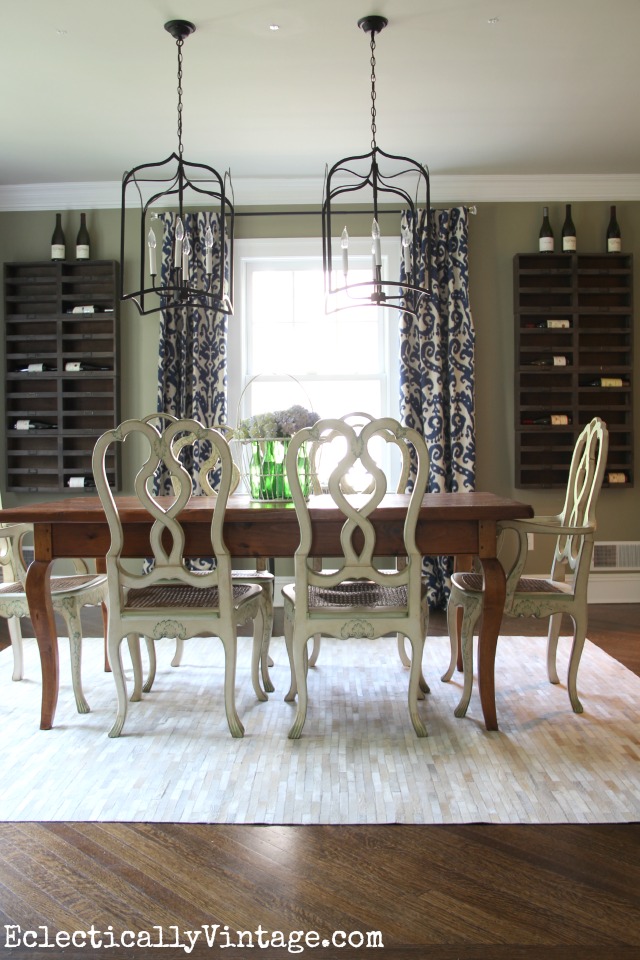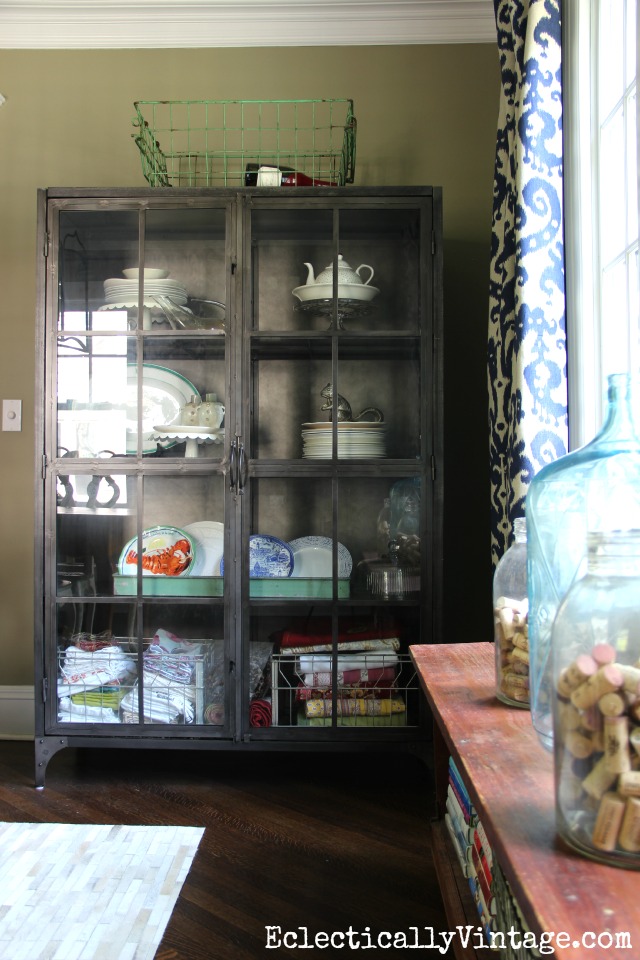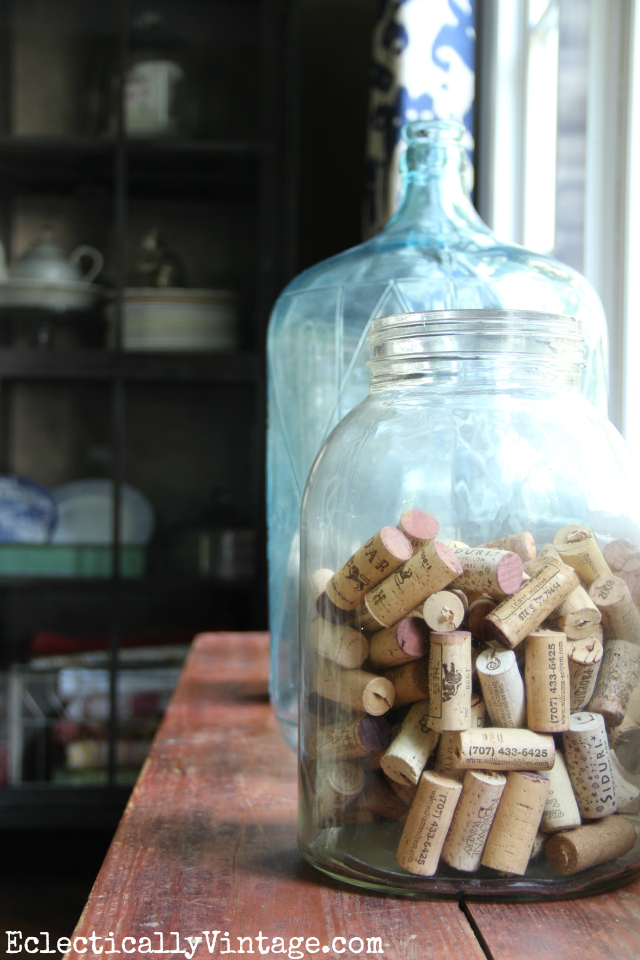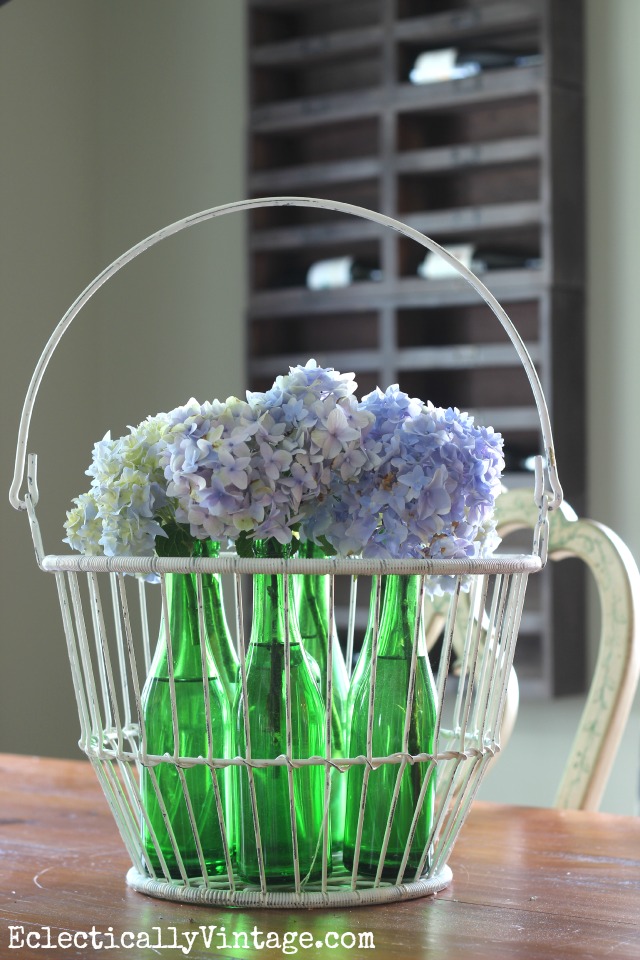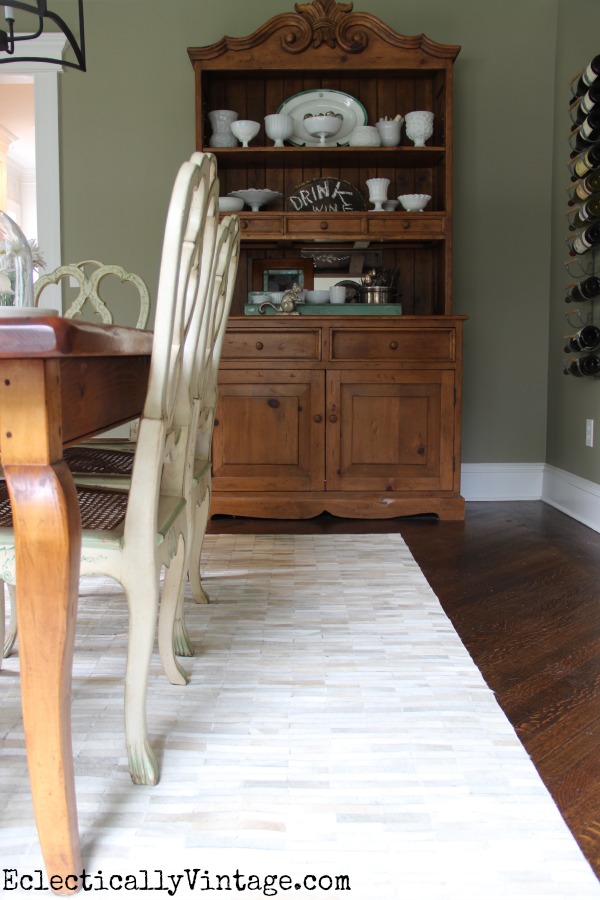 This whole room changed once I hung these gorgeous curtains from Lacefield Designs …
and these wine cubbies from Mothology.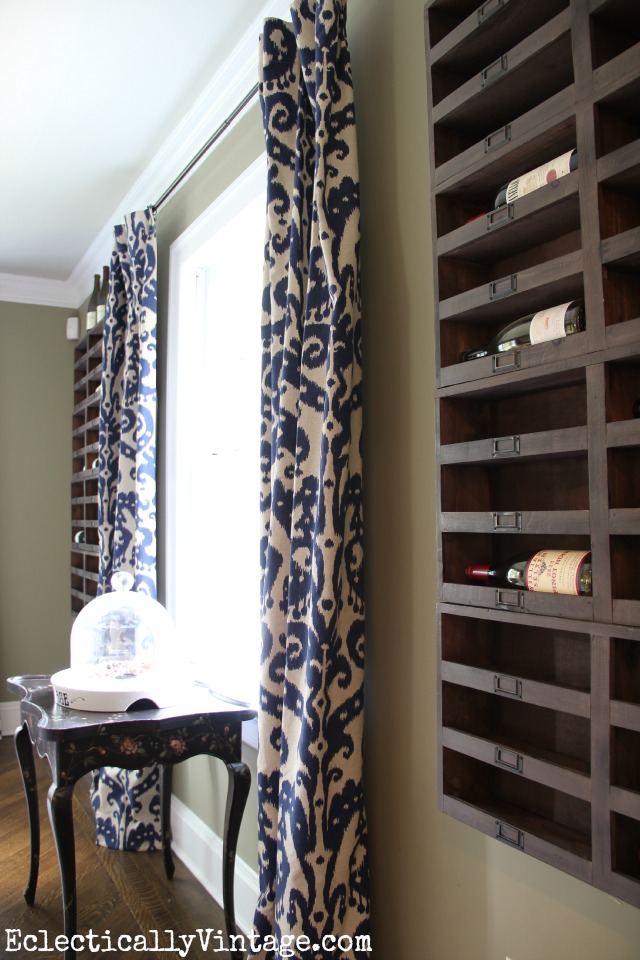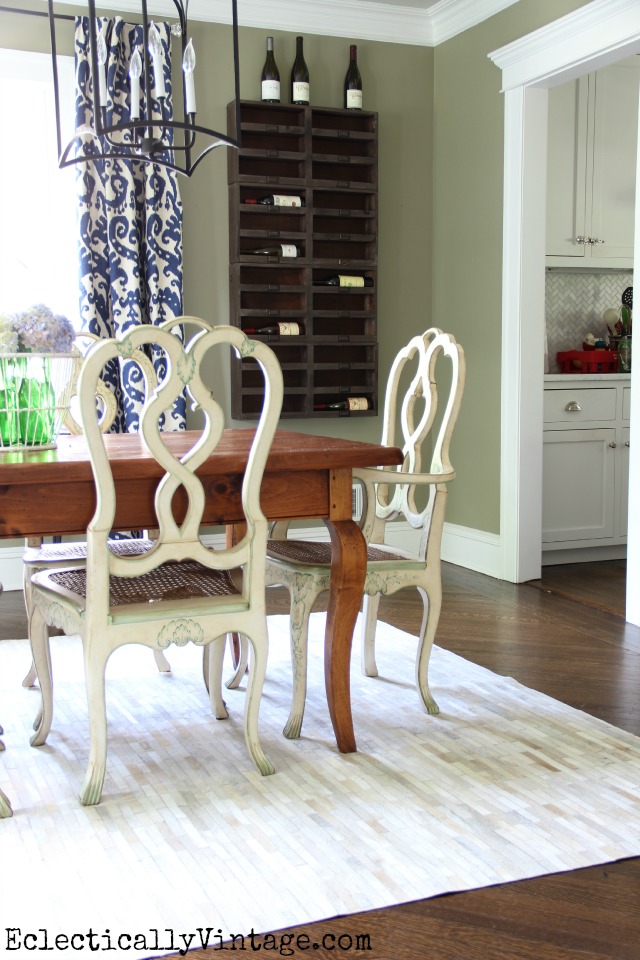 My attic guest room is so cozy – I love to escape up there!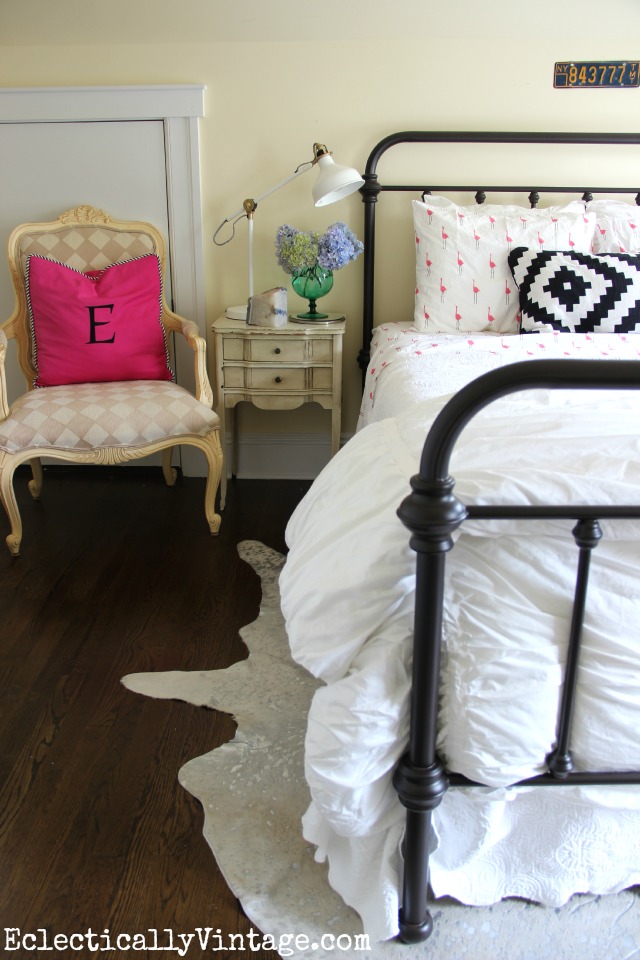 Everyone needs pink flamingo sheets.
Love the vintage feel of this iron bed.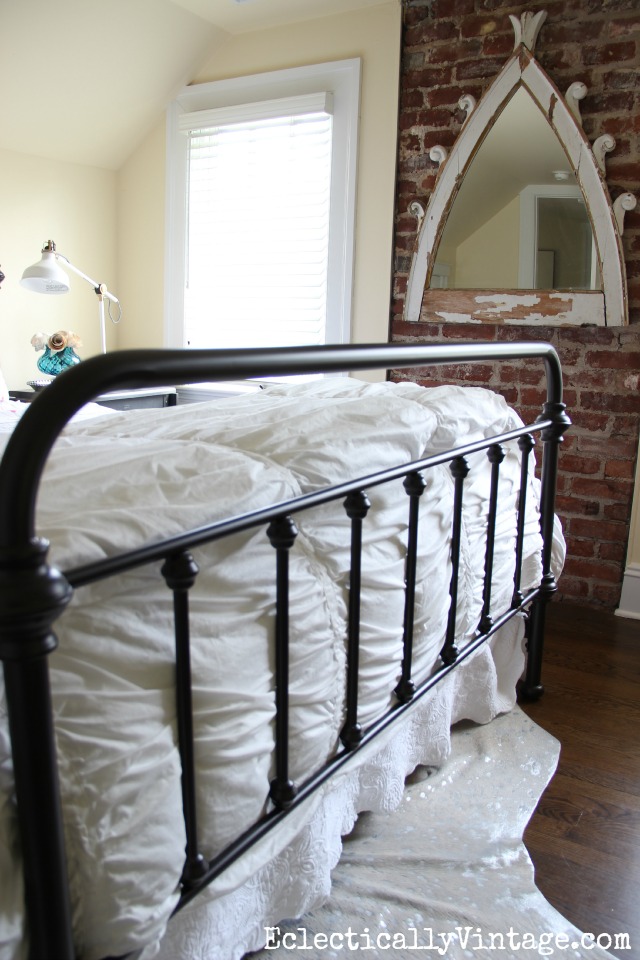 I found the perfect pair of lamps at Ikea.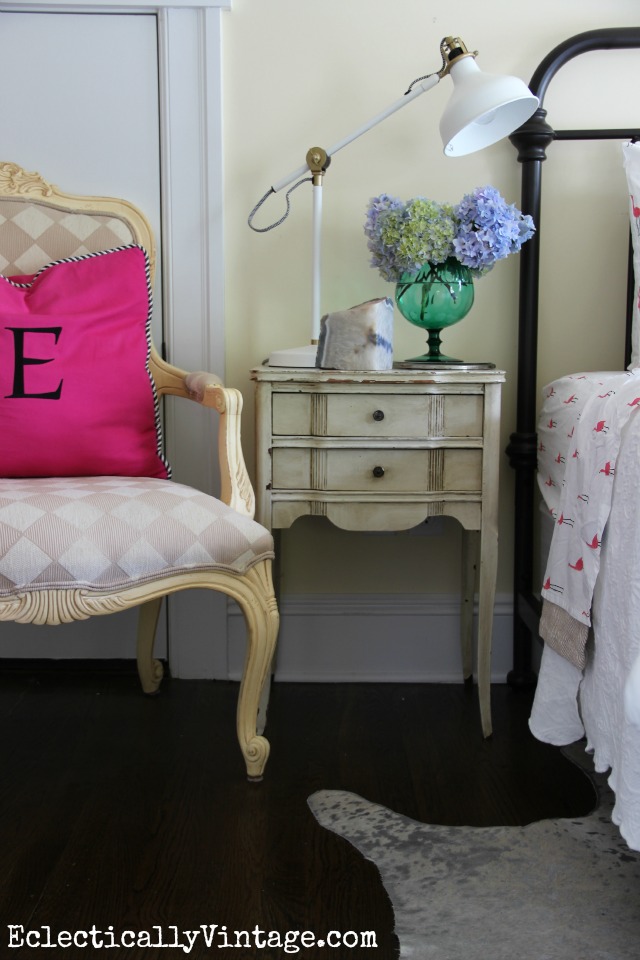 I found this old sign at a wild blueberry stand in Maine for $10!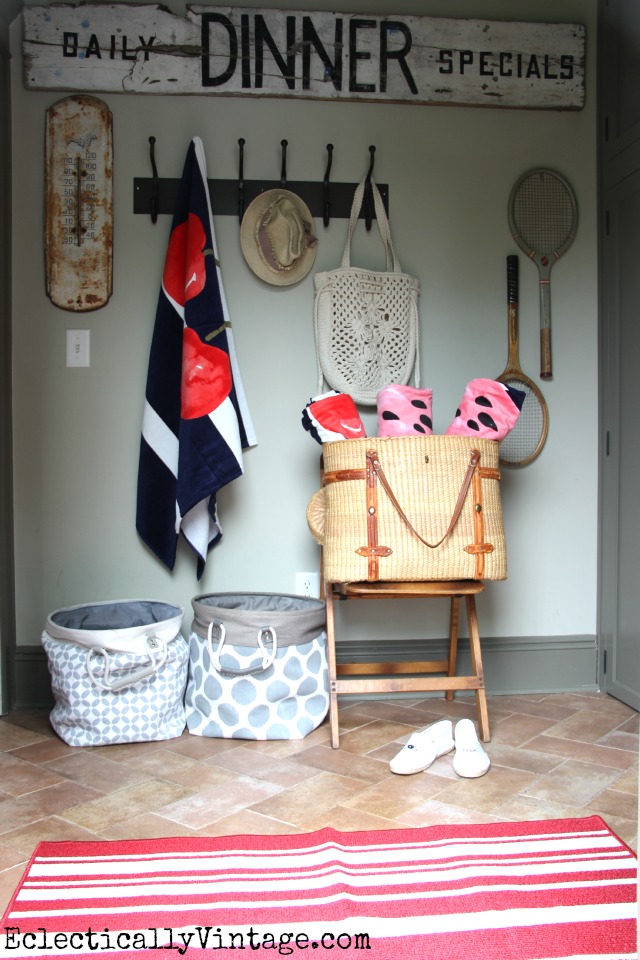 Another estate sale find with perfectly distressed leather handles holds favorite beach towels.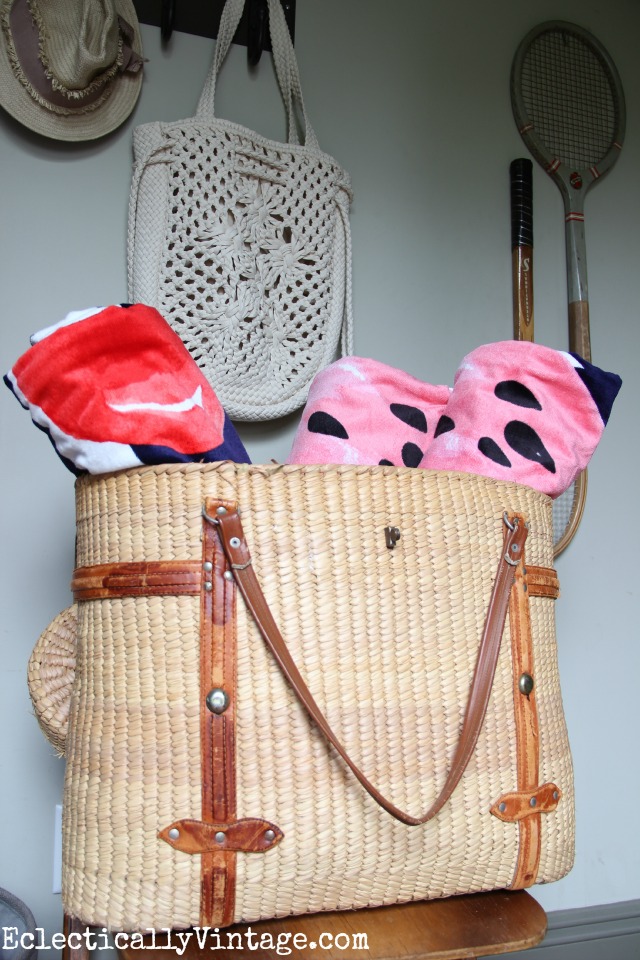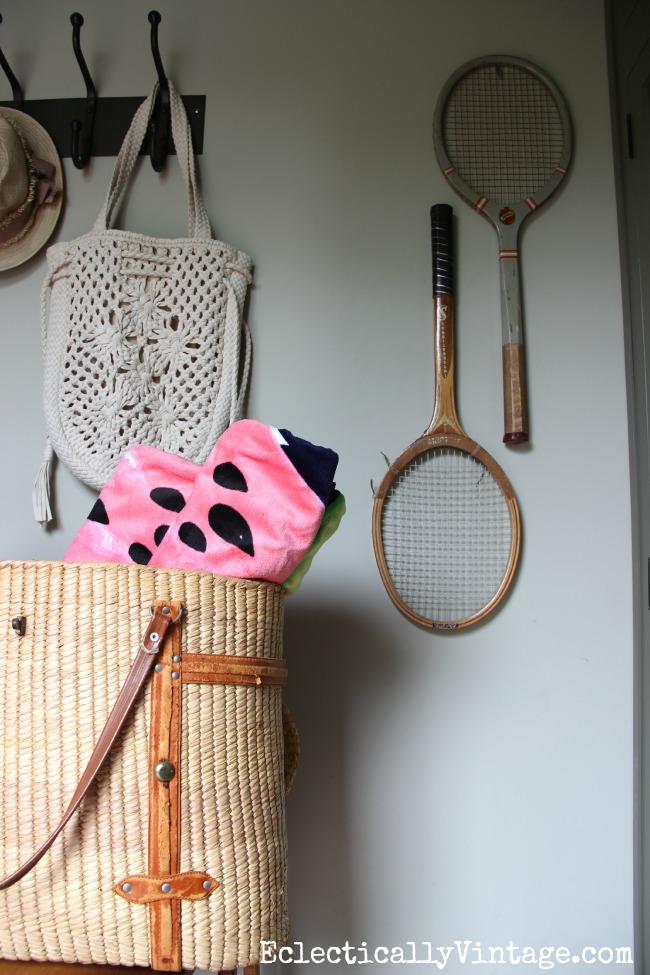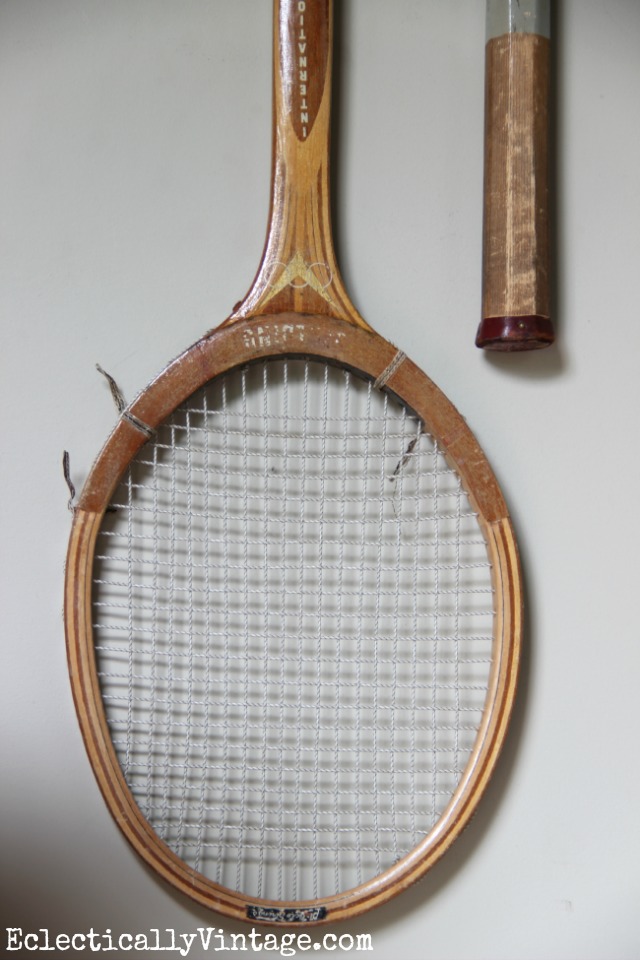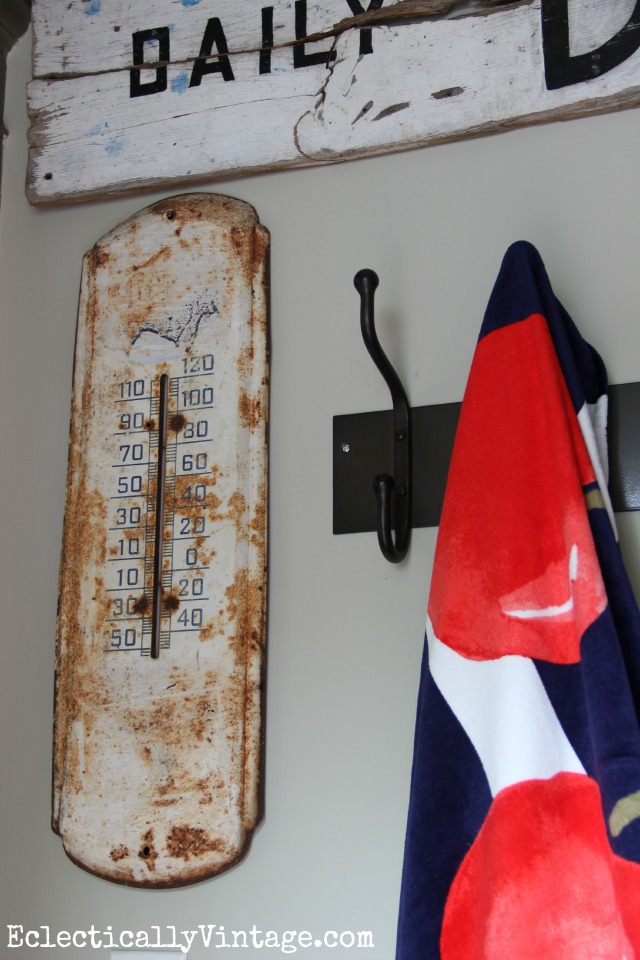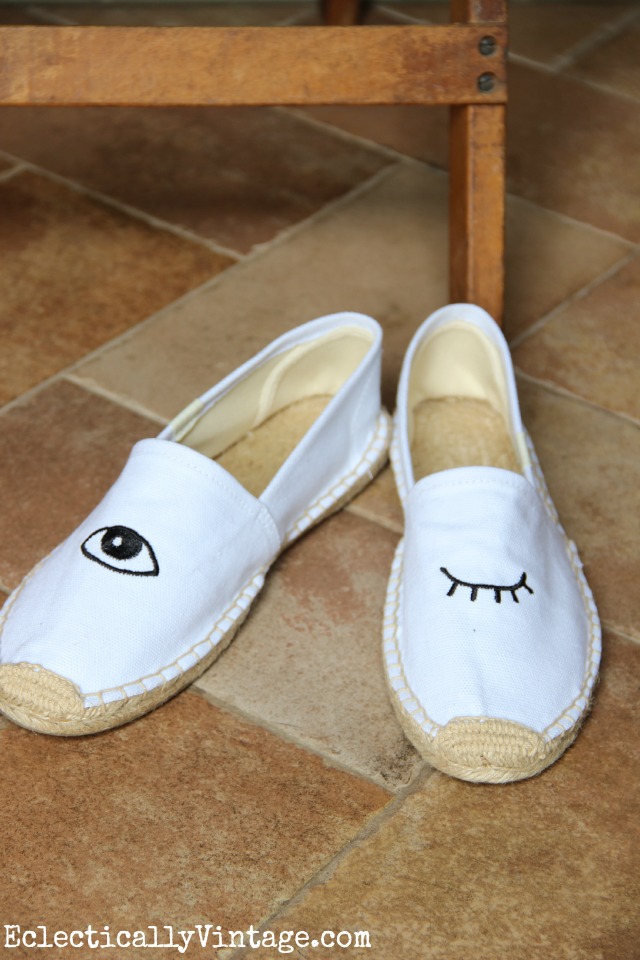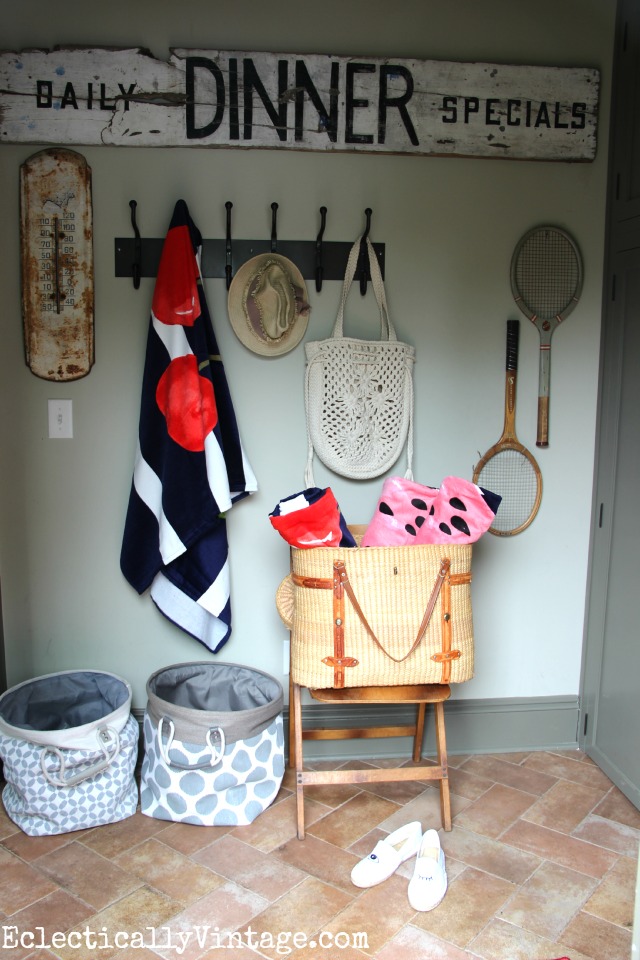 It's been raining cats and dogs here (I left my car windows open during a torrential downpour and both the car and I got soaked) so I don't have any pics to share of my yard yet but here's my porch (see more of my porch, including my fun buoy lights, here).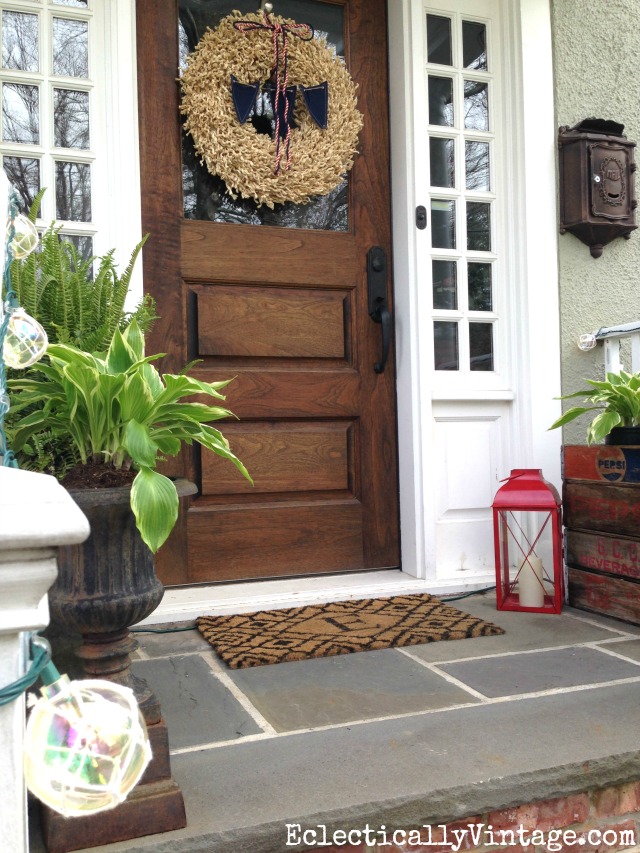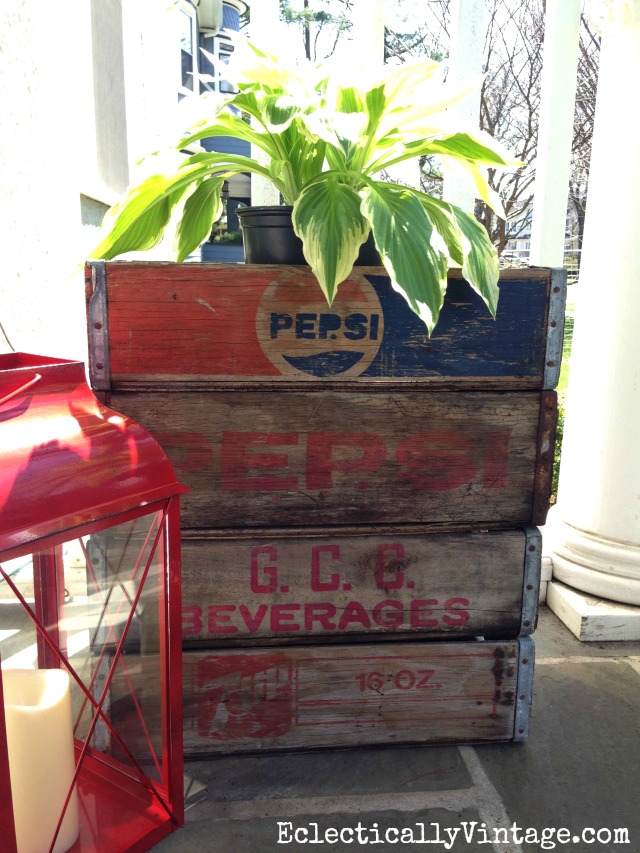 Happy Summer!