My Top 10 Magic Eraser Uses!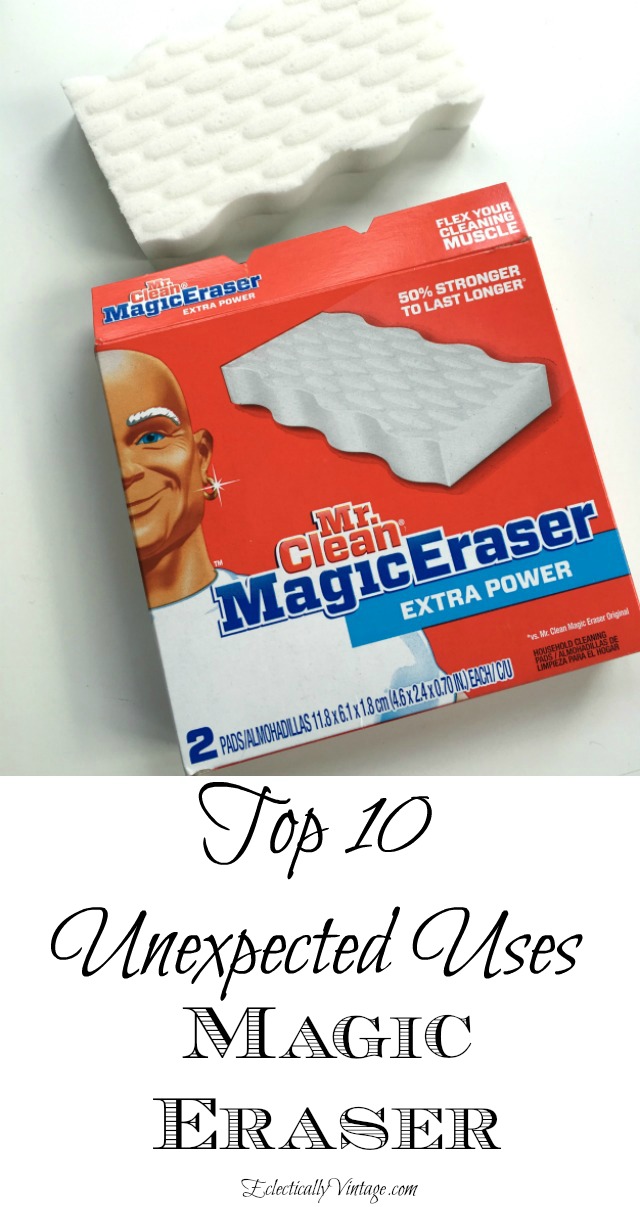 I had the scare of my life early one morning when my 6 year old self walked by my parents bedroom.
I glanced inside and ran screaming down the stairs.
Mom, there's a huge rat in your bed!
My mom raced upstairs only to come down laughing.
It wasn't a rat … it was my dad's toupee flipped upside down on the pillow looking like a rabid creature.
There's another bald man besides my dad who has won my heart. His name is Mr. Clean.
Have you ever used the Magic Eraser? I've always loved using it for erasing all those scuffs on my walls and baseboards but there are so many other ways to use it.
Spring means spring cleaning and I'm letting you in on some of the ways I clean up with my dirty little secret – the Magic Eraser! Bonus points: no harsh chemicals.
My Top 10 Magic Eraser Uses 
1) Patio Furniture – gets inside grooves
2) Oven – clean racks and glass doors
3) Soap Scum – bathtubs and glass shower doors (keeps shower mirrors from fogging too)!
4) Sneakers – remove scuffs
5) Window and Door Screens – wipe away pollen and debris
6) Tea Stains – from your favorite mug
7) White Grout & Ceramic Tile – scrub away stains
8) White Porch Railings and Columns – remove dirt and debris
9) Leather & Vinyl – remove scuffs from purses, car seats, etc.
10) Marker and Pen Marks – remove from almost any surface (even permanent markers)!
and of course all of those wall and baseboard scuff marks
and one I can't wait to try out …
11) Flat Iron – cleaning the burnt gunk off of my hair straightening tool!
Jillian Harris (host of HGTV's Love It Or List It Too) loves herself a bald man too and made a fun little video highlighting all the ways she likes to use the Magic Eraser.
Here's to cleaning smarter, not harder with Magic Eraser.
Thanks for supporting the brands that make this blog possible – sponsored by Mr. Clean.