Foyer Update – A Whole New Look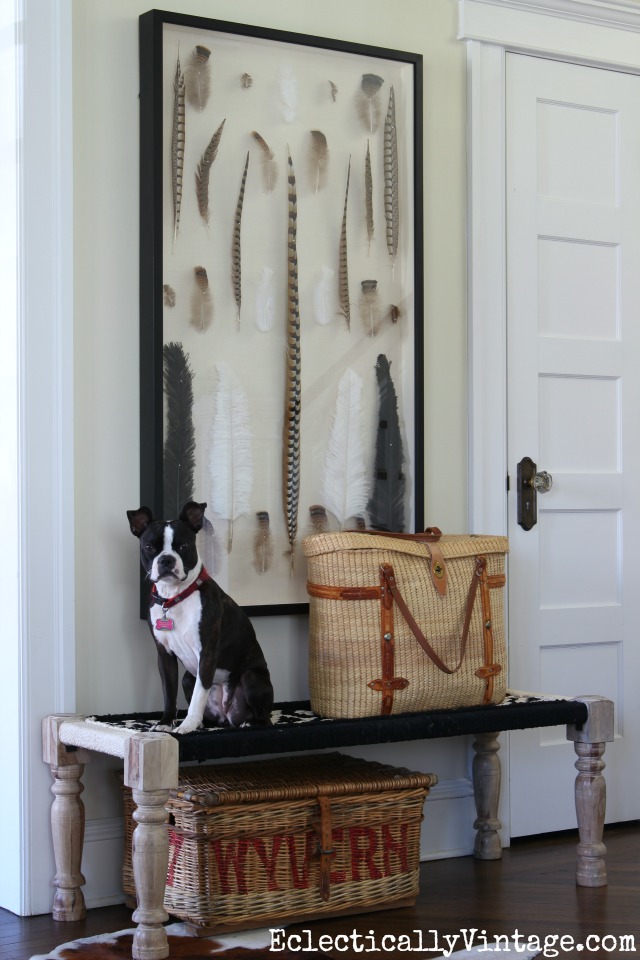 Do you ever get stuck in a rut.
You put a few pieces of furniture in a room and there they sit … seemingly for all eternity.
It's good to shake things up once in awhile and look at each room in a whole new light.
When I spotted this fun woven fabric bench, I knew I had to have it (plus I'm sharing some more of my favorite benches I found in my search at the end of this post).
I love the Chindi design – an Indian tradition that repurposes leftover fabric into gorgeous home decor.
Plus it's the perfect place to sit and kick off – or put on – my shoes.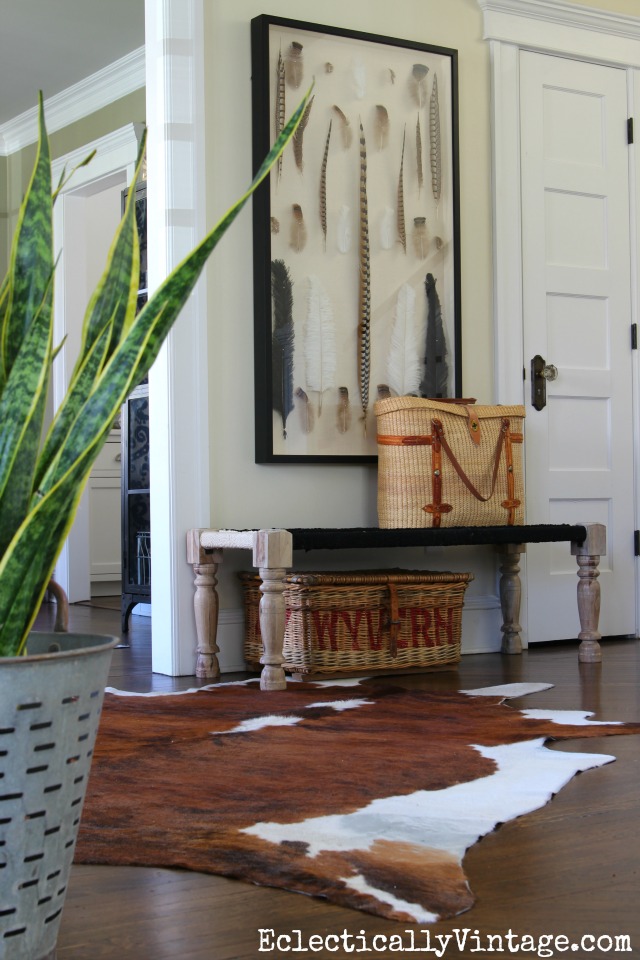 I moved my giant feather shadowbox art that had hung in another room above the bench. I love the graphic punch of black and white (bonus – it matches my dog, Sushi) and the woven fabric on the bench really warms up the space.
A couple of vintage baskets store shoes and clutter.  The cowhide rug hasn't budged.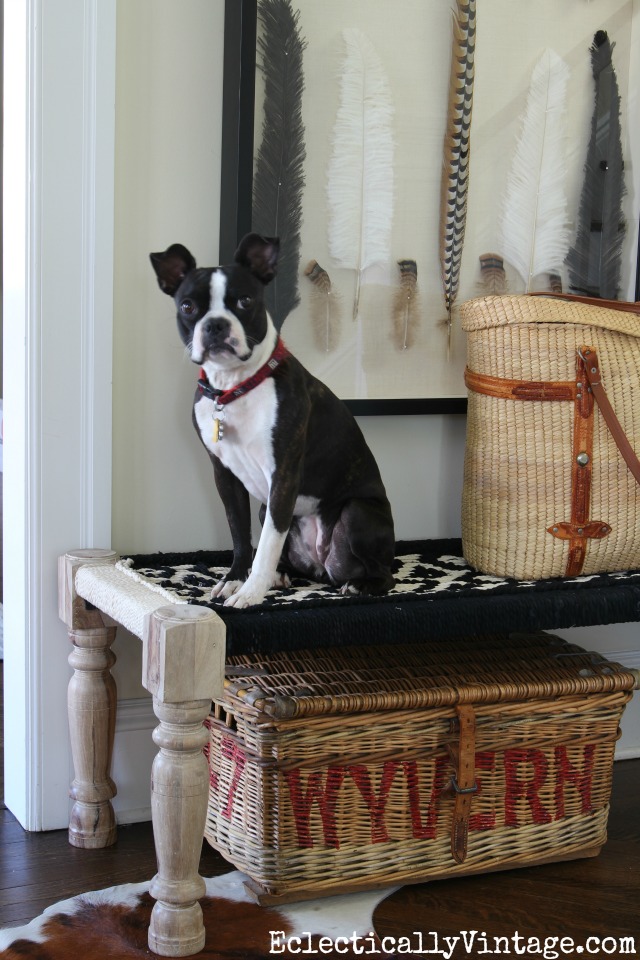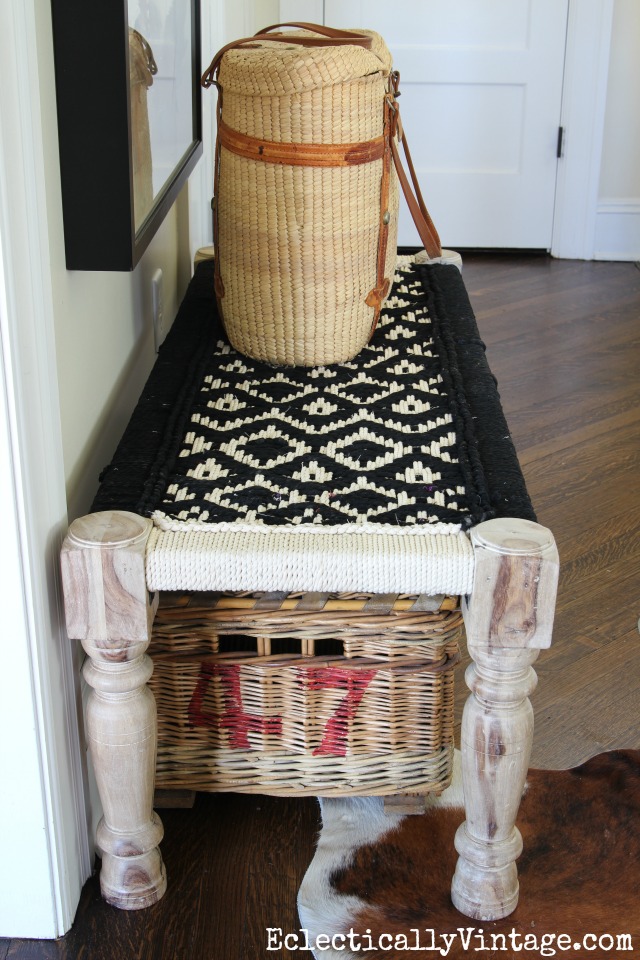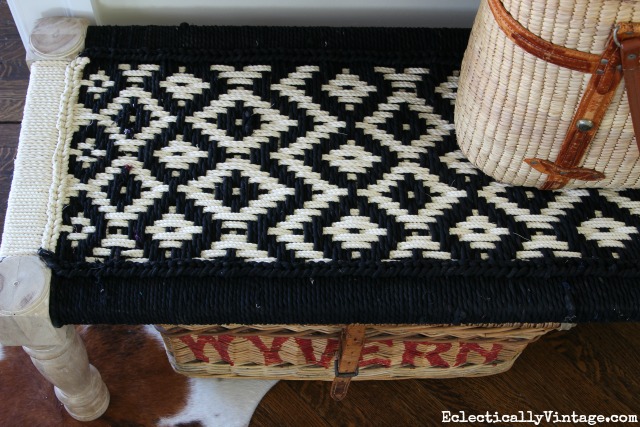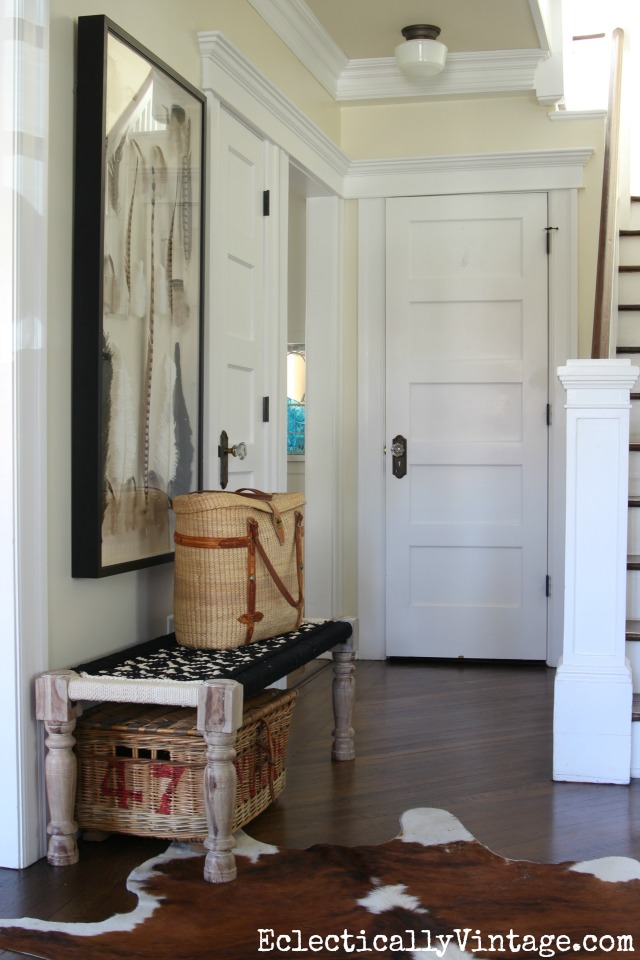 In my quest for the perfect bench, I fell in love with these 20 benches.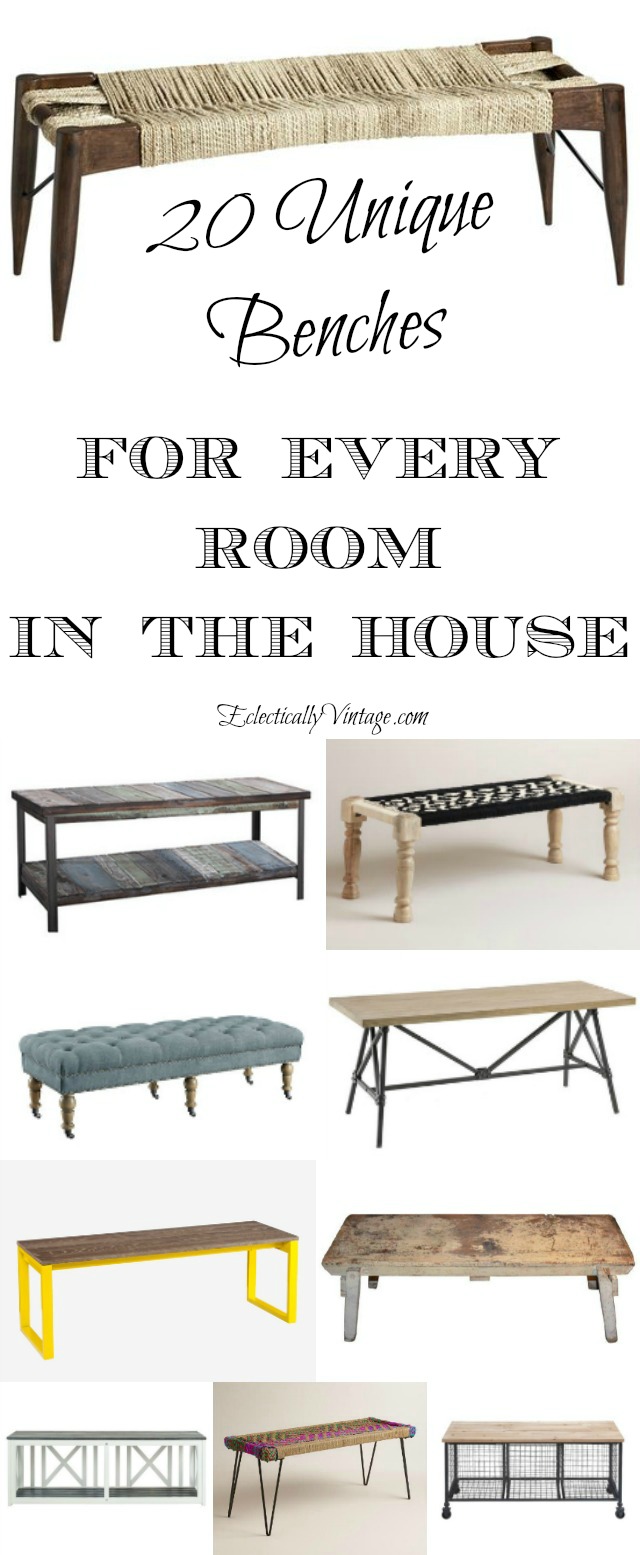 20 Favorite Backless Benches
1) Jute & Wood Bench – inspired by traditional Indian cots, a conversation piece with modern edge
2) Wood Plank Bench – rustic wood planks in shades of blues, greens and whites with metal legs
3) Black & White Chindi Fabric Bench – this bench has texture and graphic punch
4) Tufted Blue Bench – perfect at the foot of a bed
5) Metal & Wood Bench – warm wood on an industrial style base
6) Yellow Bench – add a fun pop of color
7) Primitive Boot Bench – a true vintage piece with time worn appeal
8) Bench with Storage – this outdoor bench is pretty enough to bring inside
9) Colorful Chindi Bench – bright fabric tops fun mid century style hair pin legs
10) Wire Basket Bench – perfect for storing clutter in an entry or mudroom
and 10 more favorite benches …
11) Weathered Wood and Metal Vintage Style Bench – weathered gray finish with metal accents
12) Woven Leather Bench – strips of leather add modern flair
13) French Country Tufted Bench – French legs and neutral fabric adds a romantic look
14) Plank Wood & Metal Bench – variety of wood tones add interest
15) Farmhouse Dining Bench – farmhouse flair
16) Water Hyacinth Bench – texture and interest
17) Stainless Steel Bench – add a modern touch to any space
18) Rope and Wood Bench – rope adds texture and interest
19) Burnished Brass and Wood Storage Trunk Bench – brass accents and storage galore
20) Unfinished Bench – ready for your favorite stain or paint
Other Sources: 
Black & White Woven Bench
Feather Shadowbox Art – consignment shop
Baskets – vintage
Cowhide Rug – similar