My Favorite Thrift Store of All Time
Close your eyes and imagine a magical place that is clean and bright and well-lit and well-stocked and the employees are nice and everyone smiles and unicorns frolic through fields of buttercups (ok, maybe not that last part). What is this mystical place I'm referring to? It's my favorite thrift store … 2nd Ave Thrift Superstore! During the month of March, I took three trips there because we all know that going often is the key to scoring the best things and I'm excited to show off my haul with you and share some of my vintage styling tips.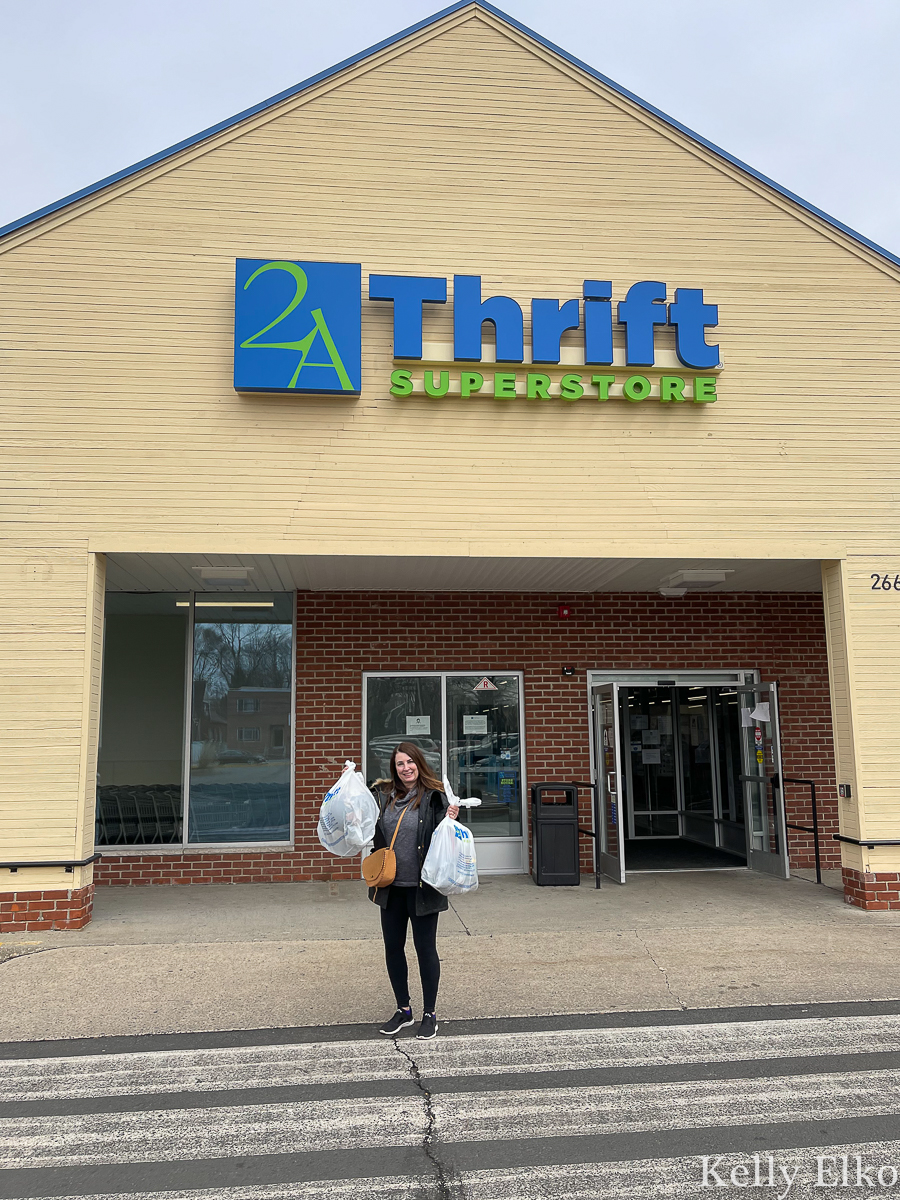 Kelly Elko and 2nd Ave Thrift Superstores are a match made in heaven so when they reached out to me asking if I wanted to collaborate, I may have shed a tear of joy.
My closest store is located in a former supermarket so it's HUGE and it has everything and I mean everything including clothes, shoes, housewares, art, toys, books (mine even has a special rack filled with only vintage books), furniture – they have it all! They use a color-code tag system and on certain days, they offer discounts on certain color tags as well as 50% off days.
Let's cut the chit chat and get to the good stuff … my March thrift haul!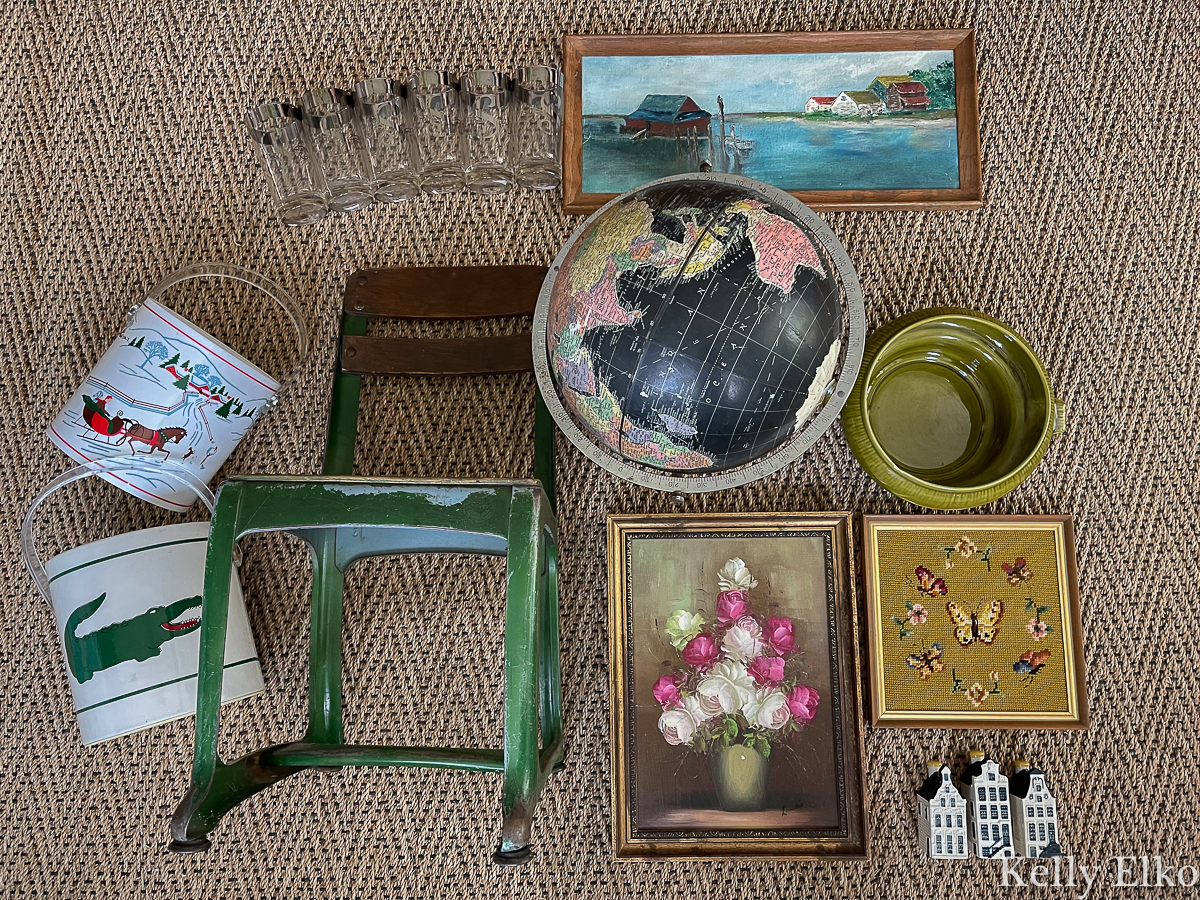 I found not one but two vintage ice buckets which I love to use as planters. One has a winter scene so I'll be tucking it away until Christmas when I envision it holding a mini Christmas tree.
The trio of little blue canal houses are actually liquor bottles that have been given away on KLM Royal Dutch Airlines flights since 1952. It's these unique little things that truly make our homes so one-of-a-kind.
Styling Tip: Think odd numbers when it comes to creating a pleasing display. The trio of houses and the cake stand read as on thing, the plant is the second and the bowl of clementines is the third. Adding a fourth thing to the tray would not be as visually appealing.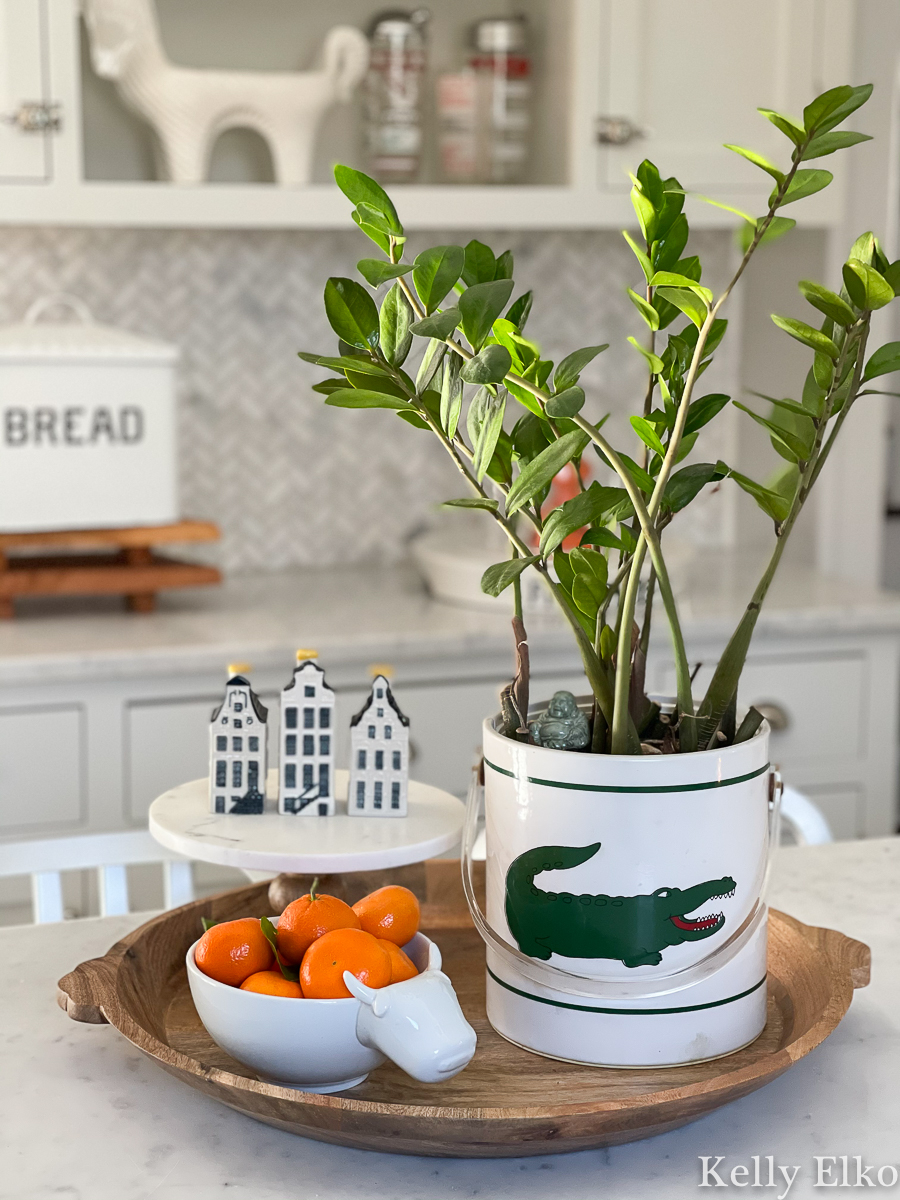 Remember the giant vintage crewel I found a few months ago? Well it's my unicorn find of all time from 2nd Ave and the best part was the price … only $30!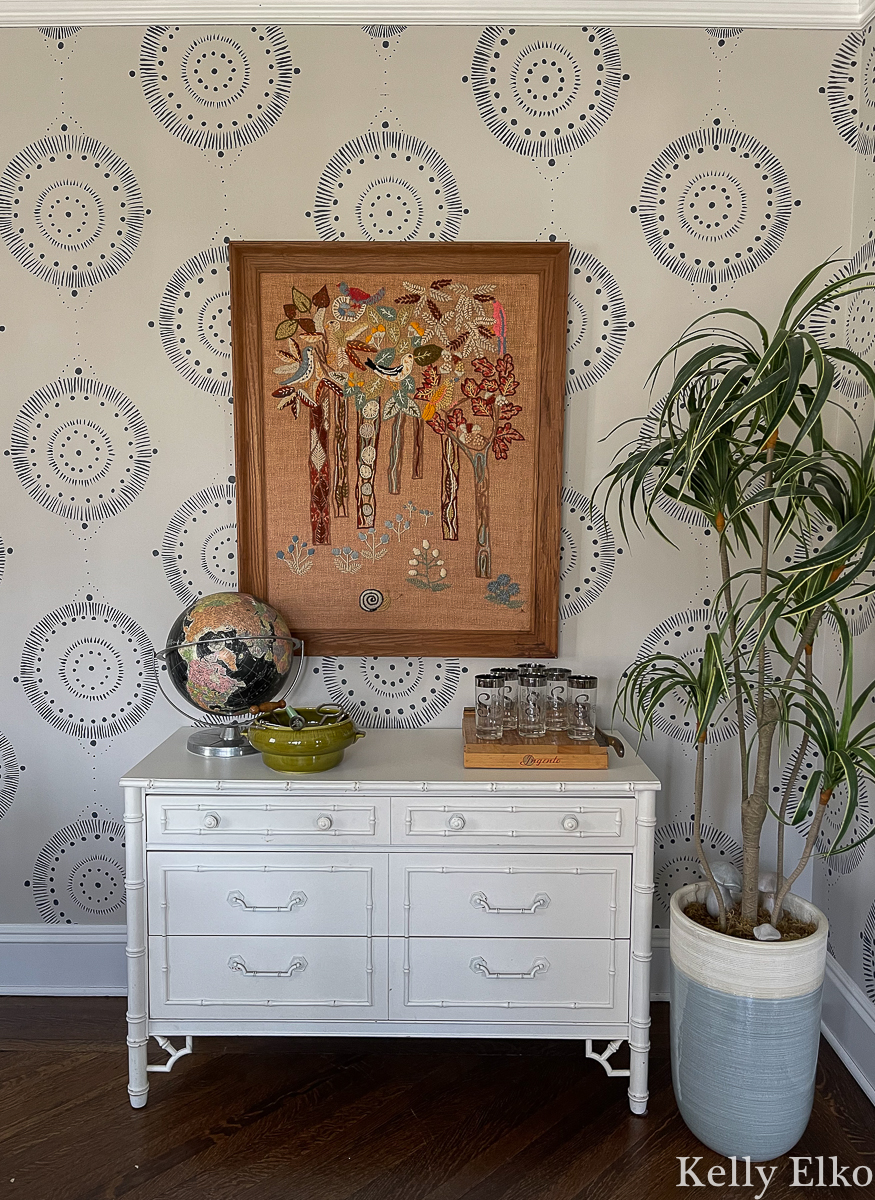 Let's revisit that odd number thing we talked about? 1 – tray of glasses, 2 – bowl, 3 – globe.
I have a globe collection and the black ones are harder to find so into my cart it went. When you're thrifting, it's so important to put it in your cart even if you are unsure if you want it because I guarantee you, if you don't, someone else will and you'll live with regret for the rest of your life!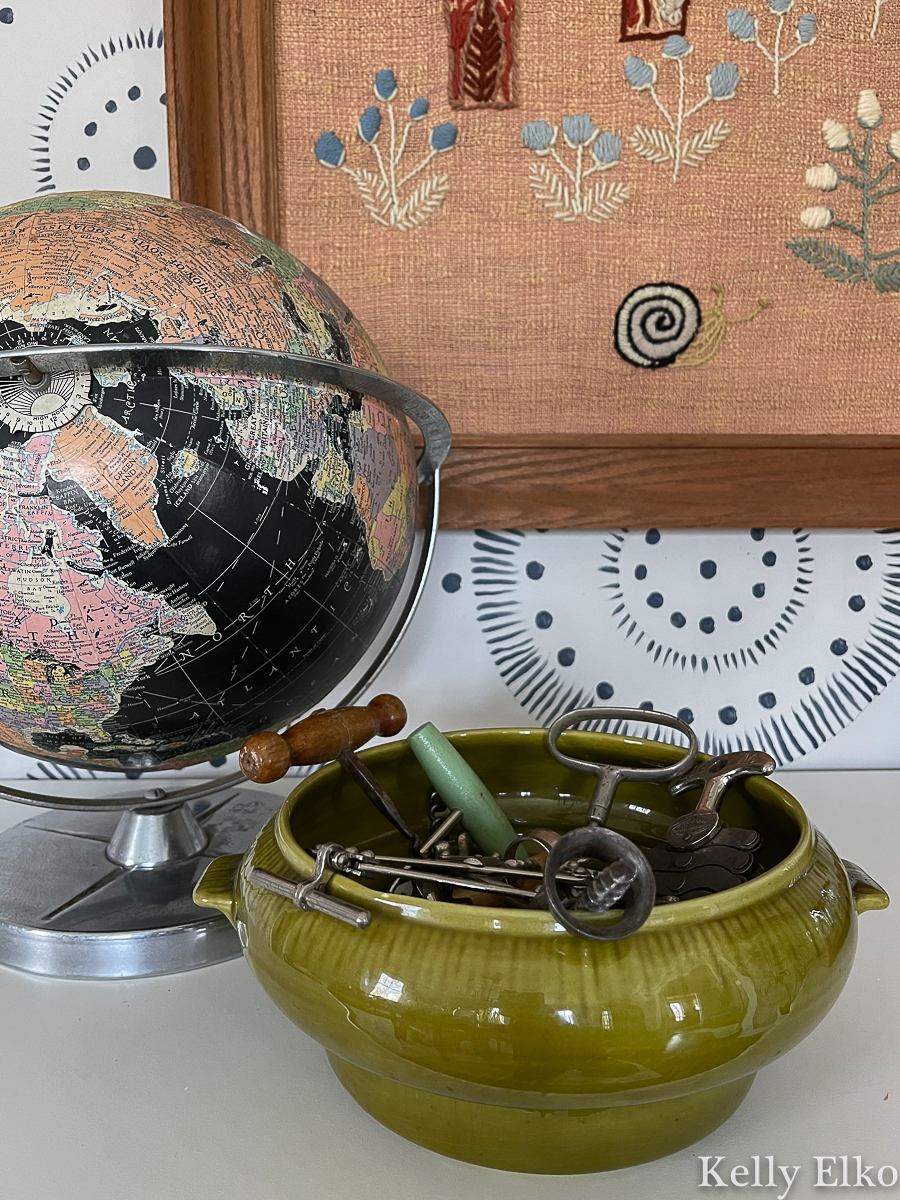 On what planet could you walk into a retail store and find a one of a kind, heavy piece of pottery with the most gorgeous drip glaze and pay only $5 for it? NOWHERE! Only in a thrift store could you score such a deal and 2nd Ave continues to amaze me every single time I go. I filled the bowl with my vintage corkscrew collection.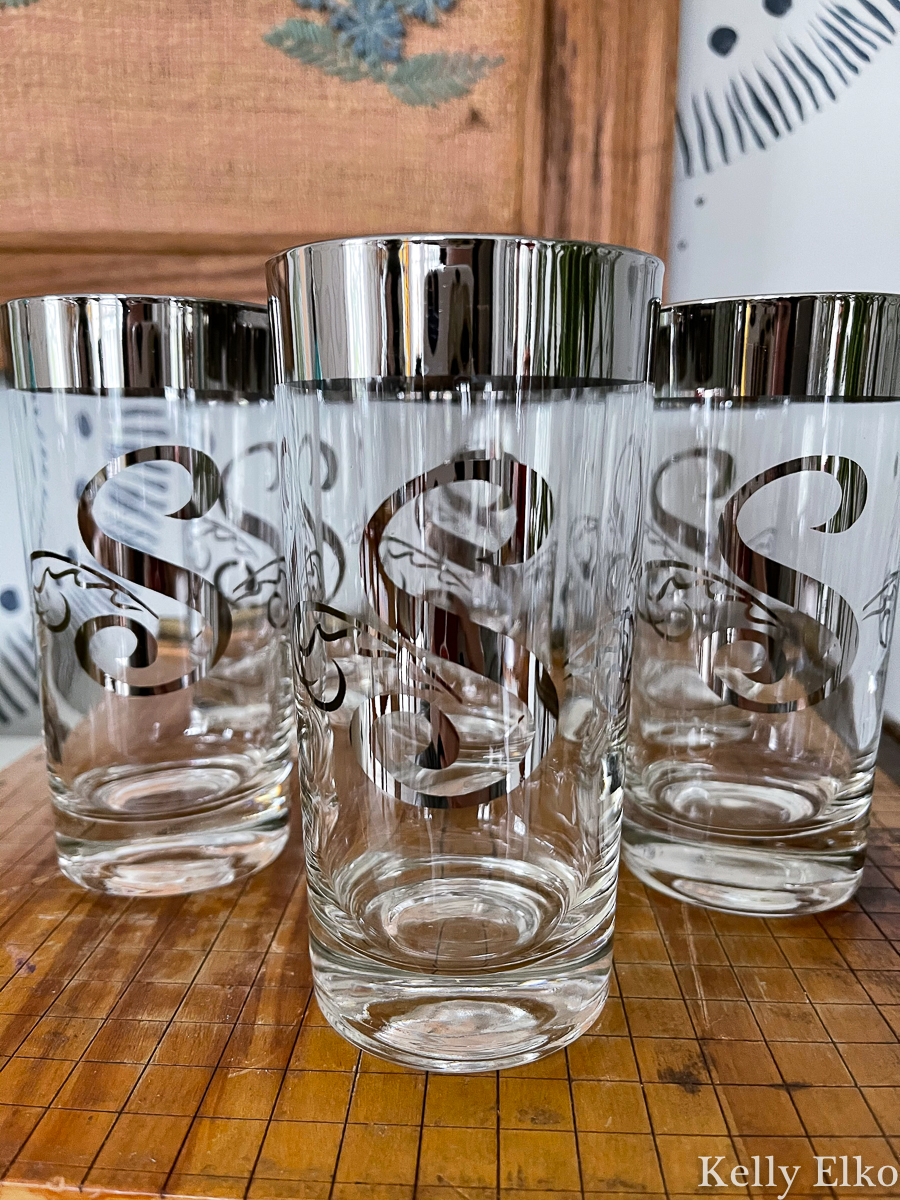 I have a weakness for vintage drinking glasses and I was thrilled to add this set of mint condition monogrammed S glasses (my husbands name starts with an S), to my collection. I think every kitchen, bar cart or dining room should have a set of vintage glasses on display. They are a great conversation starter too.
Tip: If you find a single vintage glass that you love, buy it and use it as a vase!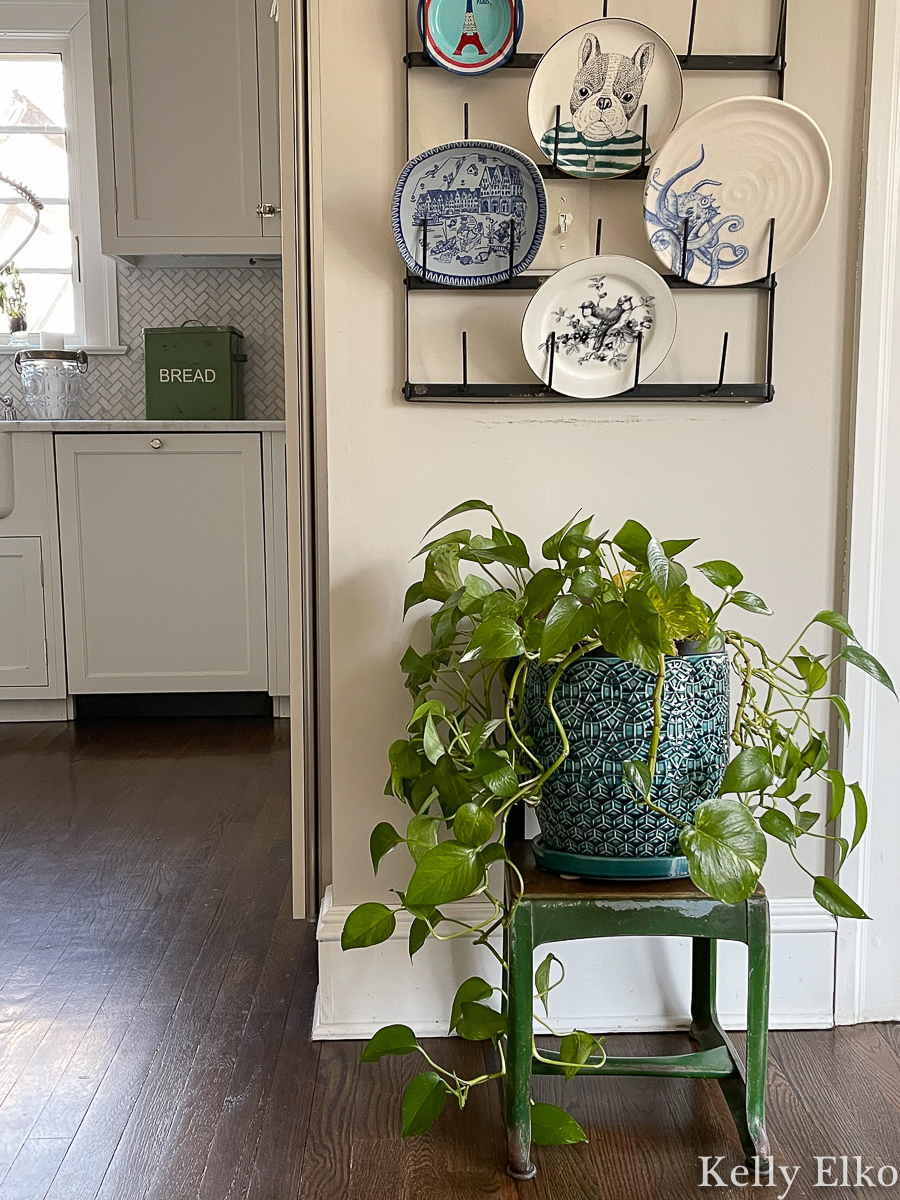 No shoppers at the thrift store were injured in my frantic sprint to snatch up this little chair because a plant mom can never have enough stands and this tiny little green metal school chair is perfect for elevating a favorite plant.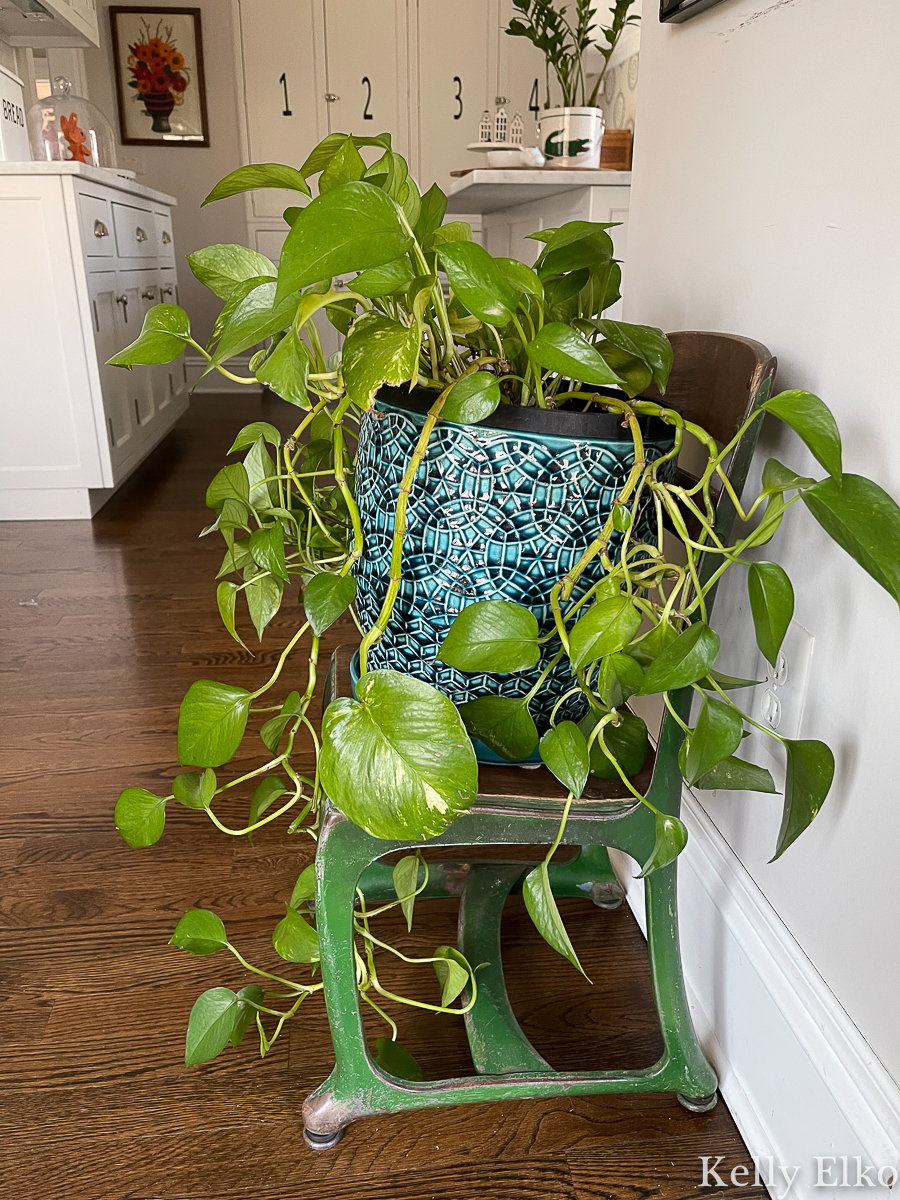 I'm always on the lookout for vintage paintings and the selection of art at 2nd Ave is huge and ever-changing.
Styling Tip: Prop a painting that one would not normally associate with a kitchen, like this floral, on the counter for an unexpected look. Best part, it hides those ugly electrical outlets.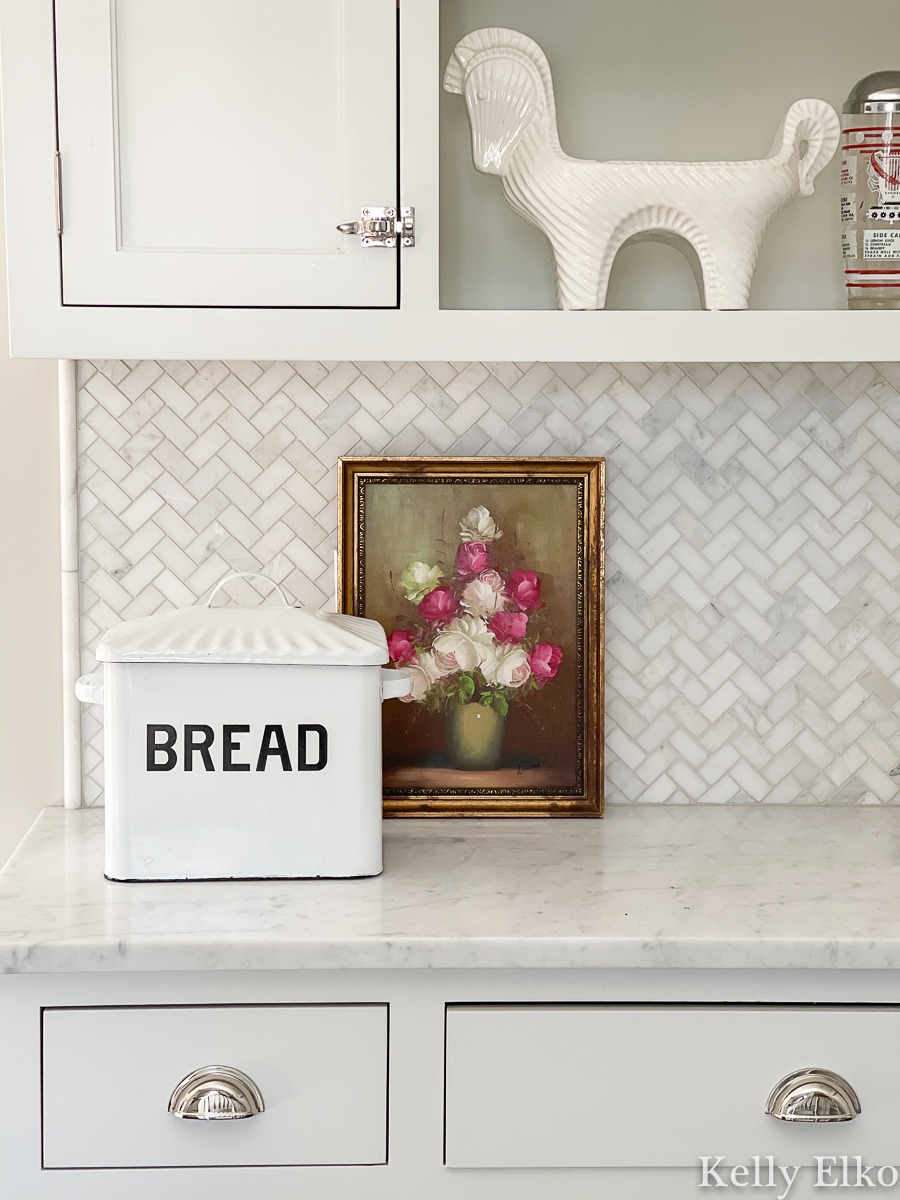 Two more of my March thrifting finds made their way onto my vintage art gallery wall.
Styling Tip: Layer art of all kinds but try to stick to a similar color palette to create a cohesive look.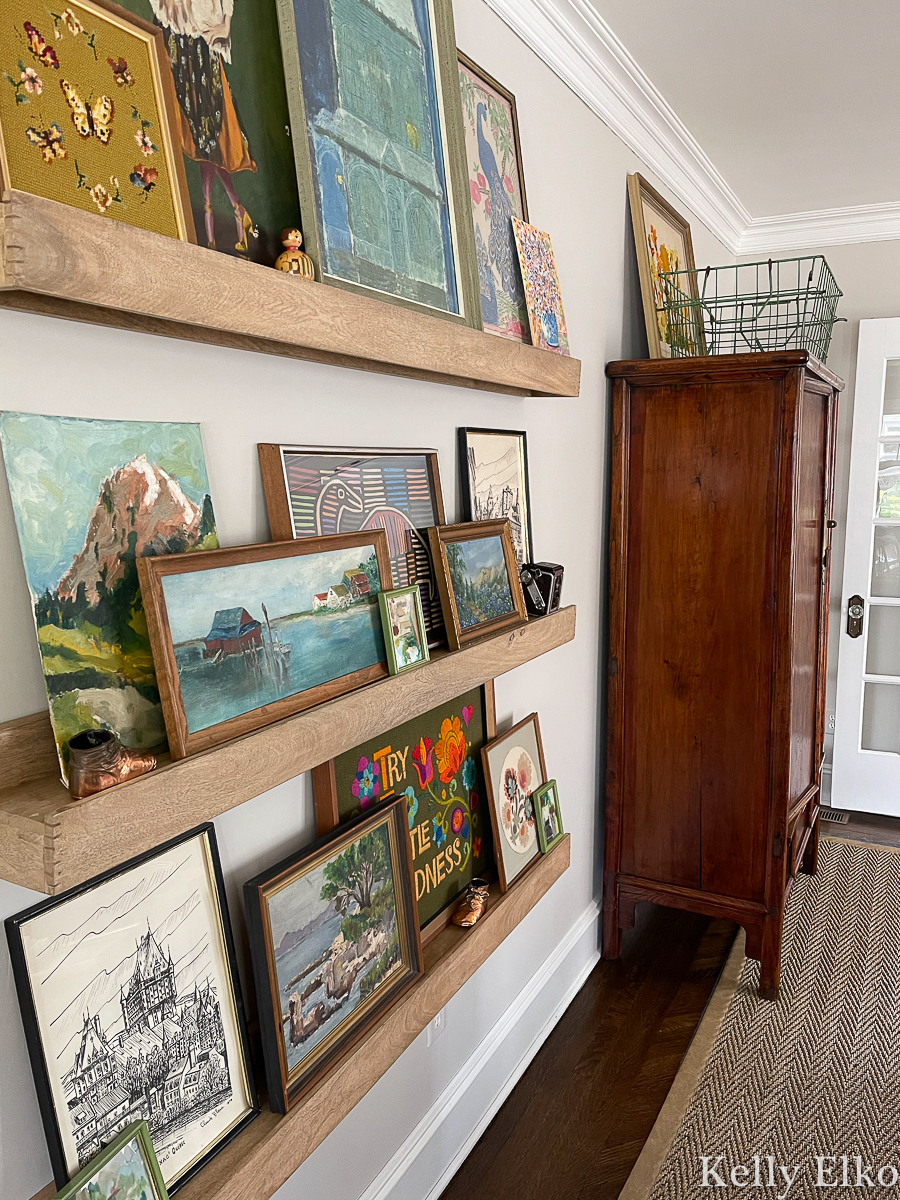 Thrifting is my therapy! I love that you never know what you're going to find. I have an obsession for vintage but I've also found some amazing things for my daughters college apartment including all kinds of kitchen gadgets for next to nothing.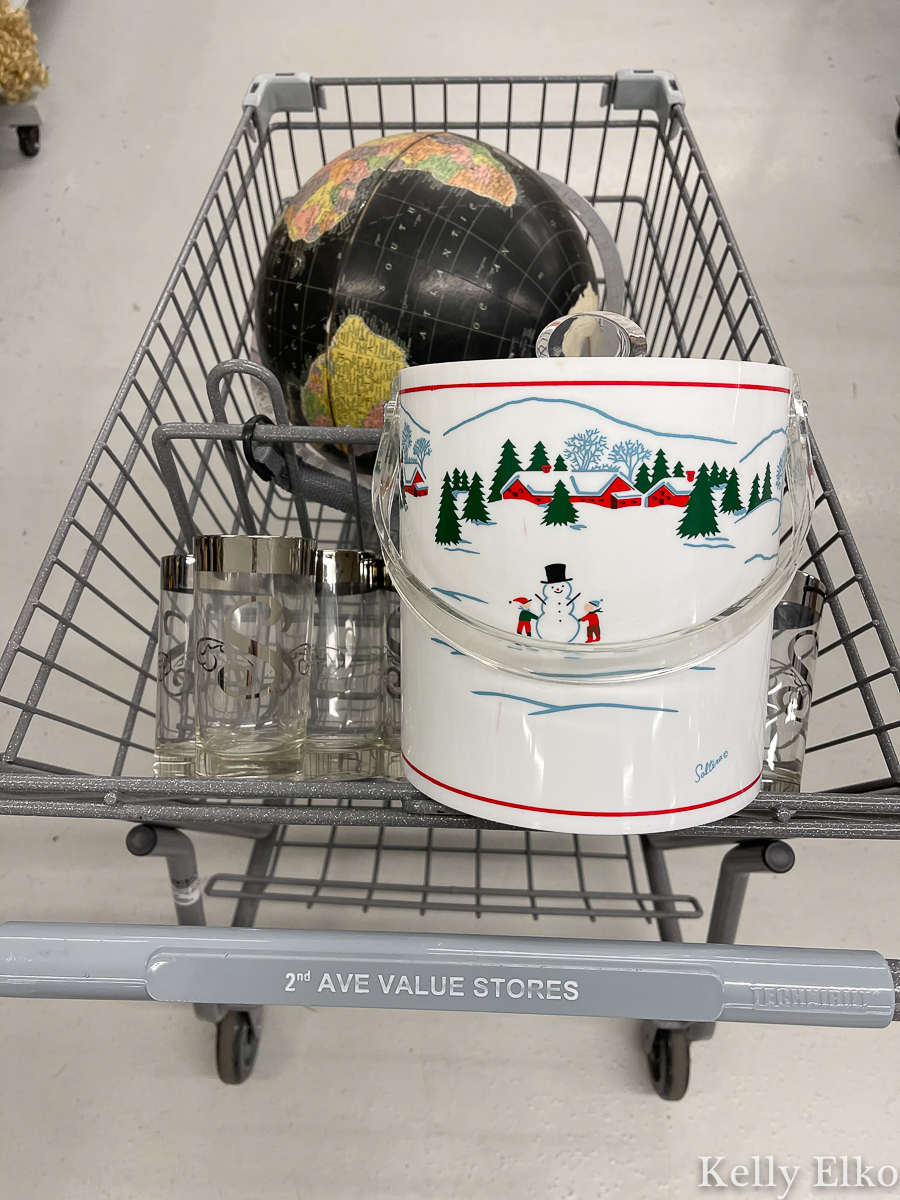 Did you know it's been scientifically proven that young people love thrifting as much as old people like me! I brought my daughter on one of my trips and she found a football jersey (Go Giants), a few tops and denim shorts for a song and the bonus was the abundance of clean and well-lit dressing rooms so she could try it all on.
If you're looking for the mother of all thrift stores, run, don't walk (unless you live across the country, then fly) to 2nd Ave because it truly is super!
2nd Ave Mystery Box Giveaway
Giveaway has ended – winner Heidi 
I'm filling a box with fun vintage finds from 2nd Ave! What will be in it? Who knows … but you know it's going to be amazing!
To enter …
Leave a comment telling me your best thrift store find!
Extra entries on my Instagram page so be sure to hop over there for more ways to win – @kelly.elko on Instagram here
Giveaway ends April 4 at midnight EST. Winner will be randomly selected from entries here on the blog and on my Instagram page and must live in the continental U.S.