Hi, my name is Kelly and I've lived in my house for four years and have never had the windows cleaned.
Through a complete renovation and installation of new windows (with the silicone used to install the windows still stuck on in many places).  Through dirt, dust, debris and even Hurricane Sandy, after 4 years, my windows were a filthy mess.
I got a sample of Fish Foam window cleaner at a conference months ago and fell in love.  It's a foam so theres no dripping mess – genius and it's ammonia free!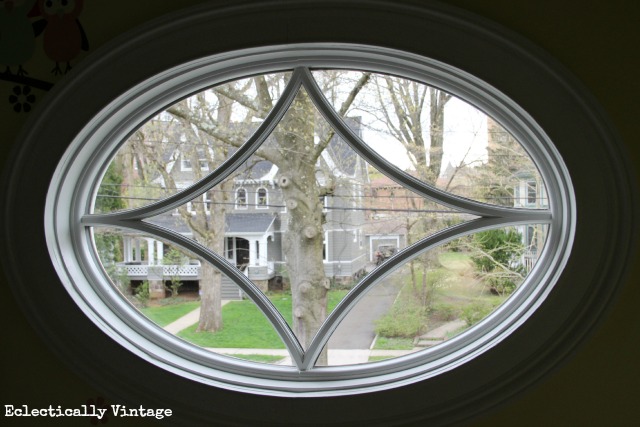 The first step is admitting the problem and the second step was contacting Fish Foam.  They came out (the super nice Steve who, like me, owns a vintage wallpaper pasting table!), walked around my house and gave me an estimate then came back four days later to clean my windows.
We have a three story house and there was no way I was putting my hubby on a ladder (picture him swaying, swaying, almost falling, grabbing on for dear life … you get the picture).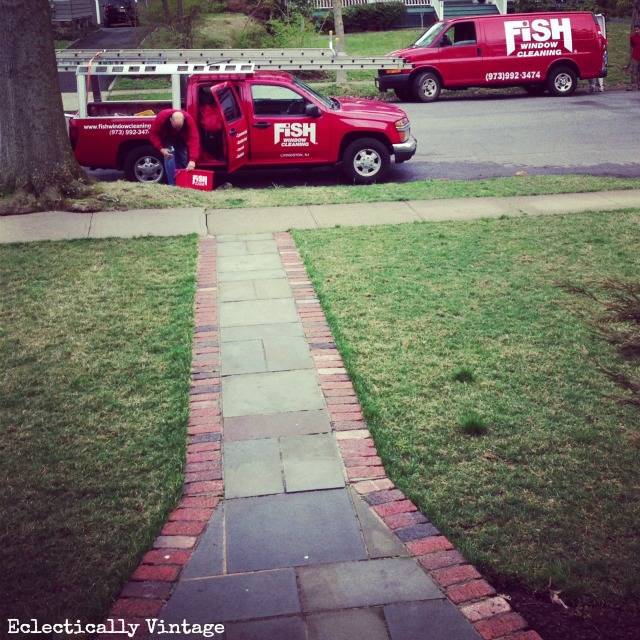 When those red trucks pulled up to my house, it was like Christmas morning.
Four window cleaners + four hours = windows so clean you could eat your dinner off of them (and they even cleaned the screens and wore booties over their shoes so they wouldn't track dirt on my floors)!
Seriously – look at the before and after!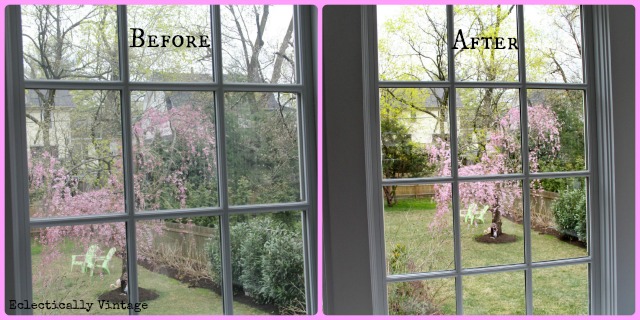 I may or may not have done a happy dance.
Moral of the story is:  people in glass houses should get their windows cleaned!   I vow to never let four years pass again.

If you're looking for a great window cleaning service for your home, I highly recommend Fish Window Cleaning.  They have locations all over the country.
Or head over to the Fish Foam store to purchase their fabulous no drip window cleaner (plus shipping is only $5 right now).
I've been on a cleaning rampage – my glass coffee table has never had it so good.
Fish Foam 3 Pack Window Cleaner Giveaway
Two ways to enter – leave a separate comment for each one:
1) Tell me your most dreaded household chore
2) Like Fish Foam on Facebook
Boring but necessary:  Contest ends May 2, 2013.  Winner will be chosen by Random.org and notified by email.  If I do not hear back within 3 days, another winner will be chosen.  Fish Foam will ship a 3 pack of cleaner to a continental U.S. street address only.   
I was lucky enough to have Fish Foam clean my windows but all opinions are my own.  See my full disclosure policy here.
Update:  The winner is Doreen of Hymns & Verses – congrats!