A Welcoming Guest Bathroom & 3 Ingredient Lemon Salt Scrub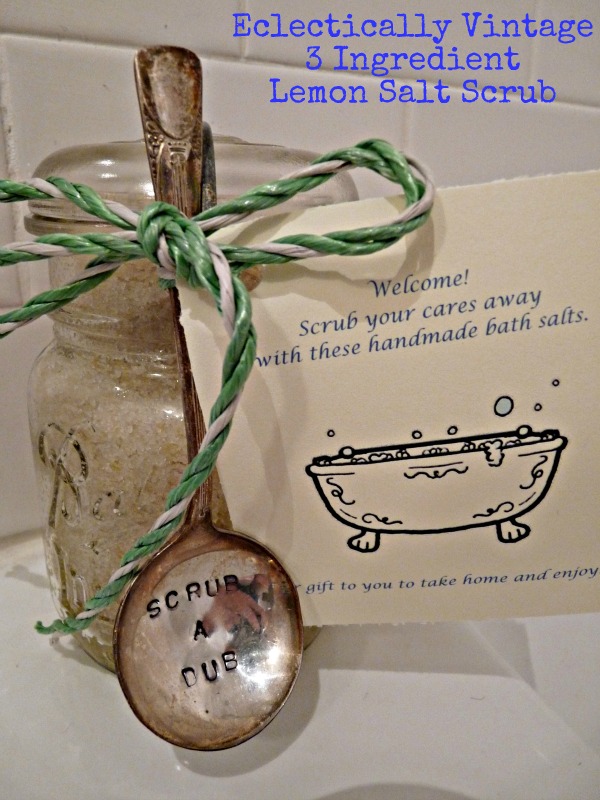 Your hubs calls with this announcement:
his buddy and family are coming to visit in two days!
Once the initial shock wears off and you've stopped ranting & raving,
it's time to get busy.
Quick, check the bathroom to make sure it's guest ready.
After you clean like a mad woman,
it's time to access the bathroom situation.
1) Plenty of fresh, fluffy towels.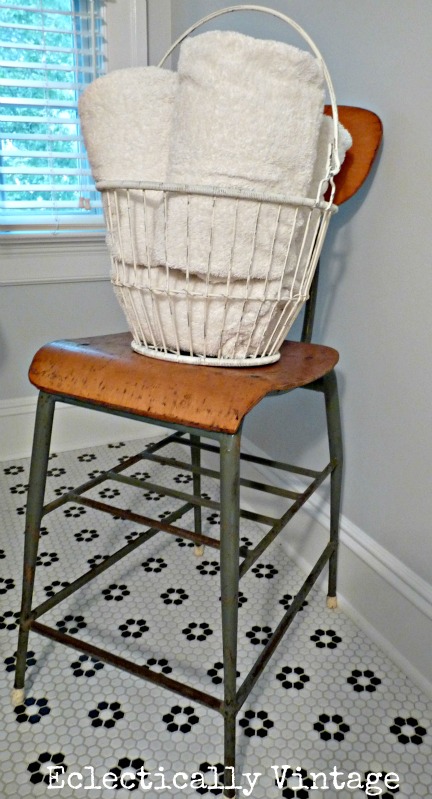 2) Fill a container (like this thrift store Italian shell planter) with those often forgotten essentials
(you'll be a hero if someone forgets her toothbrush)!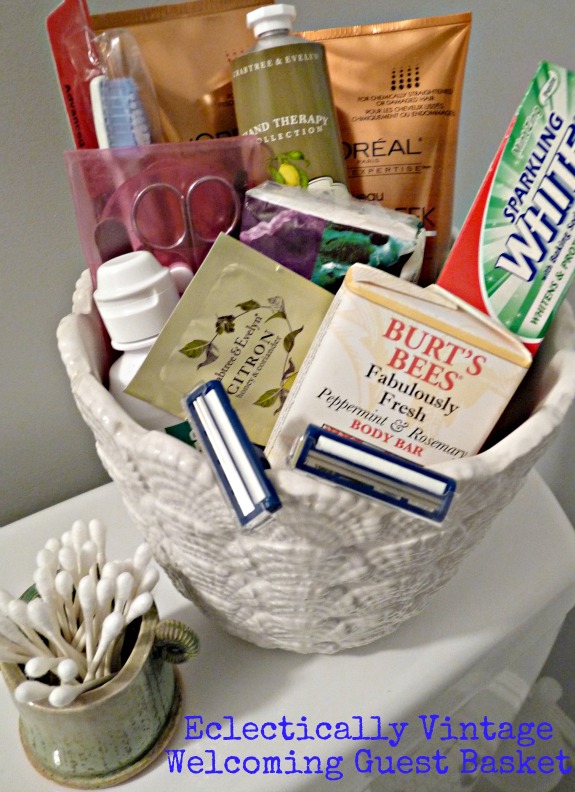 3) No searching for extra tp when it's stored within eyeshot!
4) Fresh flowers.
5) A drinking glass for every guest.
This fun trio of babushkas fits the bill!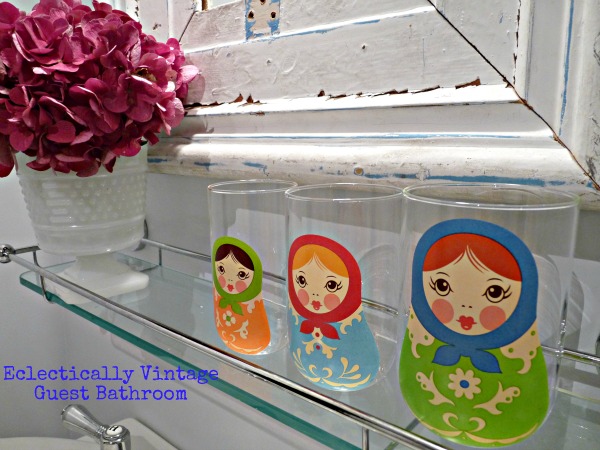 6) Disposable hand towels (who wants to share that one guest towel that hangs limply by the sink?).
7) Home made salt scrub.
This lemony goodness scrub is so deliriously amazing that your guests may never leave (heaven forbid!) …
so make a batch for them to use at your house then bring home with them when their stay is over.
Simple 3 Ingredient Homemade Salt Scrub Recipe: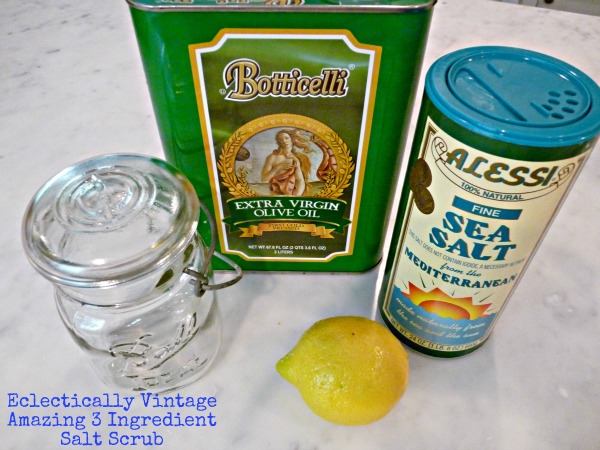 * 2 cups fine sea salt
* 1/2 cup olive oil
* 1 tbsp fresh lemon zest
* combine in bowl then put in cute container (like this vintage mason jar)!
* tie on a vintage silver spoon (custom stamped spoons available in my Etsy shop)
* gift tag (I found the bathtub clipart here)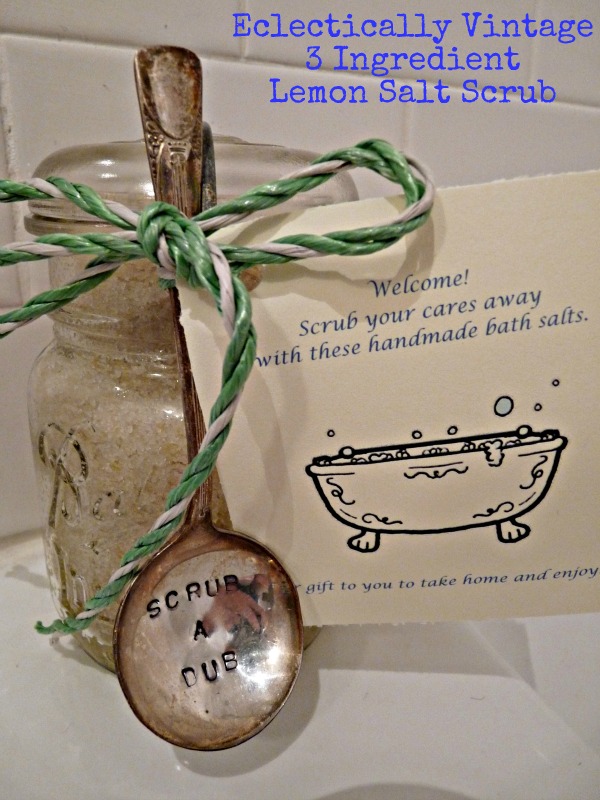 Here's to being prepared for the unexpected.
Like this?
You'll love my Brown Sugar Body Scrub – with just 4 ingredients!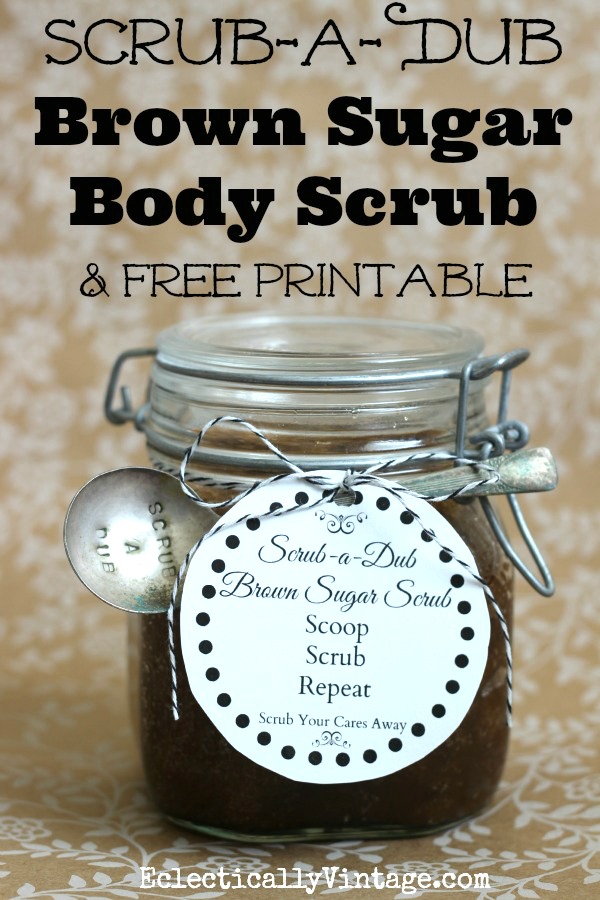 I was selected for participation in this campaign as a member of Clever Girls Collective. See my full disclosure policy here.