How to Tell Antique Cast Iron Doorstops from Fakes
I finally found my thrifting unicorn … an antique doorstop that looks just like my Boston Terrier, Sushi! These doorstops are so popular that I'm sharing how to tell antique cast iron doorstops from fakes  This lead me down a rabbit hole to find out all I could about these folk art collectibles that come in so many whimsical designs. So whether you are a die hard collector of antique doorstops or this is the first time you've heard of them, I'm sharing lots of interesting information so that you can be on the lookout for your own unicorn (or dog, or flower, or bird … you get the picture)!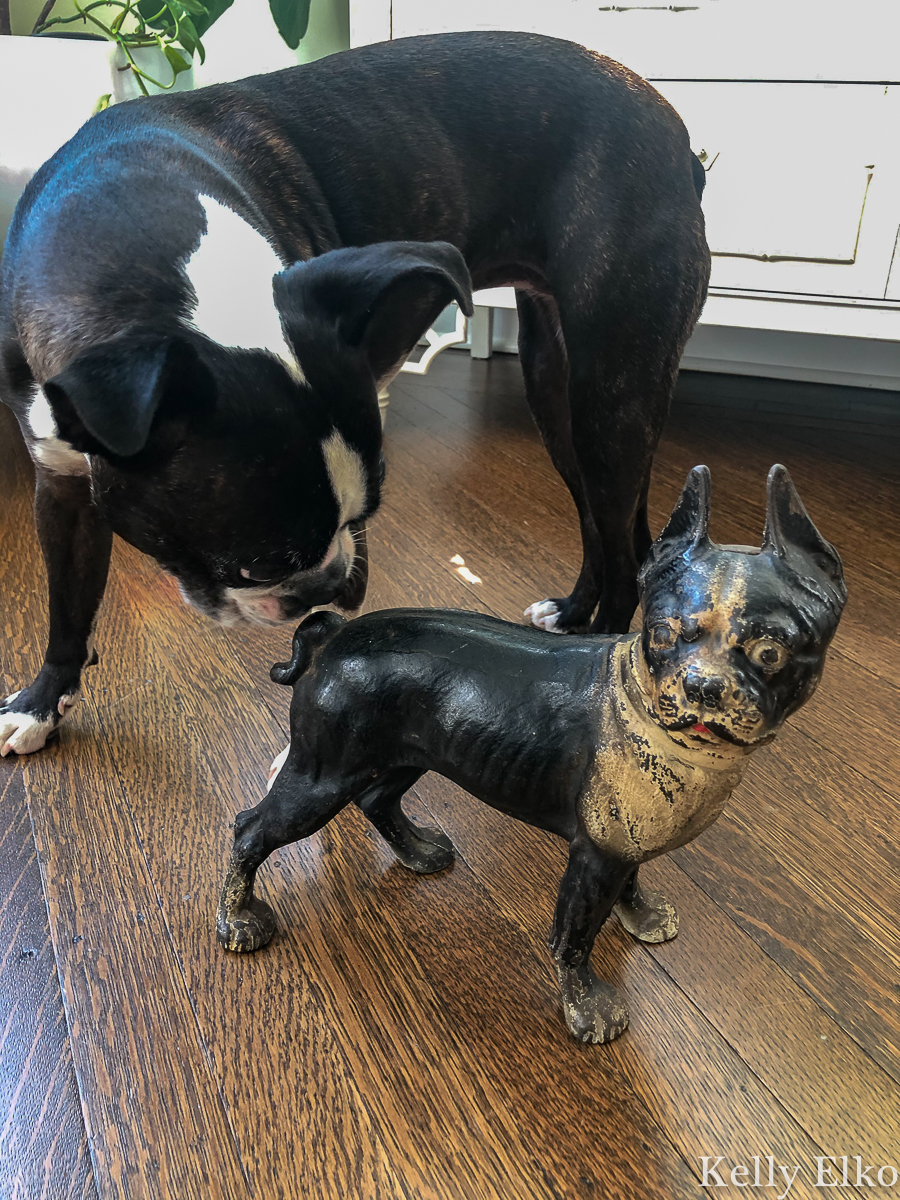 This post contains affiliate links which means if you make a purchase, I may earn a small commission at no extra cost to you.
There were many companies (Hubley, National Foundry, Albany Foundry to name a few) that produced these doorstops in the late 18th and 19th centuries. They were at the height of popularity during the 1920s – 1940s.
With popularity comes imitation so beware of reproductions. Older doorstops will have a smoother feel while fake counterparts feel rougher or pebbly. Small chips are common but antique doorstops should never be repainted. Doorstops that have two or more pieces will be joined together with a flat, slotted screw while you can tell a repro from the telltale Phillips-head screws. Before I bought my Boston Terrier, I texted my antique dealer friend to see if I was getting a deal and she told me to flip it over to make sure the screws were old.
This book is such a great resource and chock full of information (and over 1,000 photos) with prices from 2006 …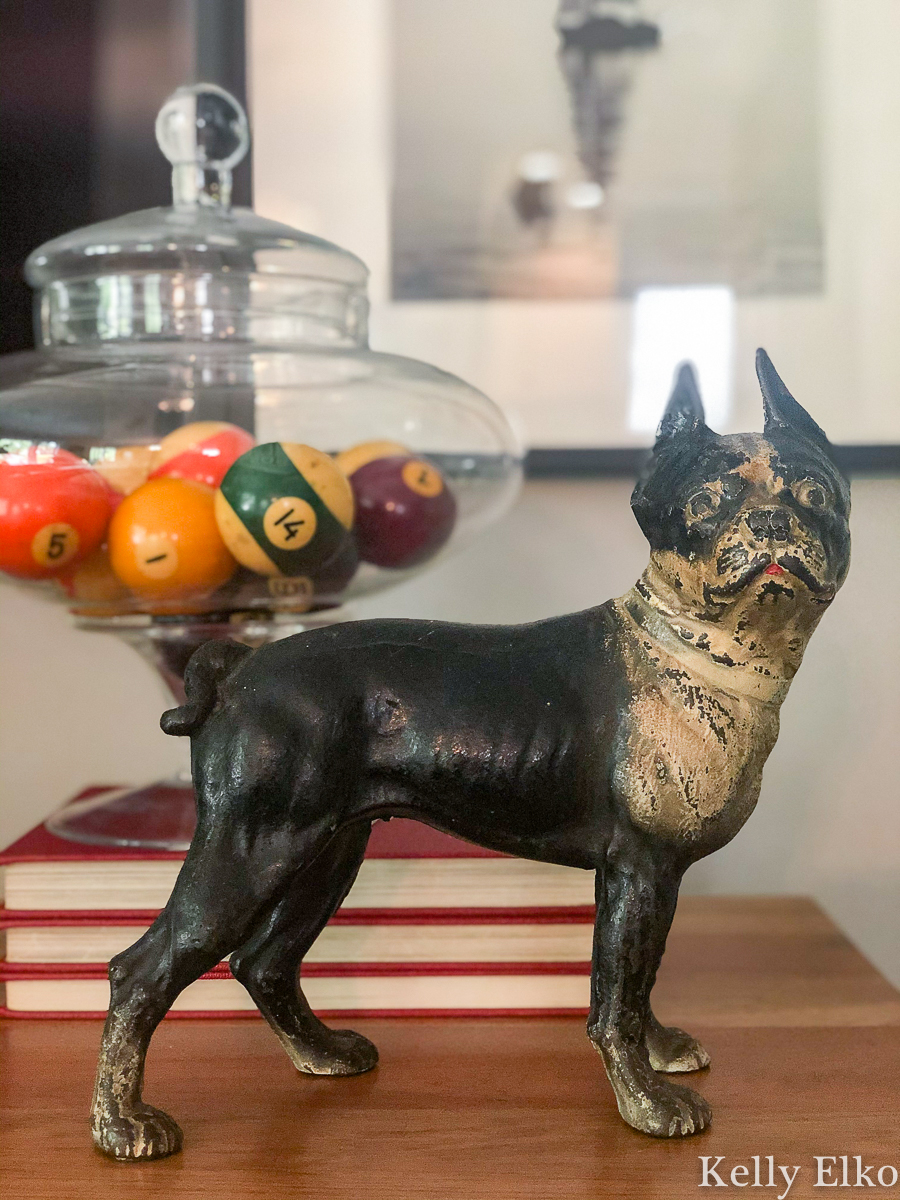 Since my doorstop has no markings, I did some research and found out that it was manufactured by Hubley (#331). Hubley put their marks on the inside of their doorstops.
Hubley advertised this doorstop, Police Dog, in the 1938-9 Sears & Roebuck Catalog for $1.19 each. How cute is the little leather collar and leash that came with the dog! You can see the indentation on my dogs neck where the collar would have been.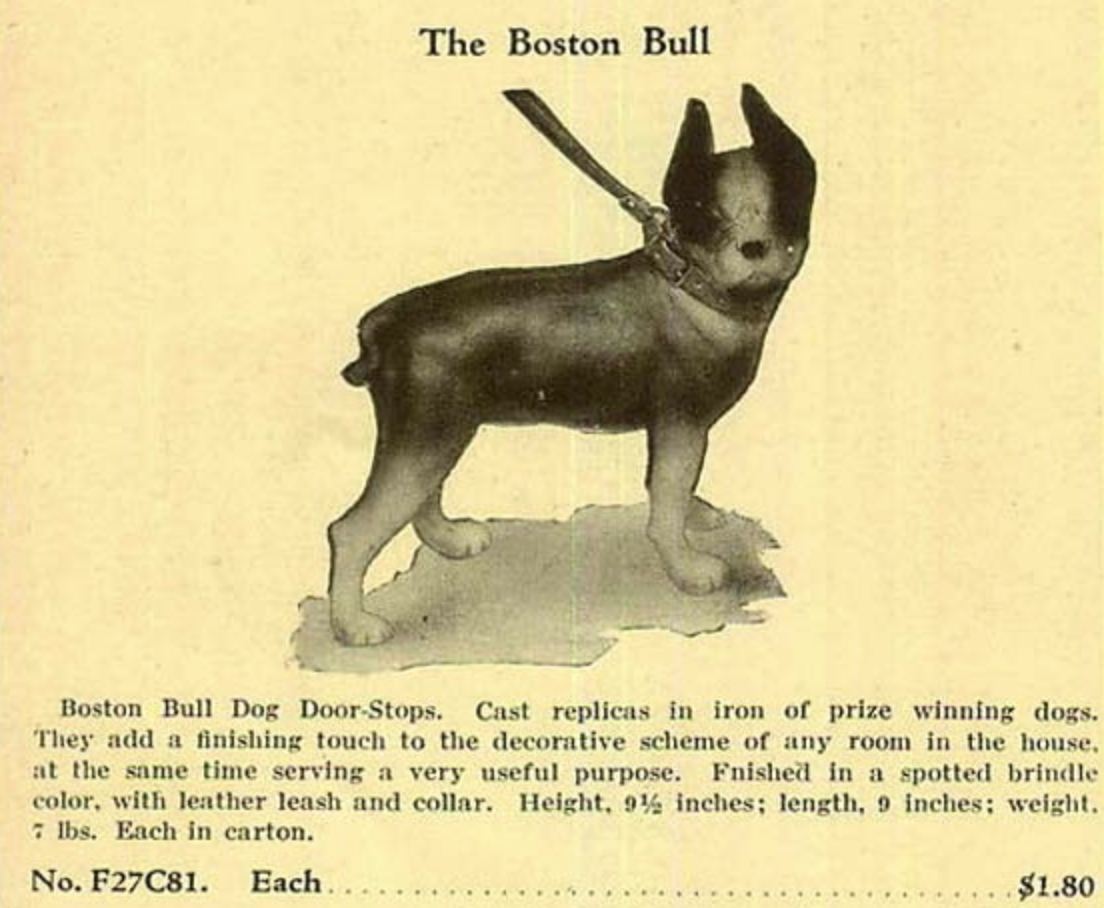 To create these cast iron doorstops, metalworkers carved a wooden form or hammered the design out of metal. The form was pressed into sand, making an impression, then hot cast iron was poured into the sand mold. When cool, the form was removed from the sand and the rough edges were filed down. A base coat was applied and then artists would add all the little details. After World War II, die-cast zinc replaced cast iron.
How to spot an antique … look for old screws, not Phillips head (with an x shape). Although some good reproductions will use old screws so this isn't the best way to identify.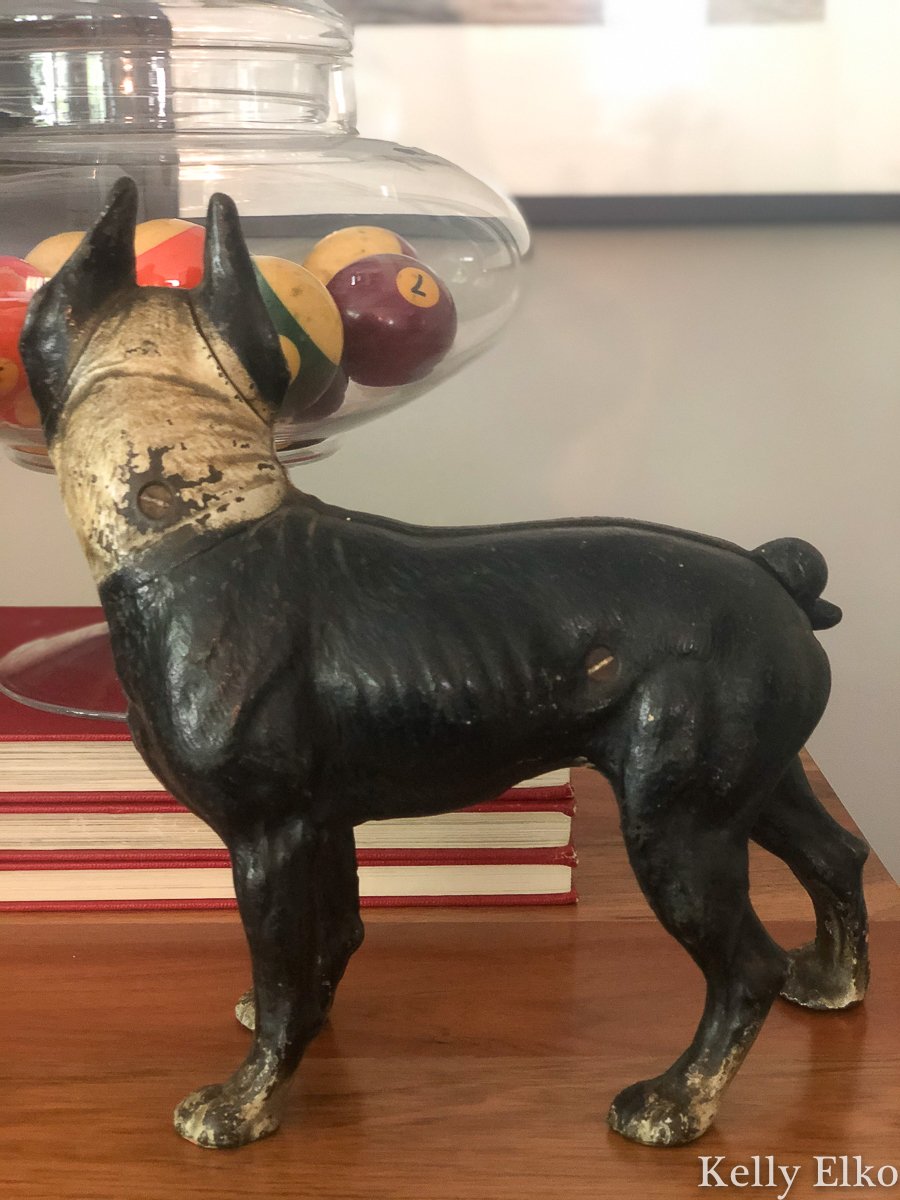 Look for a tight opening where pieces join together (not a wide one).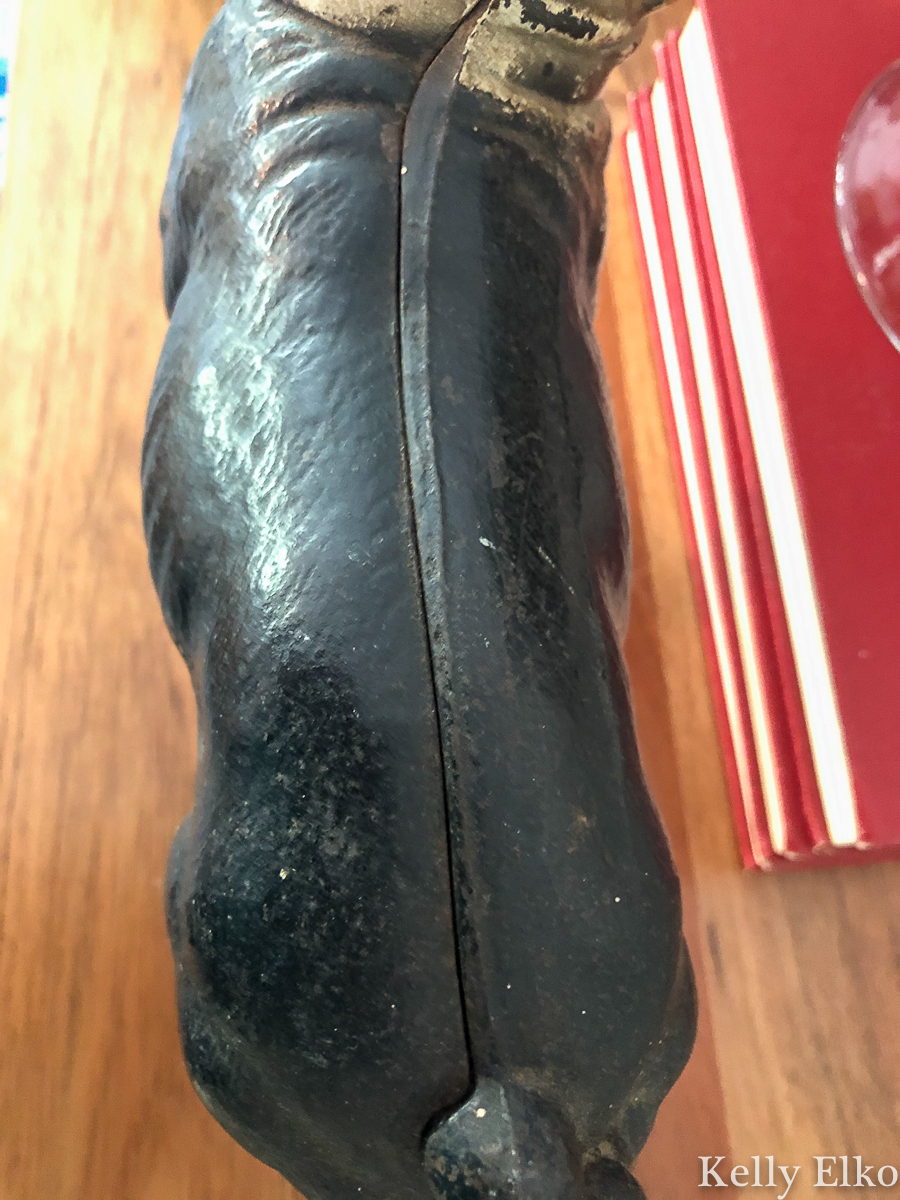 Look for original paint – some chipping is ok but they should never be repainted.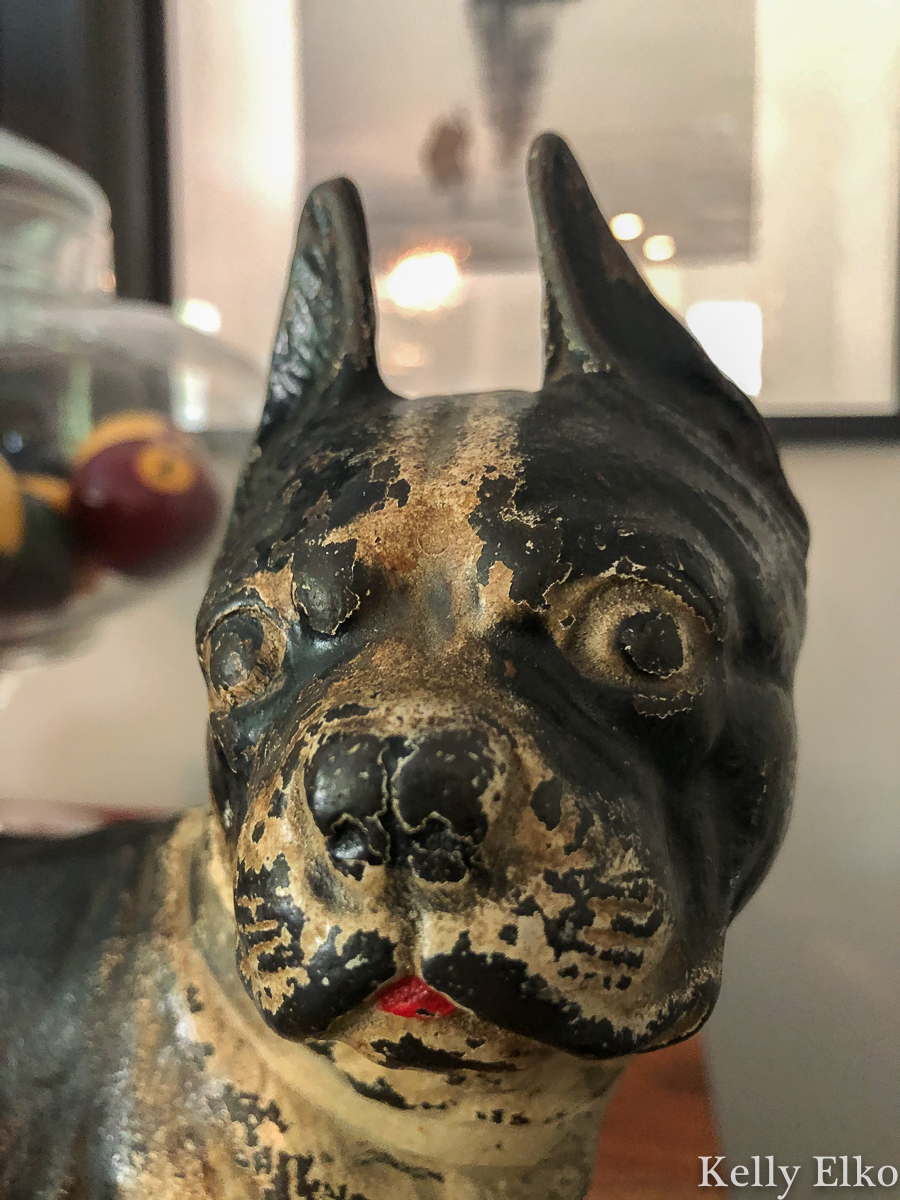 If it looks new, it probably is new! You'll spot a modern doorstop reproduction by its rough metal and rough edges, seams that are not a tight fit, hand-painted look with bright colors and typically a Phillips-head screw holding it together.
I'm so happy to have found a little mini Sushi at that estate sale and will be on the lookout for more because I feel a new collection coming on!