Color Lovers – My Colorful Living Room Makeover!
Somewhere over the rainbow …
you'll find my colorful living room makeover!
Last month, I showed you my Color Lovers Design Plan for this space and I've been working feverishly to turn my dream into reality.
Raise your hand if you love color? I've teamed up with nine other Color Lovers and each of us made over one room in our homes. I link to all of them at the end of this post – I'm also sharing all source info there.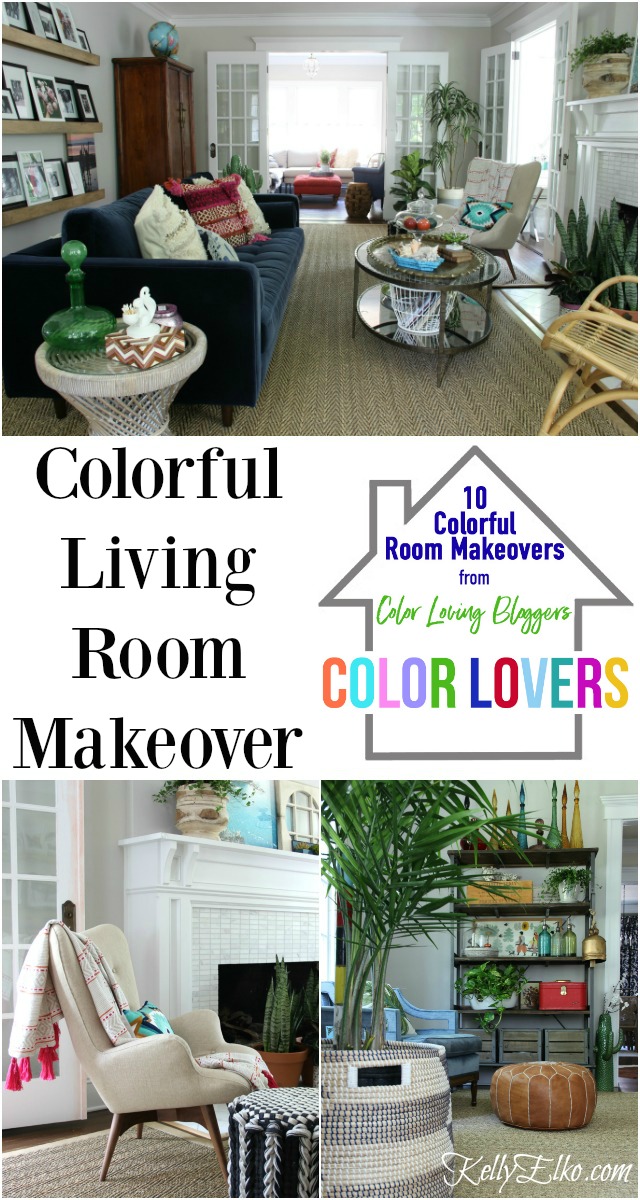 Now let's bring on the color!
I've teamed up with some of my favorite shops including The Mine, Birch Lane, Minted and more as well as shopping my own house and using some of my favorite vintage finds and tons of plants to bring a fresh look to this once tired looking room.
I'm sharing the full source list at the end of this post and I've included affiliate links so you can shop the look.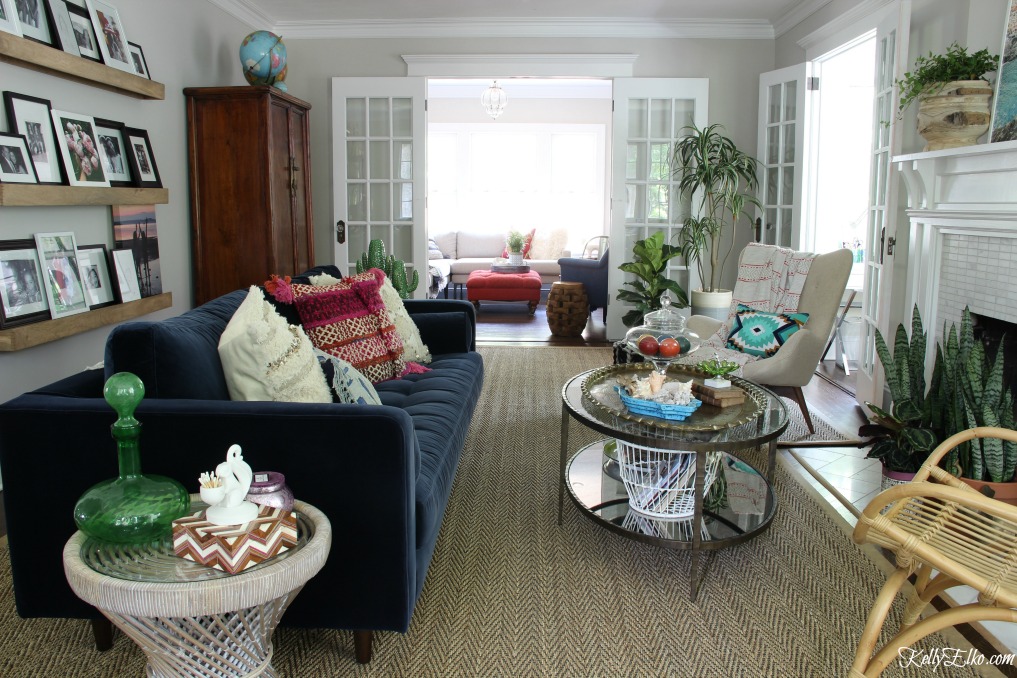 Before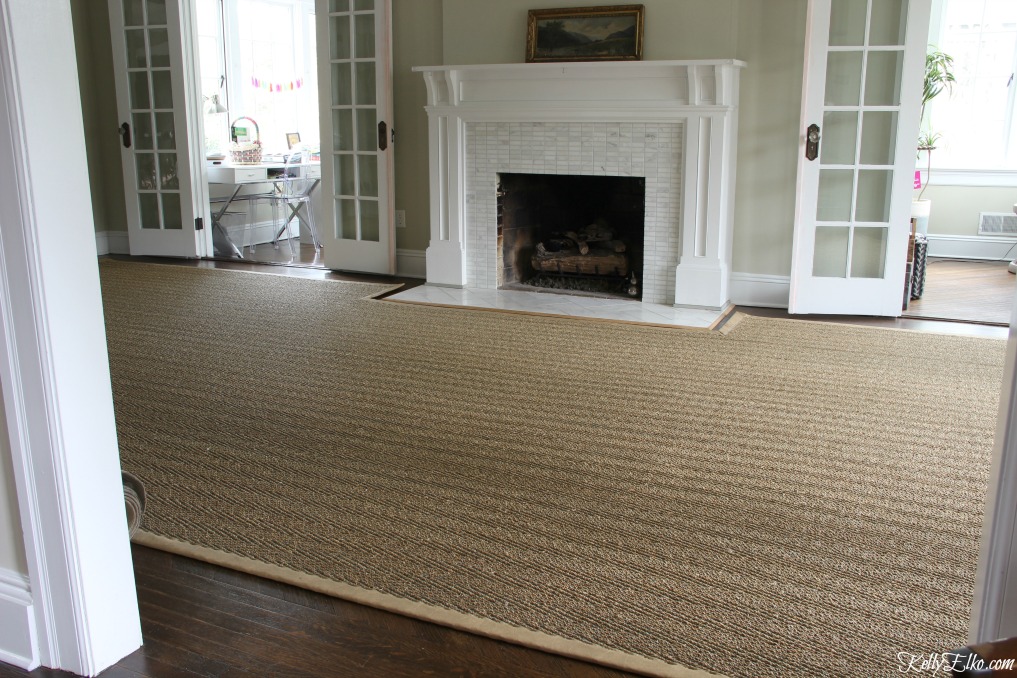 I could not be happier with the after. It's a casual, kick up your feet, pour yourself a glass of wine, light a candle and unwind kind of space.
First, we gave the room got a fresh coat of paint in Agreeable Gray by Sherwin Williams. It's the perfect warm gray in my humble opinion.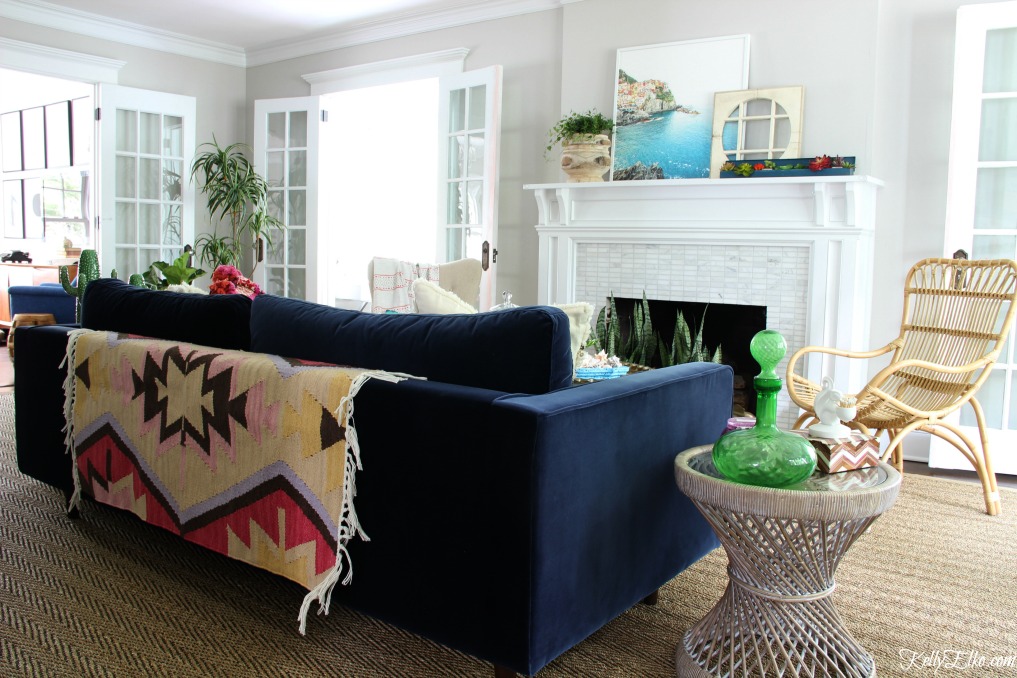 I added a vibrant rug to the back of my blue velvet sofa for a fun jolt of color.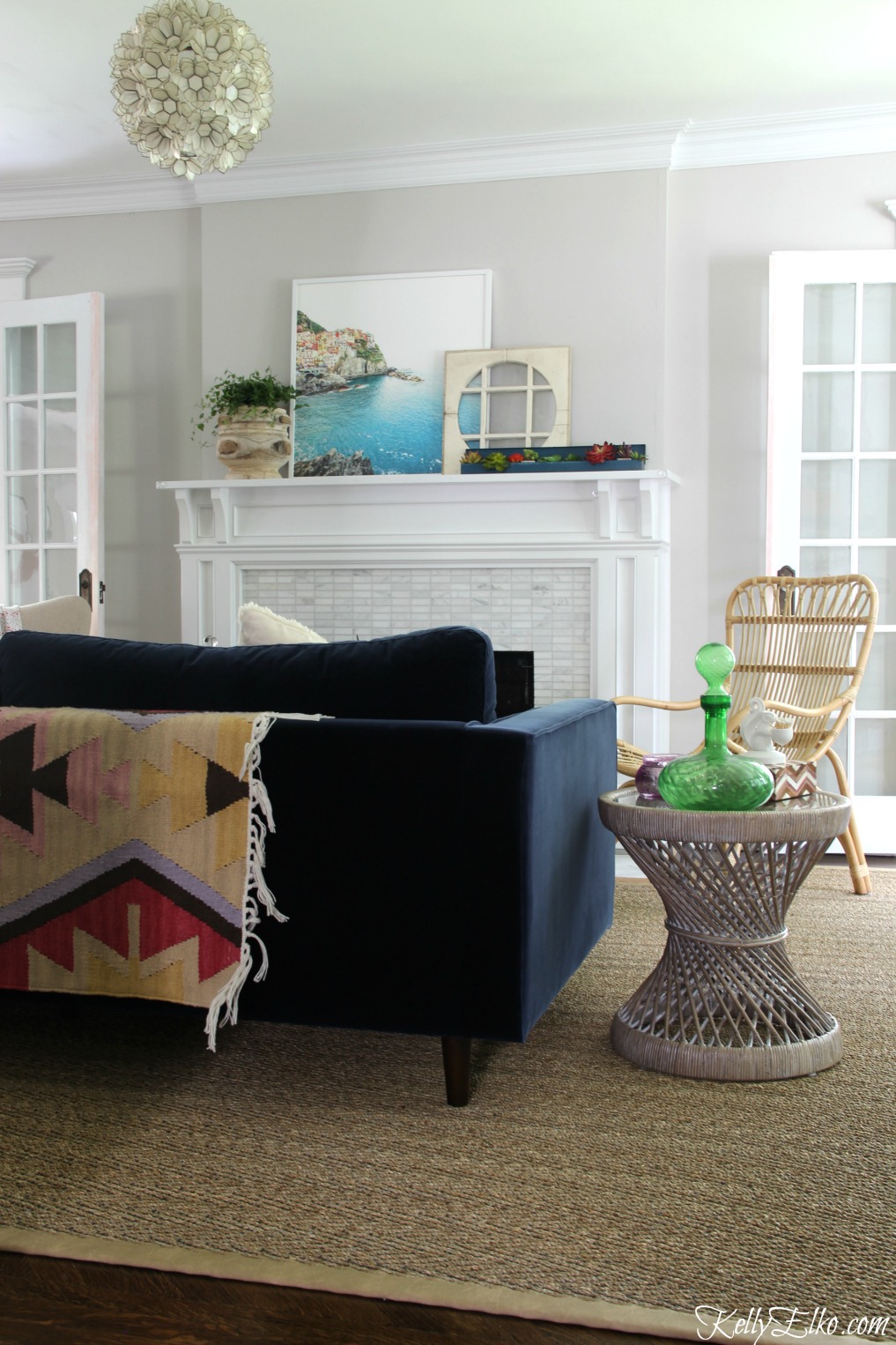 The blue sofa was the catalyst for this room makeover. A collection of textured and colorful pillows make it even more inviting and I love adding different sized pillows like this blue lumbar pillow with fringe for more interest.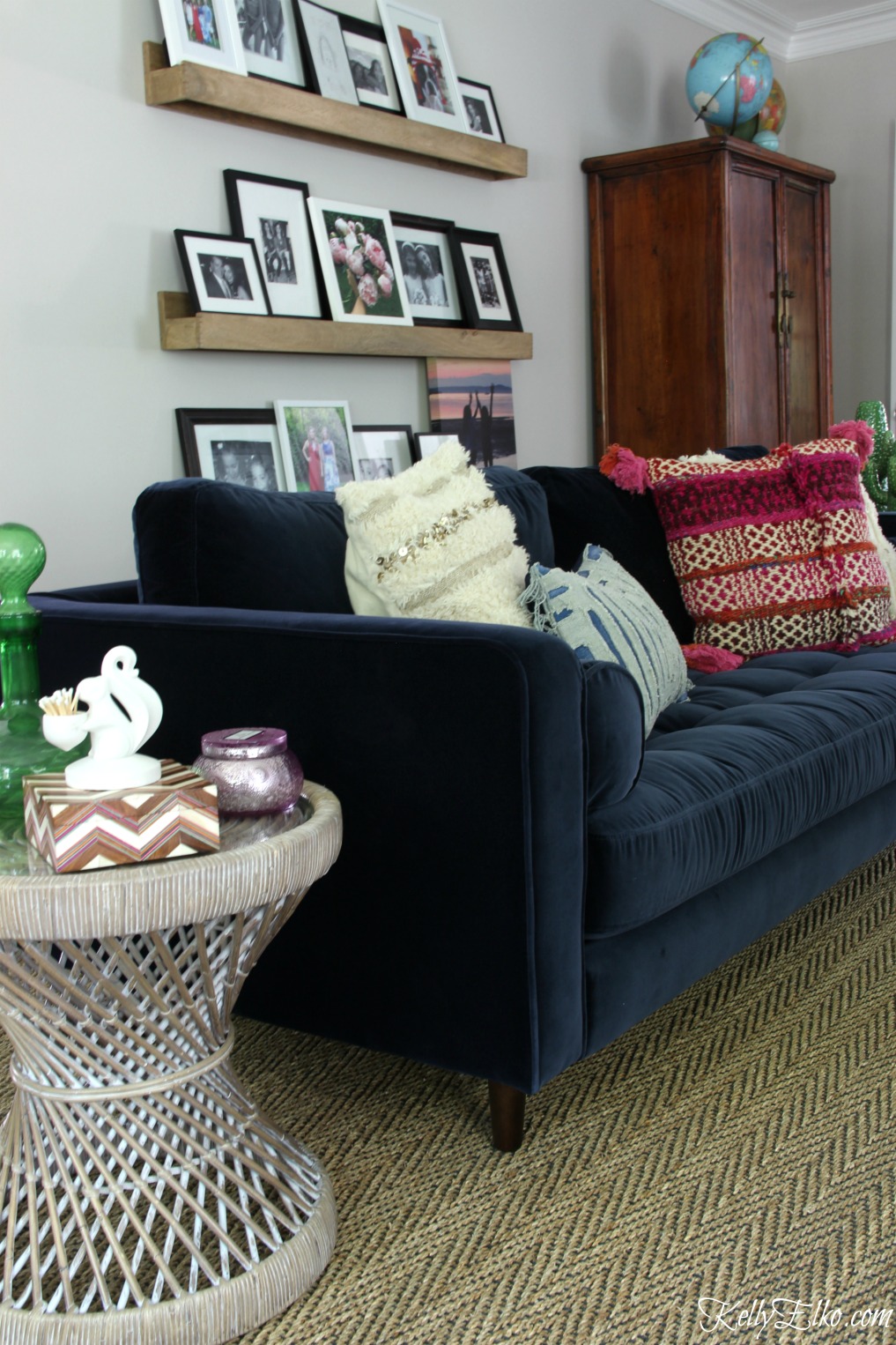 I love these warm Wood Art Shelves with exposed joints to show off family photos. A few colorful ones pop against the mostly black and white pics.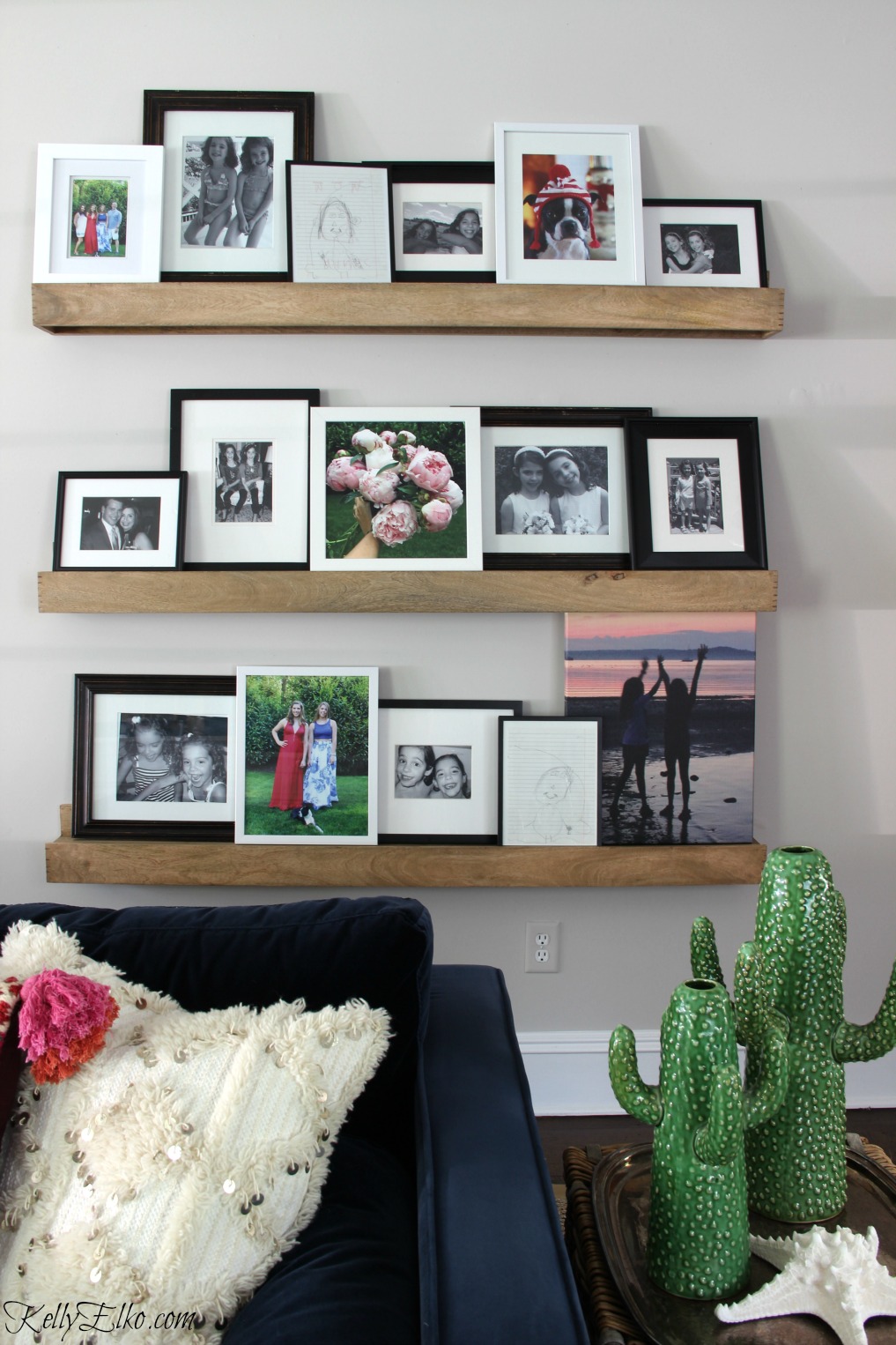 That hideous creature with protruding ears holding a glass of wine in one hand and a remote in the other is a portrait of me drawn by one of my girls when they were young! An equally hideous drawing of my hubby sits on the lower shelf!
To help get that image out of your head, you can get my Pretty Pink Peony Printable for Free HERE.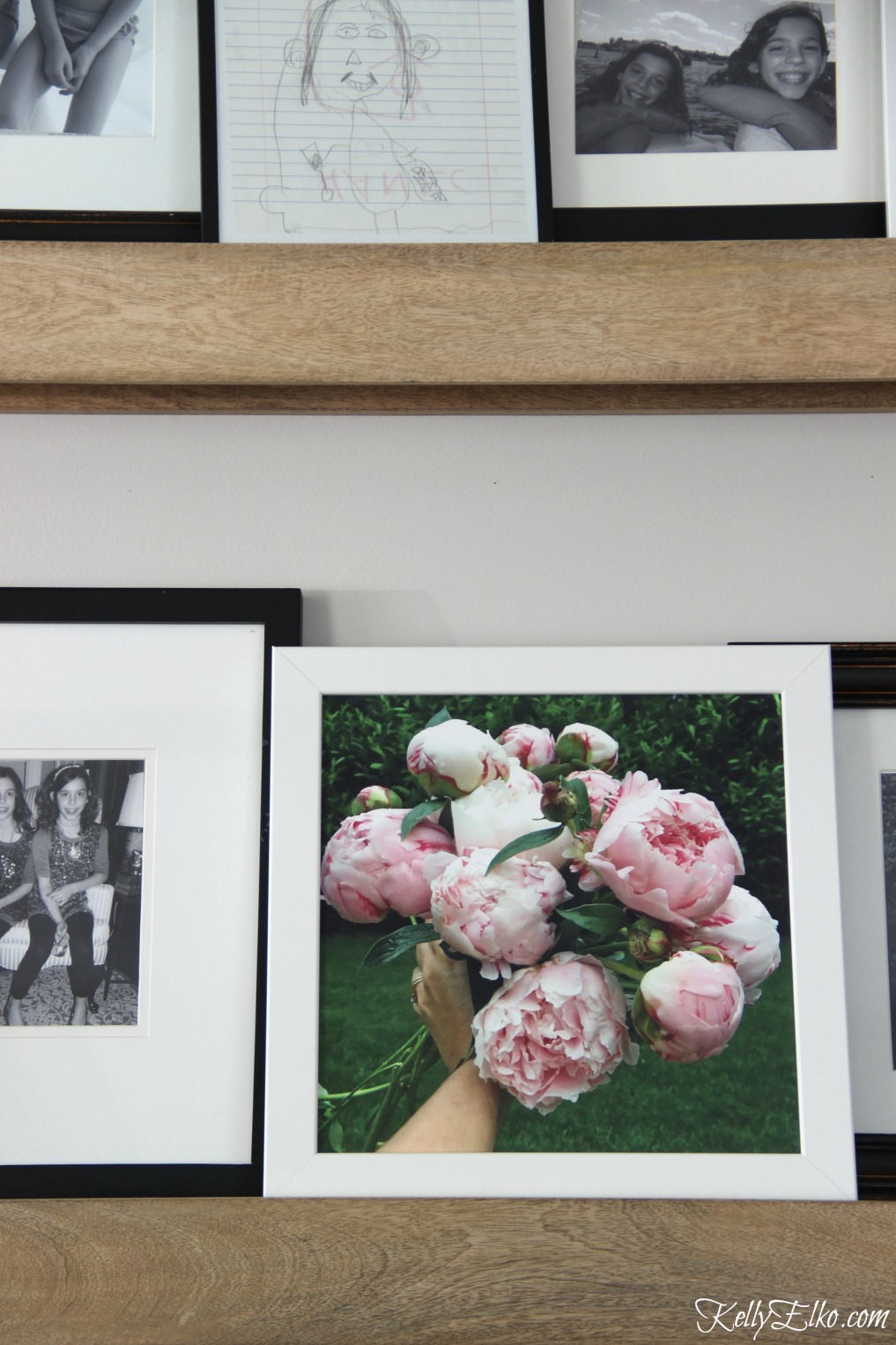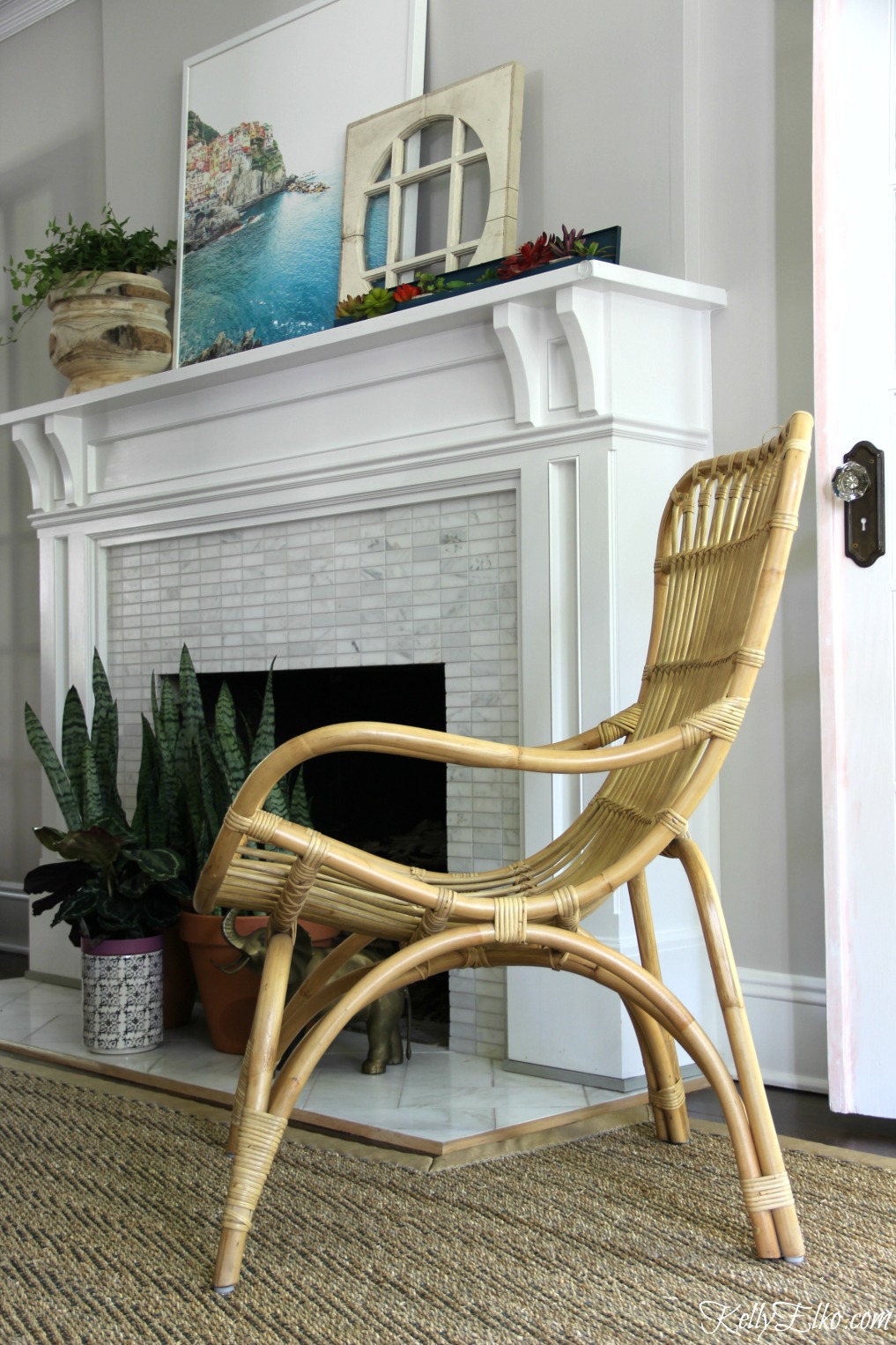 I added a Rattan Chair from HomeGoods (don't be afraid to bring an outdoor chair inside like I did) and table and love the casual feel they bring to the room.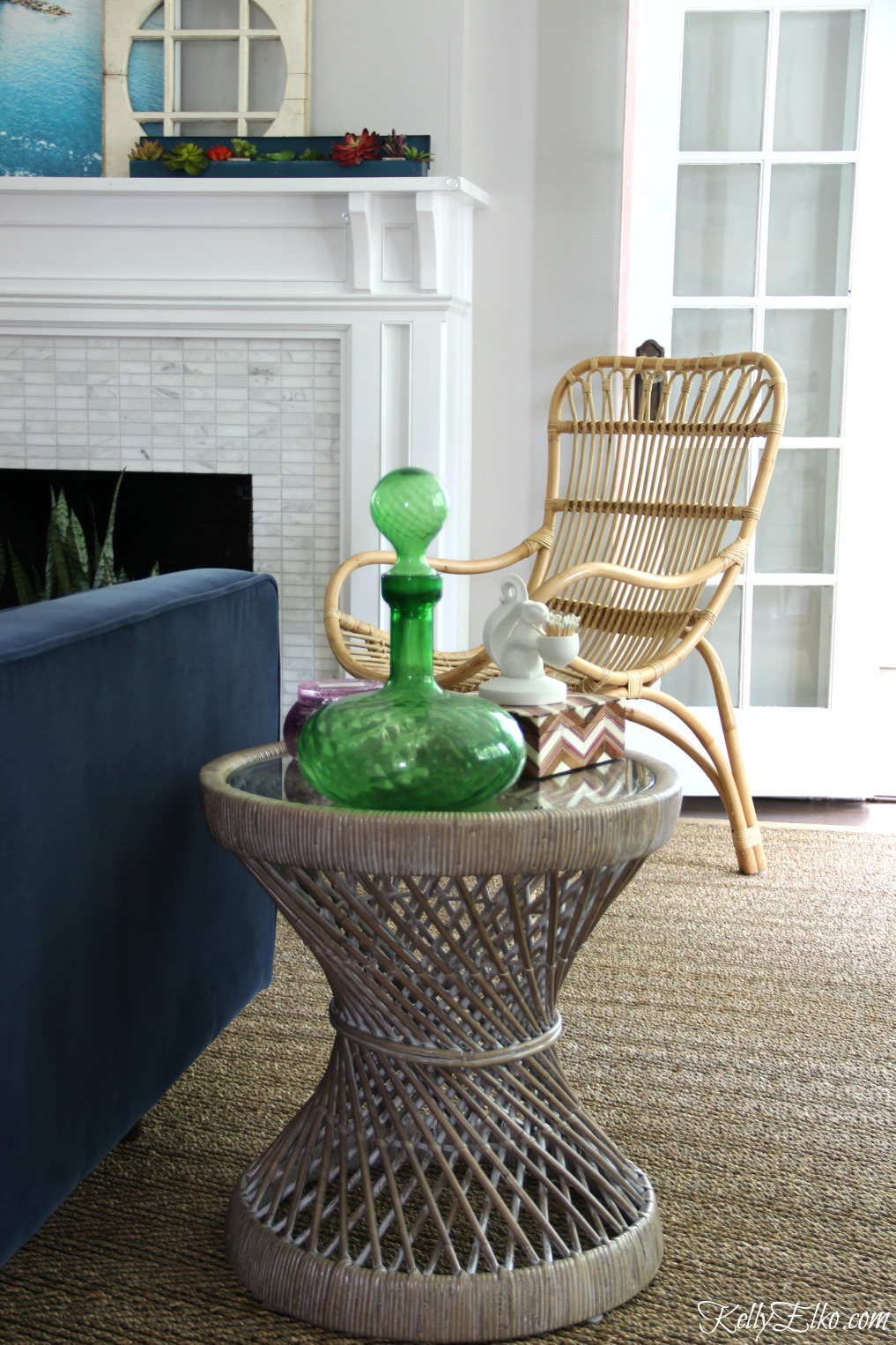 This little Rattan Chair is one of many round pieces I brought into the room to soften the lines of the long rectangular space.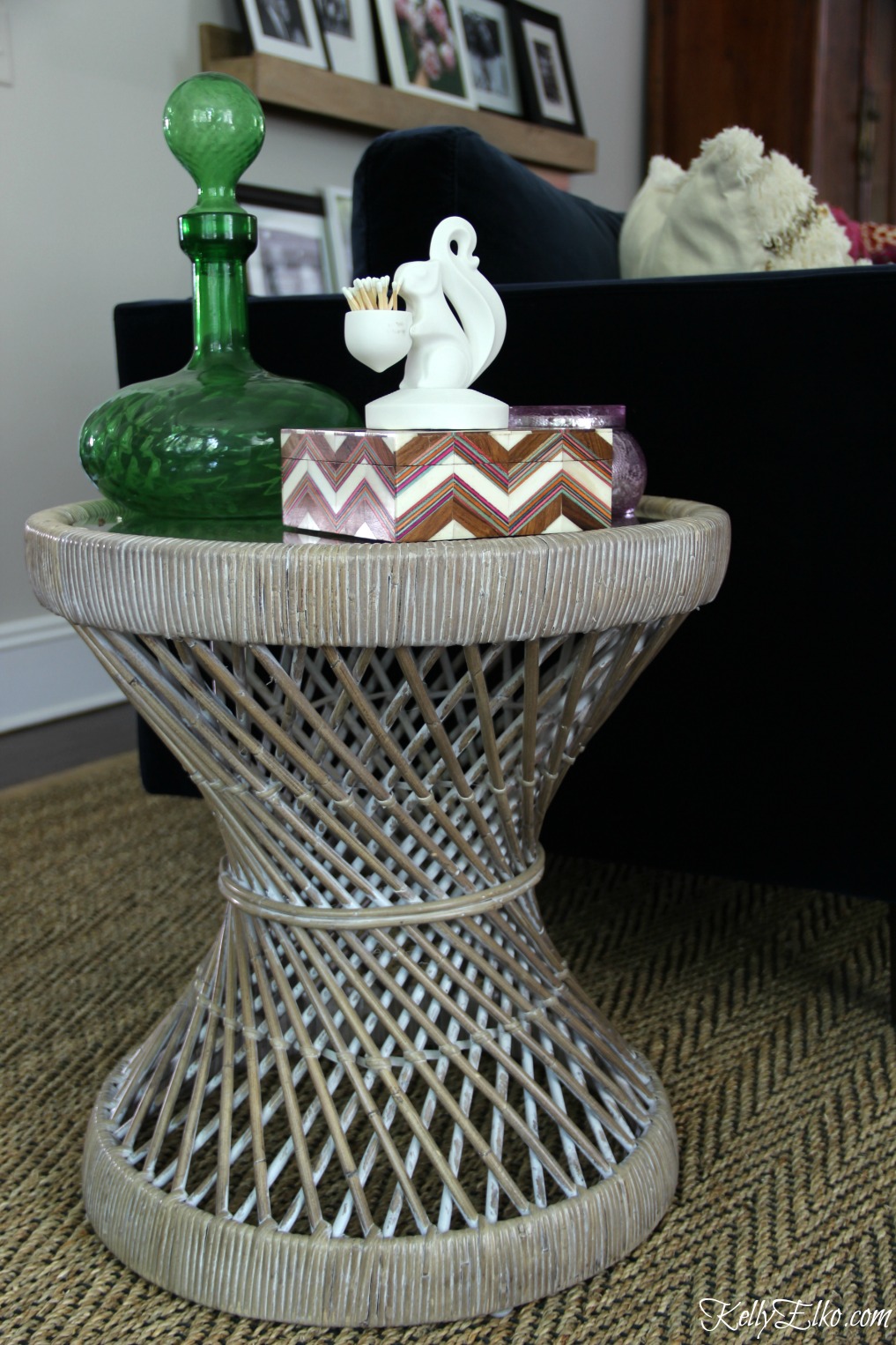 Vintage stacked baskets with an old silver tray adds more texture while quirky cacti vases add personality.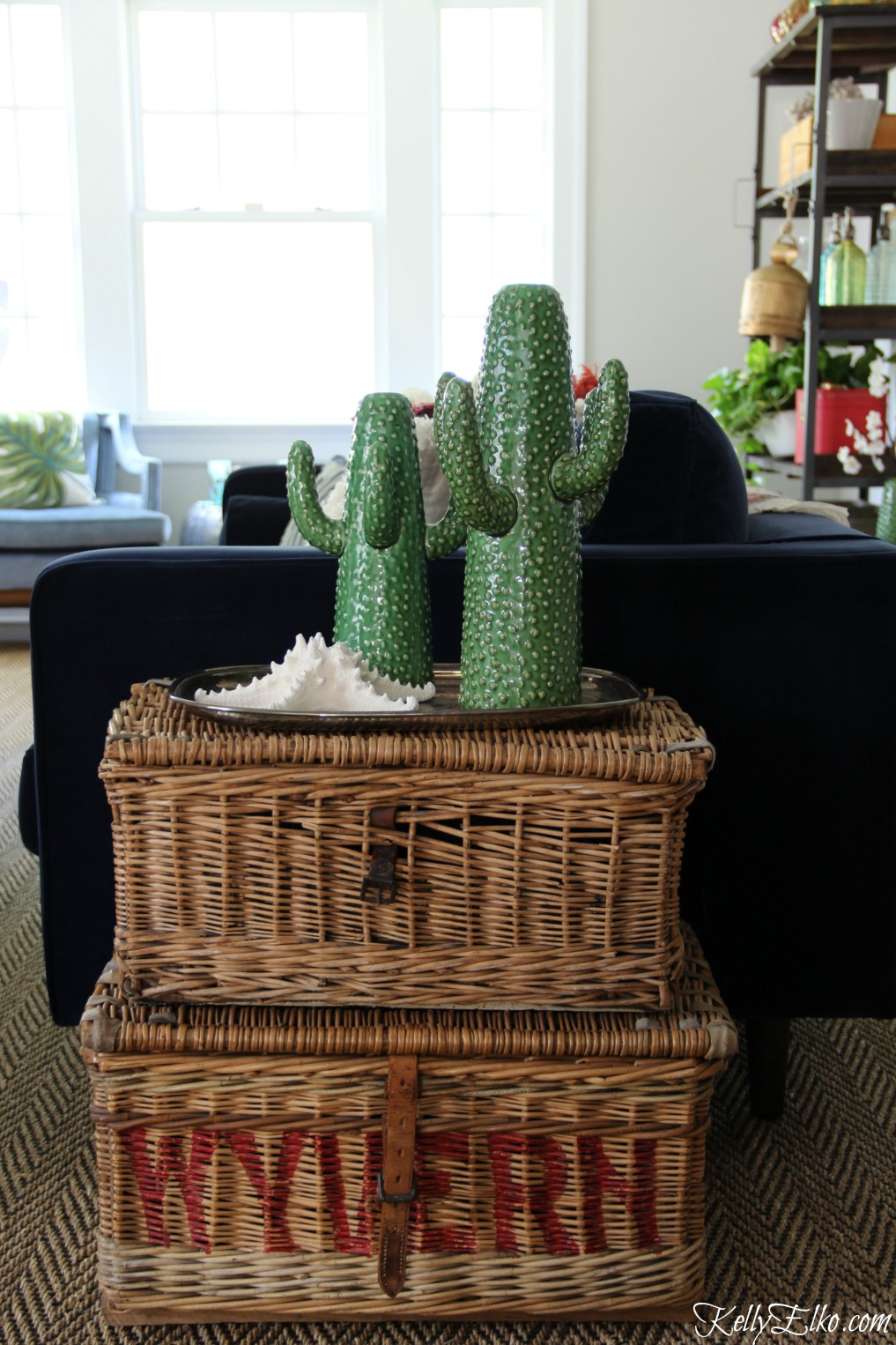 I added tons of plants to this room and love this pair of snake plants (also called mother in laws tongue!) that are super easy to care for plus they fit perfectly on the hearth to hide the black hole of a fireplace in the warm summer months.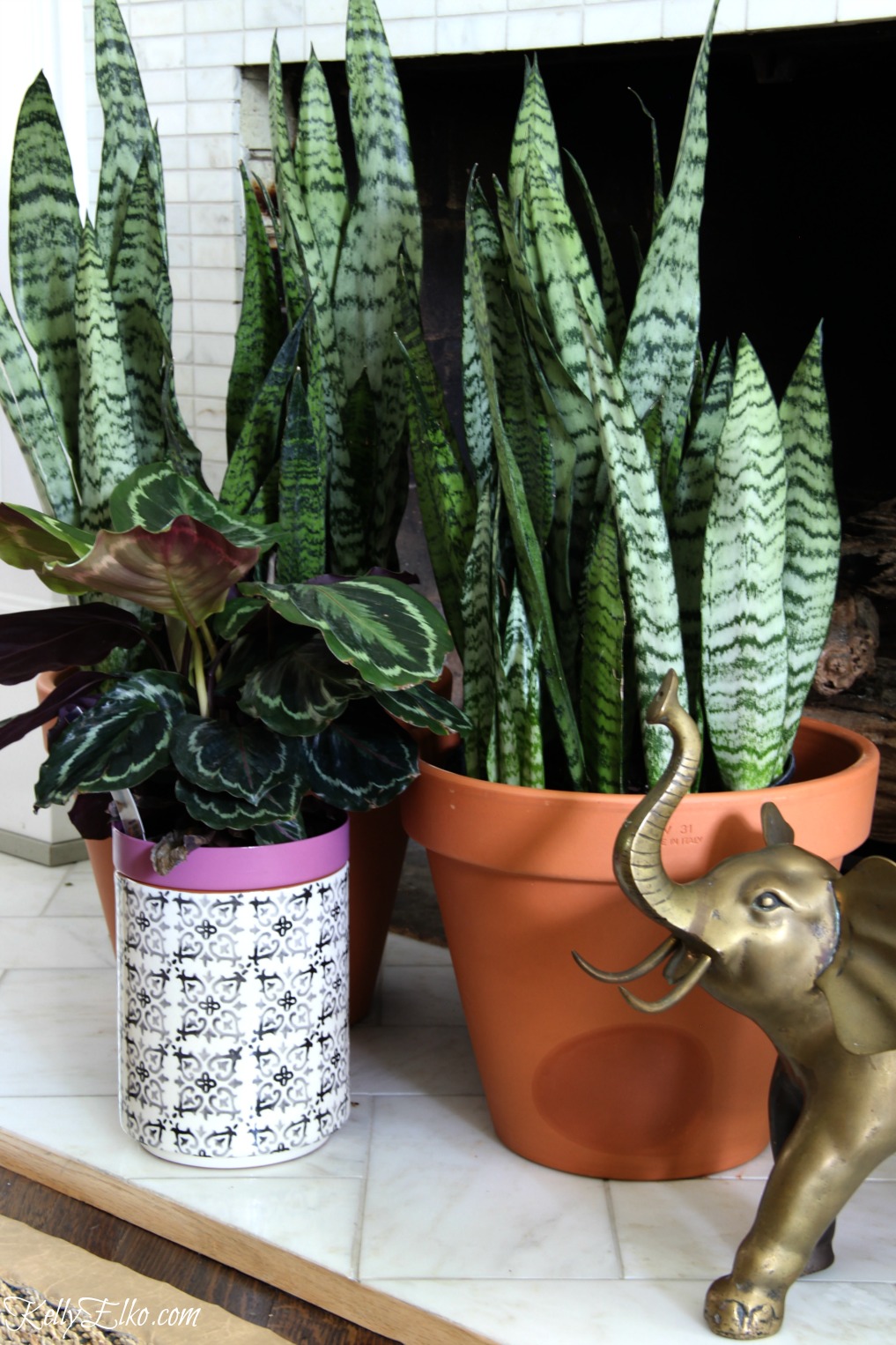 I wanted the capiz shell chandelier that's always hung in the center of the room to be the star so I removed two ornate chandeliers that flanked it and replaced them with Simple Schoolhouse Lights.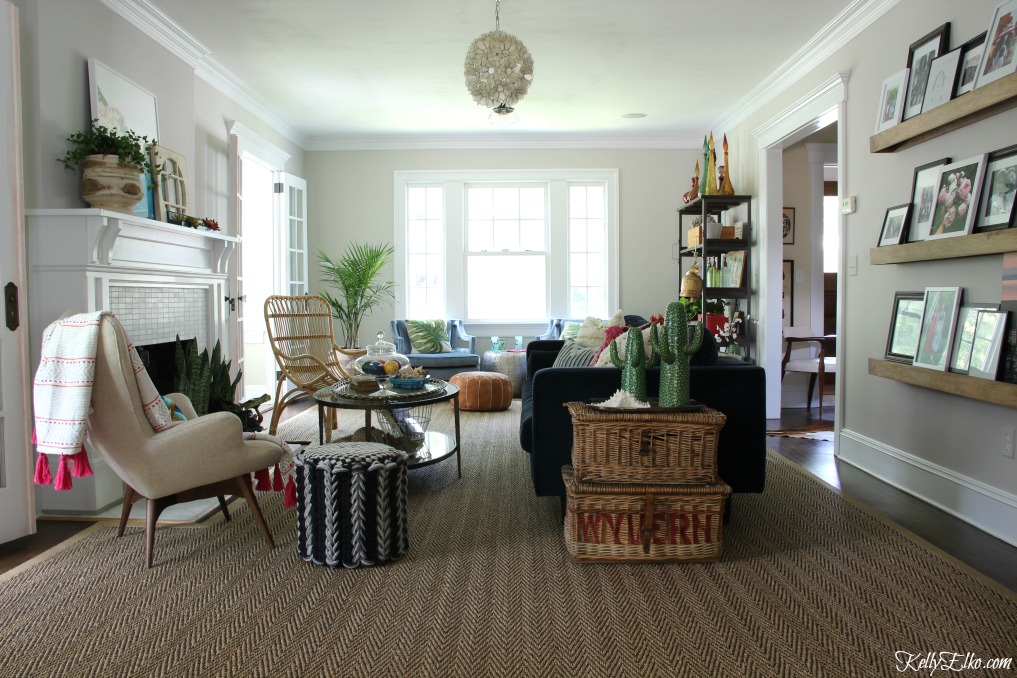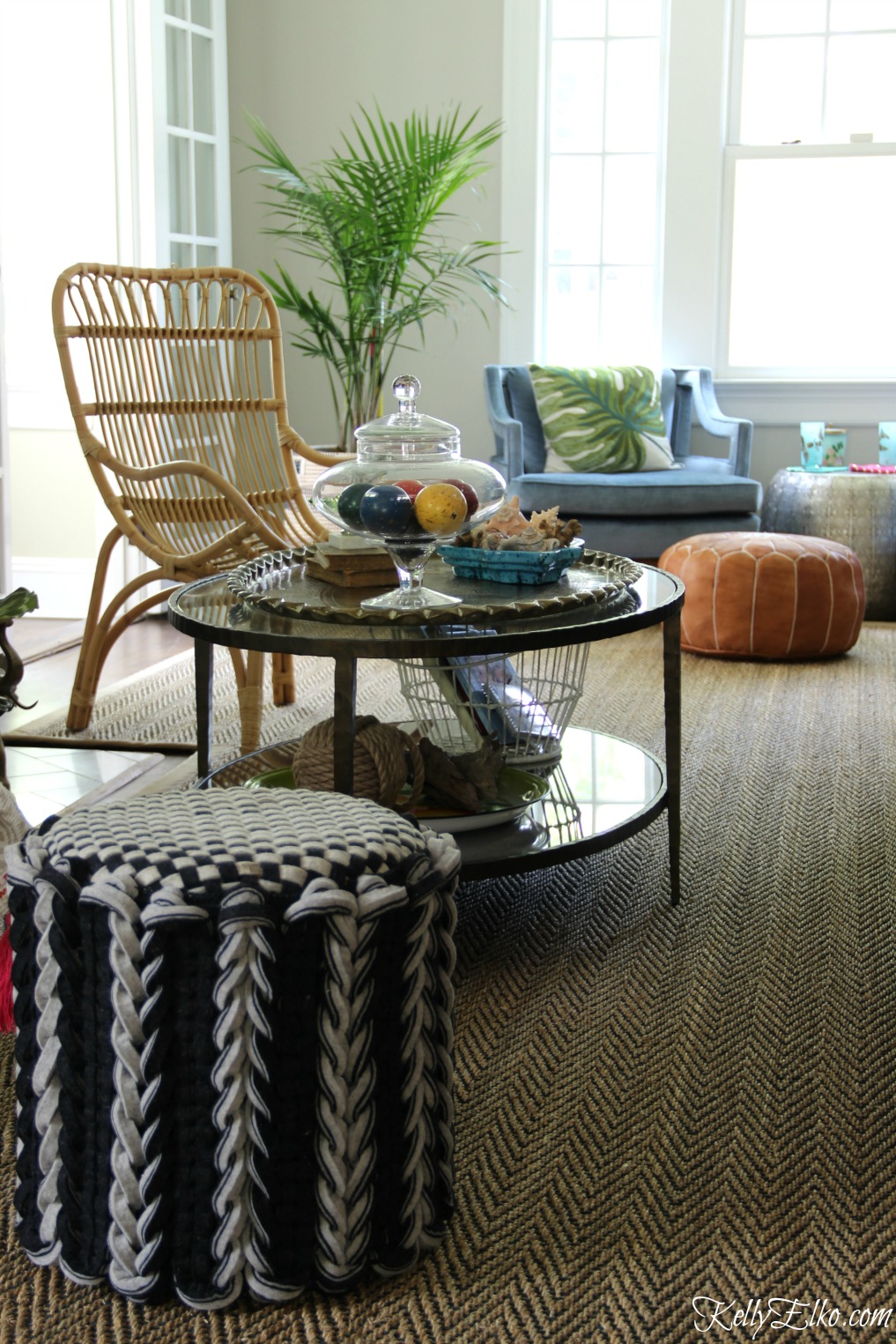 The coffee table gets colorful with a huge vintage ashtray that holds shells and coral and a glass jar filled with croquet balls.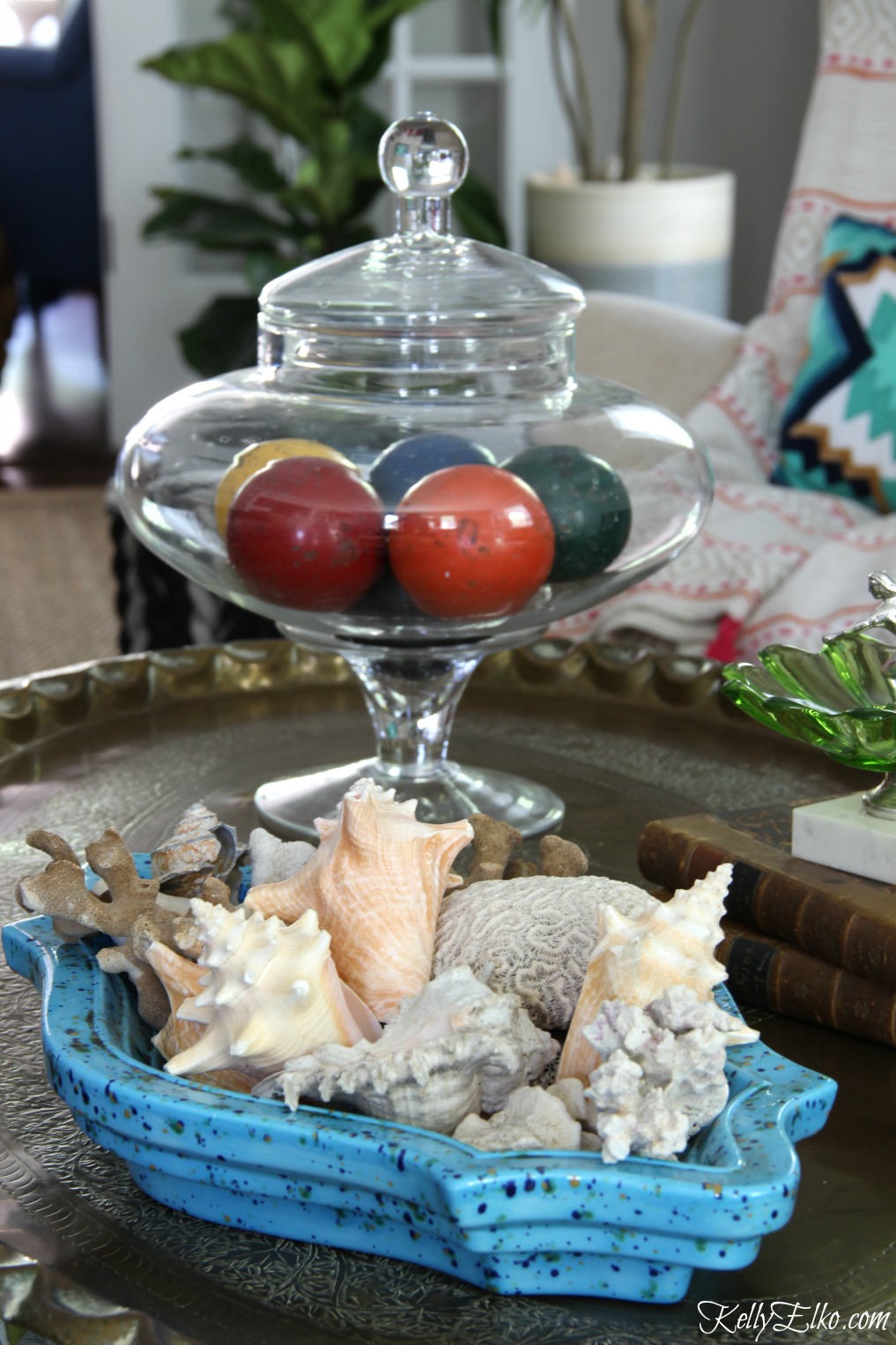 I love the fun shape and legs of this Teddy Bear Chair!
What's better than pink tassels to add personality to a neutral chair and this Chunky Braided Wool Ottoman is perfect for kicking up your feet or holding a favorite book.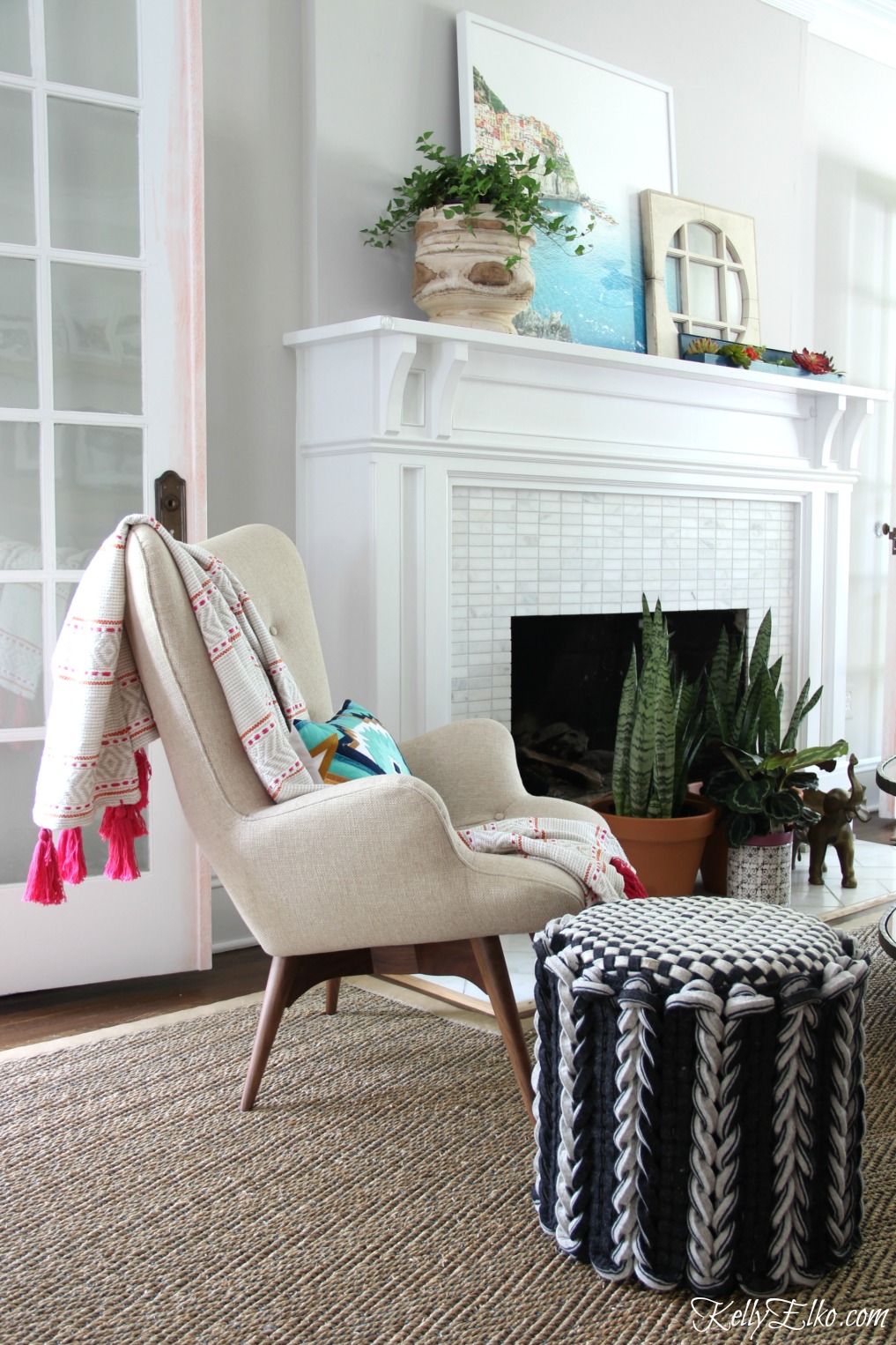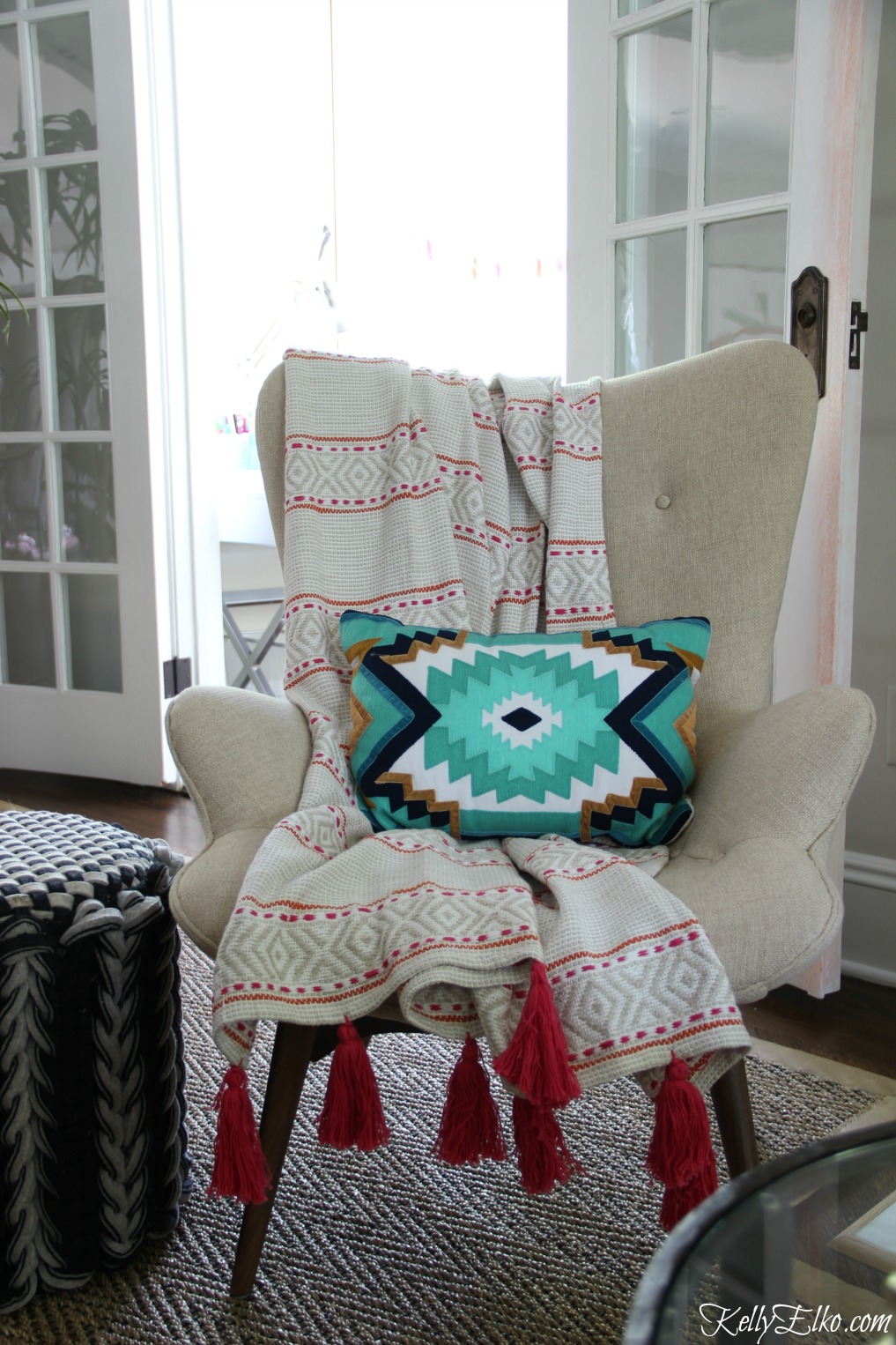 My mantel is simple with an oversized photograph of Cinque Terra from Minted that has me dreaming of an Italian getaway.
I love the way modern photography instantly updates any space.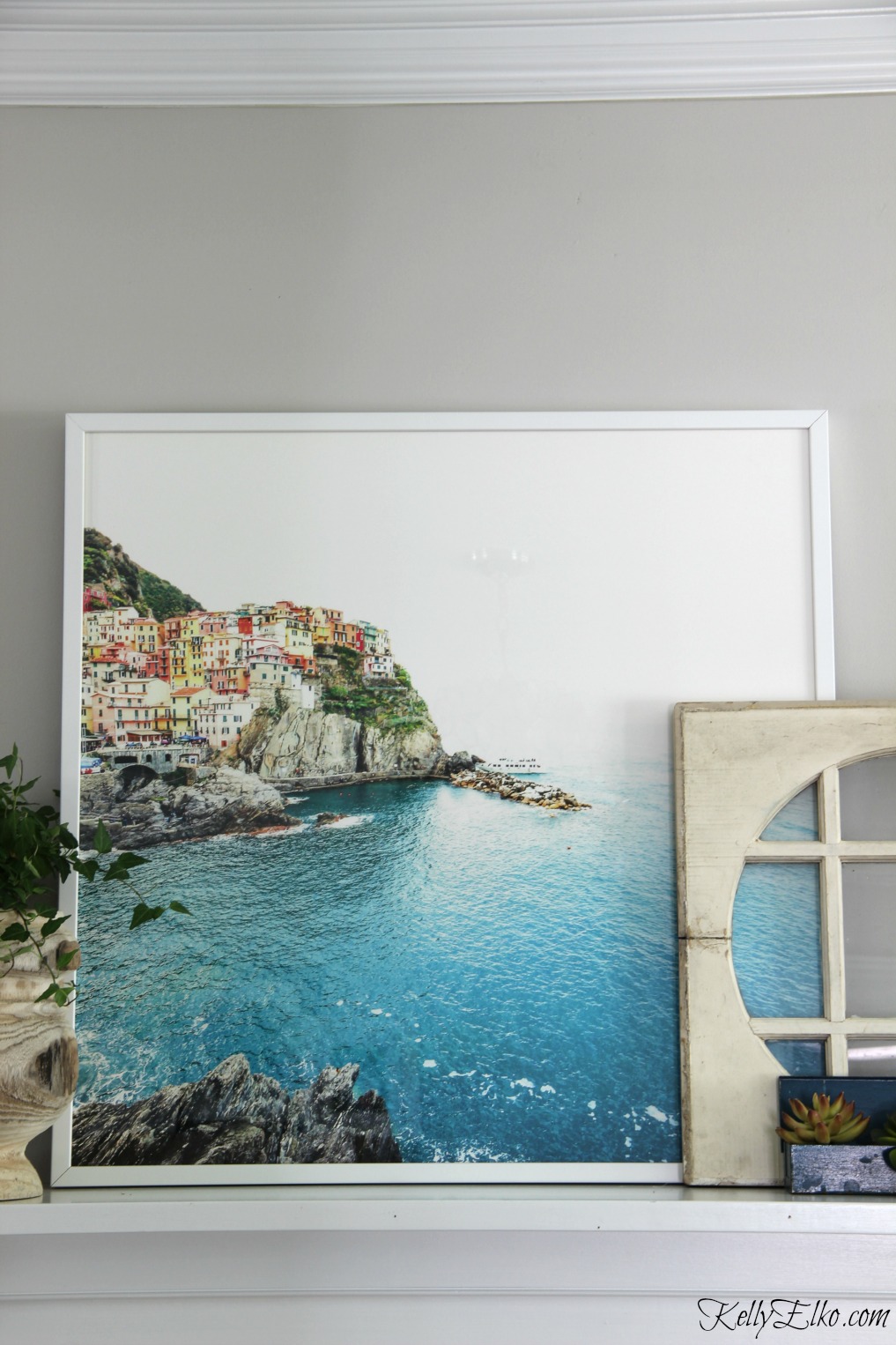 Ivy trails from this incredible Wood Planter.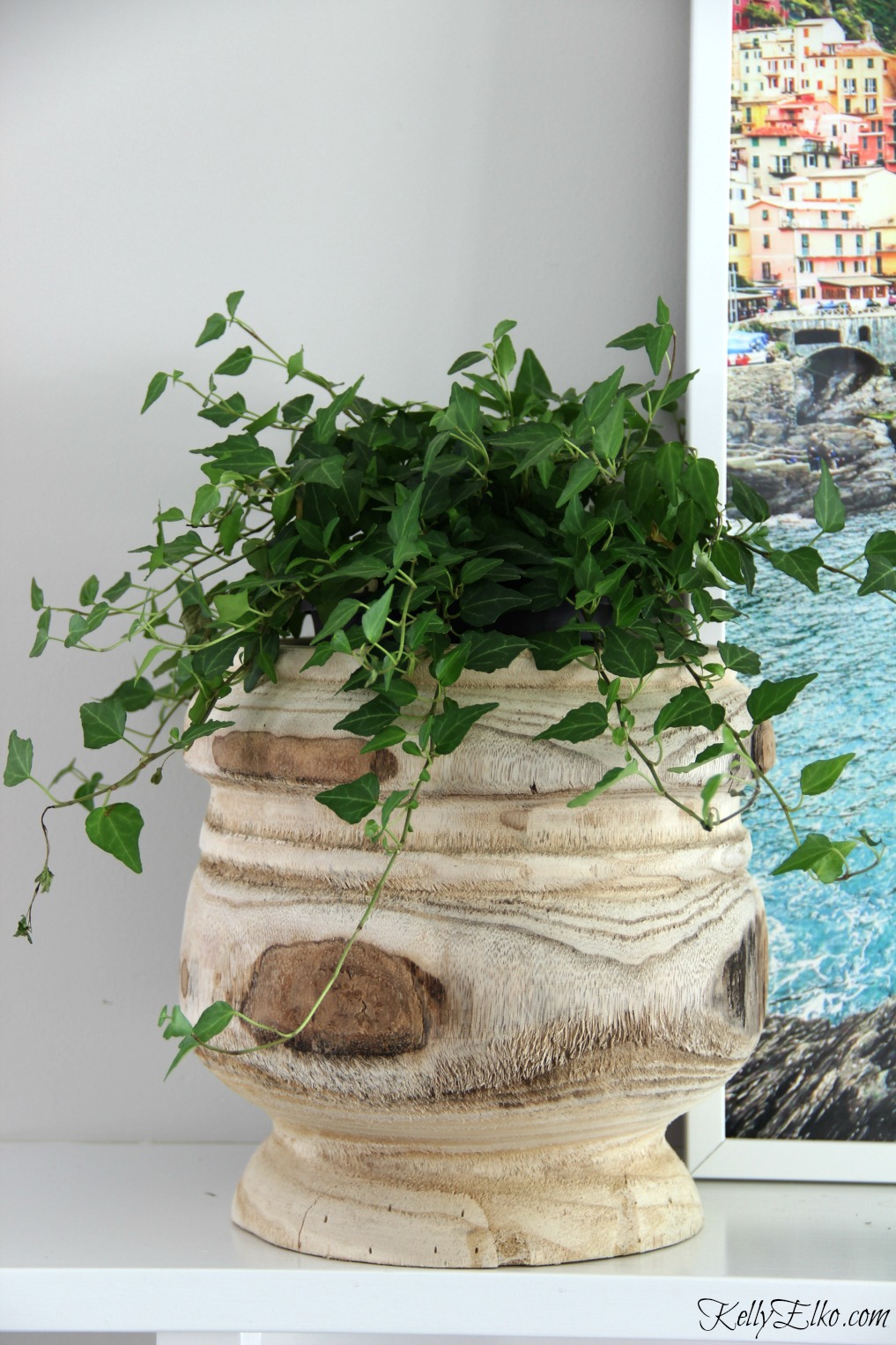 I had the most fun styling my Industrial Book Shelf.
My collection of mid century decanters gathered at flea markets over the years sparkle when light from the nearby window hits them.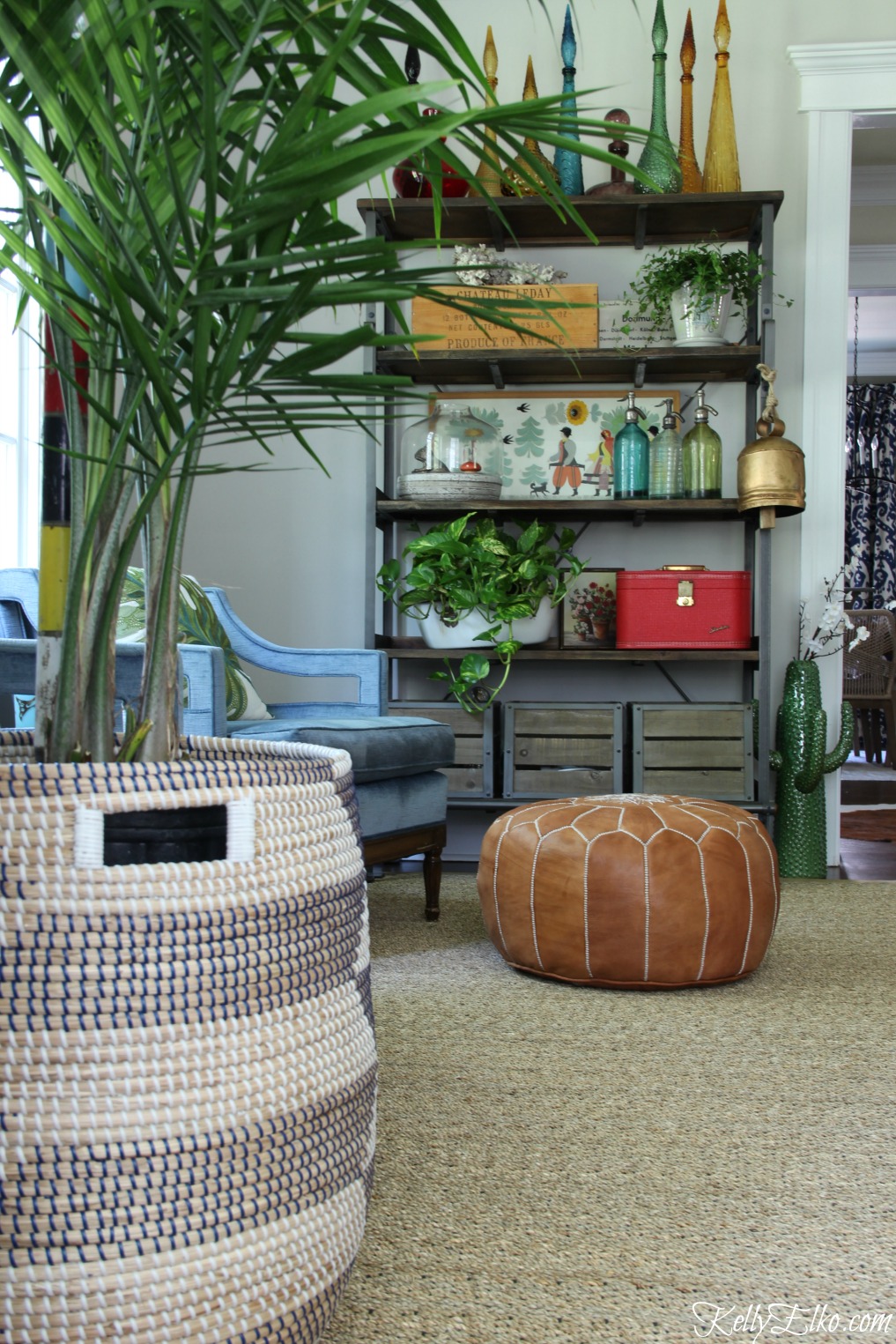 Growing up, we had a leather hassock in my family room. This Moroccan Leather Pouf is a modern take on that 70's staple.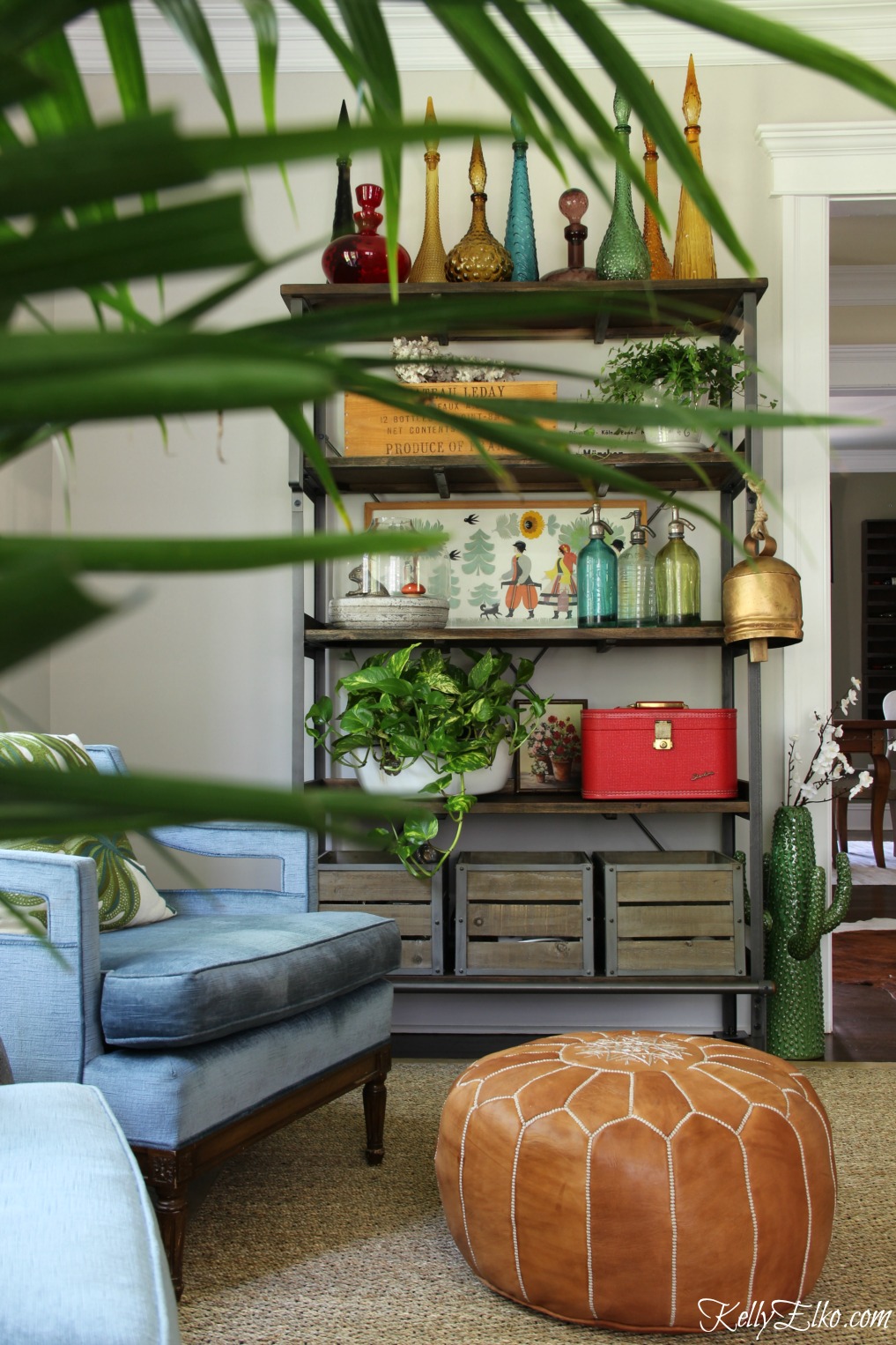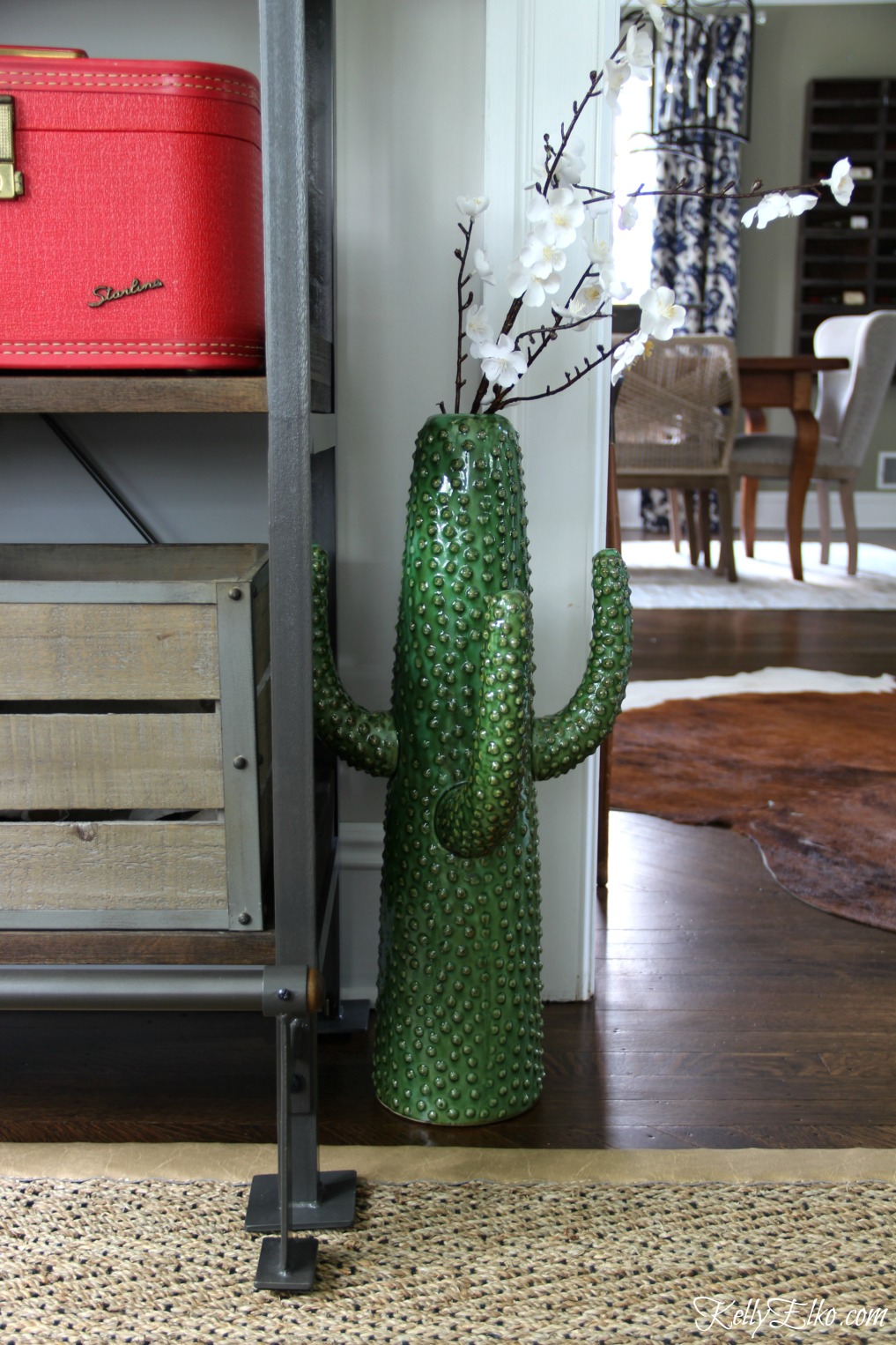 Years ago at a consignment shop, I scooped up this pair of mid century club chairs in their original blue velvet! I added these indoor/outdoor palm leaf pillows.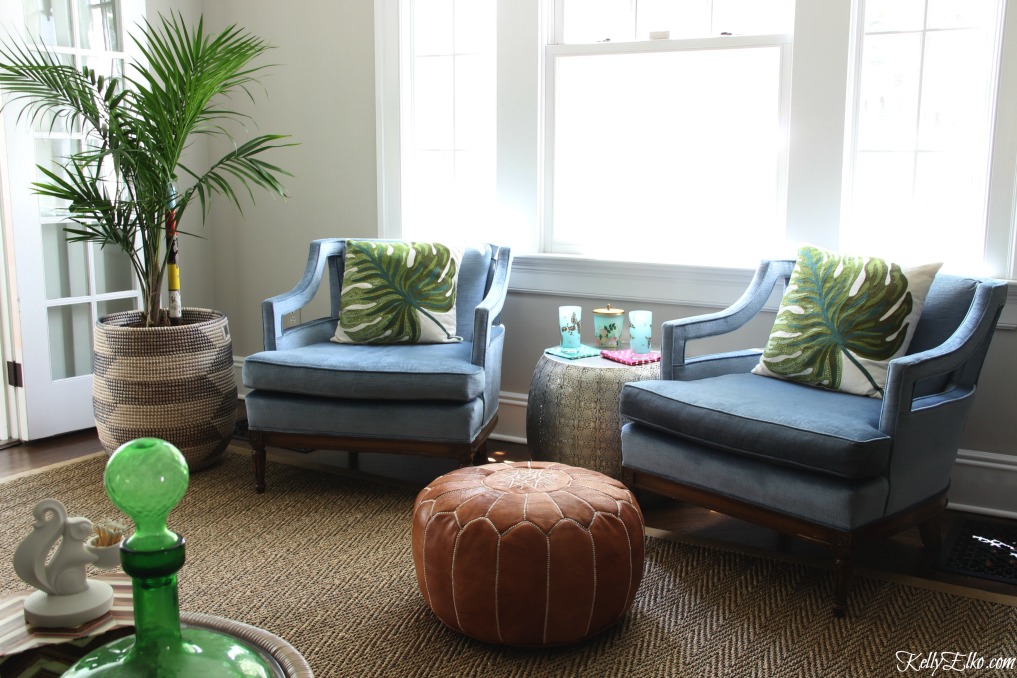 A palm tree adds height opposite the tall bookcase and the Woven Basket adds color and pattern.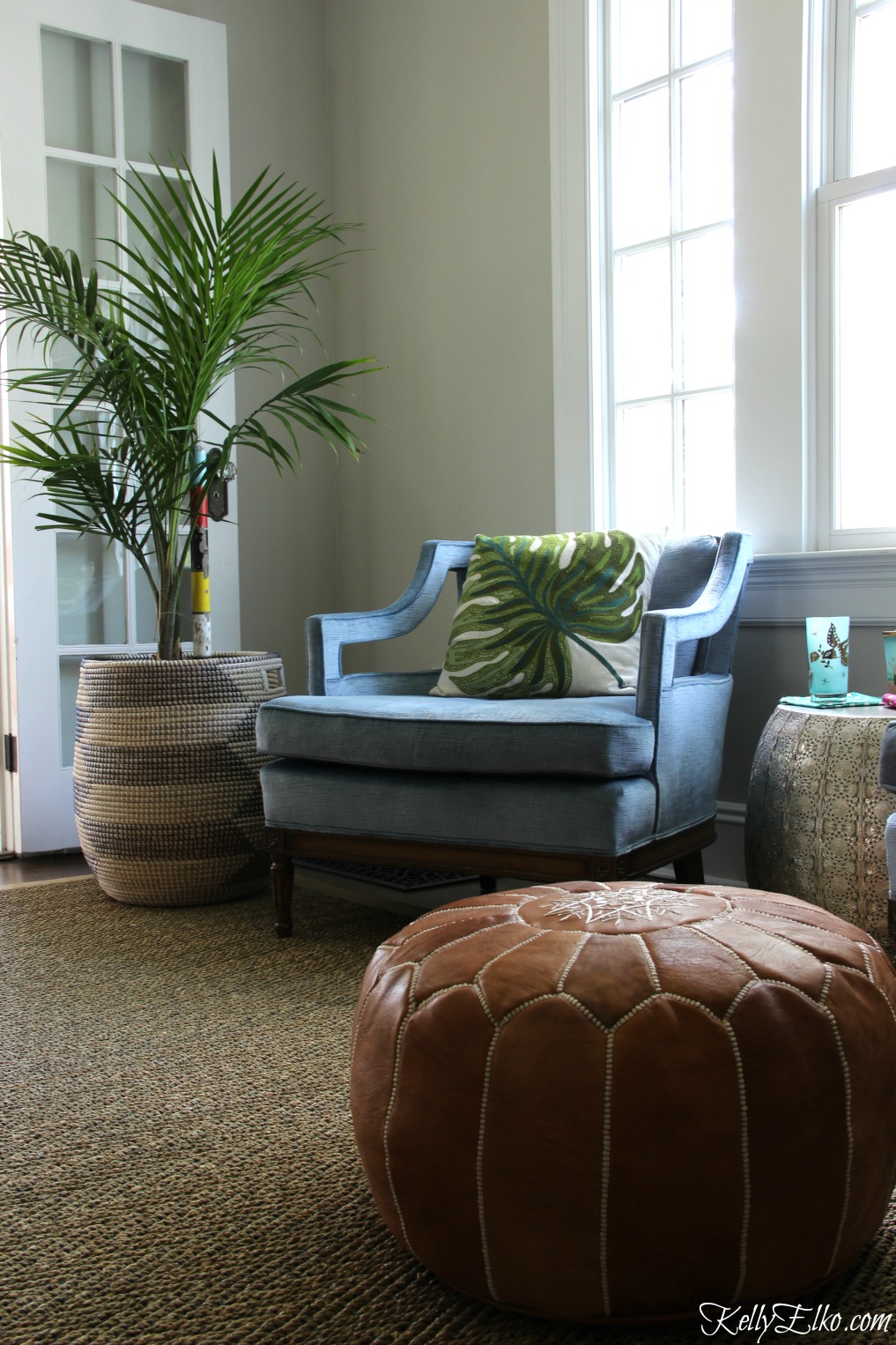 Vintage Globes add color.
Can you tell which on is faux? A fiddle leaf fig and tropical palm literally add life to this corner.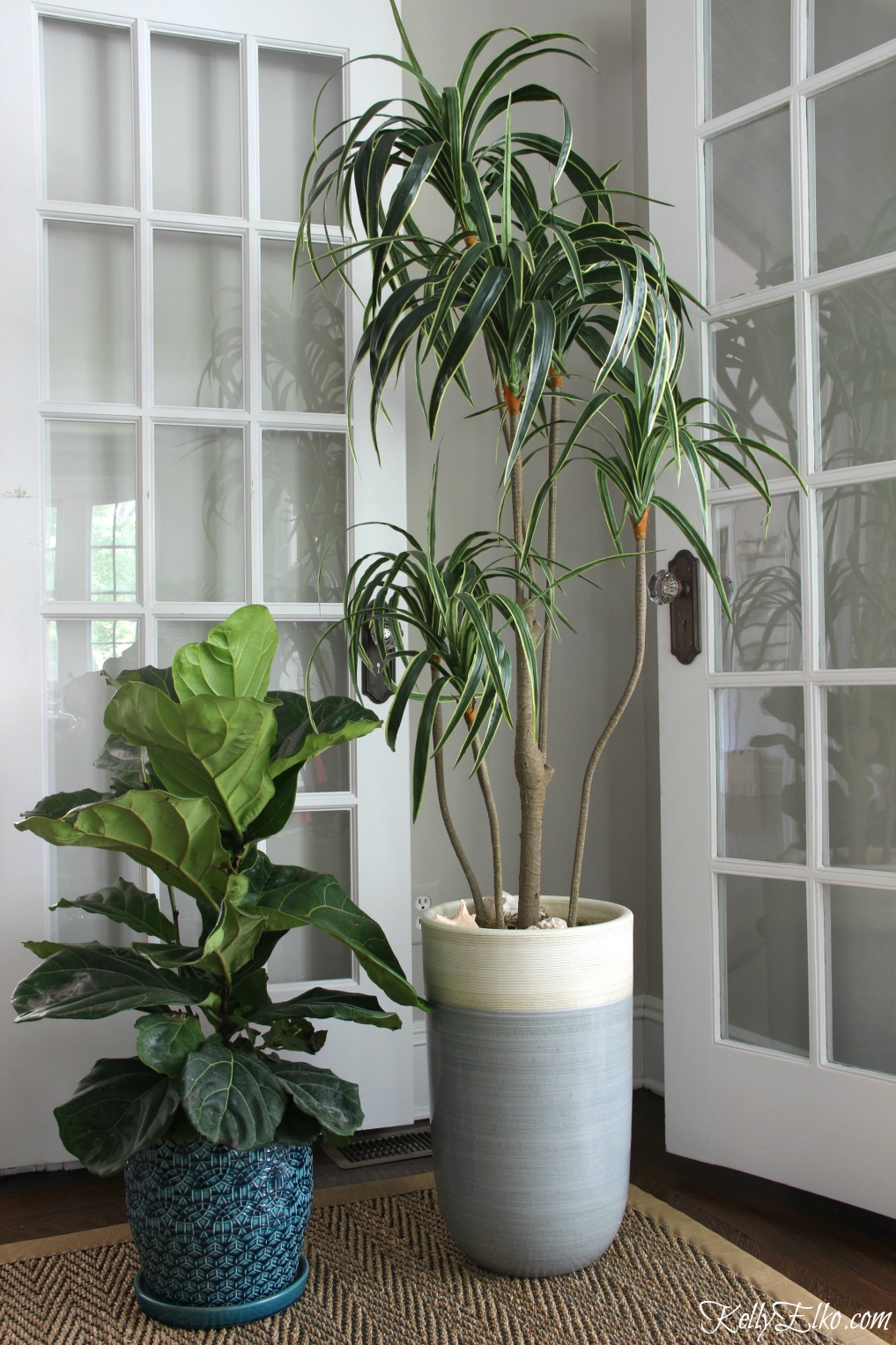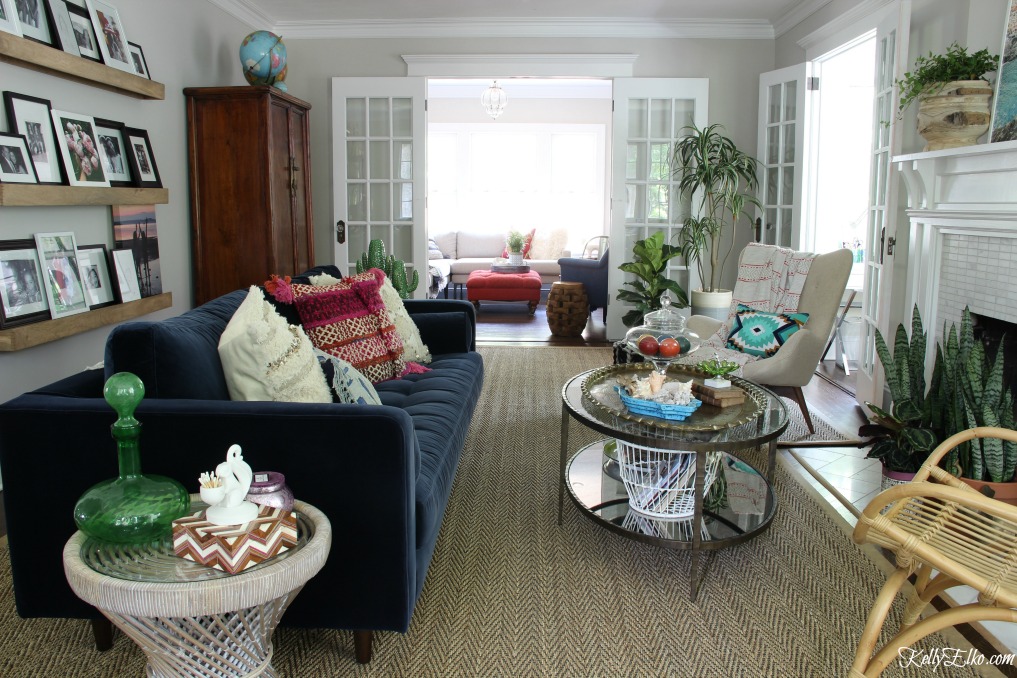 Calling all Color Lovers!
Visit my colorful friends who have each made over a room in their homes.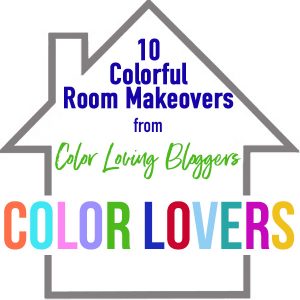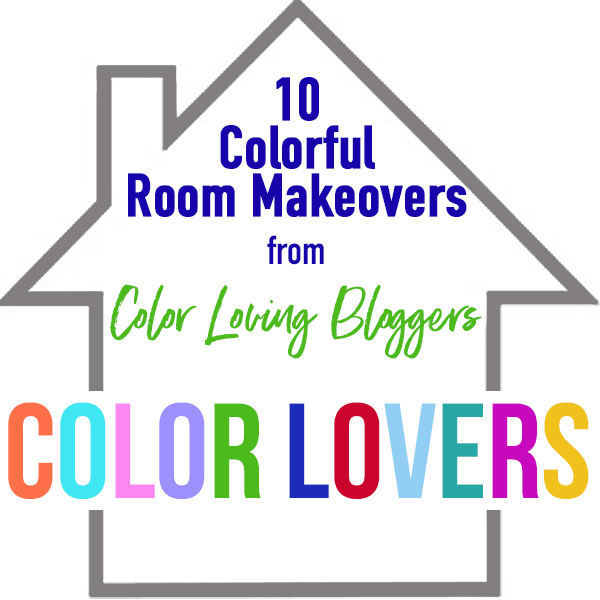 In My Own Style
Tatertots & Jello
Southern Hospitality
Duke Manor Farm
Fox Hollow Cottage
Four Generations One Roof
DIY Showoff
Jennifer Rizzo
Inspired by Charm
Sources:
Blue Velvet Sofa
Rug draped over sofa back
Beige Teddy Bear Chair
Rattan Chair – HomeGoods
Capiz Shell Pendant Light – similar
Simple Schoolhouse Lights
Sea Grass Rug
Glass Coffee Table
Rattan Side Table
Black/White Wool Ottoman
Art Photography on mantel
Simple Schoolhouse Lights
Moroccan Leather Pouf
Wood Picture Ledges
Most Plants – Lowe's
Fiddle Leaf Fig – Home Depot
Wood Planter
Cactus Vases
Pink Pillow with Tassels
Wood Planter
Faux Palm in Pot, Fringe Throw, White Moroccan Pillows, Punched Metal Silver Table, Basket holding palm tree  – HomeGoods