We're Not Gonna Take It – Breaking Decorating Rules
We're not gonna take it
No, we ain't gonna take it
We're not gonna take it, anymore.
In the words of the immortal 80's hair band Twisted Sister …
We're Not Gonna Take It Anymore!
It's time to throw caution to the wind and start
Breaking All the Decorating Rules!
1) Bigger is Better
A few well chosen, larger pieces of furniture make a small space feel bigger.
Like my huge console that separates my kitchen from my family room in this long narrow room.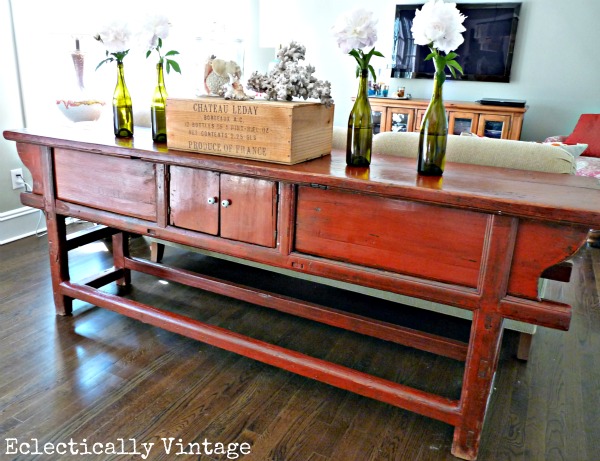 2) Do the Unexpected 
Think outside the box
or the crib in this case.
An old crib spring makes a cool memo board
and an old coal bin does duty as an unusual side table.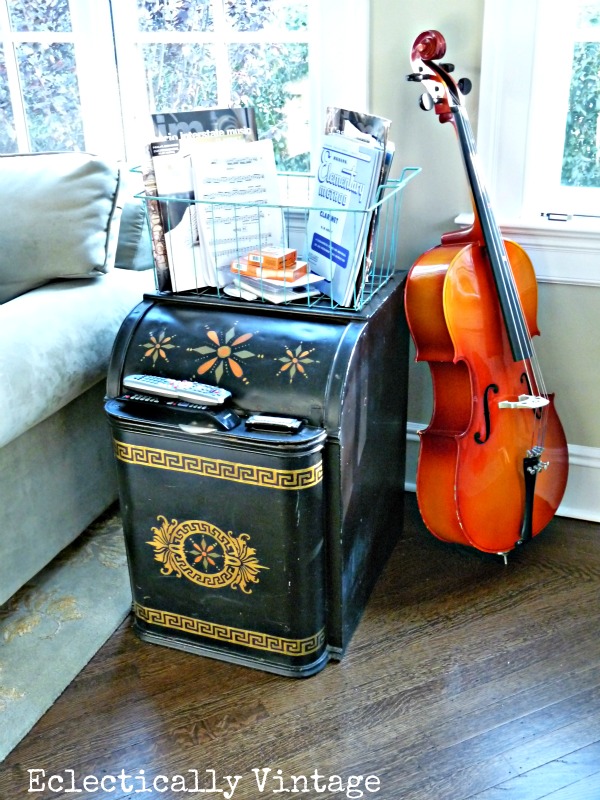 3) Corral Your Collections
Similar knick knacks placed willy nilly throughout your house look lost and random.
But those same chatchkies displayed together make a huge statement …
Like my grouping of vintage green glass (one of my Many Collections) in My Foyer.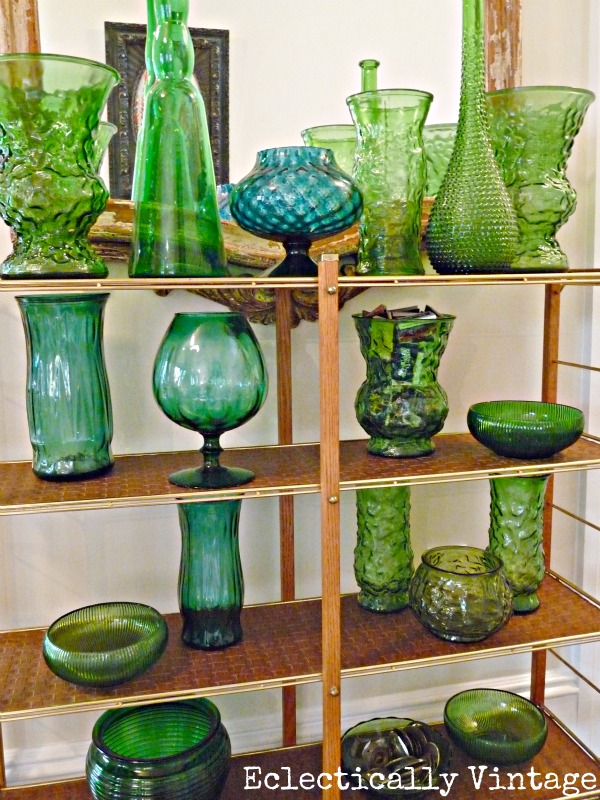 and colorful Italian glass decanters hang out on My Mantel.
4) Art is in the Eye of the Beholder
Old and new plates in My Dining Room create a colorful, artsy wall.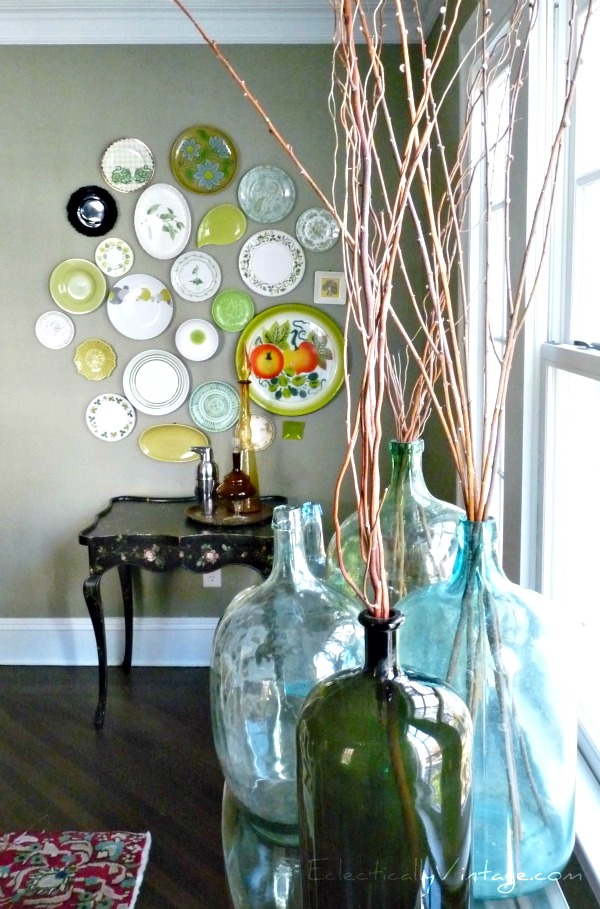 Guess what?  These are pages from a coloring book
grouped together for maximum impact.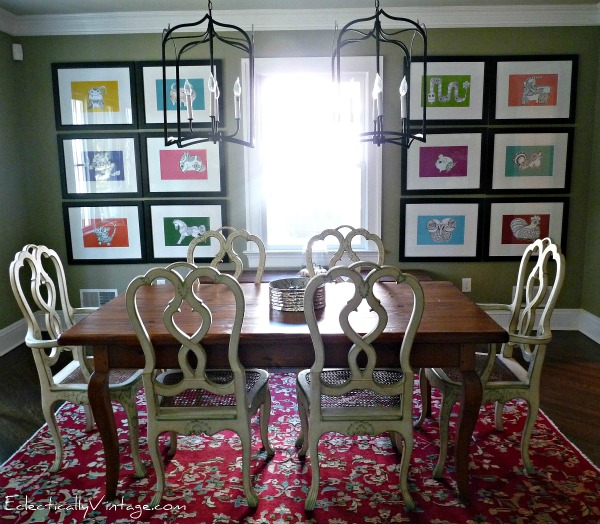 5) Matching is for Garanimals
Update that tired old matching set by moving some pieces into different rooms or giving them a fresh coat of paint.
Pair a farm table with lucite chairs or a modern table with French chairs.
Go ahead and use two different side tables and mis-matched lamps on either side of the sofa like I did in My Family Room.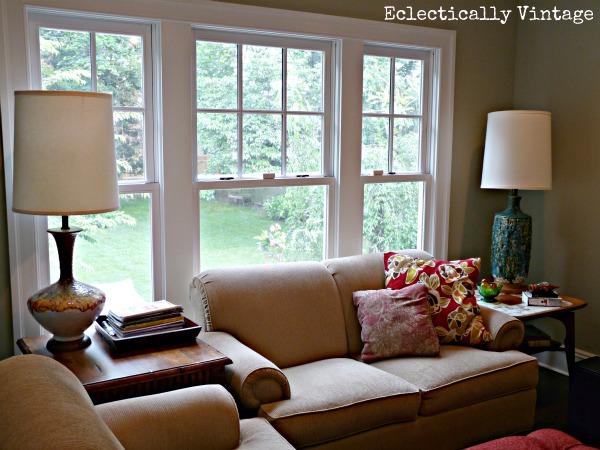 6) Dark Paint for Small Spaces
Small spaces like powder rooms are perfect for going bold since you won't be spending much time there
(if you do, that's a whole separate issue).
My Tiny Entrance Vestibule is a deep, rich brown – ceiling and all!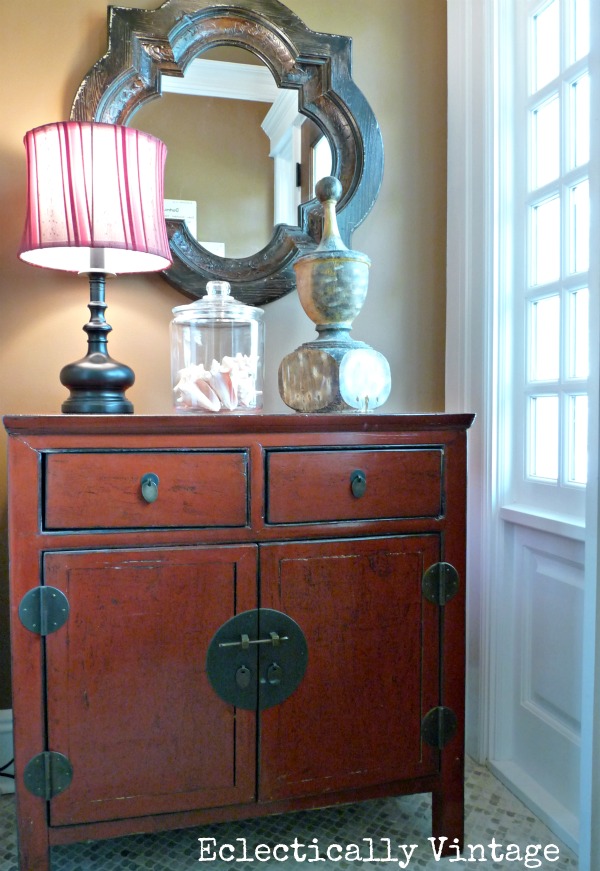 So let's all break out our inner rebels and fight against those boring decorating rules together.
We're not gonna take it …
(don't curse me for leaving that song playing endlessly in your head either).
Linking Here:
No Minimalist Here, The 36th Avenue, 52 Mantels 
The Shabby Creek Cottage, House of Hepworths 
At the Picket Fence, French Country Cottage,
Stuff & Nonsense, Common Ground, 2805 
Funky Junk Interiors, Addicted 2 Decorating
My Uncommon Slice of Suburbia, Savvy Southern Style