Decoupage How To – Drinking Glass (Waterproof & Dishwasher Safe)!
This is a sponsored post but I only speak the truth!
I've jumped on the decoupage bandwagon – thanks to Martha Stewart Decoupage.
It all started with this beauty.
I've come a long way from my kindergarden days when I created decoupaged masterpieces that my mother was forced – I mean thrilled – to display.
I probably ate most of the decoupage paste but didn't we all (or was that just me)?
Anyway, enough reminiscing about my paste eating days.
I may have been living under a rock because I had no idea that this new decoupage medium is dishwasher safe and waterproof!
Forget about a boring old guest bathroom drinking glass – let's impress our guests with this!
Decoupage Drinking Glass – Waterproof & Dishwasher Safe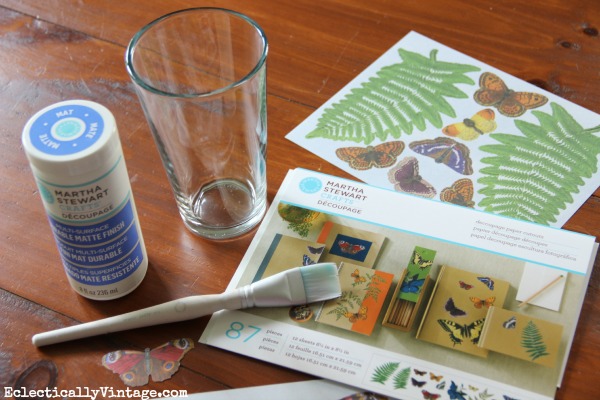 1) Clean a drinking glass with soap and water (I got mine from the dollar store)
2) Use rubbing alcohol to remove any residue from the glass
3) Put a 1″ piece of patterning tape at the top of the glass (so you won't come into contact when drinking)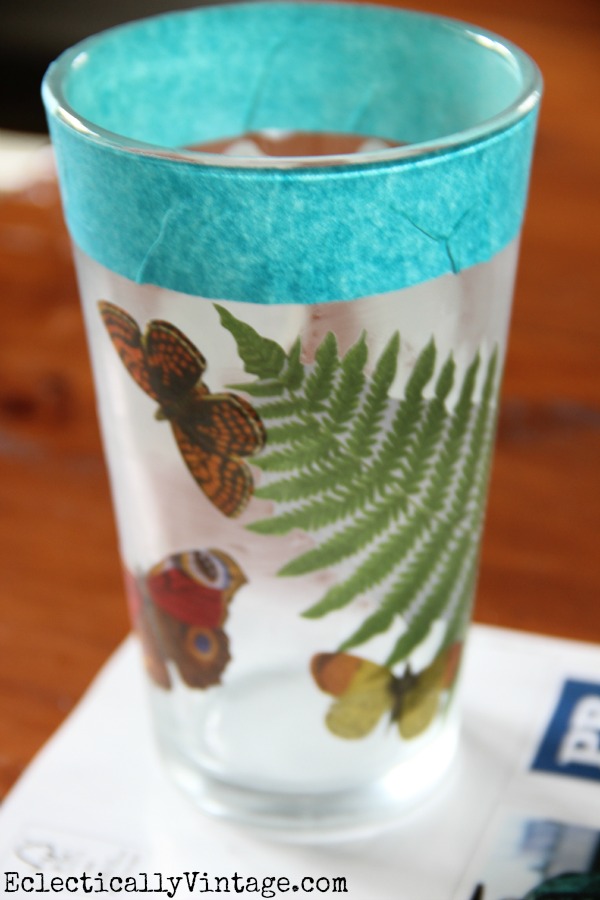 4) Roll the decoupage medium on the table – don't shake (to avoid air bubbles)
5) Apply a thin layer of Martha Stewart Matte Decoupage Medium to the entire glass (thin is the key)
6) Apply a thin layer of the decoupage medium to your paper cut-out – press and smooth from the center to the outer edges to remove any air bubbles and excess decoupage medium
7) Keep adding cut-outs until your masterpiece is achieved
8) Allow to dry 1-2 hours
9) When dry, apply a thin layer of decoupage medium to the entire surface of the glass (up to the patterning tape) making sure to seal the edges of the cut-outs then allow to dry for two hours.
10) Apply a second coat of decoupage medium over the entire glass and allow to dry for two more hours
11) Let the glass air dry for 21 days to cure when it will be top rack dishwasher safe!
Note:  The glass will take on a frosted look with the decoupage medium – which I love!
I've made my guest bathroom a place anyone would love to stay …
hope that doesn't mean my guests will never leave!
Find the full line of Martha Stewart decoupage at Michaels.  Visit Plaid on Facebook, Twitter, Pinterest, or their blog.
This is a sponsored post through Plaid and Blueprint Social but I only speak the truth – see my full disclosure policy here.