Estate Sale Tips 101 – Secrets to Snagging the Best Stuff!
These estate sale tips will turn you into a pro thrifter! Learn how to get the best deals just like the antiques dealers do!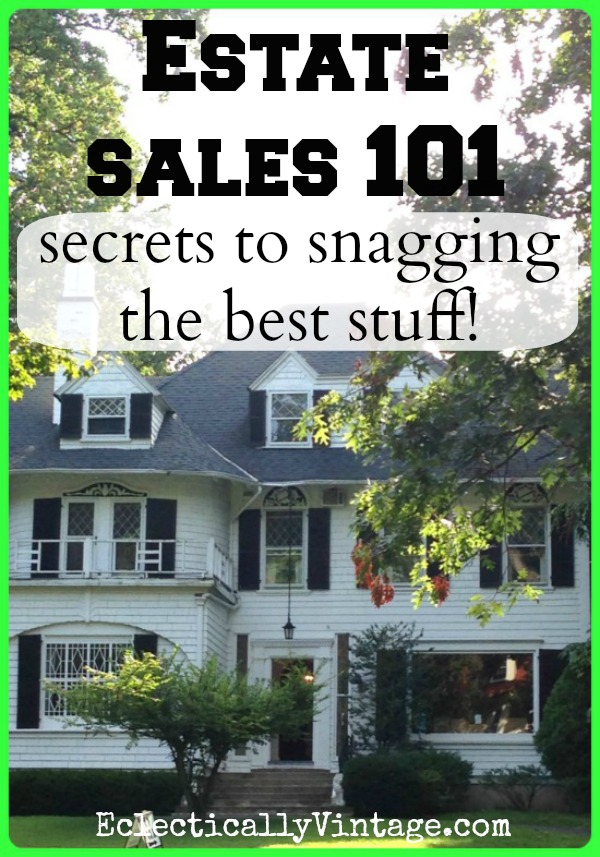 The thrill of the hunt.
From galvanized mop buckets to an antique wooden croquet box to a fabulous old first aid kit …
you never know what you'll find at an estate sale.
Usually run by estate sale liquidators, everything is priced to sell quickly.
Collectors, antiques dealers, interior designers …
here's your chance to scoop up the same treasures they're buying … then marking up to sell in their shops.
Estate Sale Tips
1) Start at estatesales.net – type in your state and zip code and a list of sales will magically appear.  Many include pictures so you will know if it's worth your time.  Don't forget to check your local newspapers and the Craigslist garage sale section too.
2) Map out your course – plan your trip to hit the best sales first.
3) Cash is king – most sales won't take credit cards or checks so stop by the bank before you go.
4) Don't bring – large tote bags or purses, they might not be allowed inside.
5) Do bring – measuring tape, a flashlight (for those dark attics and basements), room measurements and purell!
Note:  Check out my Cool Girls Flea Market Check List – so you're prepared for anything!
6) Arrive early – there will be crowds, there will be a frenzy.  If you want first pick, be prepared!
Note:  Sometimes, numbers are passed out early in the morning so get there extra early, get your number then go out for coffee but make sure you return before the sale begins.  If the sale is first come, first served make sure to plant yourself firmly in line and don't budge!
7) Early bird gets the worm – the best selection is during the first couple of hours but there will be no room for negotiating price.  If you have something specific on your wish list – get there early or it will probably disappear.
8) Late bird gets the bargain – prices are slashed after the first day (up to 50%) with real bargains during the last couple of hours (perfect for those of us who don't "need" anything and like junky stuff).
9) Do a fast walk through – go through every room when you arrive to scan for treasures and grab them quickly.  Then go back to poke through boxes and bins for a more thorough search.
10) Hit the garage, basement and attic – it's where I head first and where I find my best treasures.
11) Ask about unmarked items – appliances, draperies, rugs, garden furniture, shelving and swing sets are often for sale if you ask.
12) Bring post-its marked "sold" – if you find something fabulous that's too big to carry, slap your post it on it before someone else can buy it while you're searching for a salesperson!
13) No prices marked – just gather up your loot and ask for a price (you'll get a better deal if you're buying a lot then if you bring up each piece separately).
14) Bids – sometimes sales allow you to bid on big ticket items that aren't selling at full price.  You give them your best price and they will call you if it's accepted.
15) Check pick up policy – some sales allow you to come back the next day for large items but others insist you remove them right away.
16) Bring muscle – estate sale workers often won't help you to load your finds so bring help (or just bat your eyes to get other shoppers to help you).
17) All sales are final – check condition before you buy.
18) Sign up for email list – (usually by the check out register) add your name so you'll be the first to know about new sales.
19) Respect the property and be nice – out of bounds rooms are usually marked off with tape so stay out and be friendly (you'll probably see them at the next sale).
20) Have fun – you may come out empty handed but you can at least enjoy an inside peek into lots of very cool houses.
Many estate sales are held by families of someone who has passed away.
I often feel sad when I'm rummaging through someone's possessions and wonder who will be picking through all of my "stuff" when I'm gone.
I hope the family is thankful to have a company help them sort through everything while turning a little profit and knowing their possessions are well loved.
Update:  Make sure to read through the comments – my readers have left some of their own unique tips!
Happy Hunting with these estate sale tips!
See all of my estate sale and thrift shop finds here.