How to Throw a Killer Yard Sale – The Purge Sale 2014!
It's yard sale season! Read my tips on how to throw a killer yard sale! You'll declutter your house and make money at the same time. These tips will help you get the most out of your yard sale, garage sale or estate sale.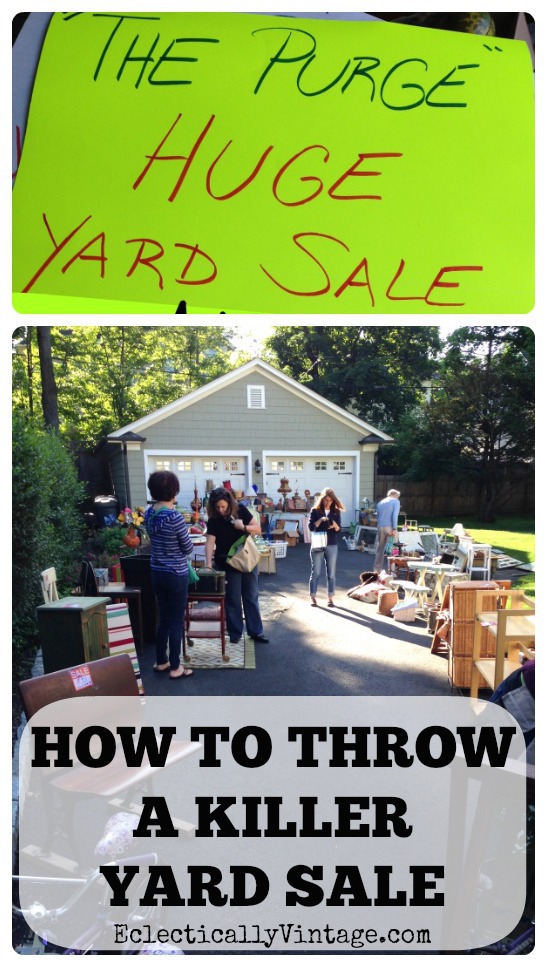 The Purge Sale!
Epic purge sale this weekend (May 31, June 1). Four hoarders (according to our husbands), teaming up to get rid of our stash so we can save our marriages. We love to shop, decorate, collect and roam the aisles of flea markets so you know our stuff is Amazing.
Date: May 31 & June 1
Time: 8am — 2pm (early birds stress us out) (new stuff arrives both days)
Place: address, NJ
Some things old (think cool vintage, flea market finds)
Some things newer (household, décor, art, lamps, furniture, some toys/games/books, and more)
Nothing borrowed and a few things blue
The music will be pumping and the lemonade flowing so join us and help us get rid of our stash before we're featured on the next episode of Hoarders.
These pics are the tip of the iceberg – so much more!
The Purge Sale!
Setting Up!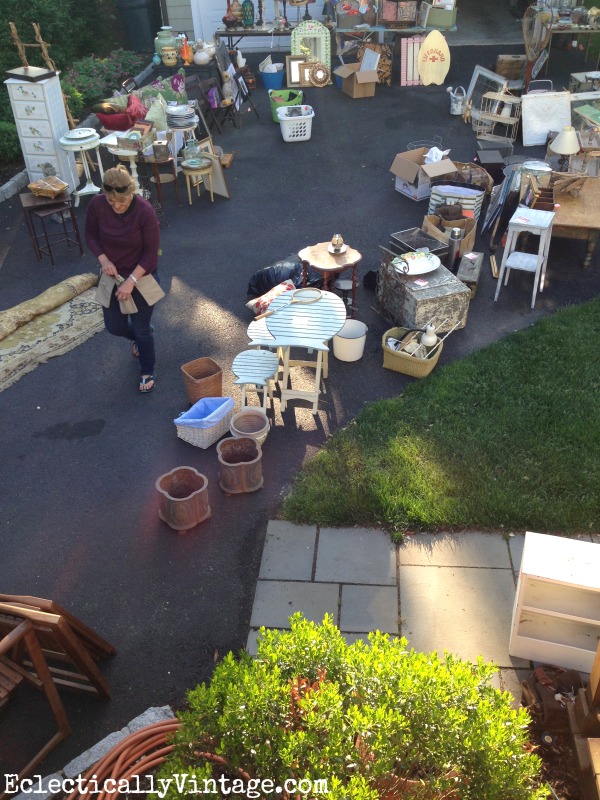 This is the ad that had people driving for miles just to see what a Purge Sale was!
So much stuff from a crazy hoarder lady (that would be me), what else could it be called?
I knew I needed an intervention when I descended my basement steps to get a carton of milk from our second fridge – only to find that I was tripping, falling and knocking things over left and right.
ENOUGH!
Even a die hard collector, estate sale lover, vintage crazed, flea market junkie, hoarder lady has her limits …
and I had reached mine.
What's a girl to do but have the yard sale to end all yard sale …
The Purge Sale!
I called my fellow hoarders – we were all in this together.
We scoured our houses and left no bed, drawer, nook or cranny unturned in our quest to rid ourselves of clutter.
How to Throw a Killer Yard Sale!
1) Enlist Friends – the more hoarders the better!  If you have it (and lots of it), they will come – and spend money!
2) Purge – be ruthless.  Go through closets, drawers, purses, nooks, crannies and everywhere in between and get rid of it.
3) Marketing – have your sale stand out with a clever ad (use words like multi-family) with lots of photos and vibrant signs.  People told me they drove for miles because they loved my ad (patting myself on the back)!  Put your ad on Craigslist a few days before the sale – mine got picked up by a yard sale app which drew in more customers.  Tell everyone what the sale is about – ours was mainly household and vintage so people looking for clothes would know this wasn't the sale for them.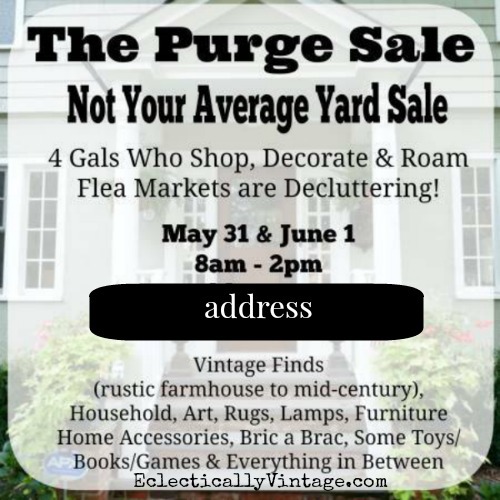 4) Signs – size matters!  Use one vibrant color poster board and make sure all signs look alike – then add smaller arrows as people get closer to your sale.  You can never have enough signs – place them at major intersections around town where they'll get noticed.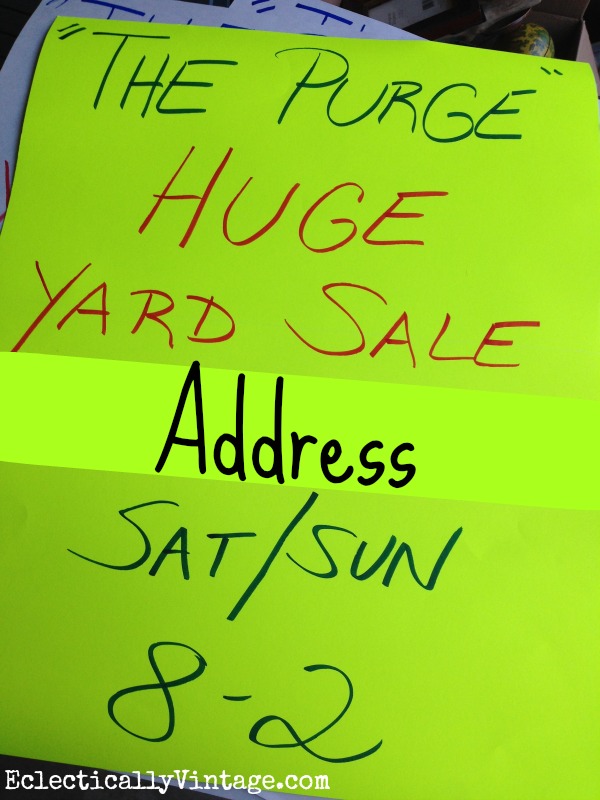 5) Prep – gather everything in one spot.  I used my garage and filled it to the brim.  My friends dropped off their stuff a day or two before the sale.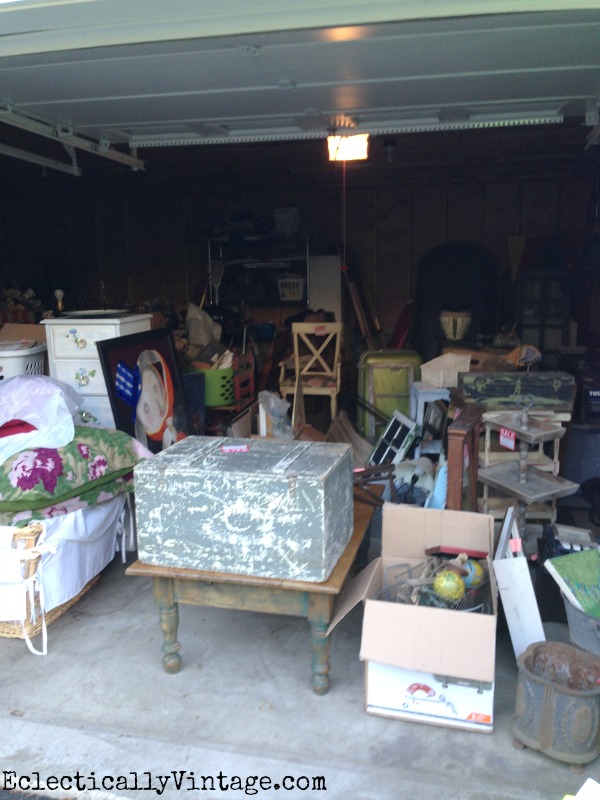 6) Merchandise – don't throw your stuff around stuff willy nilly.  Use tables, chairs and other cute props to make your sale seem feel like the Friends and Family sale at Nordstrom!   When things sell, be sure to rearrange and shuffle the merchandise!
7) Display – make sure to put a few attention grabbing things near the curb so drive by's know you've got great stuff.
8) Price to Sell – what's your goal?  If it's to rid yourself of excess clutter, price things right.  Anything really amazing should be put on Ebay or Craigslist.
9) Price Tags – since there were four of us selling our stuff, we each had different price tags so there would be no confusion as to who's item it was.  Mine were simple circle punched orange card stock stuck on with washi tape.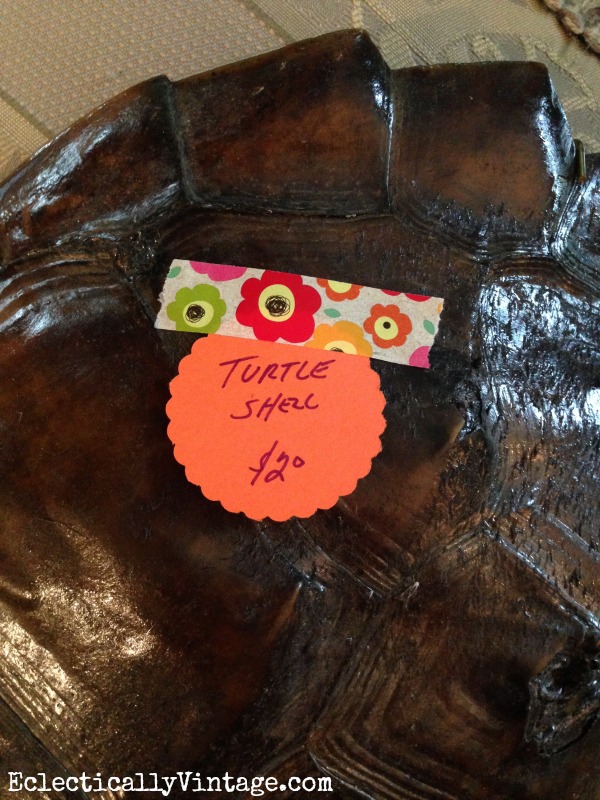 10) Price in Multiples – forget individually pricing multiples – make one big sign for a stack of books, purses, etc.
11) Money – make sure to have a roll of $1 bills handy for making change plus a few $5's and $10's (yes, people were paying with $100 bills).  It's not a fashion show and you'll be moving around a lot so wear a fanny pack or apron or wristlet (what I used) to stash your cash.
12) Set the Mood – have upbeat music playing and recruit your kids to man a lemonade or cupcake stand.
13) Be Open to Negotiation – some people paid asking, most haggled (hard).  The more they bought, the better the discounts.  Slash prices as the day progresses – I removed all price tags and practically gave things away (most things were $1).
14) Let it Go – yes, someone may want to paint those antique iron planters a vibrant shade of pink (not kidding, someone was going to do that to my friend Jane's planters – she cringed but sold them anyway)!
15) Clean Up – bring high ticket items that didn't sell back inside to put on Ebay or Craigslist.  Pile everything else up in the car and drive it to your nearest thrift shop or schedule a pick up.  Get a tax slip so you can write off your donation.
16) No Regrets – be happy that you cleared out your piles and piles of stuff to make room to buy even more useless stuff you can sell at next year's Purge Sale!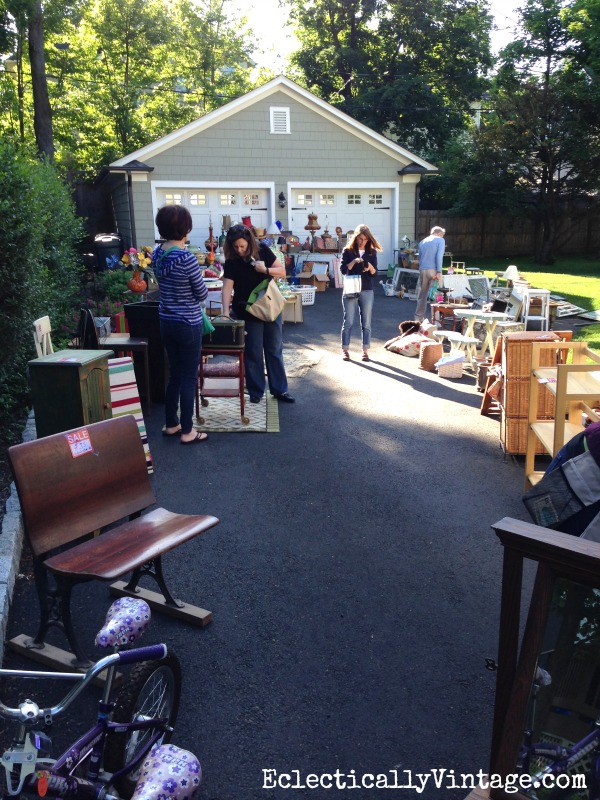 Bonus – of course I did a little pre-sale trading with my friends stuff and came away with some fabulous things including …
French wire basket – it's huge …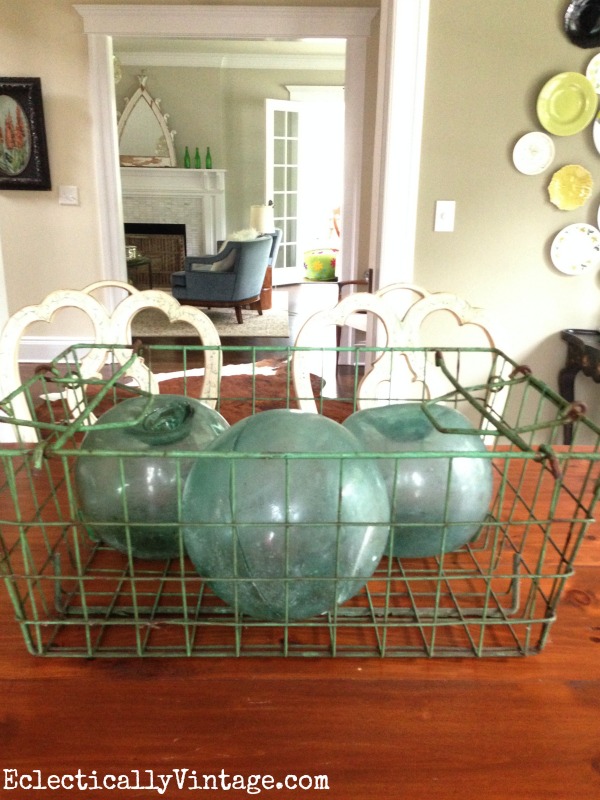 What's the best thing you ever scored at a yard sale?
Love a bargain?