Make a Watermelon Drink Dispenser and Summer Cocktail
See how to make a watermelon drink dispenser. This is the perfect way to impress your guests at summer barbecues and parties. A trip to the hardware store and these instructions are all you need to make this fun dispenser. Fill it with you favorite cocktail for a memorial way to serve your guests.
I love a good cocktail.
When I'm not whipping up a huge batch of my world famous Summer Sangria or shaking up my favorite margarita, I do this …
How to Make a Watermelon Drink Dispenser
Supplies (the poor guy at the hardware store thought I was nuts but he helped me find everything I needed – bring these pictures for reference)
*Hose spigot – make sure the part that goes into the watermelon is threaded
*Rubber ring – sized to fit behind the threaded part of the watermelon
*Nut thingy- this will go inside the watermelon (I found mine in the electric department and it came with another piece that I didn't use)
1) Buy a watermelon that can stand on it's side and cut off the top (don't cut the bottom – it will leak)!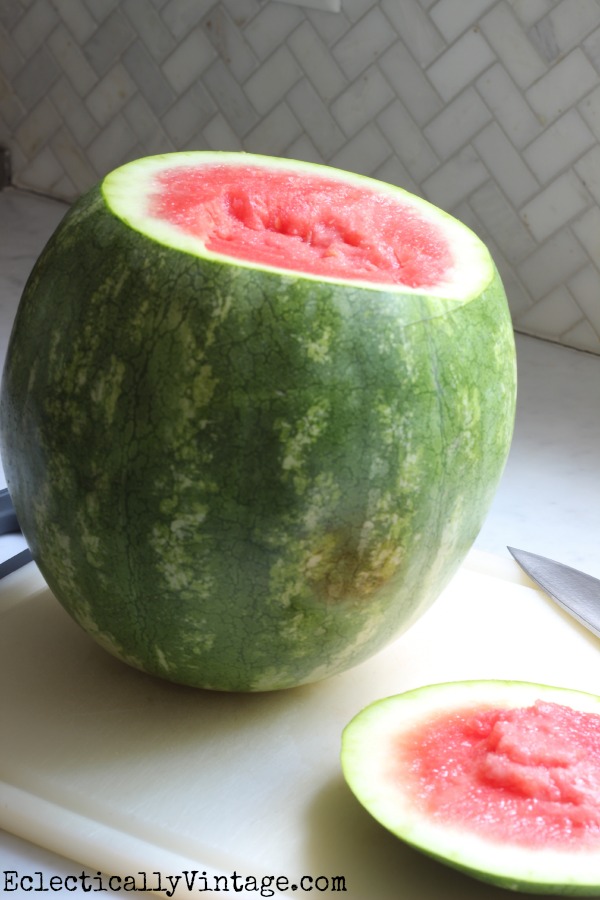 2) Hollow out the watermelon – use a knife to make a few slits and then use a spoon to scoop out the flesh
3) Use a small knife to start a hole in the bottom 1/3 of the watermelon – slightly smaller than spigot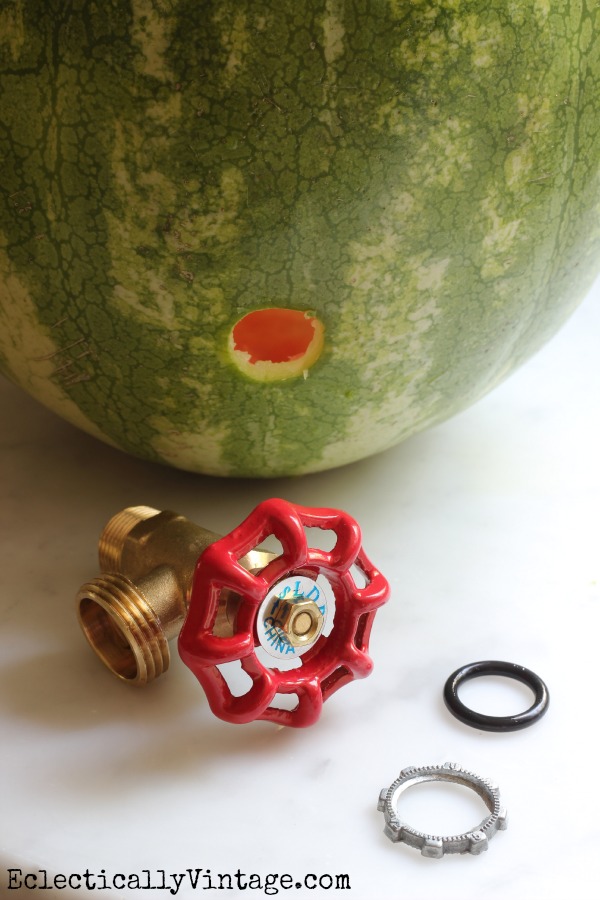 4) Place rubber ring over hole on outside of watermelon then stick spigot through the hole
5) Carve around spigot inside watermelon with a spoon until you have enough room to add the nut thingy onto the spigot
6) Make sure your spigot is closed – then pour watermelon cocktail inside
see below for recipe …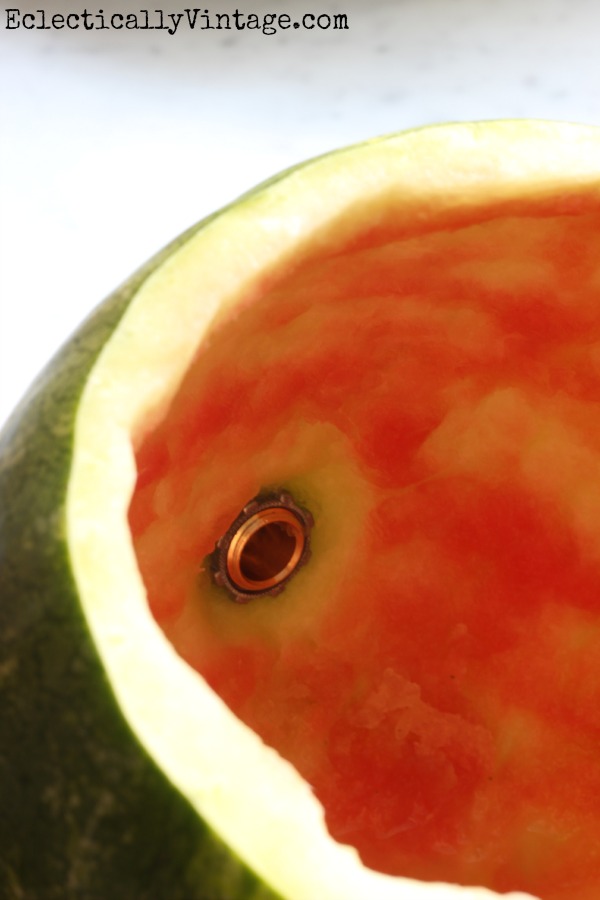 Sparkling Watermelon Cocktail
1) Put watermelon into food processor or blender (I love my VitaMix – it pulverizes everything and leaves no chunks) and blend until smooth (work in batches if you have a lot of watermelon)
2) Strain watermelon through a sieve to get rid of any chunks (if you have them)
3) Combine 3 cups watermelon juice, 1 cup seltzer, 1 cup vodka – optional (I doubled my recipe for this medium size watermelon – you can triple or more depending on watermelon size)
4) Pour cocktail into hollowed out watermelon and have a taste of summer
Whether you choose to add the dispenser or simply use the watermelon as a cute drink holder with a ladle, it's sure to be the hit of your barbecue.
Cheers!
Mix up a batch of my favorite summer sangria!