Trimming the Tree and Save on Lights!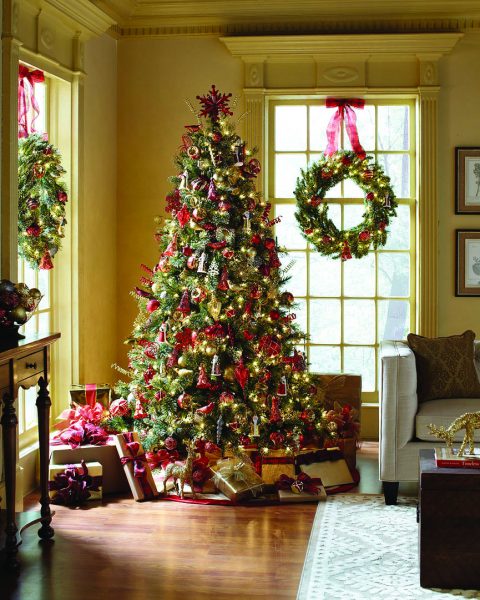 Last year, as I was merrily trimming my tree while humming Christmas carols and sipping eggnog, I may or may not have yelled a few choice words when a few of my light strings didn't work.
So off to the store I went on a cold, wintry night, only to discover that there were no lights that matched the ones I already had.  What?!
LED lights ruled and I had the old incandescent lights which I believe are going the way of the cassette tape.
Did I make the switch to LED?
Does Santa wear a red suit?
Bonus – I love them!  My Martha Stewart LED lights have a warm white glow … unlike the cool blue from some LED lights.
See!  Yes, I have a tree up already and it's gorgeous and snowy and fabulous and I can't wait to show you it in it's fully decorated glory.
Don't get caught with your red Santa pants around your ankles …
get in on the LED bandwagon while getting a great discount on your lights.
Bonus – extra do good karma points …
In the spirit of doing more, this holiday season Martha Stewart Living at The Home Depot wants to make decorating for the holidays more Earth friendly.
Save on LED Lights!
Starting November 7, 2013, take your old incandescent Christmas light strings to The Home Depot for recycling.  You'll receive a $3, $4 or $5 discount toward the purchase of ENERGY STAR qualified LED Christmas lights (including Martha Stewart Living LED lights). You'll get a coupon for each string of old lights you give The Home Depot (limit 5 redemptions per customer).  The Christmas light exchange event runs for 11 days at all Home Depot stores, ending on November 17, 2013.
I'm decking the halls and trimming the trees and can't wait to show you what I've got in store.
In the meantime, be sure to check out my Christmas House Tour 1 and my Christmas House Tour 2 for tons of inspiration.
The tree and lights featured in this post was provided by the Martha Stewart Living team to celebrate the 'Tis the Season of Doing holiday campaign going on now at The Home Depot.  See my full disclosure policy here.