Eclectic Home Tour – 100 Year Old Colorful Colonial Revival… Revived!
Today's Eclectic Home Tour of this 100 Year Old Colorful Colonial Revival has been revived for 2021 and it's never looked better! See how this old home with stunning bones marries neutrals with pops of color and fun pattern.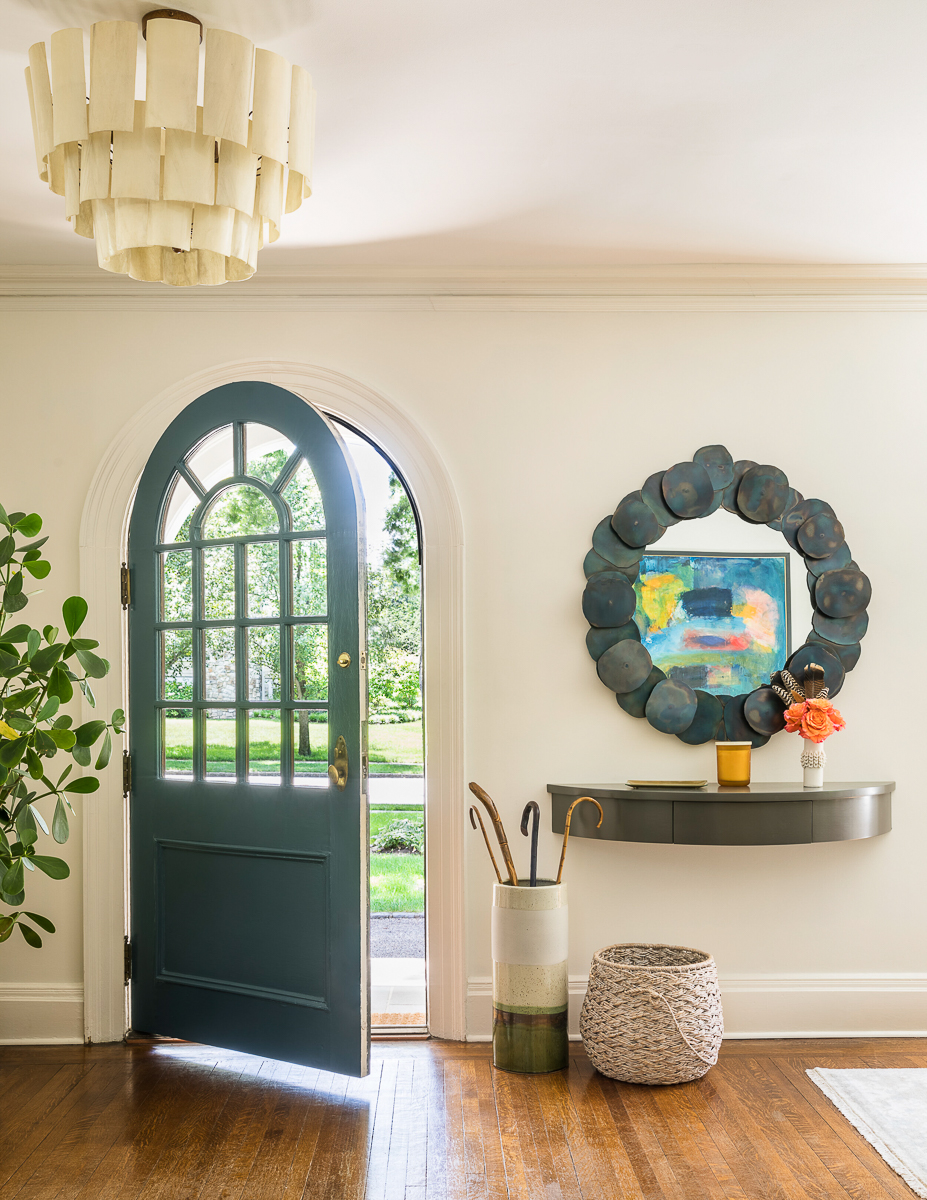 "Ever find yourself walking up the stairs of your house, and you think, Sure, this staircase is TAKING me to the the second floor, but is it TRANSPORTING me?," jokes Nicole, designer at Nicole Forina Home.
Koi fish wallpaper with its subtle colors, adds interest, movement and personality to the staircase wall in this Rumson, NJ home!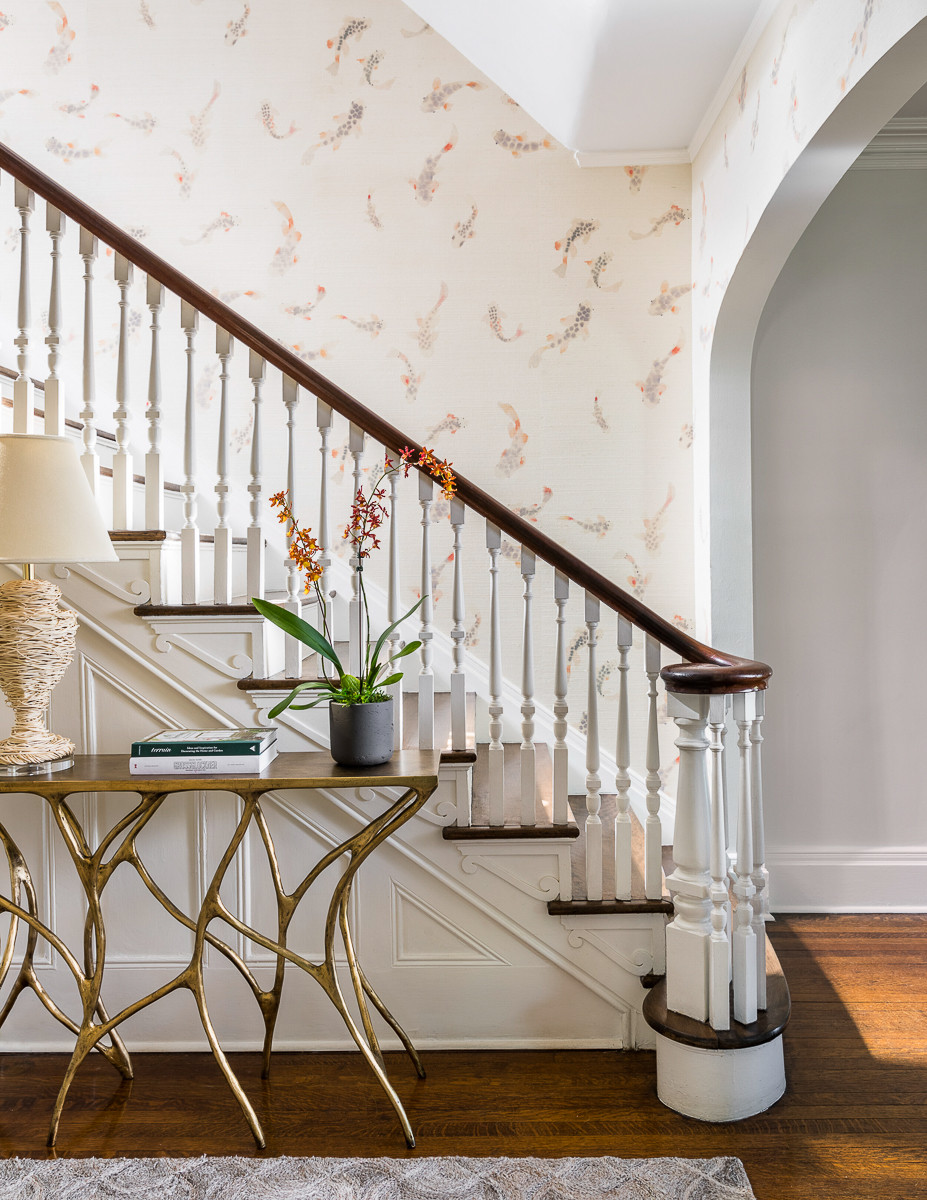 "In order to make a home feel curated and personalized," says Nicole, "it's essential to strike the perfect balance of new life with sentimental treasures."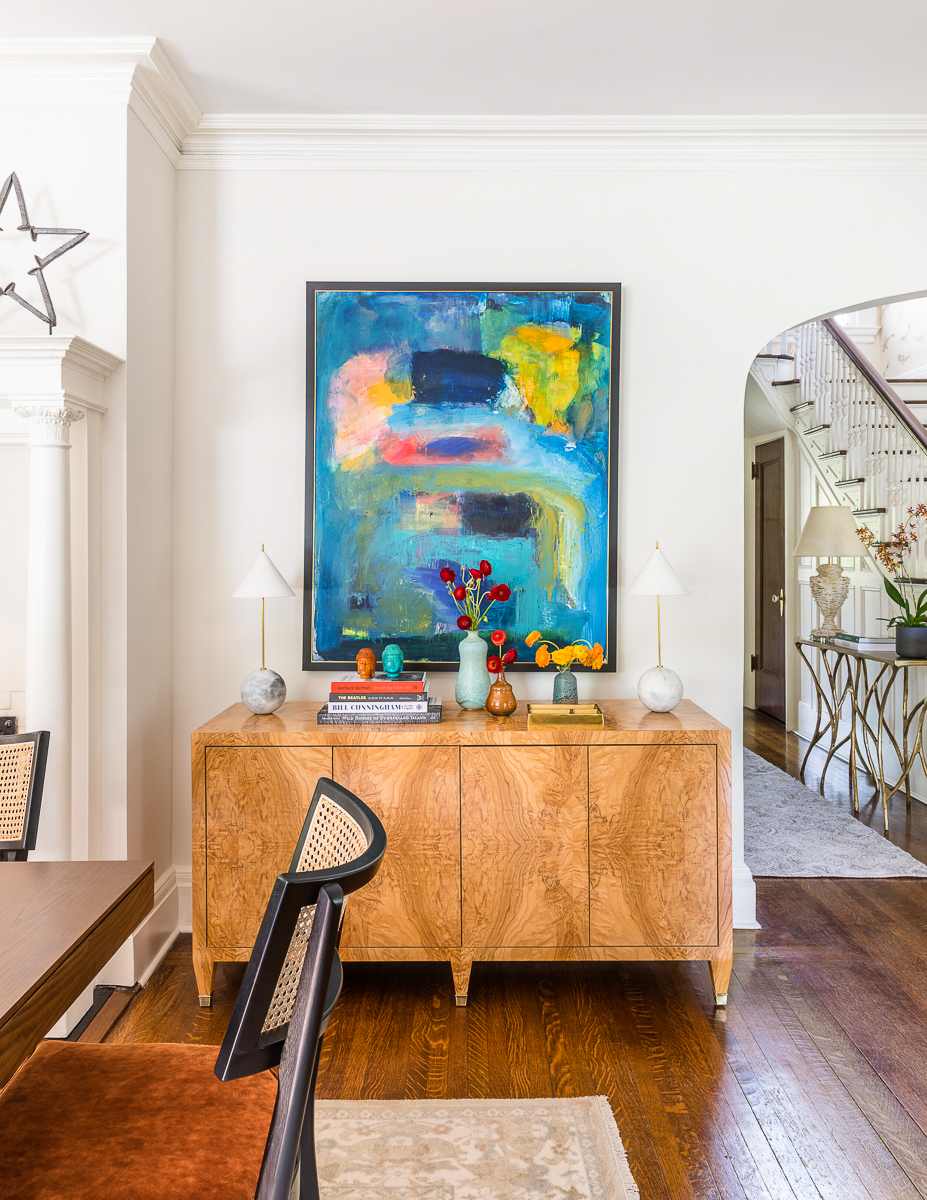 The neutral dining room gets interest from the mixture of textures from the rug, curtains, cane chairs, and burl wood console. Black chairs upholstered in a rich orange velvet add a fun pop of color.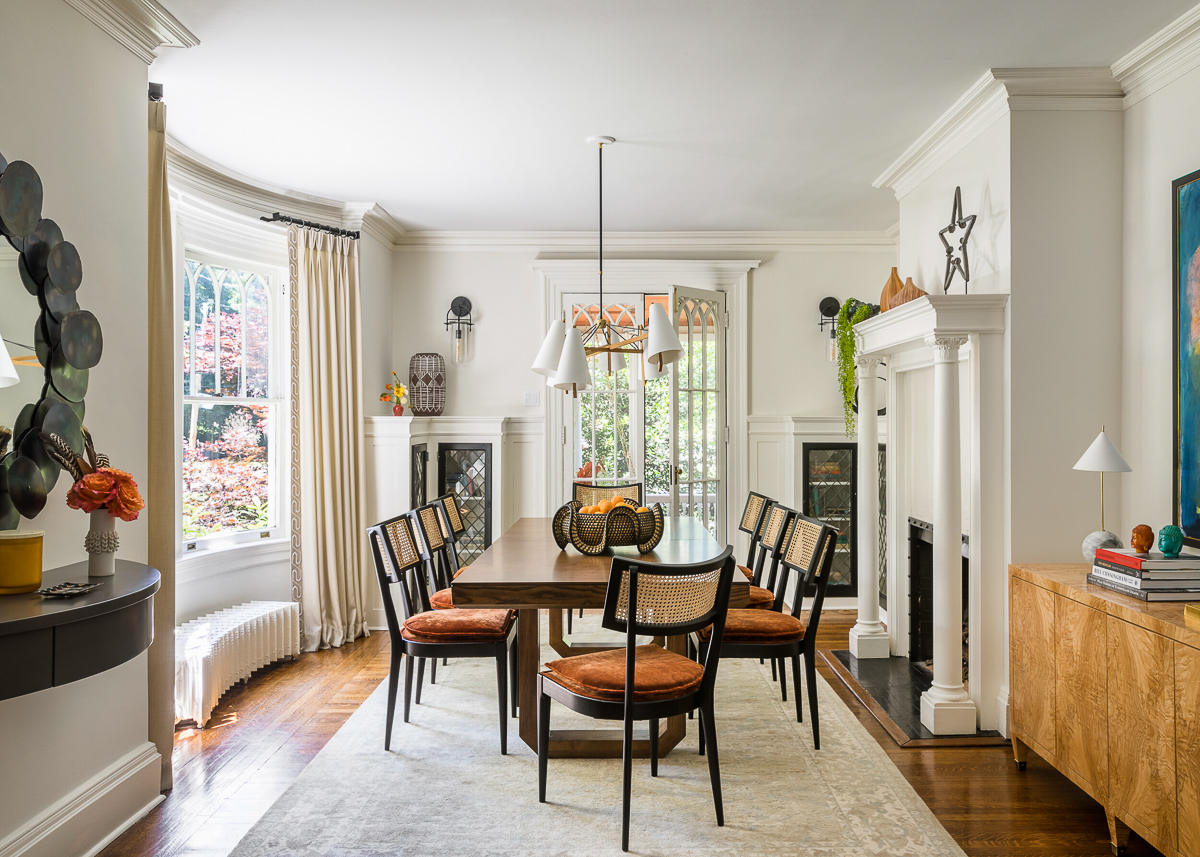 Original stained glass windows flank the fireplace and Nicole says, "There were originally deep cavities on either side of this prominent fireplace. We put a built-in on the right side, and on the left side, a little reading nook with a cubby for firewood."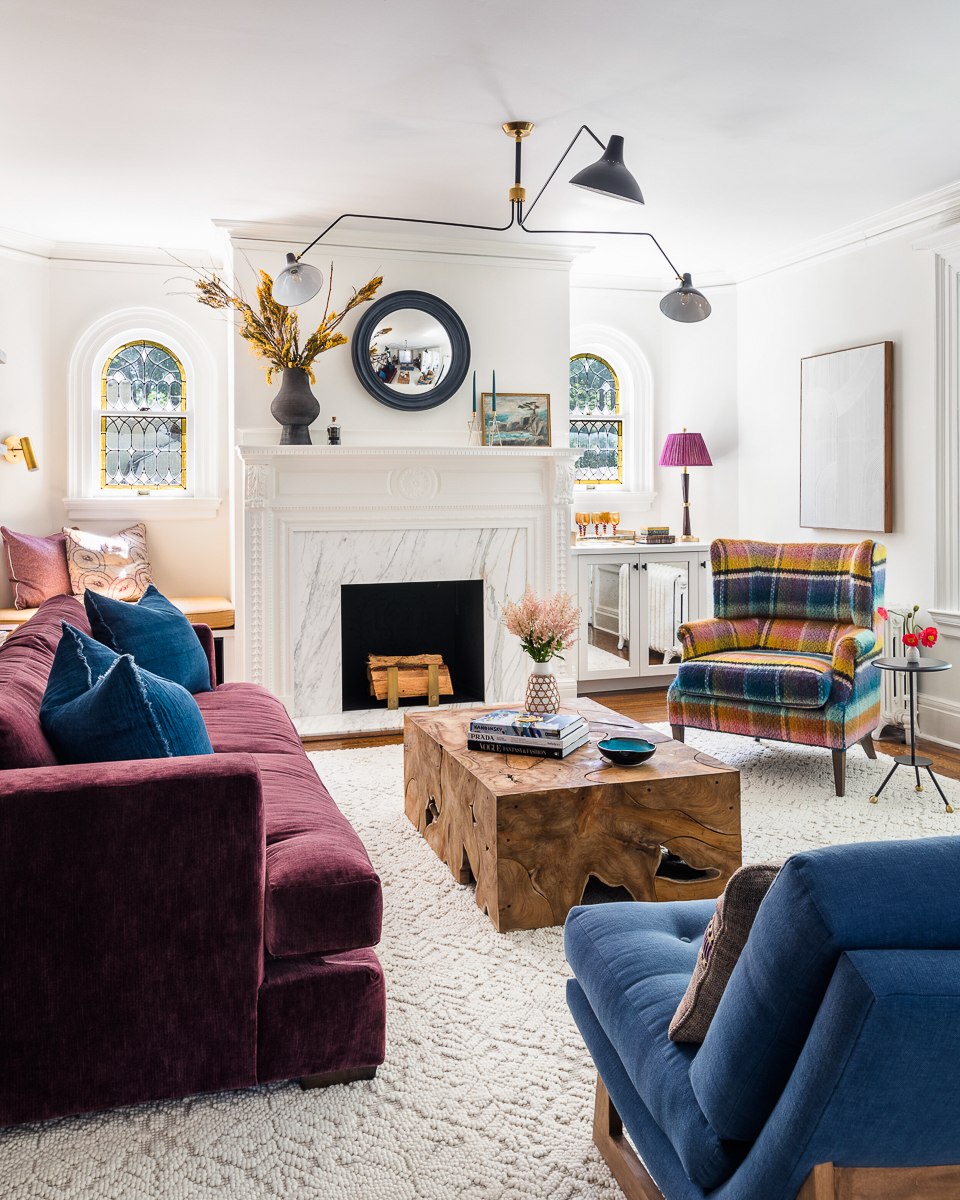 When Nicole first met her client, she told her she liked neutrals. Luckily, the client had an open mind and was willing to step out of her comfort zone as you can see from the colorful fabric in the living room.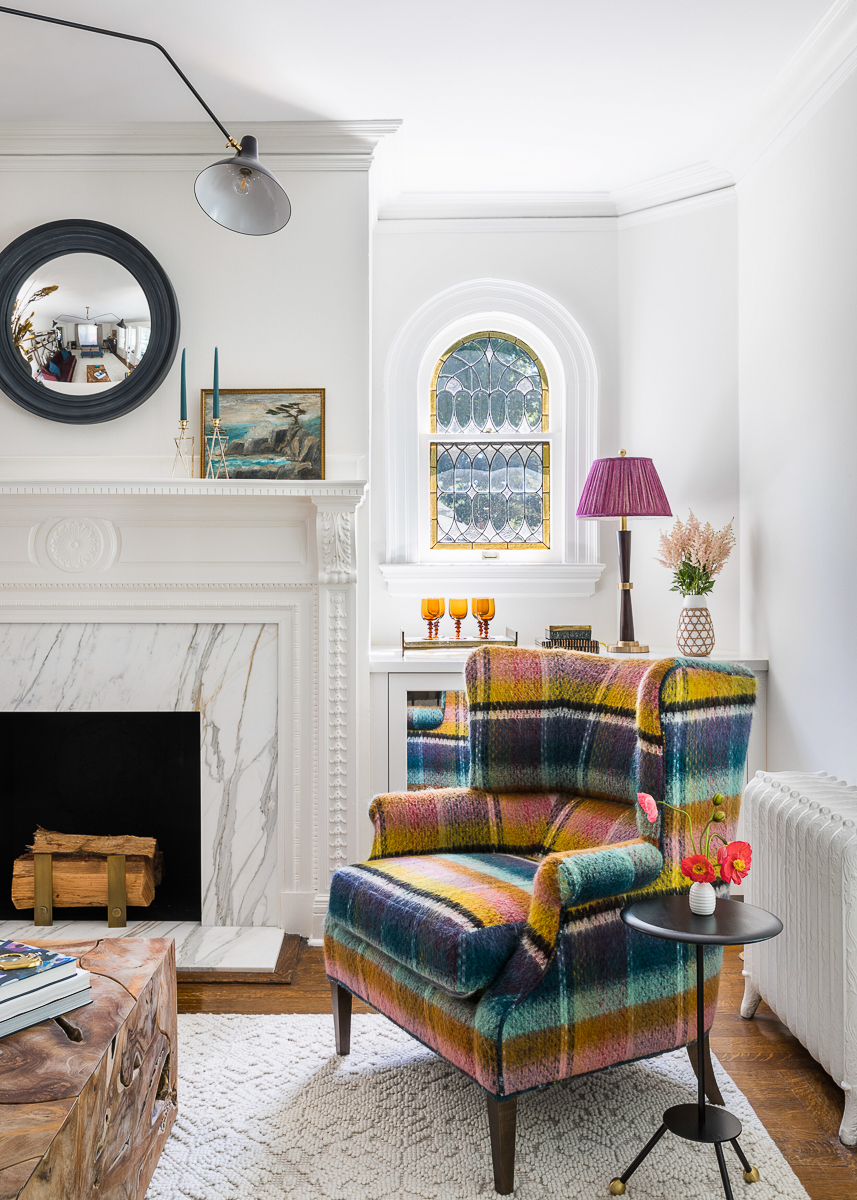 Nicole says, "This chair says it all about this beautiful older home …
CLASSIC
The wing chair's updated-yet-classic shape is an example of how we brought this 109-year-old home into 2021.
COLORFUL
The fuzzy, plaid fabric in its unique, bright colorway takes this space from traditional to fun.
COZY
Although this house isn't small overall, its rooms are traditionally broken up in to smaller, cozier spaces. The fabric adds warmth to this intimate, family-friendly space.
COMFY
This type of chair is perfectly comfortable."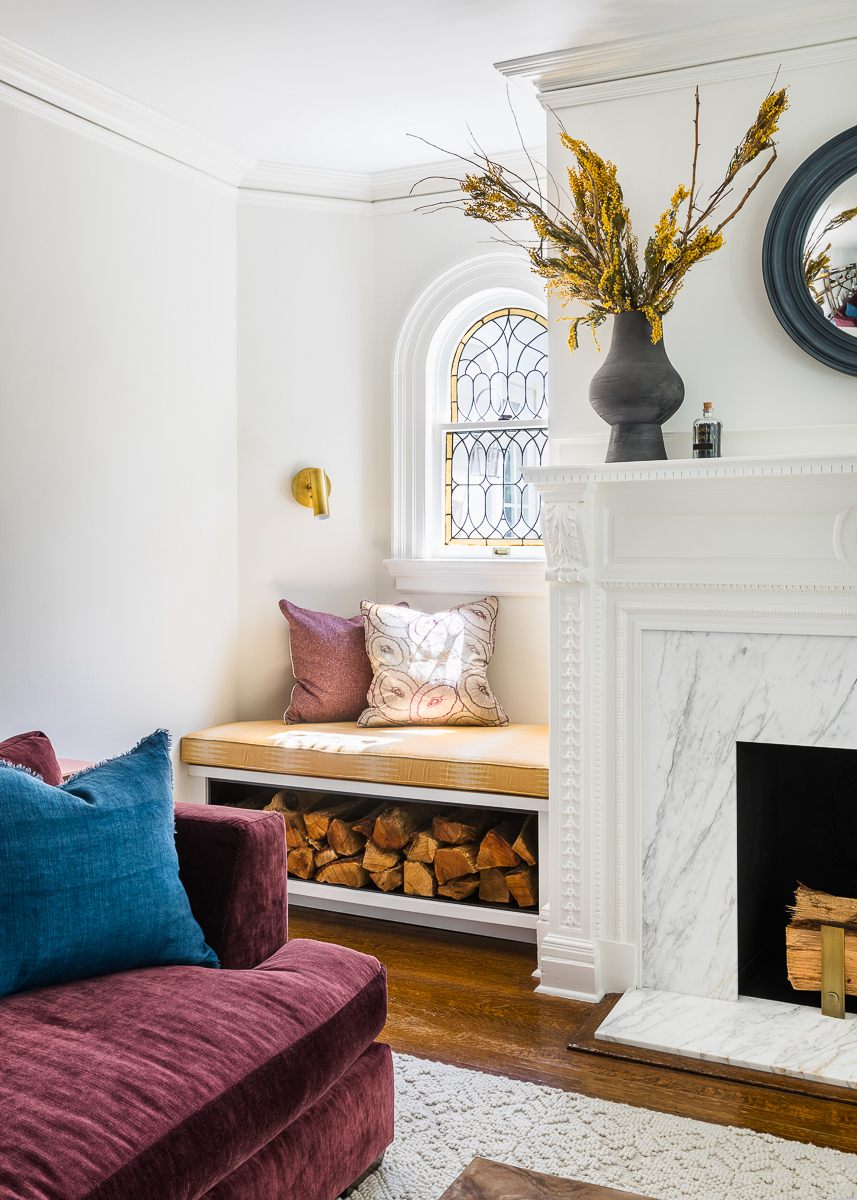 To ensure the bookshelf would align with the top of sofa and that there would be no lower shelves hidden behind, Nicole designed this custom shelf in wood and brass.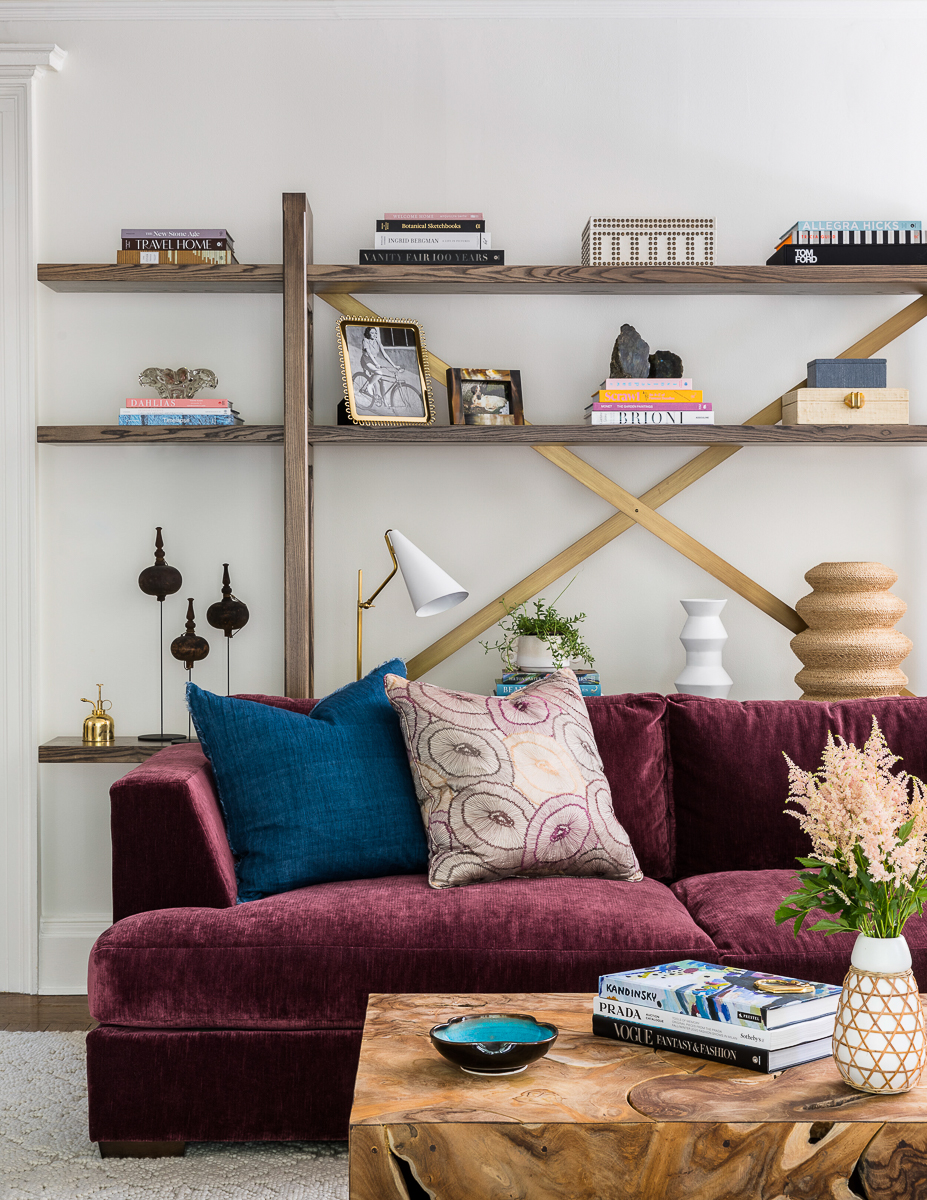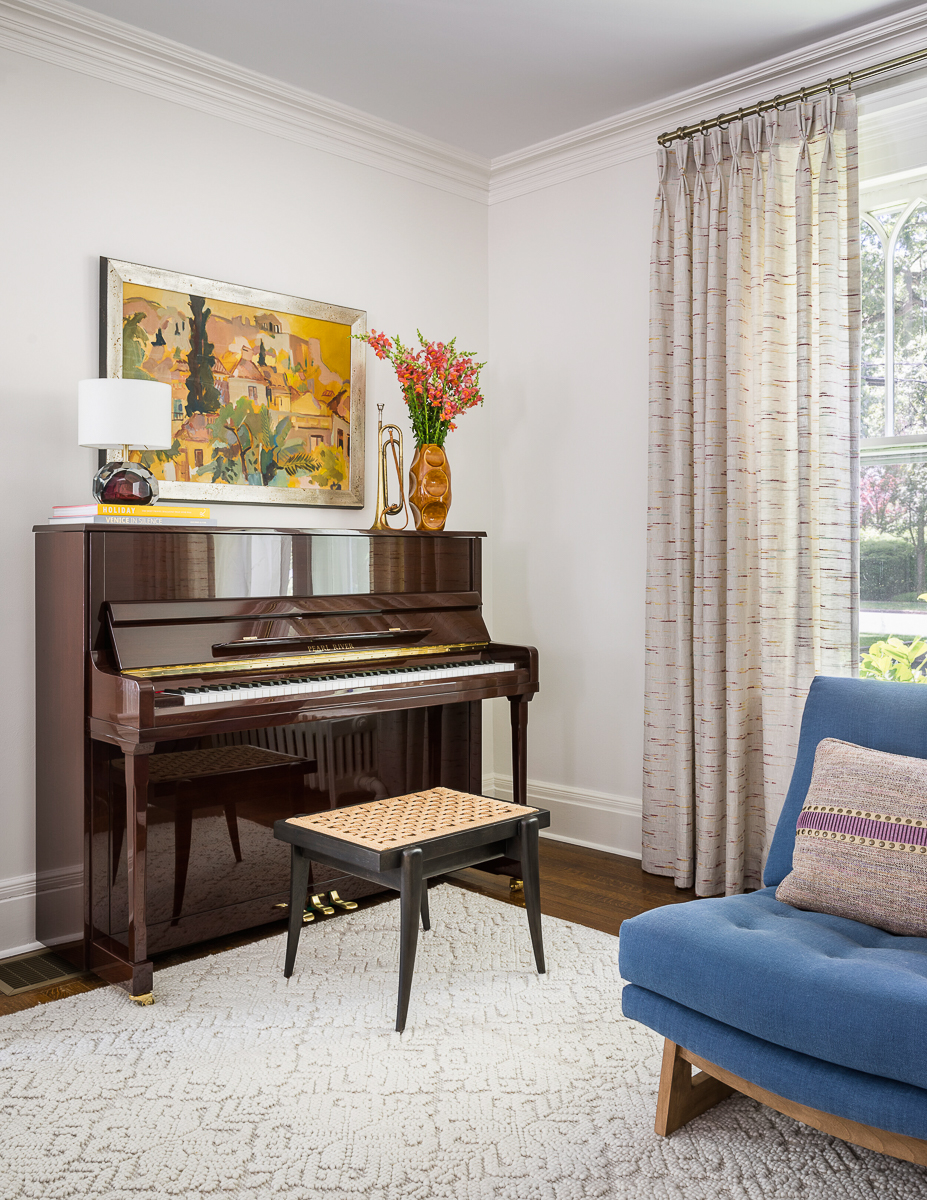 "Older homes tend to have smaller rooms that are more compartmentalized, which makes it a lot easier to have a bit of a color theme for each specific room," Nicole explains.
This deep, dark, rich shade of green keeps the family room feeling cozy and the moulding ledge is the perfect width for leaning favorite art.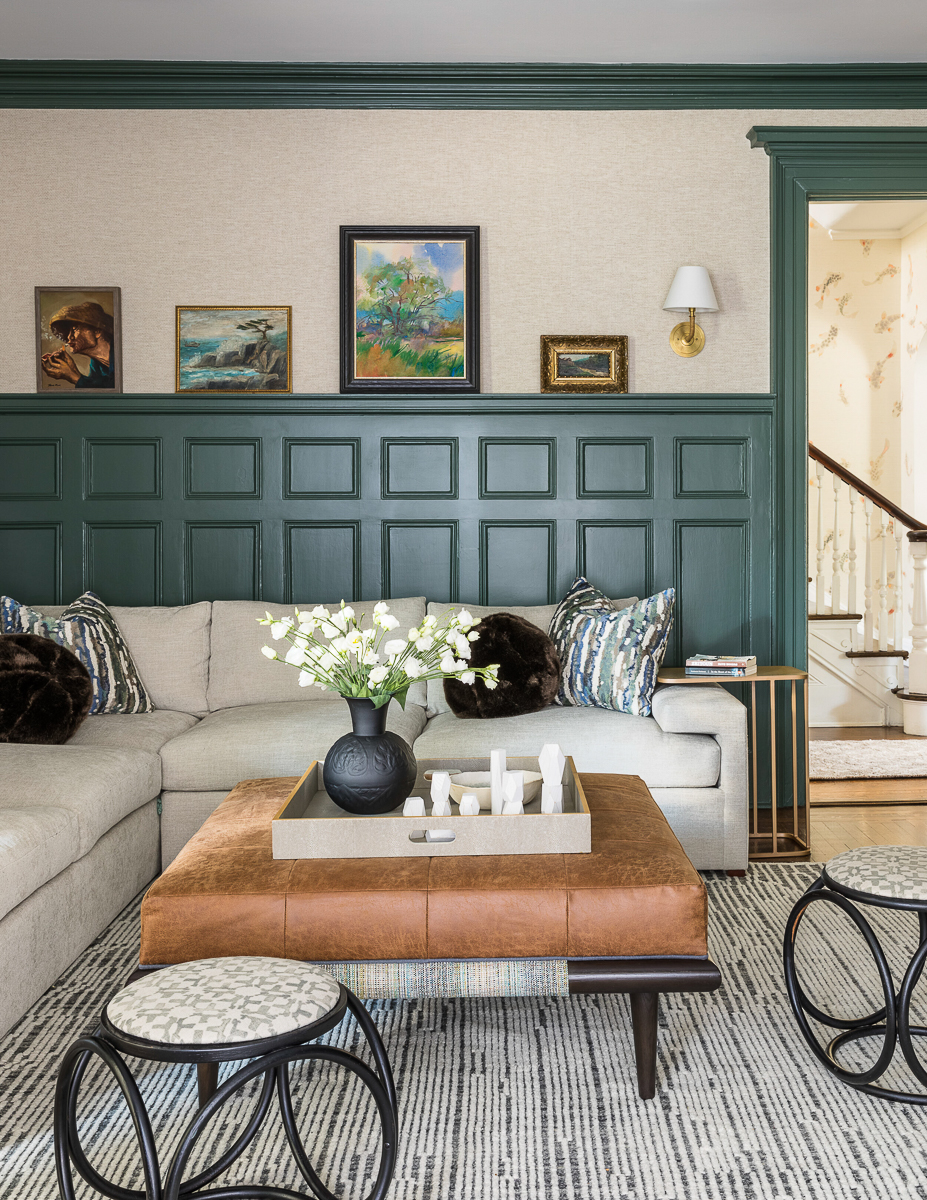 Notice the shape of the sofa arm? Nicole says she's been seeing more of this arm style lately and I'm loving it!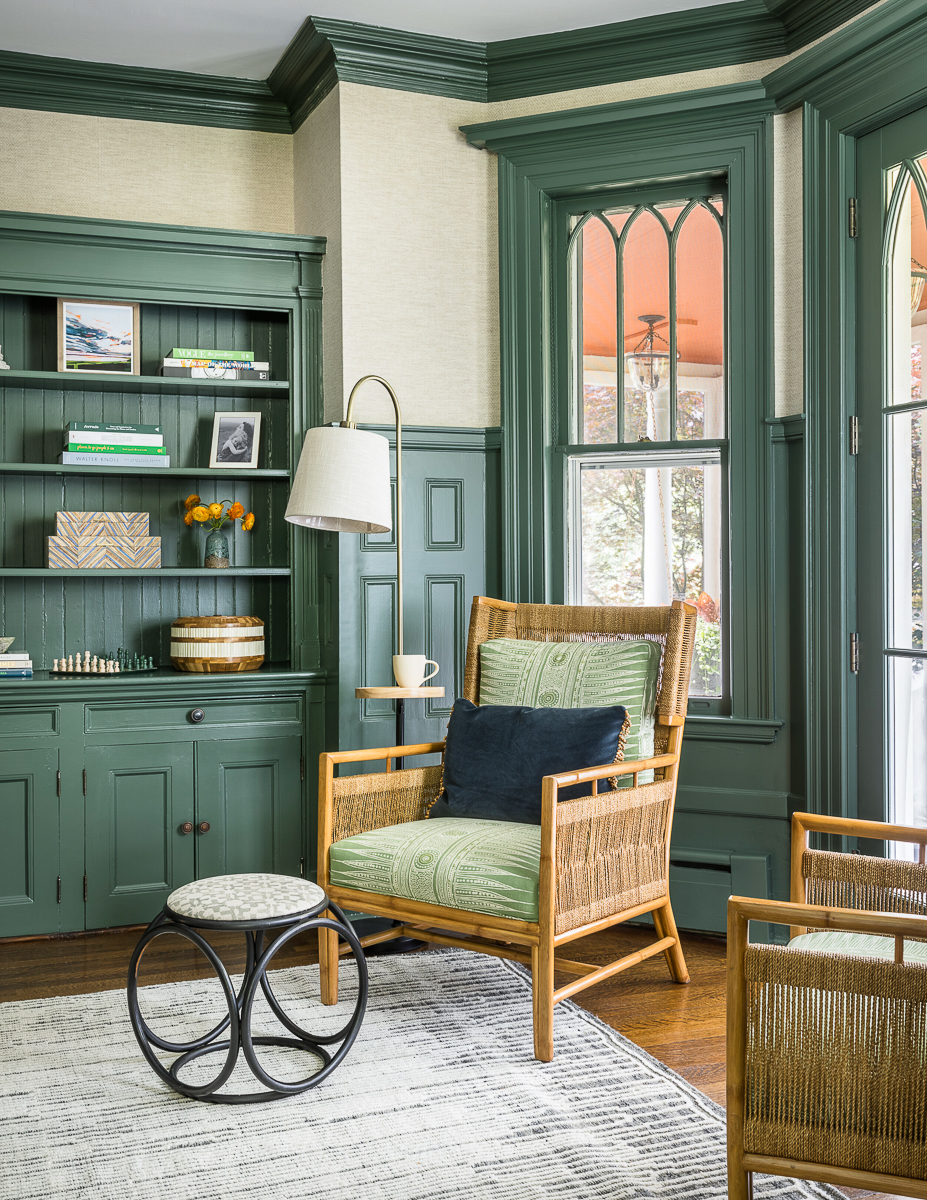 Plants and the outdoors are all the color this sunroom needs and a swinging egg chair adds whimsy.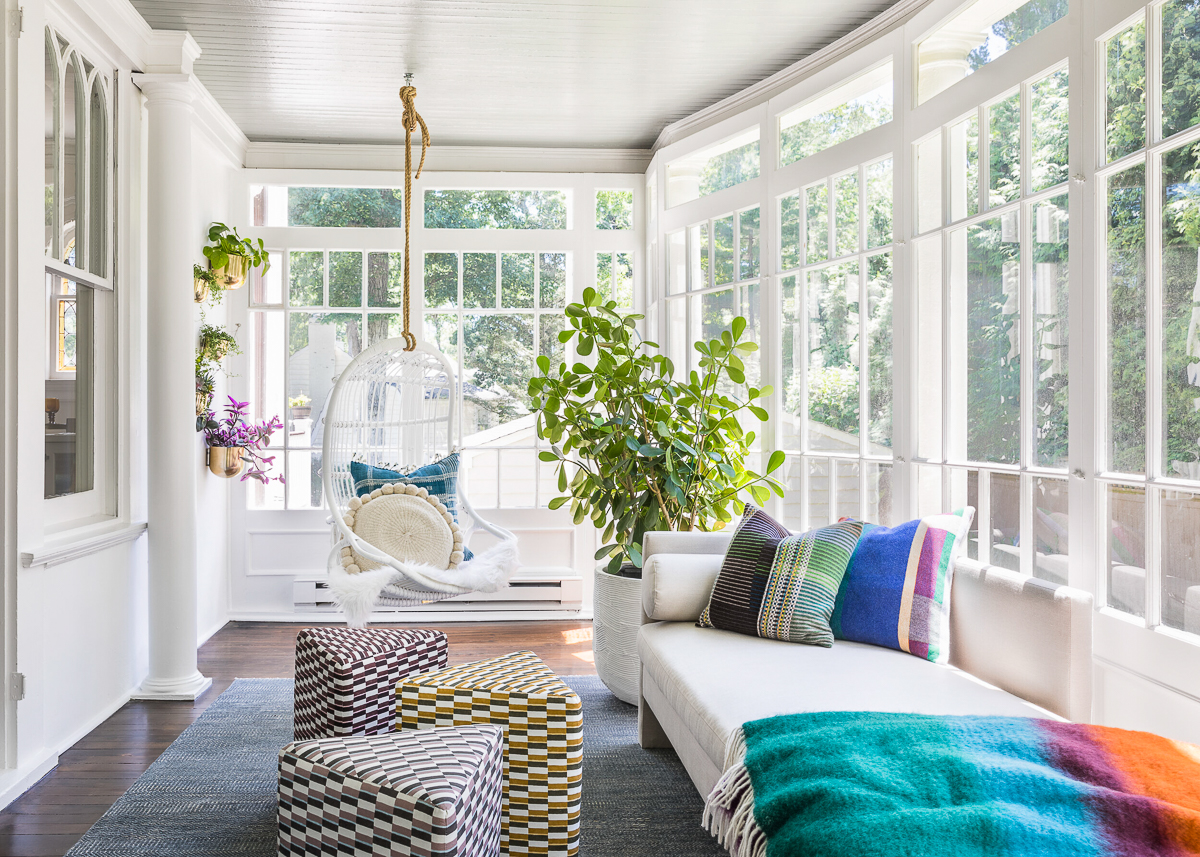 A screened-in porch gets a dramatic floor to ceiling makeover featuring an orange ceiling and a black and white diamond patterned floor that was created with paint and a stencil.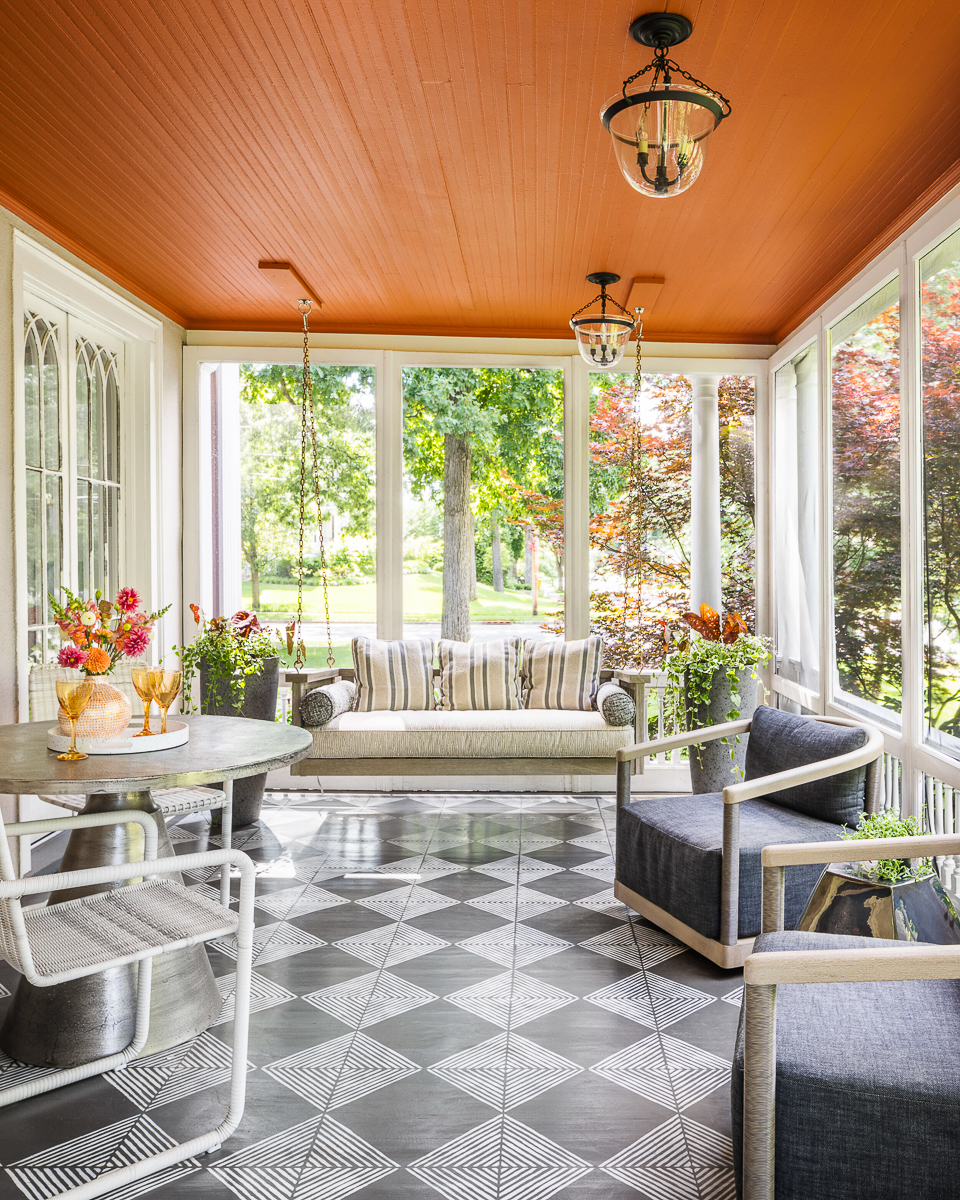 Can you believe that when Nicole first met her client, she told her she liked neutrals. This home goes to show that with an open mind and a willingness to try something new, you can achieve stunning results.