Eclectic Home Tour – Drinking with Chickens
Would you buy a 114 year old house in foreclosure that had been abandoned for five years? ("We are talking vines-growing-through-cracks-in-the-walls-smashed-windows-and-doors-collapsing-deck-raccoons-living-inside kinda abandoned."). Today's Eclectic Home Tour of Drinking with Chickens takes us on an inside and outside tour of this charming story book cottage that took over 10 years to transform into a personality-filled, colorful and definitely one-of-a-kind home. Oh and did I mention the chickens?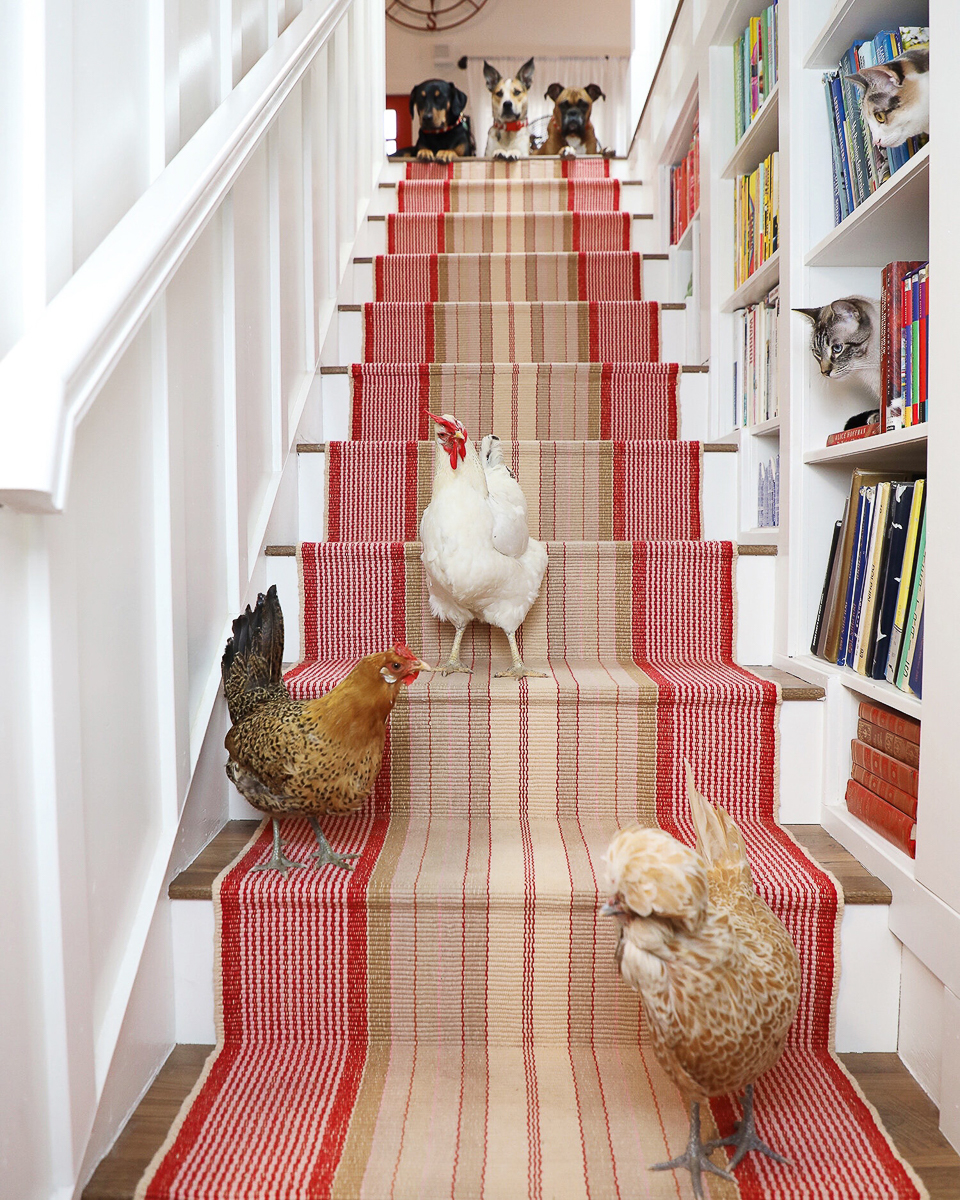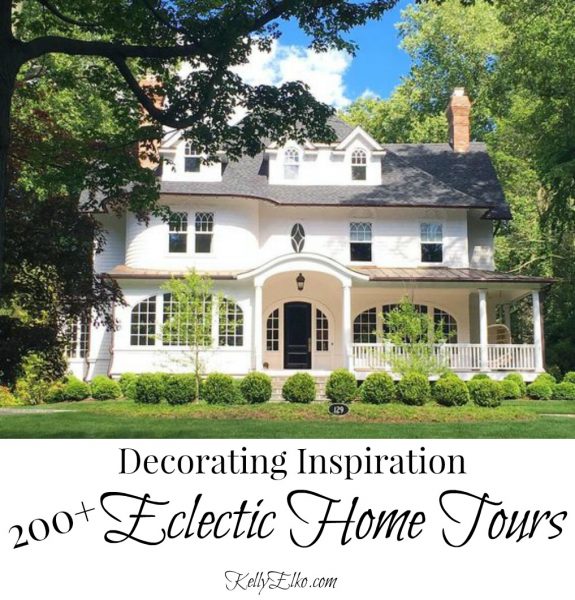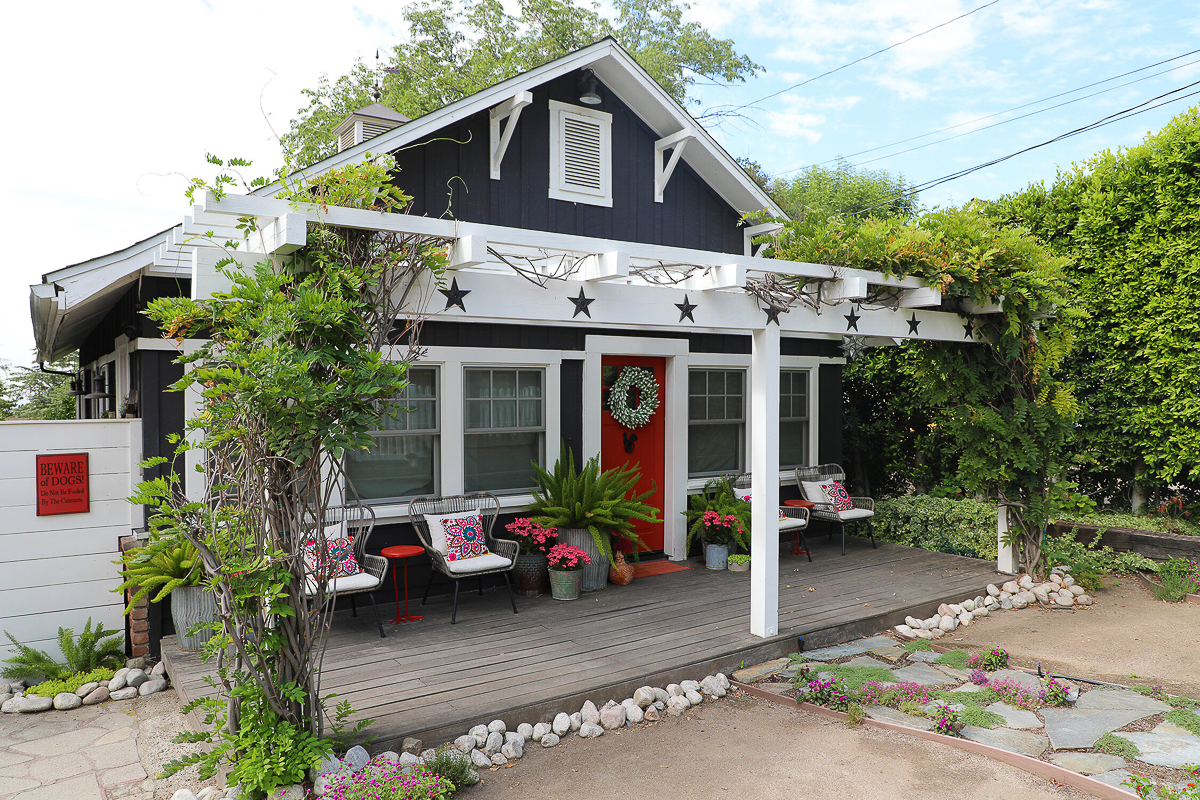 When Kate Richards and her husband saw the run down, neglected house in Los Angeles, they didn't let the fact that it had no front door deter them from making an offer!
The before …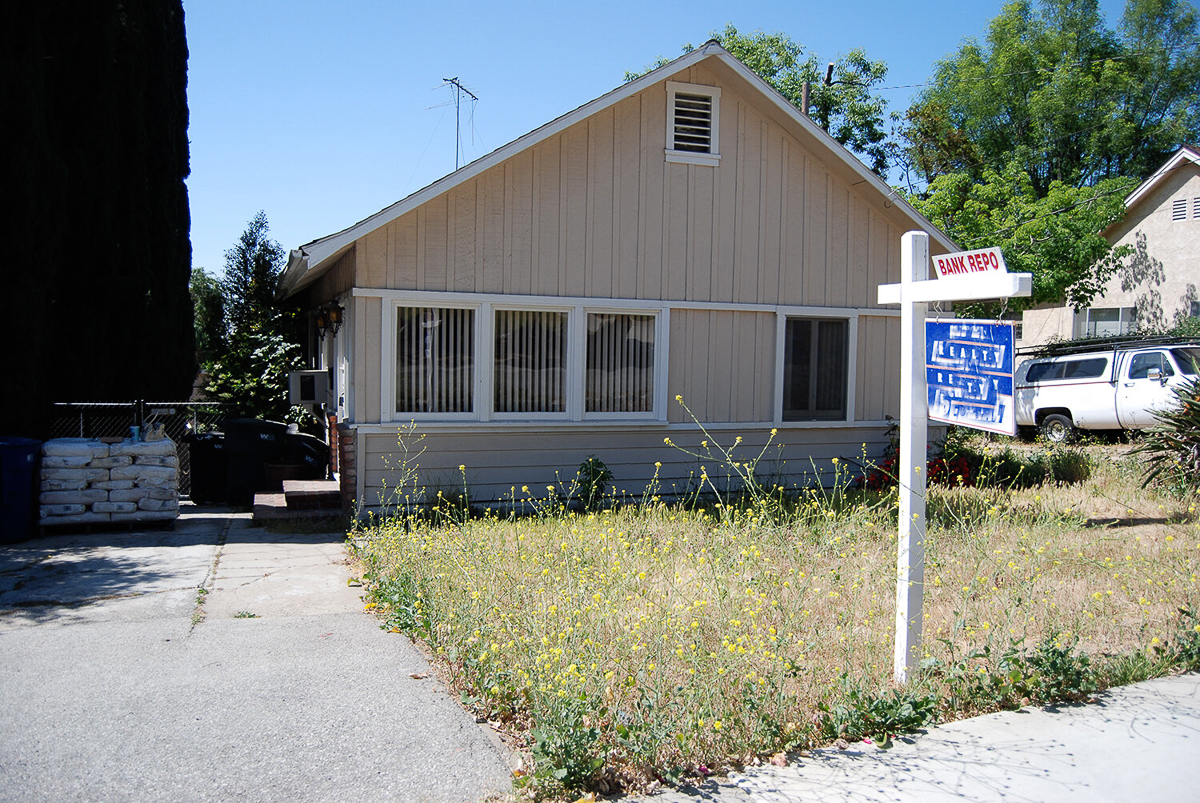 They created a front door and added a deck and a pergola because according to Kate, "the front of the house needed some damned personality!"
The picket fence, climbing vines and colorful flowers add curb appeal.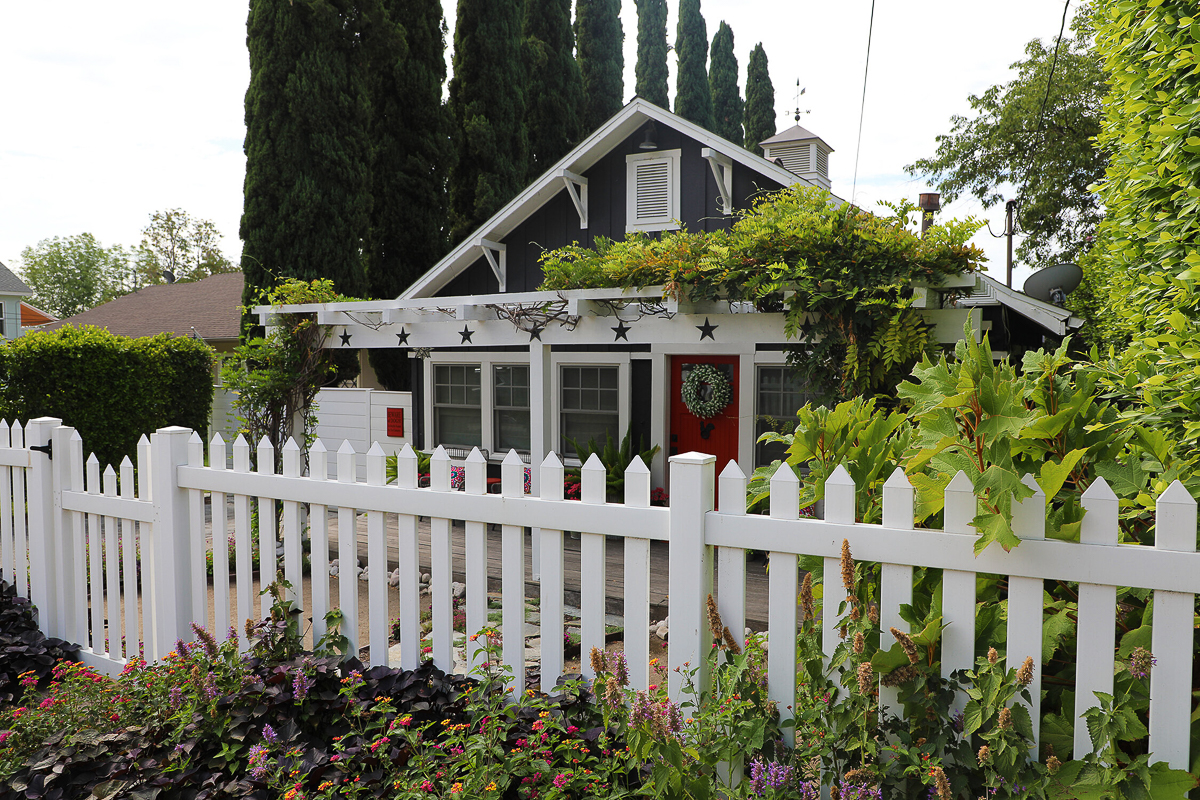 Both the front and side doors get a pop of color thanks to Behr Farmhouse Red (one of Kate's favorite colors that you will see sprinkled throughout the house).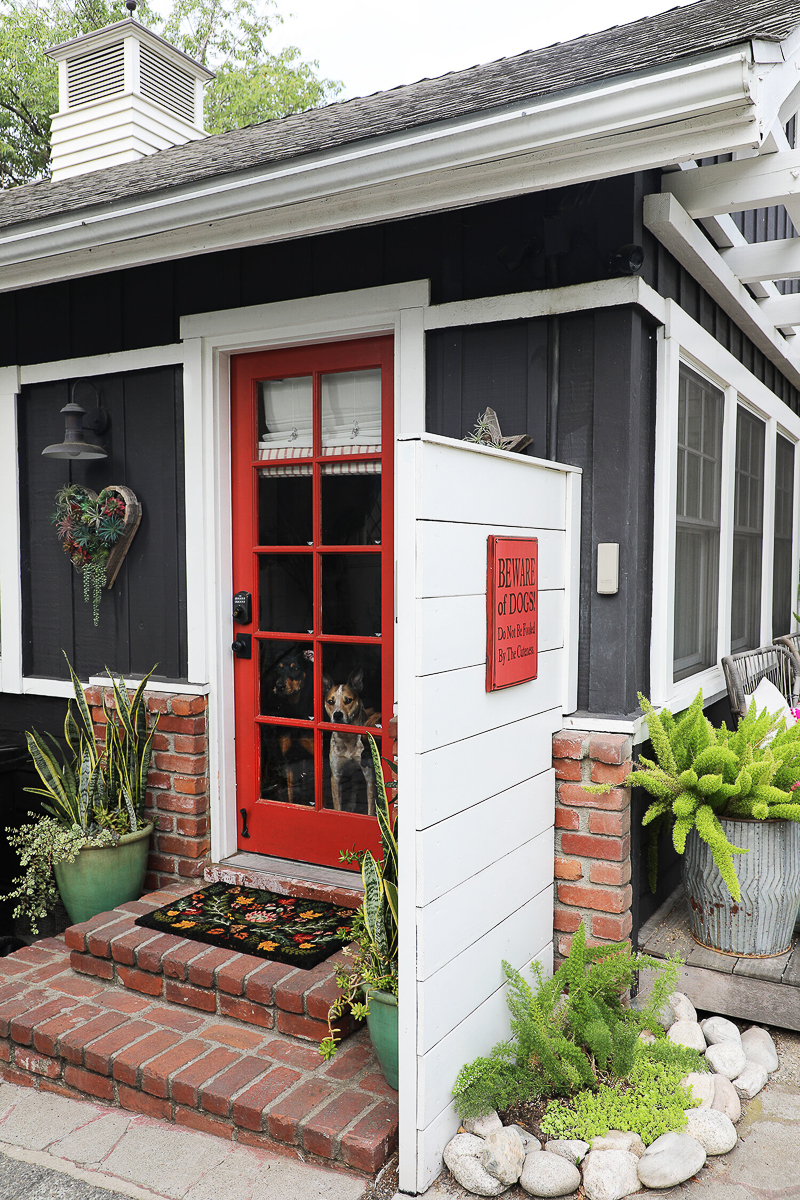 Beware of dogs! A fun sign, and three adorable pups, greets visitors at the side entrance.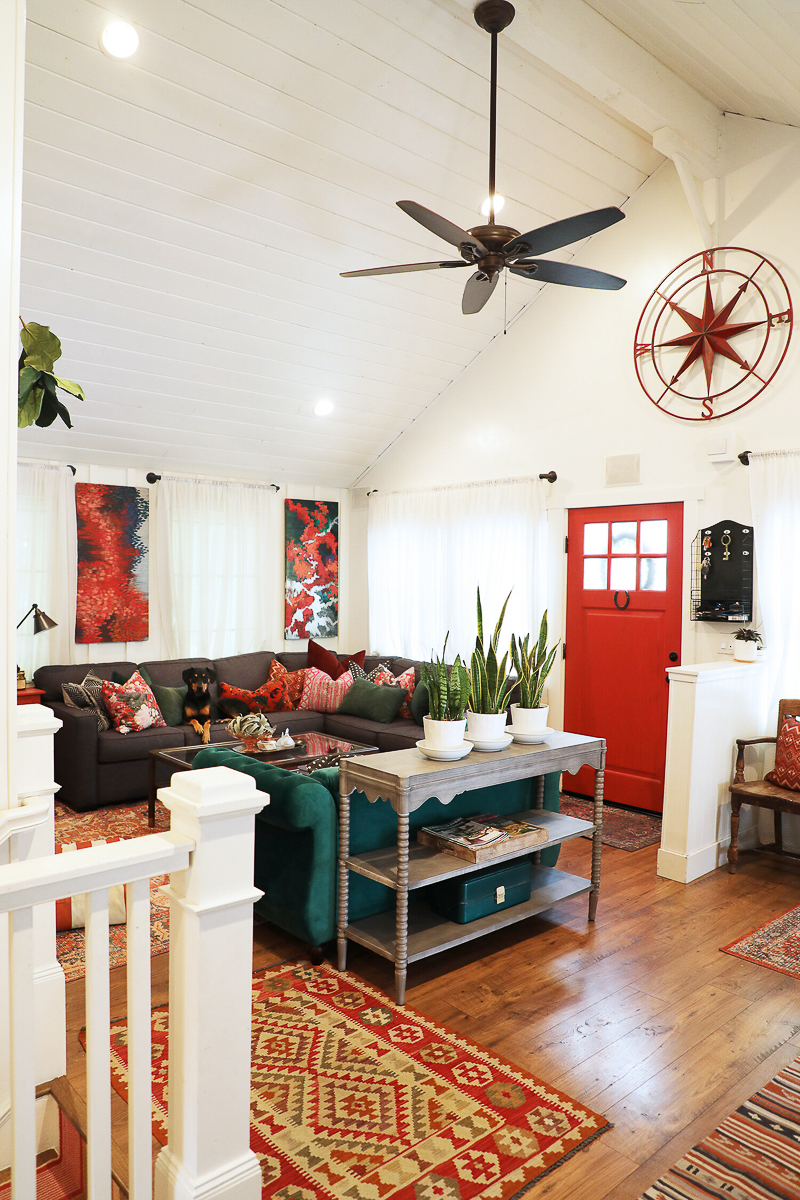 Kate says, "We definitely did not keep the drop ceilings and boy what a difference the vaulted shiplap ceilings made in what is not the world's biggest space. For what it's worth, we did these ceilings about 13 years ago, long before the fairly recent shiplap craze, and it's my dad's fault. See, he's a Navy veteran and a salty sea dog of a sailor all his life, and he came to take a look at our house progress right after we ripped all the drop ceilings down, right when I was having an existential crisis about putting drywall up there. It just didn't feel right in a 100+ year old "farmhouse" to have drywalled ceilings. He took one look at it and, in his special, curt GET-TO-THE-POINT-KATE voice, he simply says to me, "Shiplap". As though I knew what the hell that was and it was so obvious. I didn't, and it wasn't. So he marched me down to the lumber yard and lo and behold: Shiplap. It was, indeed, a thing. So we put it on our ceiling. Thanks, Dad."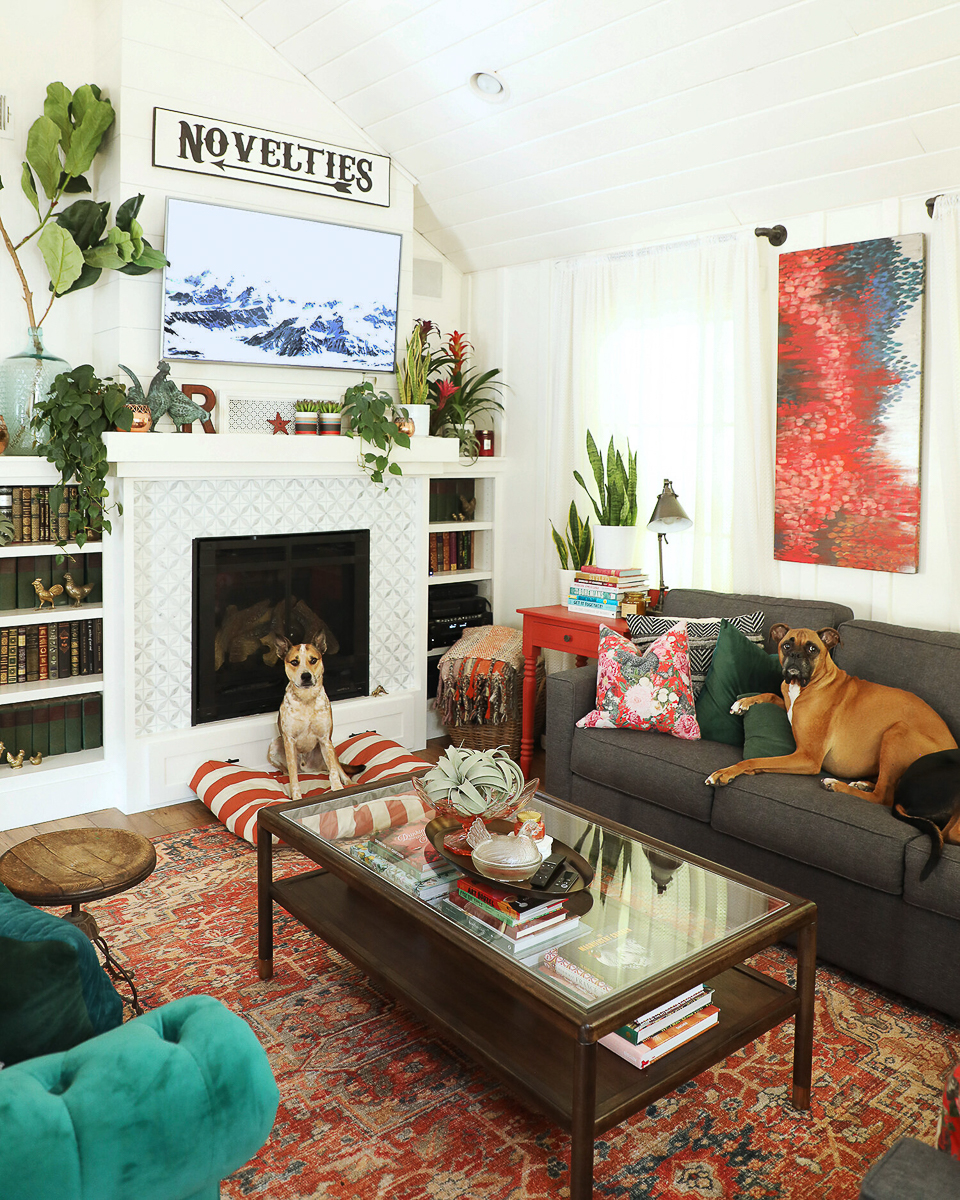 With three dogs, two cats and a flock of chickens, Kate says that "Every design decision we make caters to them. From tried and true pet-friendly rugs, to furniture choices, to the selective abundance of carefully curated houseplants, to even the art on the walls, our house is a living, breathing celebration of our crazy animals. It's their house, we just live here. And clean up after them. Constantly. So while there's a definite colorful-quirky-cottage-crazy-chicken-lady design aesthetic happening here, first and foremost, it's all got to be pet-resistant. Also needs to hold up to occasional cocktail spillage, too, if I'm being honest."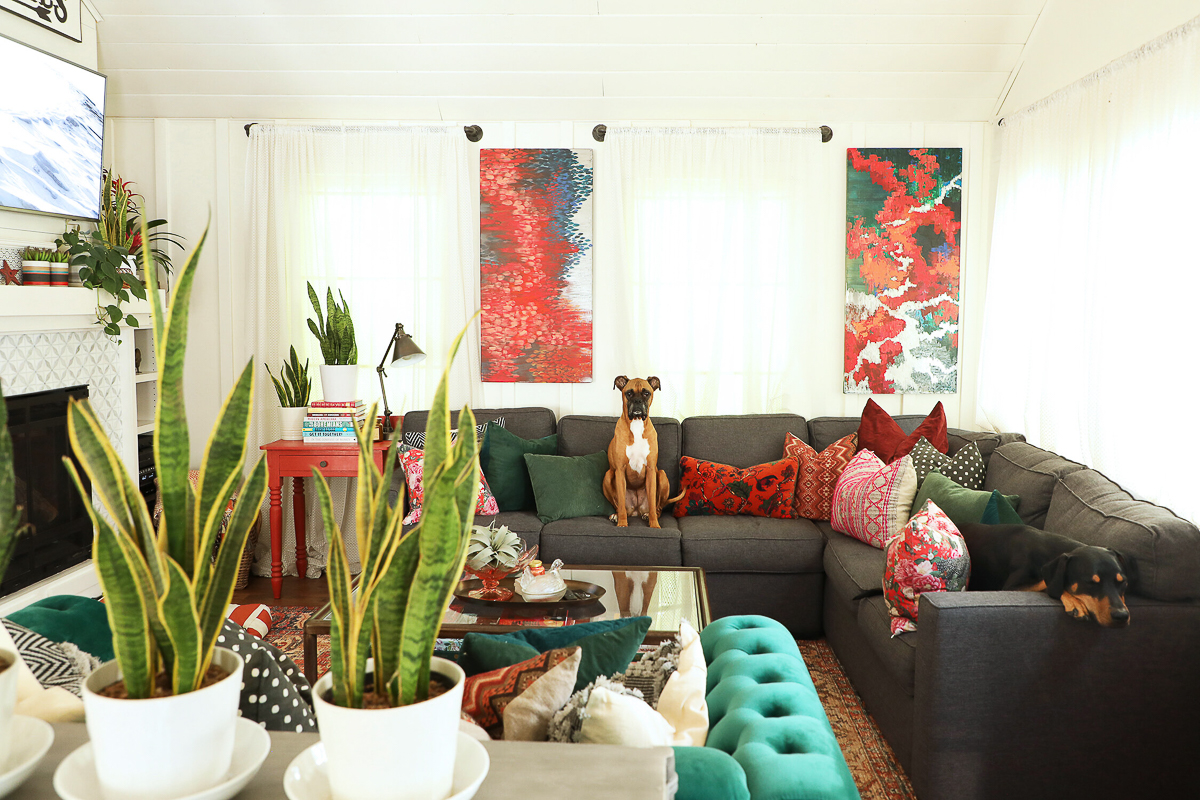 The galley kitchen feels larger thanks to the soaring ceiling and double French doors let in lots of light.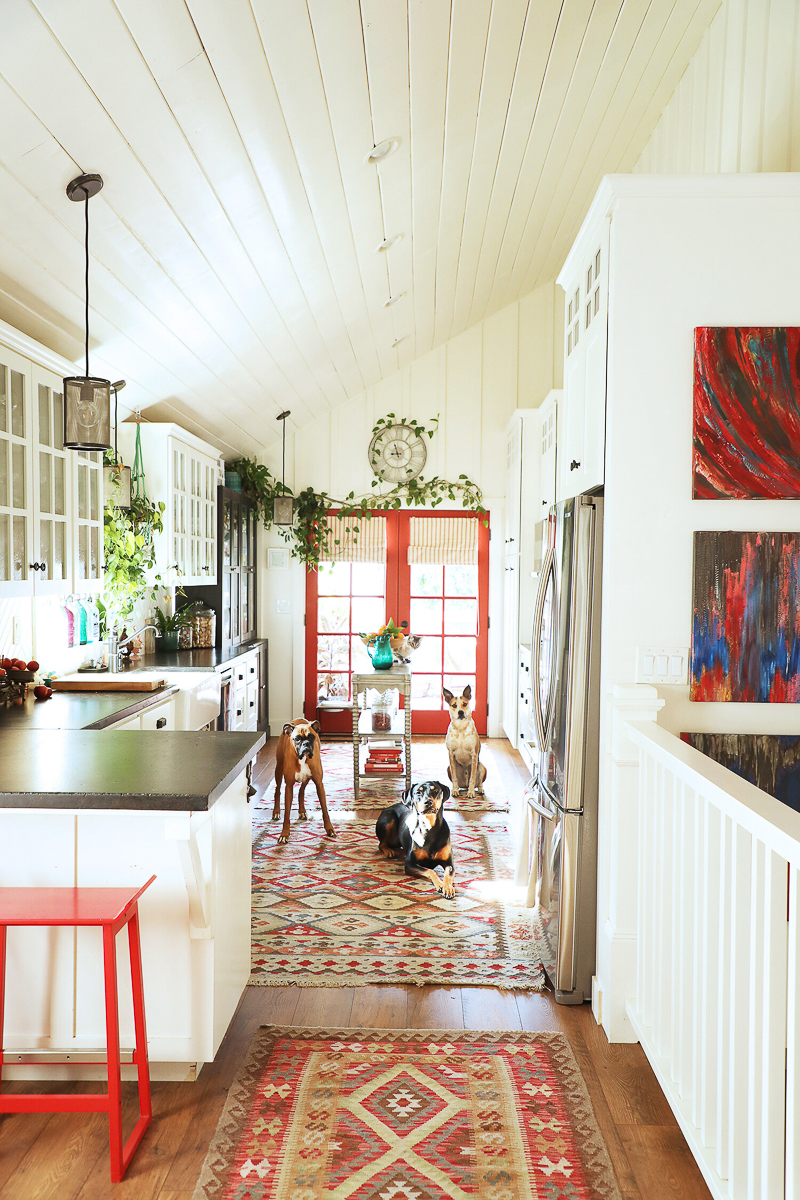 Kate says, "I really wanted soapstone counters in here. Badly. But we could not afford them. Not even remotely. Luckily for us, our contractor buddy had always wanted to try to make concrete countertops and agreed to help us experiment with that instead. So that's what we did. With the full intention of replacing them eventually with some sort of stone. Here we are 13 years later, and do you think we have replaced them. NOPE. They've held up great. AND IF IT AIN'T BROKE….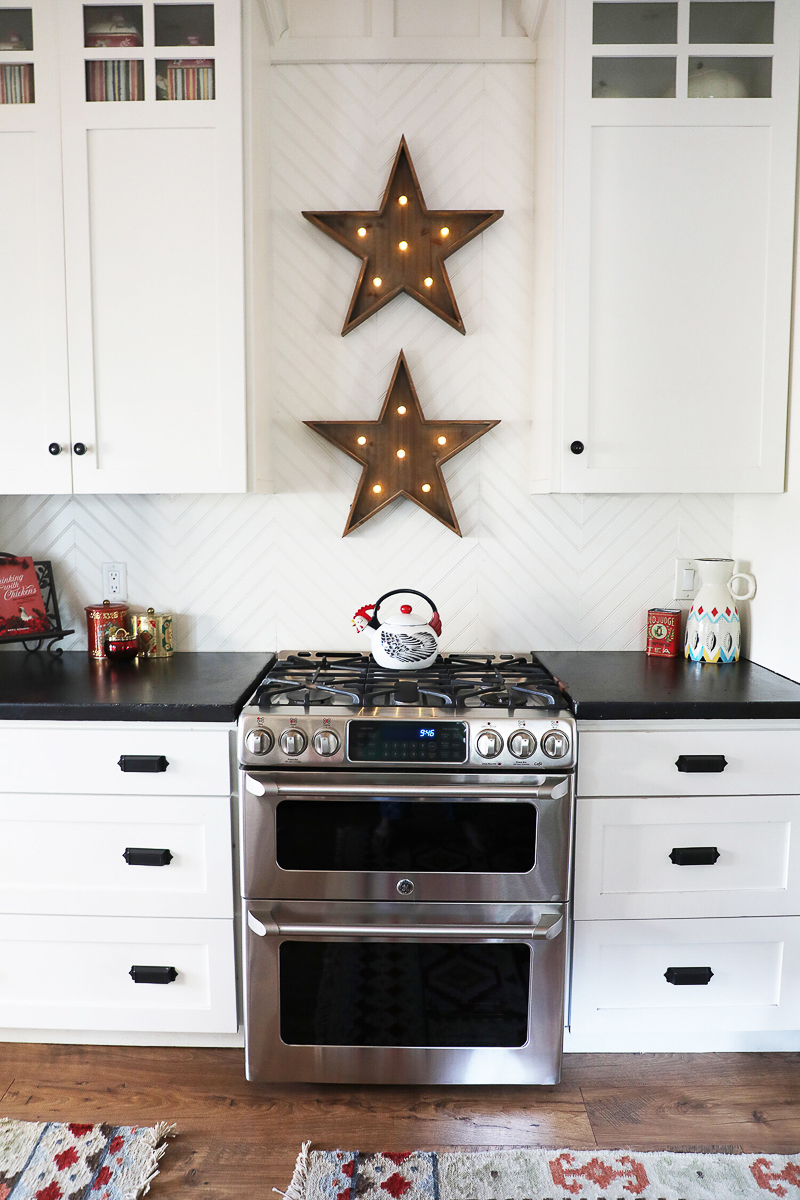 When tile was not in the budget, Kate says, "We decided on a "temporary" backsplash of bead board paneling laid in a chevron pattern. 13 years later have we replaced it with tile? NOPE. Hahahahaha. I still love it."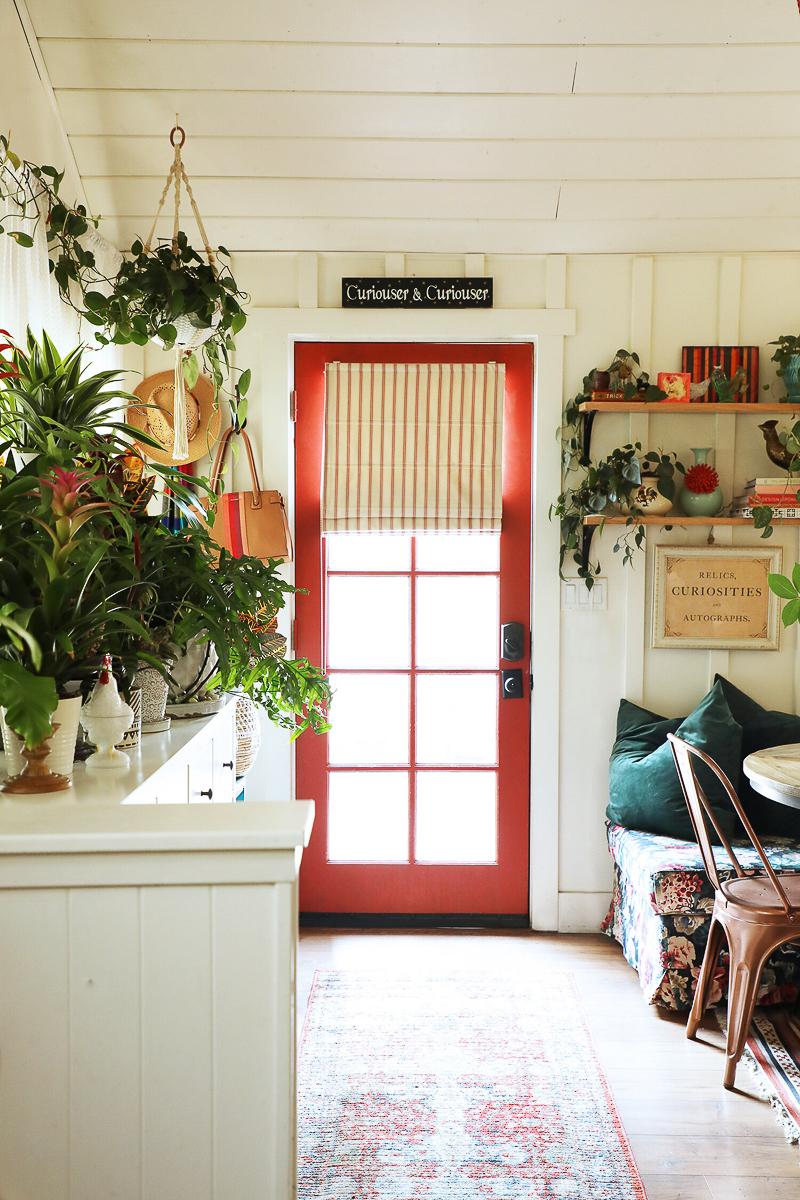 White walls let colorful furniture, art and accessories be the stars.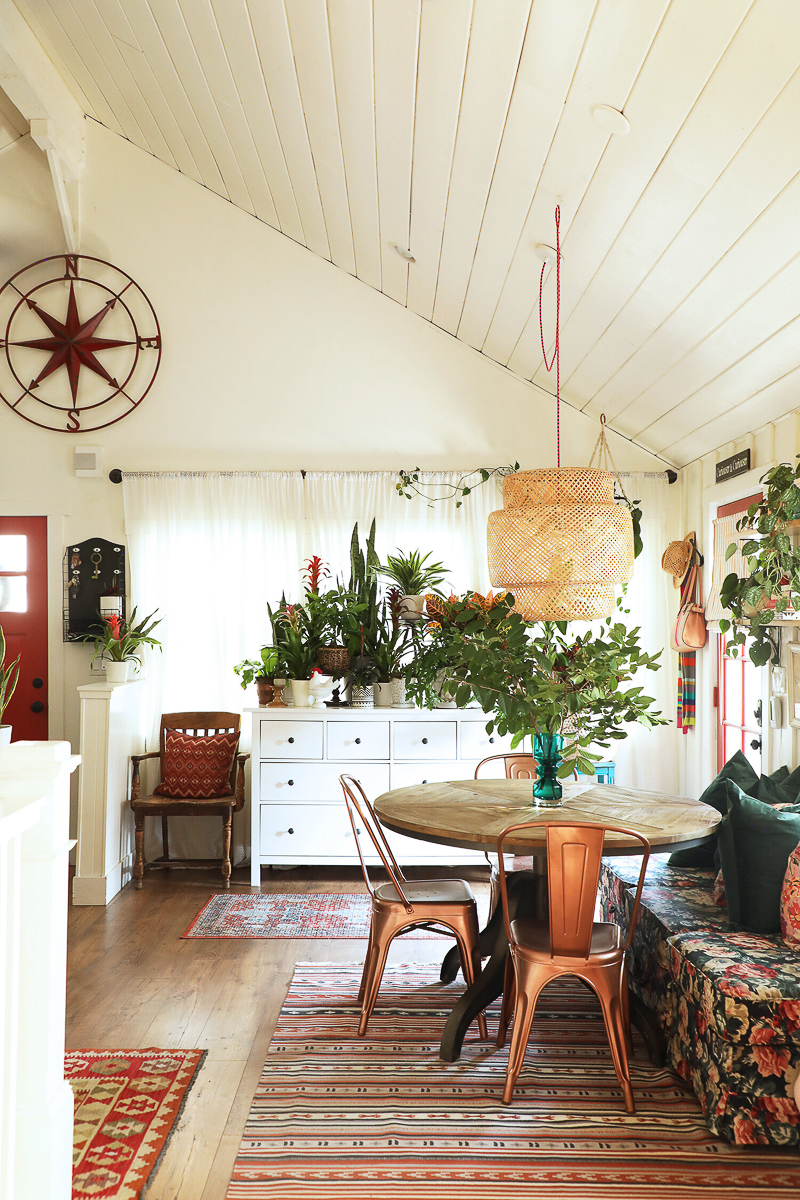 A banquette adds extra seating space around the kitchen table.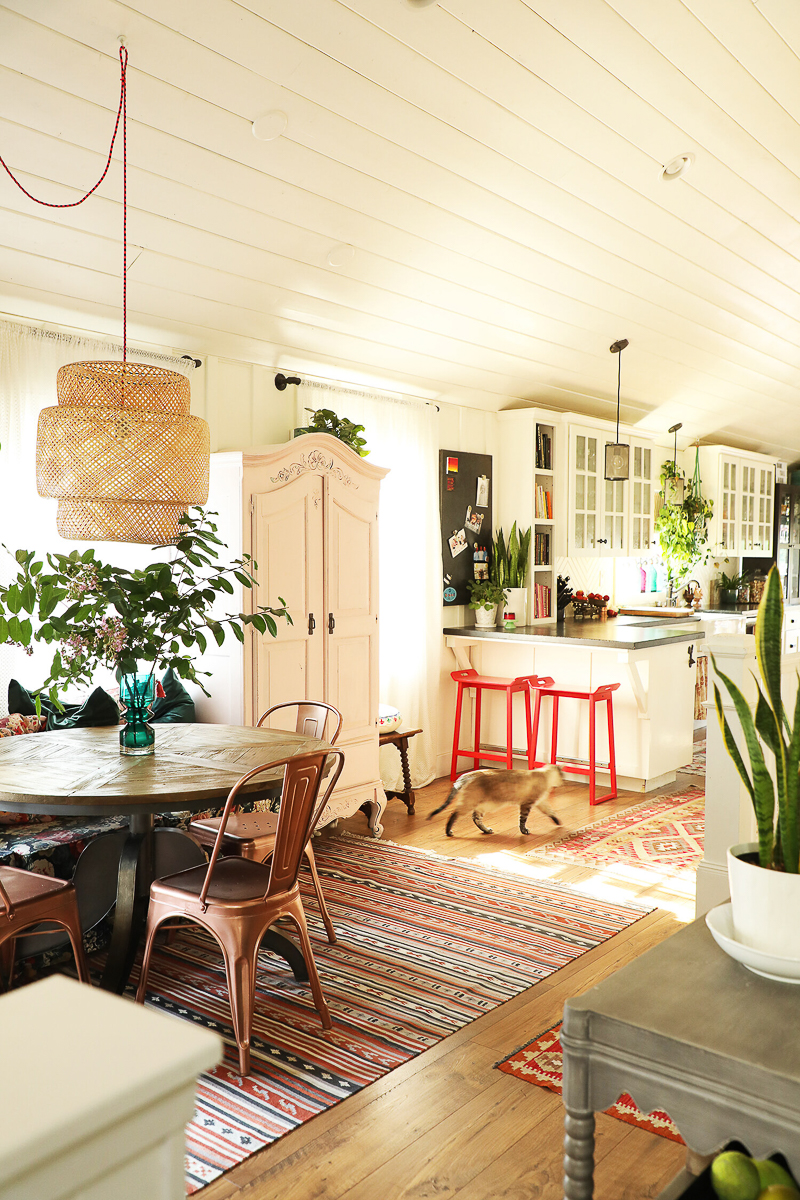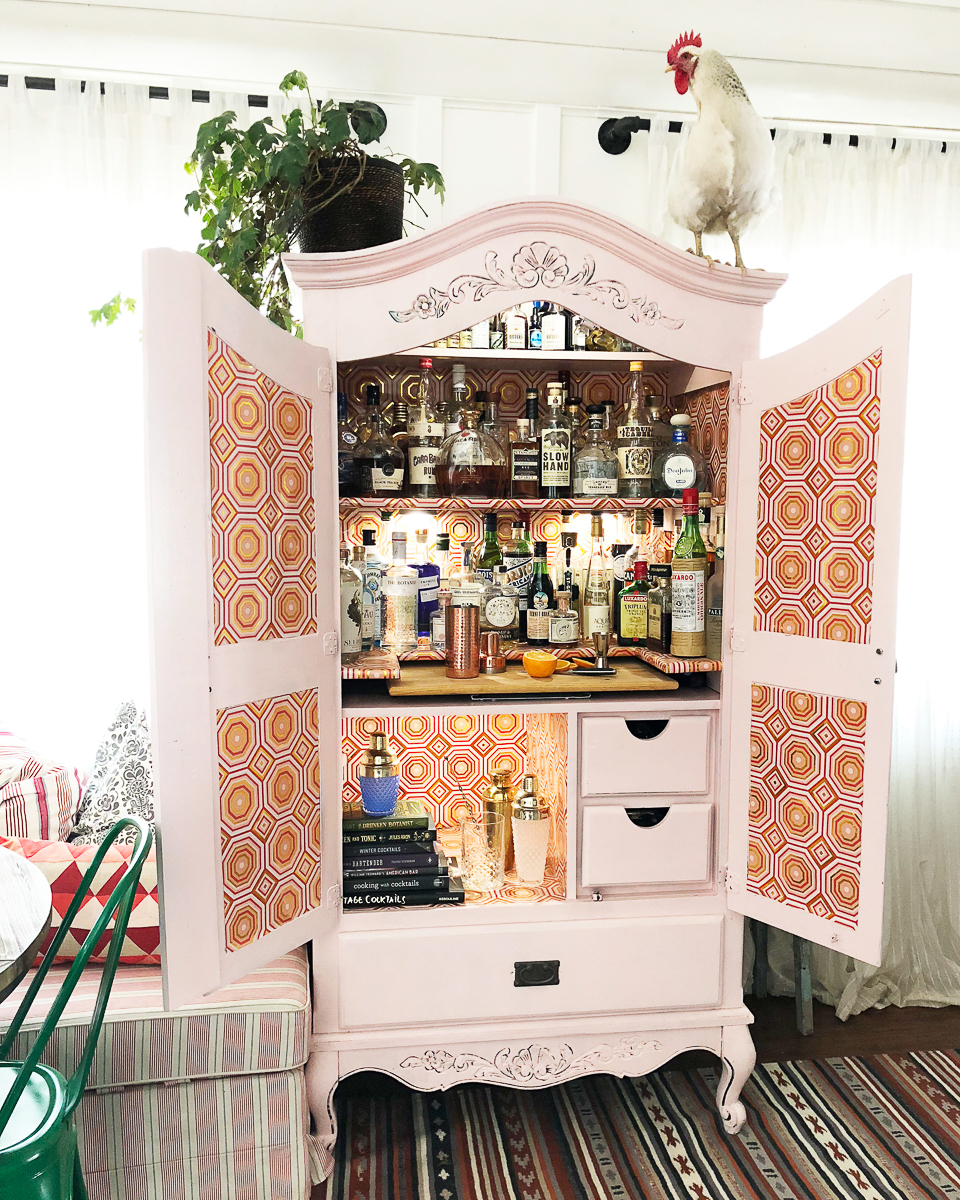 Kate calls her giant TV cabinet from her childhood bedroom the "Barmoire!"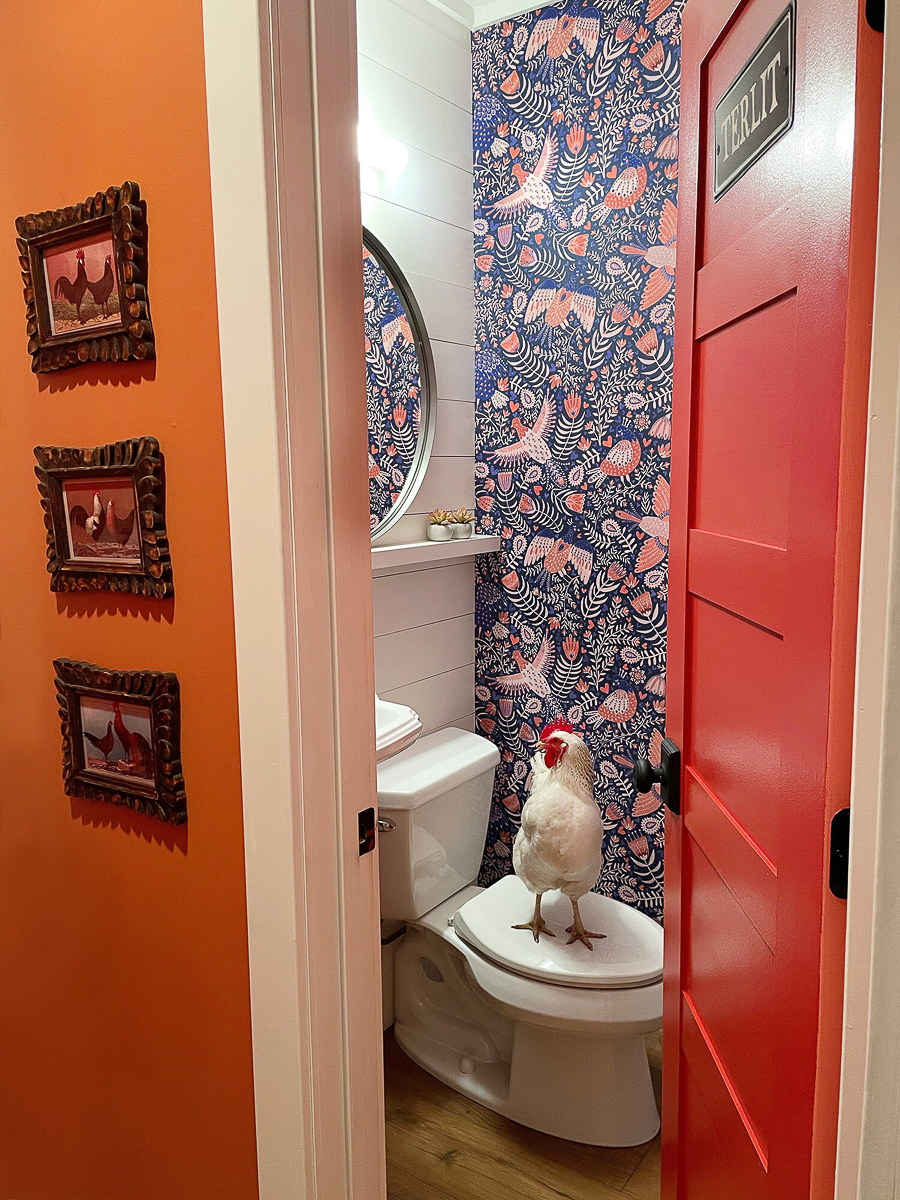 The whimsical wallpaper in the "Terlit" is perfect for creating drama in a small space.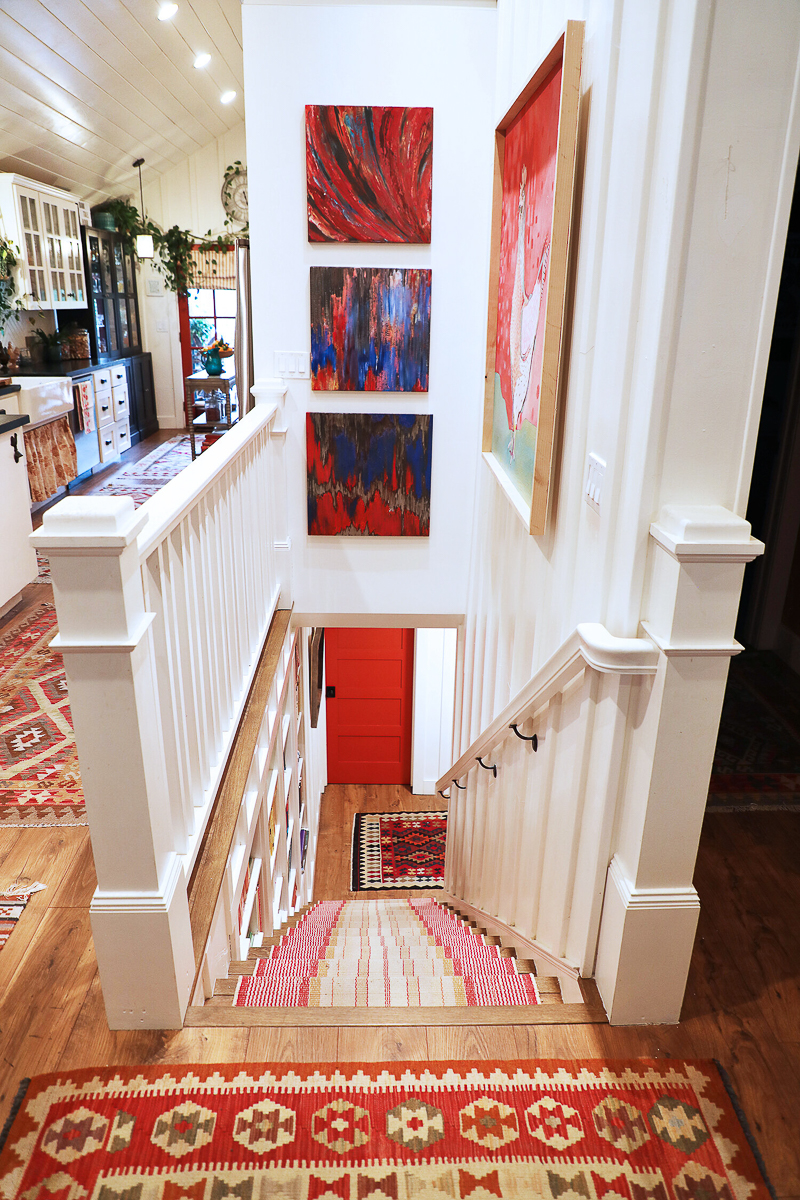 "Our little house started its life as a simple 2 bed 1 bath cottage. We're not sure the history, but two doors down is a slightly older, bigger home that was built by a business tycoon around the turn of the century, and it wouldn't be unreasonable to wager that our house started out as an outbuilding, carriage house, or dare I say, barn, of some sort on that property. So it was once a little single story thing that sat on a gently sloping lot, and at some point in the 60's or 70's, someone cut a hole in the floor, popped in a staircase, and put in two more bedrooms, a bathroom and a laundry room downstairs," explains Kate.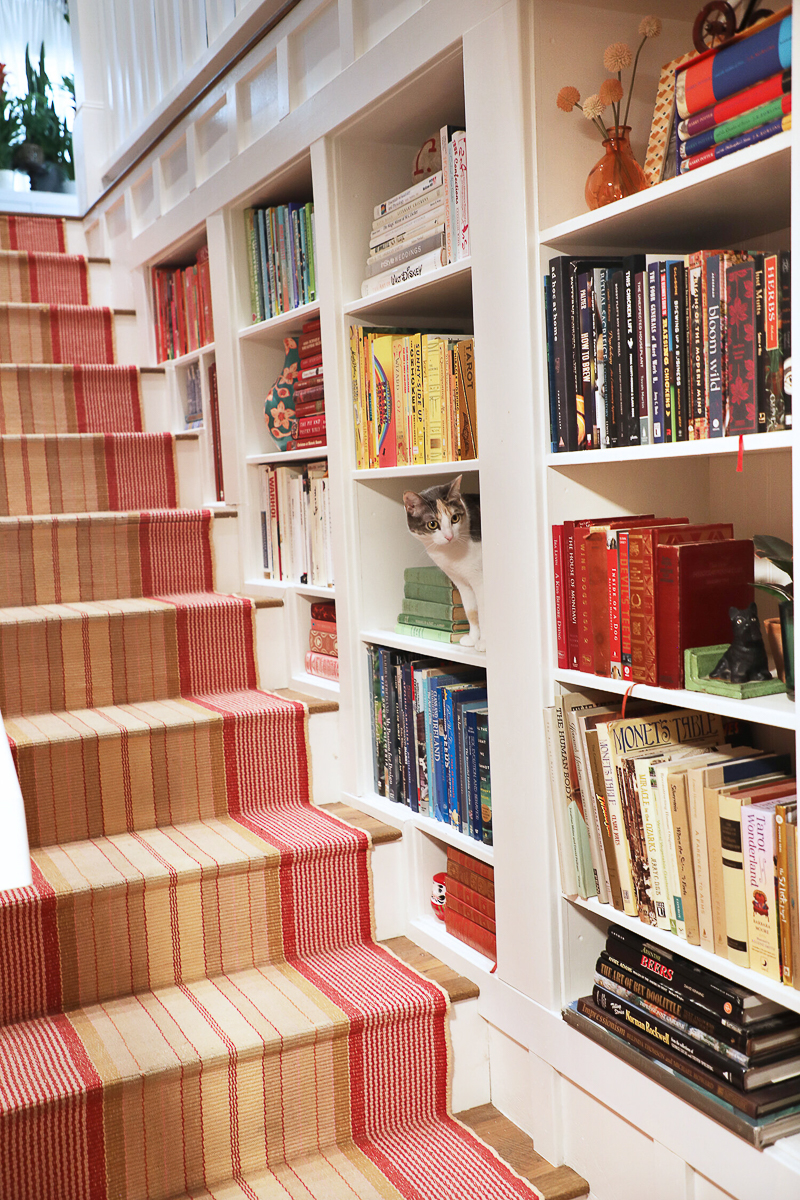 Since this old house doesn't have much storage, Kate carved out space for a bookcase which is the perfect place to display books and cats!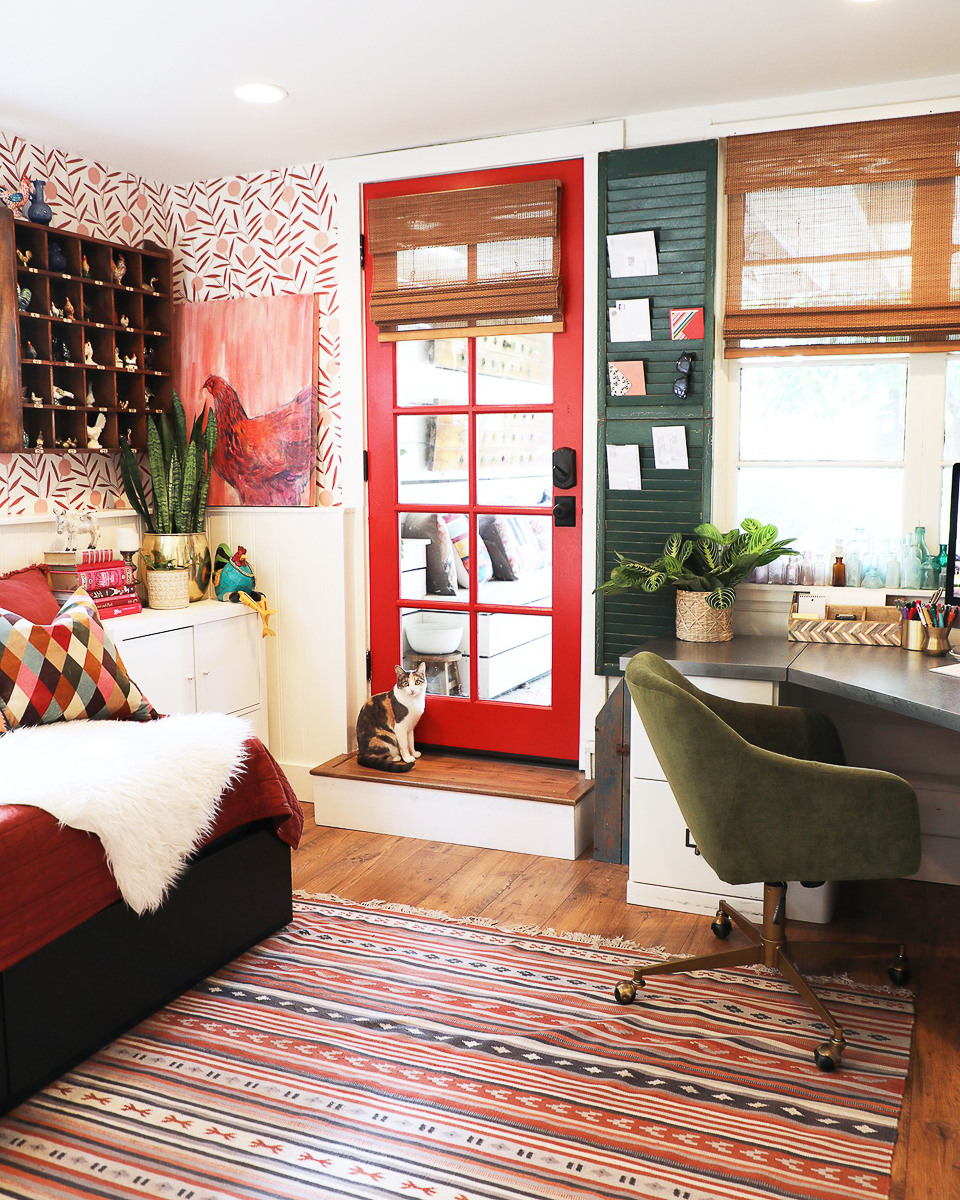 The home office has a French door that leads out onto a covered patio.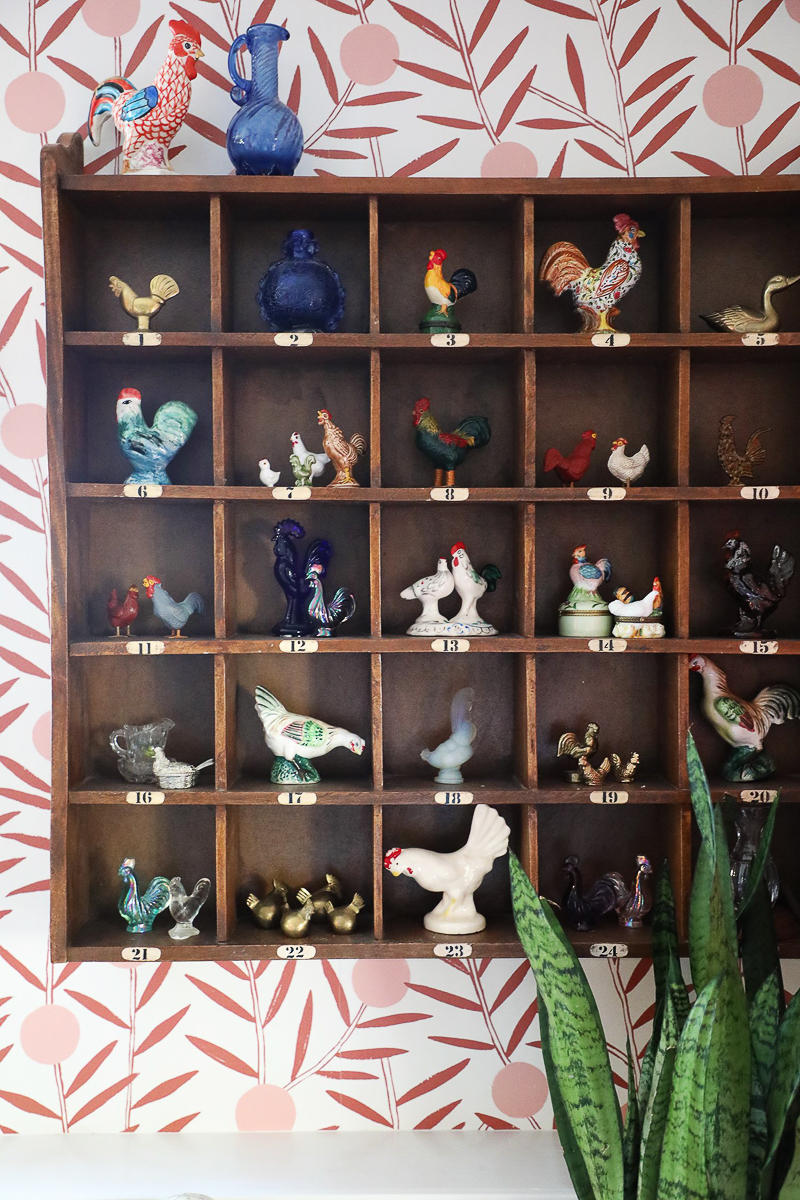 She's got all her vintage chicken figurines are in a row!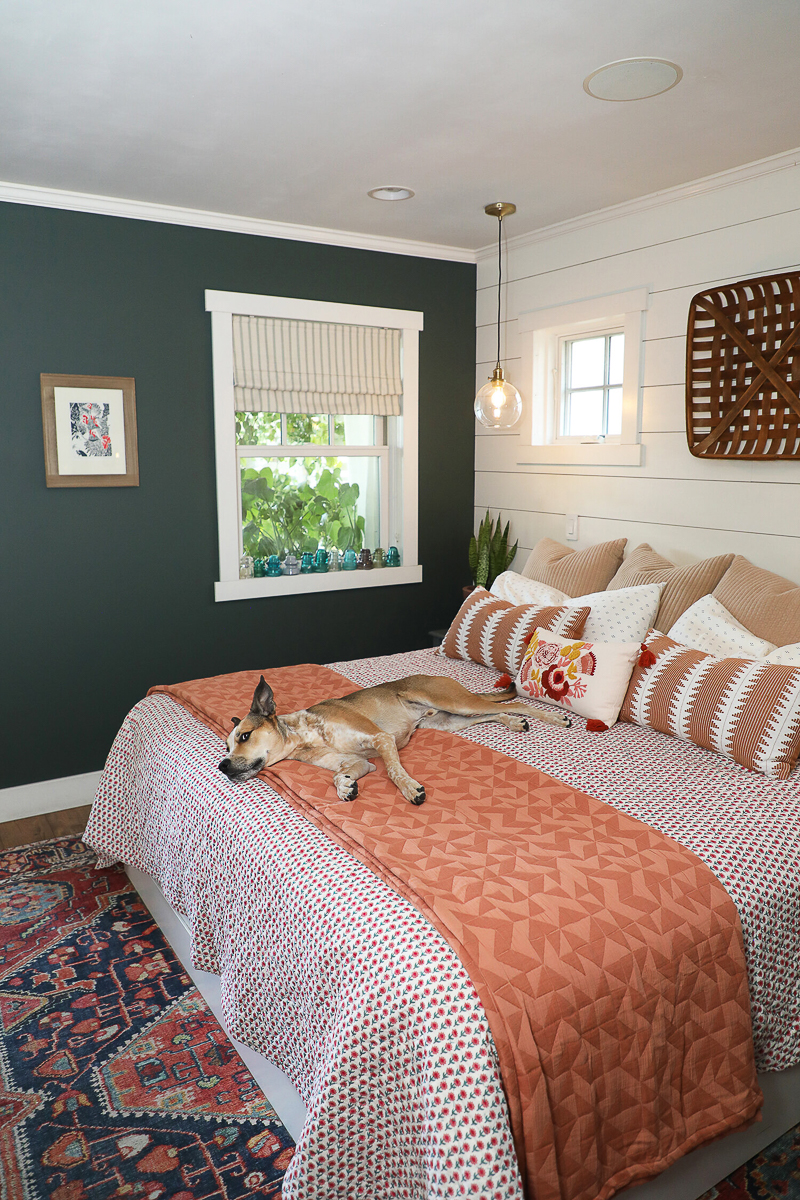 The primary bedroom has a dramatic dark green paint color.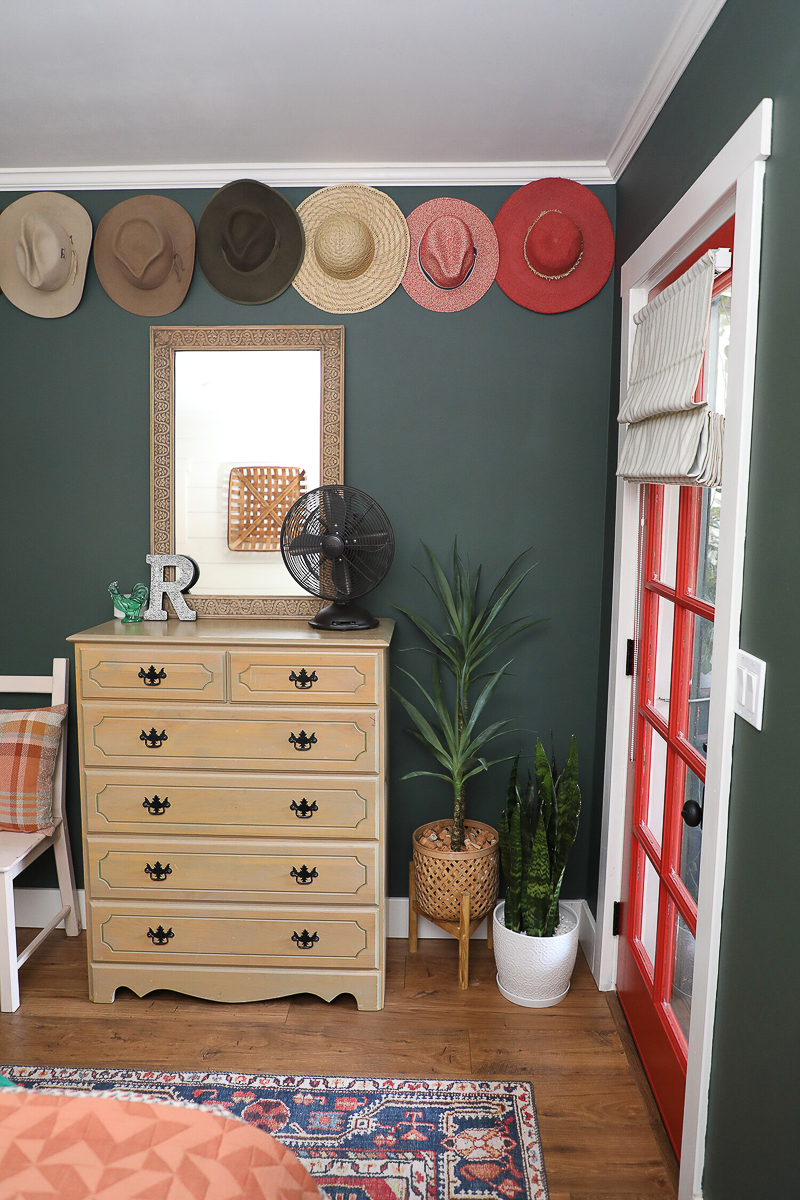 A collection of hats hung on the wall is both display and storage.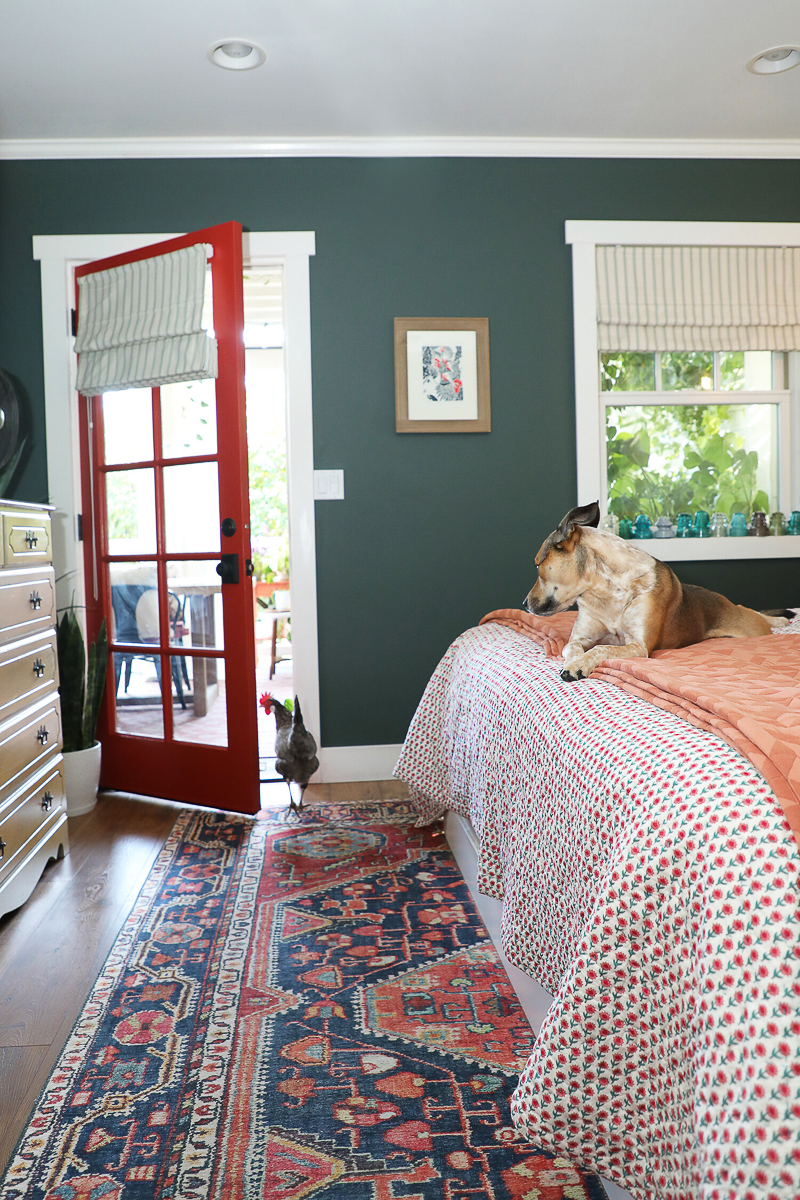 The bedroom and bathroom are unified by the same dark green paint.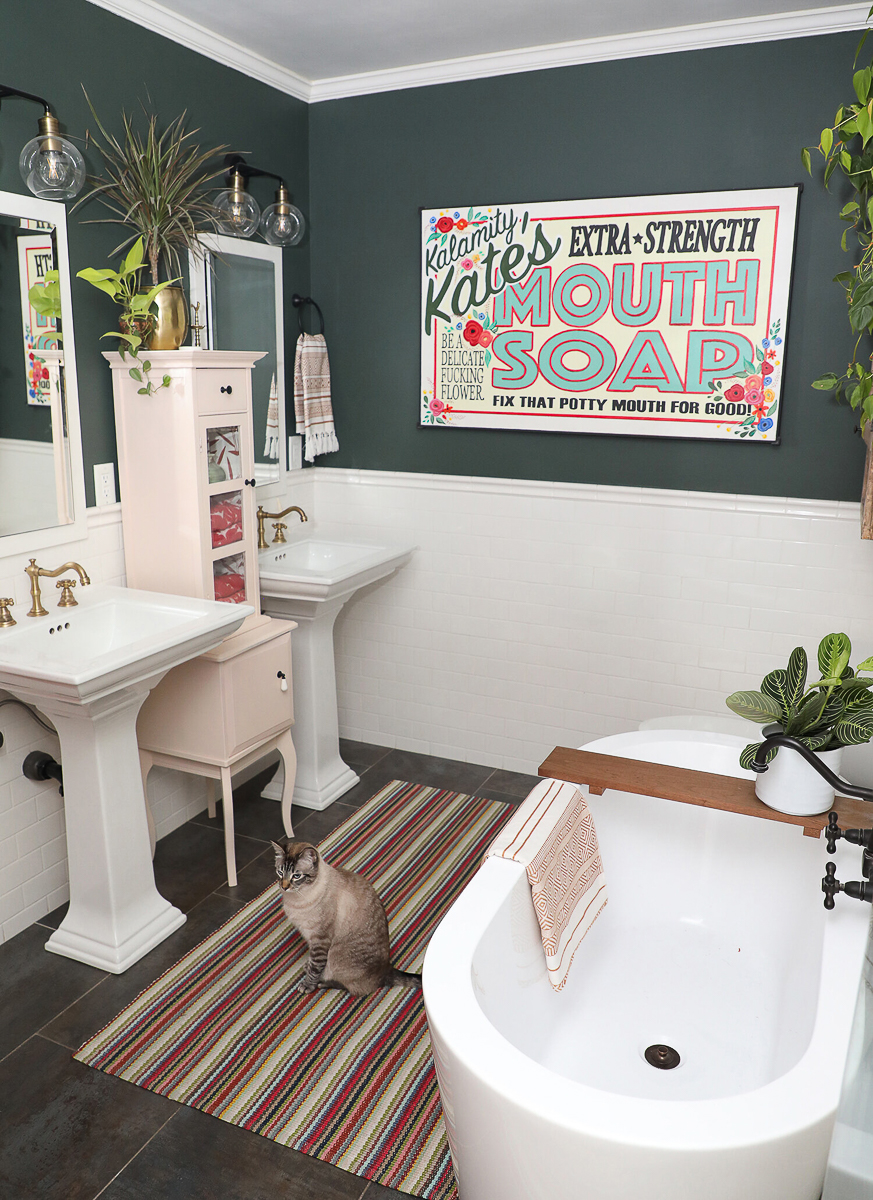 The guest room wallpaper is a fun and colorful addition.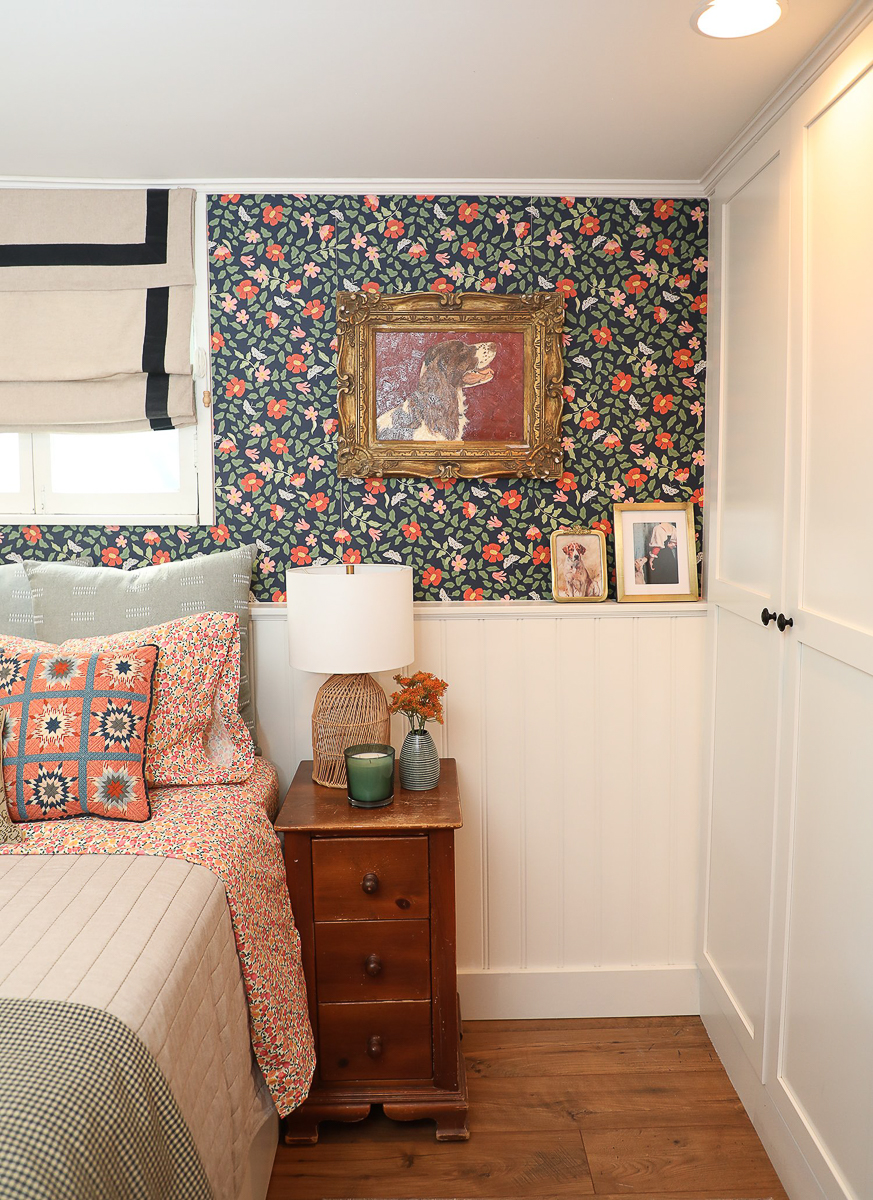 A classic black and white bathroom is the perfect backdrop for colorful accessories and a chicken, of course.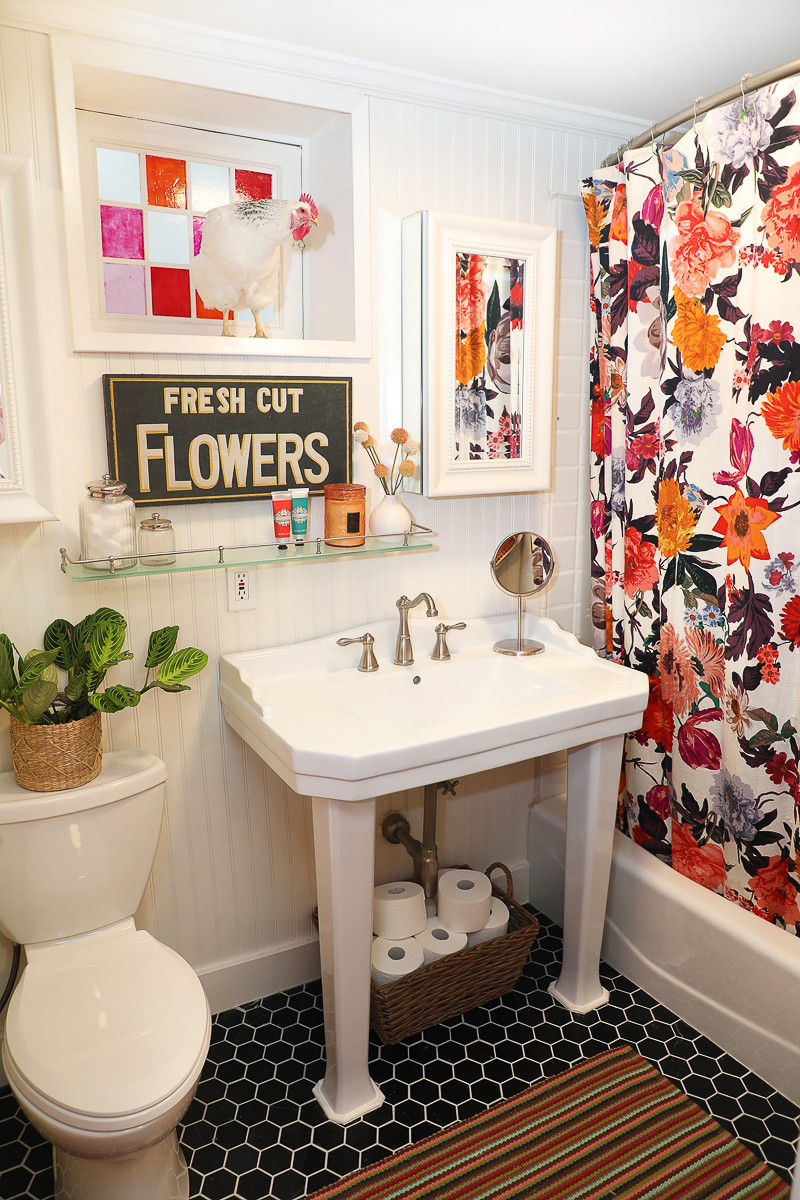 The cats even have their own little hideaway when they need some quality "me time."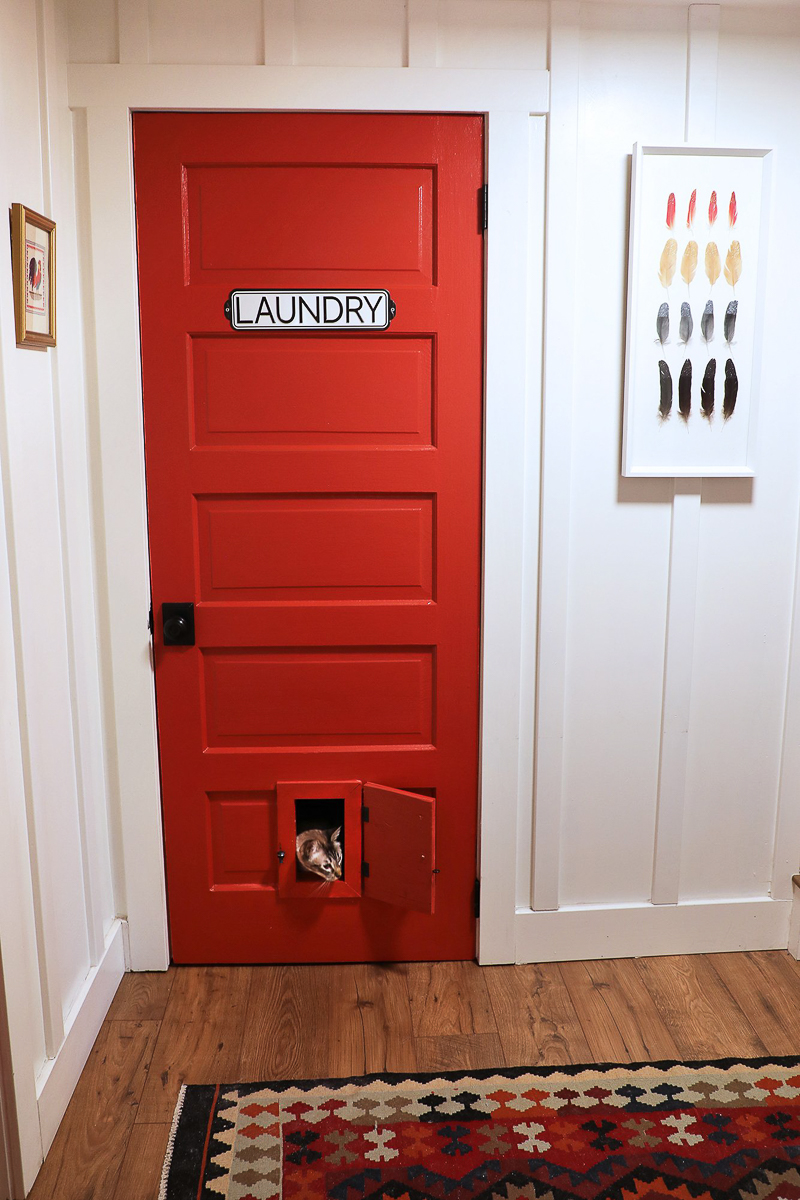 The laundry room doubles as a home base for the cats … no dogs allowed!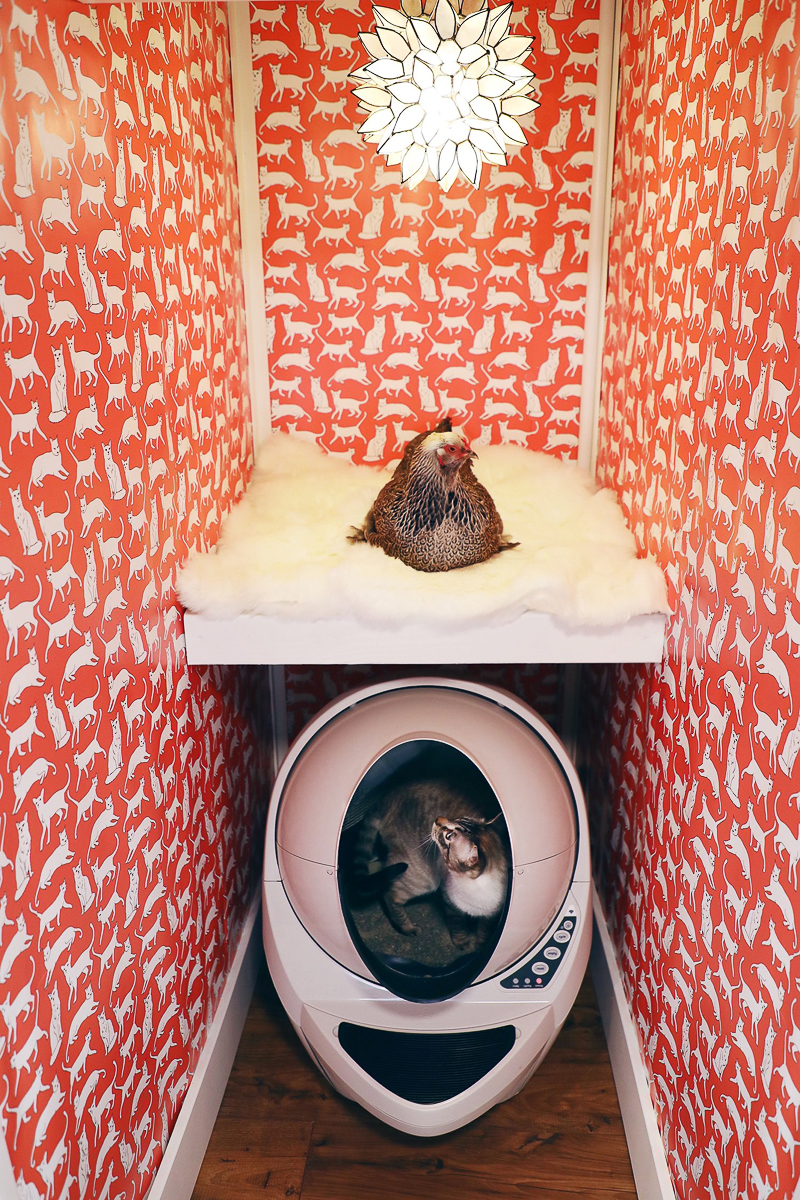 Lest you think this house is all about the chickens, this alcove decked out in cat wallpaper proves otherwise.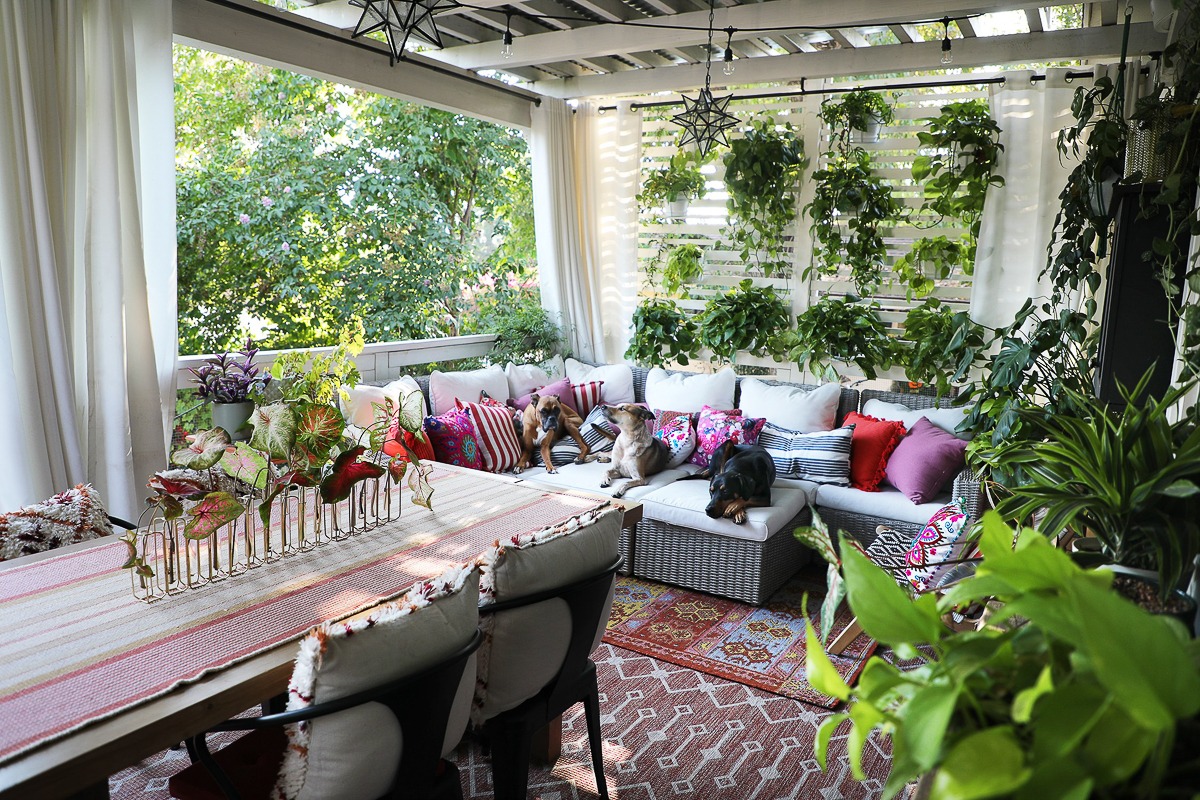 The Deck of Death, as Kate refers to the old structure that was attached to the house with just one screw, was replaced and a pergola and privacy screen added.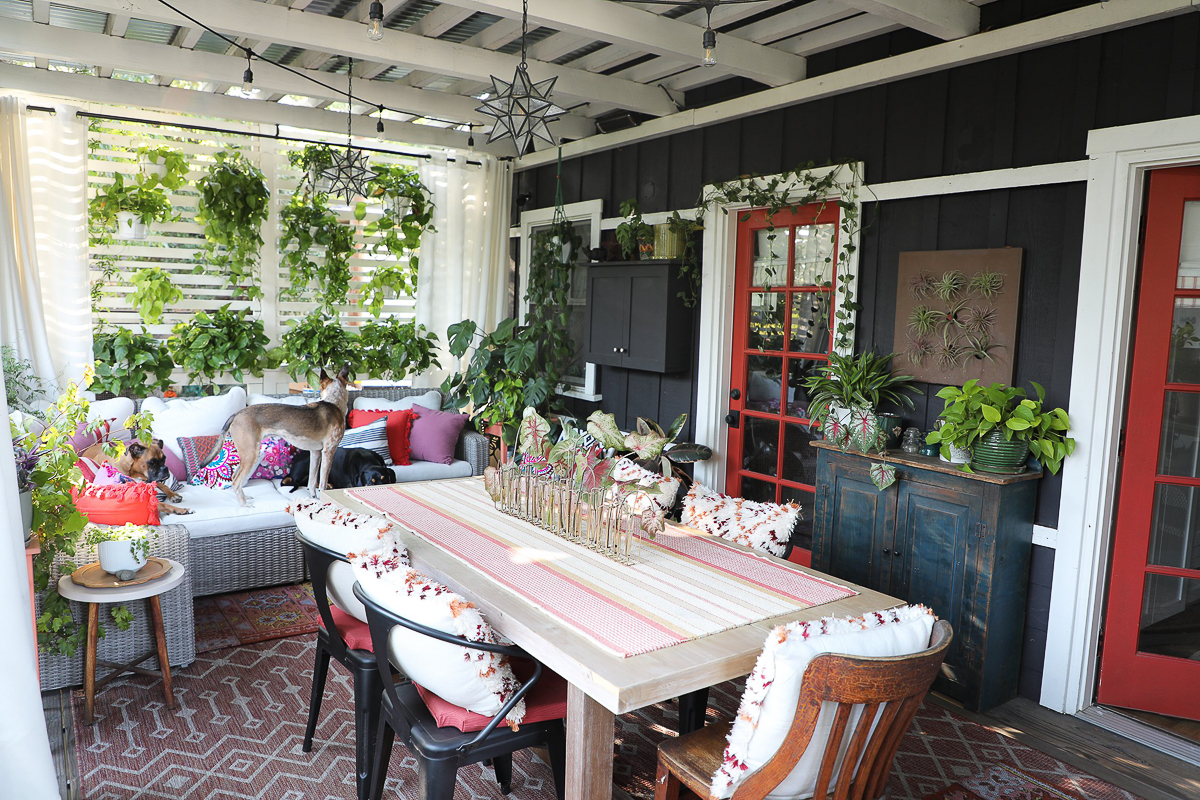 Below the upper deck is a covered patio which offers more entertaining space that is used year-round in sunny Southern California.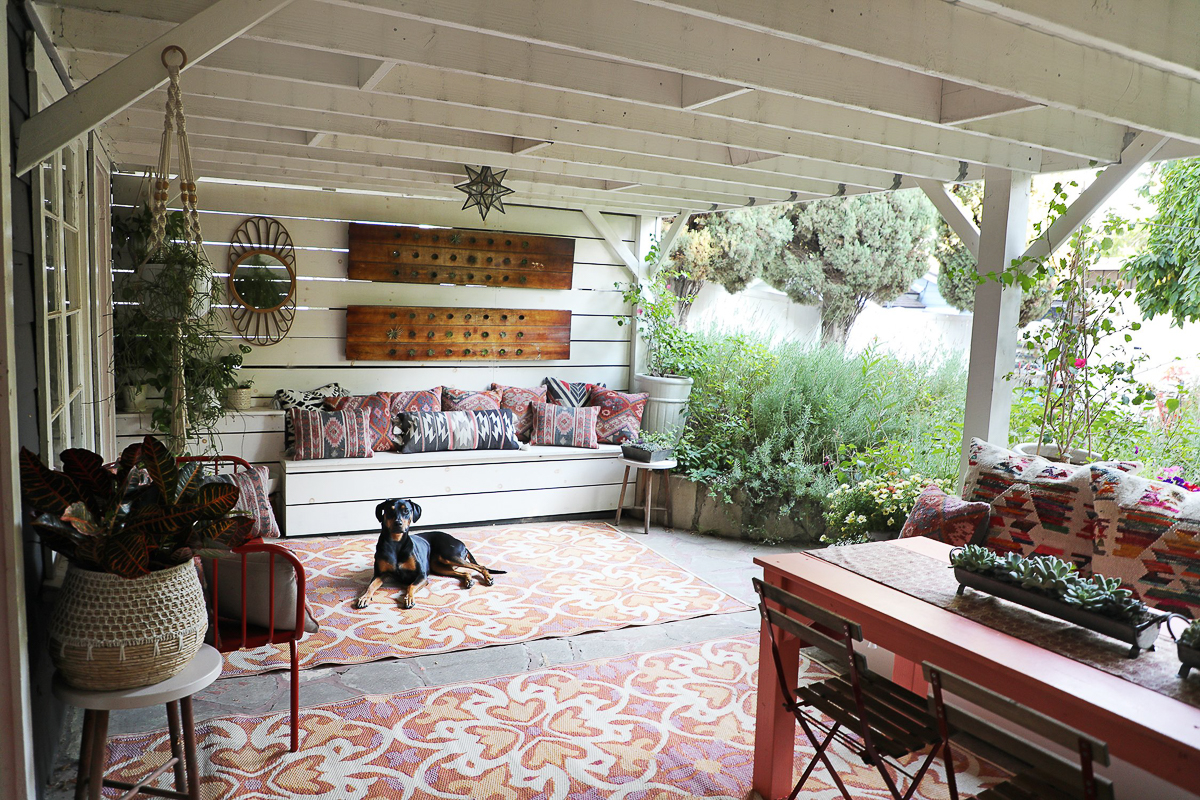 Now let's see where the chickens live.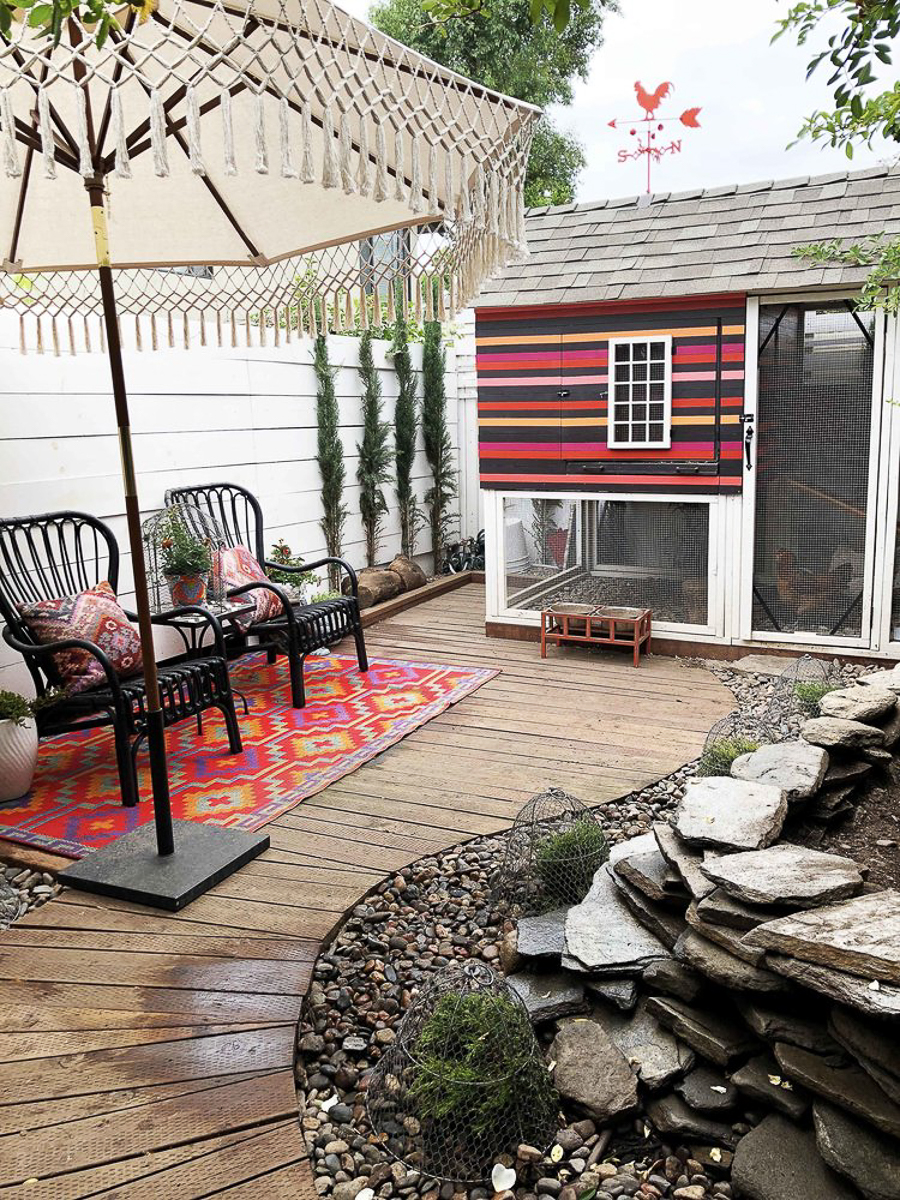 No chicken loving home would be complete without an epic chicken house complete with its very own rooster topped weathervane.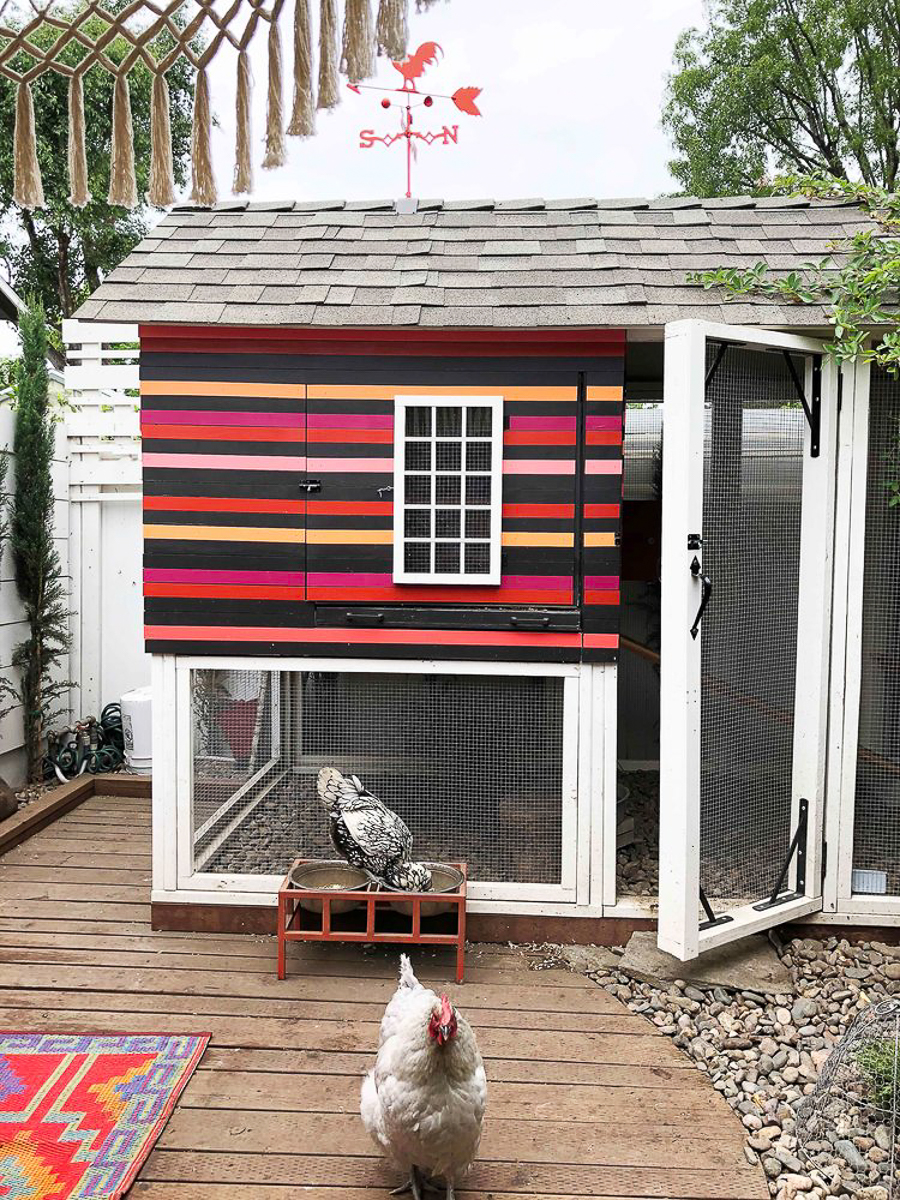 The whimsy continues inside because every chicken diva deserves floral wallpaper in their coops.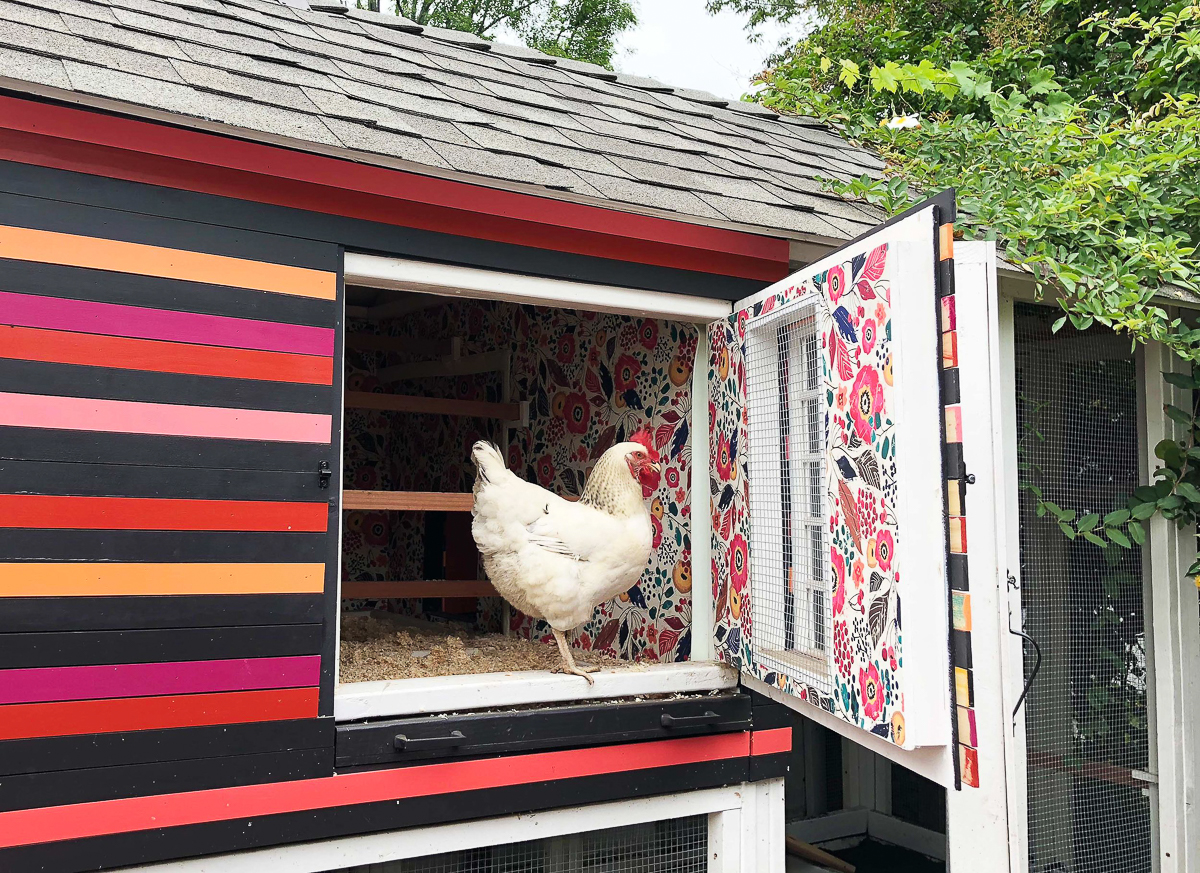 Kate says, "There's a funny thing that happens when you get chickens, and pretty much all backyard chicken-keepers will attest to this: you start spending an inordinate amount of time sitting and watching them. It's rather Zen. They're fascinating and they're funny, and I can't really explain it, cuz it's kind of a sickness, but you just wind up hanging out and staring at them like a total psychopath."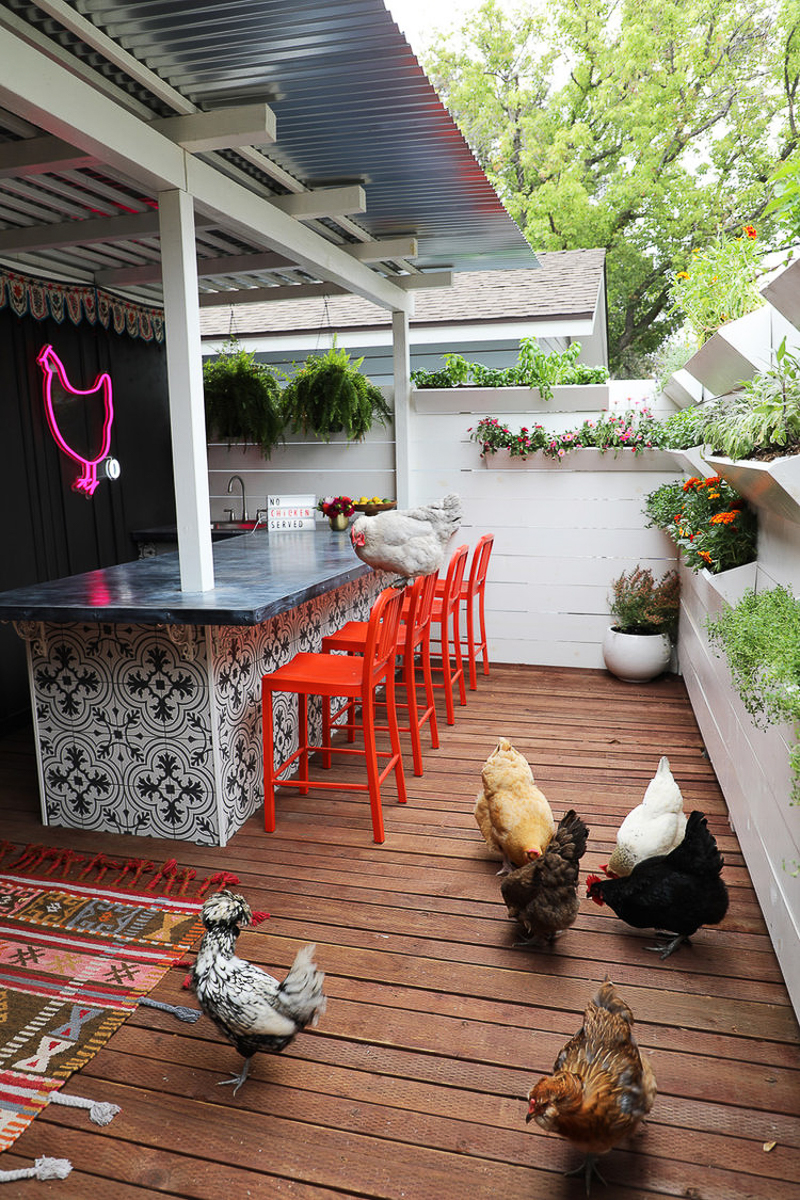 "I started incorporating a cocktail into this scenario. I mean, it's pretty pleasant to sit in the garden in the evening, with a freshly made cocktail, your feet up, watching these ridiculous birds chickening about. It became an inside joke between my husband and I whenever we were having a bad day, we'd lament about how we just wanted to home drinking with the chickens," says Kate.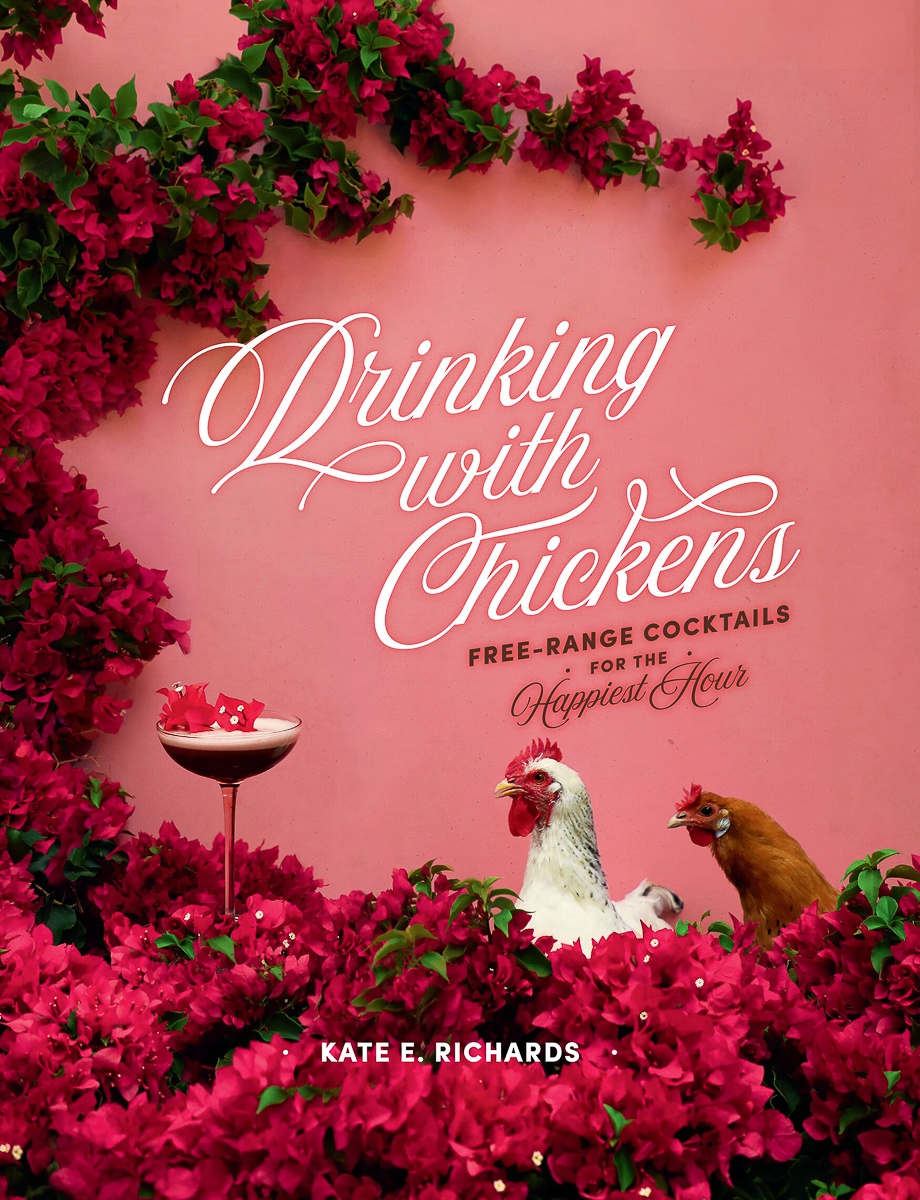 That's right, Kate wrote a book called Drinking with Chickens and it incorporates two of her favorite things … cocktails and chickens!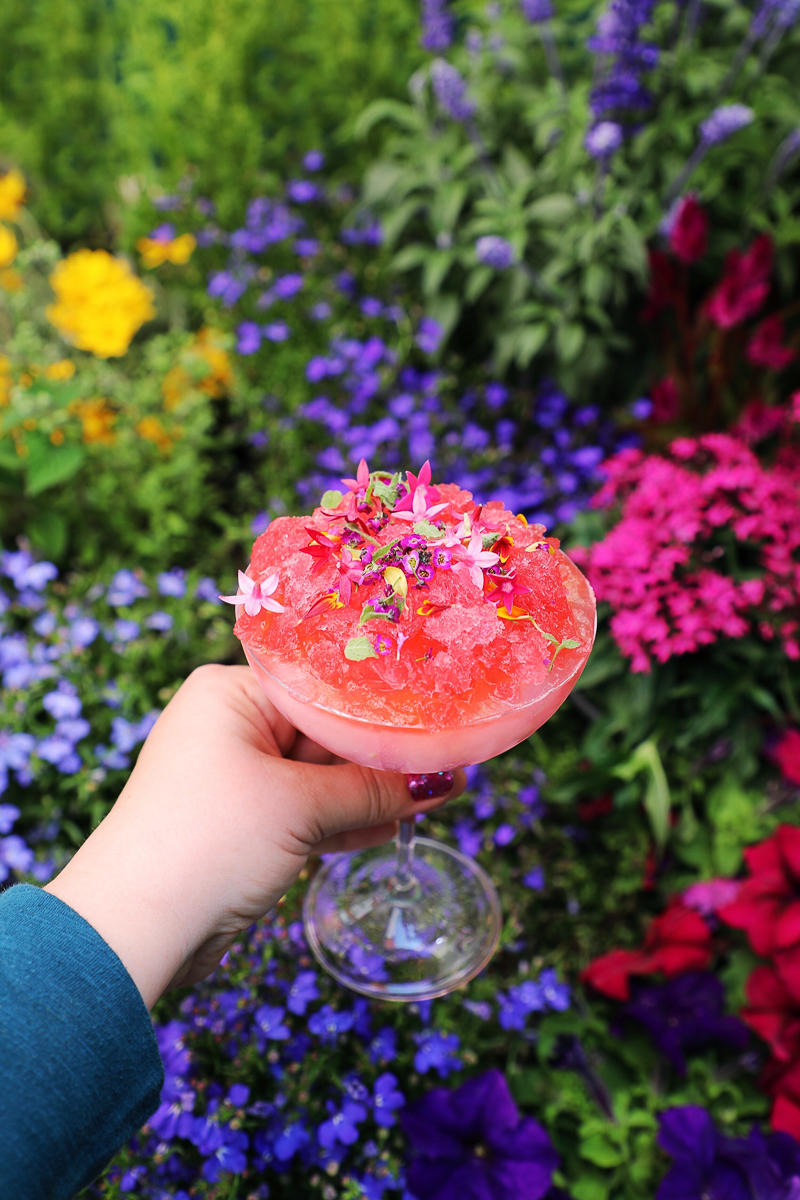 She has a cocktail garden where she grows all things necessary to make the perfect, pretty cocktail!
So pull up a colorful chair under the grapefruit tree and enjoy a drink while watching the chickens hunt and peck.
After 14 years of turning this house of horrors into a welcoming home, Kate sold this house and is on the hunt for a place with more space for her dogs, cats and of course her chickens, to frolic.
Disclaimer: Kate has fun with her chickens and is constantly disinfecting surfaces. She warns, "Do not let chickens on, near or in your drinks or food. They are filthy animals and they will get you sick. Use your common sense and sanitize surfaces and hands after coming into contact with them."