Eclectic Home Tour – Miracle on Thirty Fourth
Three years ago they bought their dream house … a 1935 brick Colonial. She says, "they were completely in over their heads and then completely overwhelmed. Termite damage, bats and even a shower that leaked from the ceiling below. Door handles fell off in their hands. Broken HVAC and the list goes on." Today's Eclectic Home Tour of Miracle on Thirty Fourth blog shows what a lot of elbow grease and creative repurposing can accomplish.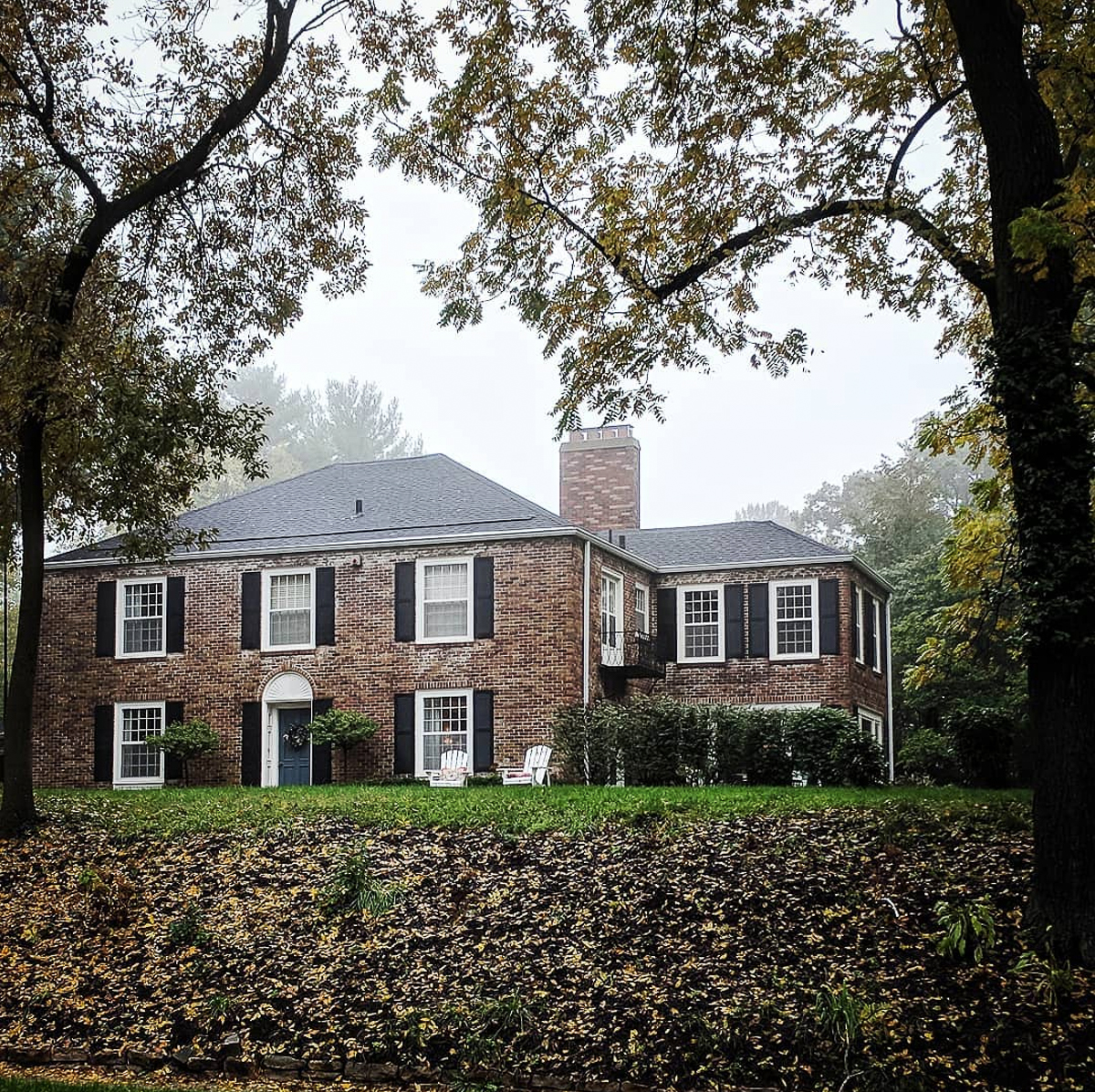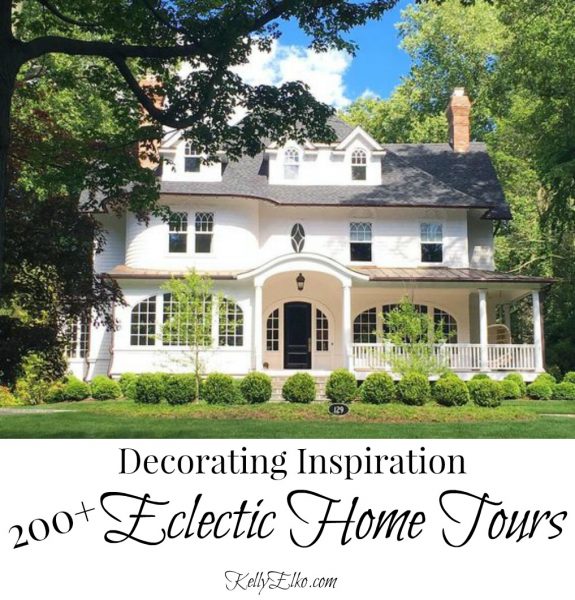 Ruthie Jackson is on a mission to update her dream house in Des Moises, Iowa. She says, "I consider my house one giant art project/decorating experiment. My interests include: thrifting and the art of a good deal." In order to tackle all that has to be done in the house without feeling overwhelmed, she says, "each day we've tried to do even one tiny little thing to love and repair her."
She cut and stapled five indoor/outdoor runners then added classic brass stair runners to help hide the seams.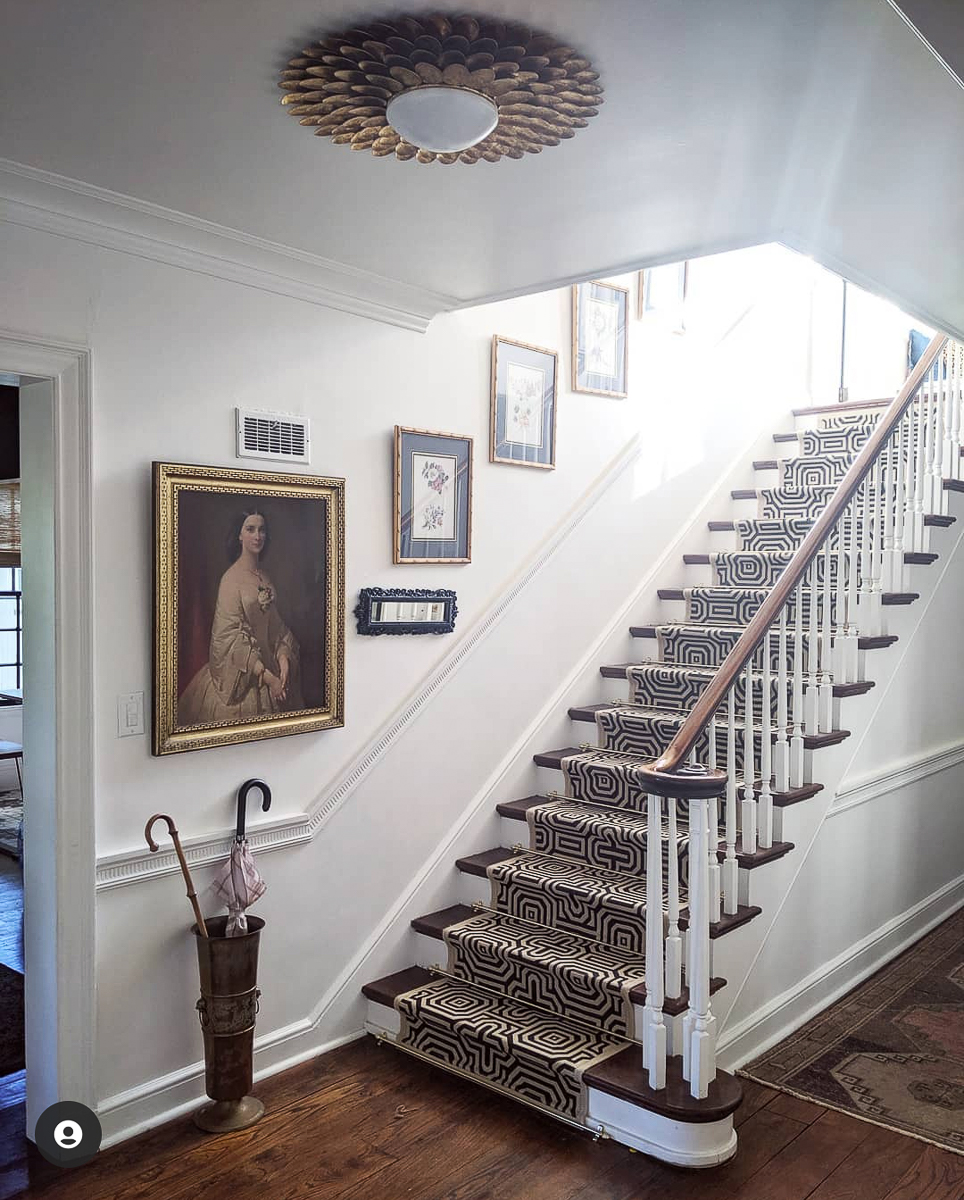 The kitchen was reconfigured to make room for a peninsula painted the same dark color found though most of the house. A few inventive DIY's include building benches for the eating area out of leftover butcher block and hairpin legs and a peg board to show off copper pots and pans.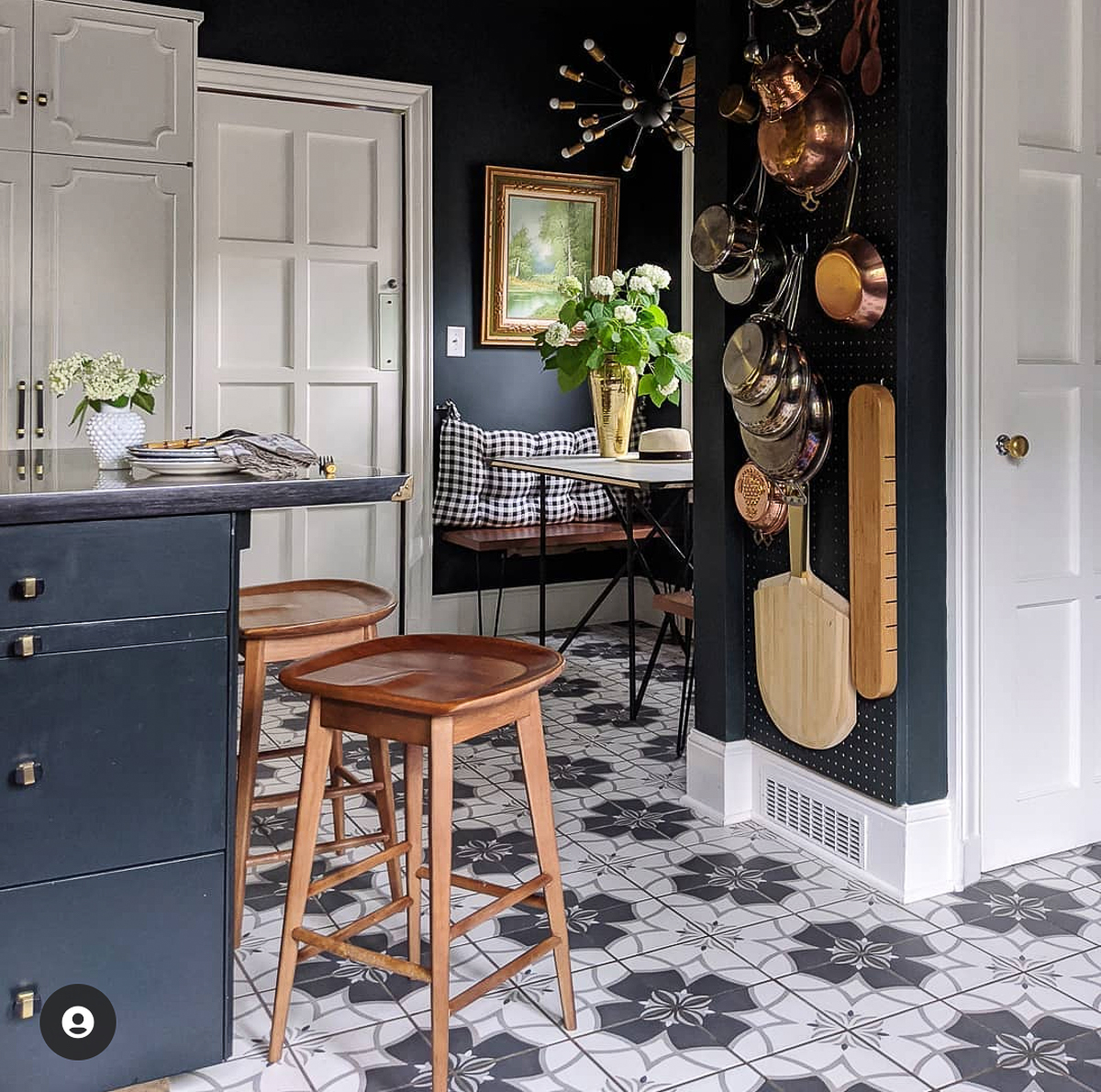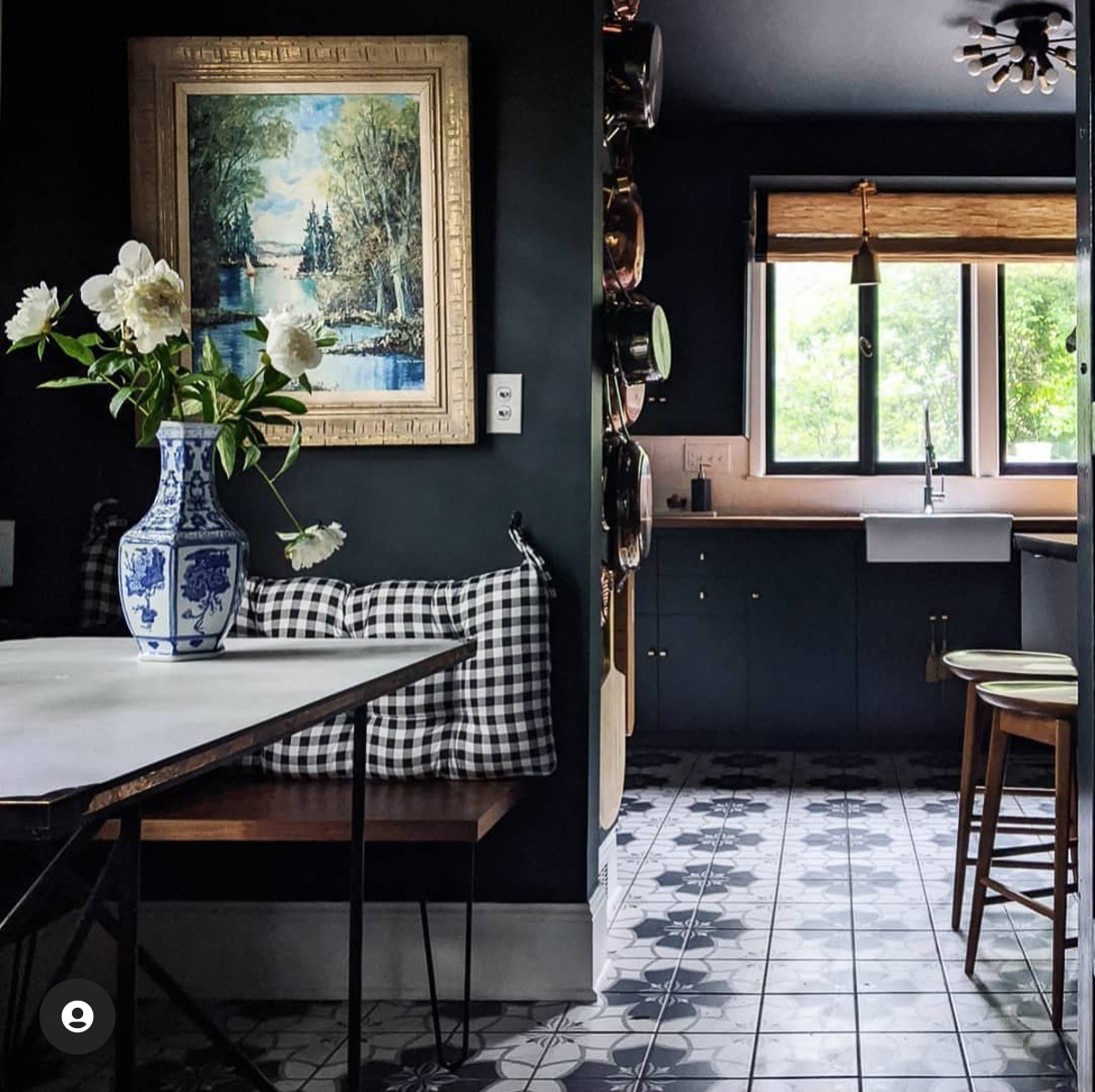 Built in bookcases in the living room get a wild dose of patterned wallpaper that matches the sofa fabric.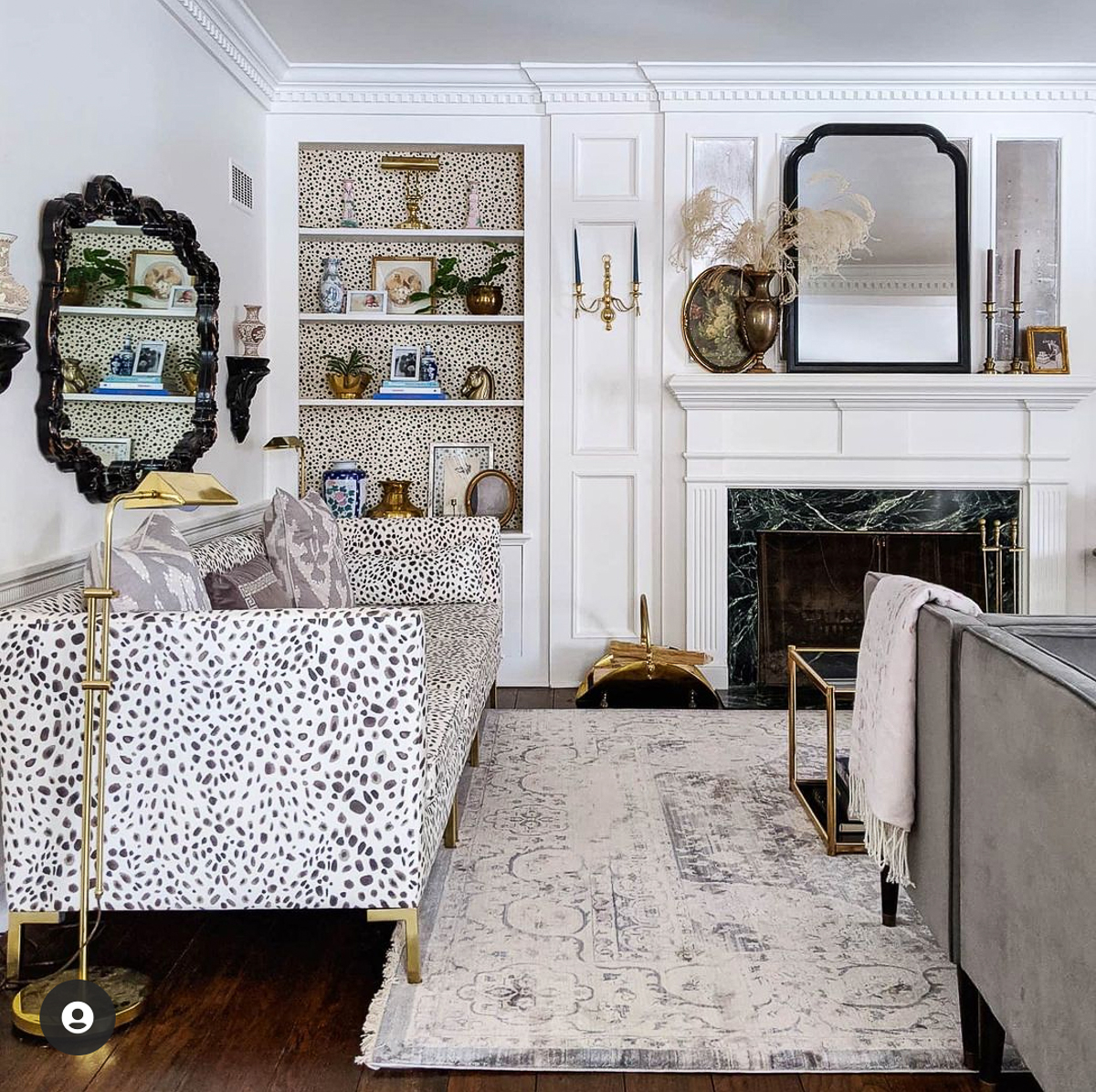 There is always a DIY in progress and current plans for the sunroom include gel staining the paneling black. The ceiling is going dark green, and the floor will be stained in a black and white checker pattern.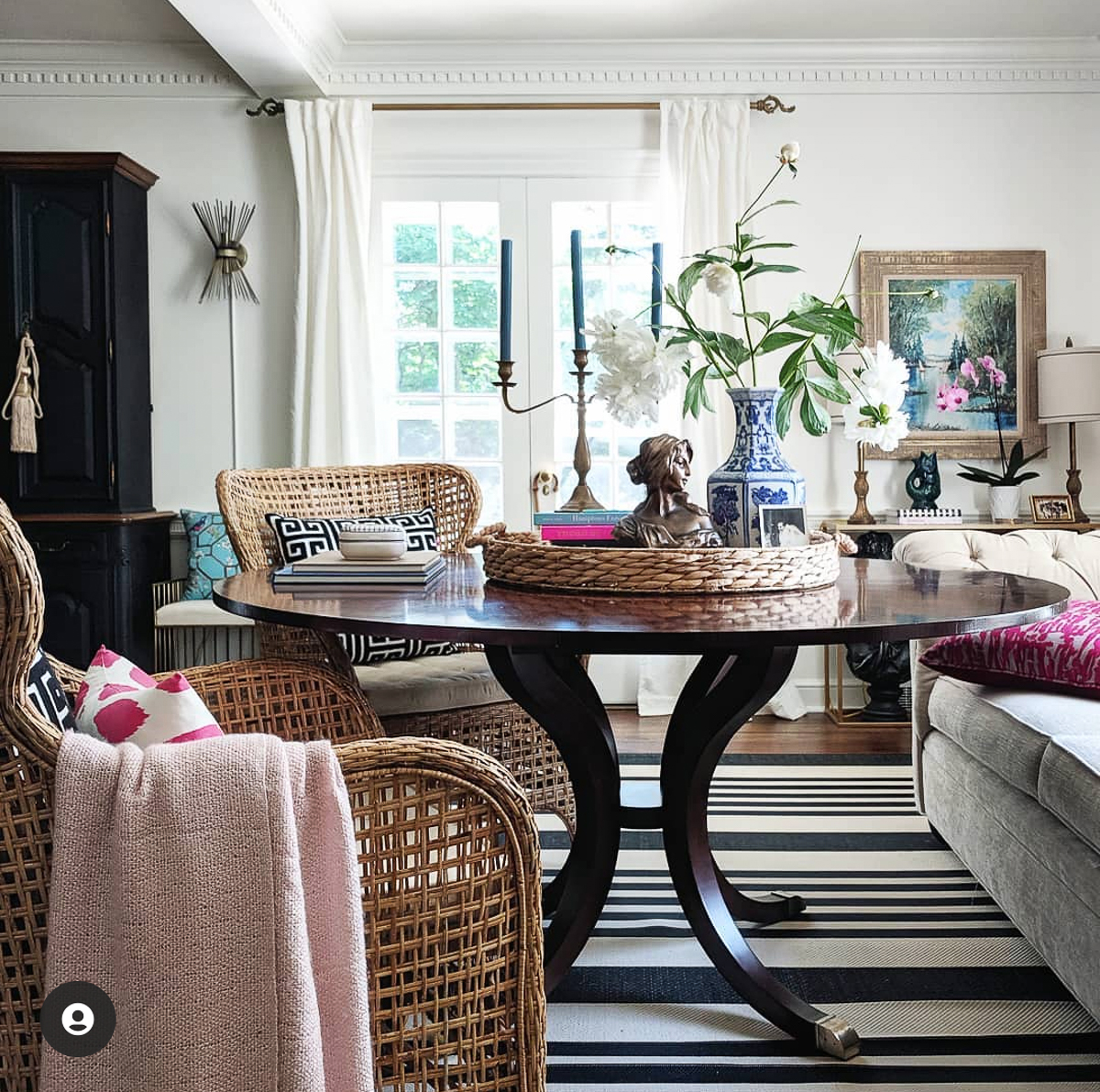 The home office (if you haven't guessed, she's an interior decorator), has a garden room feel with the trellis wallpaper. Also, notice how the lucite and brass door pull that Ruthie made for around $20 instantly modernizes the door.
The old owners left behind lots of furniture and Ruthie was determined to use what she had to save money. She updated the old dining table by painting the base with black chalk paint to match the dark gel stained walls.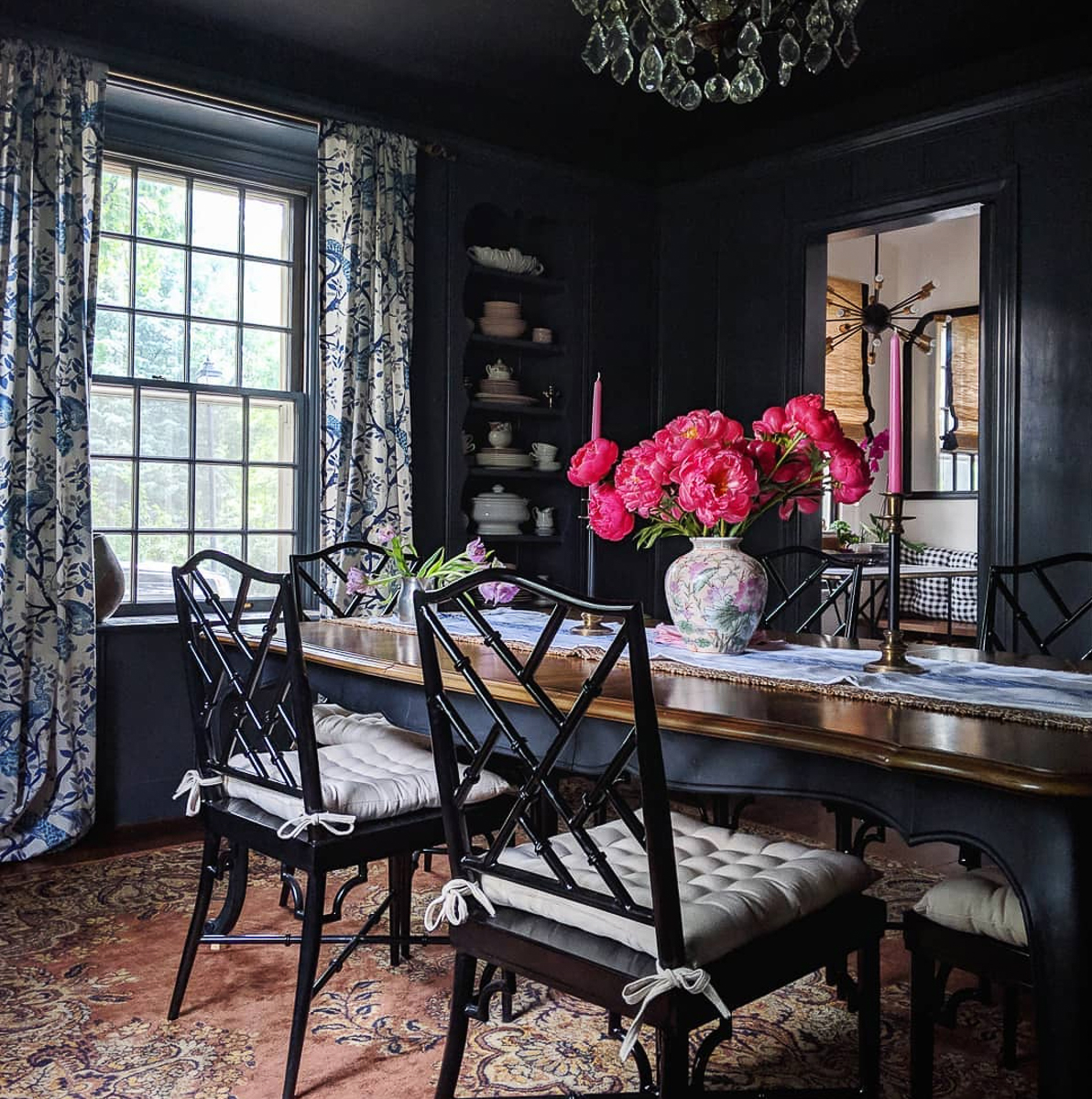 The vintage Thomasville rolling serving cart was found at a local thrift store.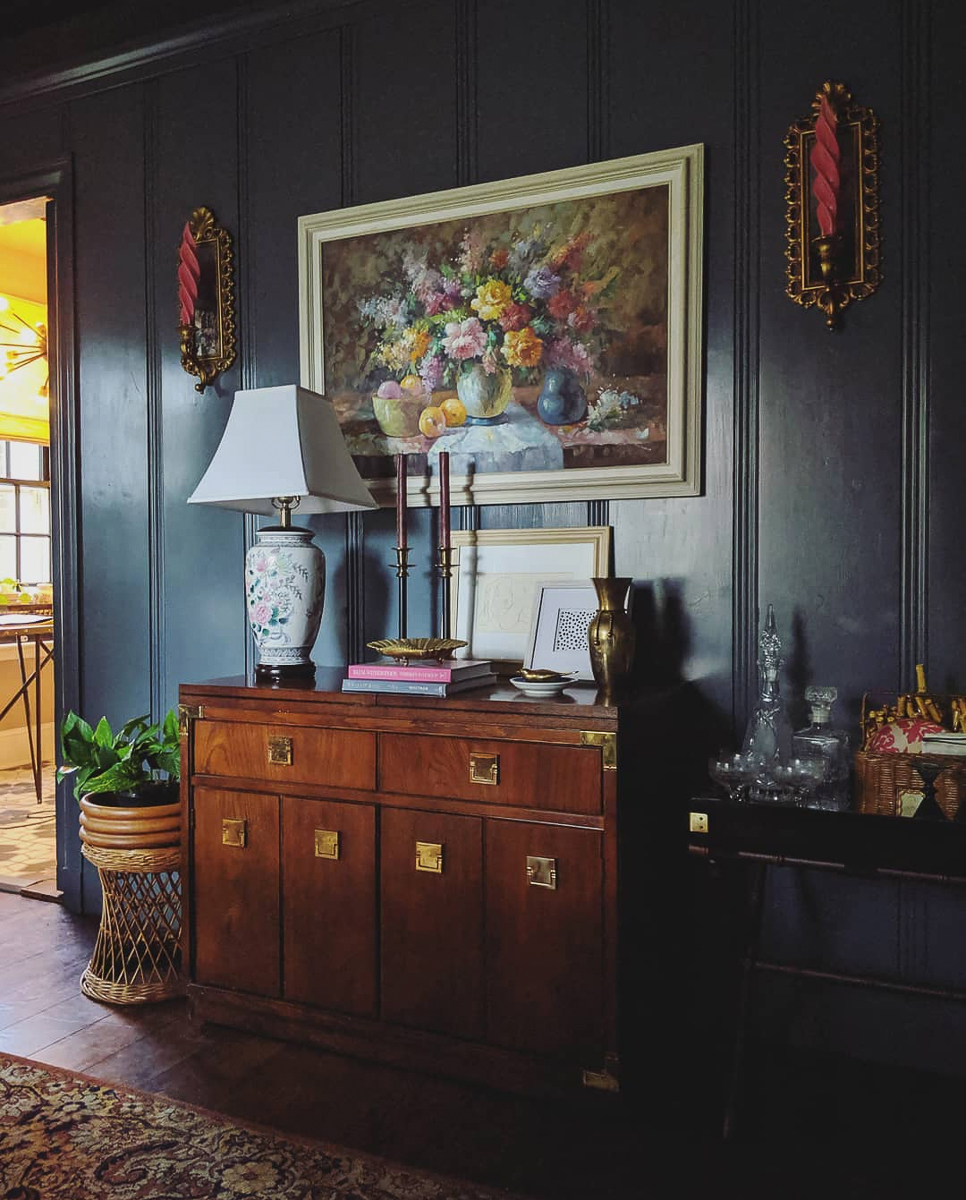 A pair of armoires fill in for the usual nightstands but a bedside tray makes room for essentials.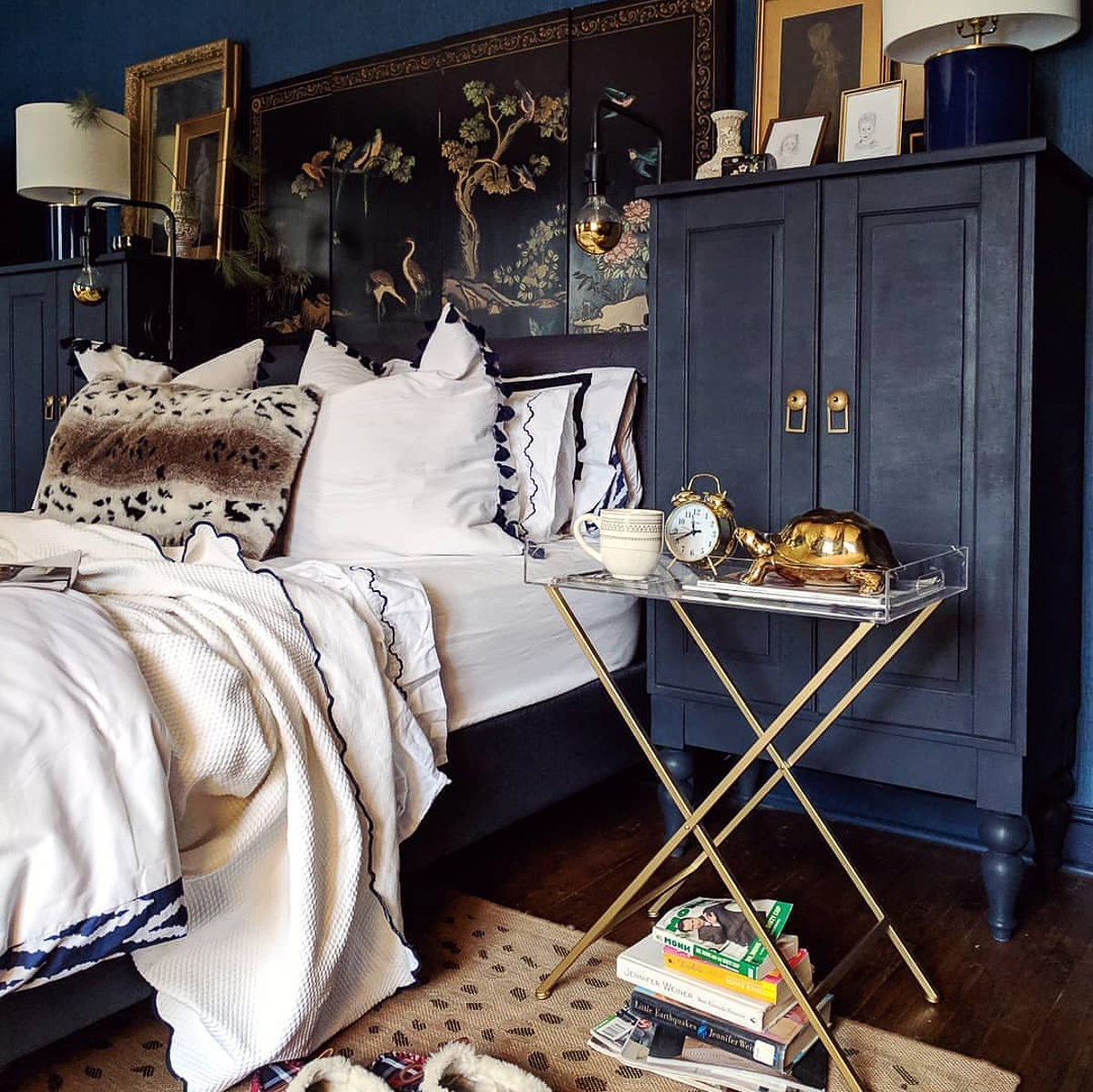 One of the perks of owning an older home is having the luxury of a bedroom fireplace. Ruthie painted the mantel a lighter blue to pop against the dark walls and found an antique brass peacock screen for the perfect finishing touch.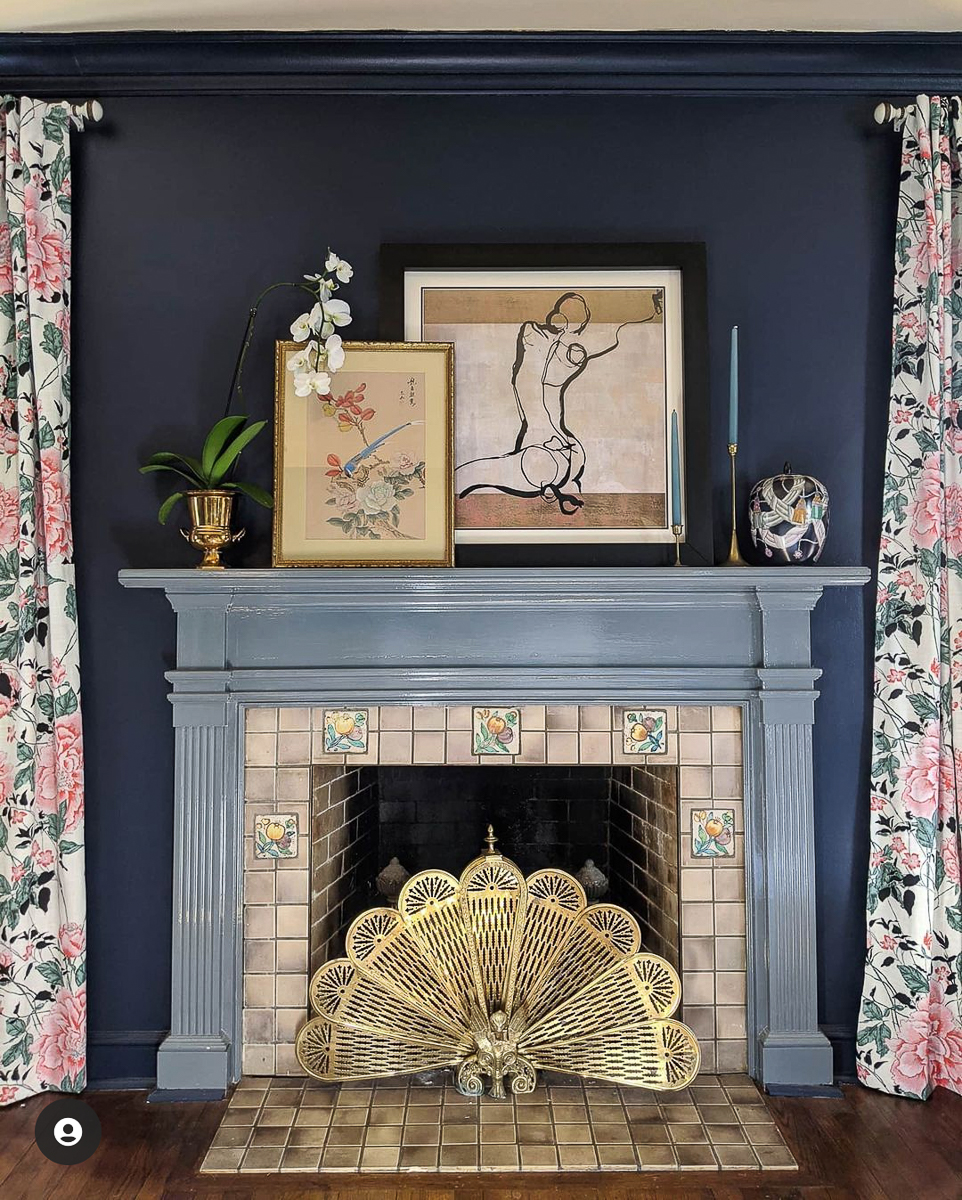 To create a cozy nook in her son's bedroom, Ruthie hung a room divider from the ceiling for a pair of plaid drapes. Ruthie says the tiny room feels larger when everything is painted the same color … walls, ceiling and moulding.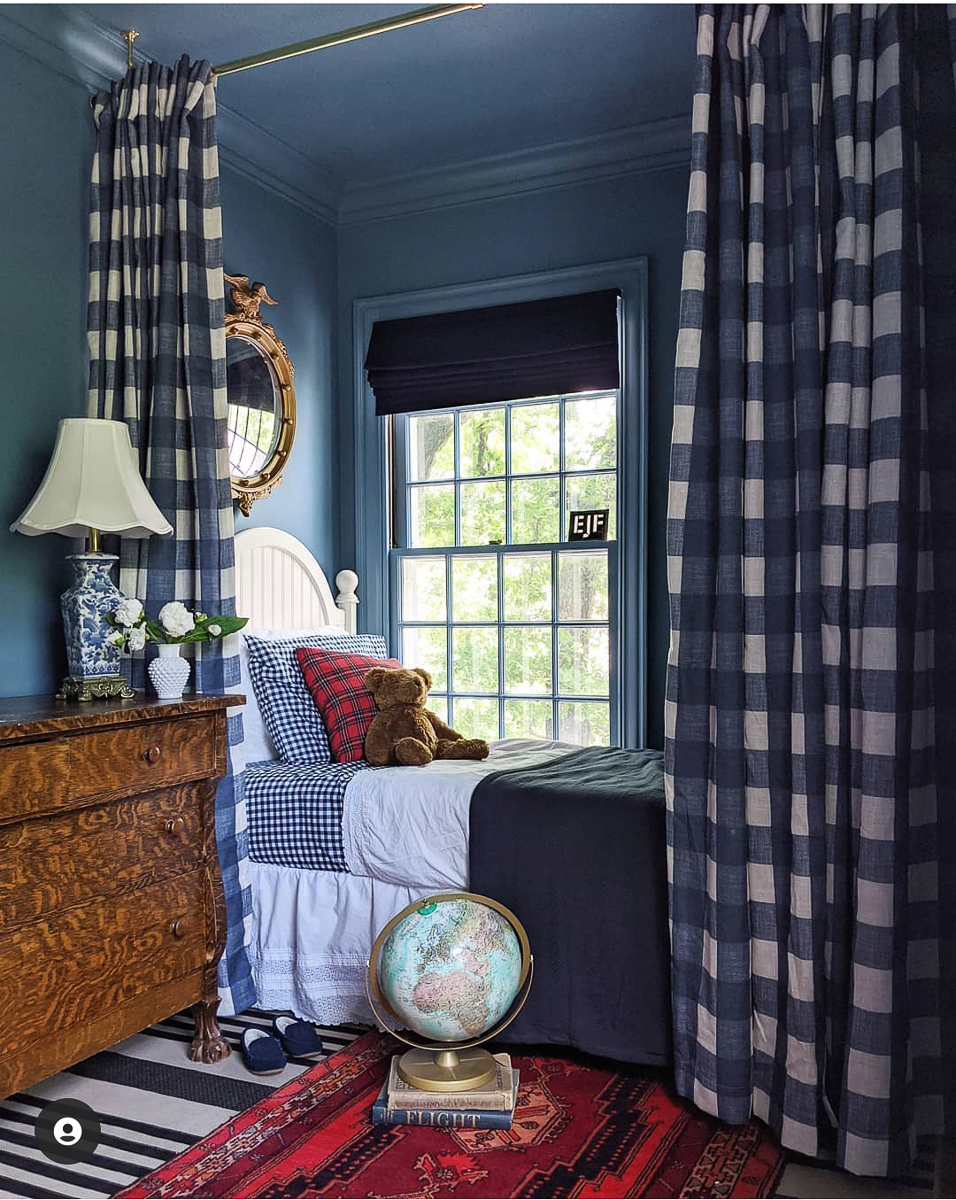 An upstairs linen closet gets a makeover with pretty floral wallpaper.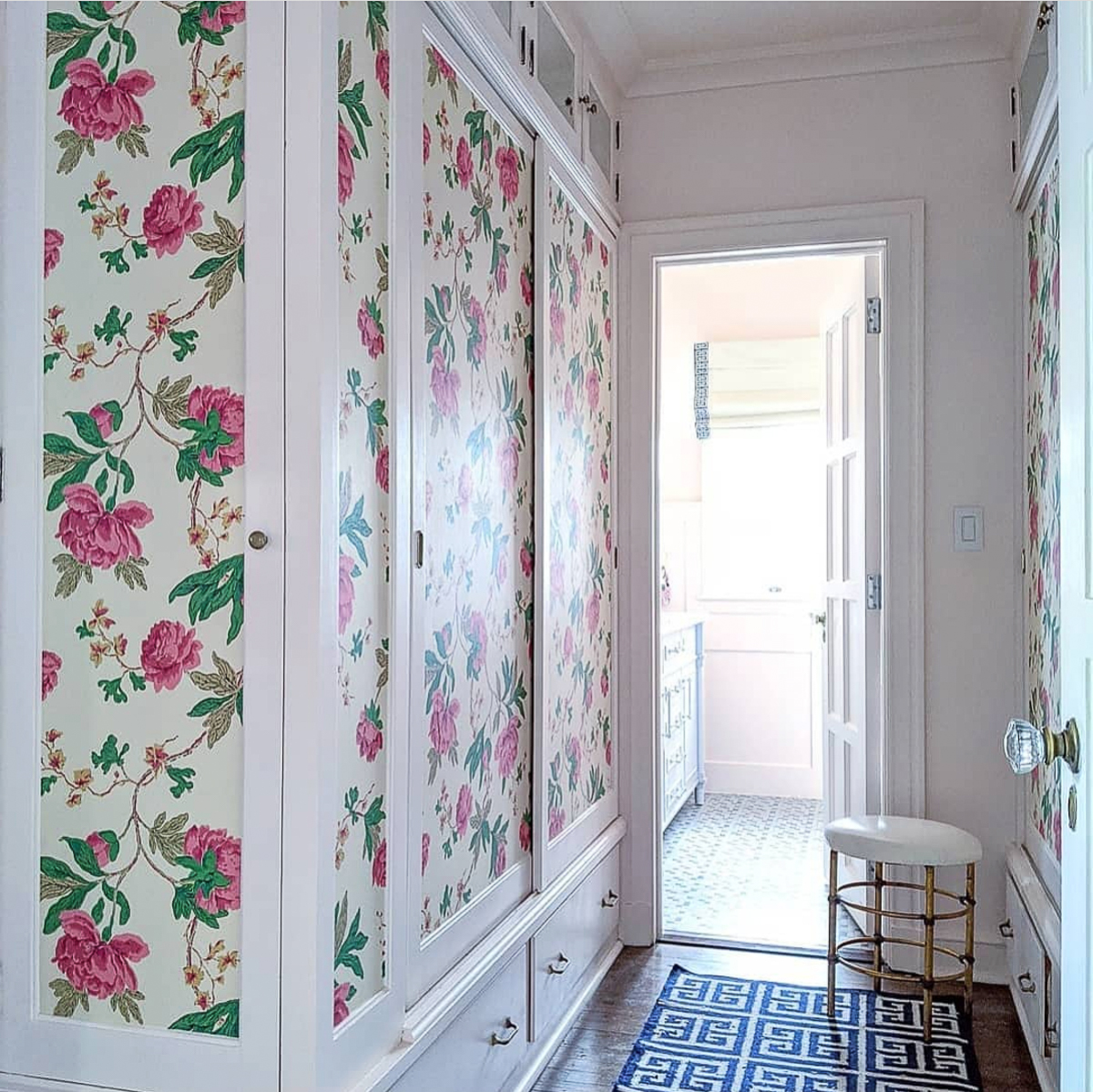 When she had to have some plumbing repaired, she took that opportunity to renovate her son's bathroom. Ruthie went for a locker room vibe in simple black and white. Affordable $1.84 a square foot white tile allowed her to take the tile all the way to the ceiling.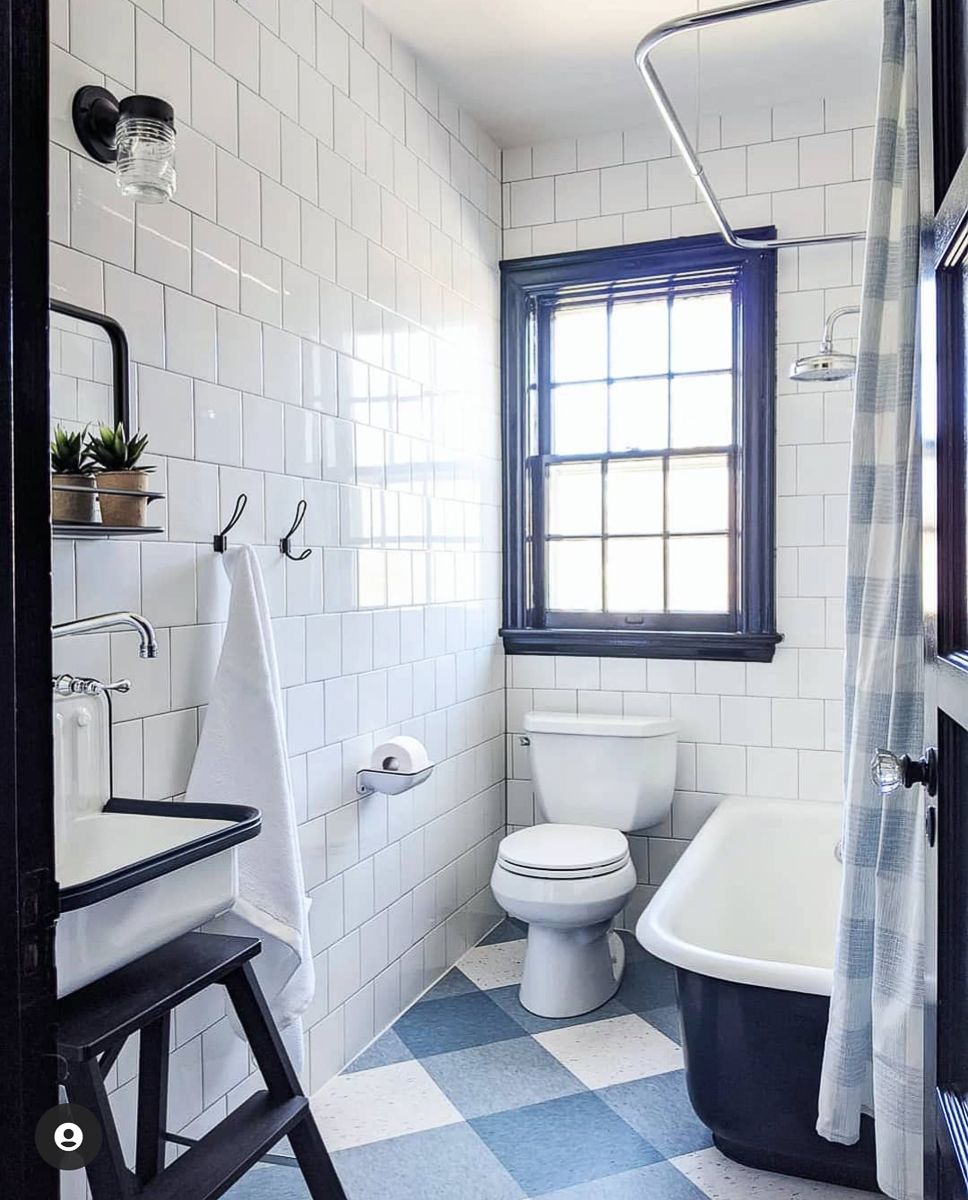 Even the powder room has style. Small spaces like these are the perfect place to go crazy with bold color and pattern.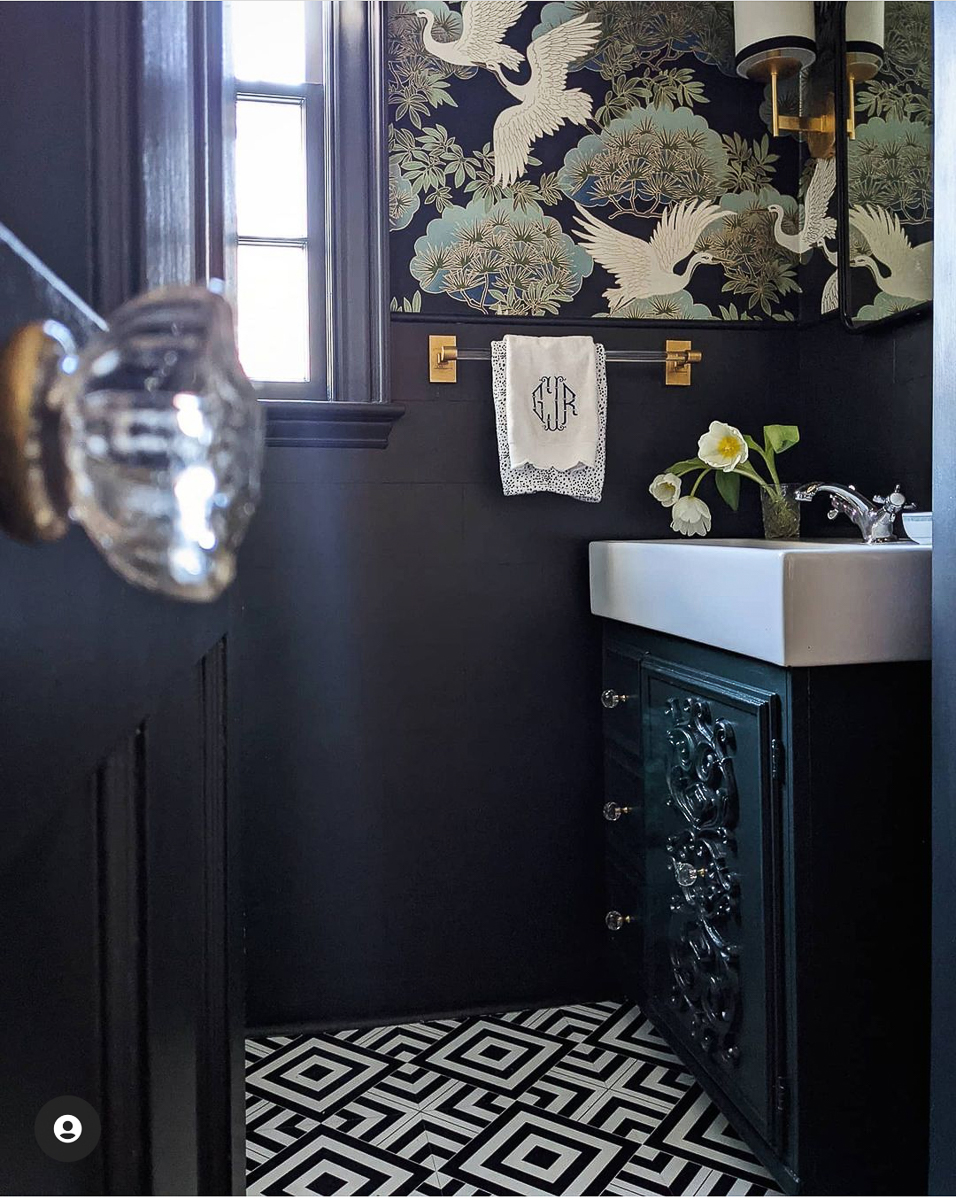 "Although, it always feels a little funny to call anything in our house an after. Ever evolving. A few hundred bucks here or there. A gallon a paint … a new thrift treasure. I love how the layers over time make a home." says Ruthie.
Visit Miracle on Thirty Fourth to see more of this 1935 Colonial makeover in progress …