Eclectic Home Tour – Molly in Maine
Two of their kids went to college in Maine and that's when she fell in love with the state, its people and way of life. Today's Eclectic Home Tour is the stunning coastal home of Molly in Maine. She says, "we bought a view with two tiny rundown seasonal cottages attached to it!" She's turned those rundown cottages into a feels-like-it's-always-been-there home that reflects her love of coastal style, casual living, and the color blue. Get ready to see some of the most stunning antique collections, thrifted finds and a collected over time look.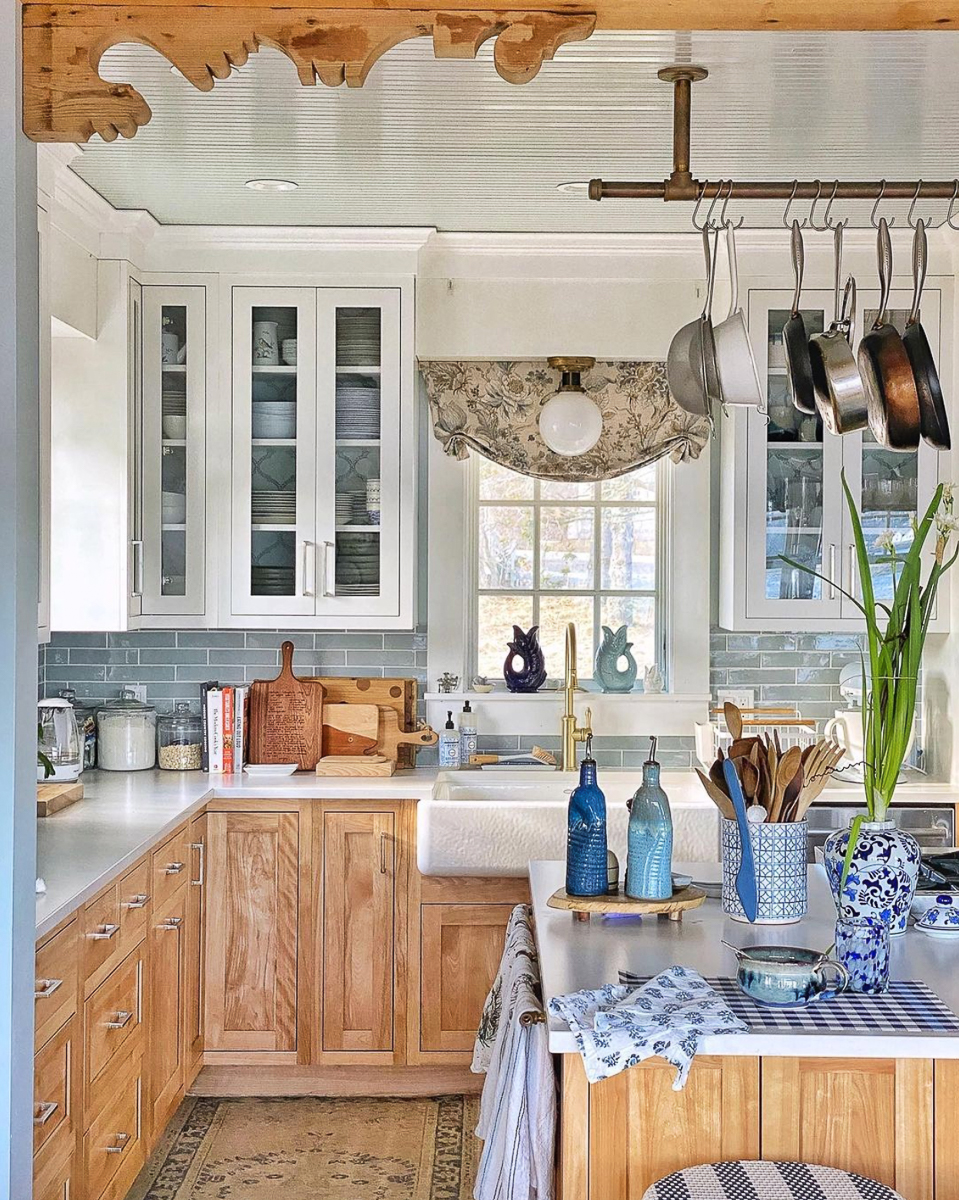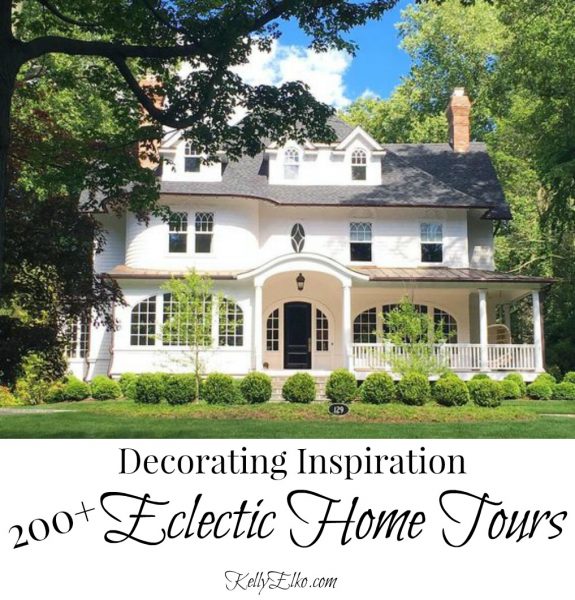 Says Molly, "When I retired from my career with the federal government  in 2017 we sold that home and moved to Maine. I have always loved interior design and this home has been my crowning achievement! The colors and many of the accessories in the home were chosen to reflect the natural views out the many large windows. This house is all about the water view!"
A complete gut renovation of the 450 square foot guest cottage was the starting point and when that was finished, Molly made it her temporary living quarters, with her two dogs and cats, for six months until they could move into the new house.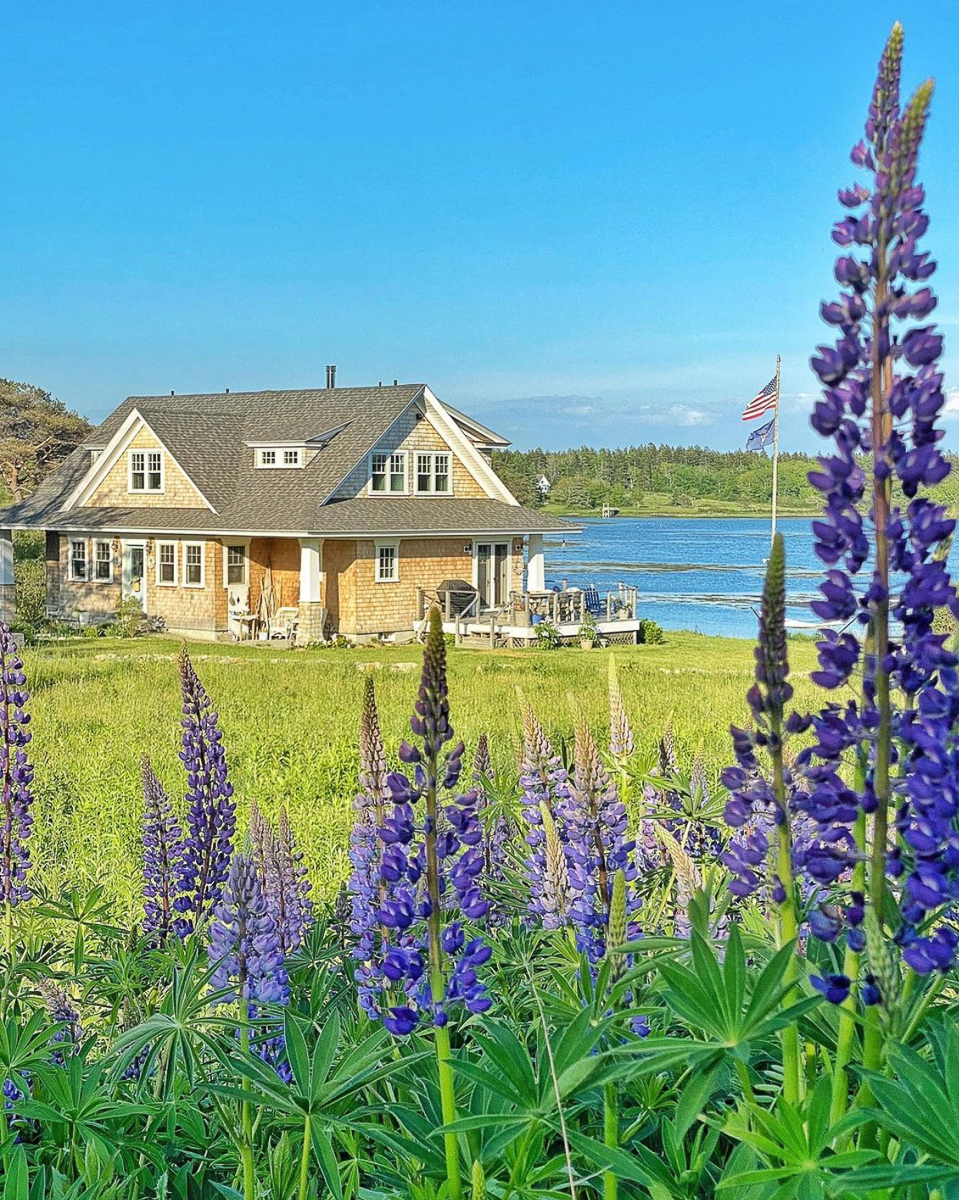 "It's no secret that I love a good collection. Or that one of my favorite pastimes is perusing antique stores or spending the morning at an auction, hoping to score a new "treasure" to add another layer to my home. But all this is really not about things, but about feelings. I want to create a home with warmth and depth — one that welcomes and embraces. A haven during these difficult times. A place that reminds me of family and friends", says Molly.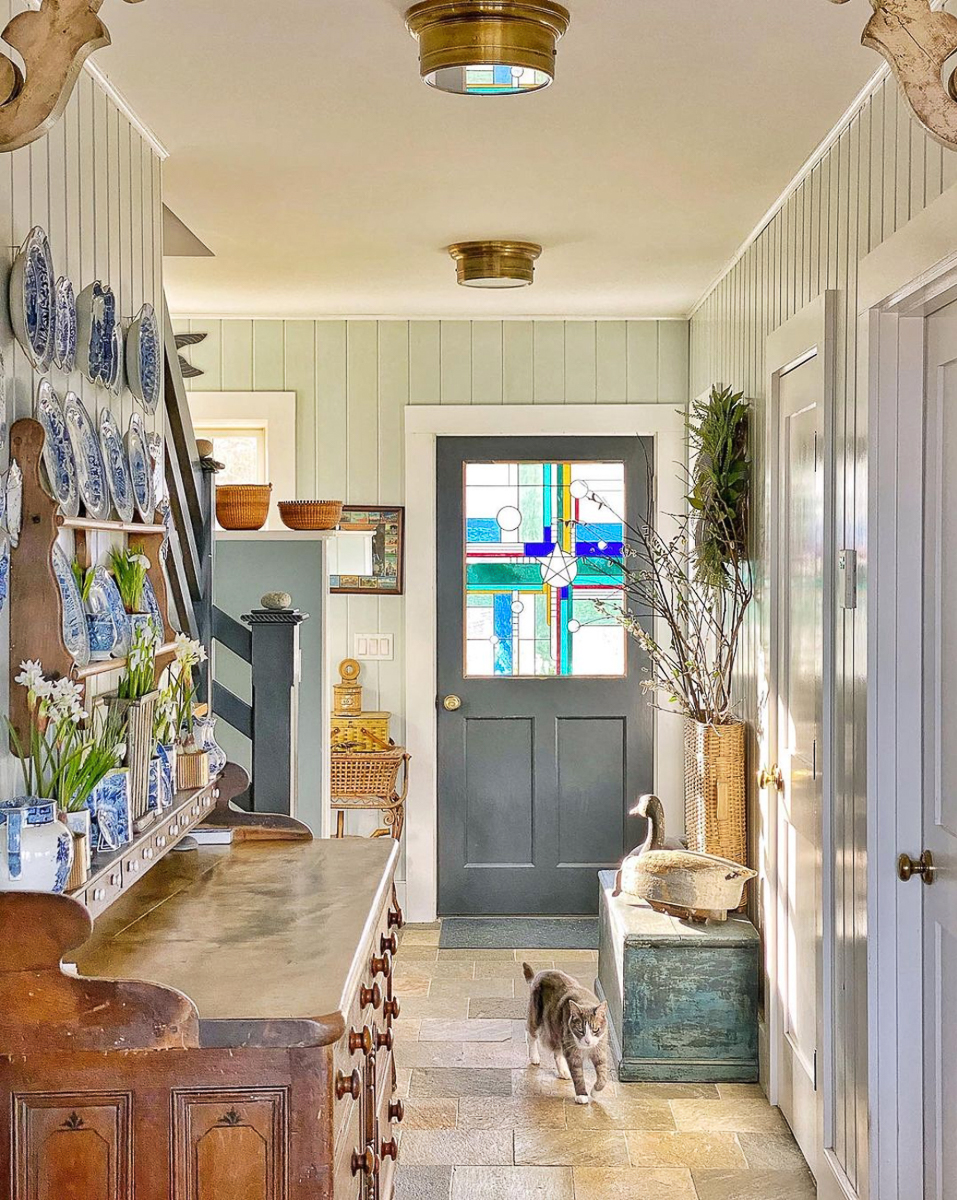 Molly says some of her favorite things in the foyer include "A mirror gifted to me by my children which brings back memories of happy family vacations on Nantucket. Beach stones I collected topping the posts on the stairs. Spring branches atop a blue painted chest. The treasured collection of antique blue and white transferware I inherited from my mom."
One of Molly's favorite things about the house is being able to see straight to the water when you walk through the front door.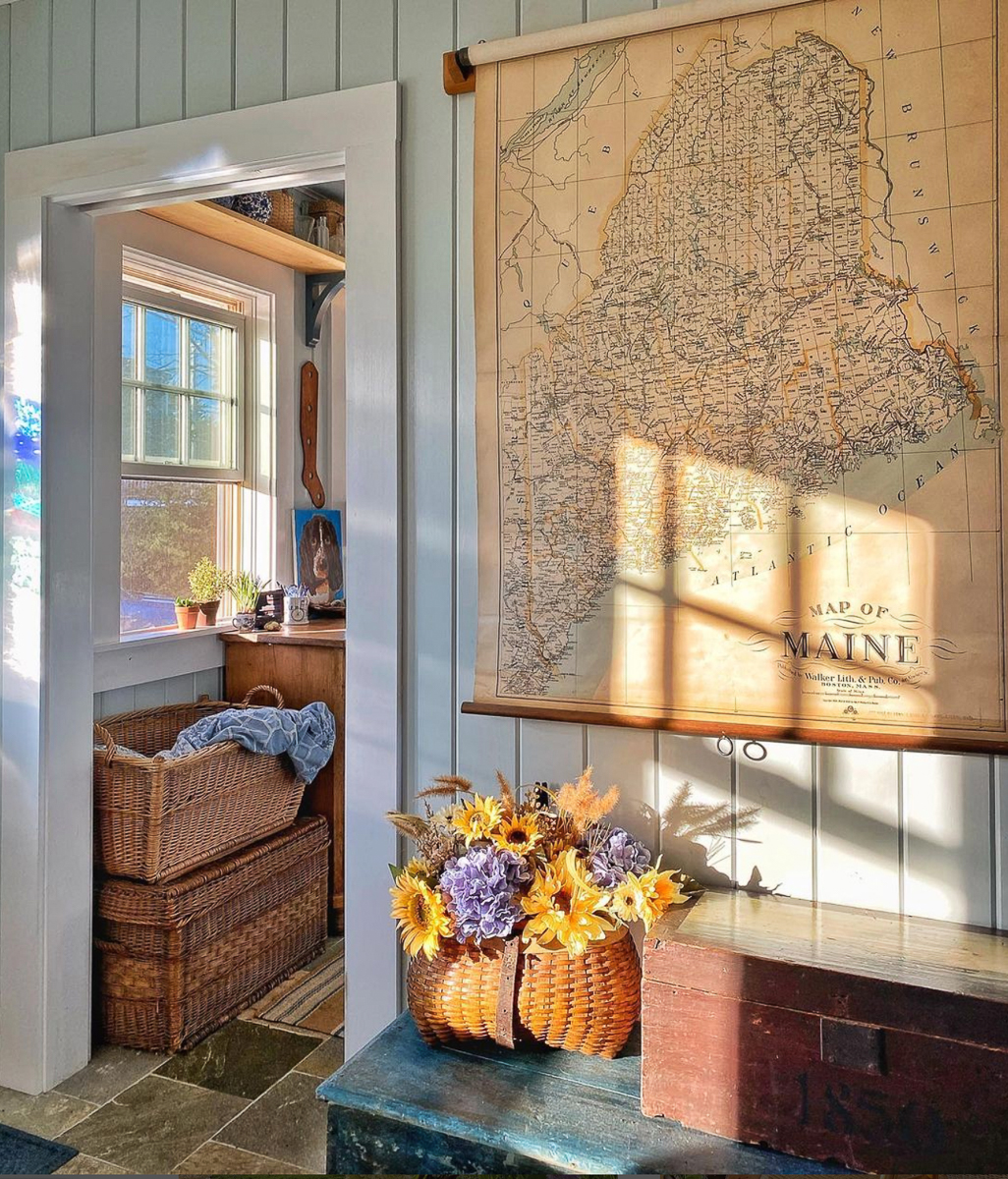 An antique map dating to 1910 fits perfectly in this Maine home.
Molly says, "I was really fortunate to acquire some antique furniture and accessories from my parents' home when they downsized. I love to go to antique stores and shows and local estate auctions and have found some unique pieces for the home. I love coastal style, casual living, and the color blue."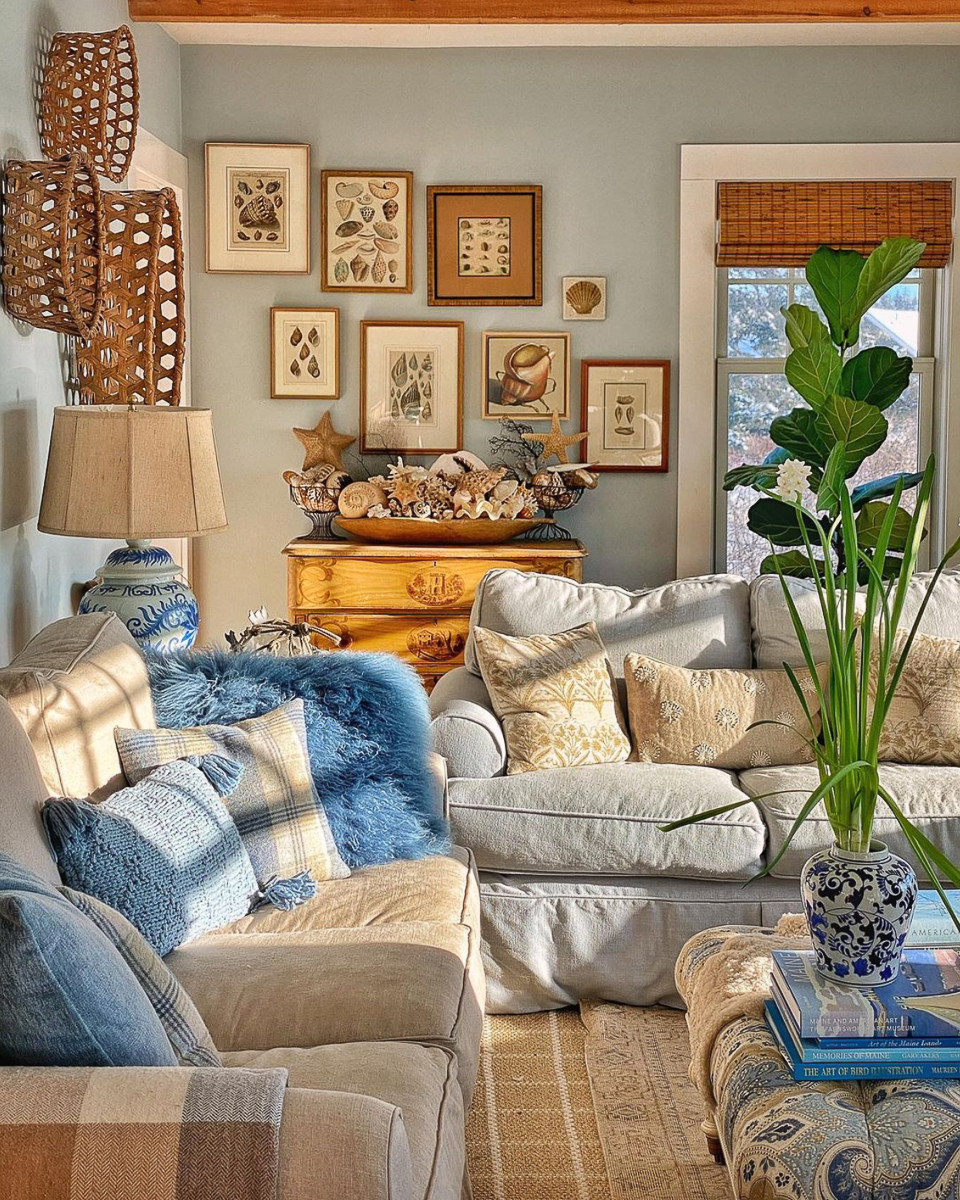 This light filled family room is awash in natural light.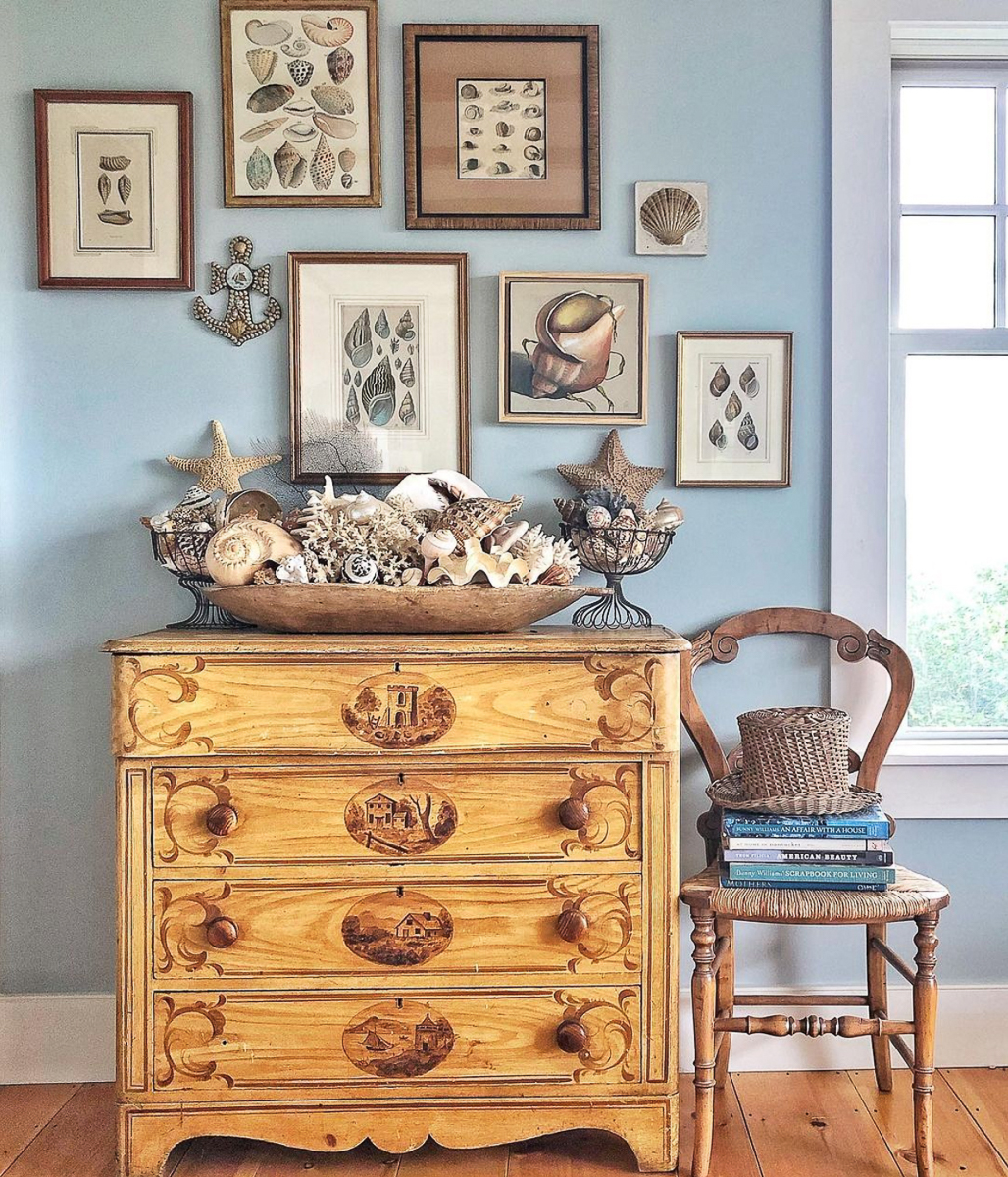 Molly says, "I have a thing for whimsically painted antique cottage furniture. So it was obviously love at first sight for me when I saw this piece, with its faux wood grain paint and sweet pastoral scenes, at a local auction. I didn't care that it is missing a knob on one drawer. Well, I guess not everyone shares my love for this kind of furniture — or more accurately no one does. I was the only bidder and walked out of there with this special piece for only $30!"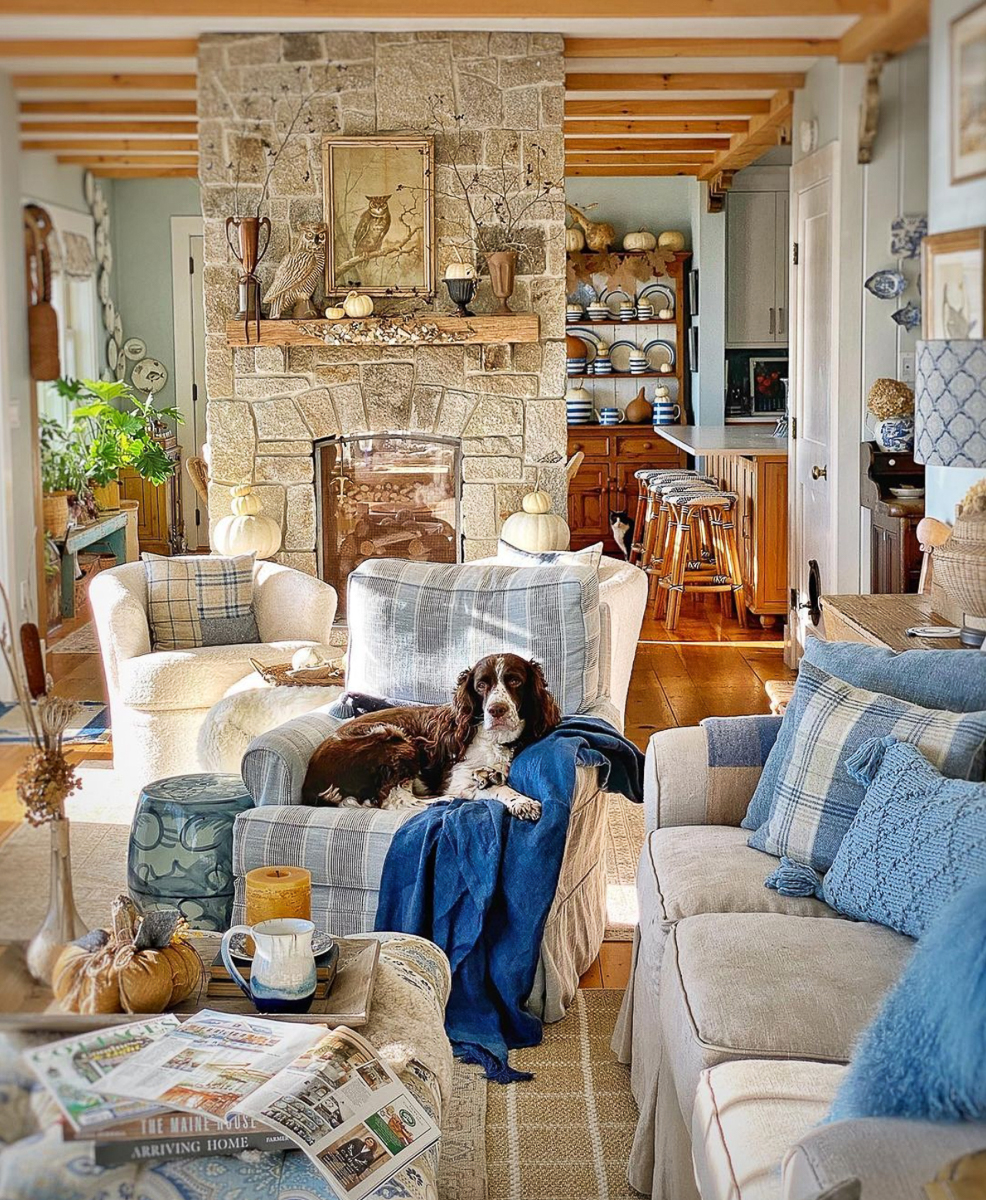 "The see-through stone gas fireplace that anchors the downstairs living and dining areas was made from locally quarried stone that was used for fill and unearthed when the basement was dug.  It is a work of art and the old stone has such character," says Molly.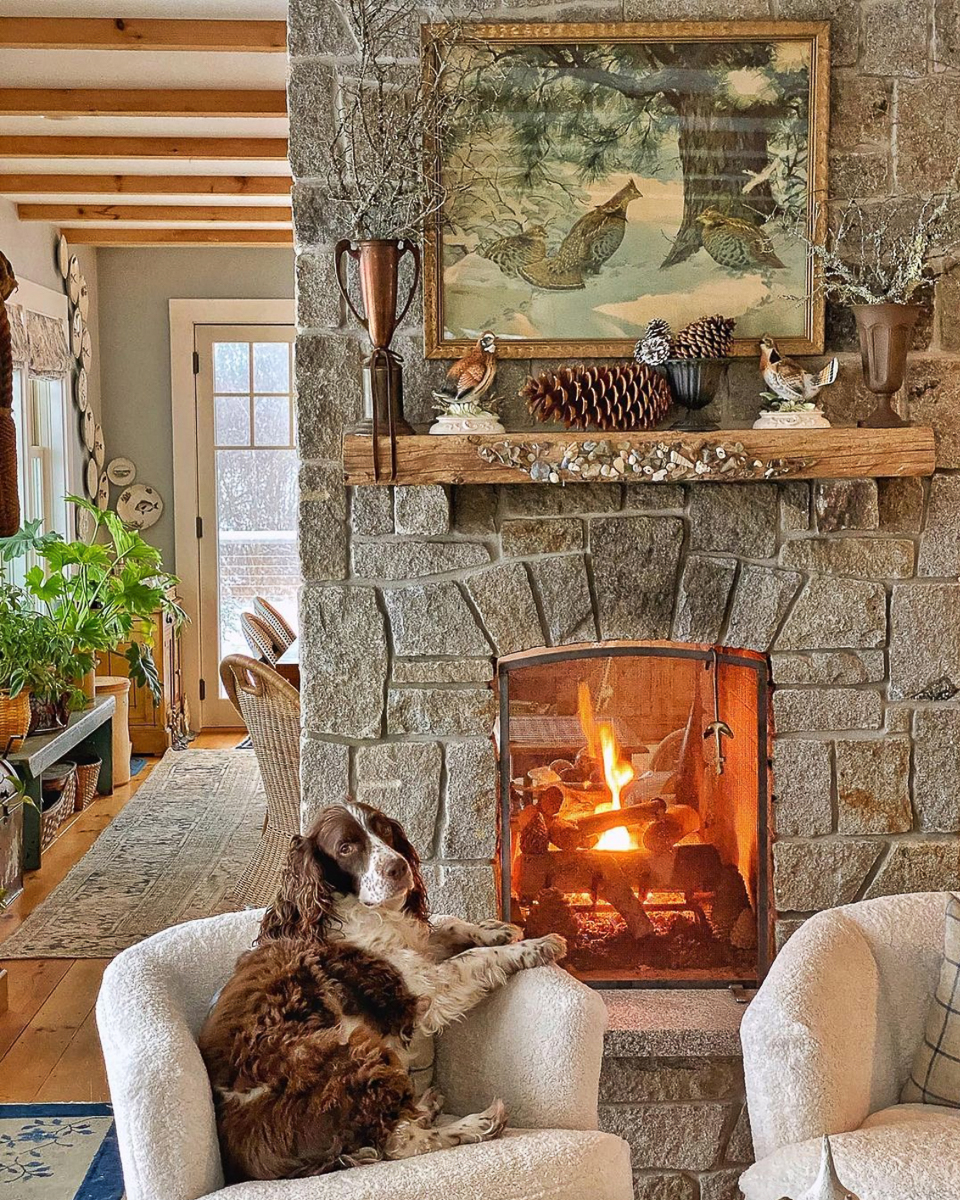 Pine beams, bead board ceiling in the kitchen, and tongue and groove paneling in several areas of the house give this new house an old home feel.
The pot rack hanging over the stove was made from plumbing fittings.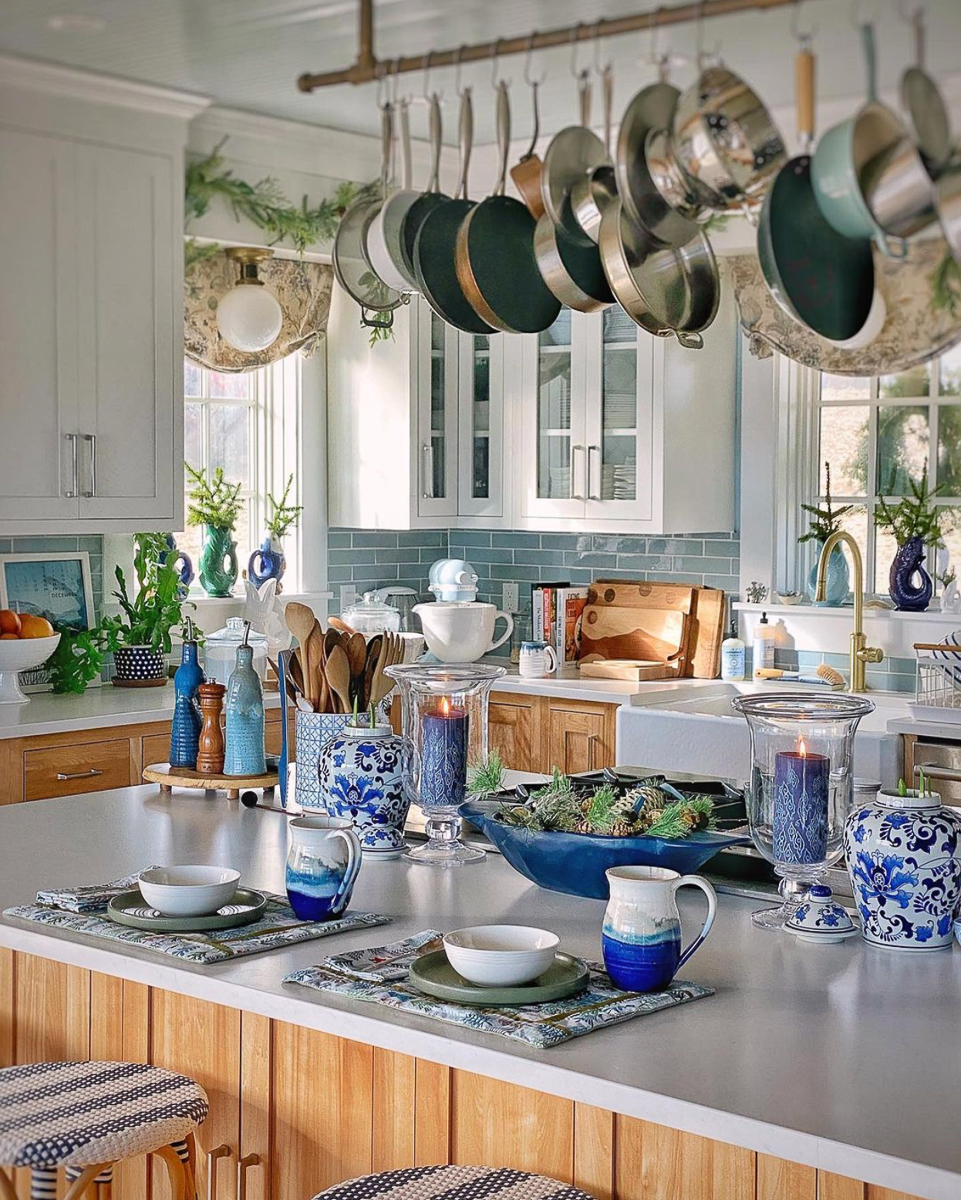 "I have no background in interior design", says Molly, "but it is something that I have always loved. Color and pattern make me happy and I am always game to look for antique and vintage treasures!"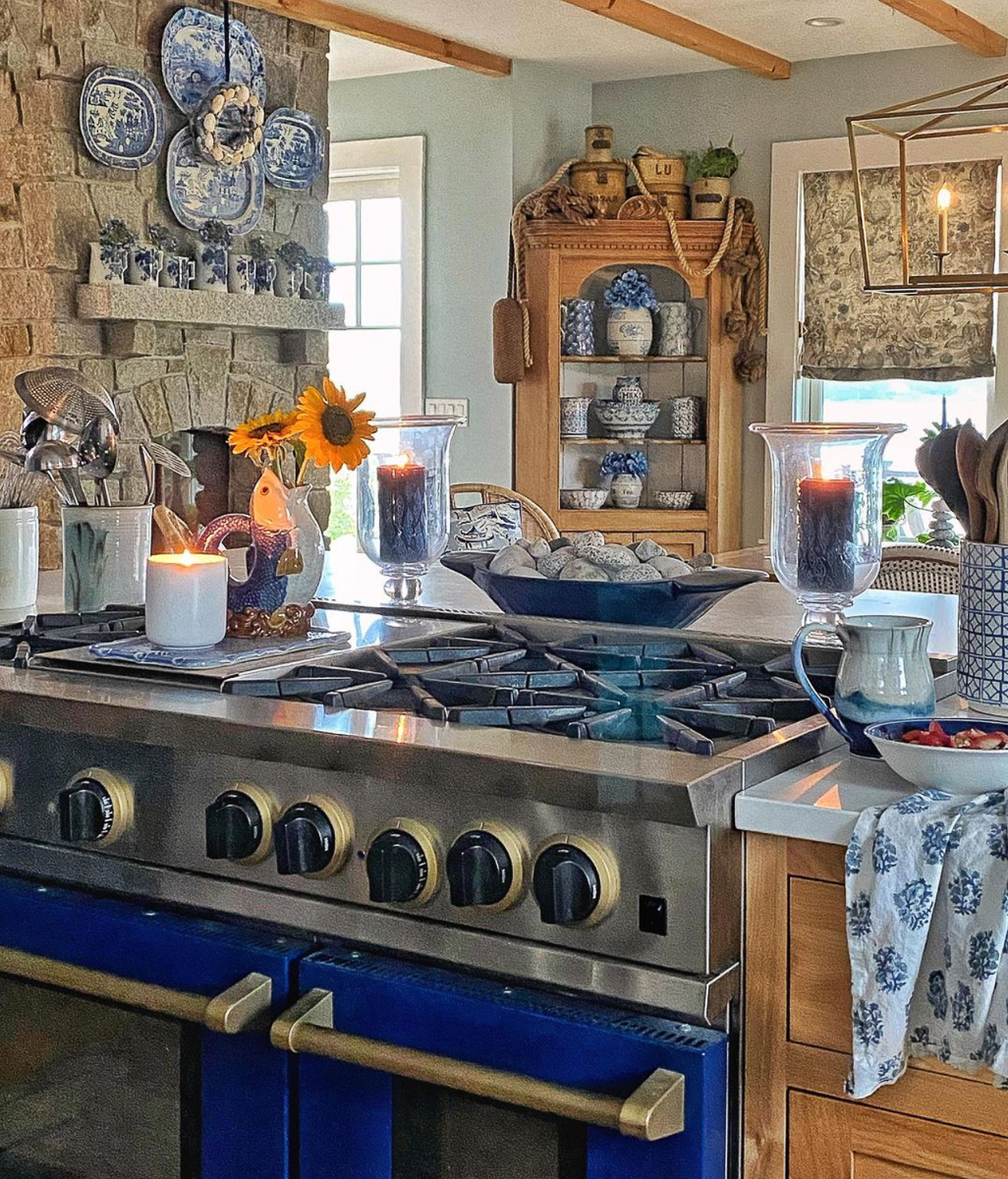 The blue pantry cabinet was painted the same color as the sapphire blue range (which Molly named BlueBelle)!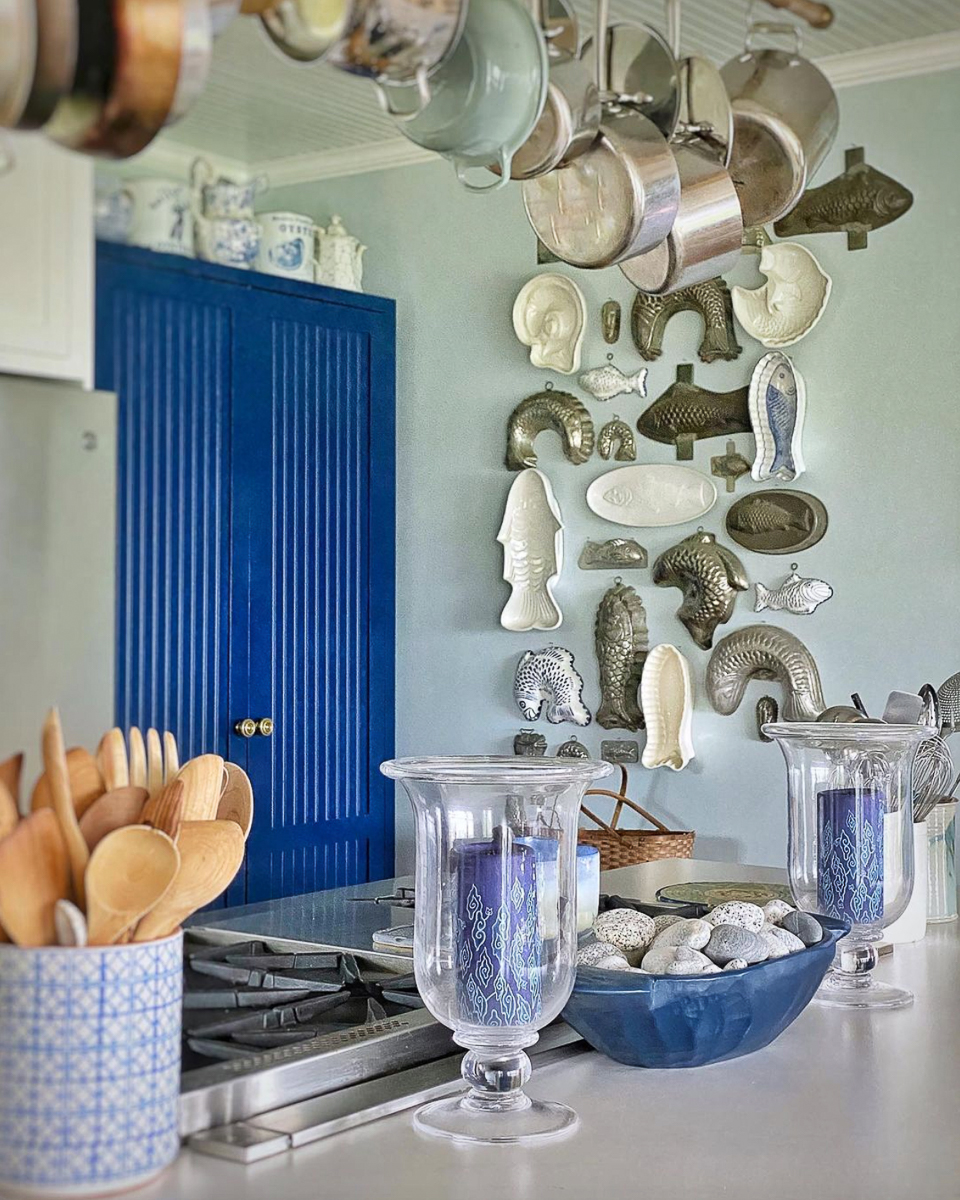 A unique collection of vintage fish moulds is displayed on a kitchen wall.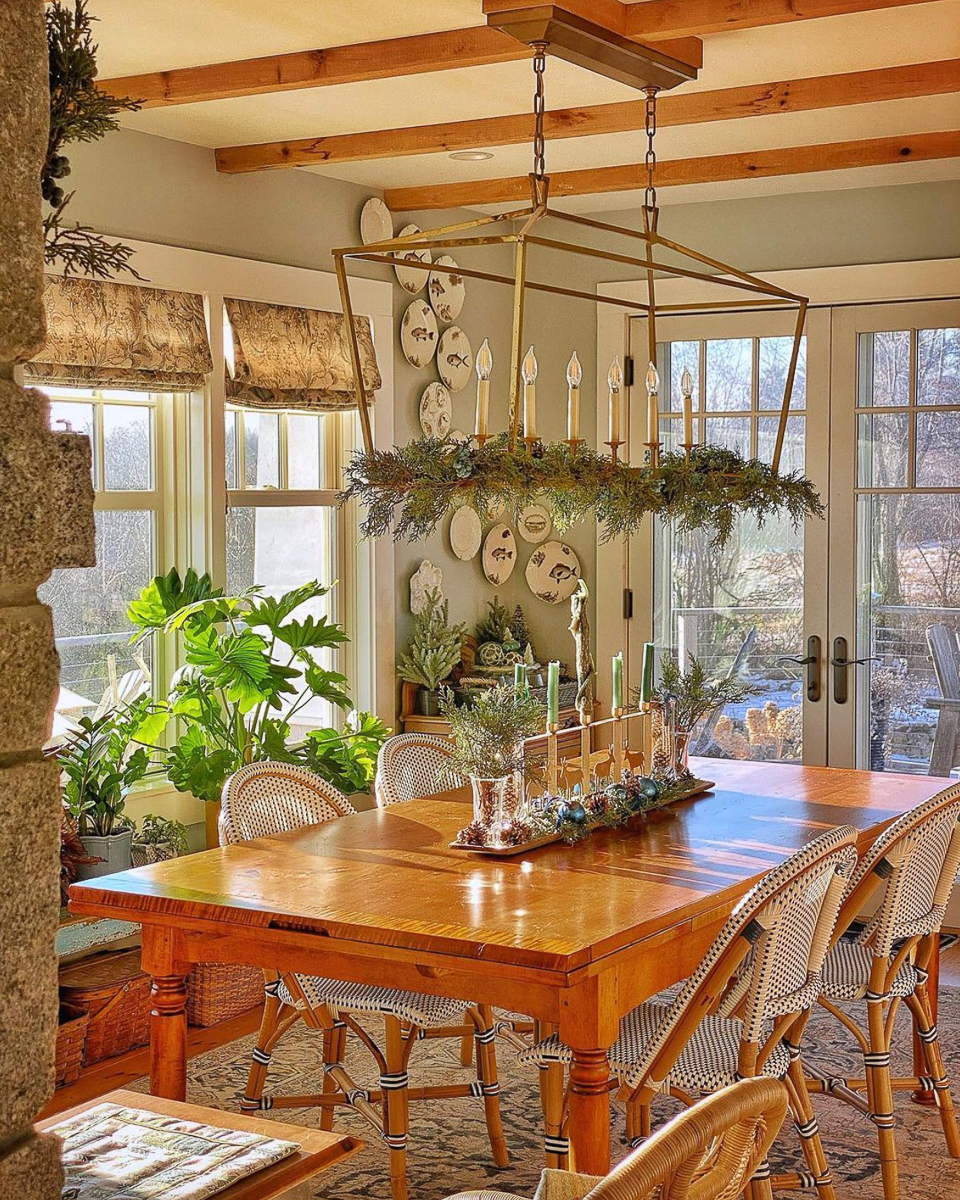 The reclaimed pine table in the dining area was made by a local craftsman and pairs nicely with blue and white French bistro chairs.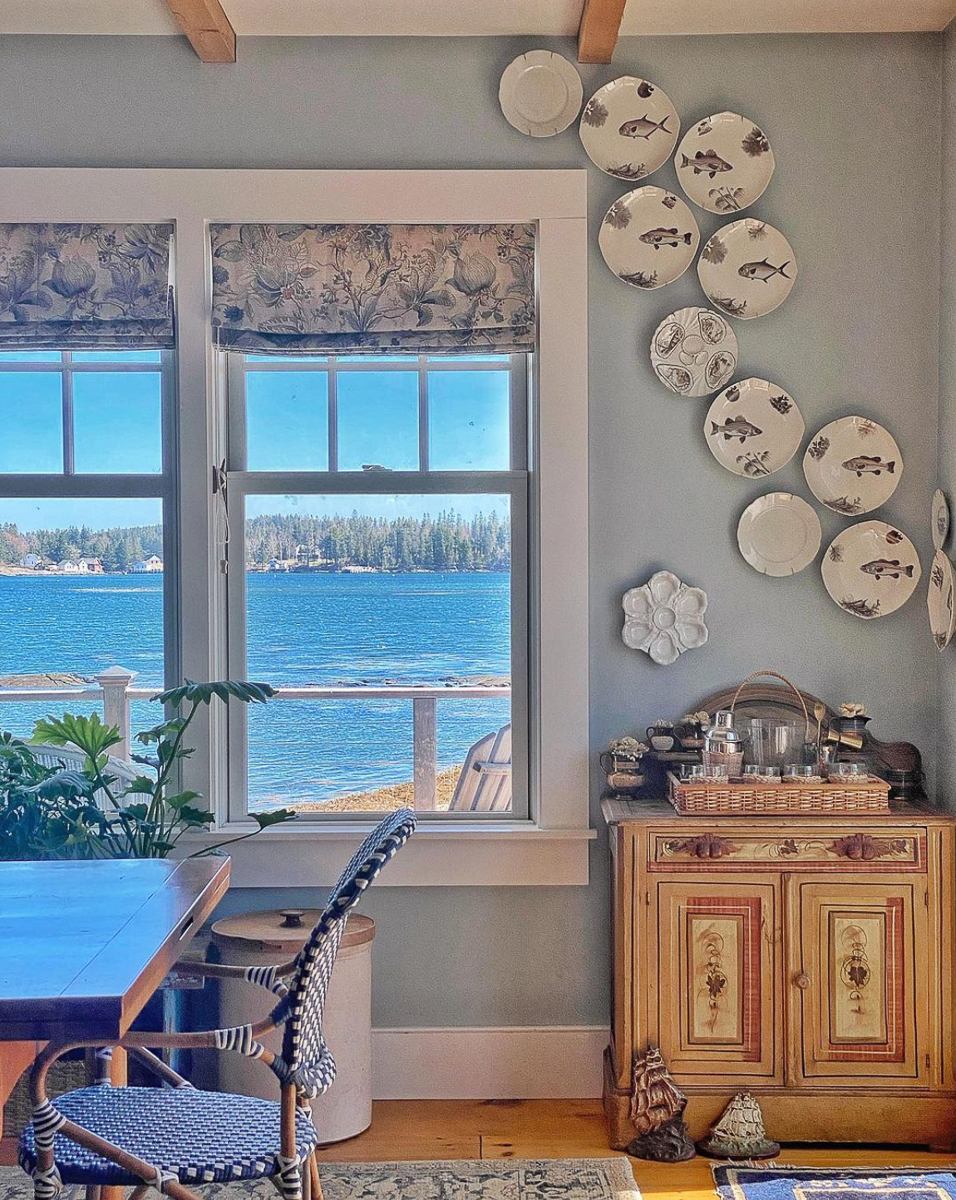 A collection of fish plates creates a whimsical plate wall that wraps around the corner of the dining room.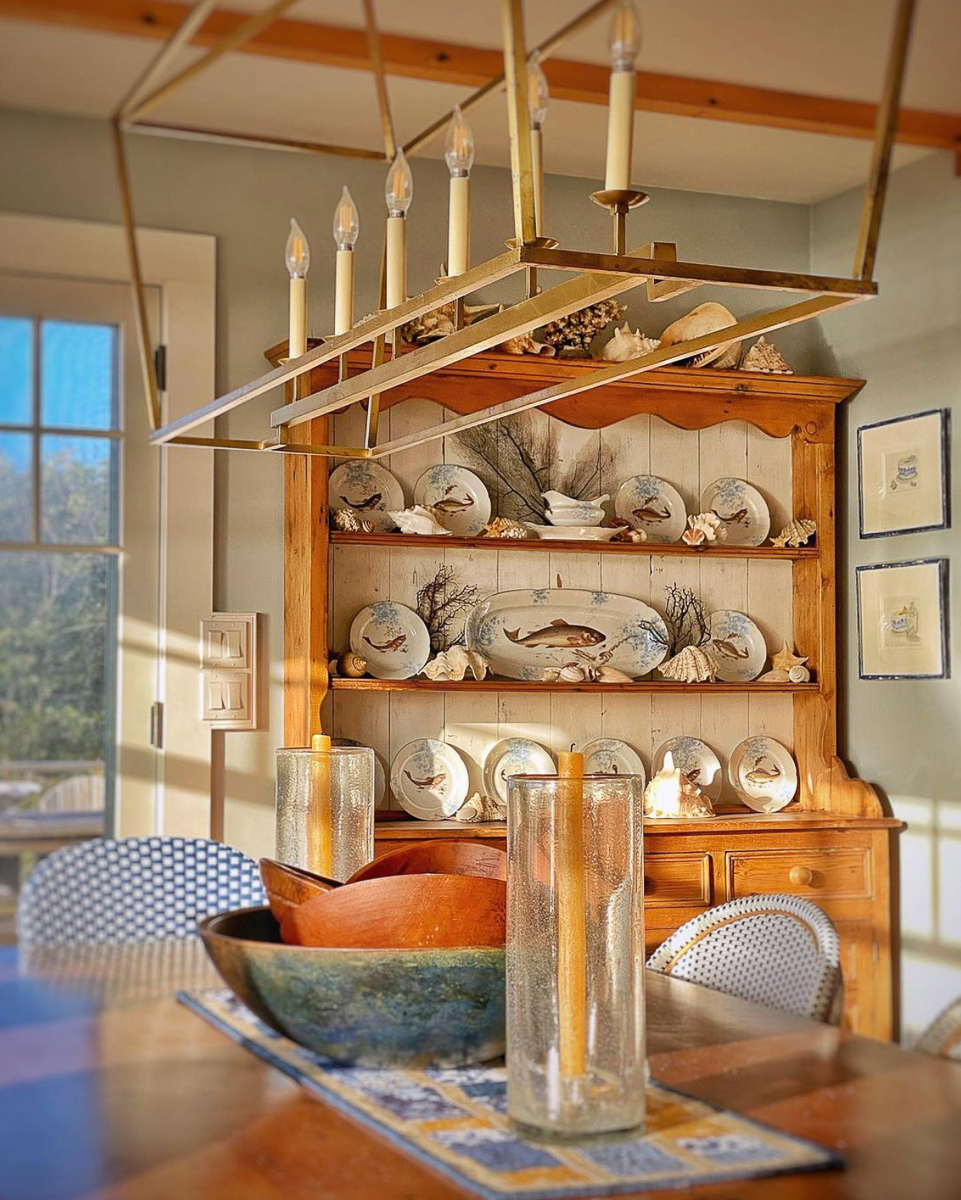 Another stunning collection of fish plates is tucked into an antique pine hutch.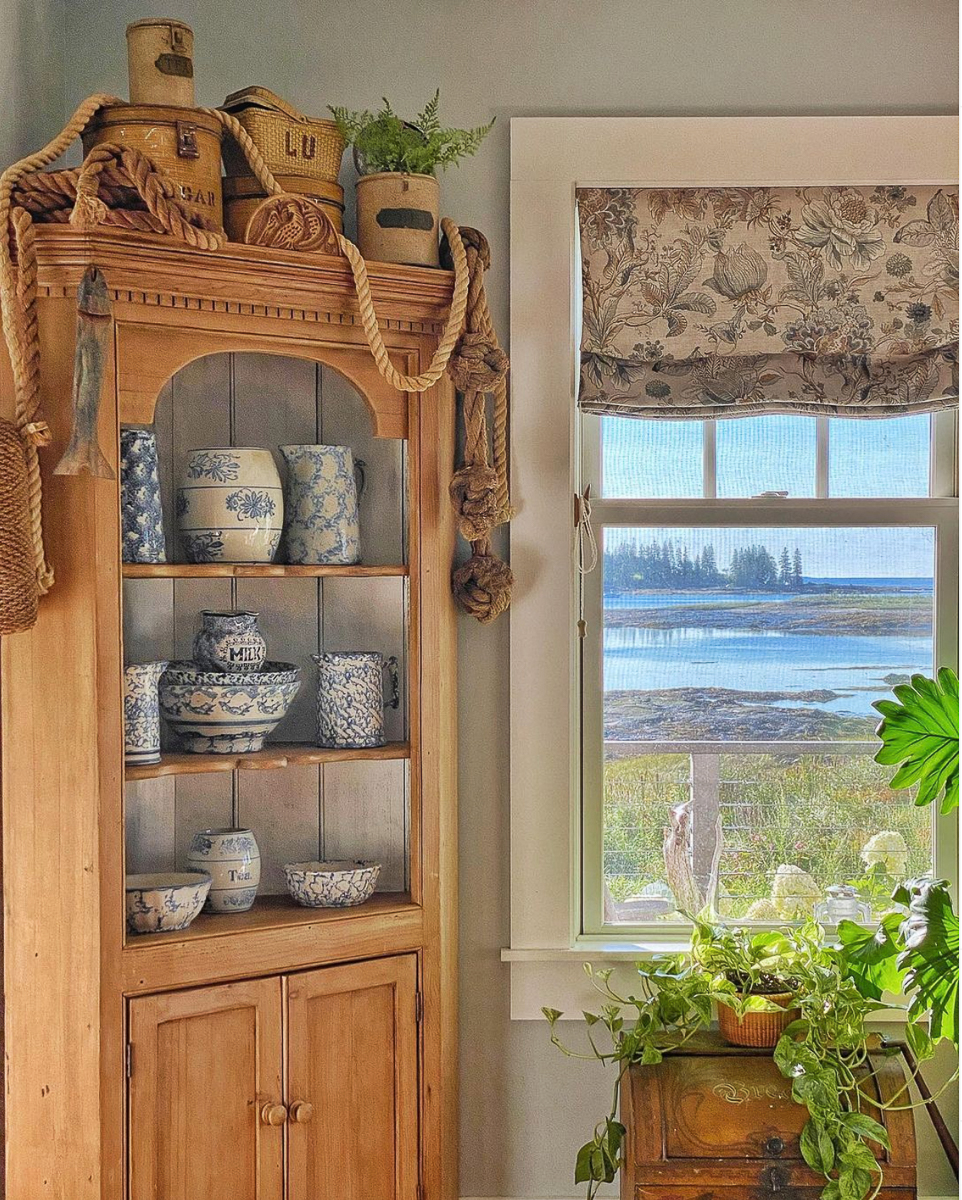 It's all about the view!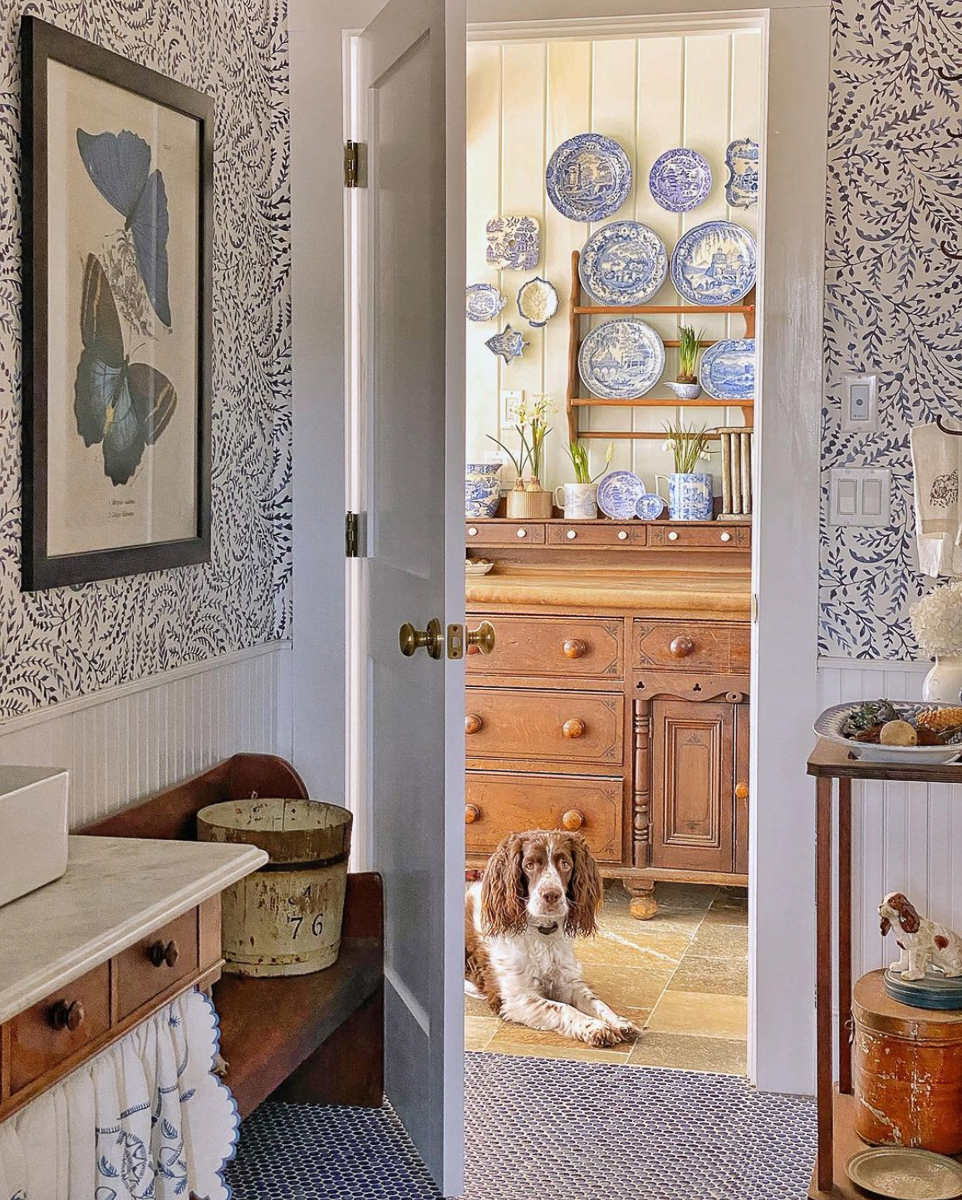 Blue penny tile and bold Serena and Lily wallpaper add a modern touch to this blue and white bathroom complete with antique pew and mirror.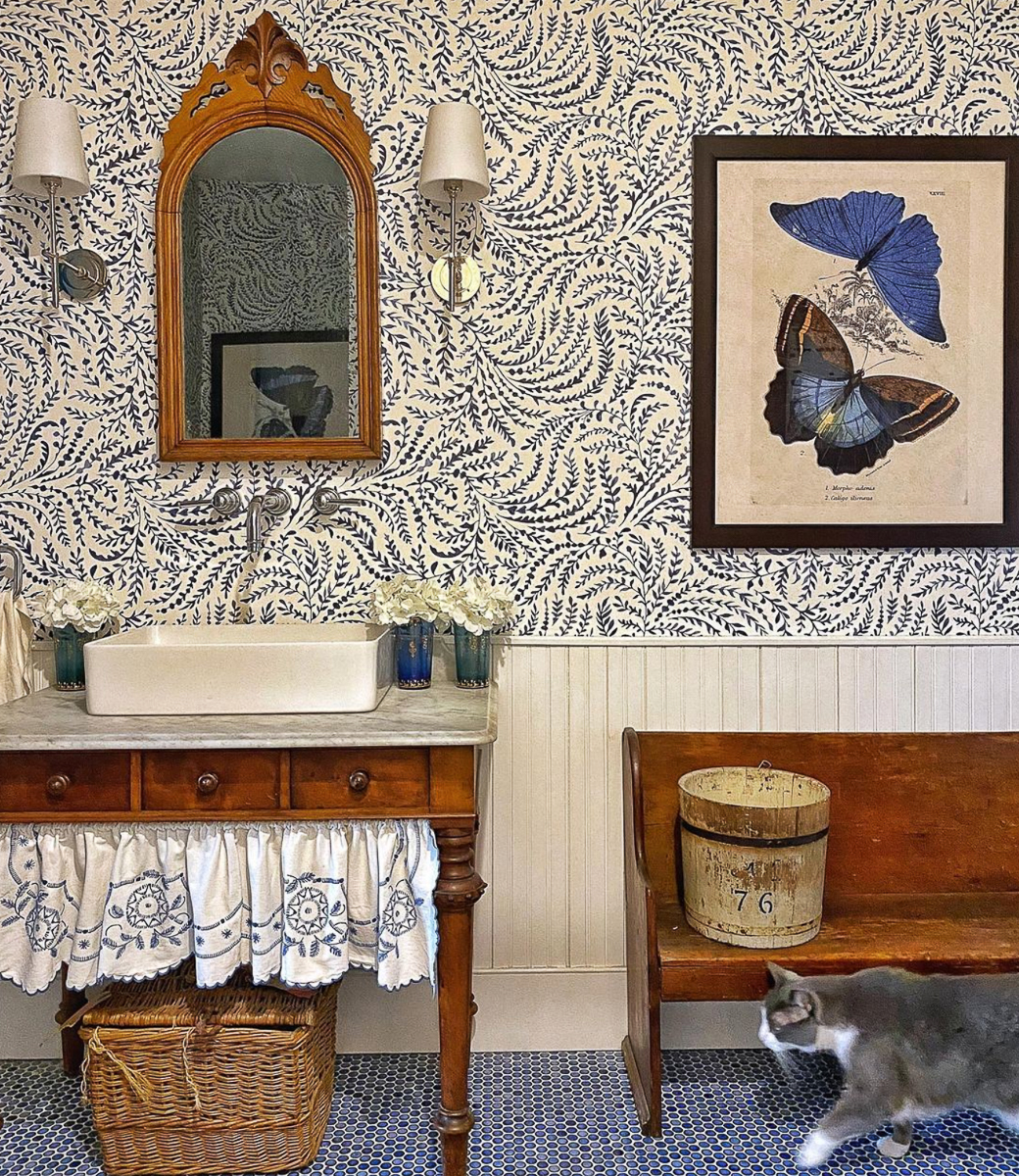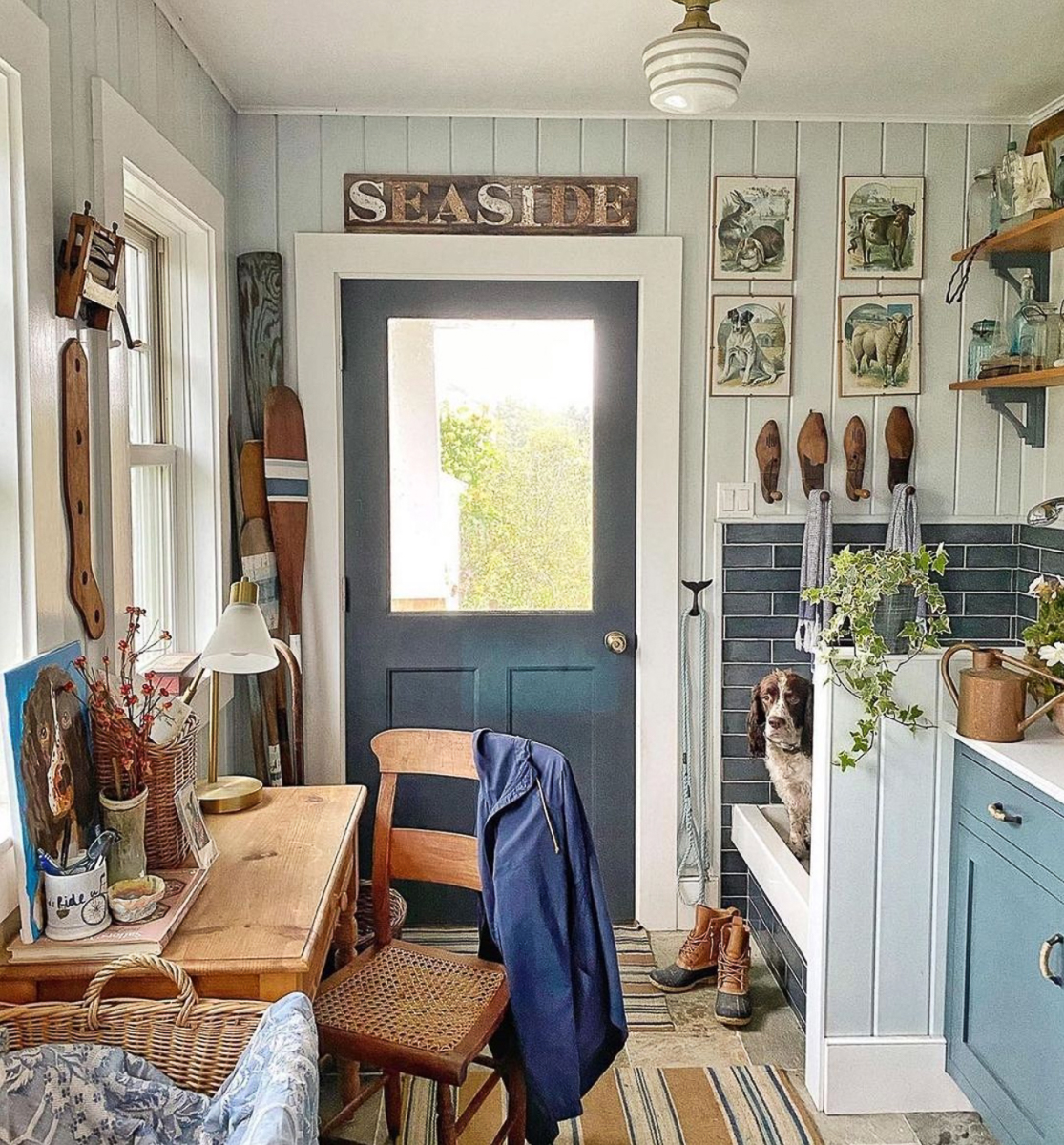 One of Molly's favorite areas of the house is the dog washing station. She says, "this dog shower allows Maddie and Cisco to live their best Maine lives — romping through the field and down by the water — while I am able to maintain a clean house and my sanity!"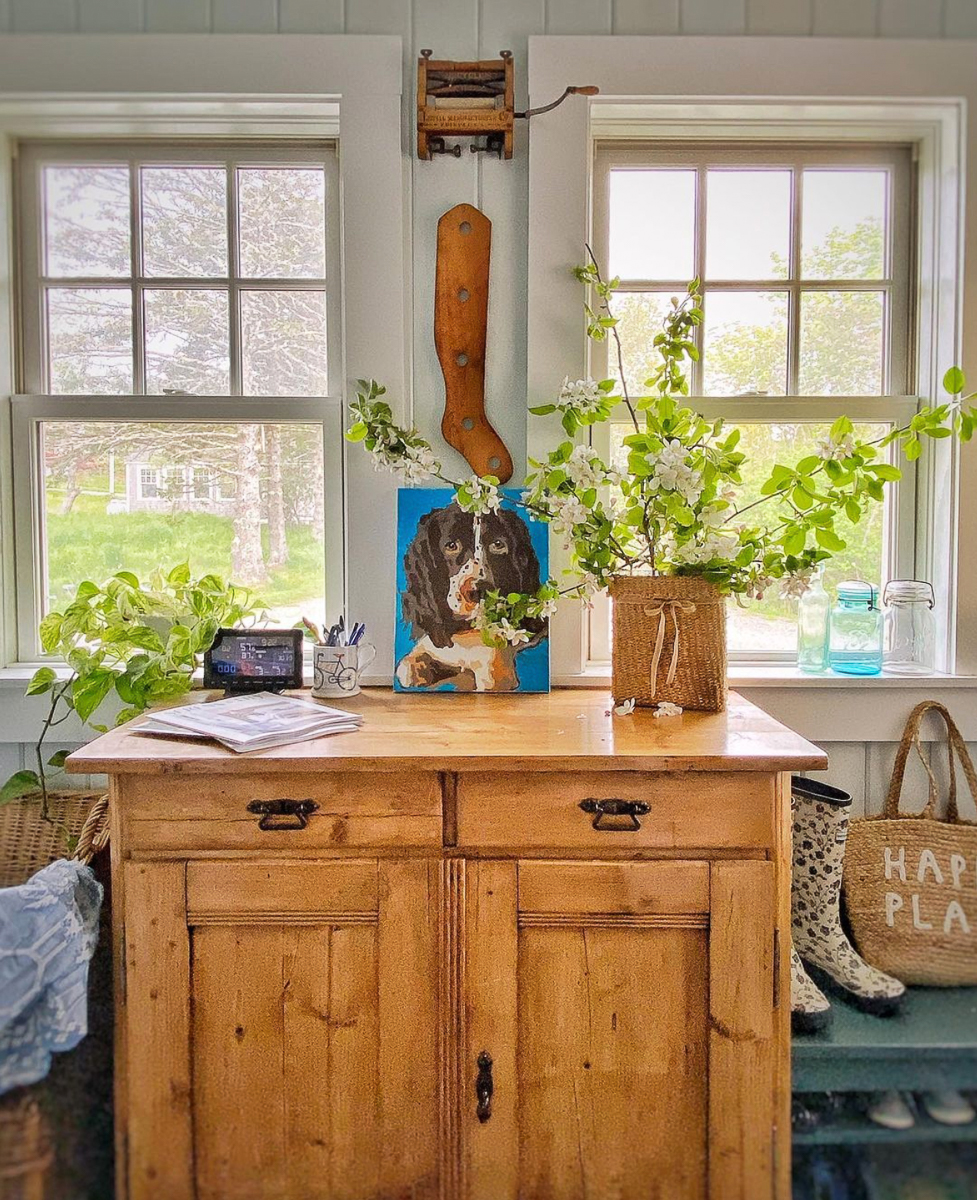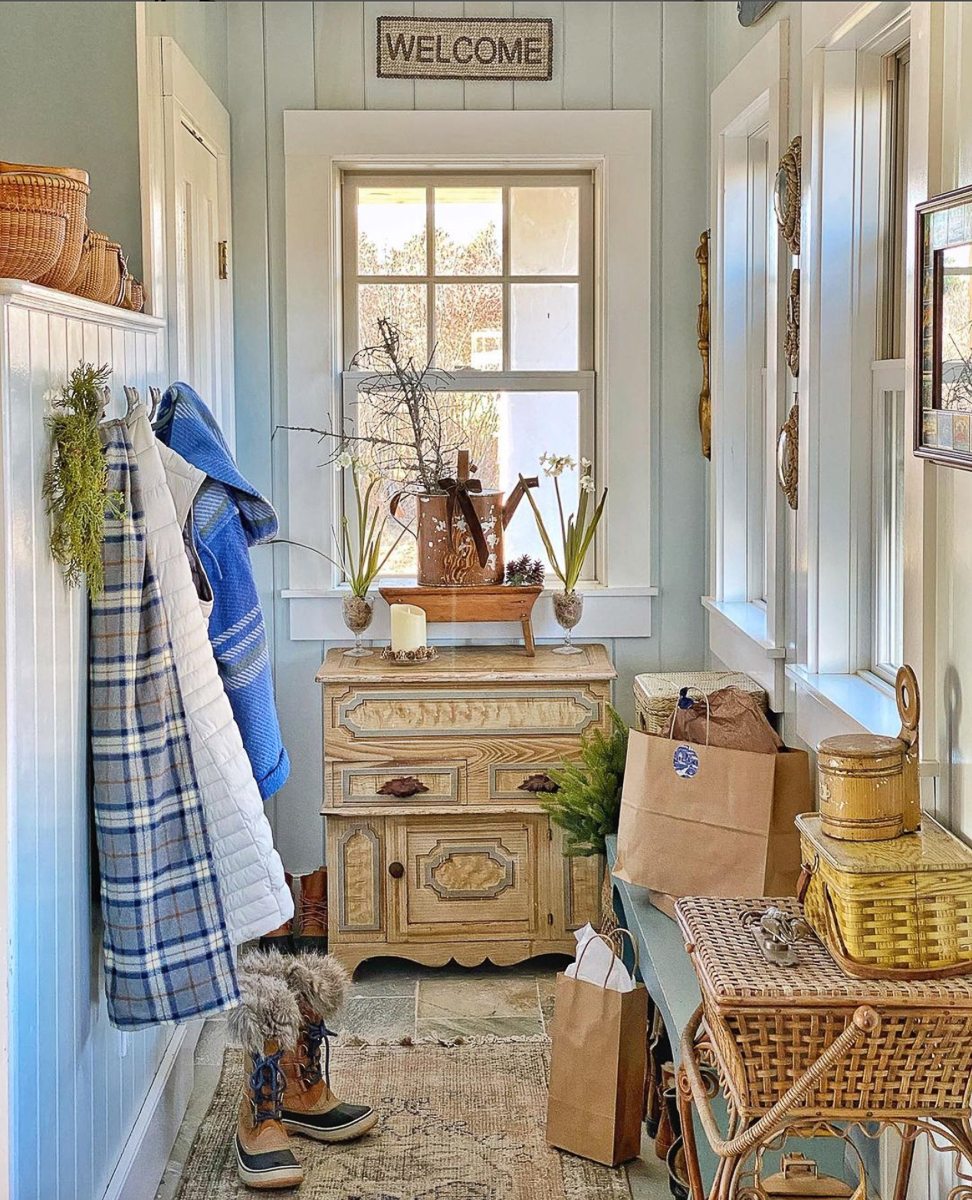 Upstairs, a bold patterned floral wallpaper adds a graphic punch against darker blue walls.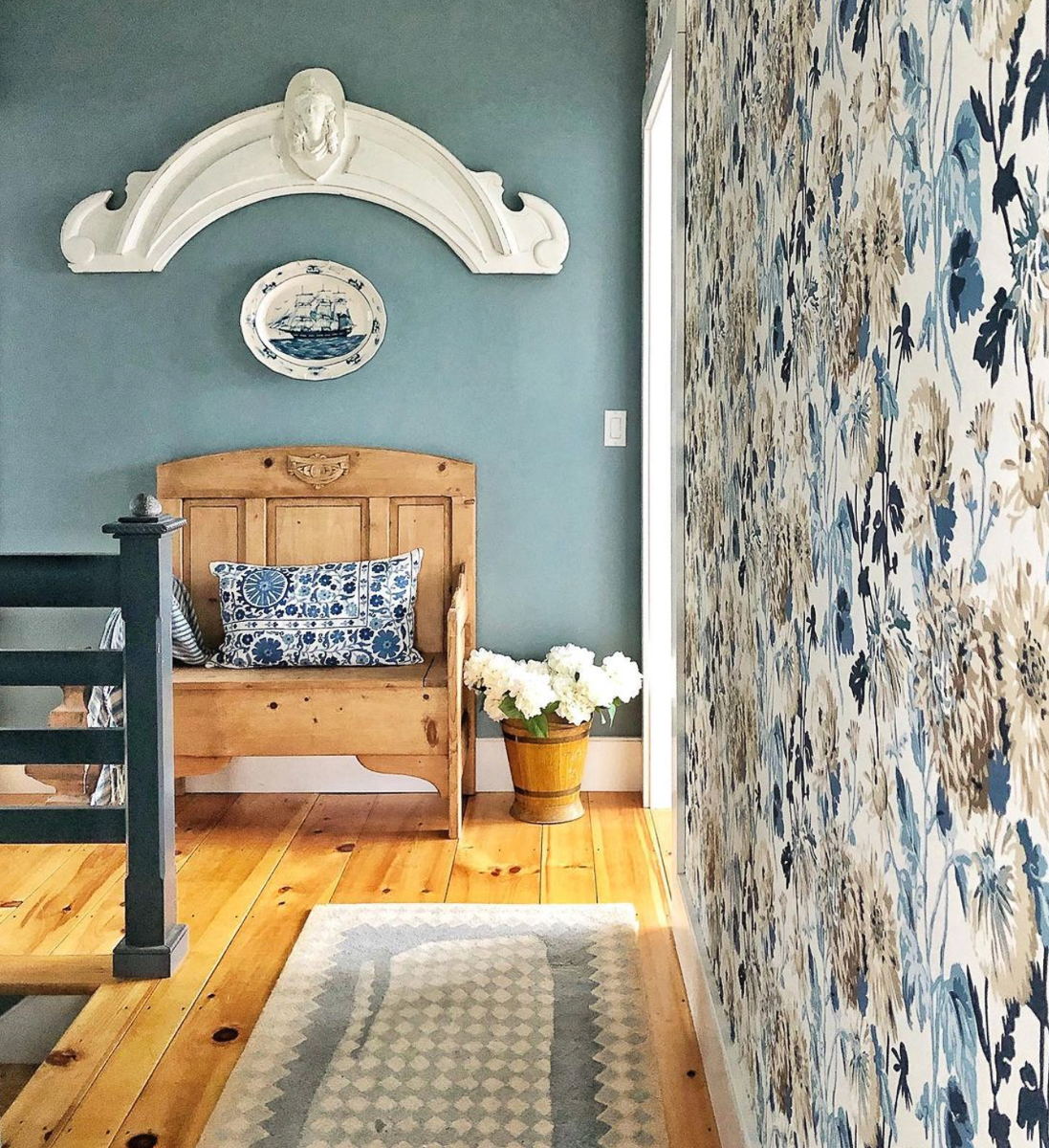 The master bedroom is filled with some of Molly's favorite things including a painting of one of her dogs.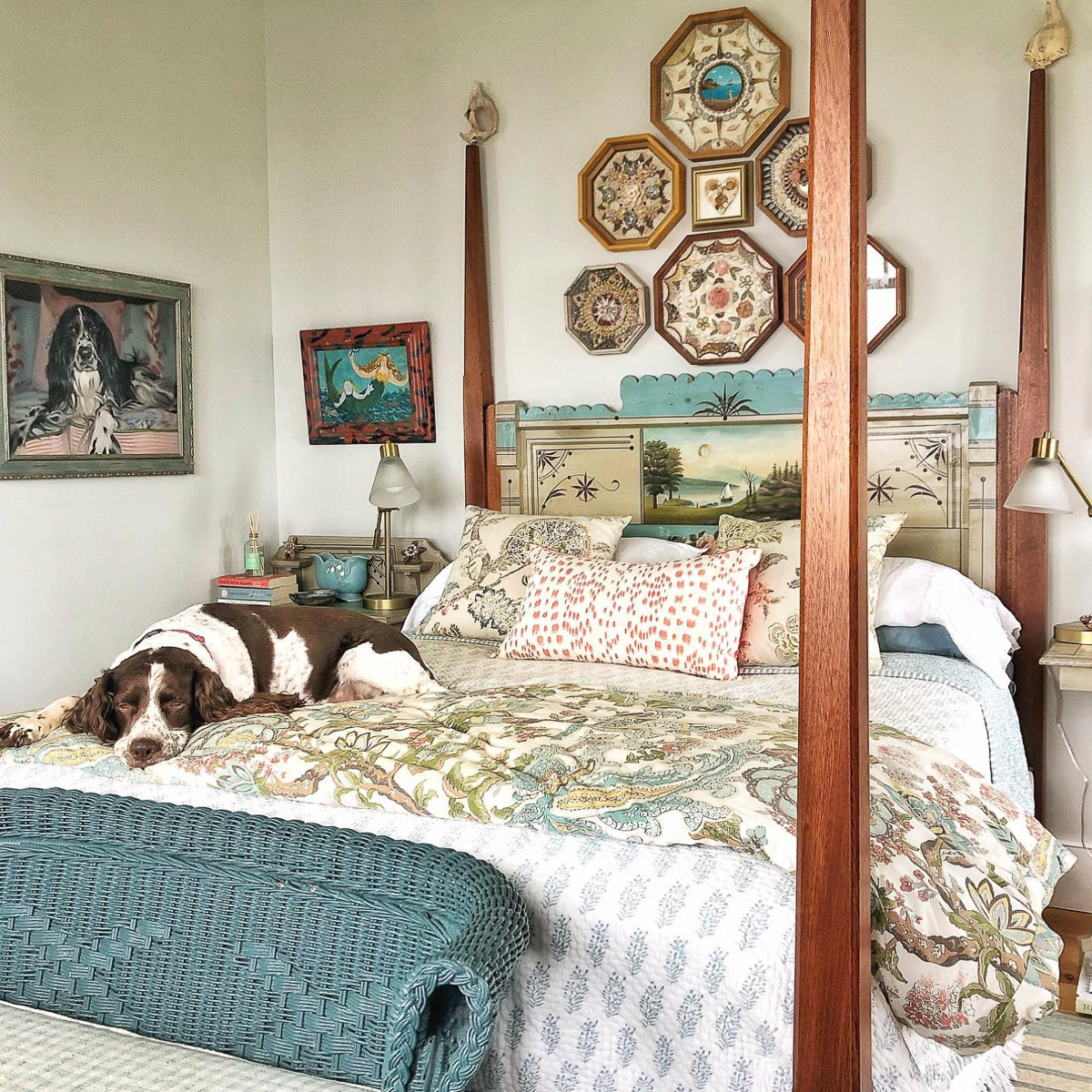 "The antique painted cottage headboard is part of a set I found at a local antiques store. I had it made into a queen-size bed by adding the posts," says Molly.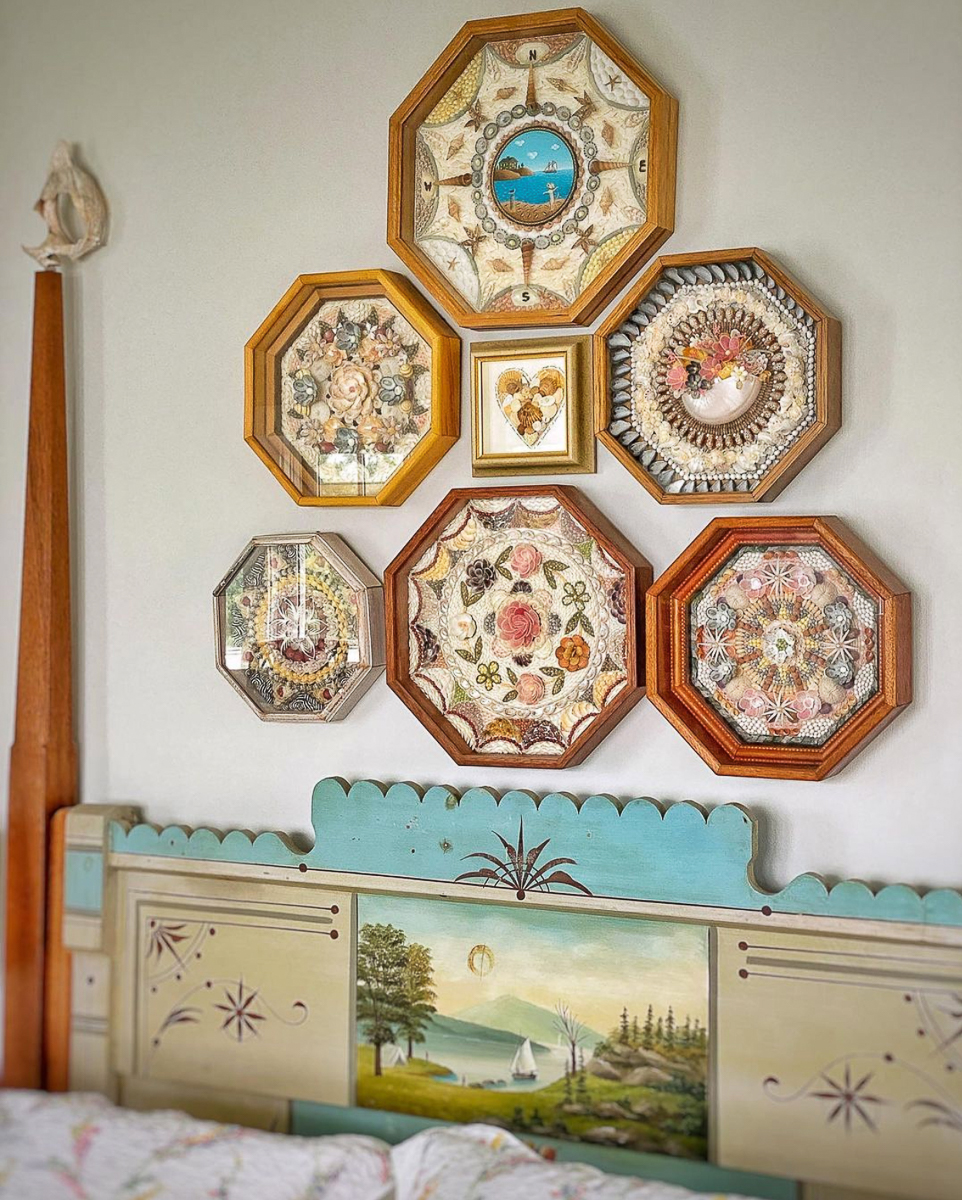 Molly says, "My collection of Sailor's Valentines was the very first thing I hung on the walls of our home here in Maine. These are all made by contemporary artists and were purchased for the most part on Nantucket. This art form dates to the late 18th century, though, when sailors would buy them primarily in Barbados as souvenirs after being away at sea to bring home to their loved ones. The intricate designs are made out of tiny shells! They are one of my most treasured collections."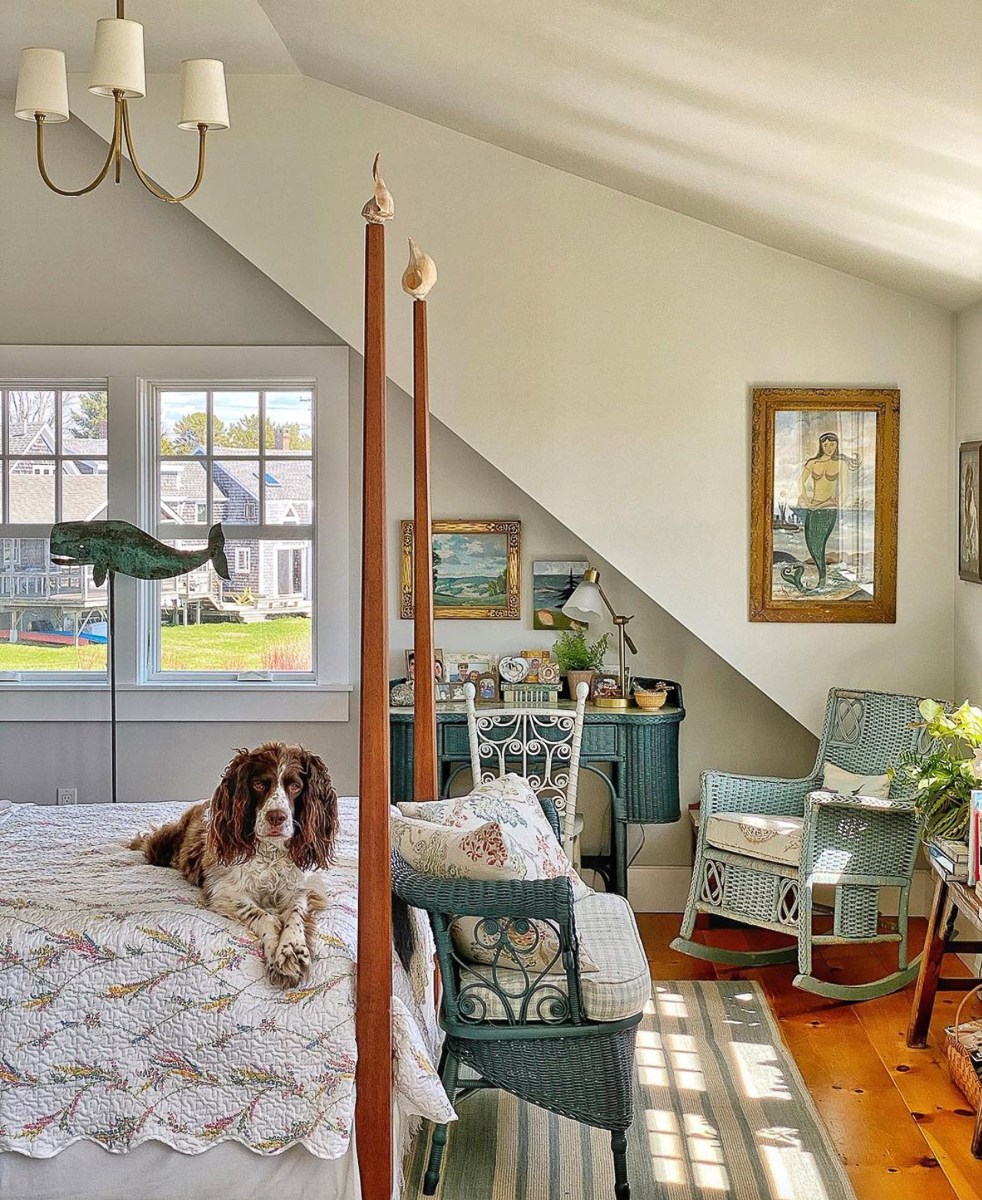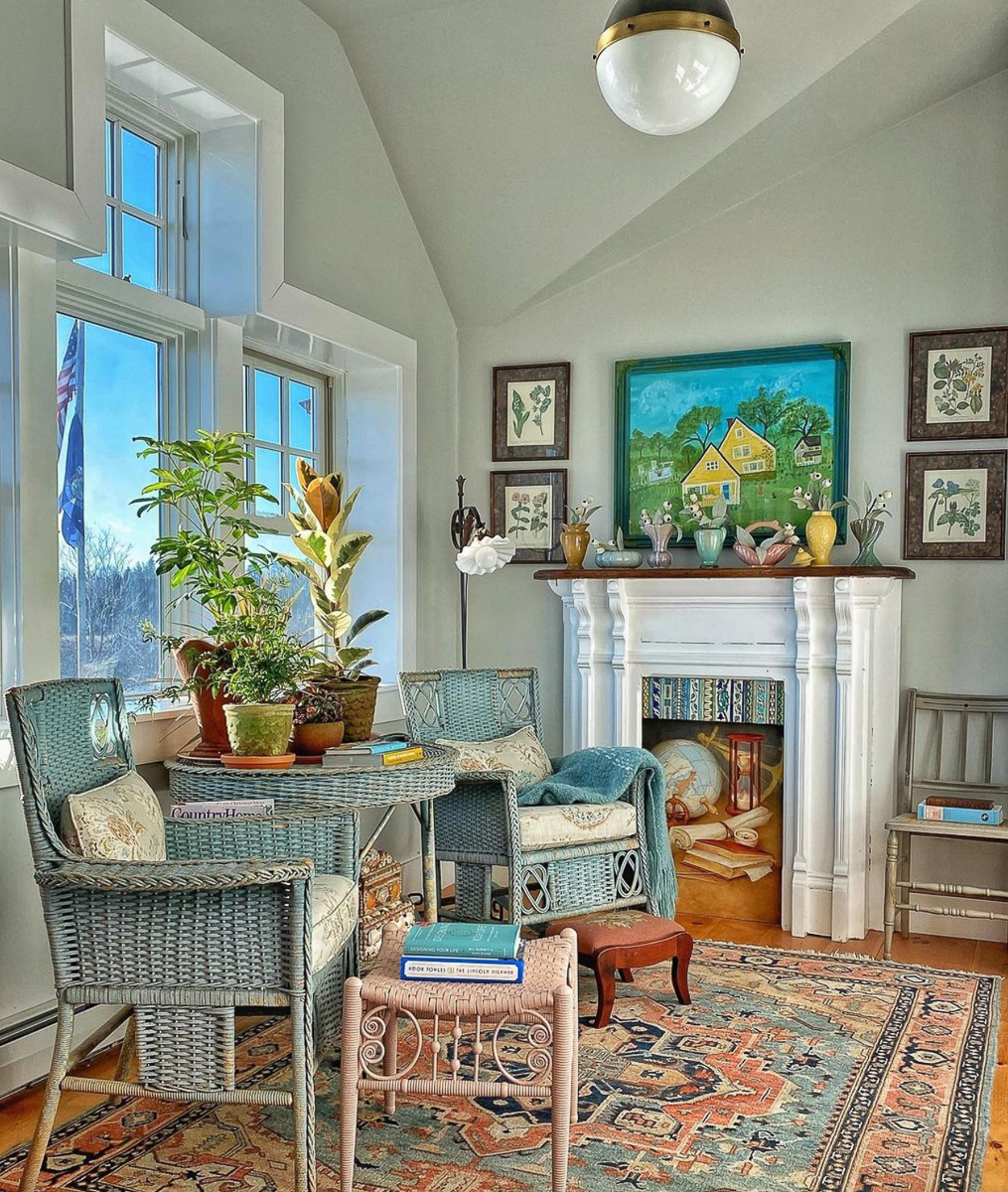 The mirror was one of the first purchases made for the house, long before the house was complete, and Molly loves using antique mirrors in bathrooms.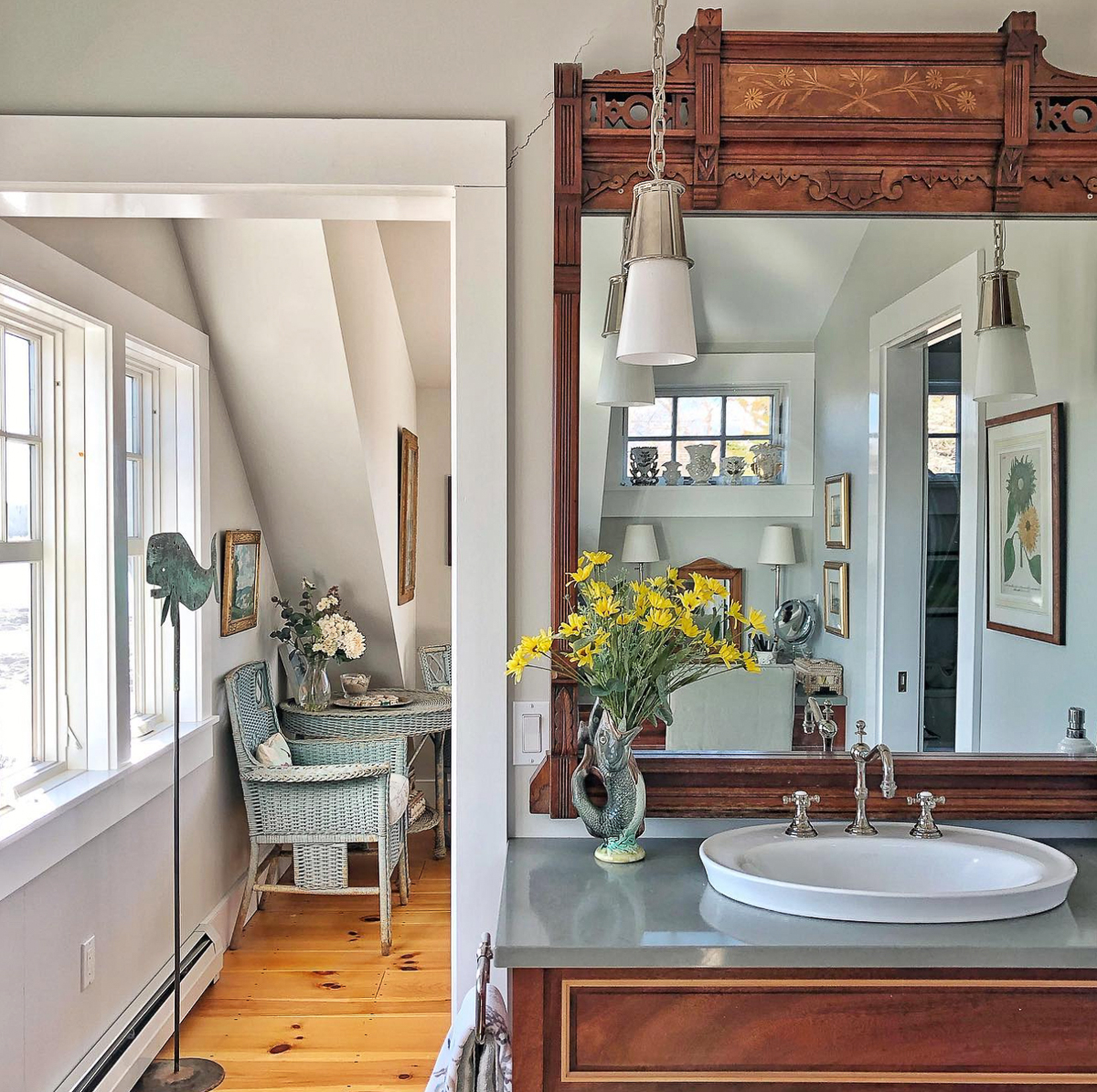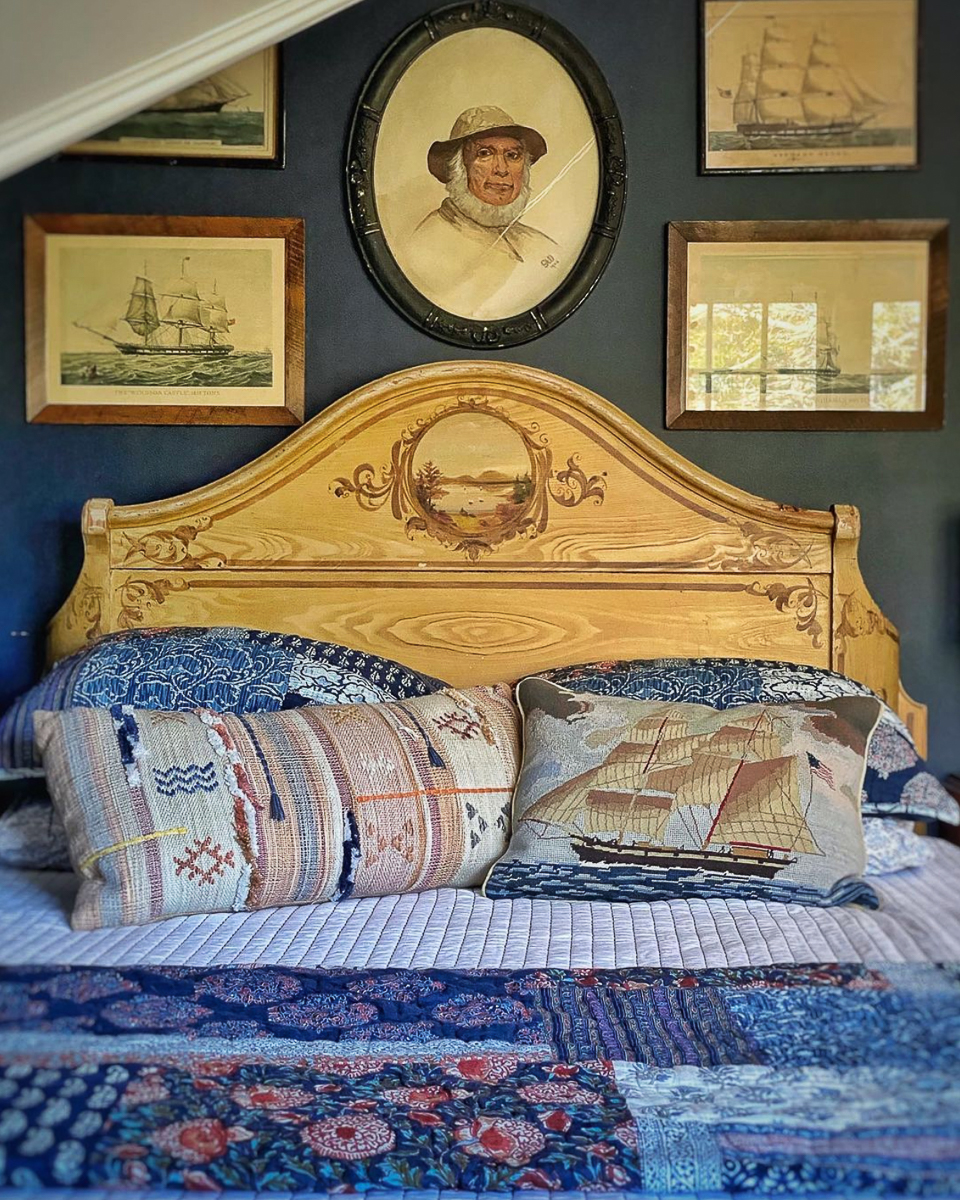 A gallery wall of vintage ship paintings continue the coastal theme into one of the bedrooms.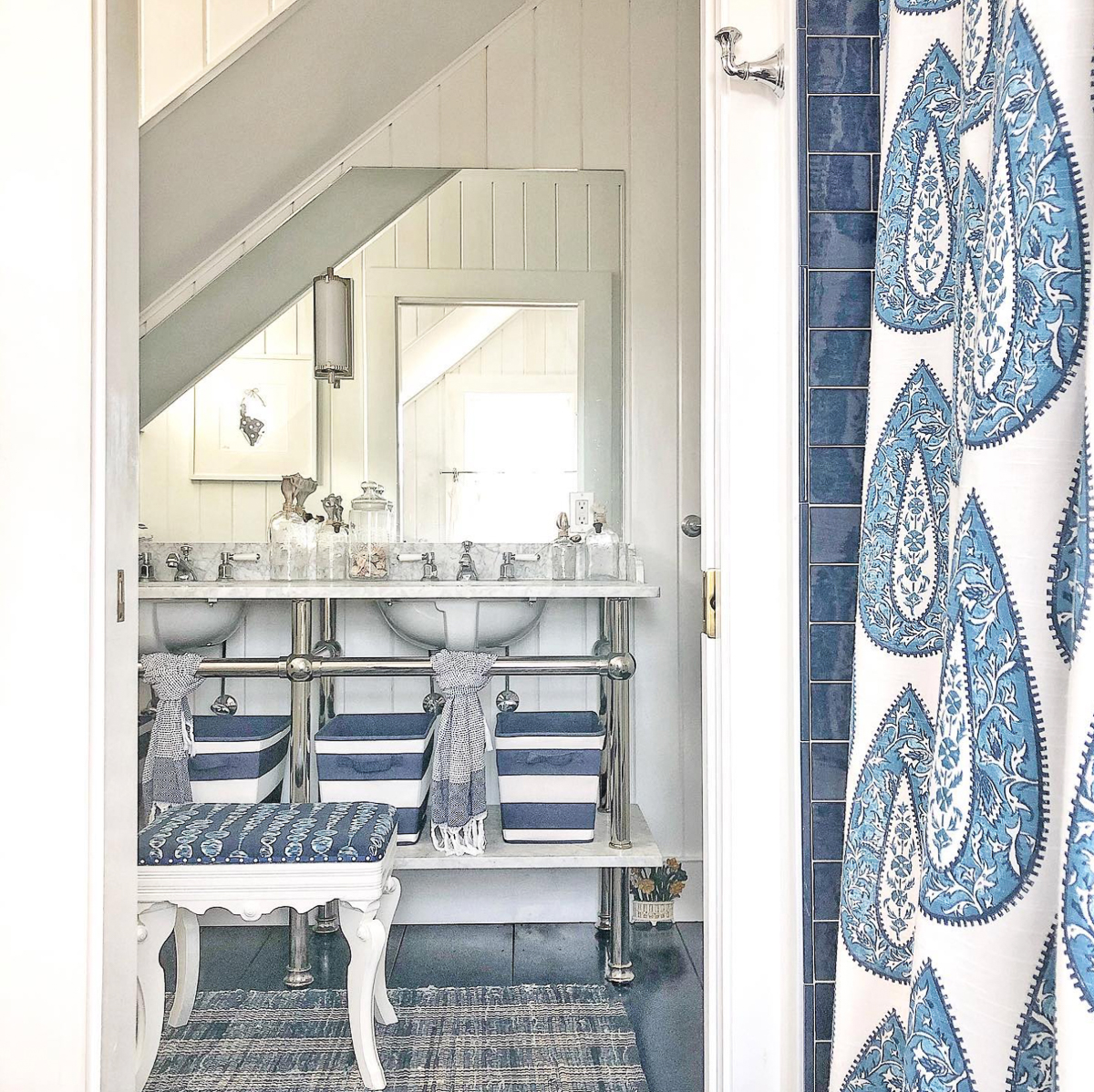 Wood floors were painted blue in this classic coastal bathroom.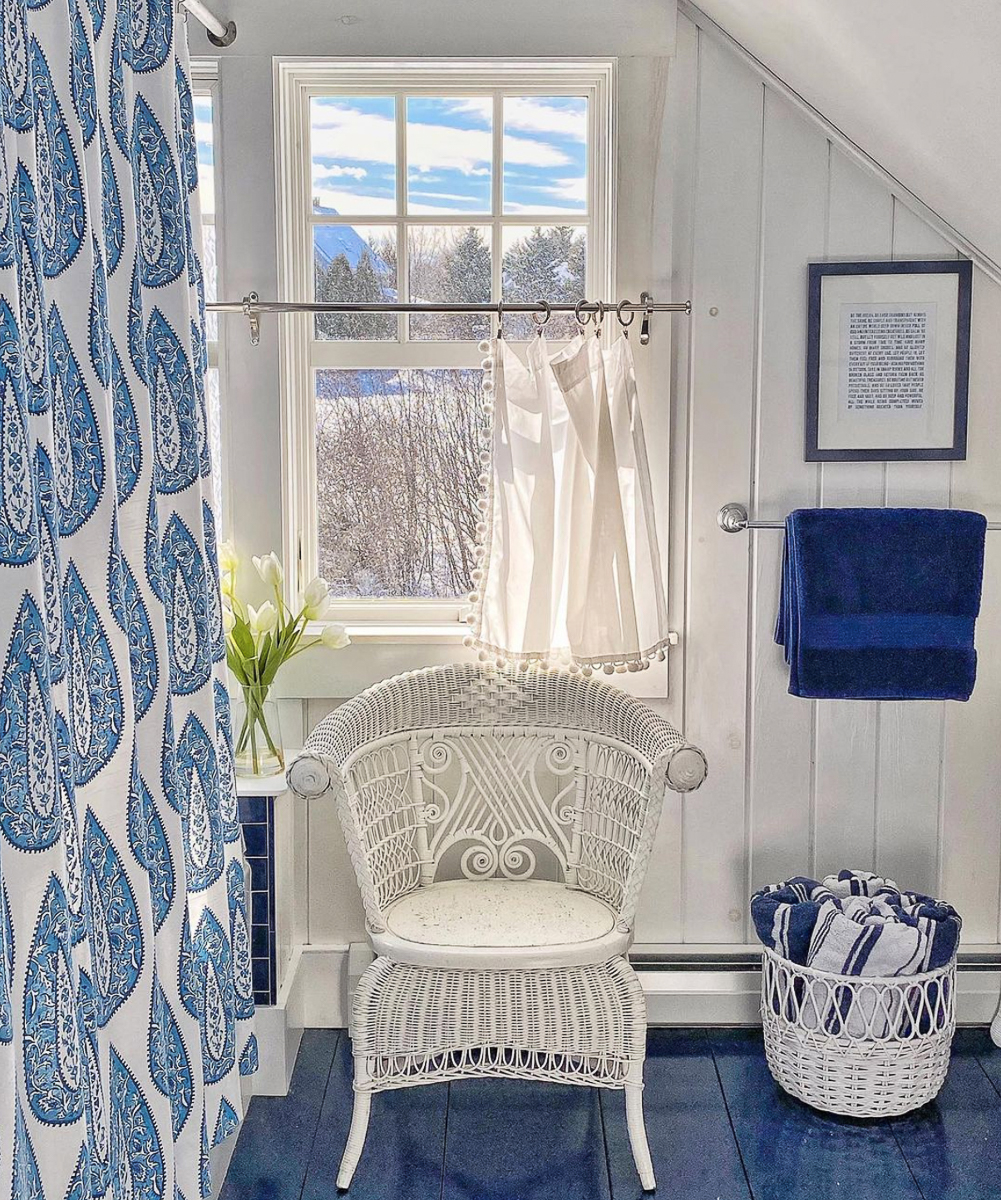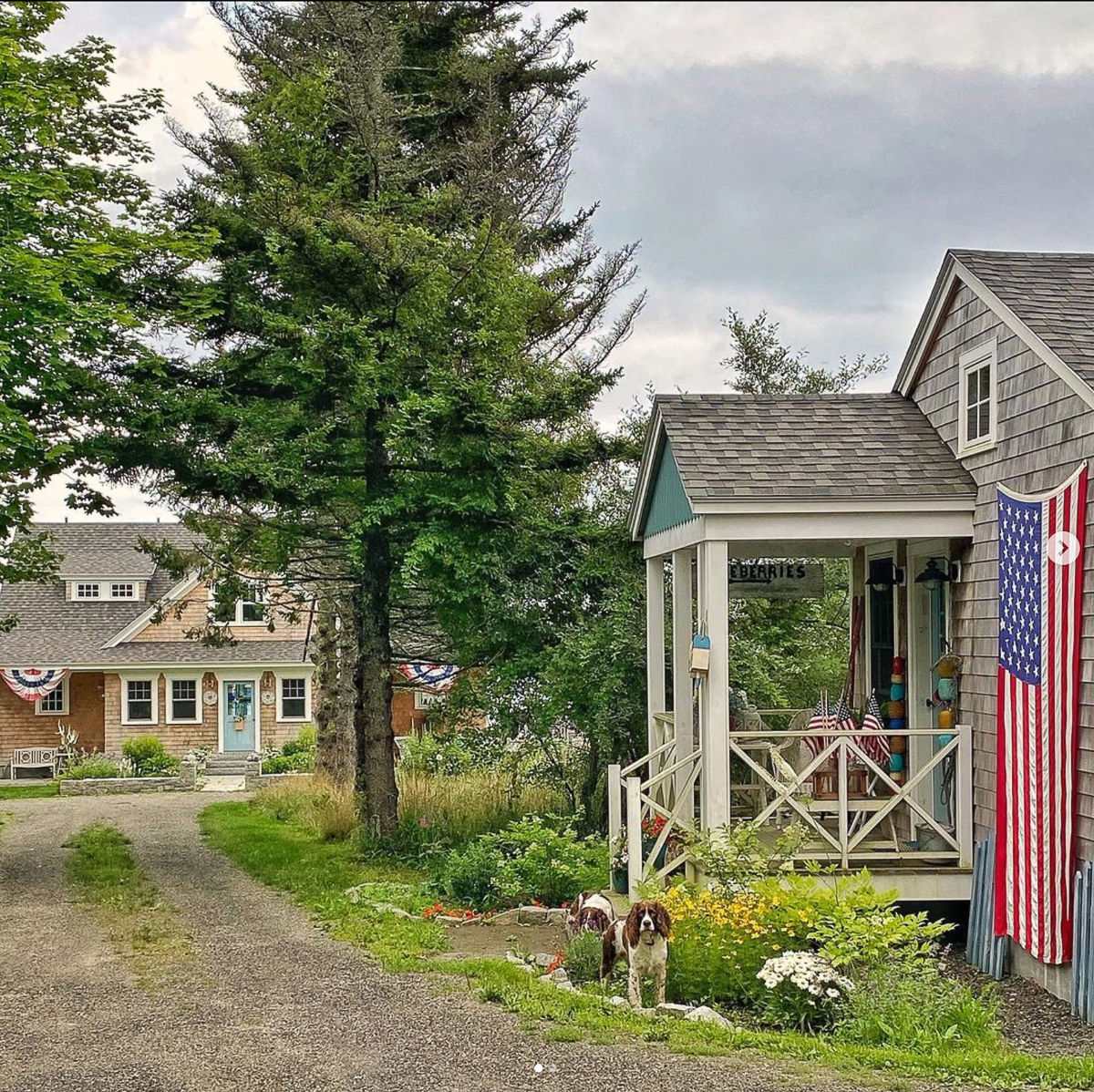 The original run down house was knocked down to make room for the new house while the little guest house on the right got an interior makeover.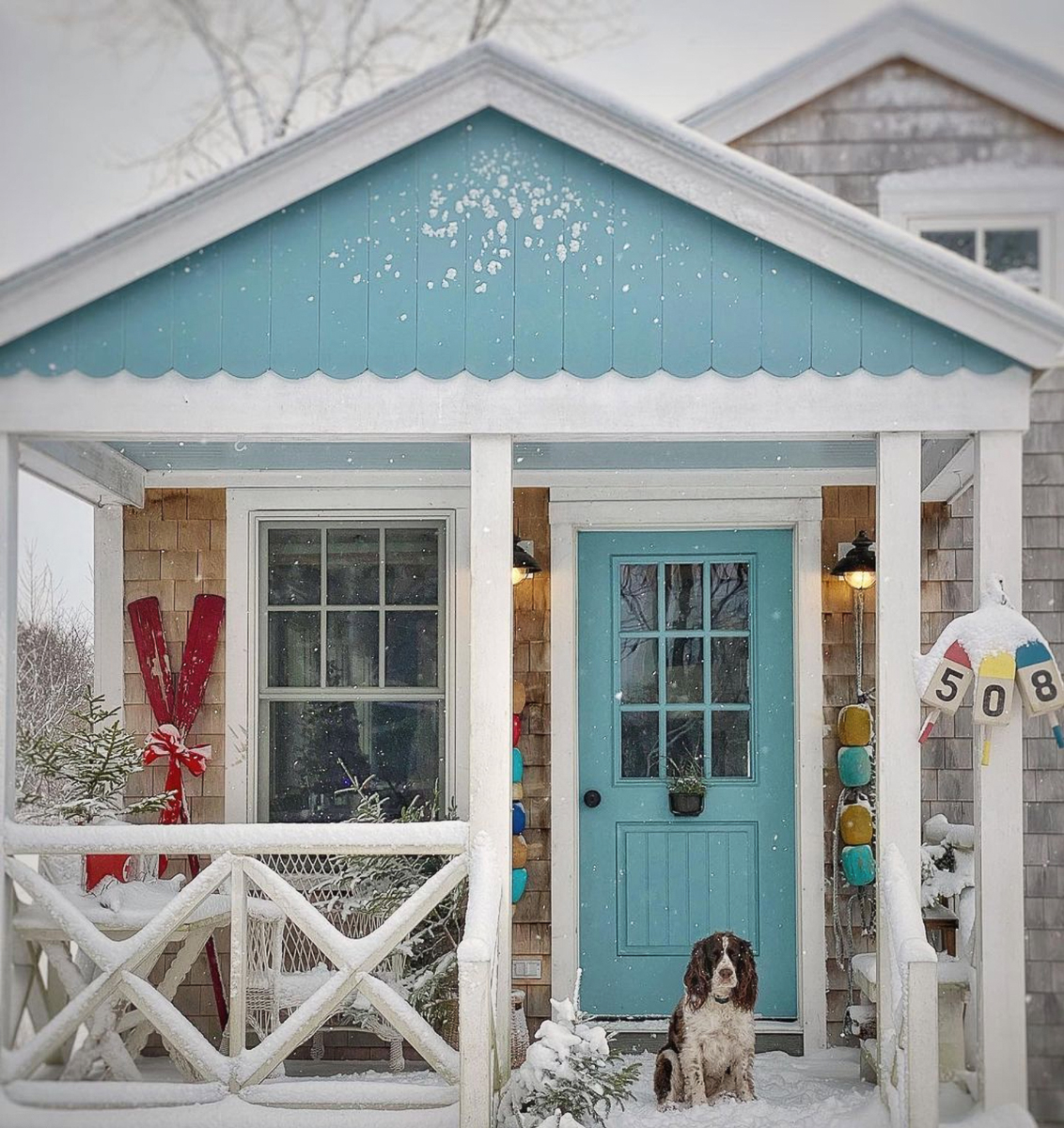 Says Molly, "Our guest cottage is just 450 square feet of one room living. I used furniture groupings grounded by area rugs to delineate the different functional spaces. That is the small dining area in the left corner with a table that also doubles as a desk. The sleeping nook is in the opposite corner, and the kitchenette behind the sofa."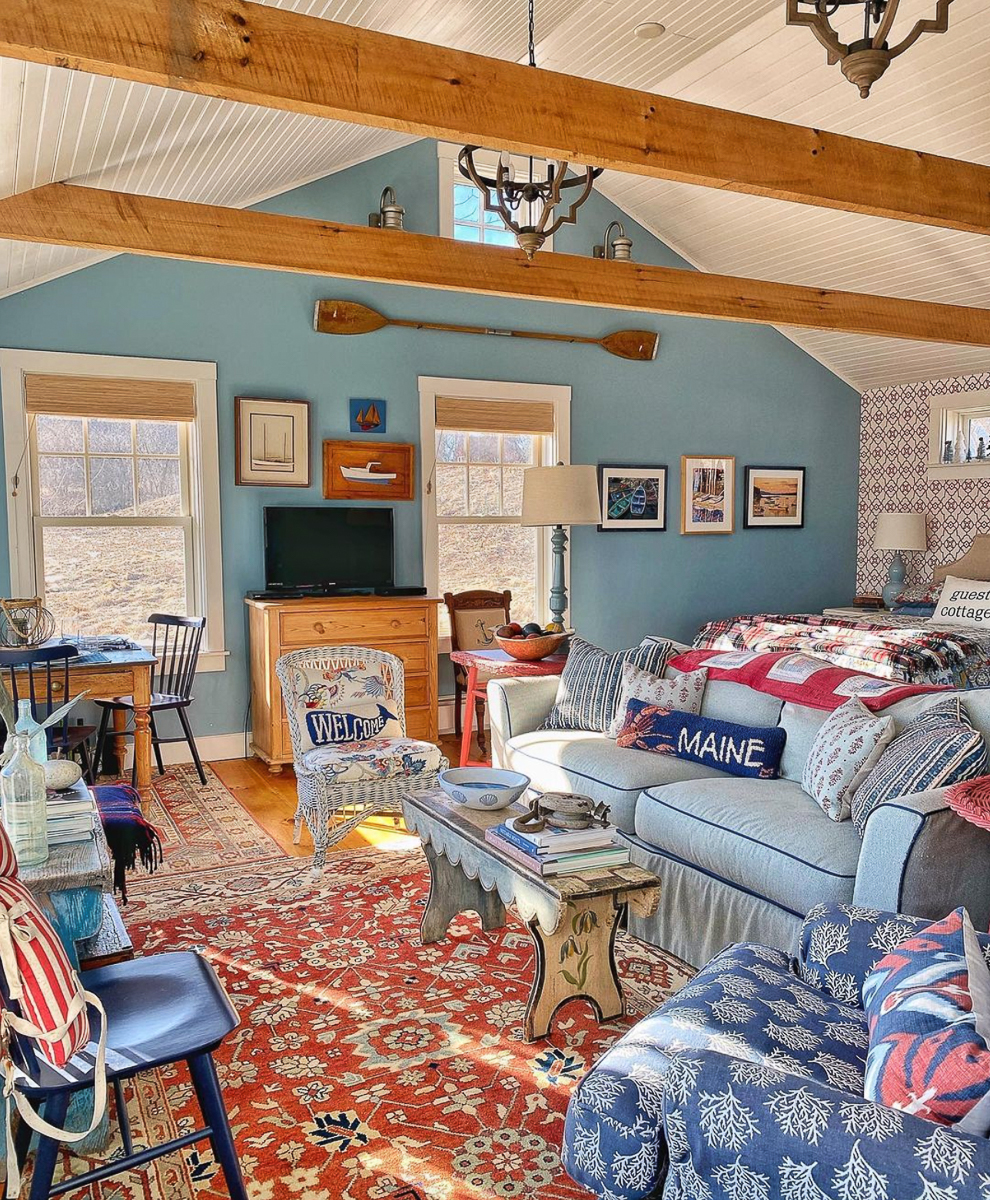 Sunsets on the water create breathtaking colors.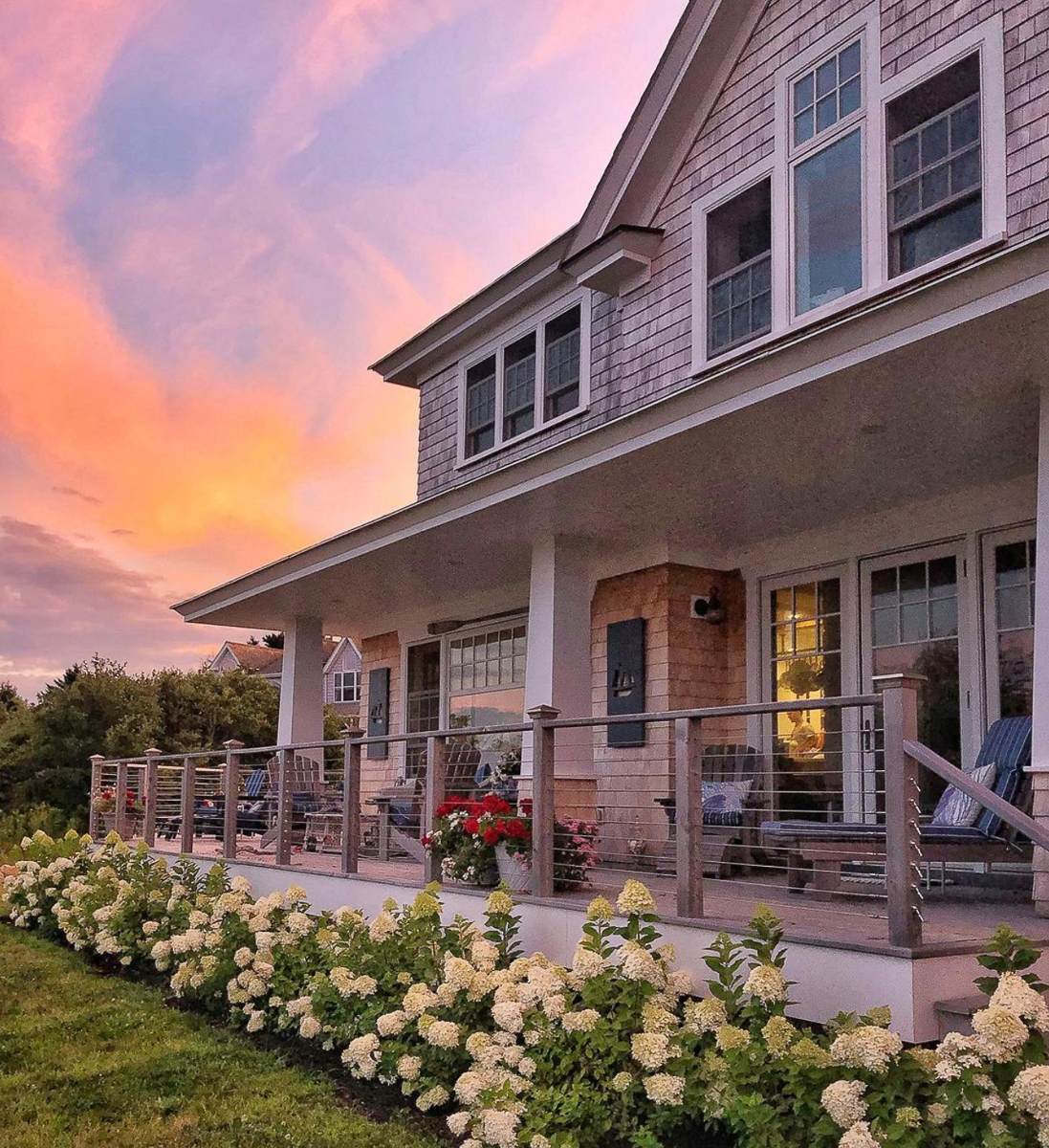 Molly is an amateur gardener and has been learning as she goes. She planted 20 Limelight hydrangeas surrounding the back deck as well as a wildflower meadow  and a lower lawn area with a stone fire pit bordered with marsh grass next to the water and says, "Each year I tackle a different area of the property — there are years of work ahead of me!"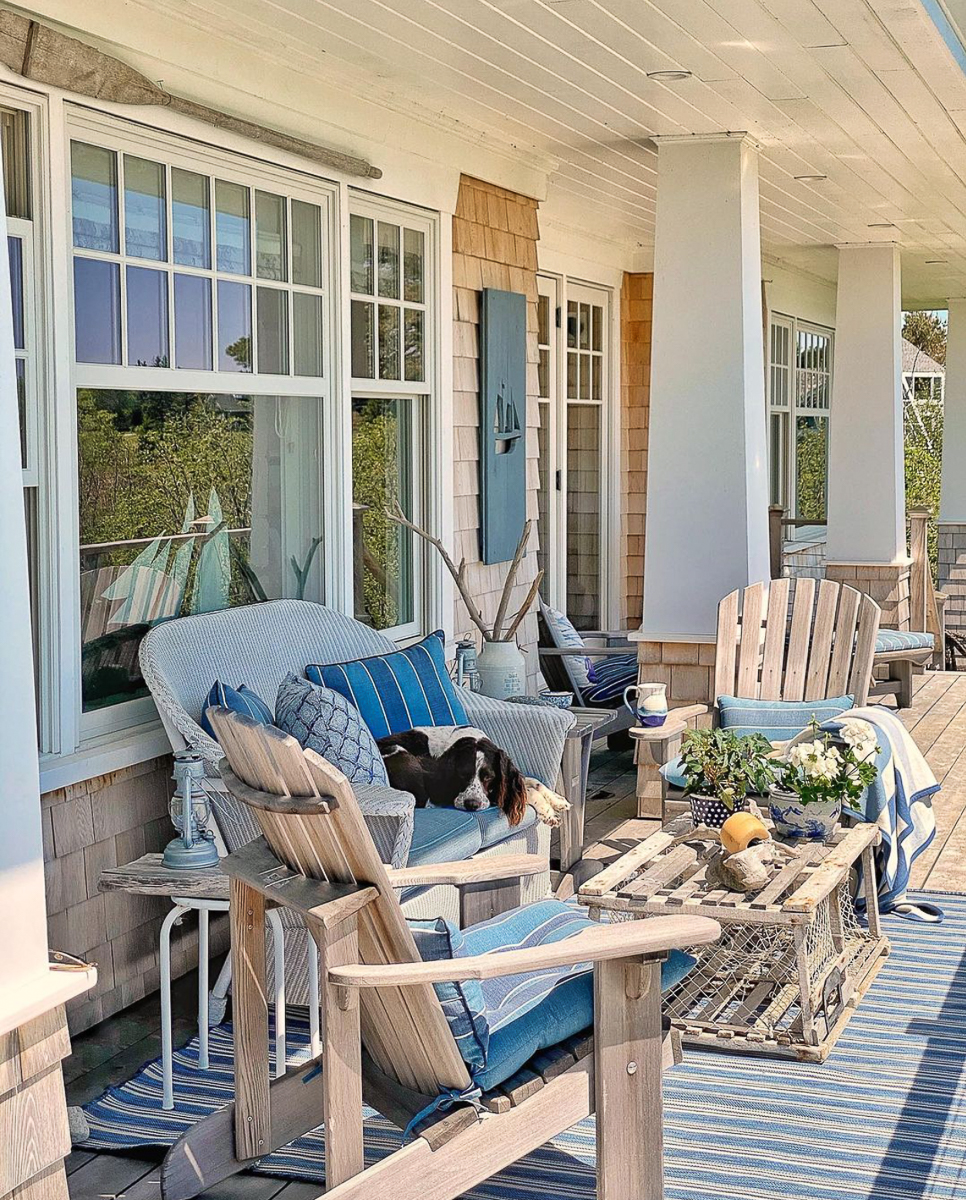 "This outdoor area is all about keeping things natural — cedar furniture , an old lobster trap table, and a table made from a piece of driftwood. The oar above the window washed up on our shoreline, and I found the shutters at a local antiques mall", says Molly.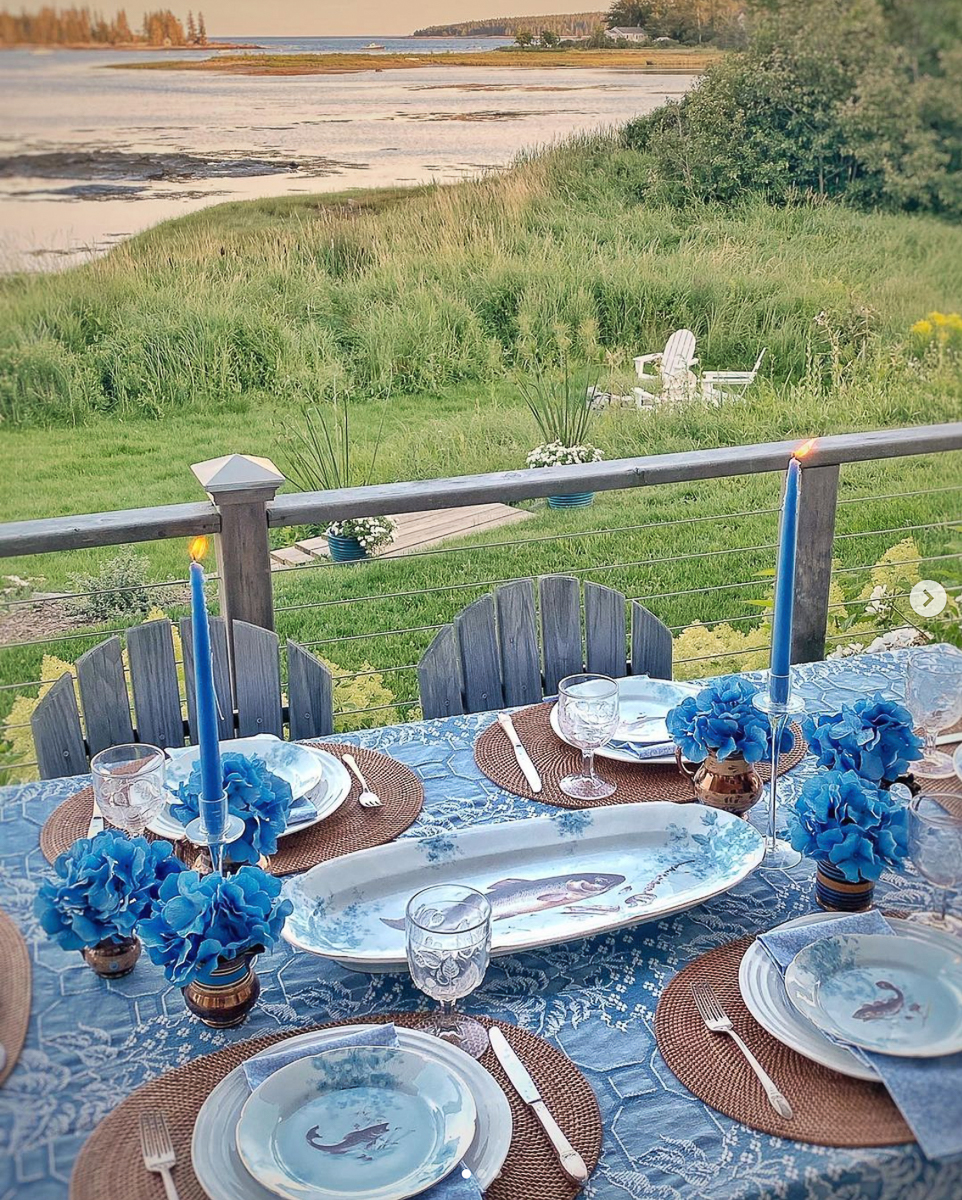 Molly says, "The list of accomplishments is long. But so is the list of things yet to be done. So I will keep laboring, in love, to achieve the dream I had in my minds eye when I first saw this place I now oh-so-gratefully call home."