Eclectic Home Tour – The Little White Farmhouse
Like the old saying goes, sometimes when you least expect it, good things happen. Good things definitely happened when a 200 year old home (complete with an old red barn) came on the market. Kaley wasn't looking to move but could not pass up her dream home. Don't miss today's Eclectic Home Tour of The Little White Farmhouse.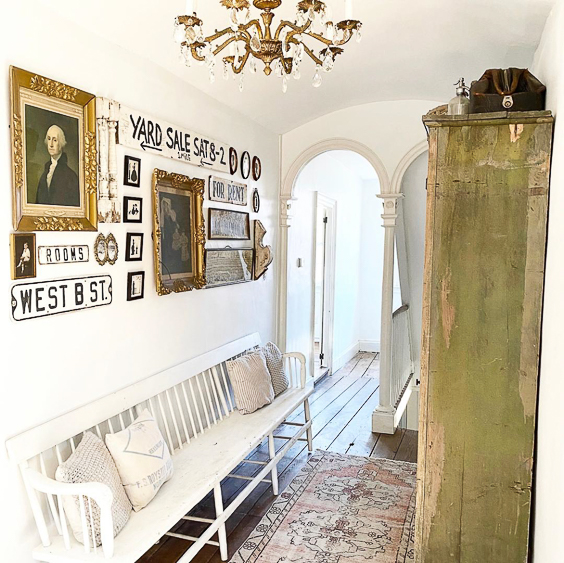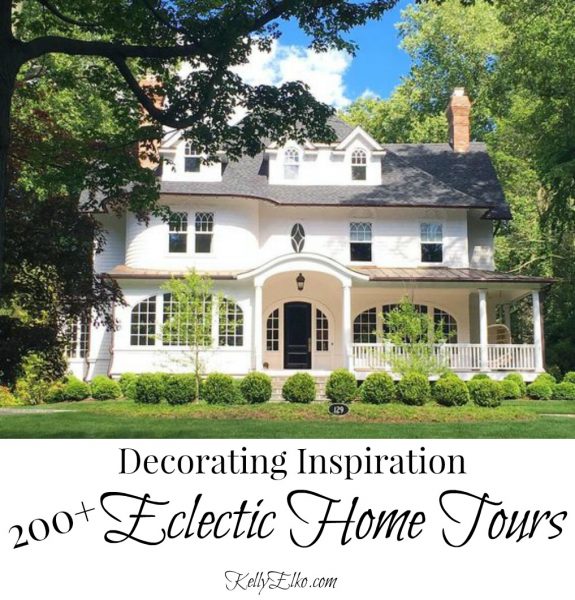 Kaley moved into this home not long ago but she's already managed to put her vintage loving stamp on it. Her first order of business was painting the front door a welcoming shade of boxwood green.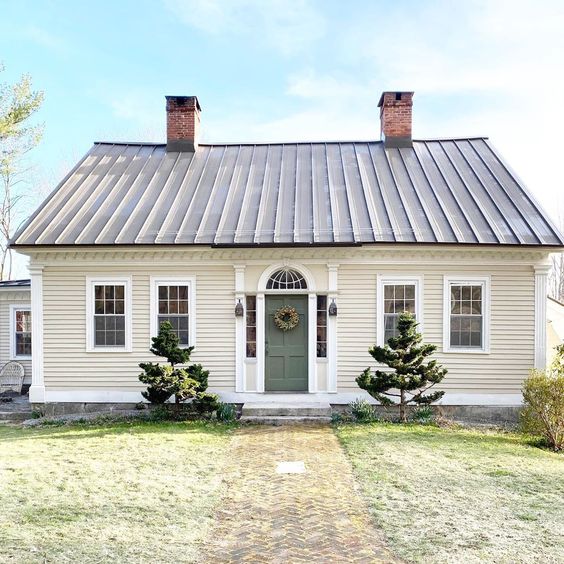 An arched window over the front door gives this classic Cape curb appeal and the new metal roof adds a bit of whimsy to the formal symmetry of the house.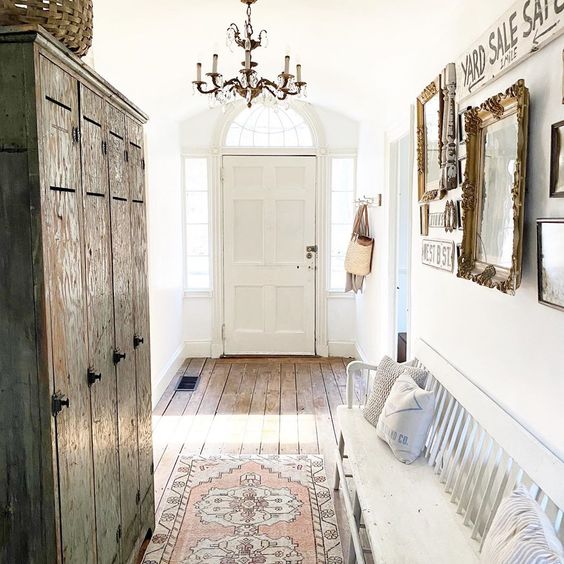 Original wood floors are the perfect backdrop for antique furniture and a vintage gallery wall that's an eclectic combination of formal portraits in gilded frames, old photographs, silhouettes and graphic signs in black and white.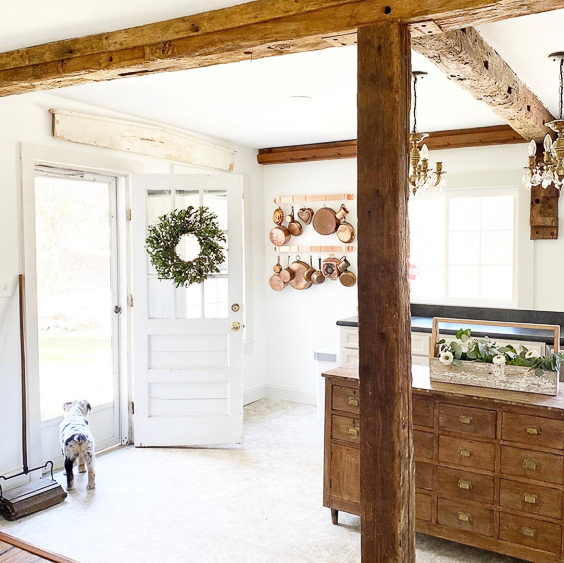 Kaley found the antique apothecary cabinet and knew it would make the perfect kitchen island. A pair of antique chandeliers and a collection of brass cookware on display add more warmth.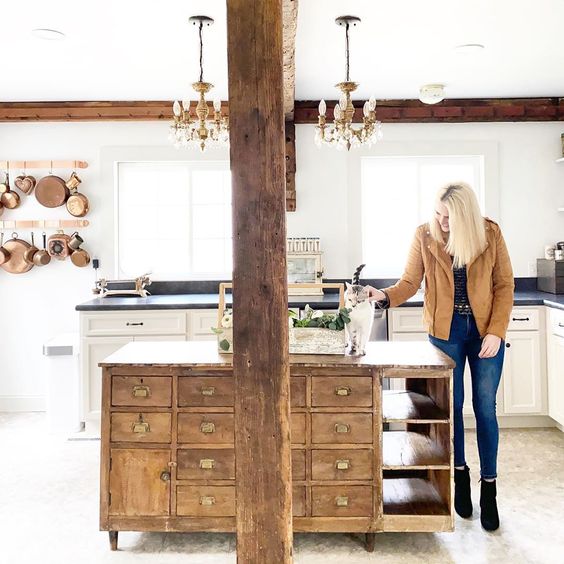 Original wood beams add so much character to the kitchen and antique corbels turn simple kitchen shelves into a focal point.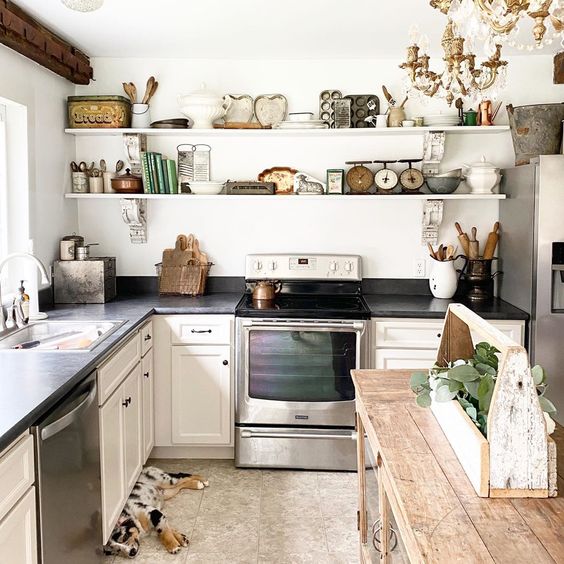 Paint unifies mismatched chairs in this cozy breakfast nook with a view of the woods.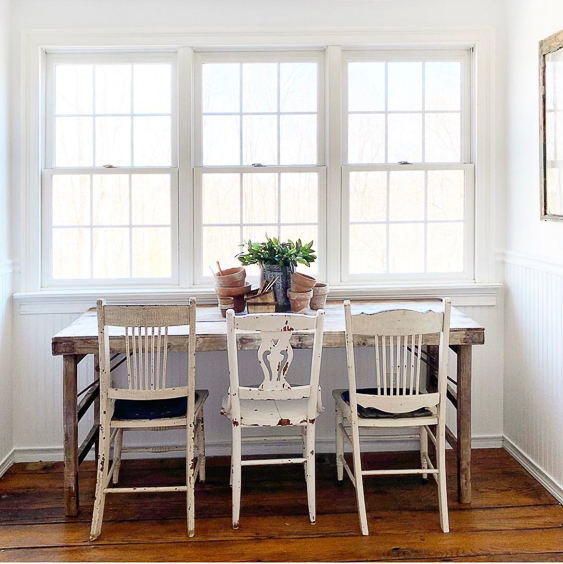 I can't emphasize this enough … collections add drama to any space as can be seen from this collection of antique mirrors that adds interest to a corner of the room.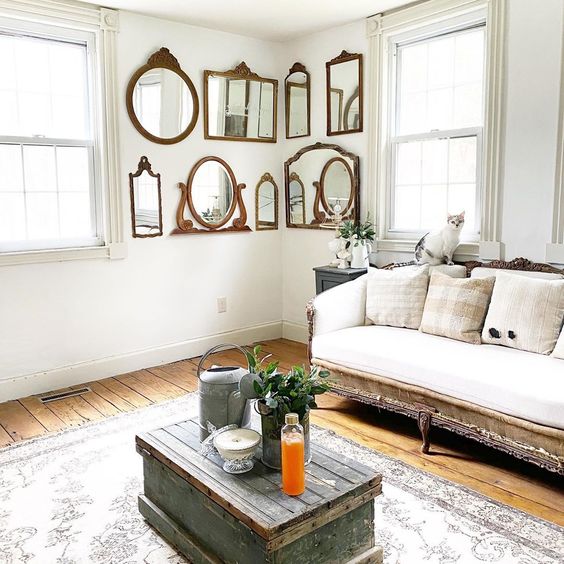 The fireplaces are original to the home and this one was painted black in honor of Abraham Lincoln's assassination. You can't beat the kind of history that comes with living in an old house!
Little unexpected touches like this cute little tricycle on the hearth can be seen throughout the home.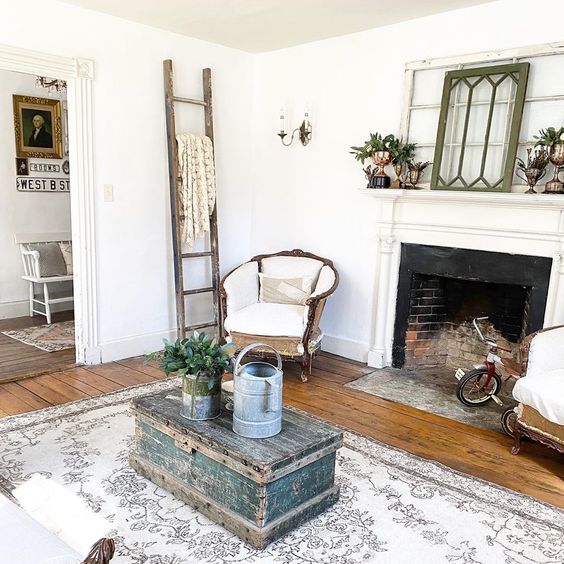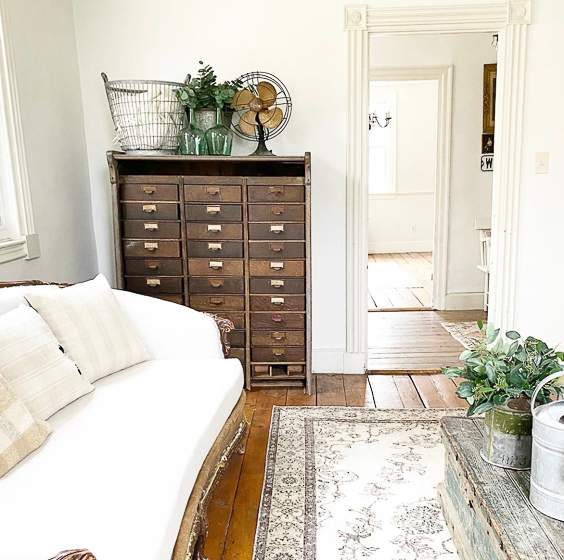 Pumba the cat has a seat of honor at the table.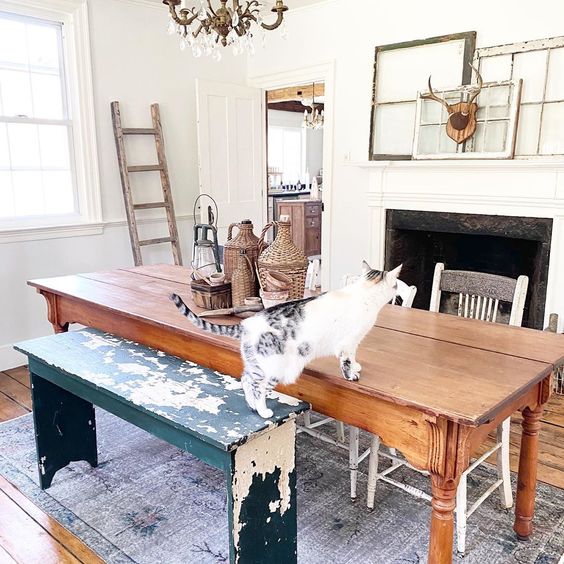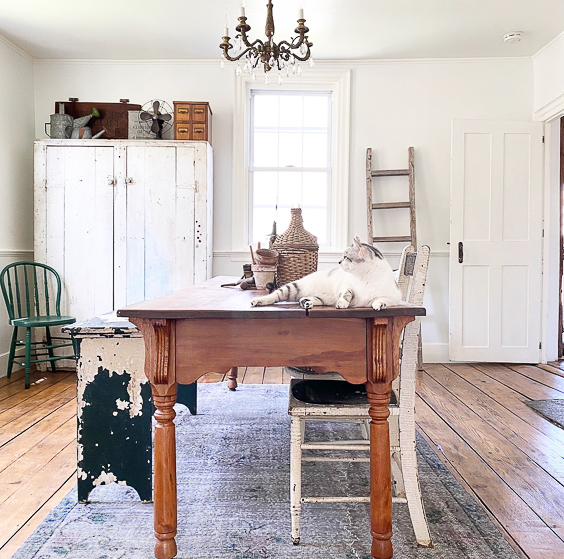 Chippy wood and galvanized metal are hallmarks of the farmhouse look. Arranging them just so is an art that Kaley seems to have mastered.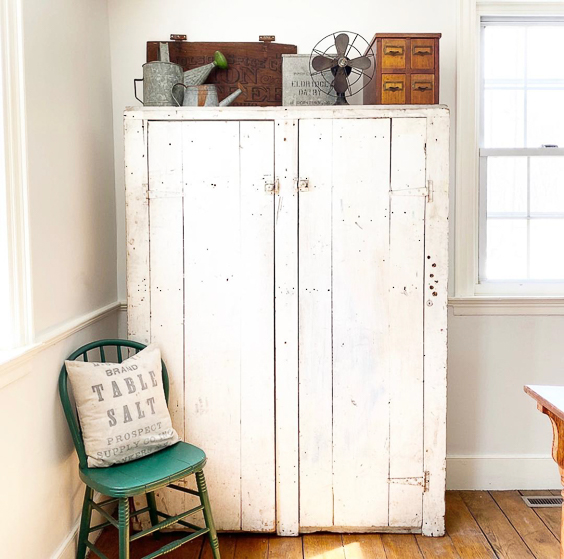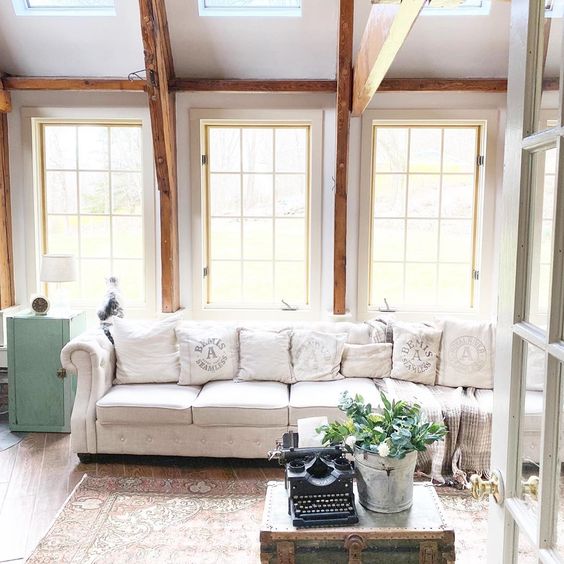 This addition incorporated wood beams found in the rest of the house and a stone wall adds rustic character to the wood burning stove wall.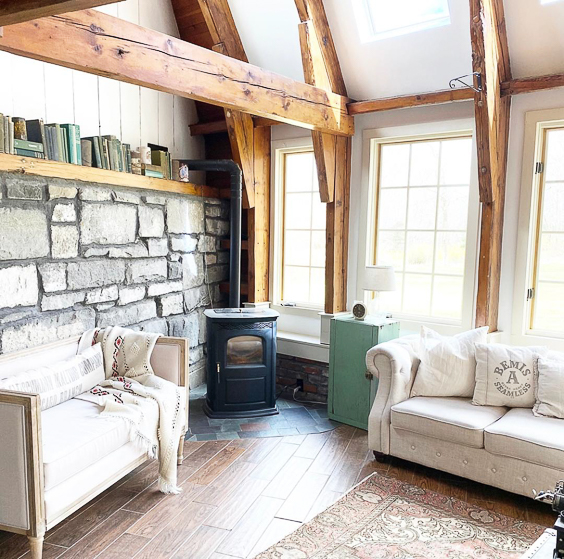 An old green headboard gets a second life as a headboard with an old sign layered over it for more interest.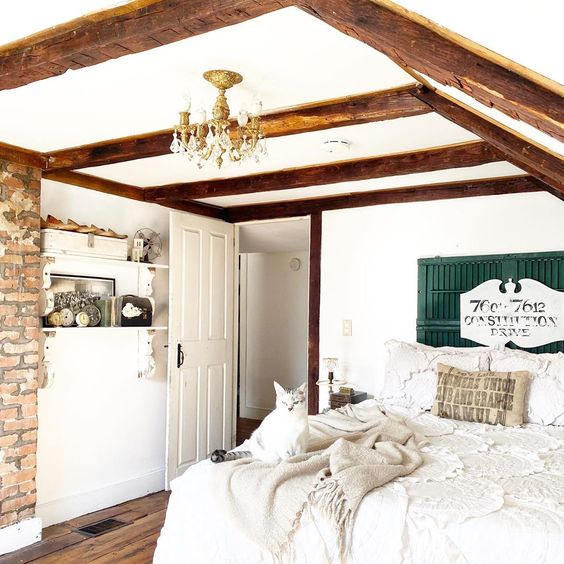 Sloped ceilings make for a cozy master bedroom as does another charming gallery wall that incorporates lots of fun vintage finds like license plates, an old felt banner and even tiny wooden architectural elements.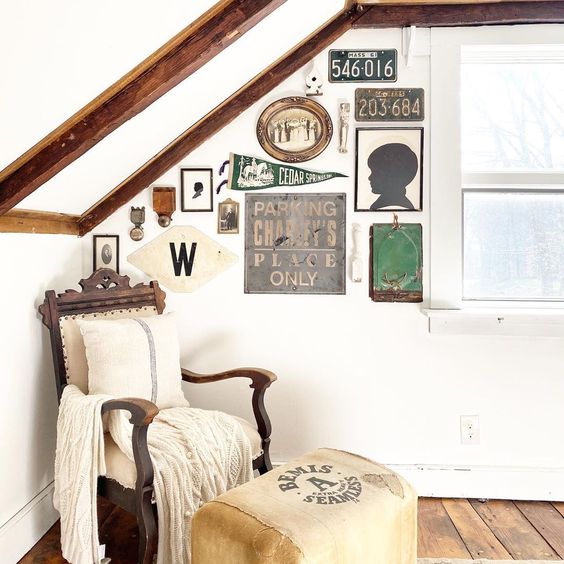 Exposed brick is a charming detail found in the bathroom that luckily has not been covered up over the years.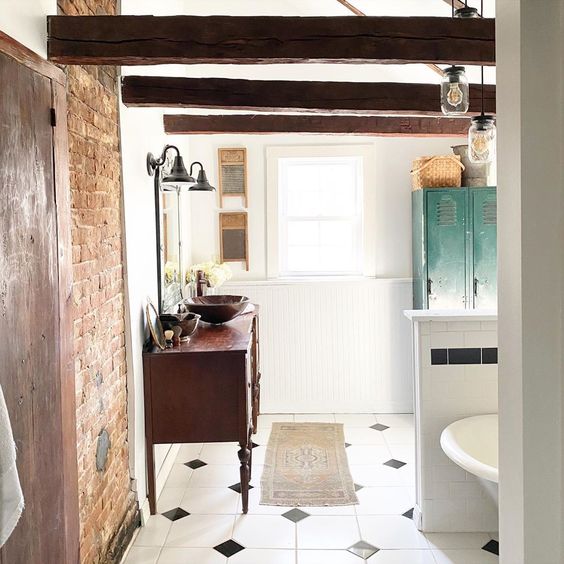 Welcome to Kaley's "beauty room" complete with another vintage gallery wall. I love how she combines art and 3d objects like wood shoe lasts and vintage toy blocks.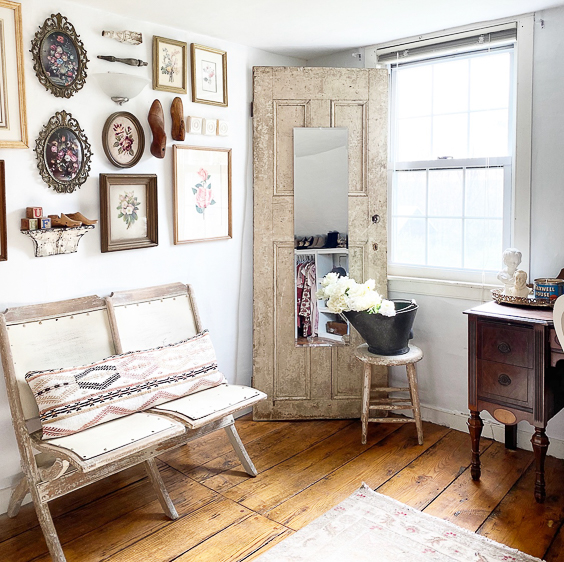 The icing on the old house cake is the red barn that's straight out of a storybook. I mean, there's even a tire swing! Does it get any better than this?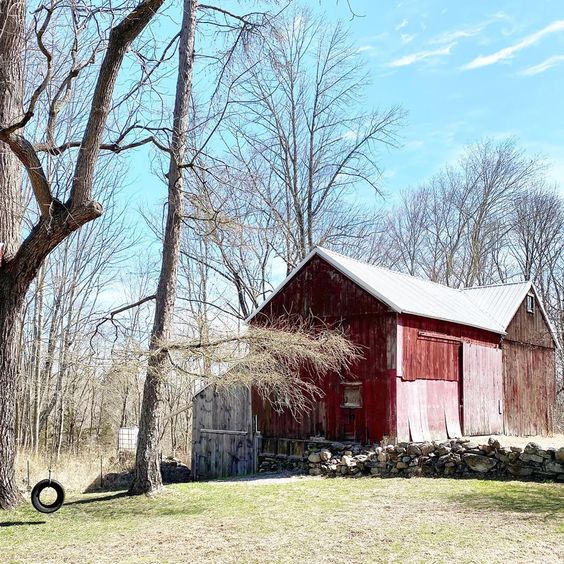 The photo below is from Kaley's former home but I just had to share this amazing staircase gallery wall and chippy green cabinet (that's now in her foyer).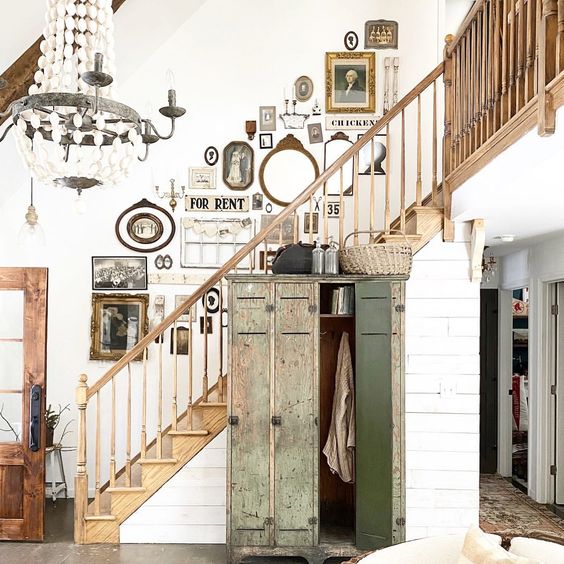 Hop over to The Little White Farmhouse to see more of her dream house.