Eclectic Home Tour – Zig and Company
Her personal self proclaimed design trend is: ORIGINALITY and she says she think homeowners are ready to color outside the lines. She never met a piece of furniture, wall, or floor that she hasn't put her artistic touch on. Today's Eclectic Home Tour of Zig and Company shows us that the power of paint and a bold mix of color and pattern can take a house from run-of-the-mill to one-of-a-kind.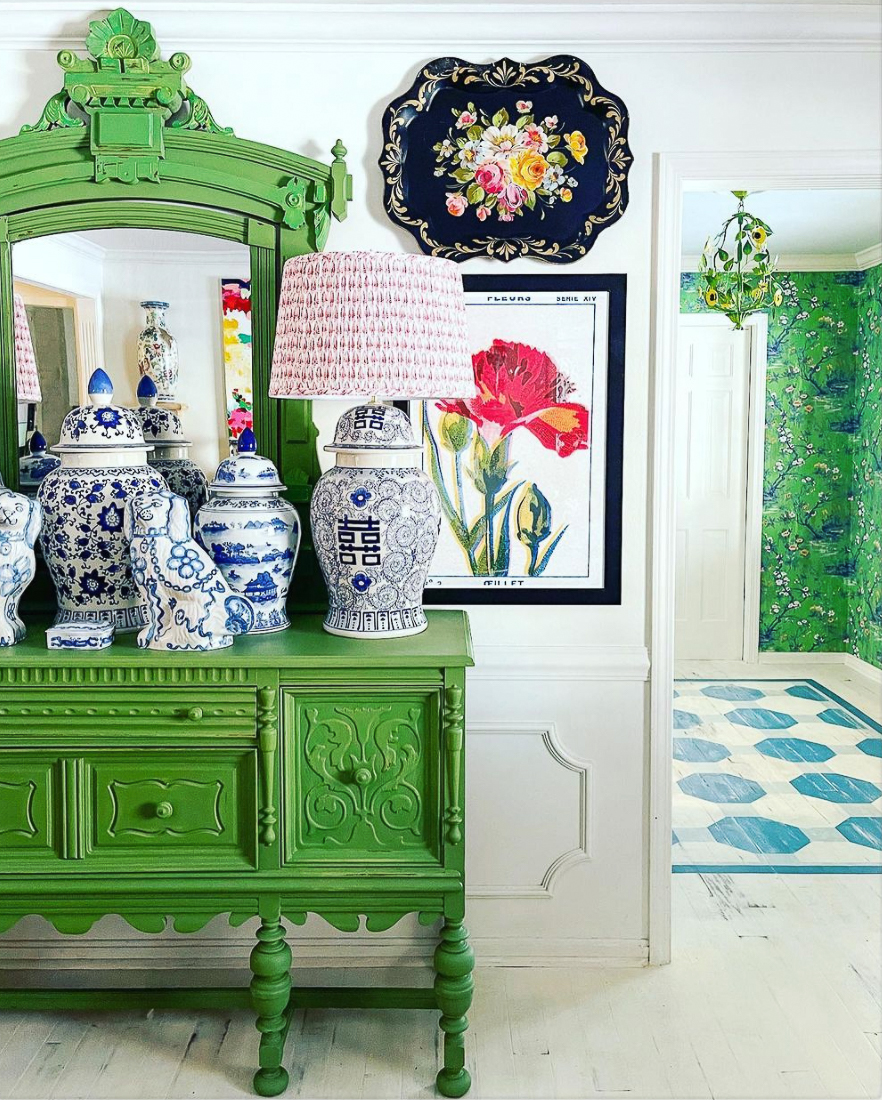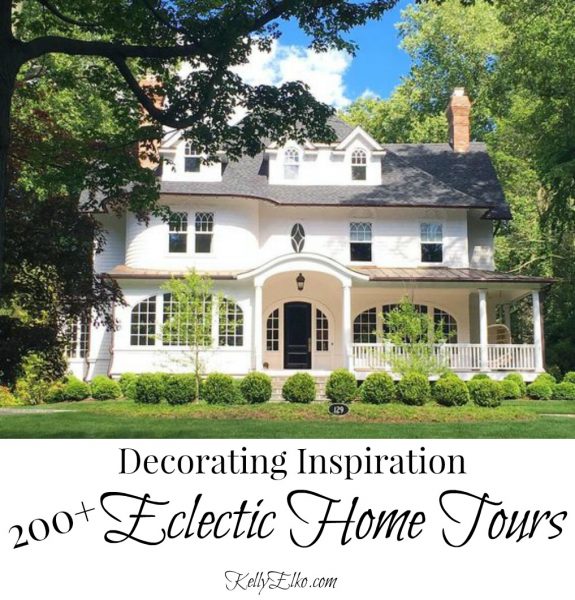 Courtney Wafzig of Zig and Company is an artist and interior designer who says, "Color is one of my favorite things. It makes me smile and adds so much visual interest to a space." Step into the foyer of her 1960's home in Louisville, KY and onto the "rug" that she hand painted and you know you're in for a visual treat.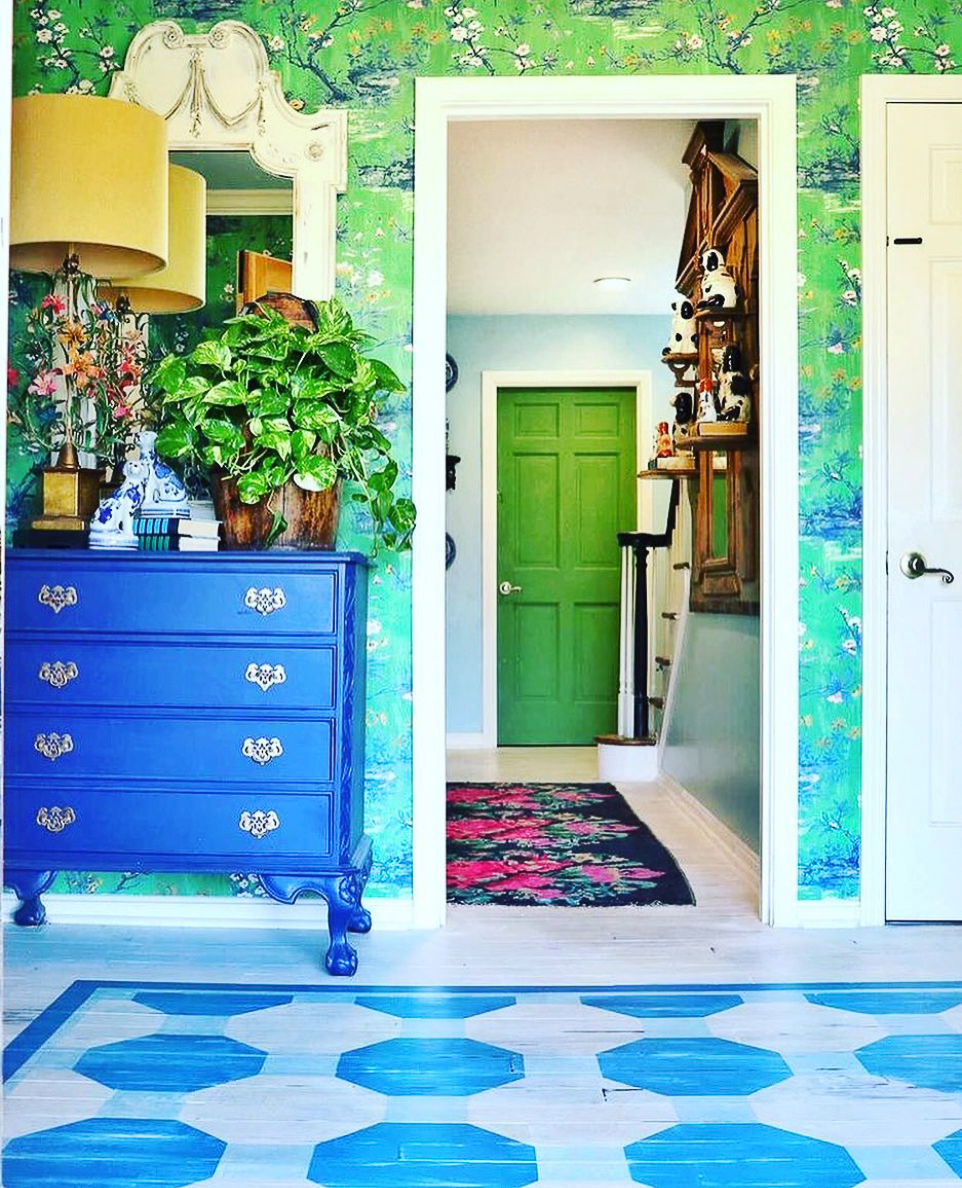 Some words of encouragement from Courtney for those hesitant to paint furniture, "Paint it. It's okay. You can do it. That piece of furniture you are too intimidated to take on, because you've never tried before. The antique piece your mother would be horrified if you paint. The piece you are just not sure if you should change the color. I say do it! If you regret it, just paint it another color or strip it and refinish. It's not set in stone."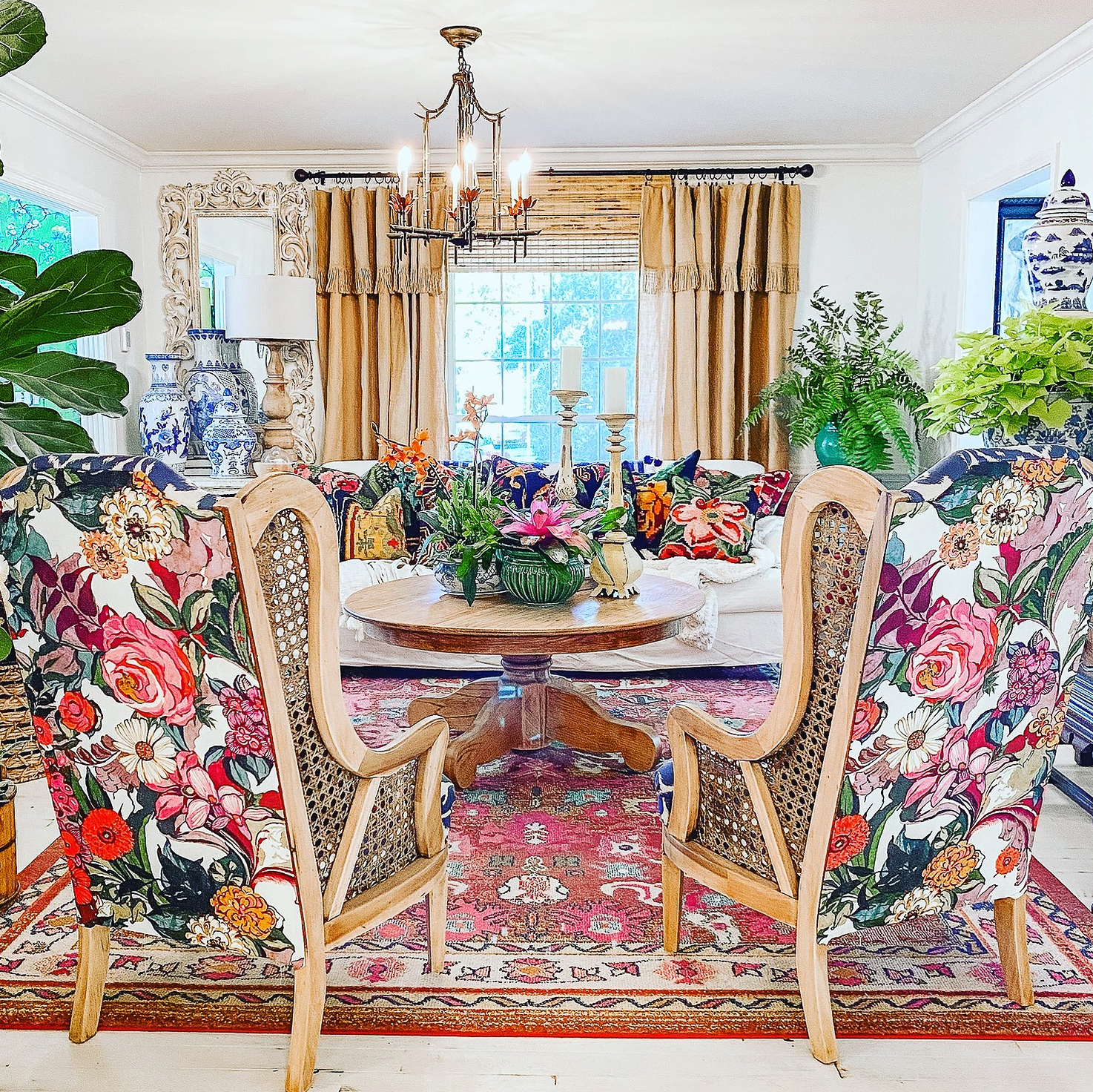 Courtney scored these cane chairs on Facebook Marketplace for only $35 each, stripped them down to the raw wood then reupholstered them in a fun floral on the back and blue ikat on the front.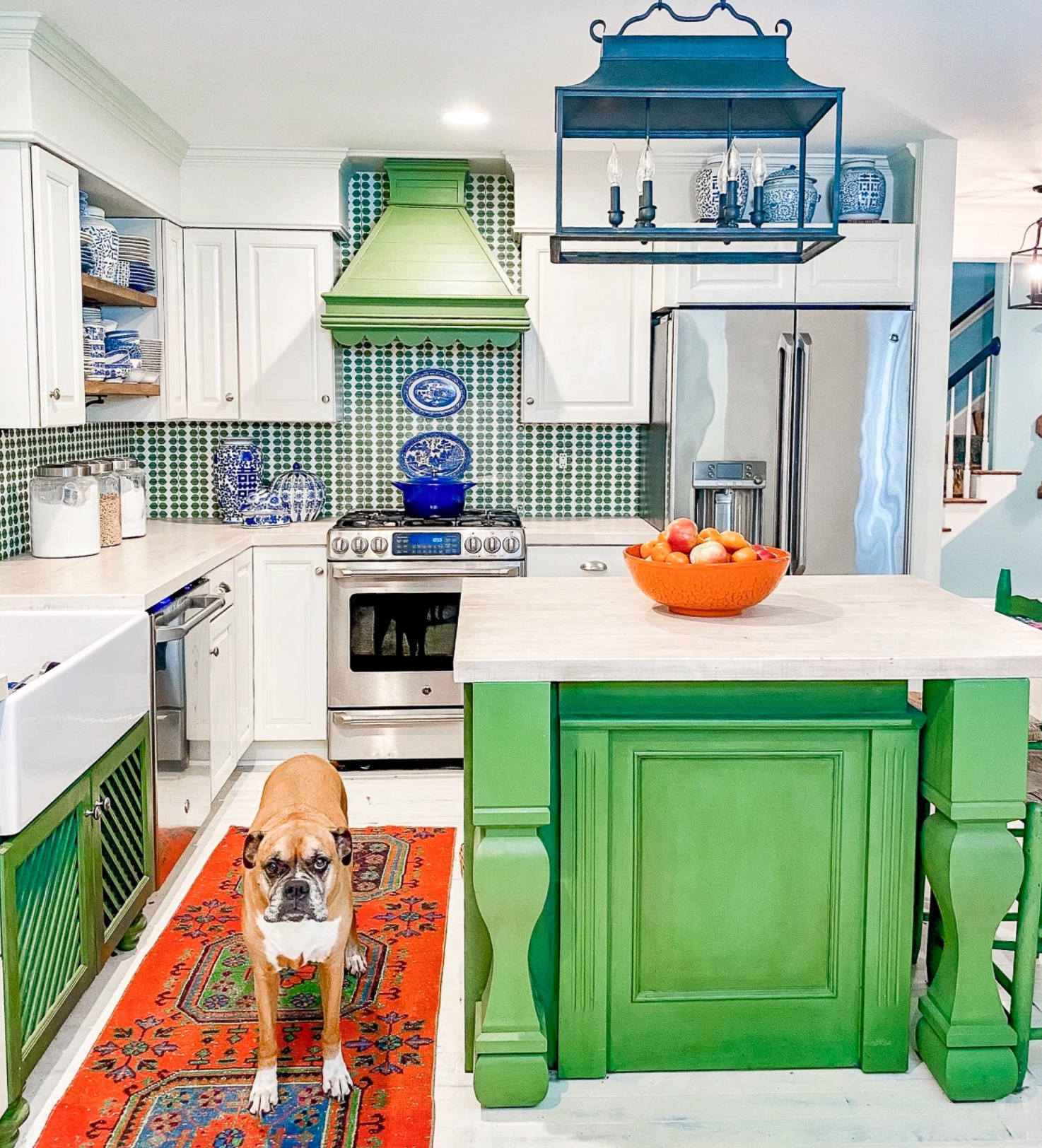 Courtney challenged herself to "do a kitchen makeover on the smallest budget possible (less than $1500) and to make it a cheerful and colorful space." She painted the wood floors white, chose a cheery shade of green for the island and range hood along with some other changes like installing budget friendly wallpaper as a backsplash.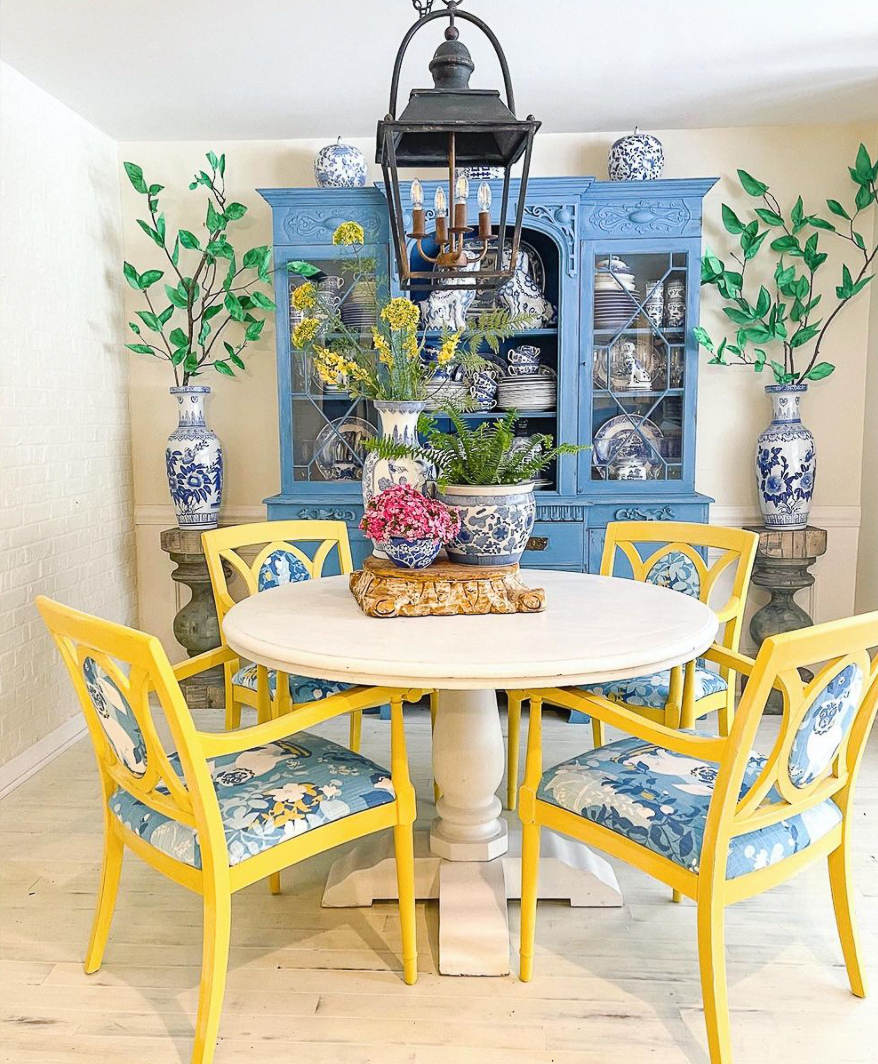 Once again, cast off chairs get a new lease on life with paint and new fabric.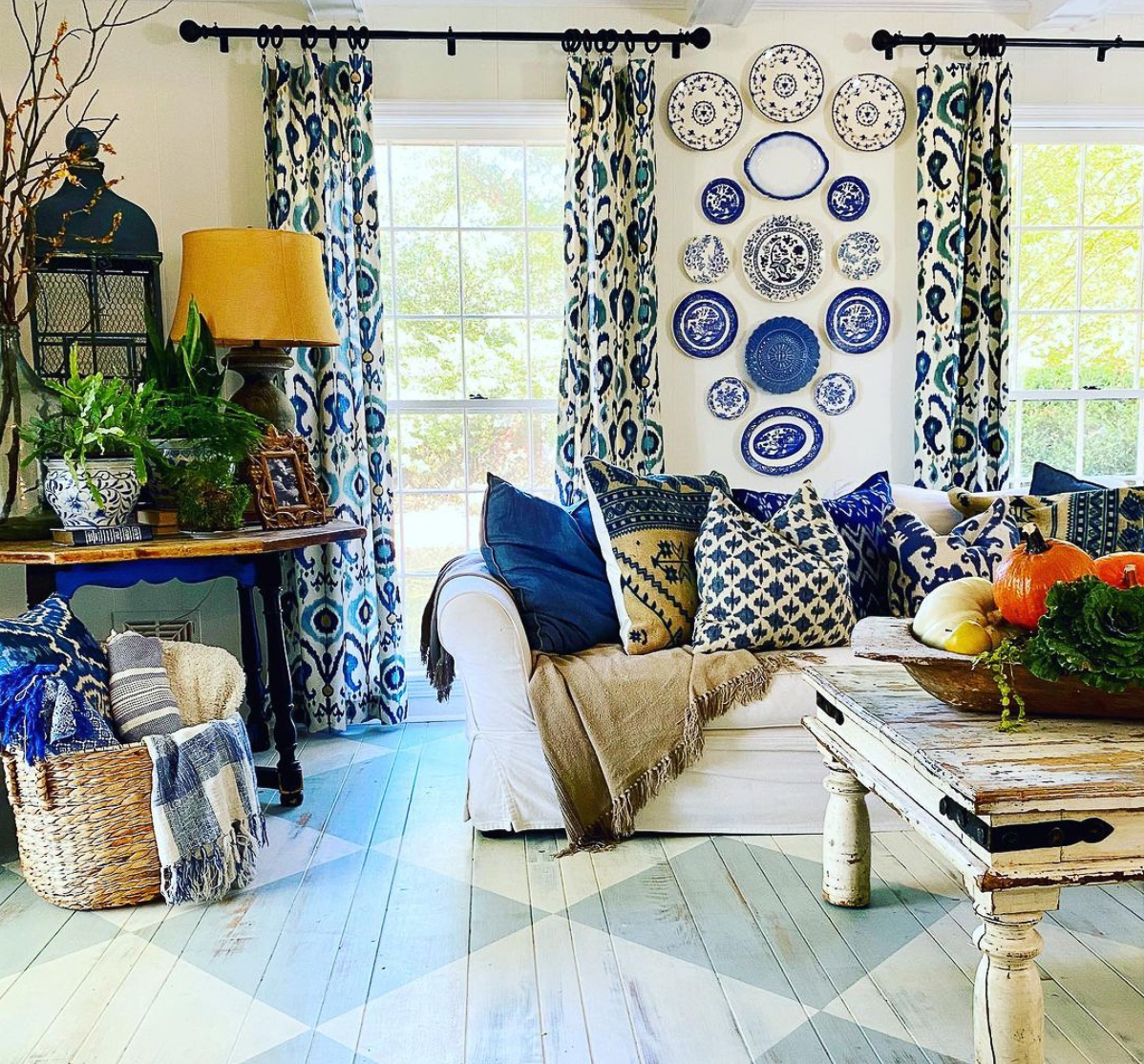 Courtney says, "my house was built in the 60s. Not exactly the decade of beauty for architecture in the suburbs. I'm in love with old houses, tall ceilings, pretty wood floors, and years of aged beauty. So long story short, I'm in constant search of how to make my home better. I love the painted floors in old houses of Europe. They are colorful, functional and basically make an old space new."
She painted a beautiful blue and white diamond pattern on the wood floors then distressed them because she lives in a house with four kids and three dogs!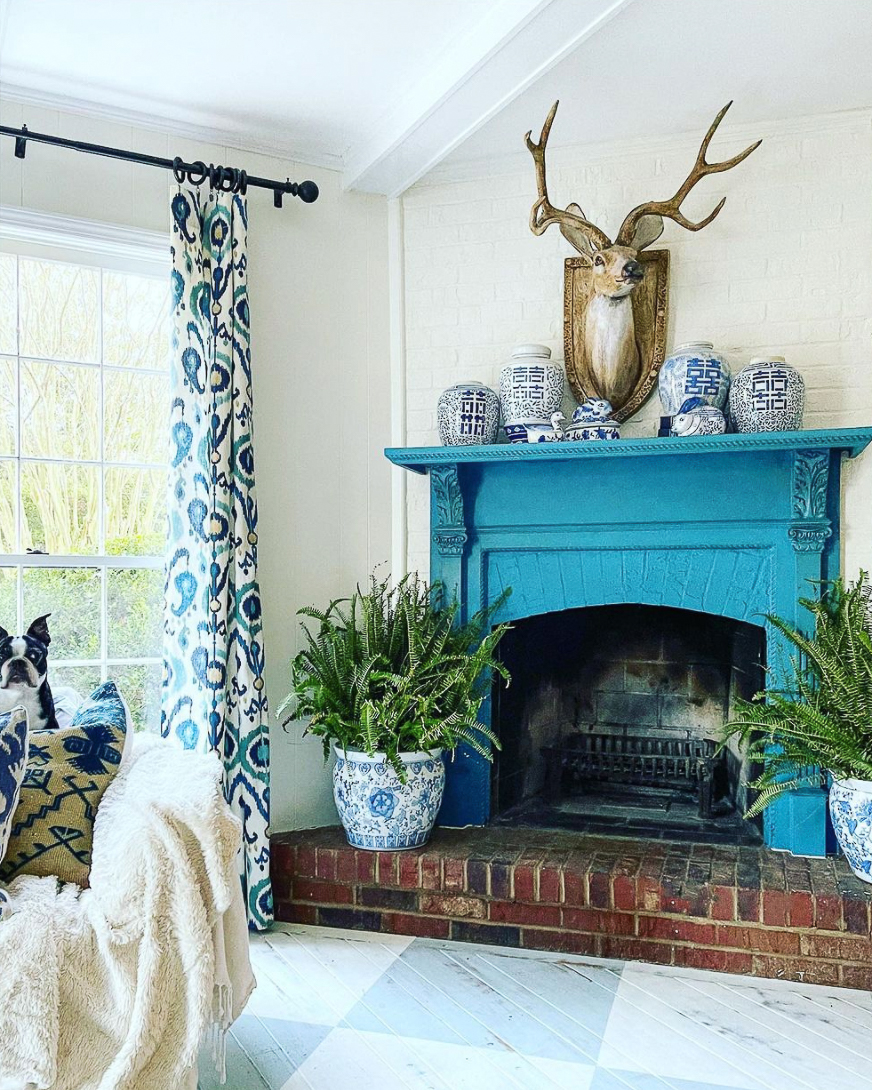 Ziggy the Boston Terrier does not look impressed by the bold blue mantel but I am!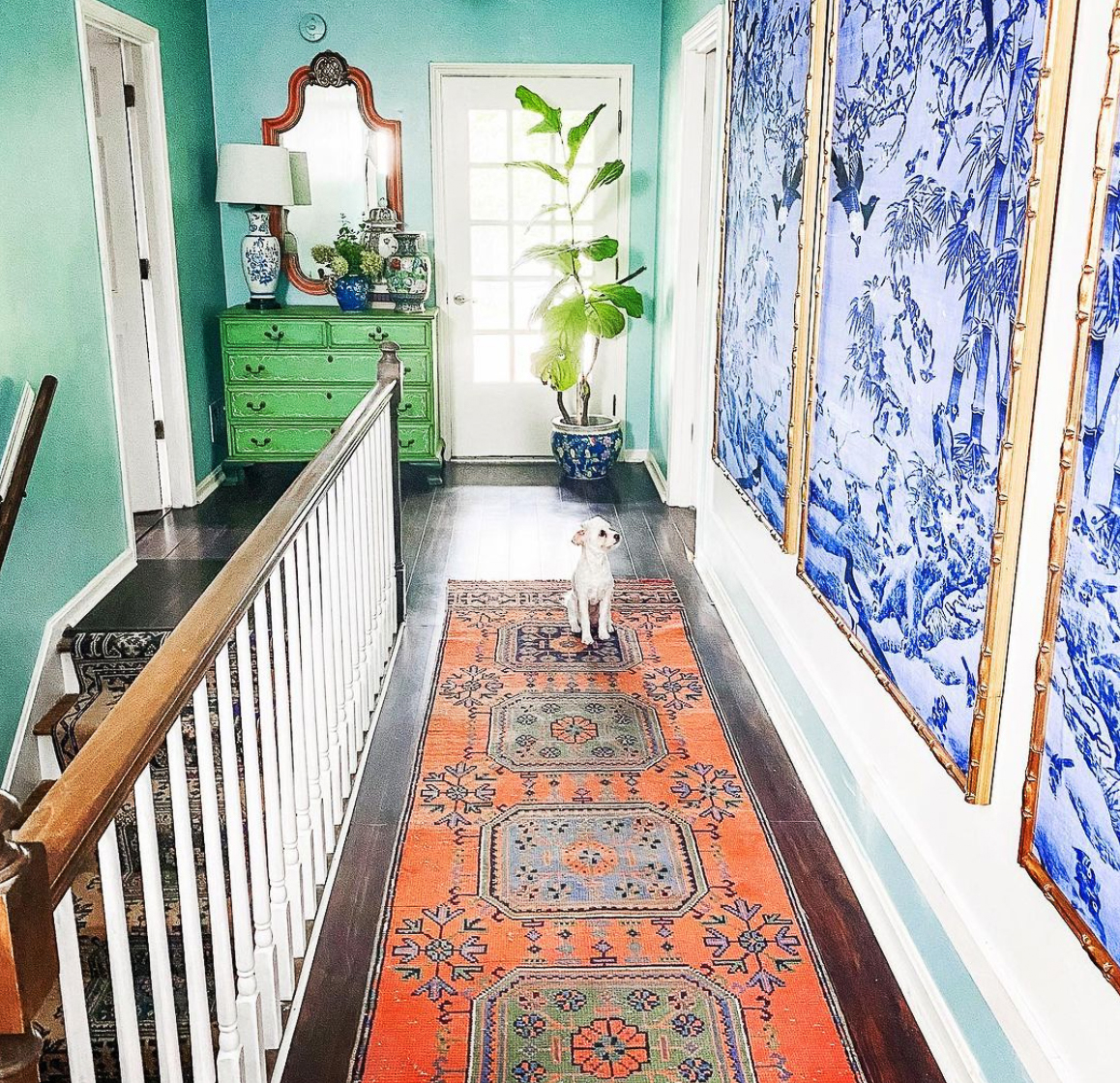 A small dose of colorful wallpaper keeps the fireplace the center of attention in the master bedroom.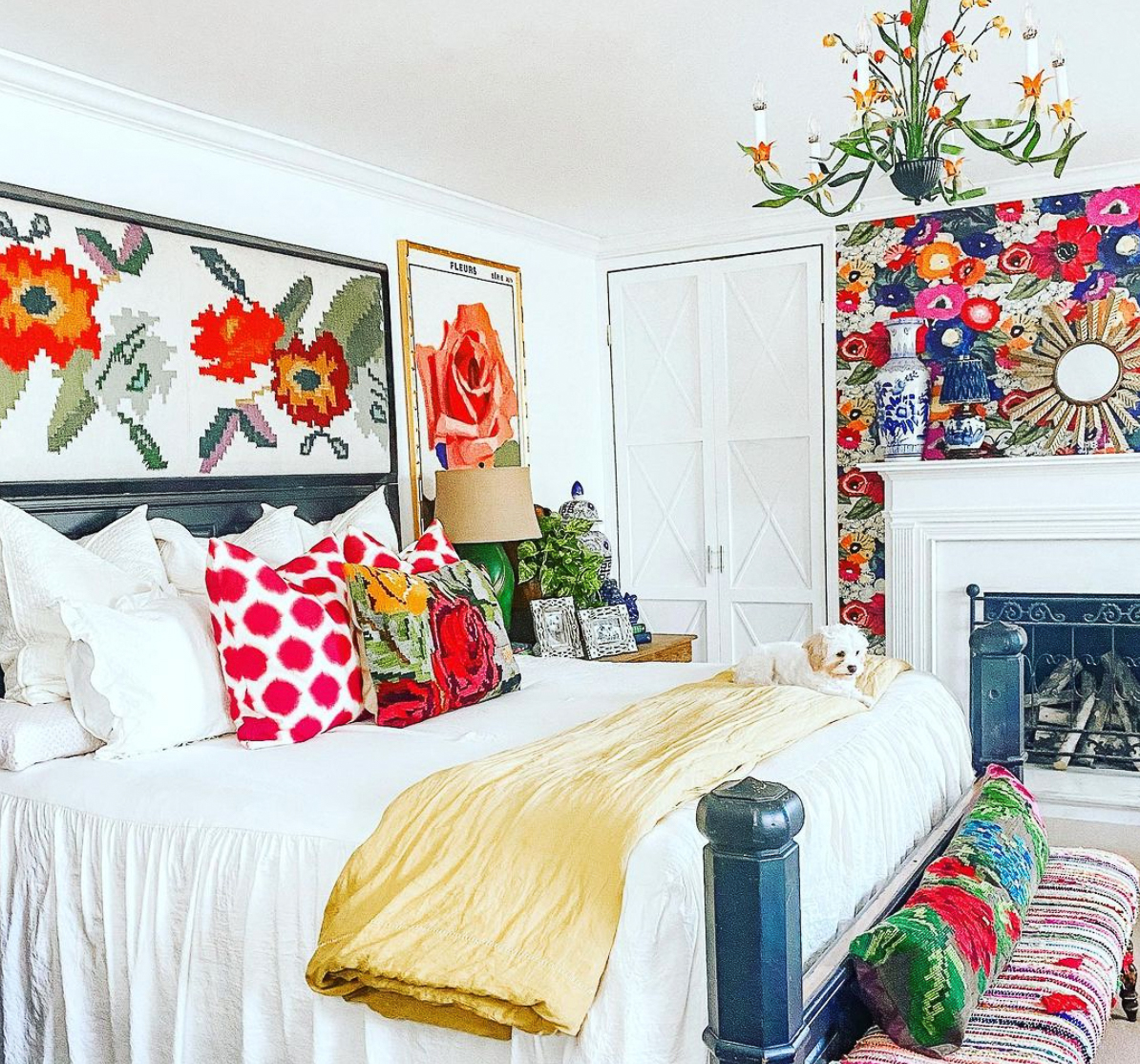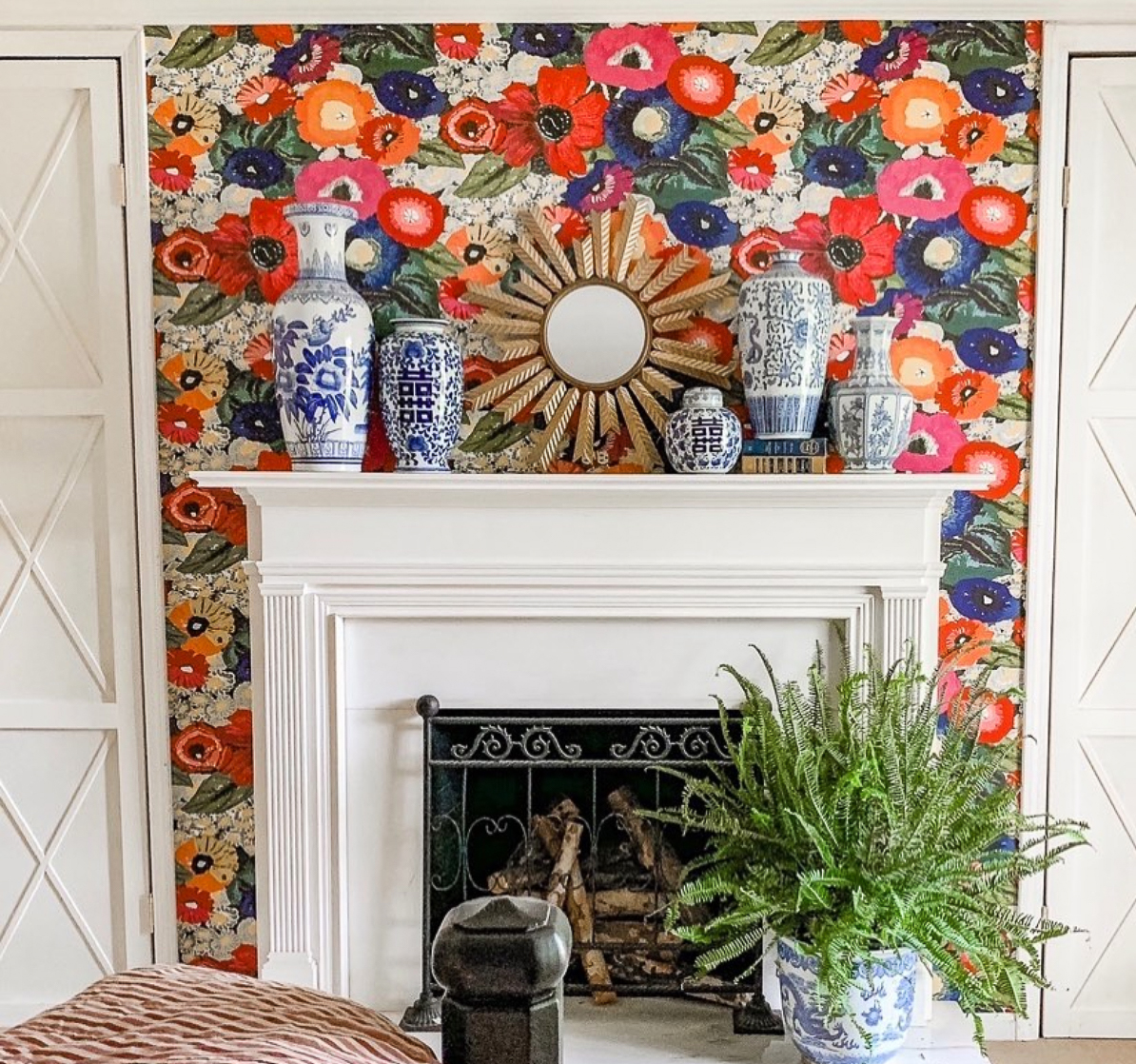 This whimsical bathroom is grounded in lots of black and white but the butterfly wallpaper steals the show.
A hand painted mural livens up the staircase.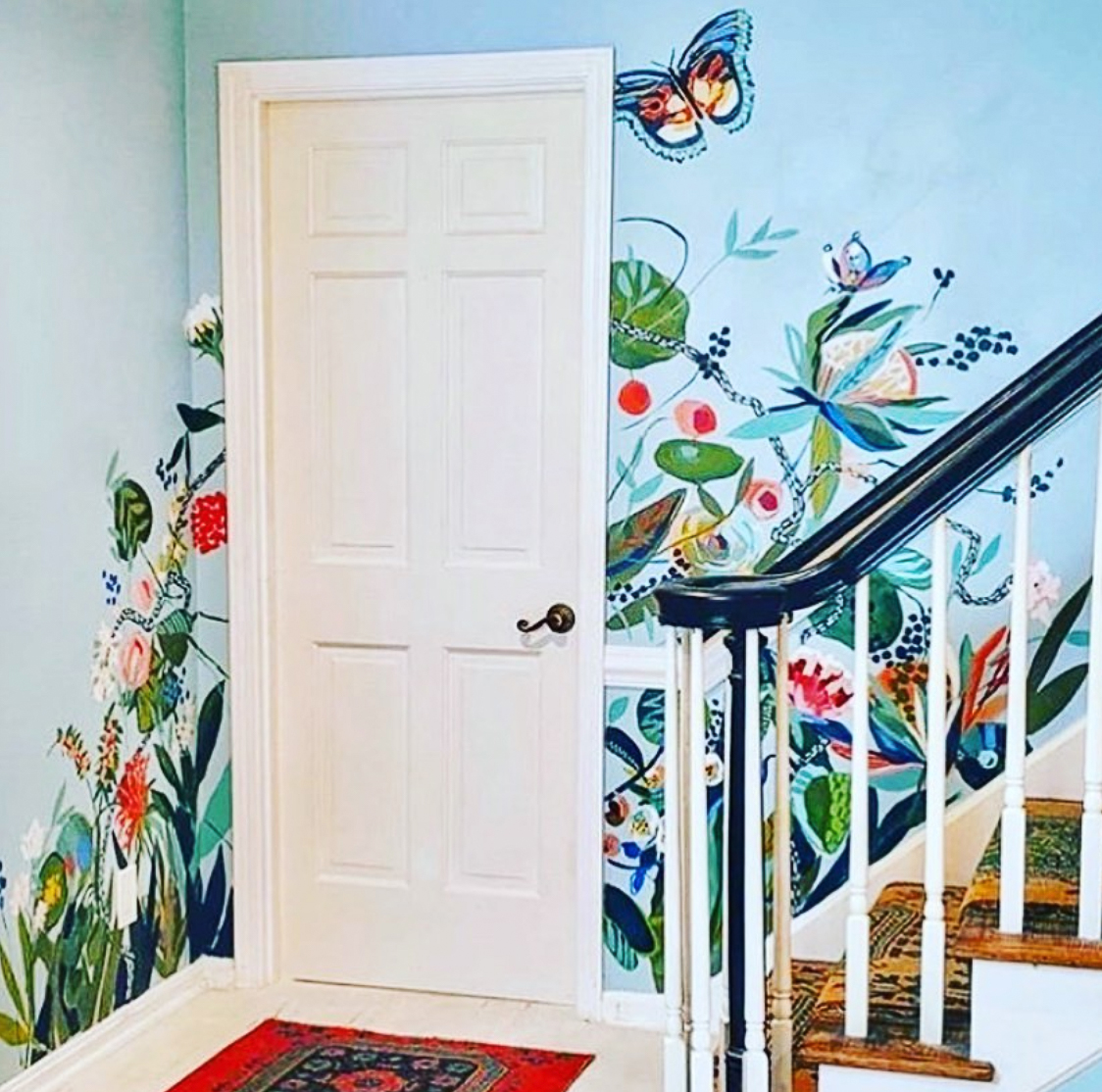 Mom of the year award for making her daughters room such a happy place!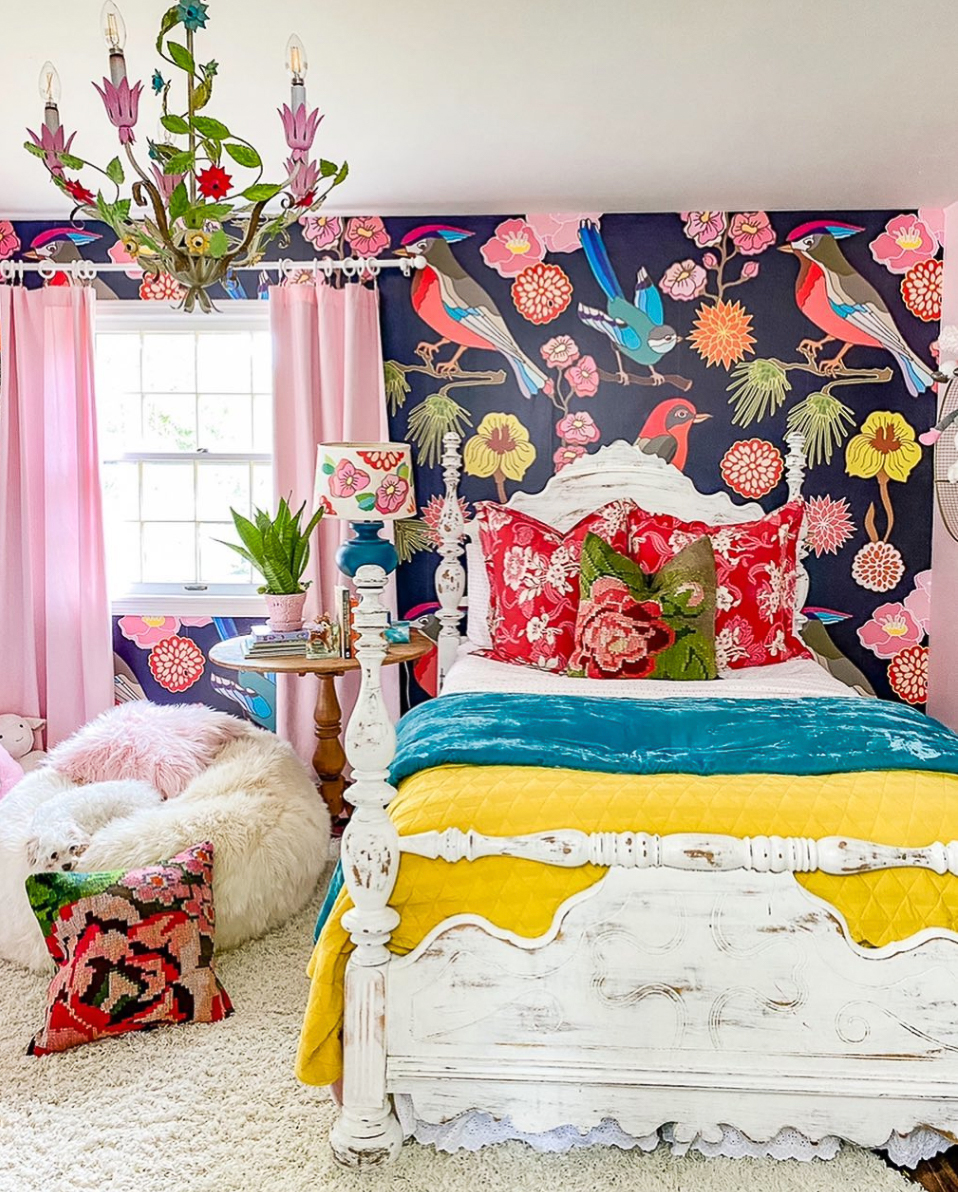 I am in love with these vintage Turkish rugs turned pillows available in Courtney's shop!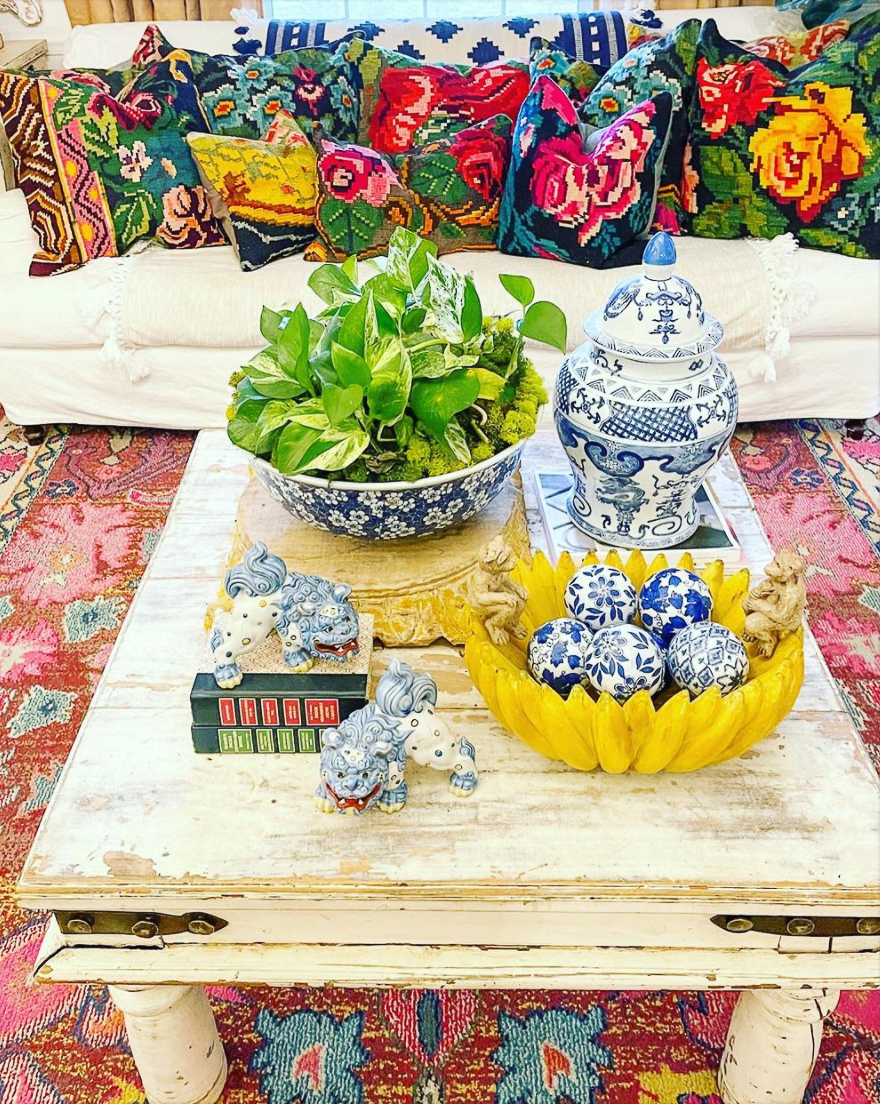 Hop over to Zig and Company to see more of Courtney's colorful home.
Love home tours?