Eclectic Home Tour – Verdoier
How do you mix African, Chinoiserie, American Rustic, and modern all together? Today's Eclectic Home Tour of Verdoier takes us inside a 1920's home that seamlessly blends the beautiful old bones with an eclectic interior. The collected style comes from the perfect mix of antiques and vintage finds, lots of texture, and perfectly placed pops of color!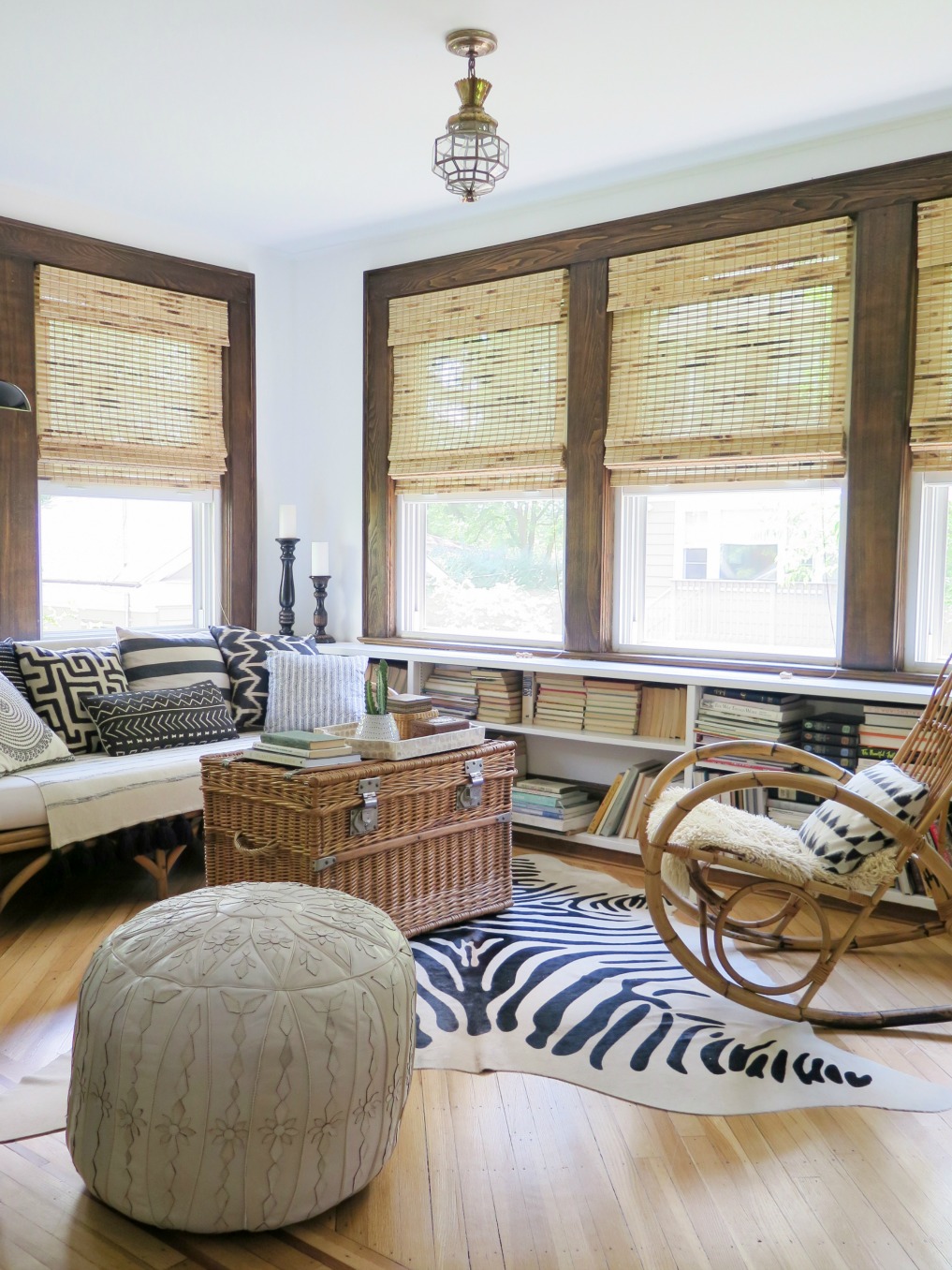 Jill Danyelle owns Verdoier, a boutique interior design firm in New York City. The French word verdoier means "to become green" as in flourishing and coming to life. Jill says, "the most important thing about a house is the life that takes place within it." I fell in love with her South Orange, New Jersey project.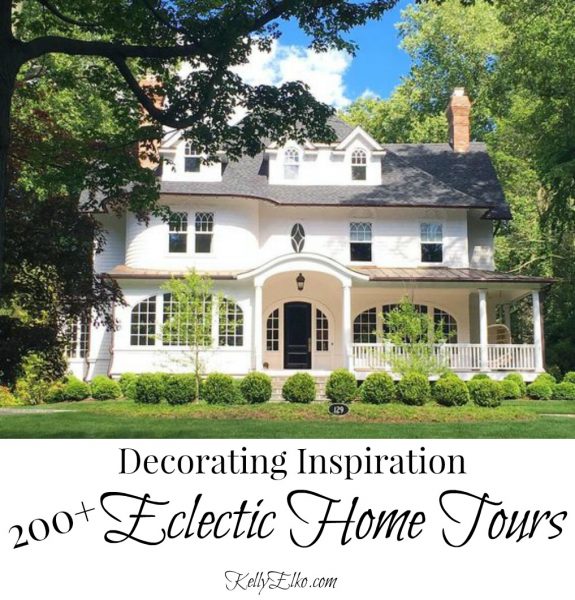 Says Jill, "These clients had recently relocated from an apartment in New York City to a larger house in New Jersey. They have a colorful modern bohemian style and were looking for some help to bring it to light in their new home. We sourced a solid foundation of pieces that speak to both their style and the more traditional 1920s house they were making a home."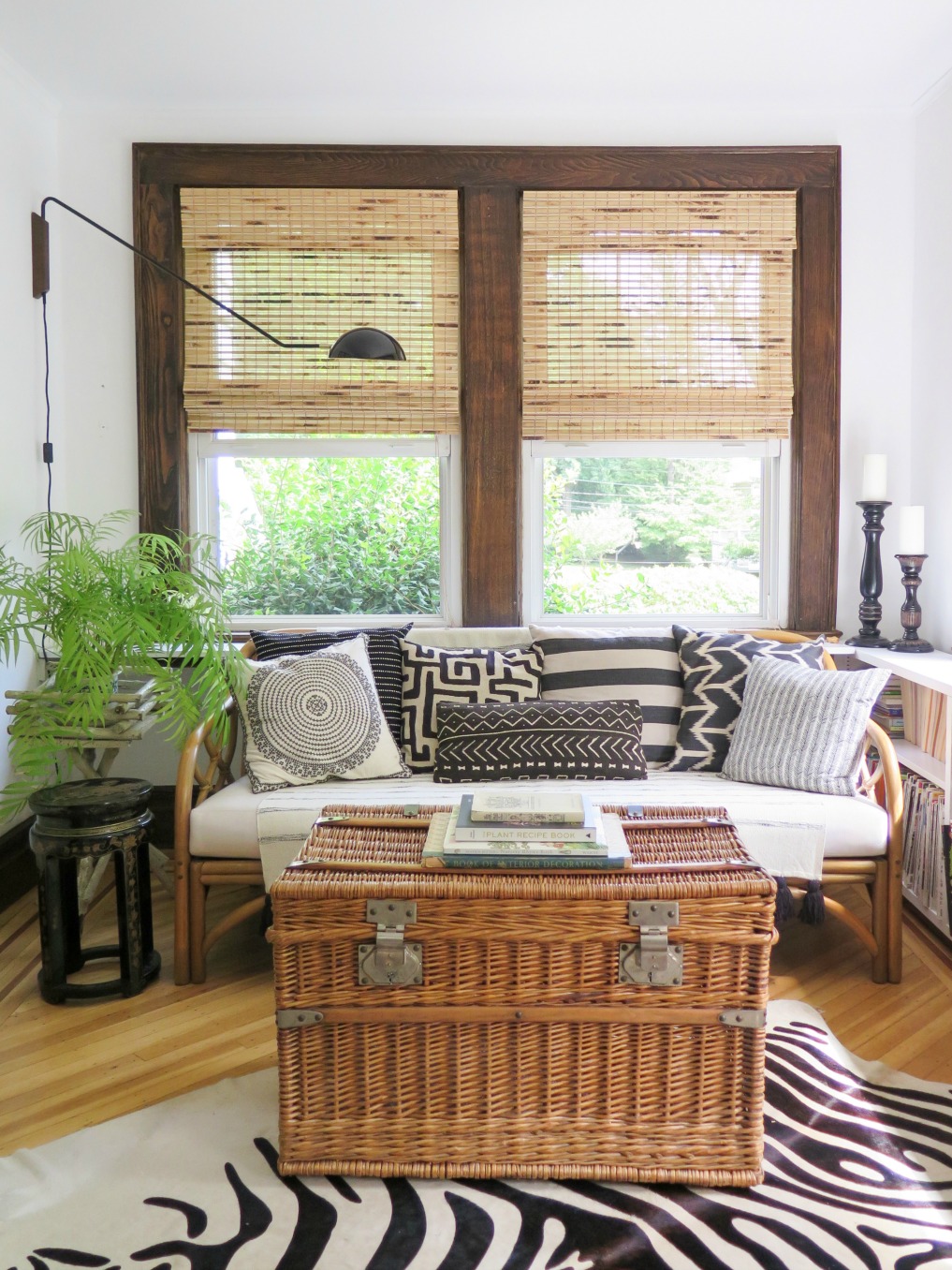 How do you mix African, Chinoiserie, American Rustic, and modern all together? Jill says, "Keep your palette neutral. I definitely committed to the black and white here. It doesn't feel harsh as the greenery and botanicals bring in life and the rattan and wicker keep the room feeling warm."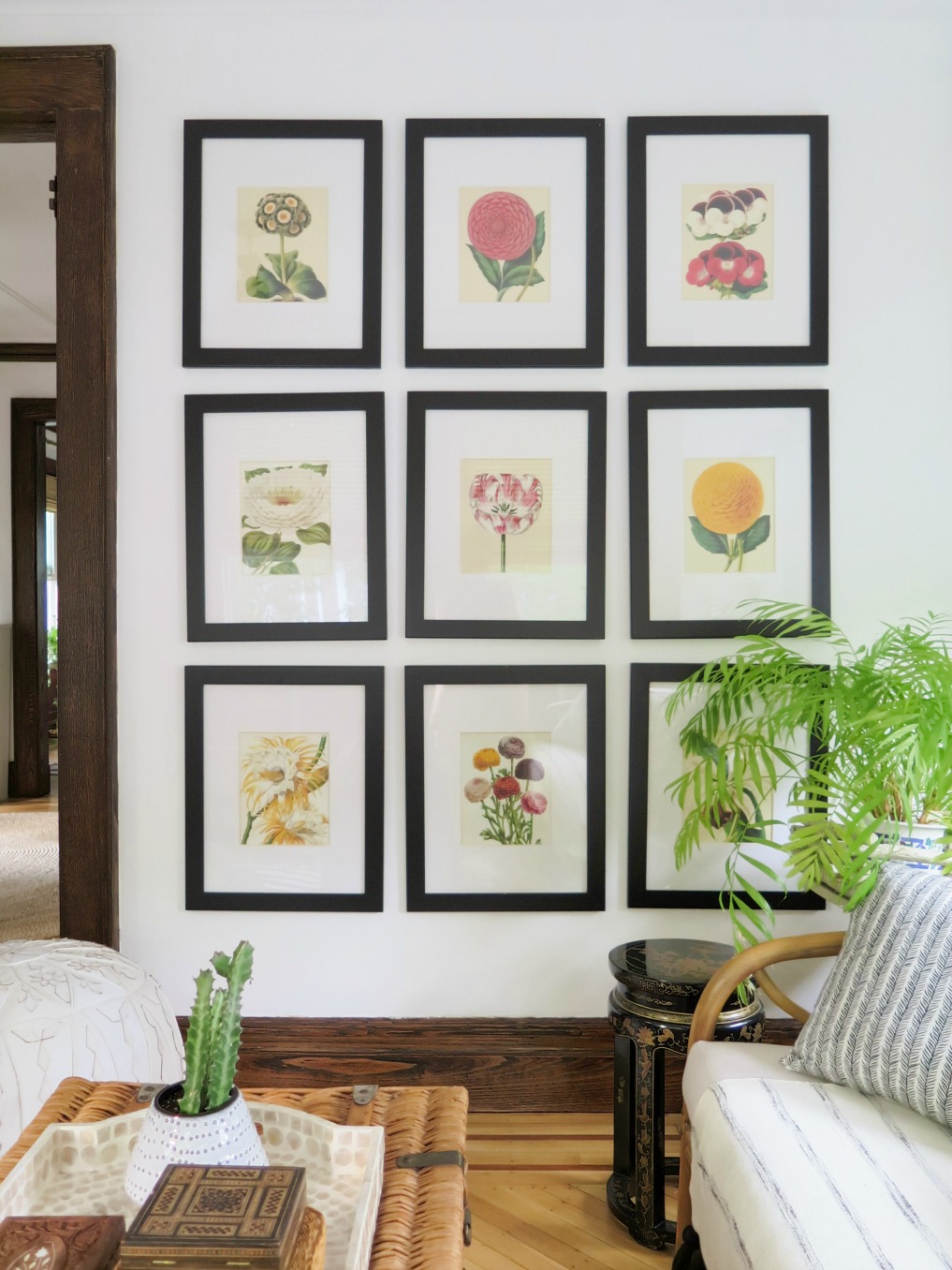 Jill found the old hanging light fixture and the lamp on eBay.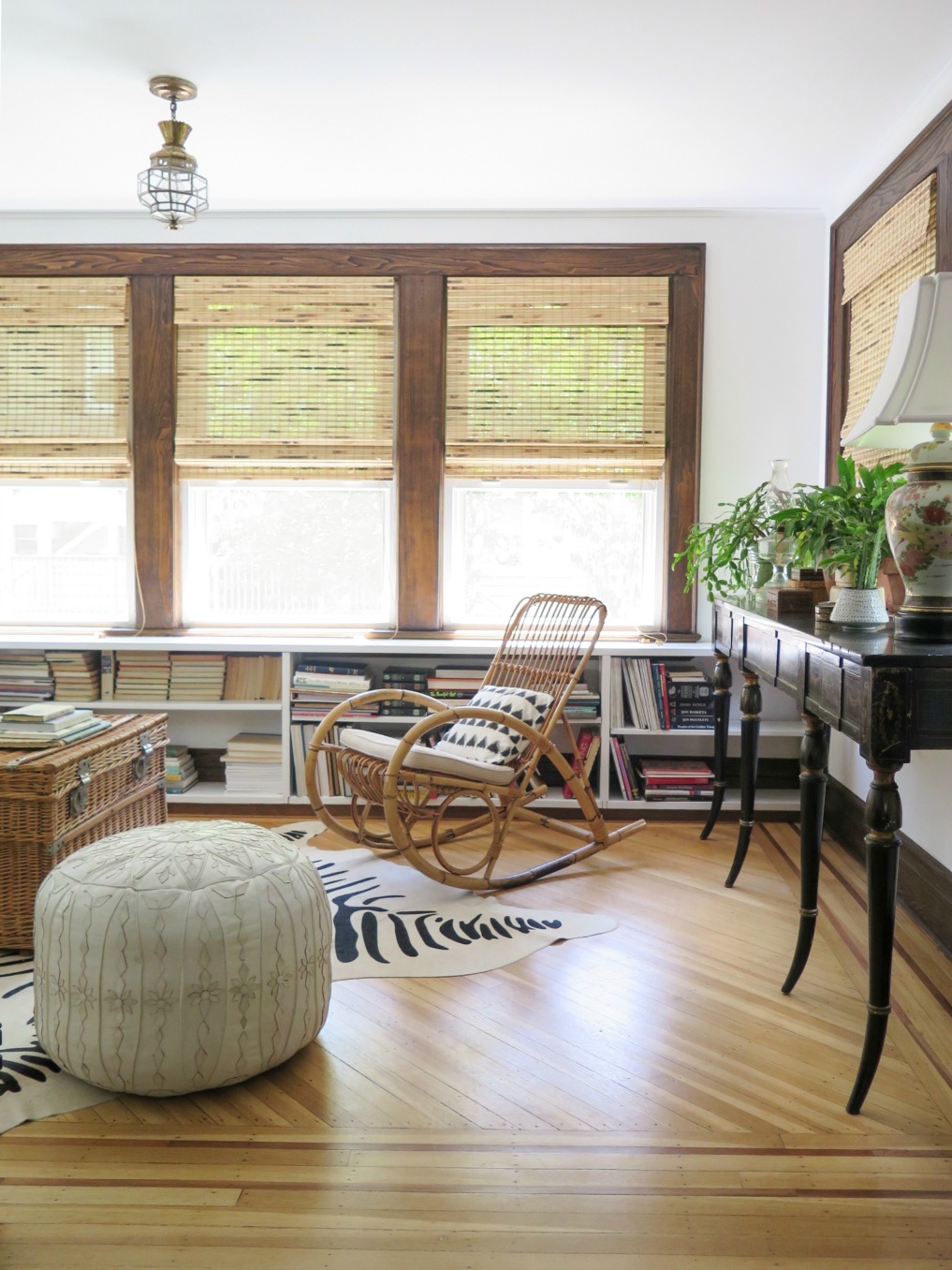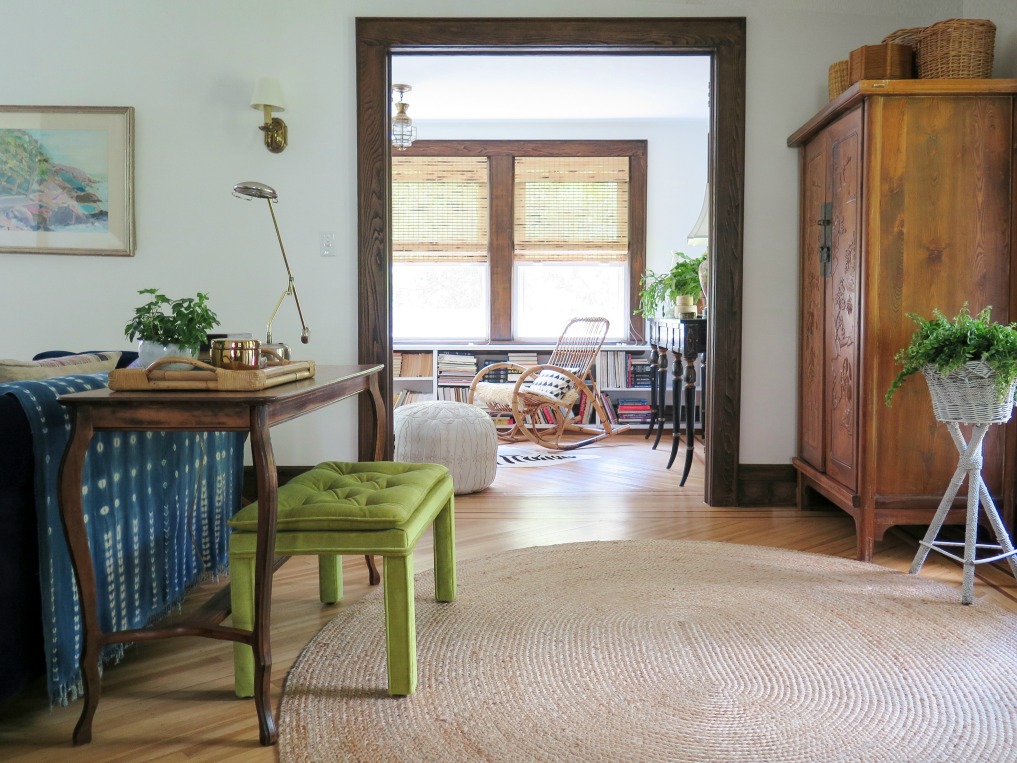 The top of this stunning carved, Asian armoire is the perfect place the pile a bunch of woven baskets and every house needs live plants.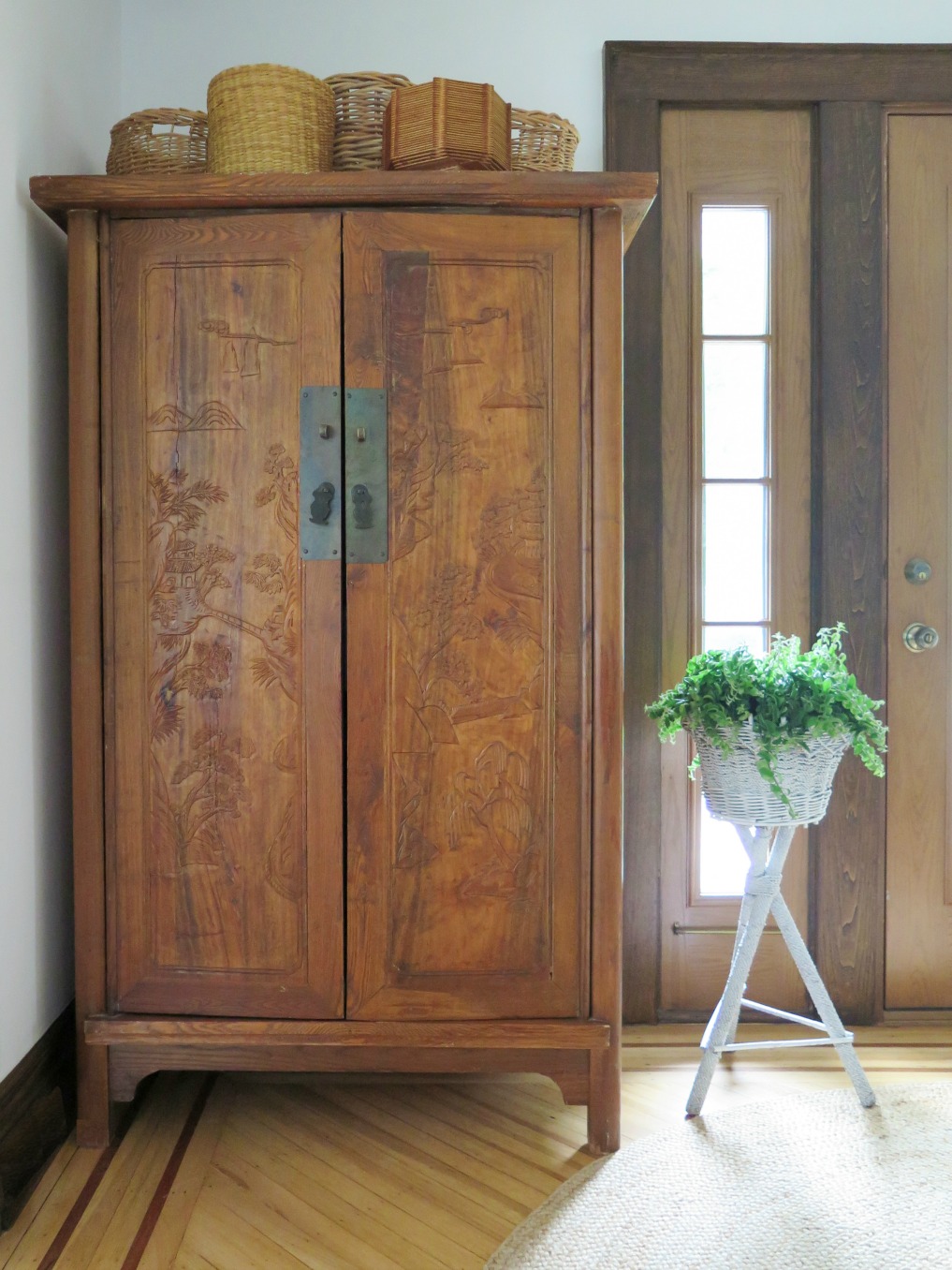 A classic Chesterfield sofa gets a modern update in blue velvet while a green bench and pink pillows are fun touches.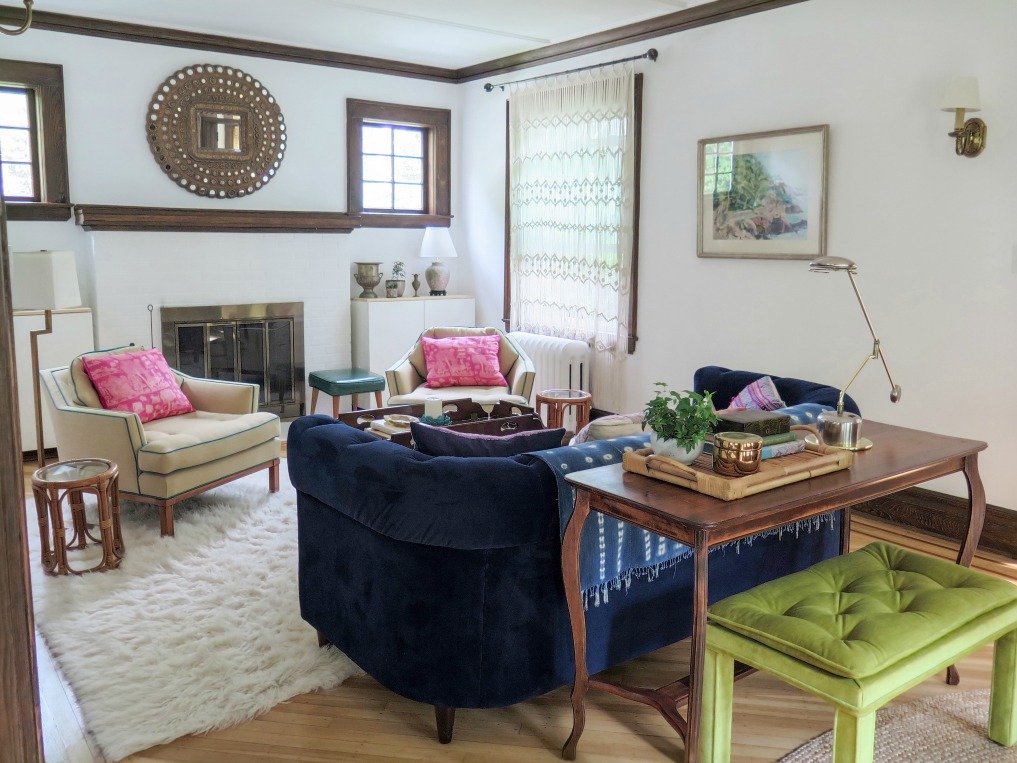 A pair of chairs in front of the fireplace mimics the symmetry of the two windows above while a round mirror softens all the straight lines.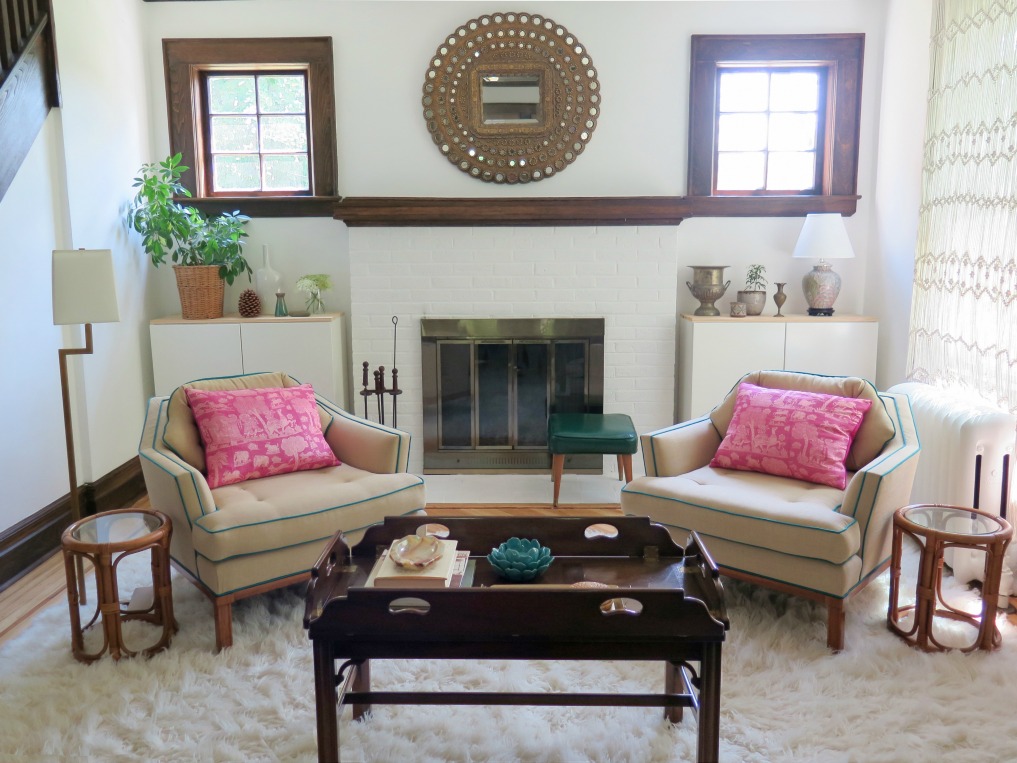 I love this unique macrame window covering that's so light and airy.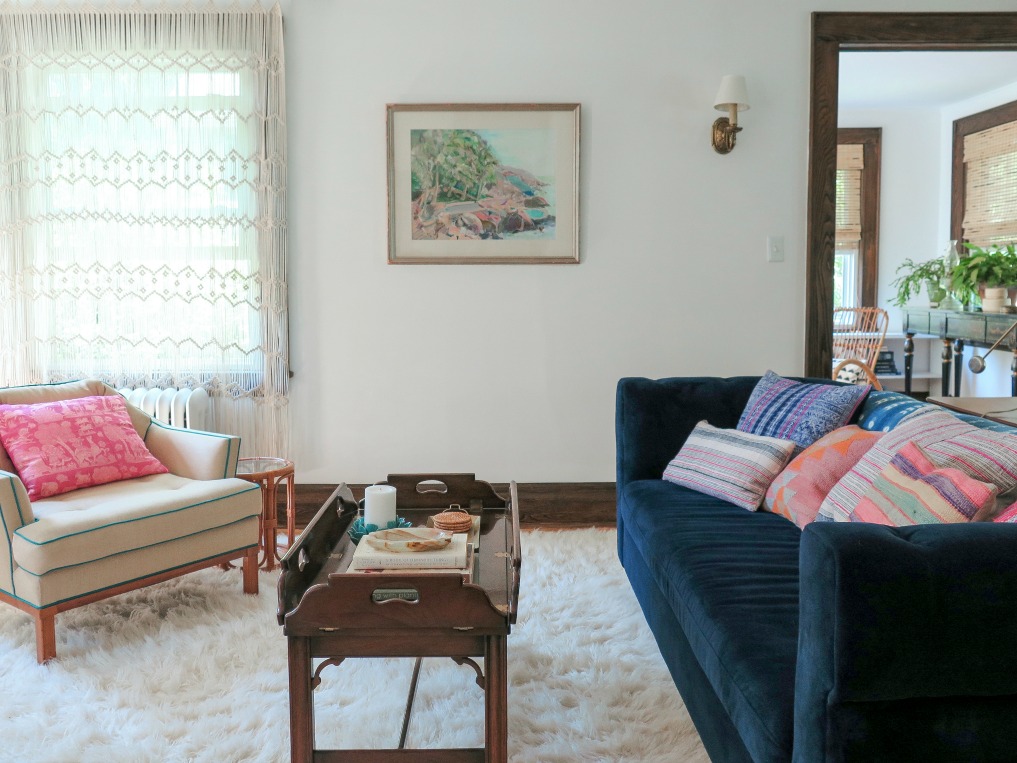 I love that the owners of the home chose to keep the dark wood paneling and trim that adds such drama to this formal dining room.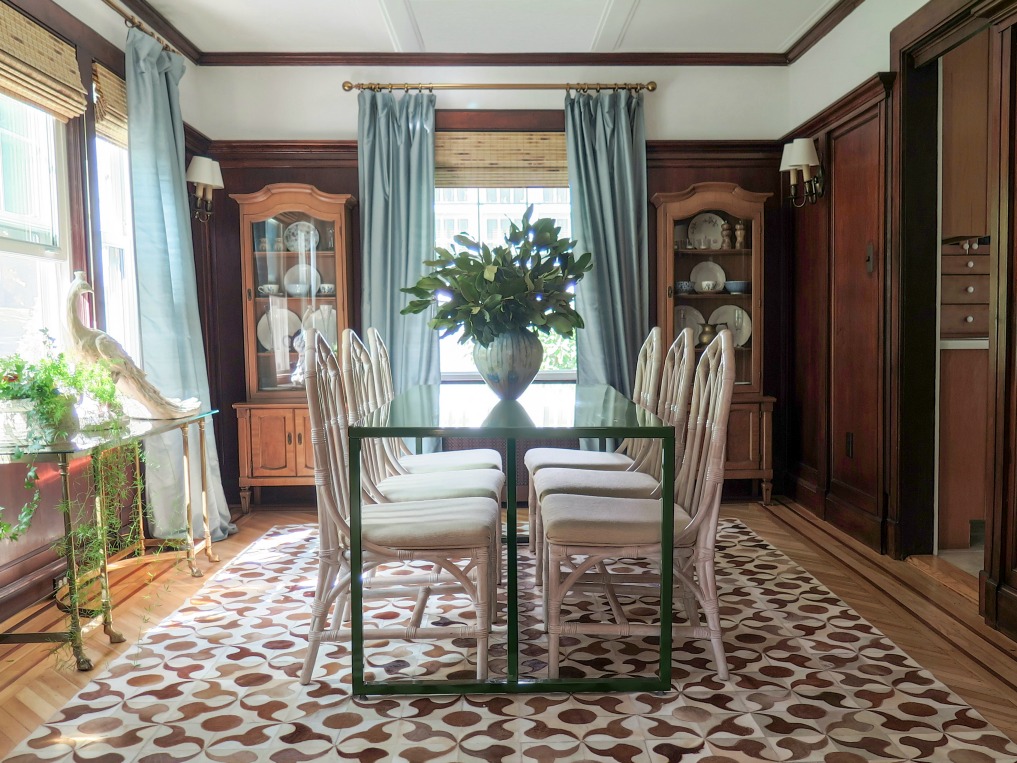 A cowhide rug and white bamboo chairs give the room a more casual feel while the glass dining and console tables keep things from feeling too heavy.
Unique additions like the peacock sculpture add interest and are perfect conversation starters. 
Original hardwood floors add warmth throughout the house.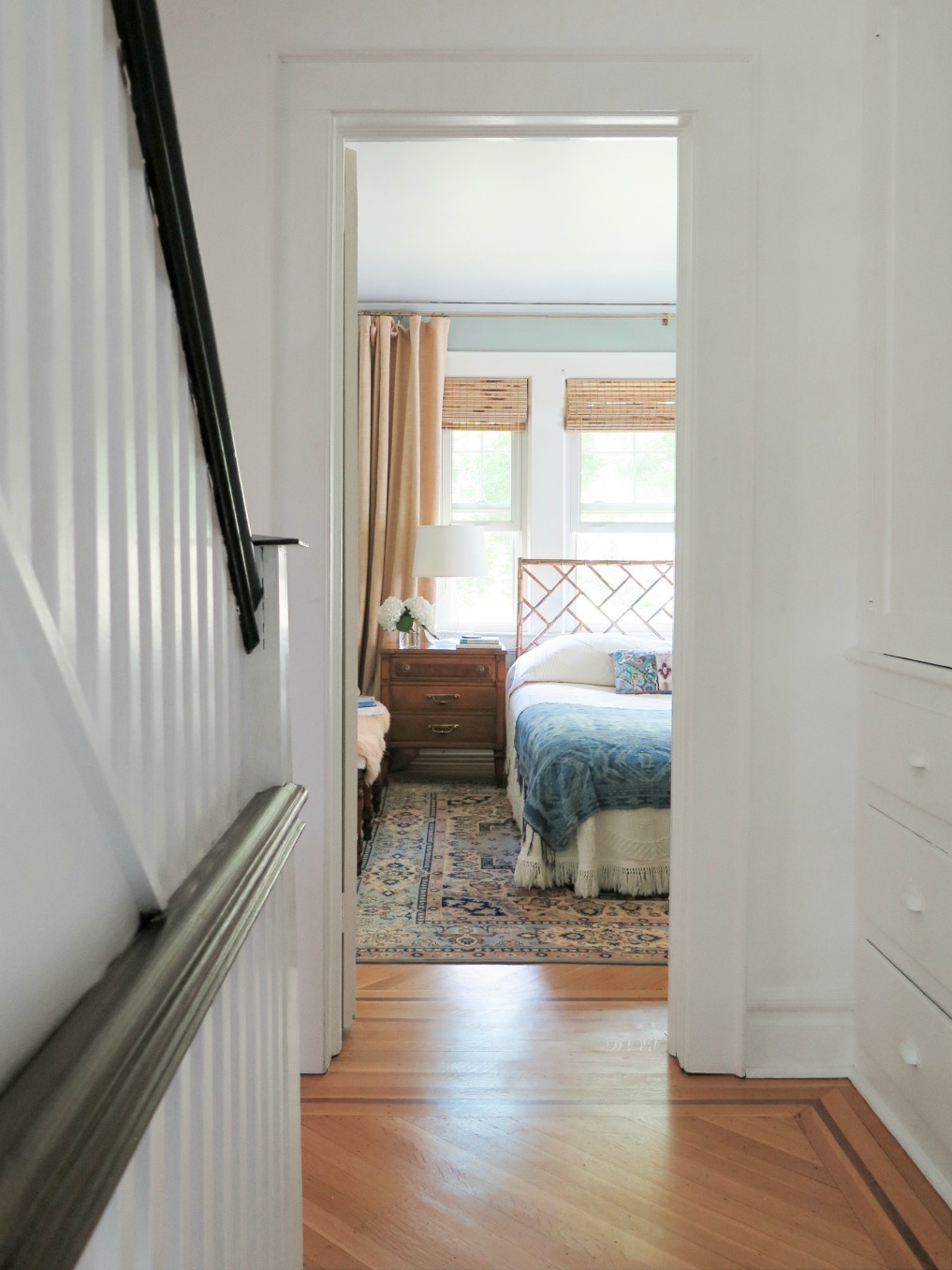 The bedroom is a mix of color, pattern and texture but it still feels serene.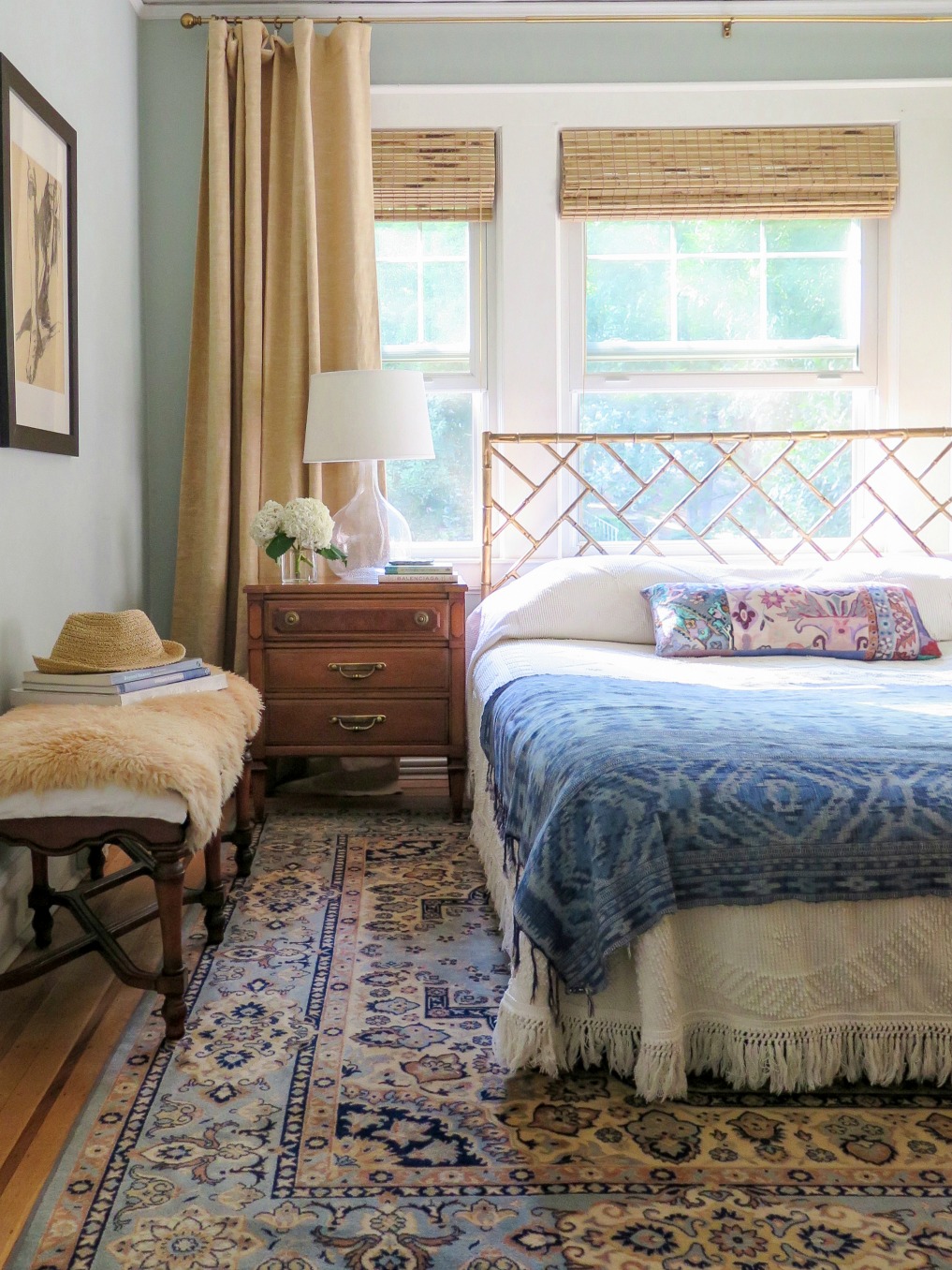 The bamboo headboard is the perfect choice in front of a window because it allows the light to shine through.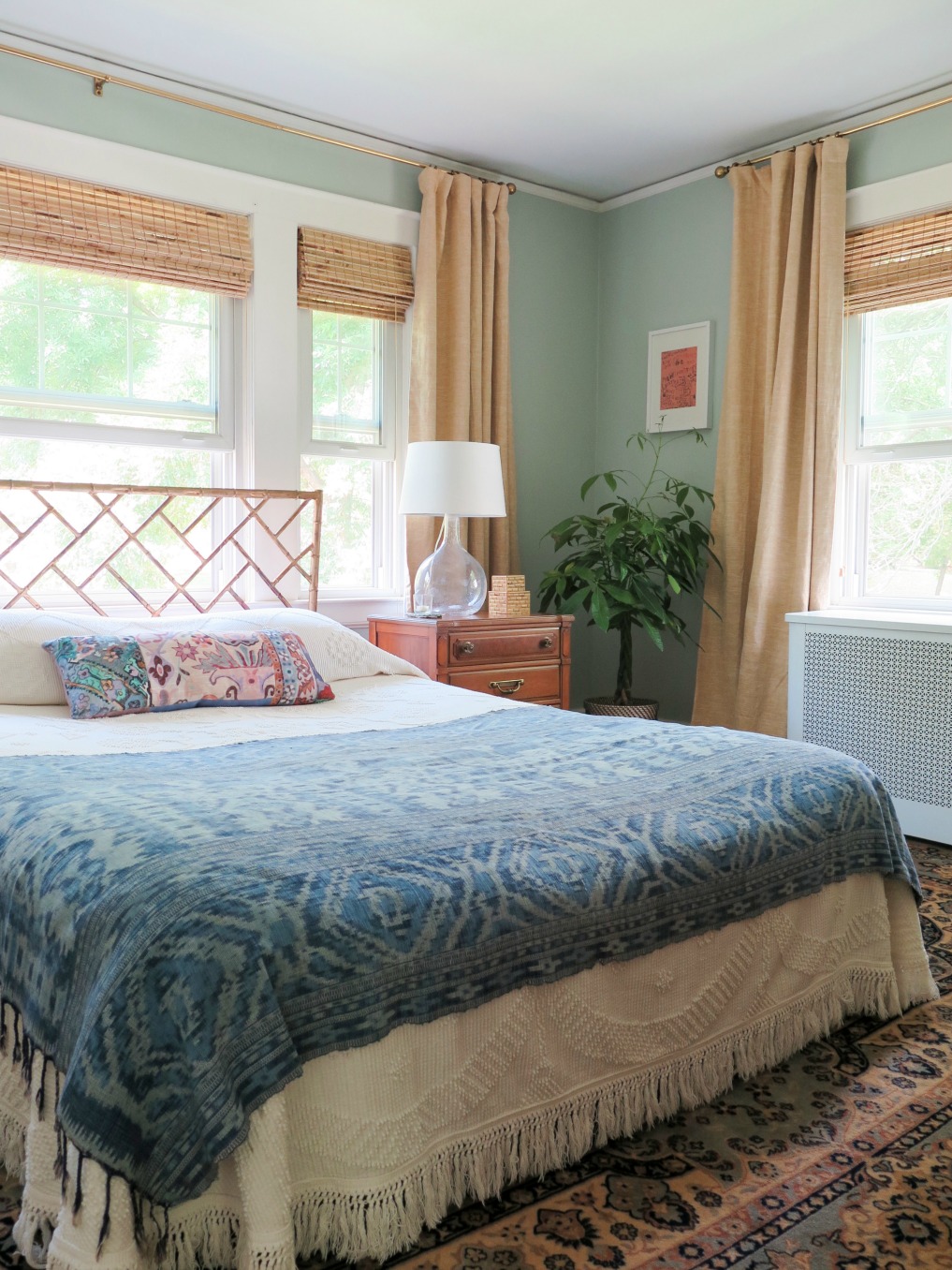 Beds create the perfect L-shaped "sectional sofa" with lots of pillows for comfortable lounging.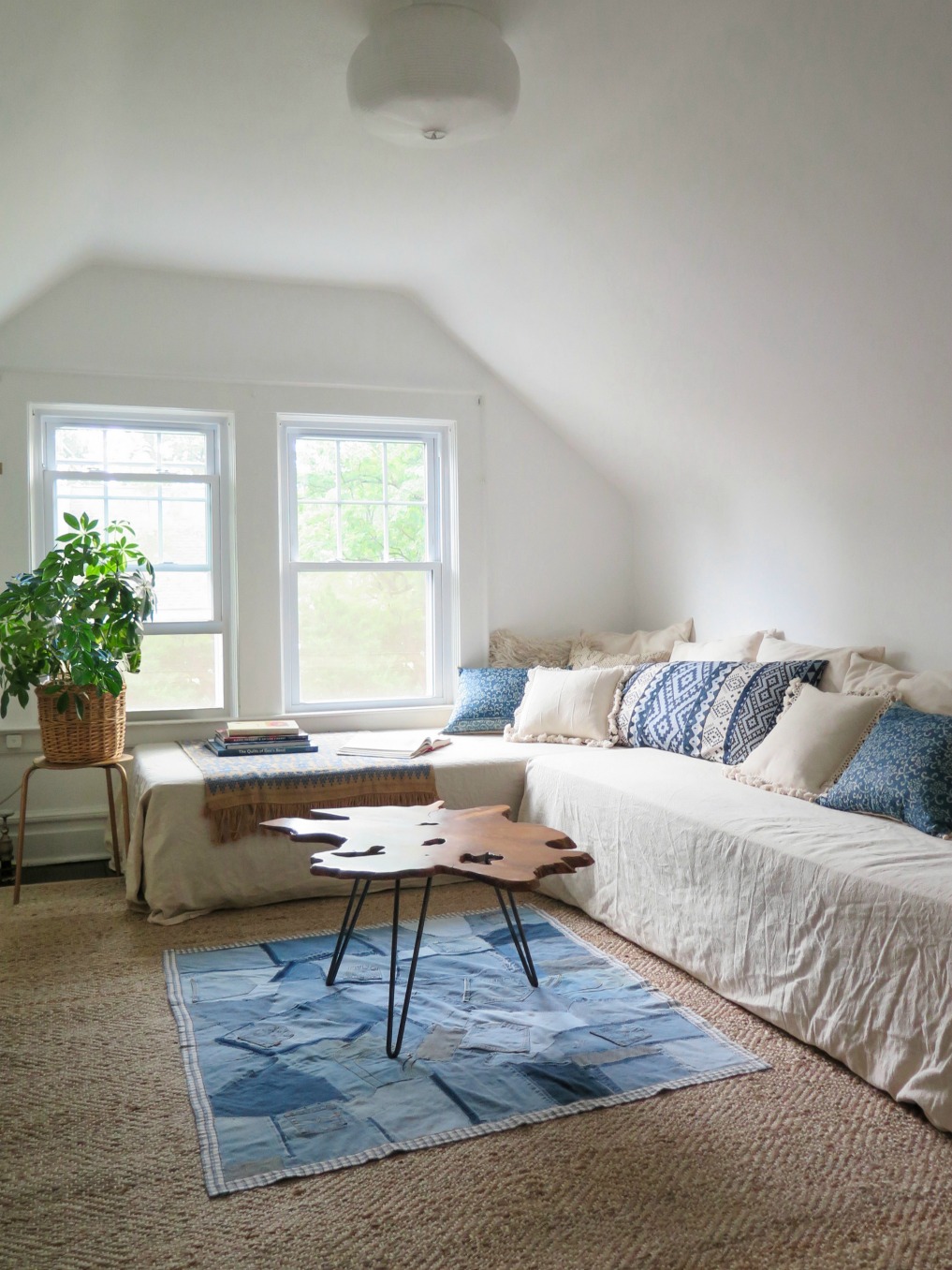 Lots of rattan throughout the house adds warmth and texture and I love the fun shape of the pair of rattan desk chairs.
Once the home was finished, Jill returned when the couple found out they were expecting. 
The colorful rug and bird textile add color and interest to this adorable nursery.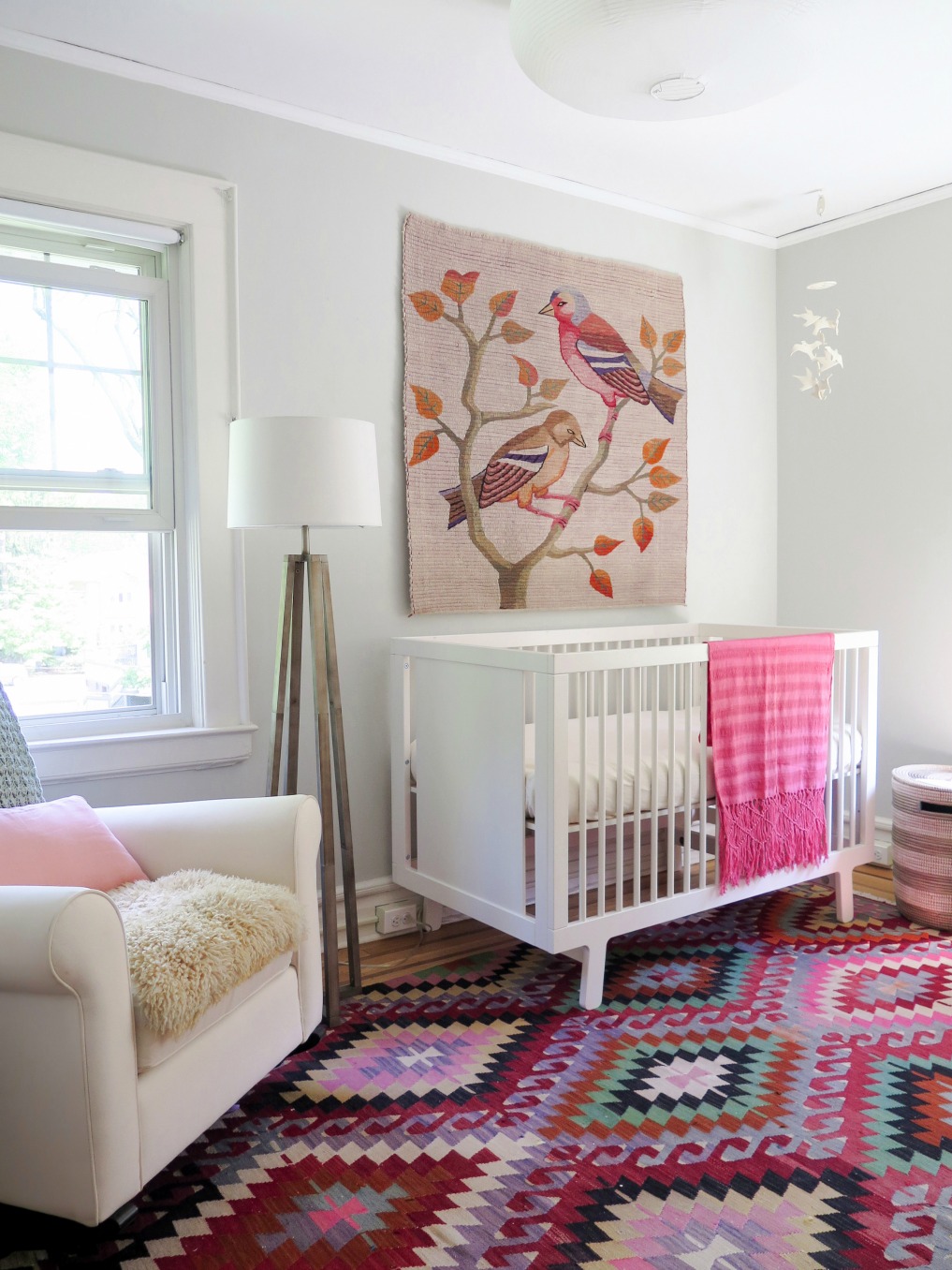 What a fun house with loads of personality. Hop over to Verdoir to see more of her stunning interiors.