It's been awhile since I shared an Extra! Extra! post because life gets in the way! This is where I share the things I've been doing, loving, visiting, decorating, thrifting (I scored big time!), gifting (to myself!), and more! Plus it's always exciting when a reader is so inspired by something I've done, that they recreate the look and I'm sharing it with you. 
Buying
This post contains affiliate links which means if you make a purchase, I may earn a small commission at no extra cost to you.
Sometimes a girl has got to treat herself and that is exactly what I did! I gifted myself this custom beaded brooch of my dog Sushi! I sent the artist a photo of my dog and she created this stunning, one of a kind brooch so I'll always have Sushi close to me!
Am I becoming that crazy dog mom? Be the judge when you see the custom painting I had done of Sushi here.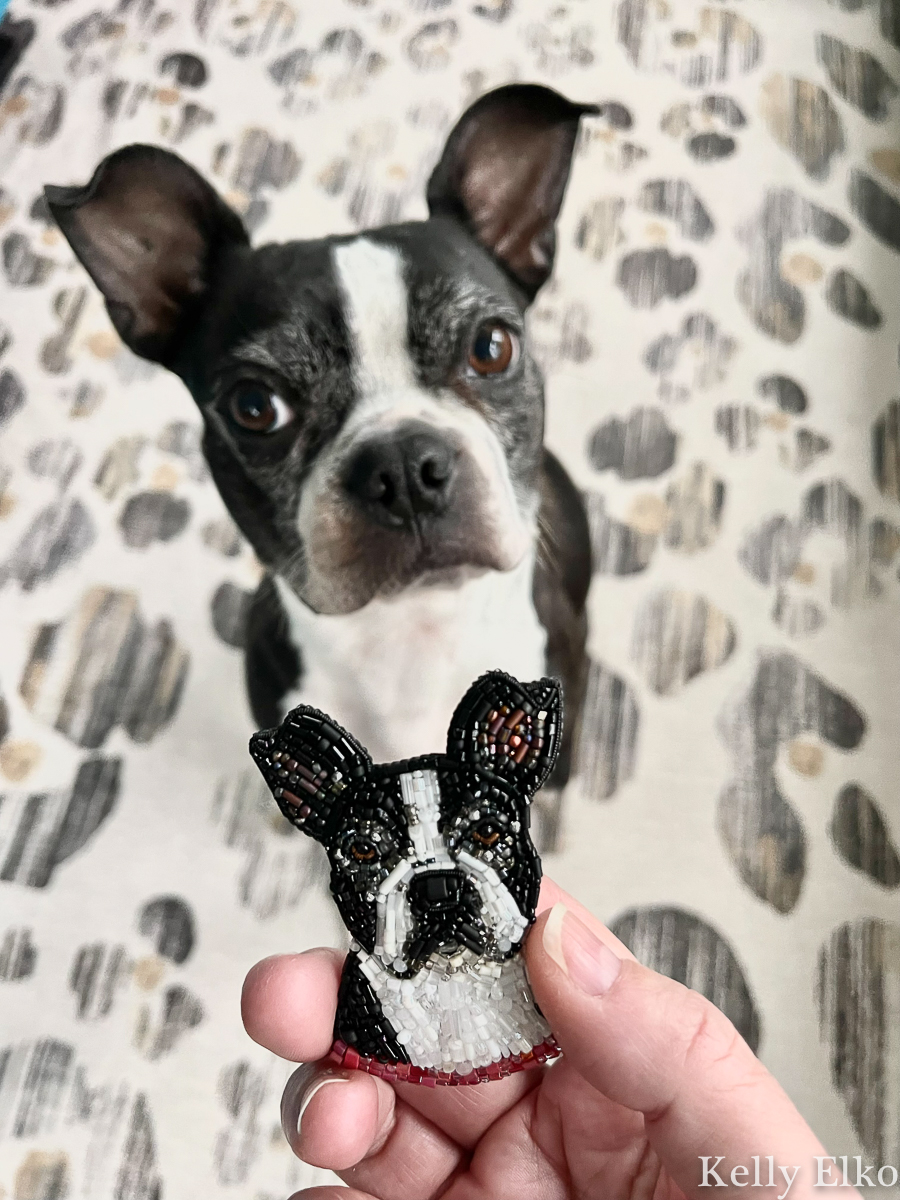 I also treated myself to this adorable face vase and filled it with tulips! In fact, I love it so much that I ordered two more vases (it comes in lots of colors and sizes) and plan to use them on my patio when it warms up.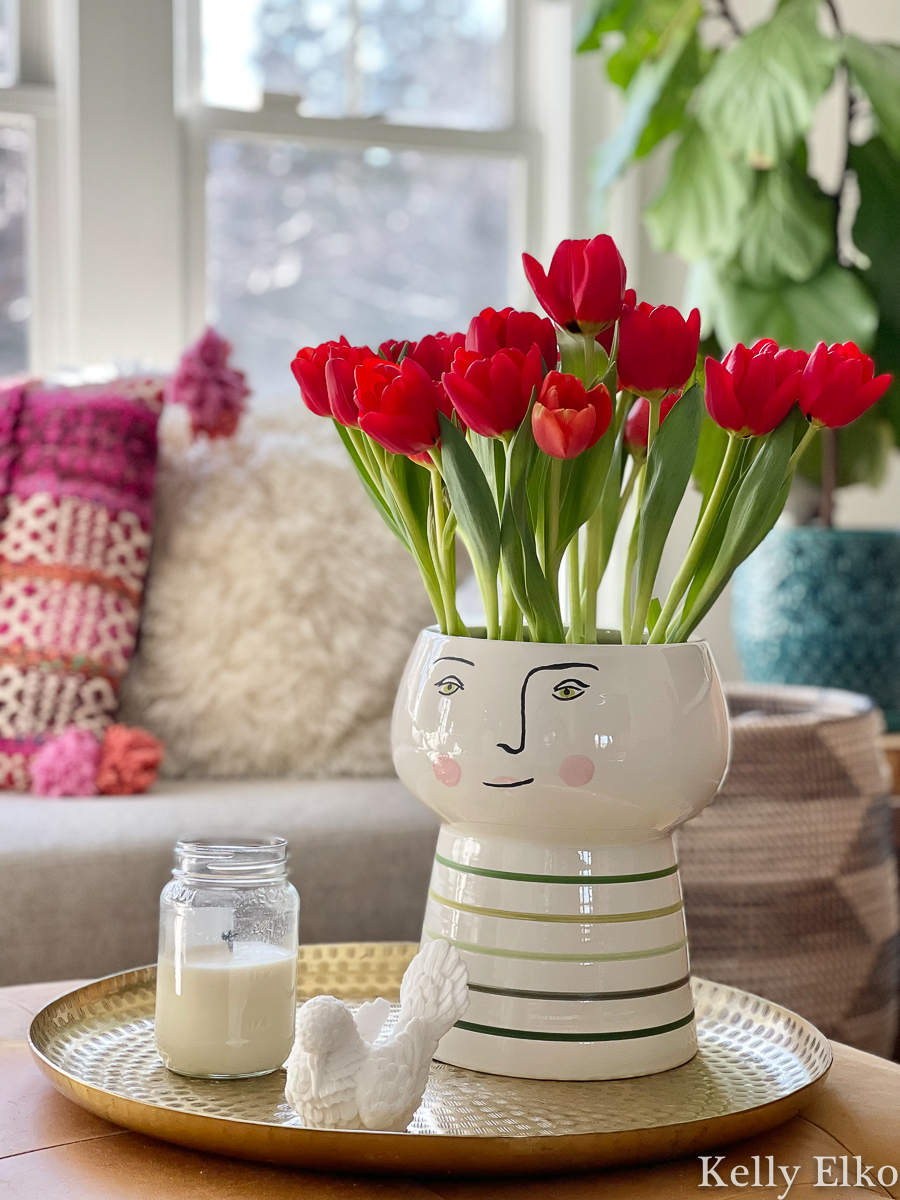 Thrifting
You know I have a weakness for vintage landscape paintings and when I found this vintage still life, neglected on the thrift store floor, I had to rescue her. 
I love using art in unexpected places and it adds a nice pop of color to my kitchen … but don't worry, I remove it when I (or shall I say my husband!) cook!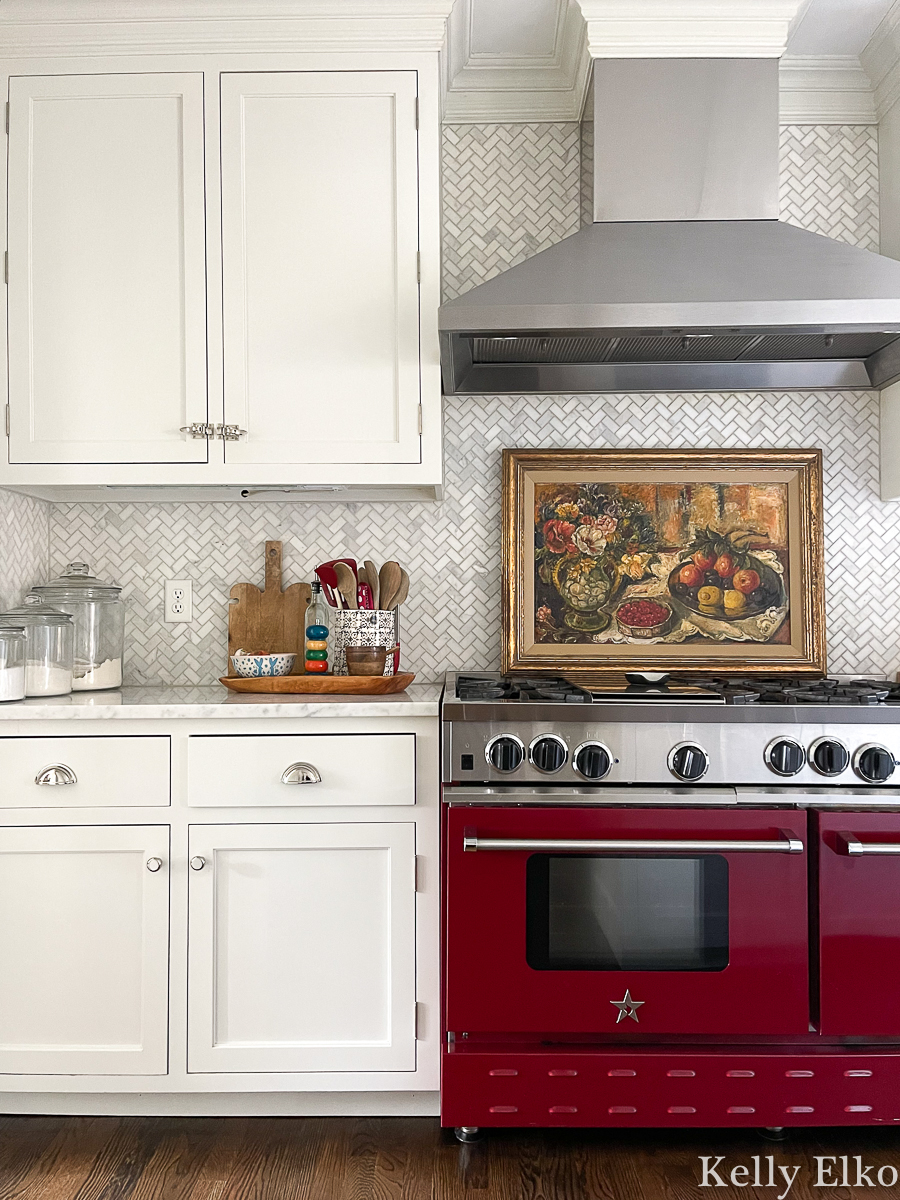 I love the bold brush strokes!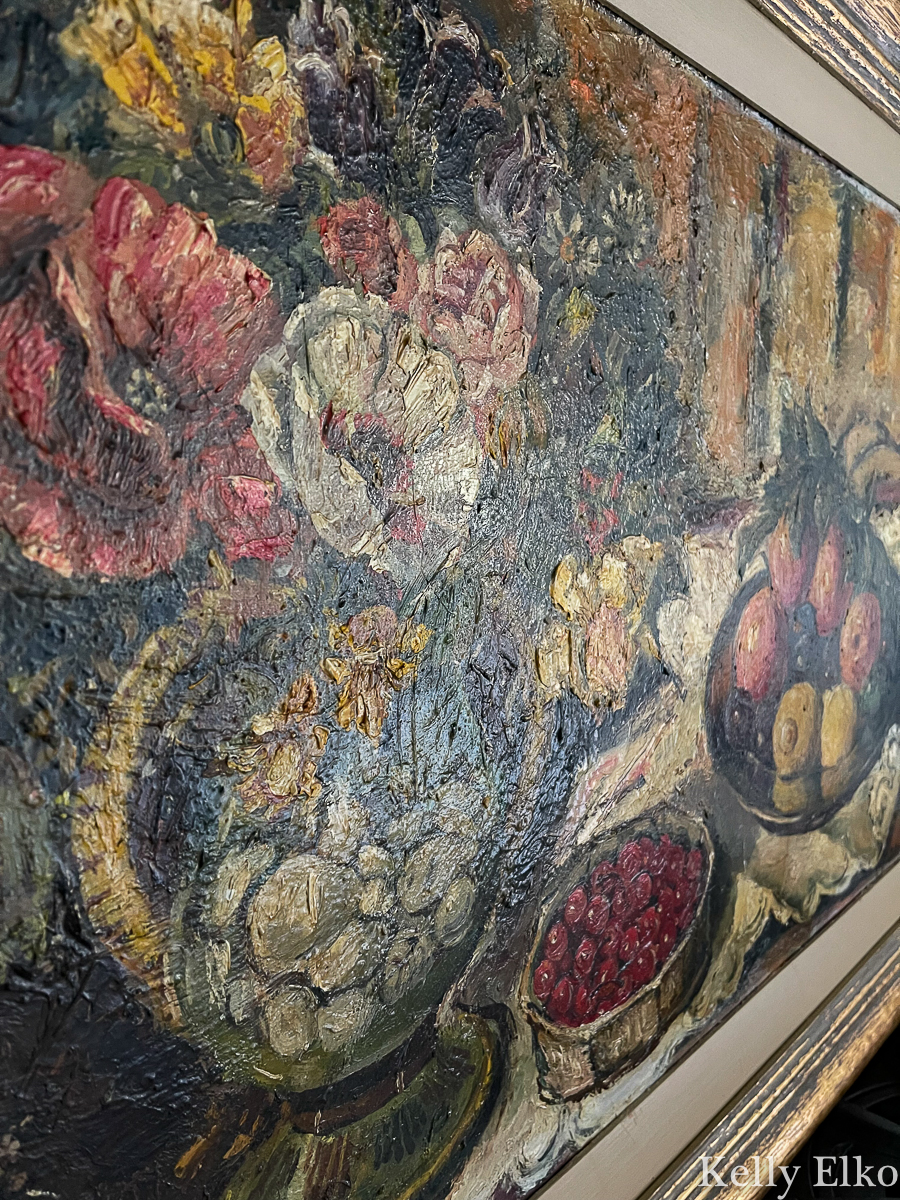 Planting
Meet Moira! I took a poll on my Instagram stories asking what I should name my Philodendron and the overwhelming response was, predictably, Phil! But this behemoth beauty needed a name as unique as she is so Moira it shall be (you know what I'm talking about fellow Schitt's Creek fans).
I wet my plants when I spotted Moira on Facebook Marketplace! She went from the sunroom to my dining room to my family room (where she was shoved in a corner but she screamed "nobody puts Moira in the corner"). She finally found her home in my living room where she's living her best life.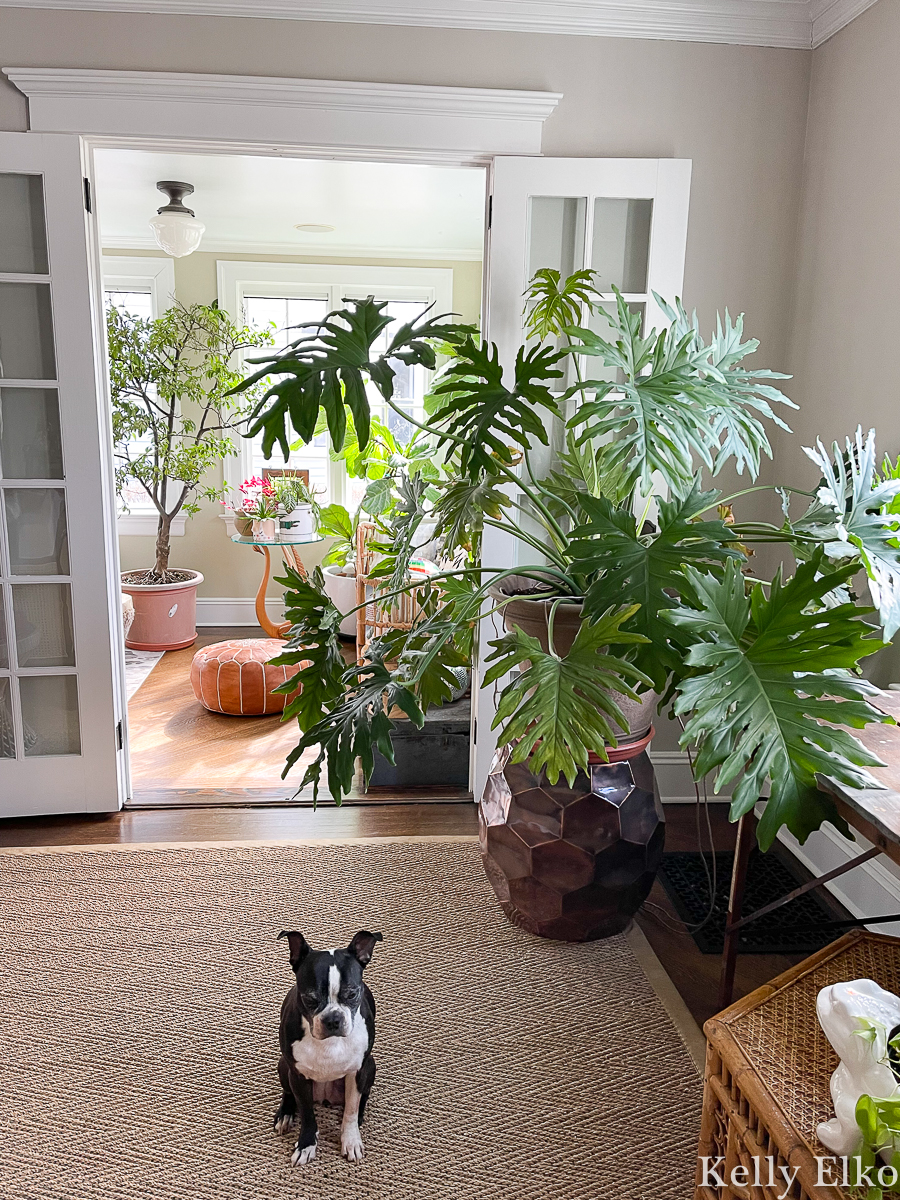 Watching
I'm loving the remake Around the World in 80 Days! David Tennant is brilliant in it and the sets and clothes (1872 during the Industrial Revolution) are stunning! Sundays on PBS.
The creation of Downton Abbey writer Julian Fellowes, The Gilded Age is set in New York City during an era when America's economy boomed thanks to the advent of trans-continental railroads and the oil and steel industries. Peek inside mansions and choose sides in the battle of old money vs new. Who will win? Who knows, but the clothes and antique filled mansions make it worth watching. See it on Mondays on HBO.
Decorating
It's always fun when someone that reads my blog is inspired to recreate one of my projects! Here's my hand painted mural in my dining room …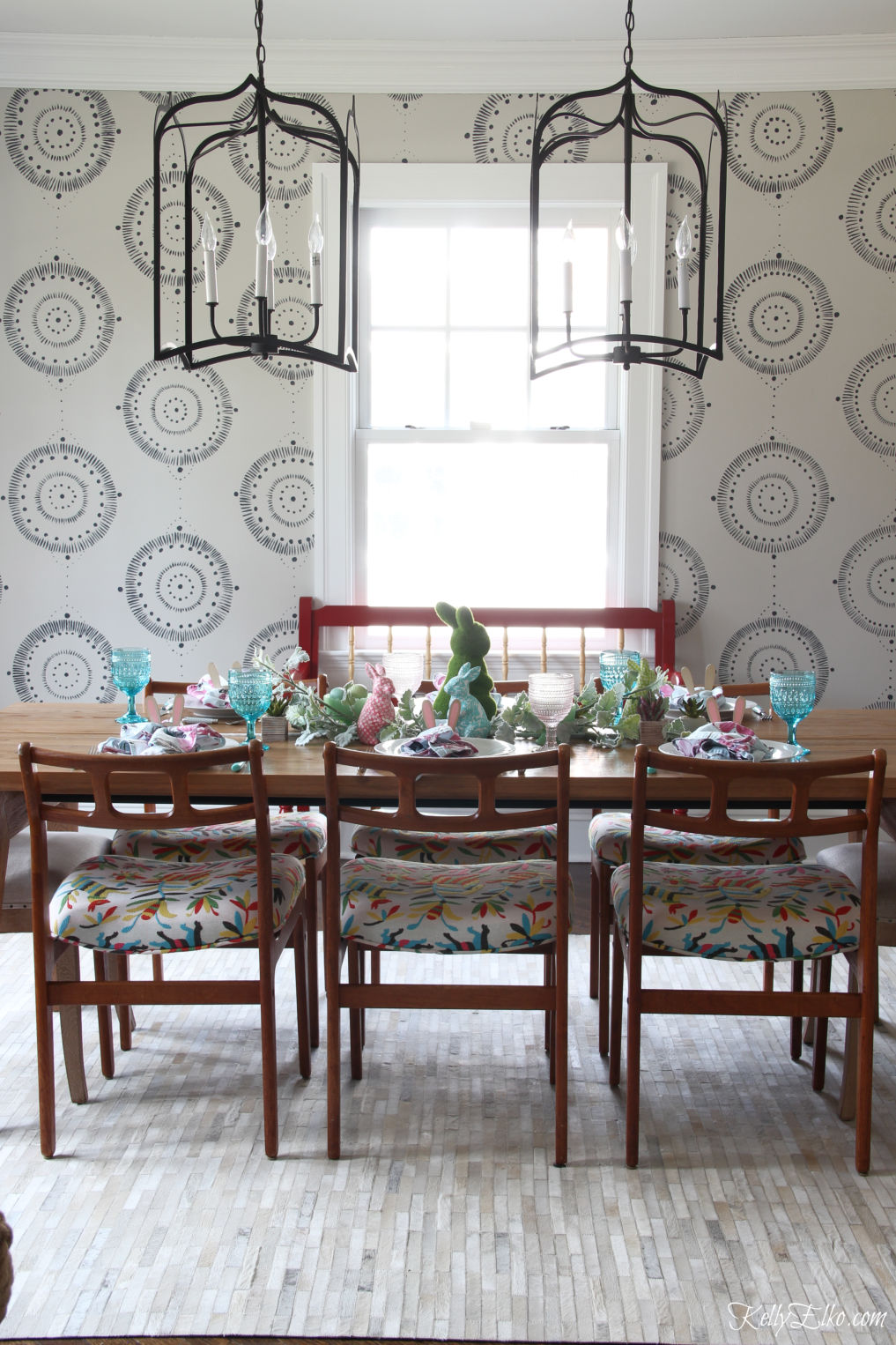 And here is Kelsey Bredow of Life in Iron Woods version!
She says, "I was inspired to paint wallpaper on my dining room walls after seeing Kelly's dining room which was featured in Better Homes and Gardens Christmas Ideas 2020 magazine. She wrote a post at kellyelko.com how she achieved a Serena and Lily wallpaper hack for a fraction of the cost! My husband used chalk lines to help me get the pattern straight and square. I used a cardboard circle and a paint pen to get my look!"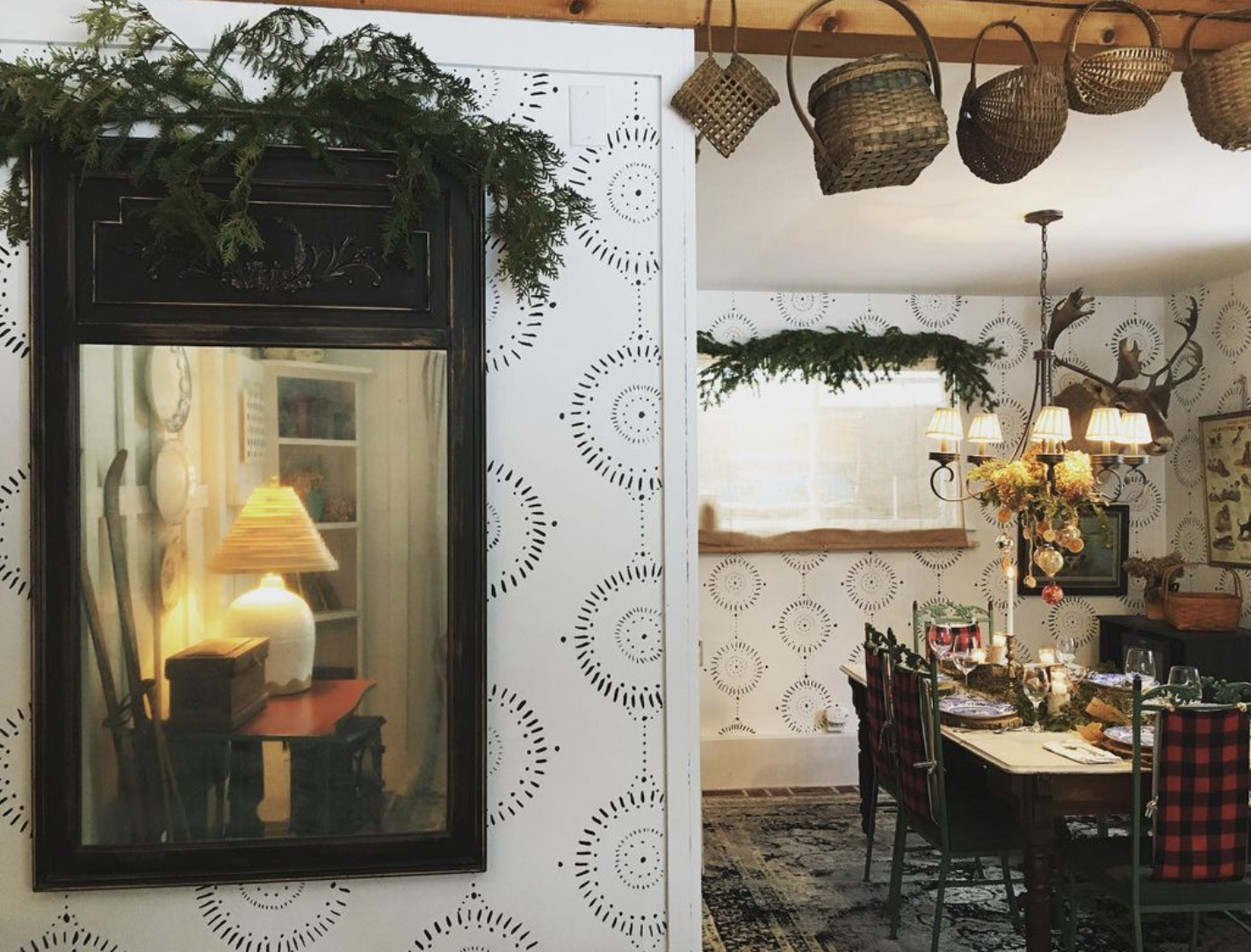 I give her a perfect 10 and think her version turned out amazingly!
Creating
When you combine Valentine's Day with vintage ornaments, you get this! 
Read this Simple Valentine Ideas post for more easy ideas.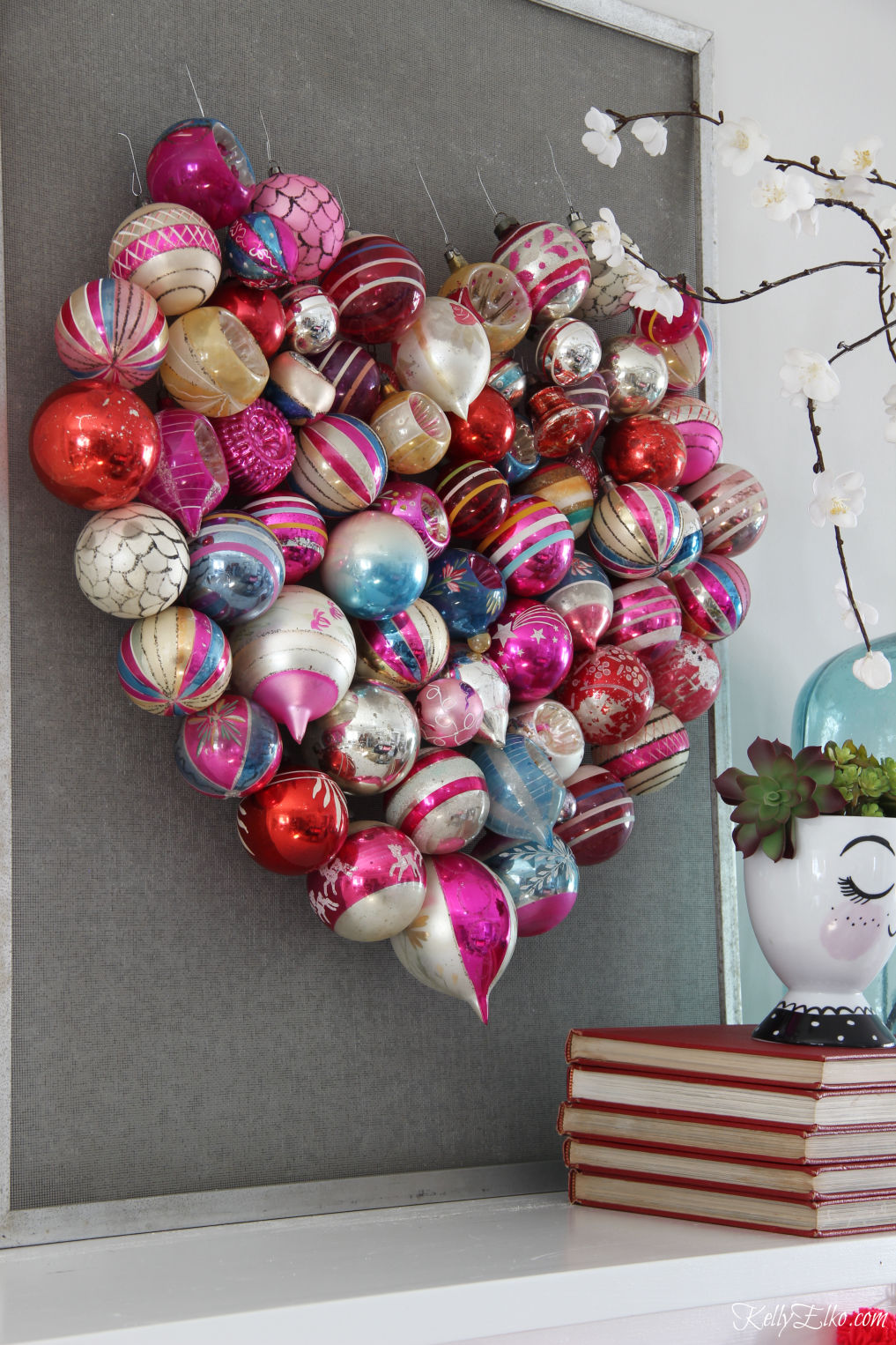 If you like this post, don't miss the others in this series …
My email was acting up yesterday so my Eclectic Home Tour post didn't go out until later in the day!
If you missed it, make sure to take this week's Eclectic Home Tour of this charming 1920's New Jersey home …