Vintage Lovers Fall Living Room
Fall decorating doesn't mean you have to run out and buy a patch of pumpkins or a field of mums. I love using what I have and displaying vintage finds in unexpected ways. I'm setting a fall mood with warm colors and time worn pieces. I also gathered up all of my vintage landscapes and put almost every single one in this room. Grab a pumpkin spice latte and come on in for a tour of my vintage lovers fall living room.
Sushi's been wearing nothing but leggings since March (oh wait, that's me!) so she was excited to get all dolled up for you.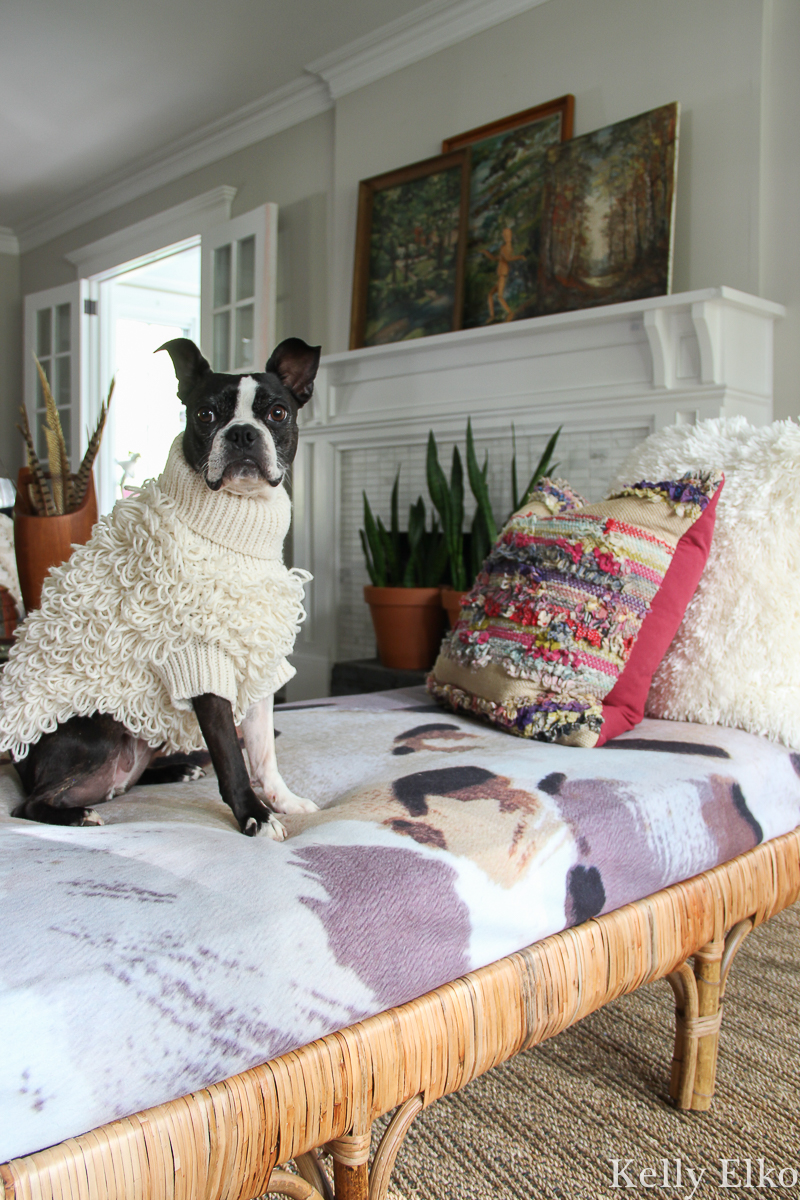 I love mixing old and new and collecting all the things! I like to switch my finds out seasonally and find new ways to display them. It makes me feel like I just went shopping when I haven't spent a dime.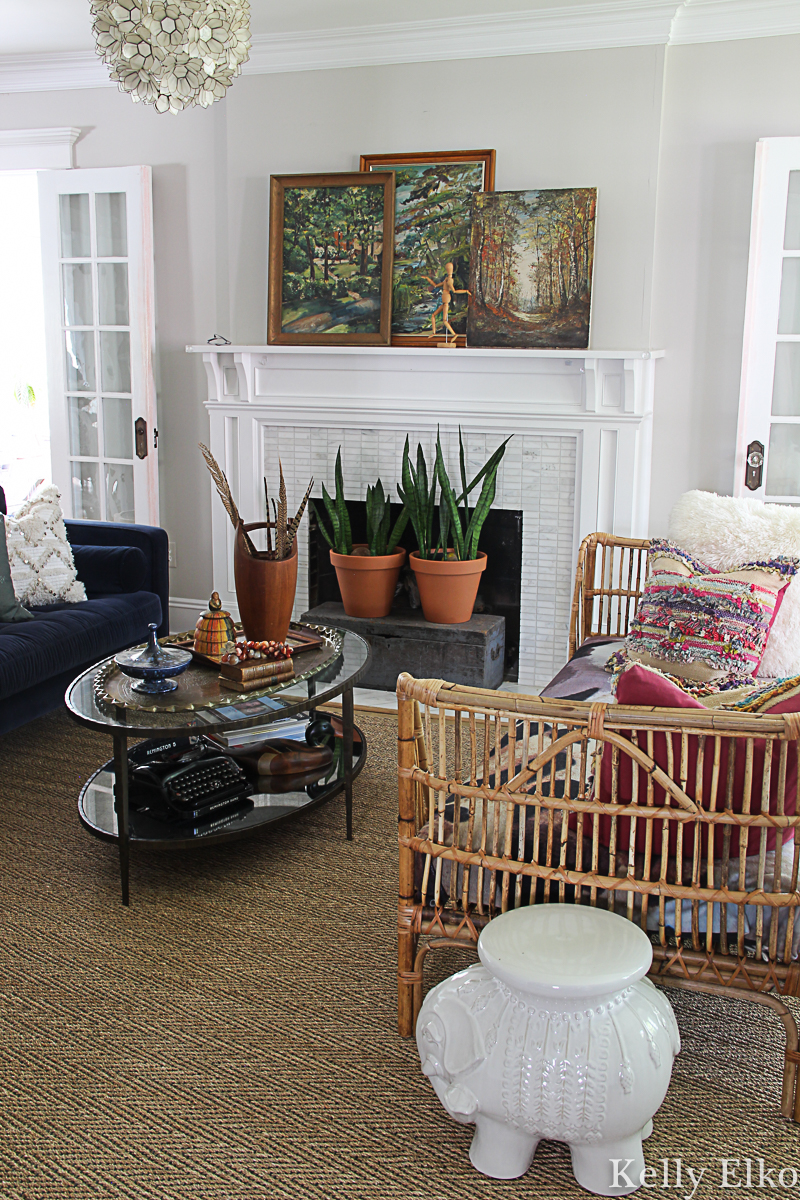 The mantel is a natural place to start seasonal decorating and it doesn't get easier than leaning a few paintings against the wall.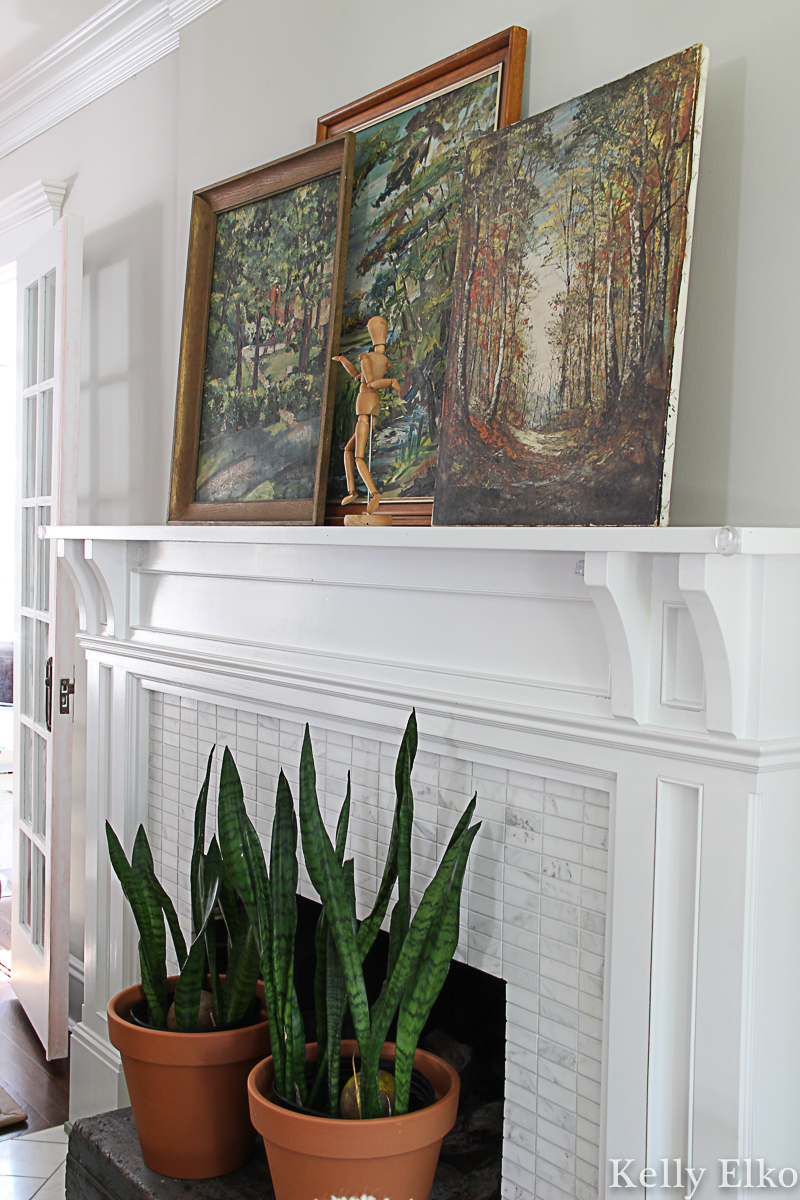 I have been collecting old landscape paintings for over 15 years and just found another great one the other day at the thrift store (that my sister told me not to buy. I am not convinced we are related)!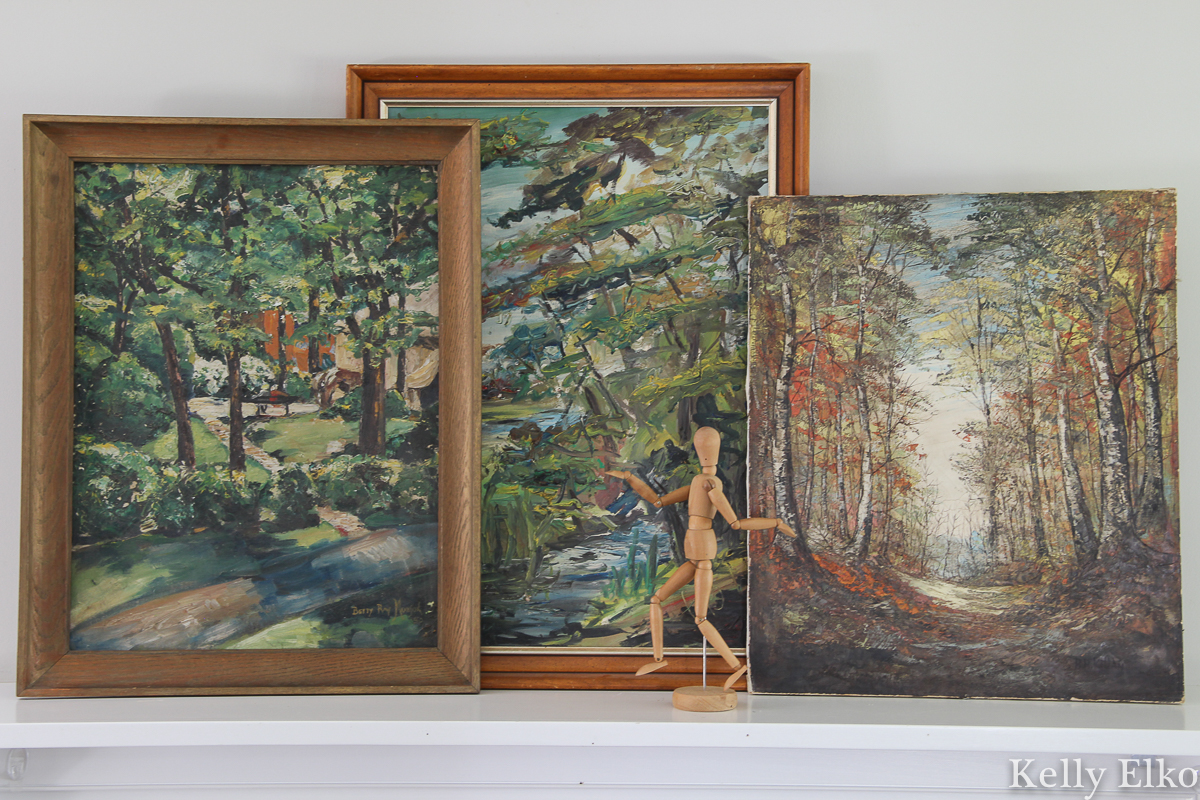 Can you hear the leaves crunching beneath the vintage artists model's feet?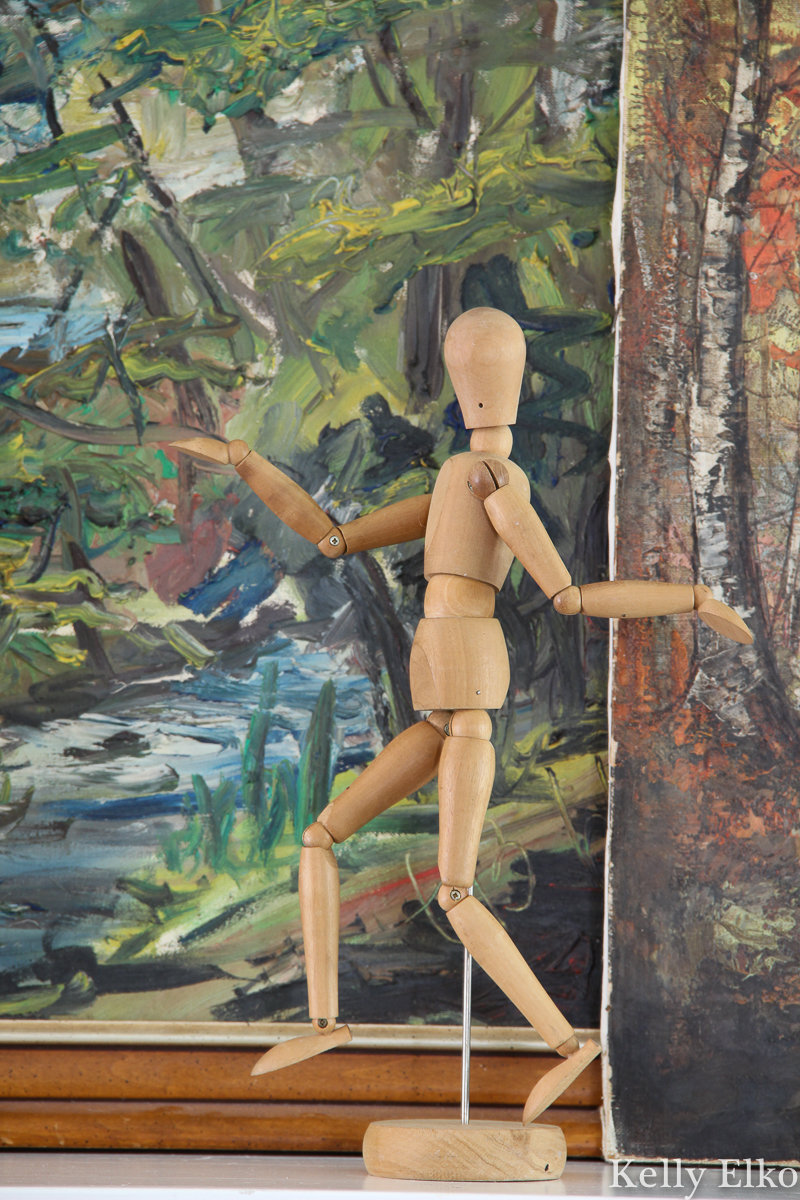 The room feels so cozy since I placed my sofa and daybed across from each other.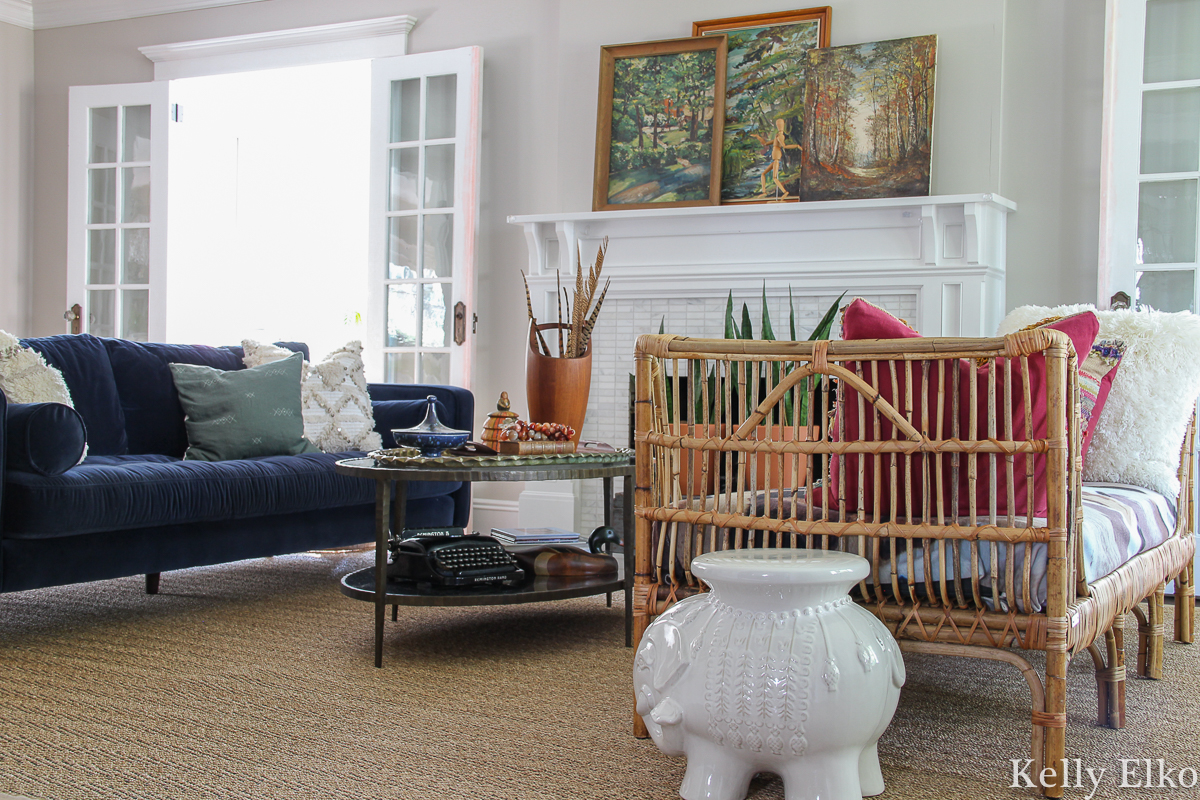 Everything on my coffee table is old and worn including books that were my dads. Feathers stand in for flowers in a vintage teak ice bucket that's missing a lid (if it had the lid it would go for over 200 times what I paid for it).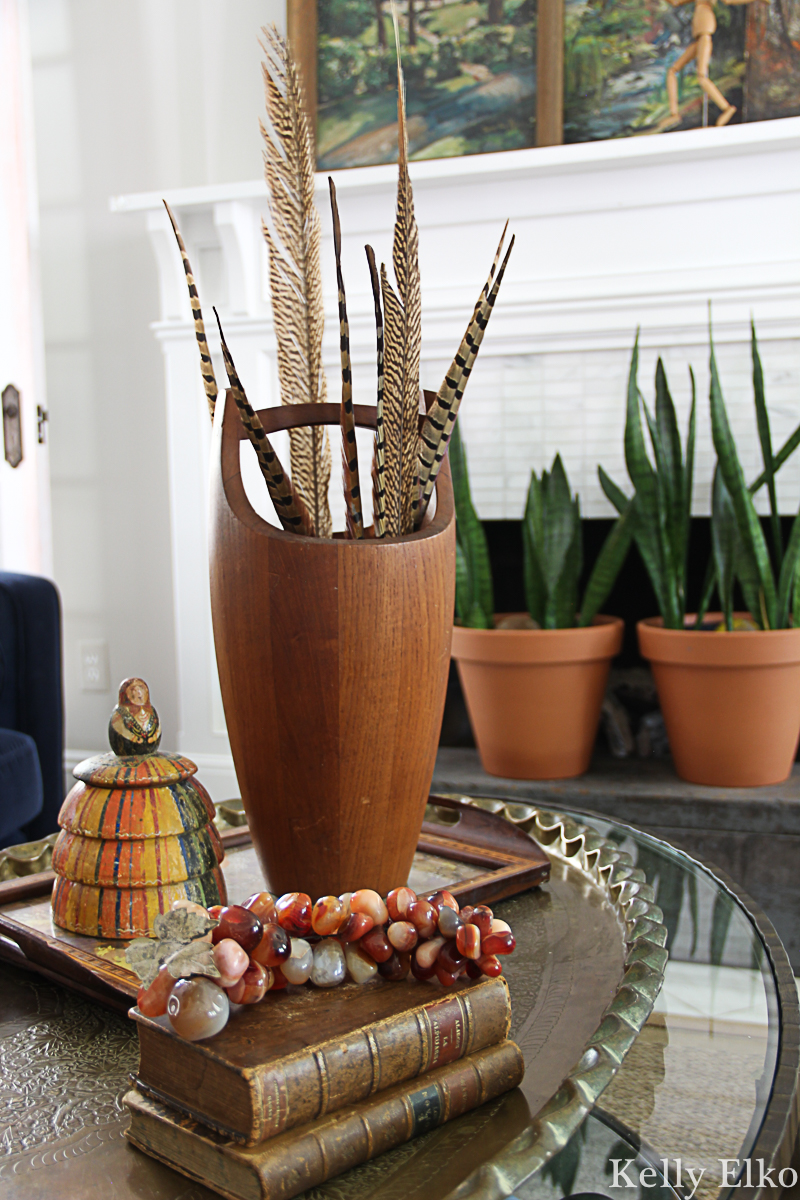 I love this polished stone grape cluster that was in my parents house when I was growing up.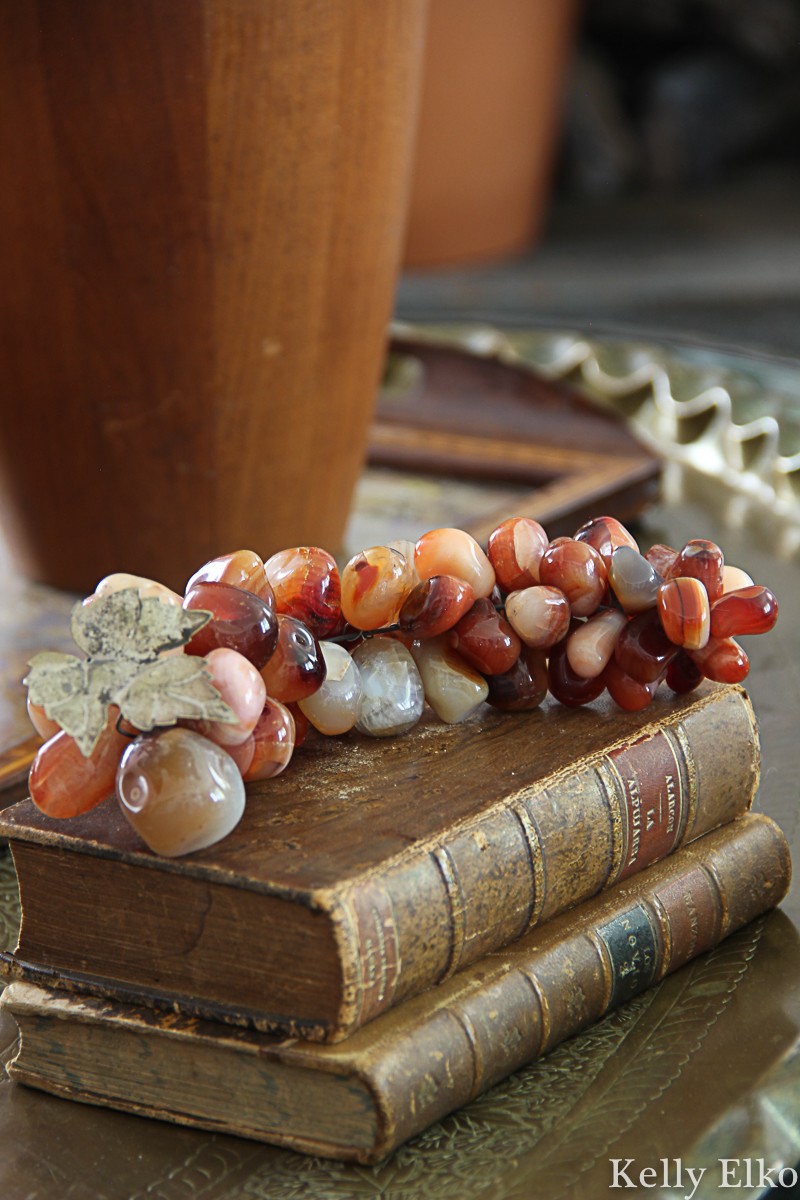 Here, I combined two of my favorite things, vintage landscapes and gallery walls, to create this unique wall of art.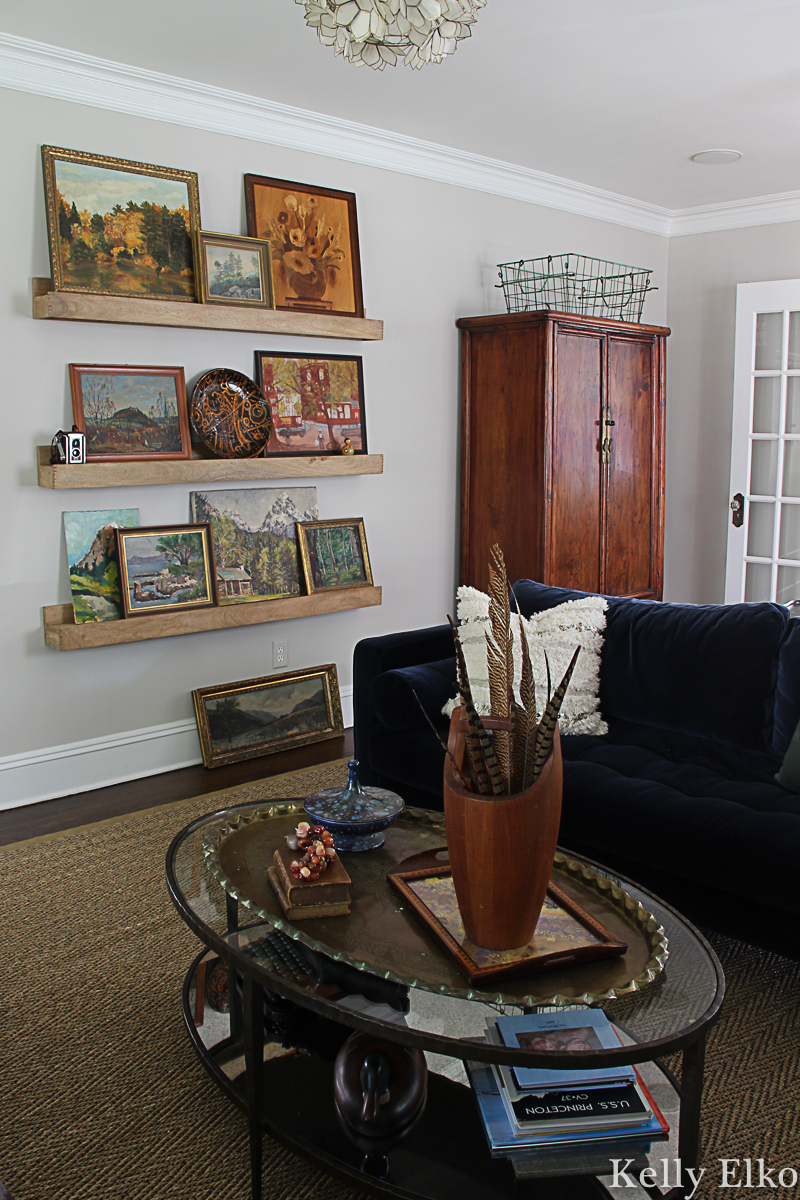 I love picture ledges for easily switching up the look of a wall. The floral still life on the top right is wood inlay and each color is a different piece of stained wood! I threw in a round art pottery platter dated Cork, Ireland 1968.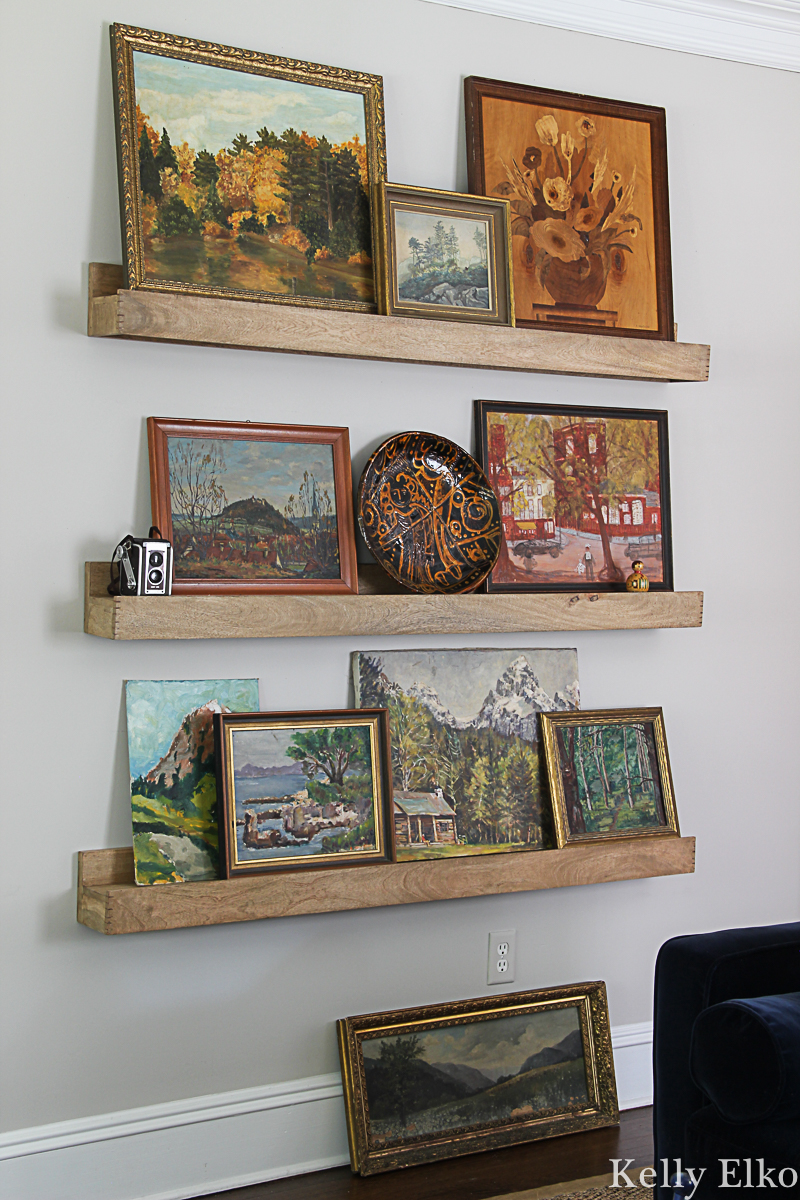 In the past, I would have filled that big green basket on top of the armoire with something but as I get older, I find I like a less cluttered look and think the metal basket looks great on its own.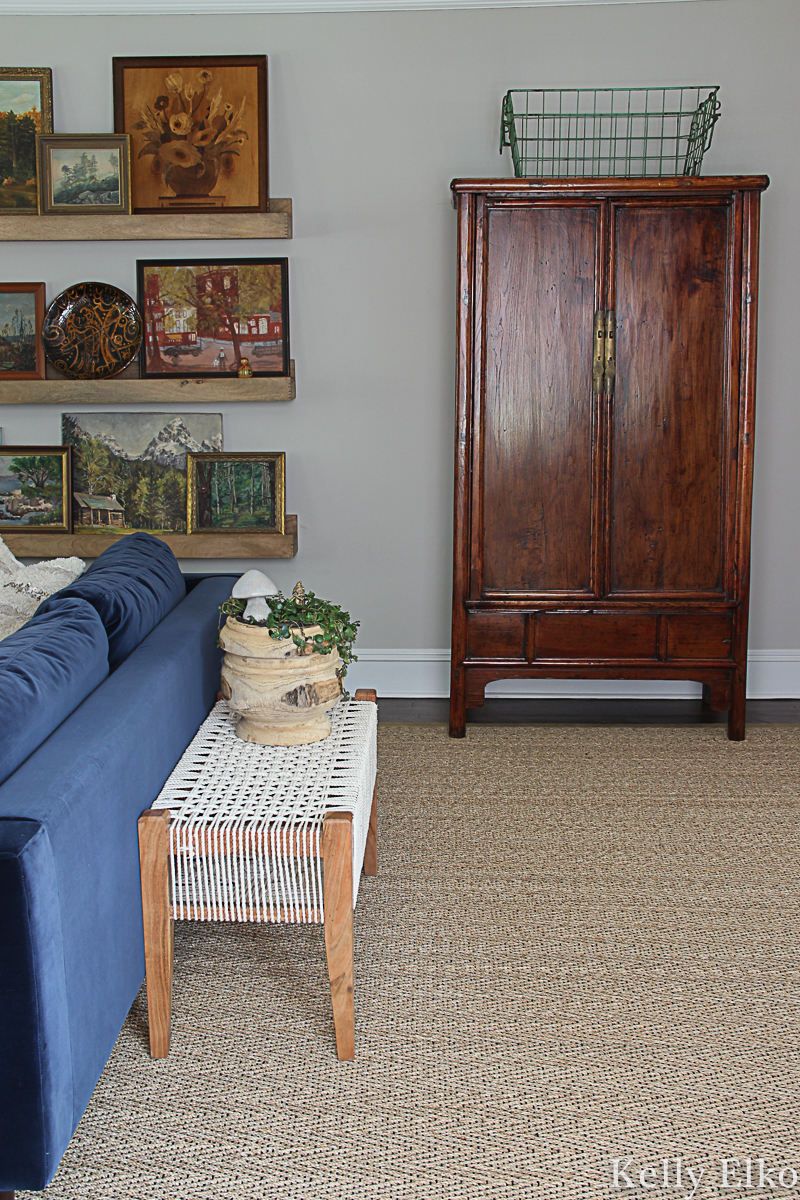 Every room needs a plant … and a gnome!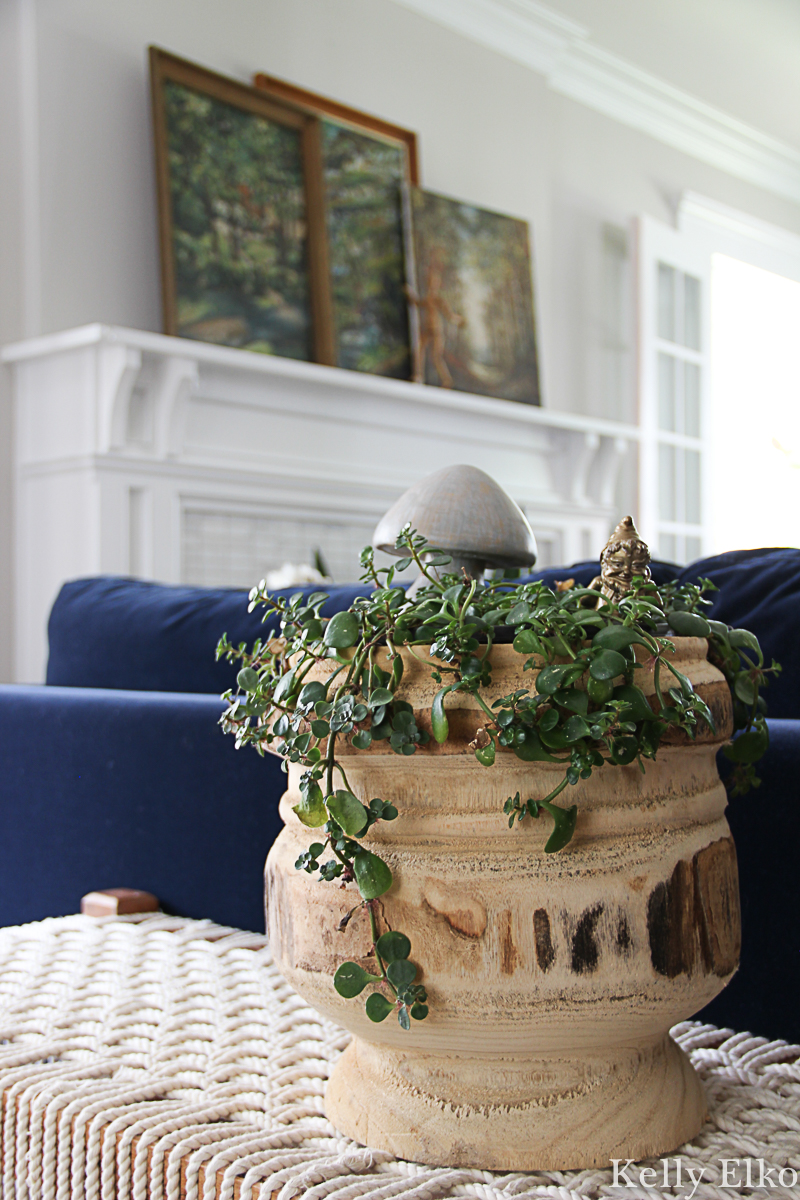 A quick and easy update to my rattan daybed was wrapping the black cushion in a leopard print throw blanket. I consider leopard a neutral that goes with anything!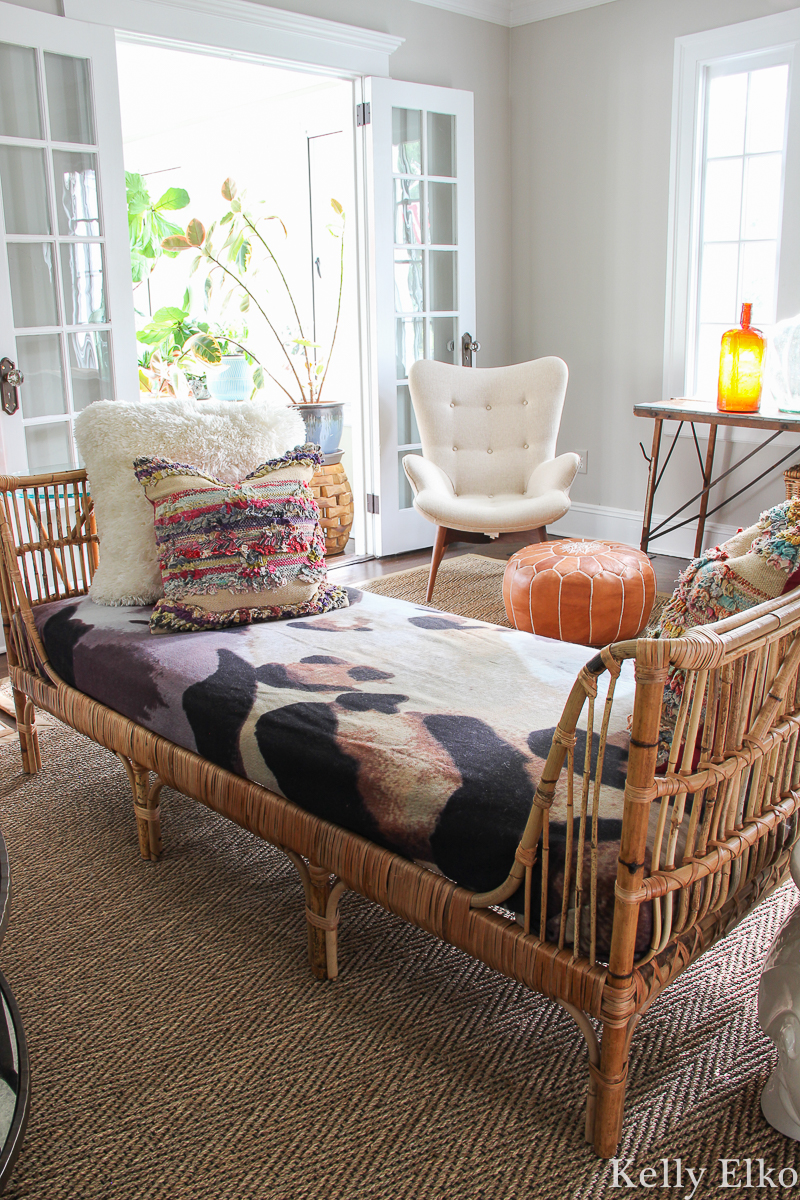 These open shelves are perfect for displaying even more collections.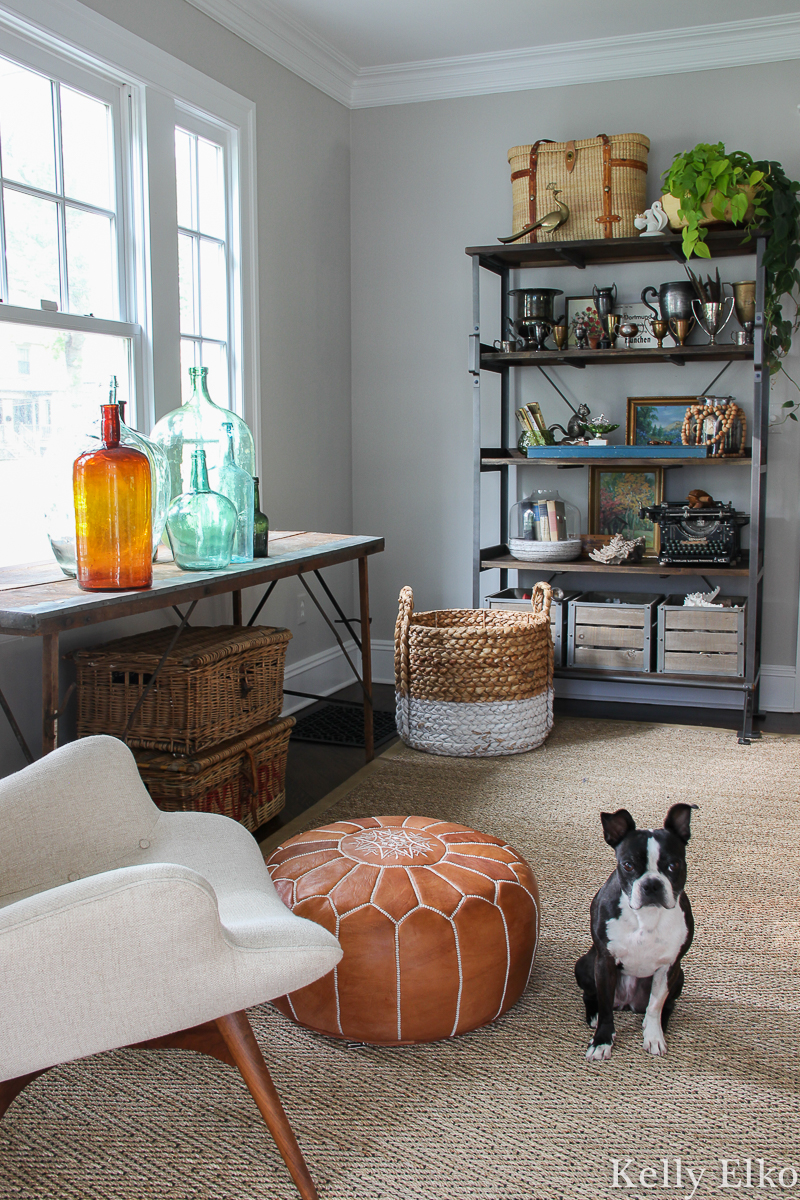 My antique wallpaper pasting table folds up and has a handle so it could be easily carried from job to job.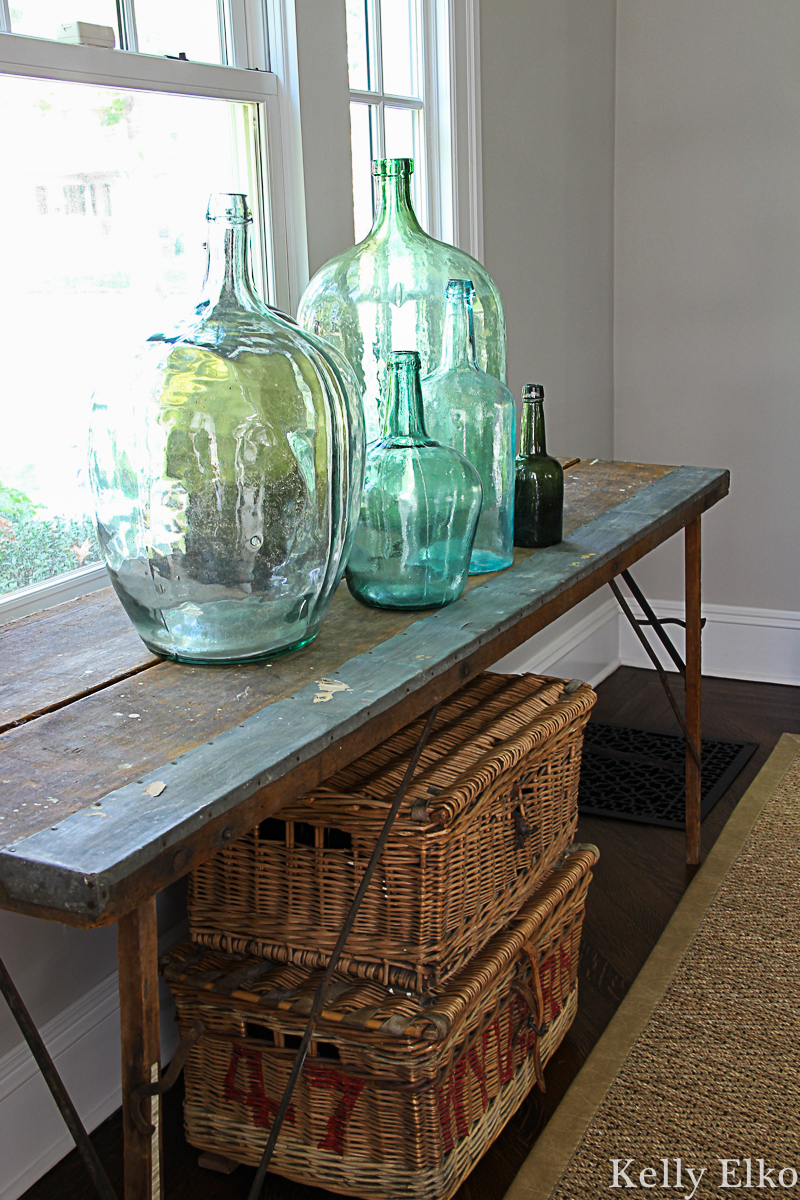 These are a few of my favorite things including more vintage landscapes.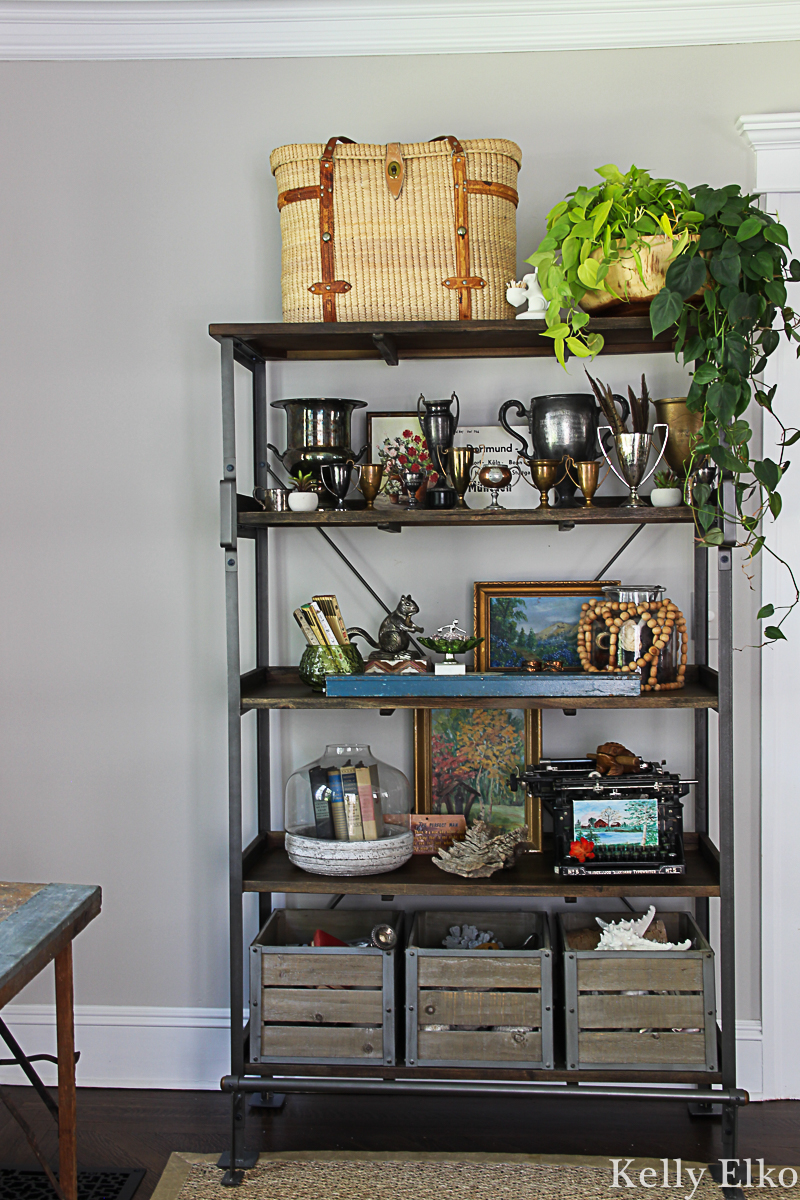 It's so fun having reminders of those who lived before us and the engravings on these loving cups tell a story including that of Edith and Helen, 1916 doubles tennis champions at their country club!
The pipe collection, displayed in a glass jar, belonged to my dad and the smell of pipe tobacco always brings back so many childhood memories.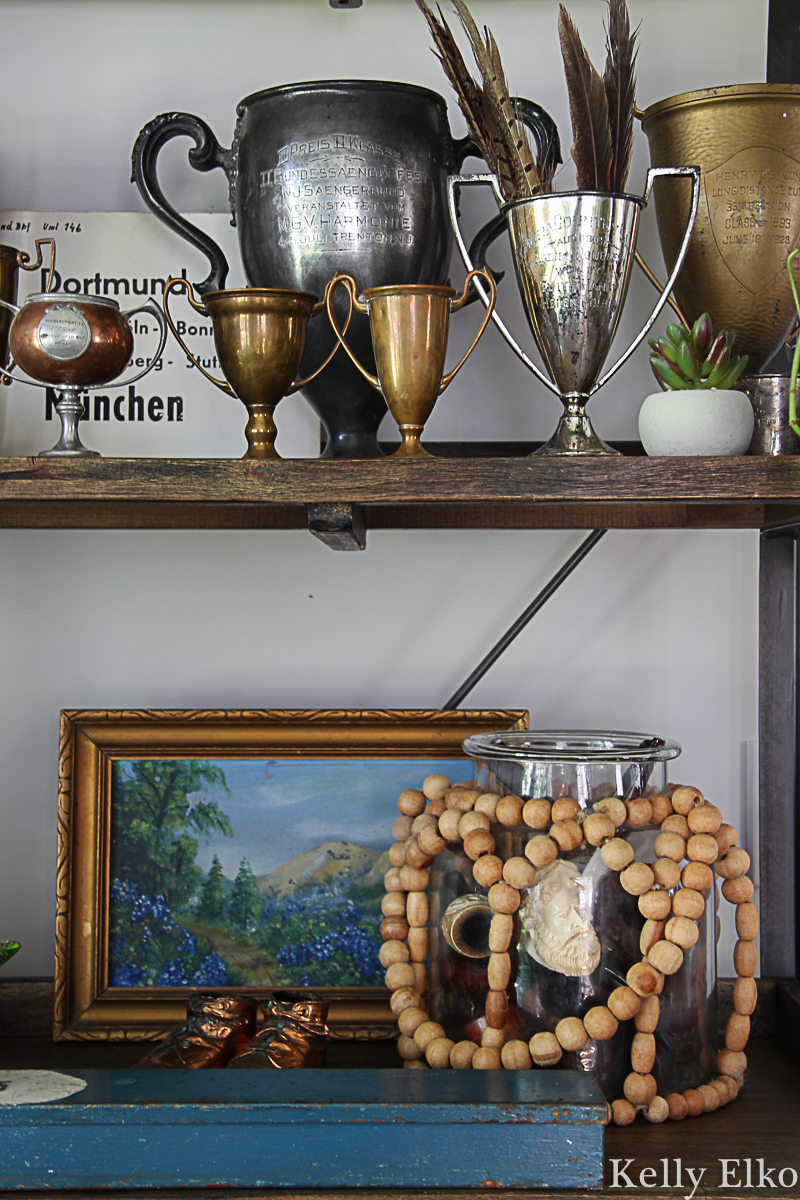 Kelly has a little lamb and her name is Sushi who thinks this curly knit sweater makes her look chubby but I think she looks adorable. Now that my girls have gone back to school, I have obviously slid into madness.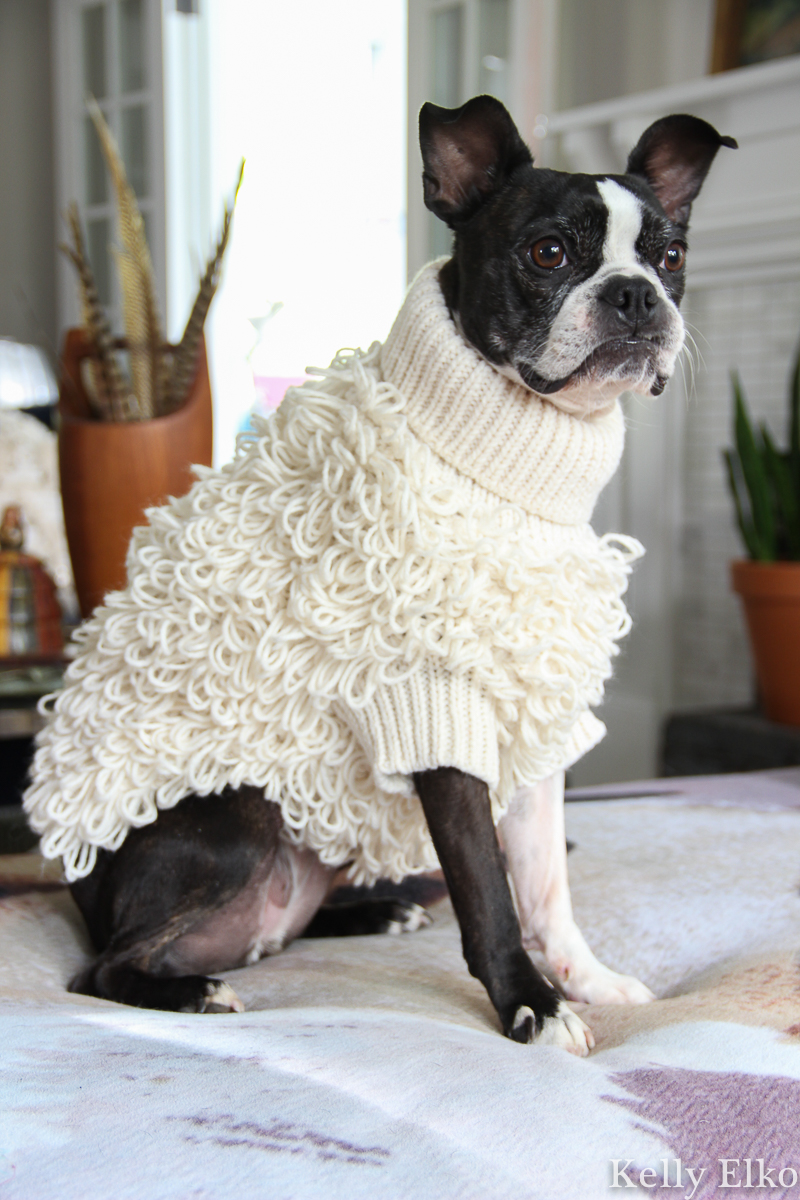 I've been having so much fun decorating for fall in a non traditional way and I'm doing it slowly so I can enjoy the process. I can't wait to share even more in the coming weeks.
This was one of my favorite fall past mantels and I turned the chalk art into a free printable!