How to Furnish a College Apartment – Tour My Daughter's New Place!
Furnishing a first apartment or college apartment does not have to be expensive! I'm excited to give you a tour of my daughter's first college apartment! I'm sharing my tips and tricks for how to furnish a college apartment cheap! So whether you are furnishing a place long distance or right down the road, I'm spilling all my resources to make it stress free. I'll show you all of my secret shopping tricks and favorite places to shop to get really great stuff for a song.
Both of my girls are college juniors this year which means off campus housing! They are very excited to get out of the dorms and into a place where they can cook and decorate to their hearts content. One of my girls goes to school in Louisiana which is a quite a distance from New Jersey! Her place was a complete blank slate. We had to figure out the best way to furnish it from a distance and I'm happy to report the move went off without a hitch!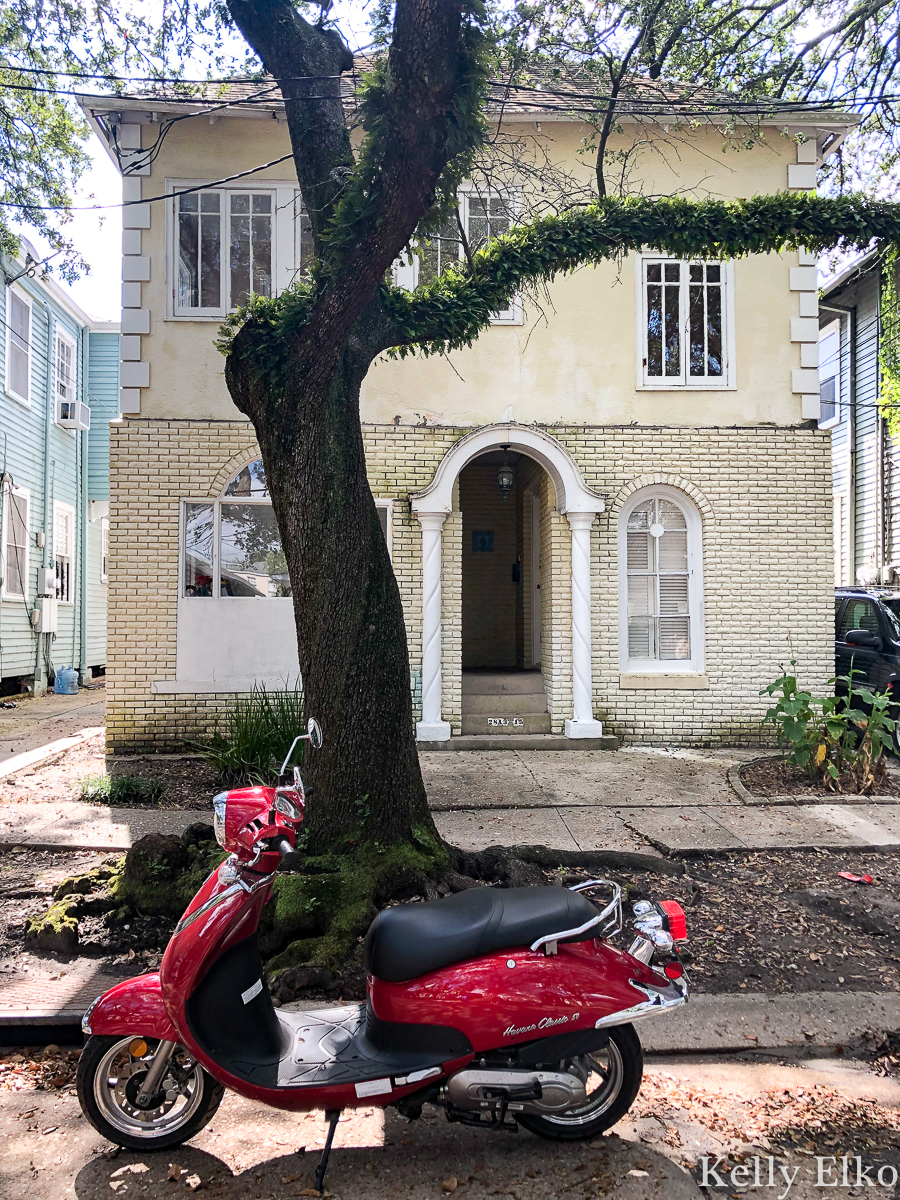 She and her two roommates live on the top floor of this old house with tons of natural light on a tree lined street. I have no idea who owns the red Vespa but it made for the perfect photo prop!
I am splitting the cost of the communal furniture with the other girls parents so each of us will pay for 1/3 of the total.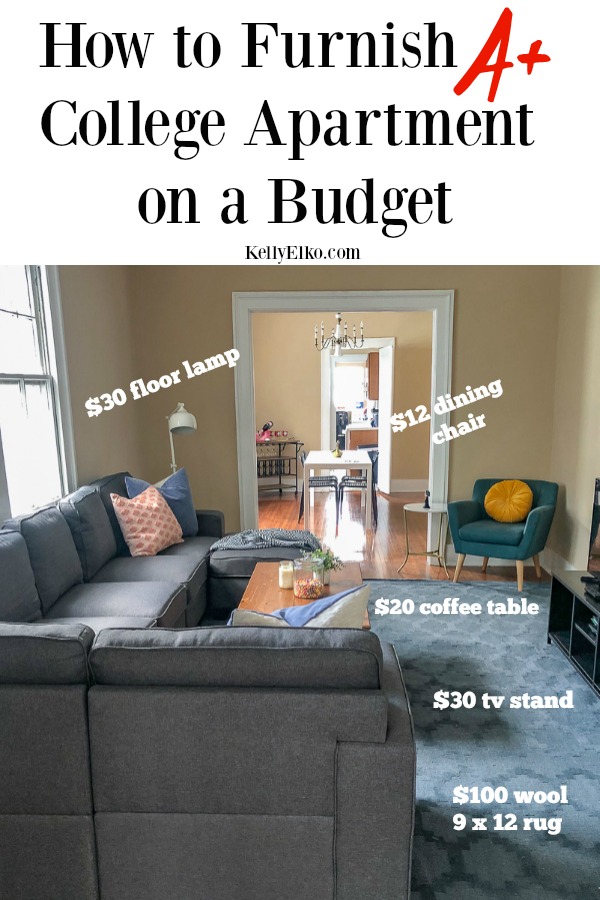 Come on in for some before and after pics.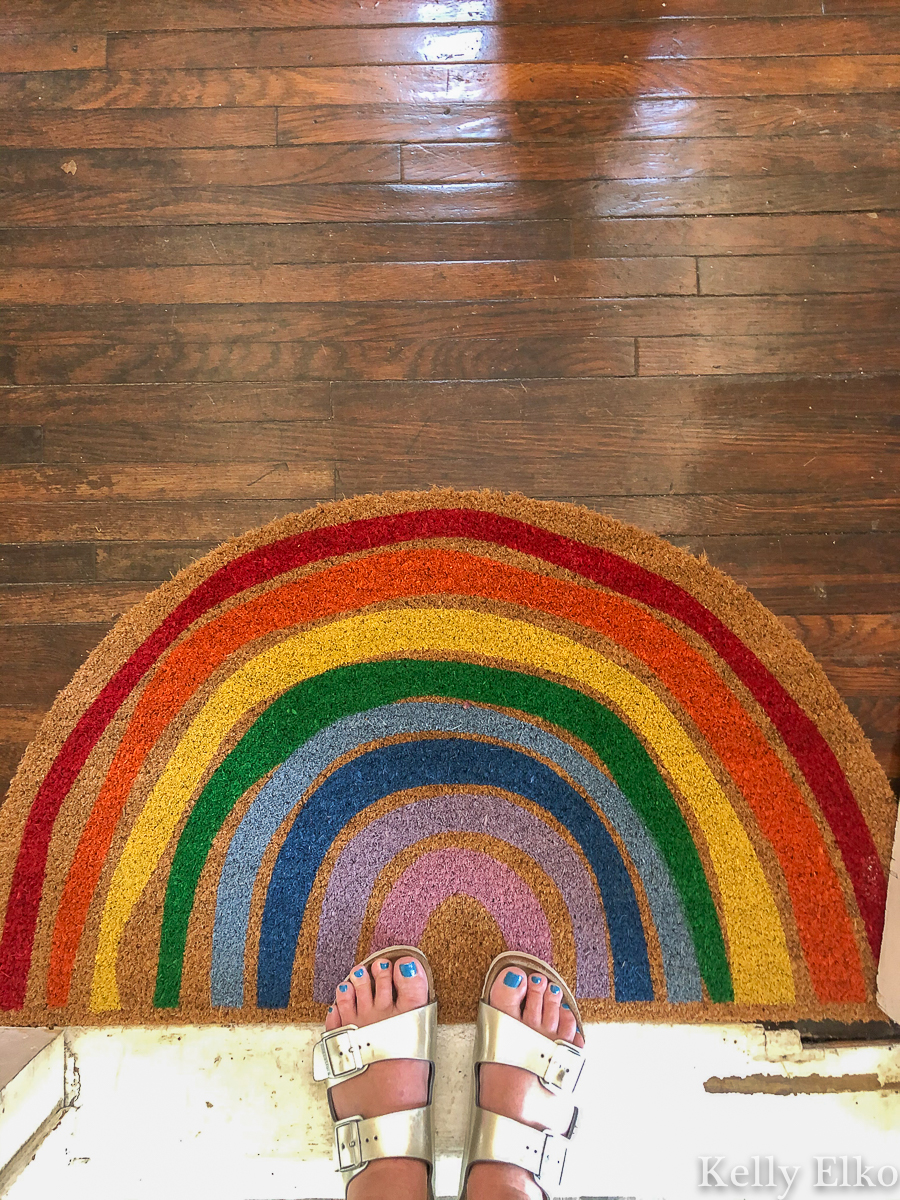 In the weeks before we arrived, I scoured Facebook Marketplace and found so many great things at bargain prices. I even got a huge 9′ x 12′ wool rug for only $100 (a huge cockroach popped out when we unrolled the rug and our screams could be heard for miles)! Since we were so far away, I wasn't able to pick up my finds so I hired the apartment manager to pick them up and deliver them to the apartment. It could not have worked out more perfectly.
Cost Breakdown: Facebook Marketplace finds include vintage rattan bench, floor lamp, black tv stand, coffee table, two blue chairs, two side tables, bar cart and microwave. Total for all: $405 + $90 for delivery = $495 which we split three ways.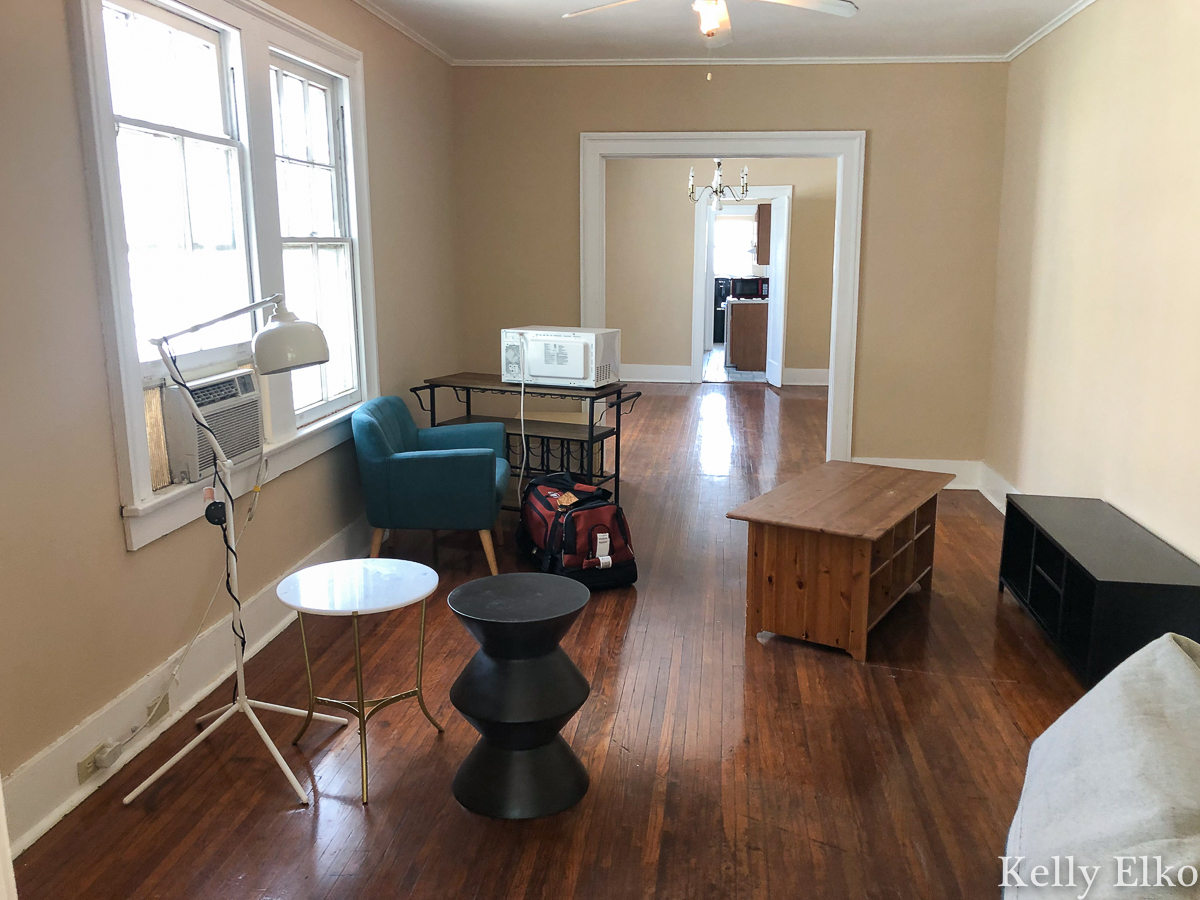 This post contains affiliate links which means if you make a purchase, I may earn a small commission at no cost to you.
Our next stop was Bed Bath & Beyond, who I collaborated with, for all the necessities. Did you know if you are a college student, you can get 20% off of your purchases for an entire year and it's free to sign up! I recommend downloading the Bed Bath & Beyond app and taking advantage of their Pack and Hold service. My daughter and I were able to go to our hometown store and scan all the items she wanted. They were neatly boxed and waiting for us at the local New Orleans BB&B when we arrived.
Good thing I rented an SUV!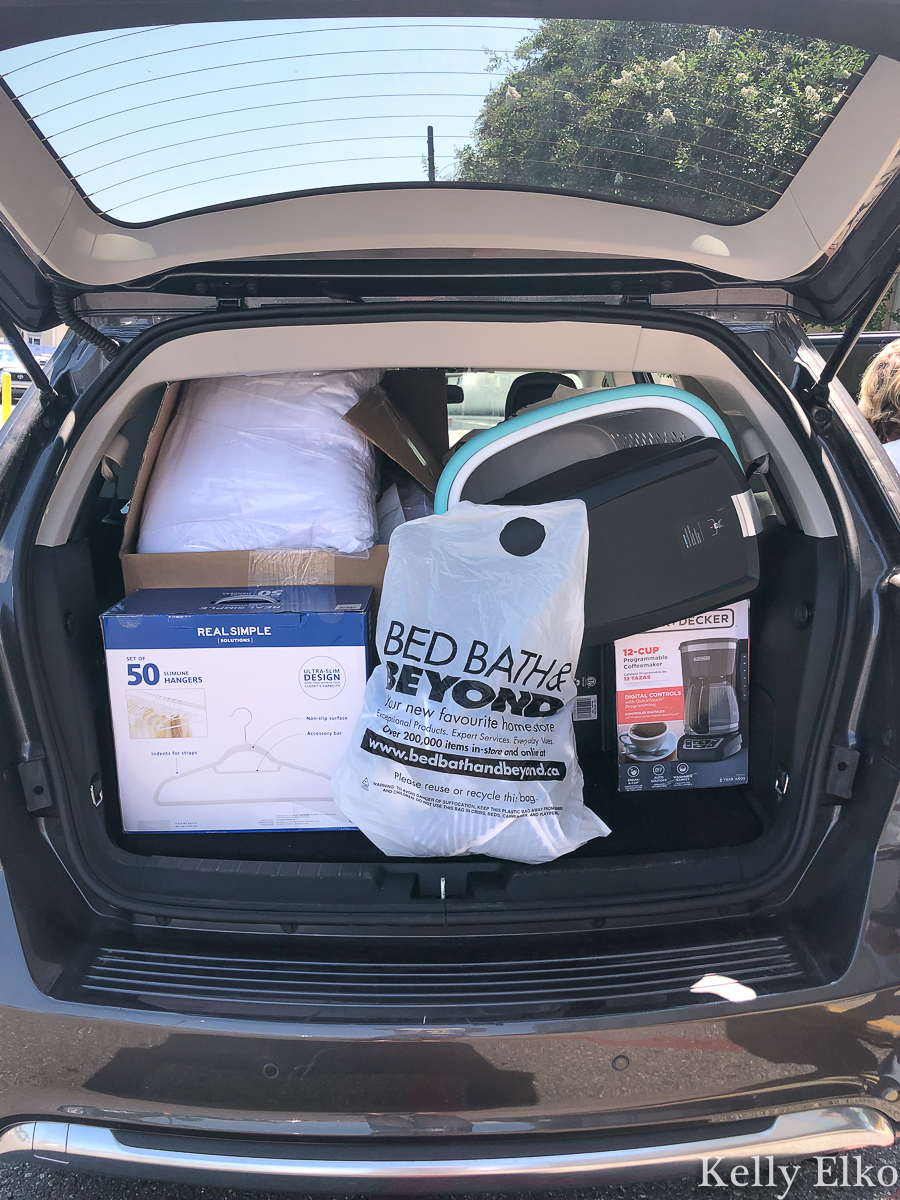 We got everything except the kitchen sink!
Bed Bath and Beyond Total: $1,000.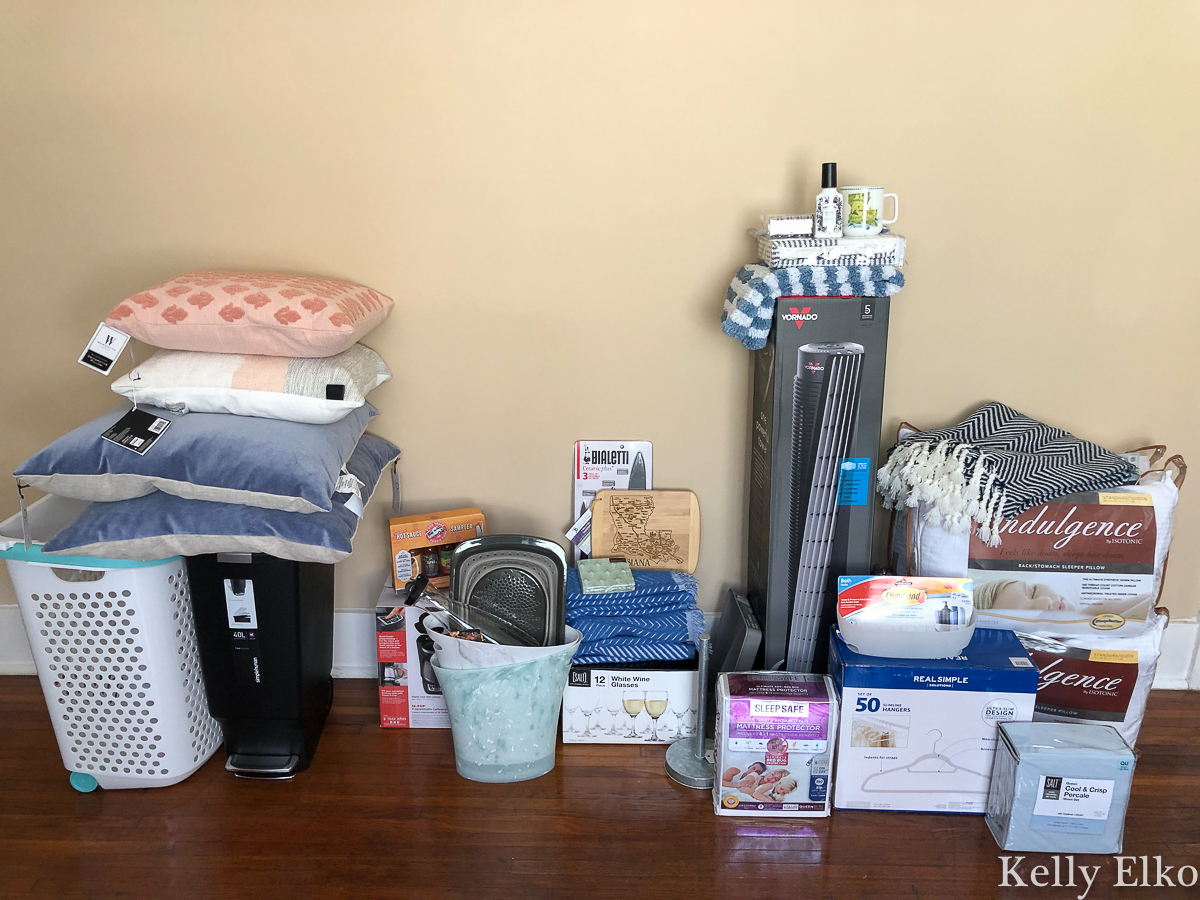 Once the shopping was out of the way, it was time to decorate. The rooms are huge with original hardwood floors and windows. It's three bedrooms and one and a half baths with a laundry room and a small but functional kitchen.
I found the perfect modular sofa. Each of the seven pieces is completely separate and can be arranged in a number of ways so if the girls decide to move next year, they can be sure this sofa will work in their new space. We were dealing with a very narrow, winding staircase so we needed something that would be easy to get up the stairs and this sofa fits the bill.
Cost of Sofa: $1200 including tax (free delivery). Remember, I'm sharing the cost with the other roommates parents so my share of the sofa is $400.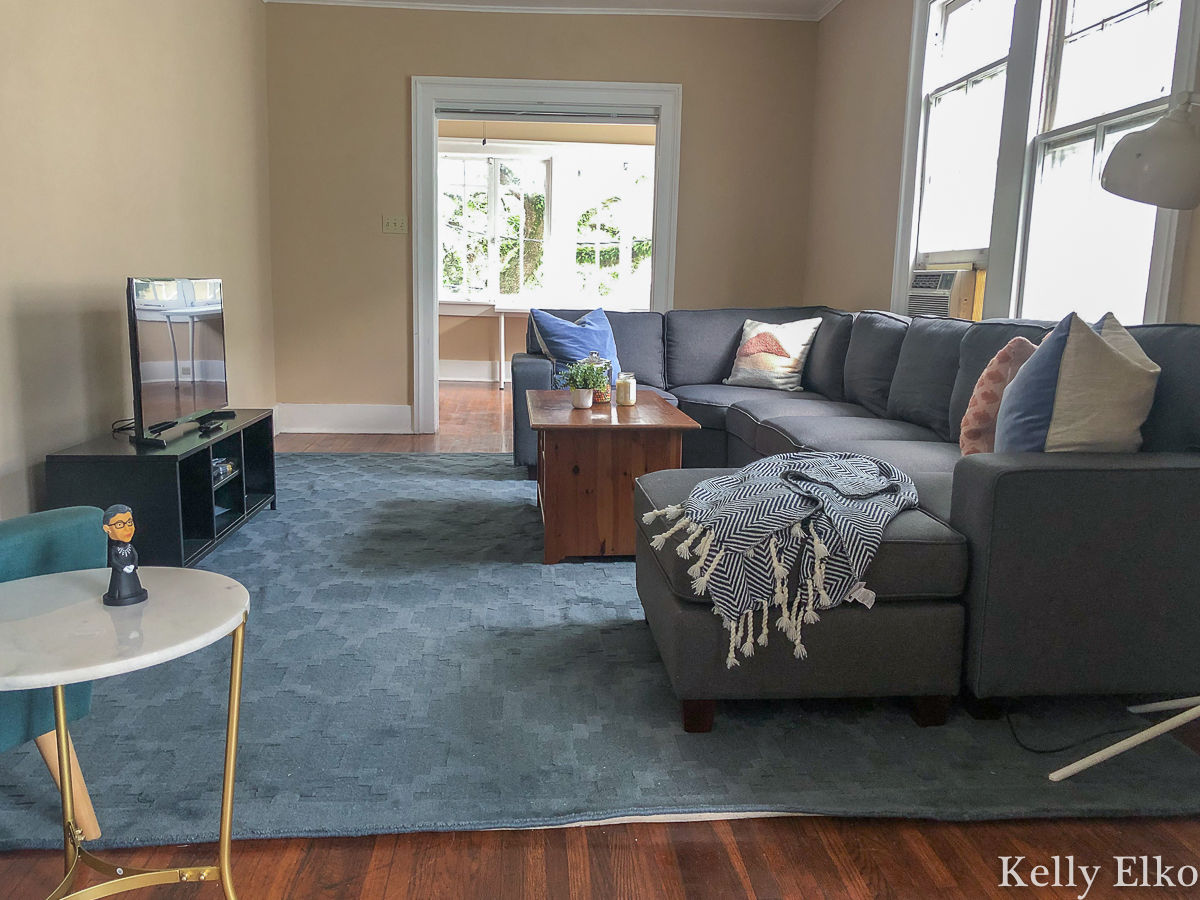 My daughter and her roommates want to add some DIY artwork to the big tv wall and I can't wait to see how it turns out. I let the girls make all the decorating decisions because I want them to be comfortable here. I offered suggestions and made sure to get their approval before ordering anything (believe me, some of my ideas were quickly rejected)!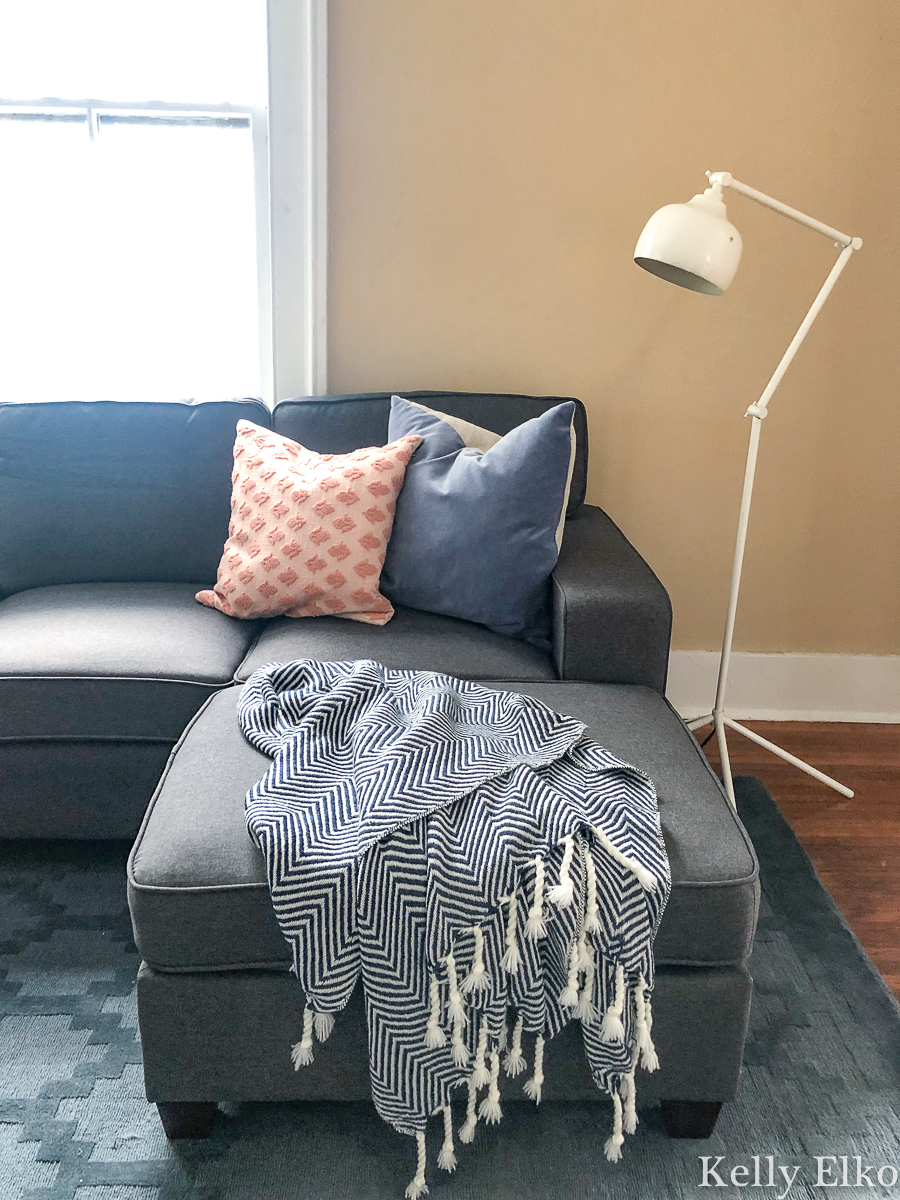 Can you believe the rug, lamp, chair (the other one is in a bedroom), side table, tv stand and coffee table are all Facebook Marketplace finds?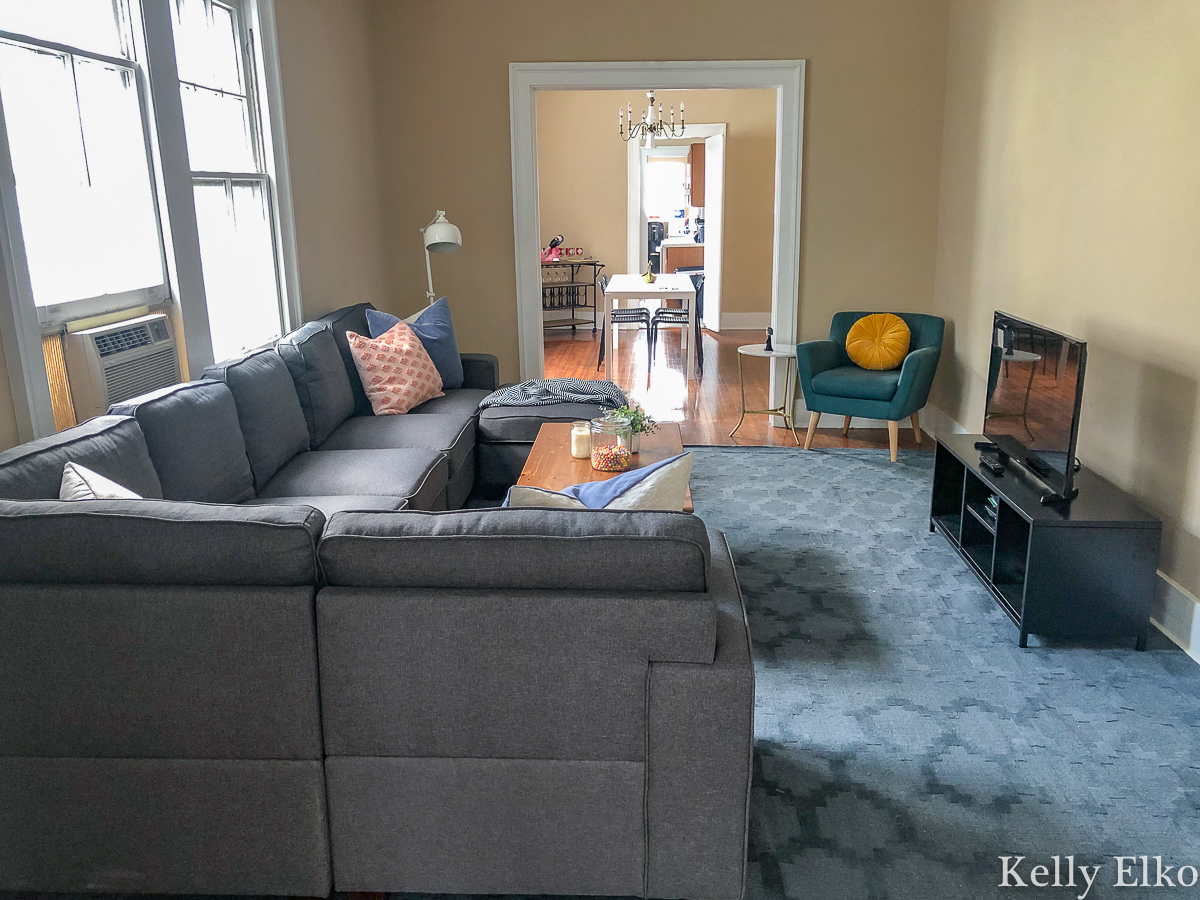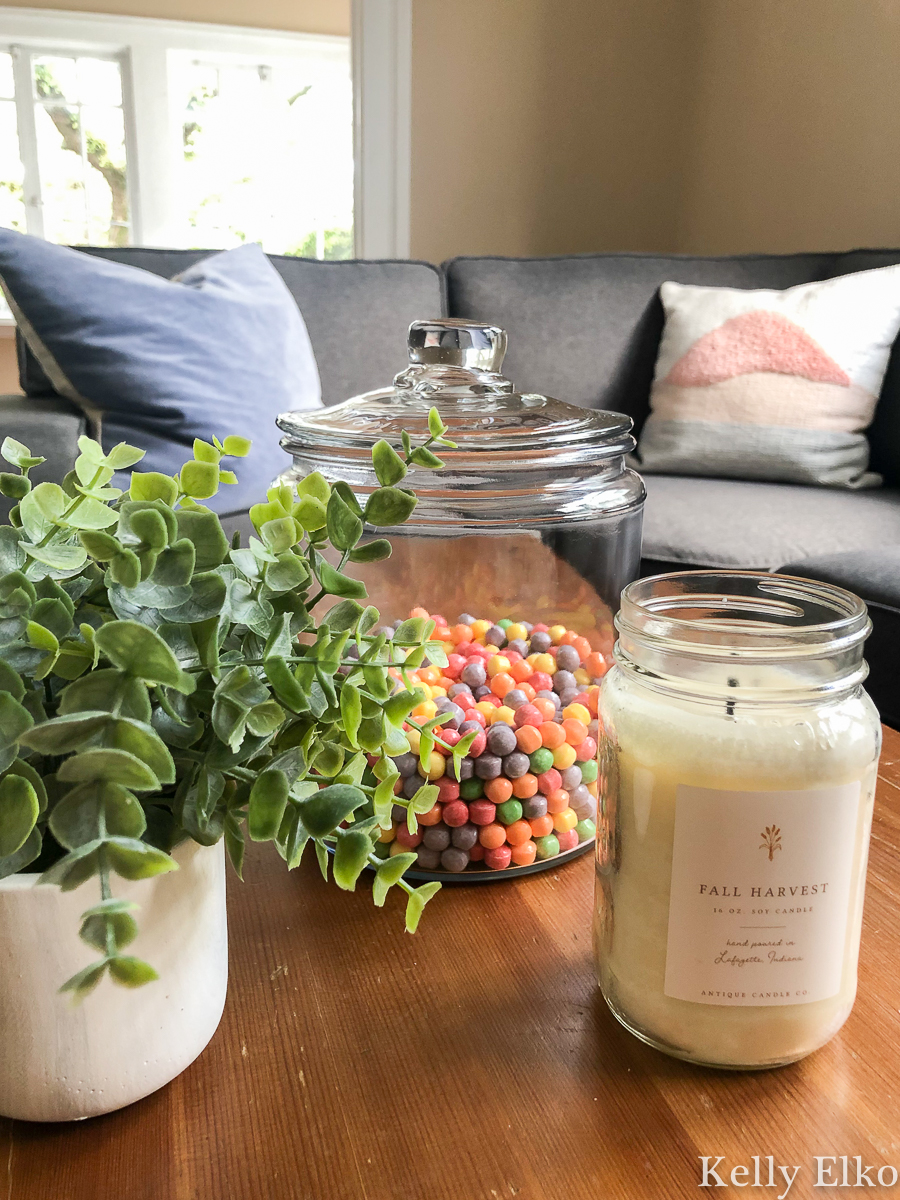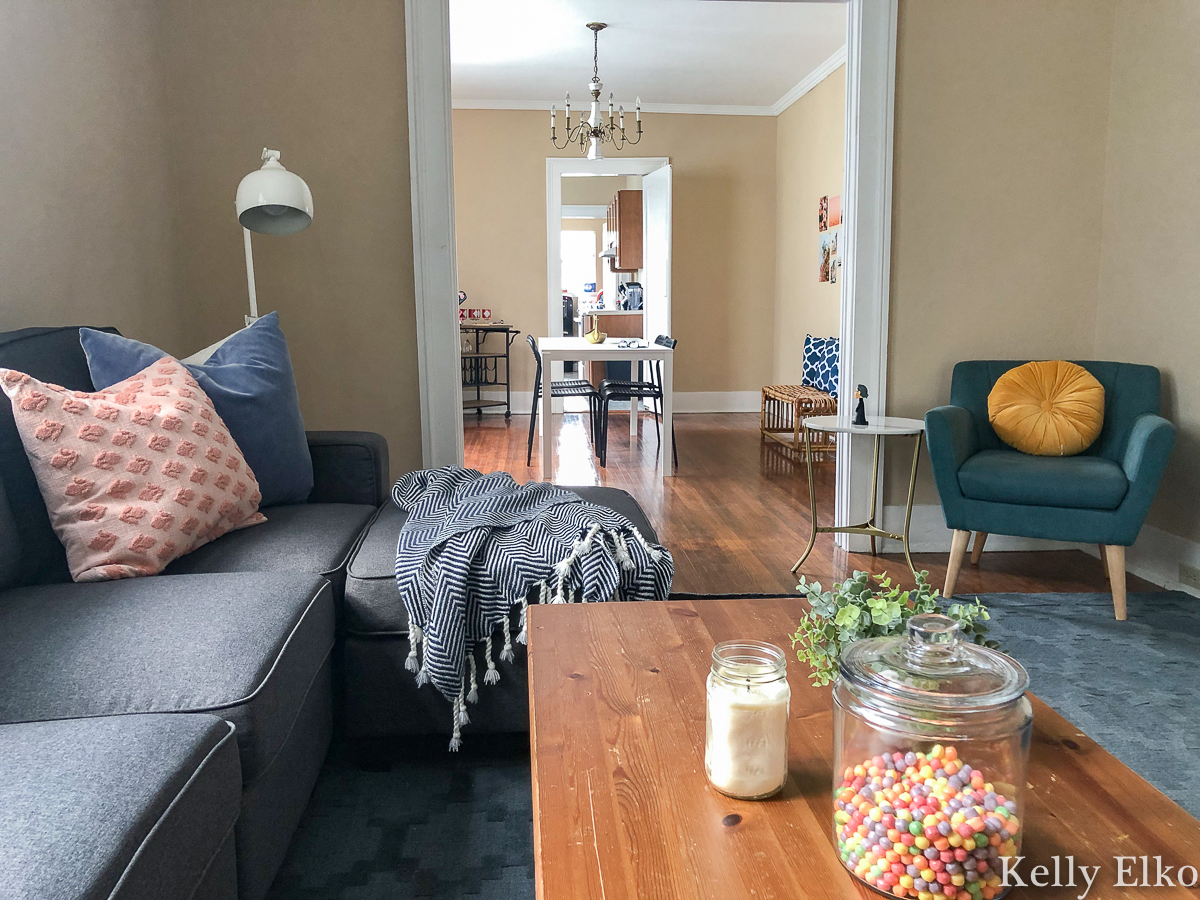 We searched Facebook Marketplace for a dining table and chairs but with the winding staircase, it was difficult to find something that would be easy to get inside so I found the perfect table and chairs that were only $12.50 each at Ikea! There are two more coming and my daughter put them together easily.
The rattan bench adds a warm vintage touch and I found the old brass two headed duck bowl at a local antique shop. I'm very lucky that I have become great friends with one of the roommates moms! She ordered a cool neon sign to go above the bar cart. (Ignore the microwave in the corner)!
Cost of Dining Table and 6 Chairs: $204 + $49 delivery (I pay 1/3).
Note: We paid a student $160 to put the dining table, desks, and two bedside tables together plus to carry seven heavy sofa boxes up the stairs and put it together.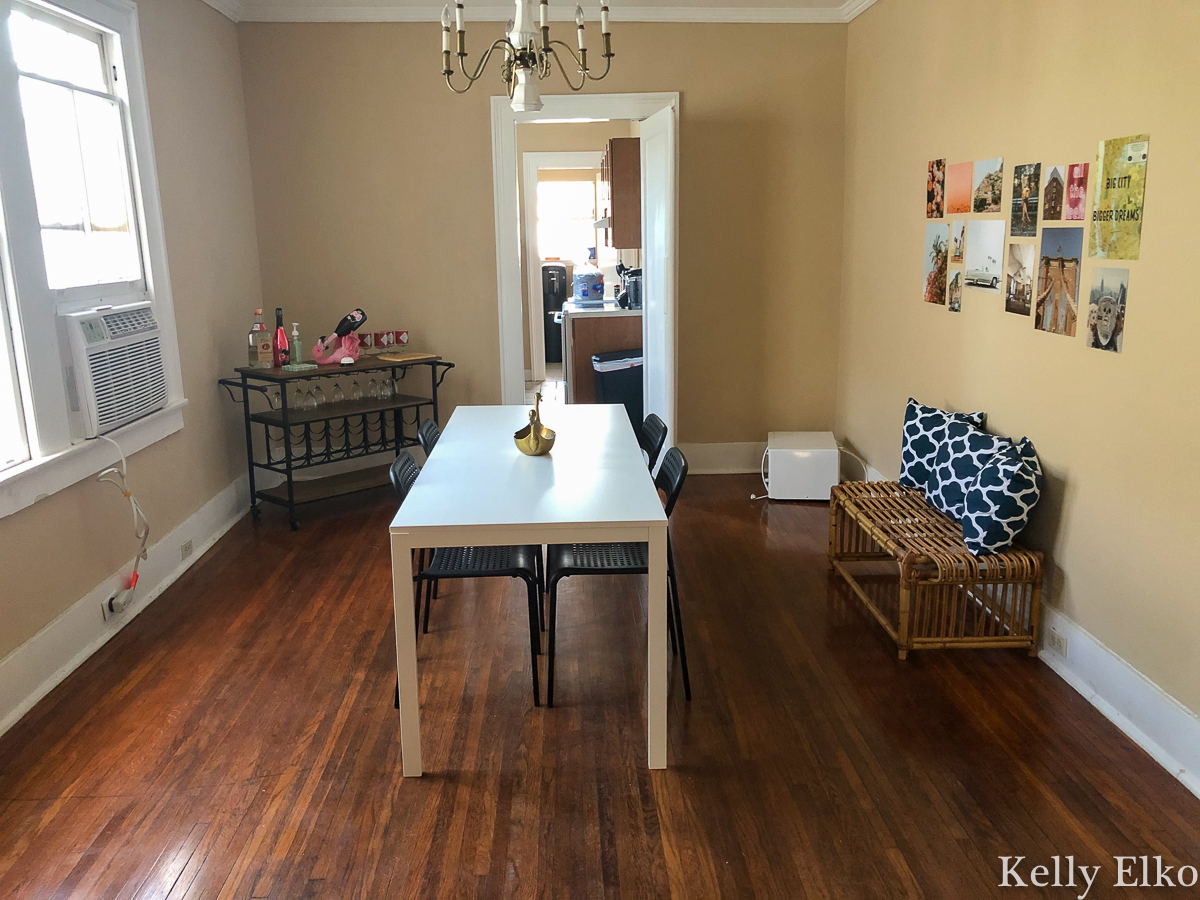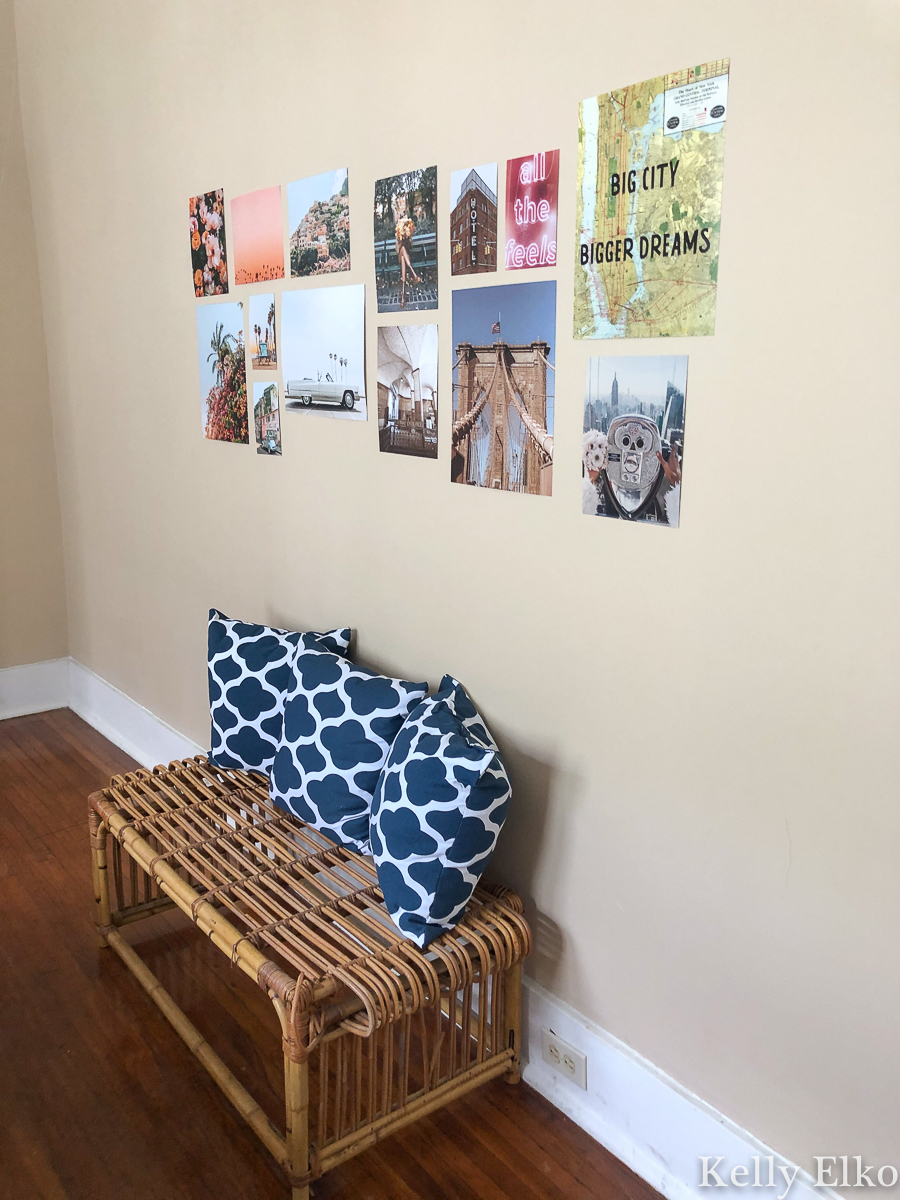 One of my daughters roommates is from Manhattan and the other from California so we thought this art fit perfectly. Each of these art print sets include seven pieces of art on heavy paper for an instant gallery wall.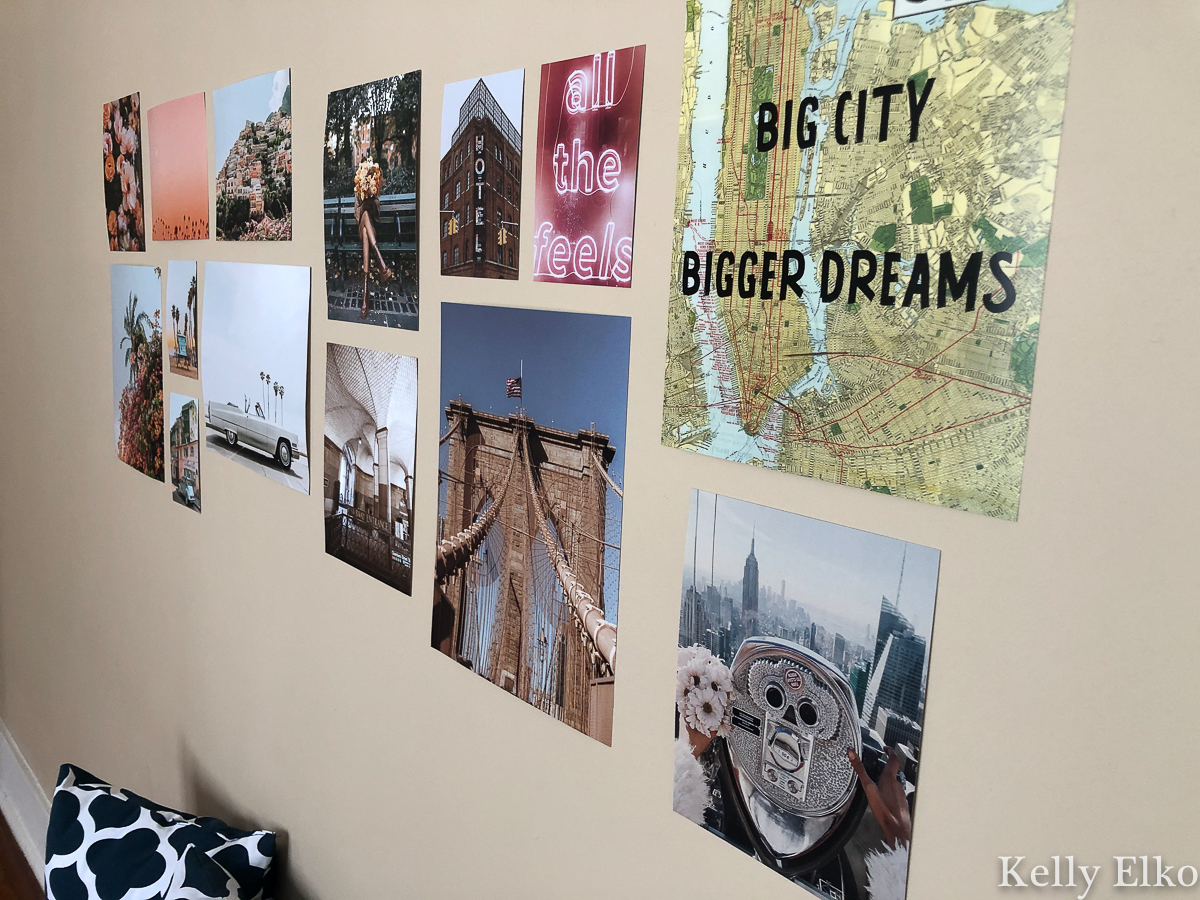 Every dining room needs a bar cart and this one is big enough to hold lots of glasses.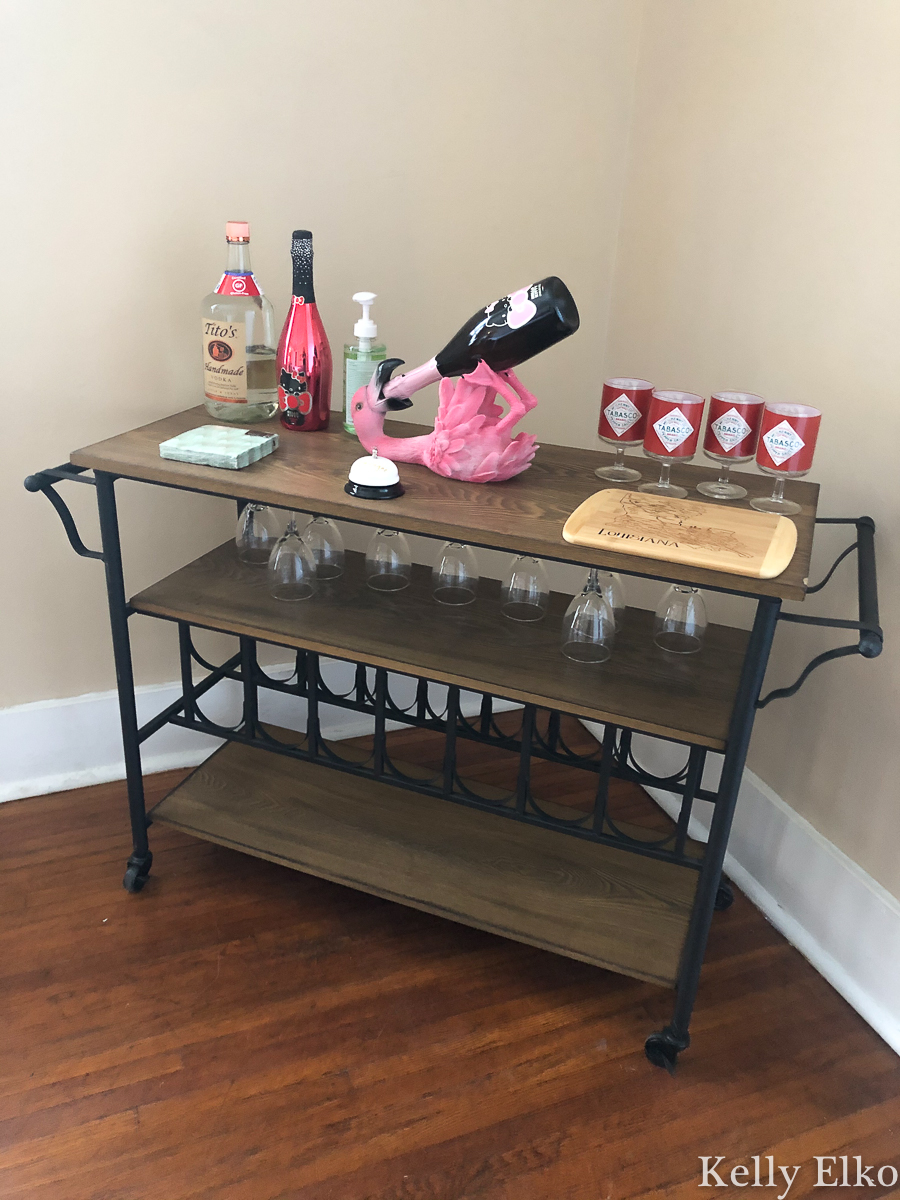 My daughter LOVES Tabasco sauce so we scooped up these vintage glasses at a local shop and the state cutting board is the perfect finishing touch for her home for the next two years.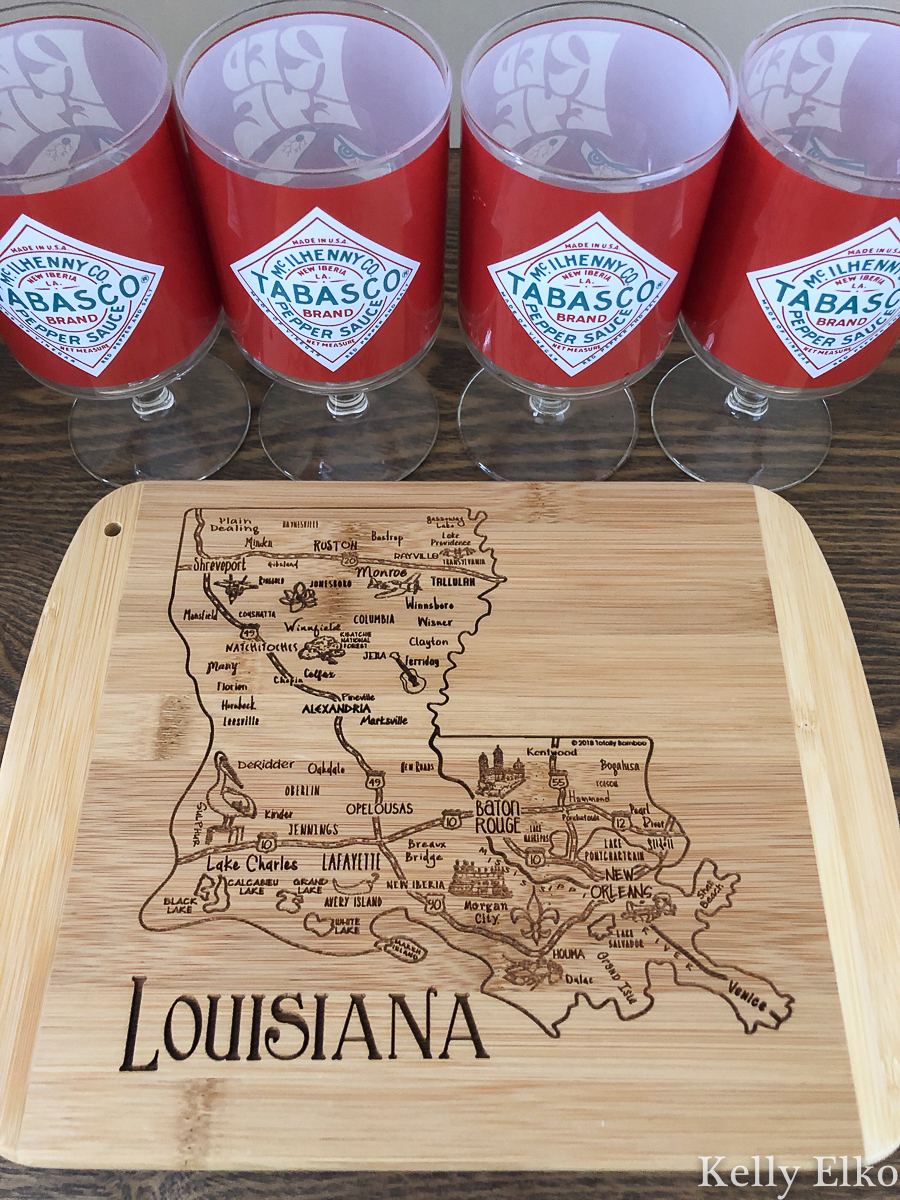 I could not resist the weird (ok, let's be honest, he's hideous!) flamingo bottle holder and doesn't everyone need a champagne bell!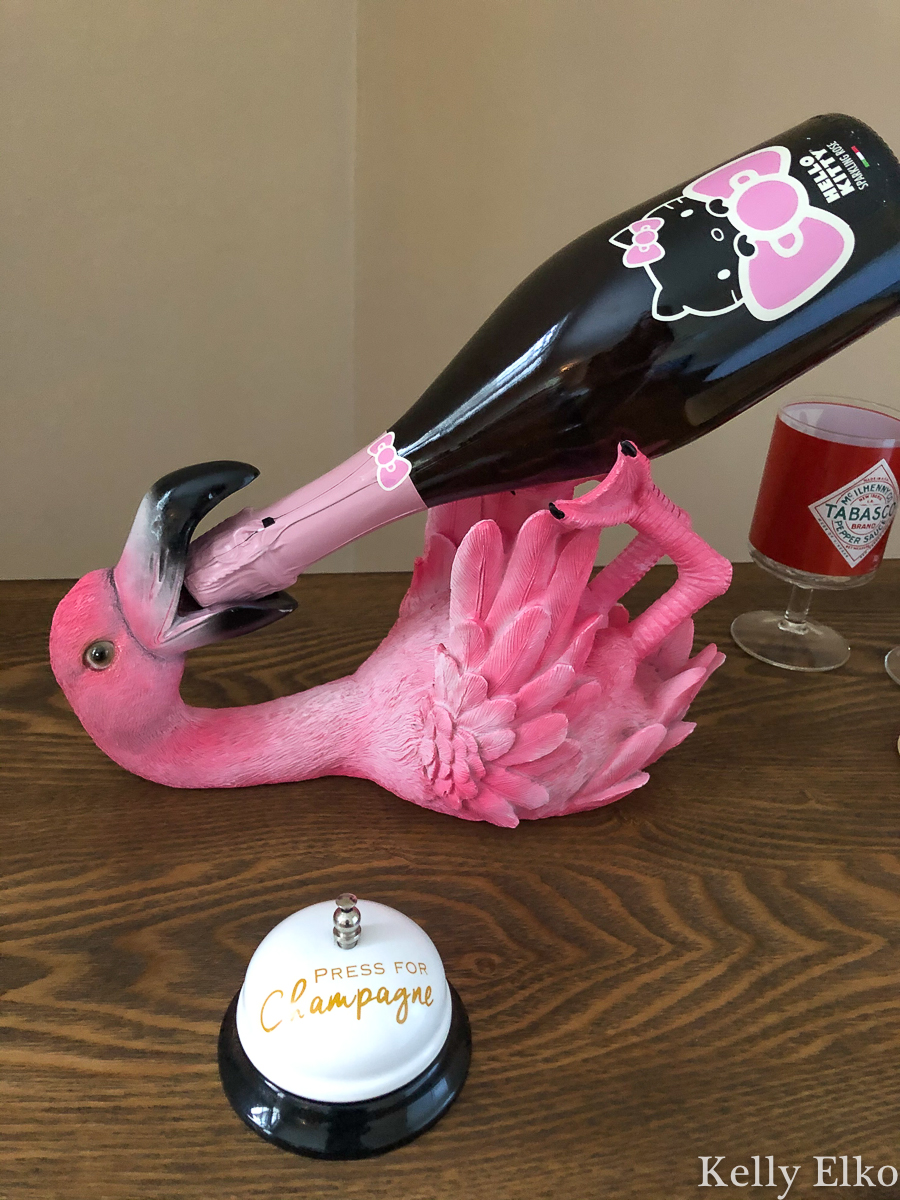 I did not want to skimp on the mattress so I ordered the same Tuft & Needle mattress that my girls have in their rooms at home. I love that it comes in a box so it's easy to get into the apartment. All of the bedding is from Bed Bath & Beyond and I love the marble duvet cover my daughter chose.
She came up with the idea of hanging faux flowering branches above her bed and we found the rattan mirror at TJ Maxx and its light weight makes it perfect for hanging with a Command hook so we don't damage the walls. The inexpensive platform bed was a cinch to put together and a $15 Ikea table makes the perfect nightstand. The rug came from her dorm.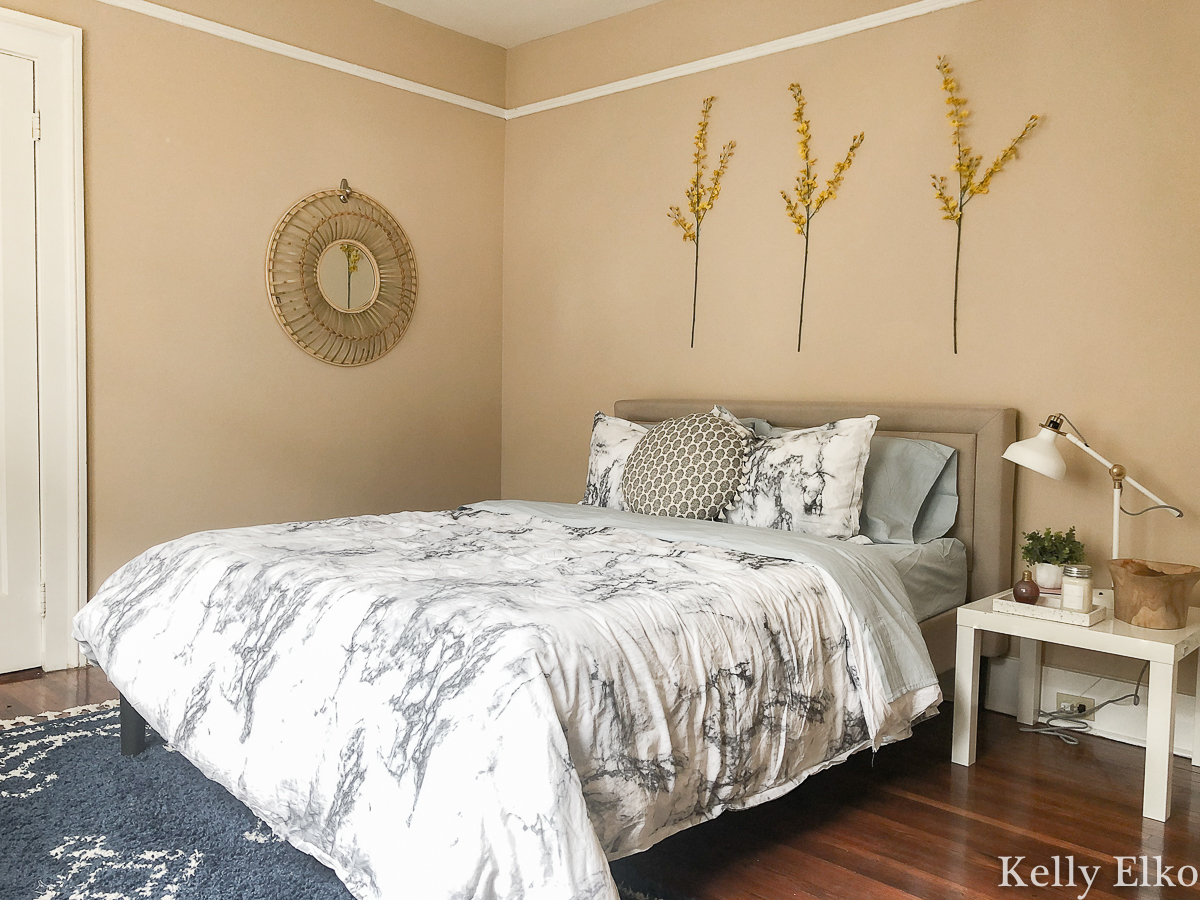 The bathroom is tiny so we added this over the toilet shelving unit. Can you believe both of my girls chose the same tassel shower curtain? Everything in this space came from Bed Bath & Beyond right down the the little bottle of Poo-pourri!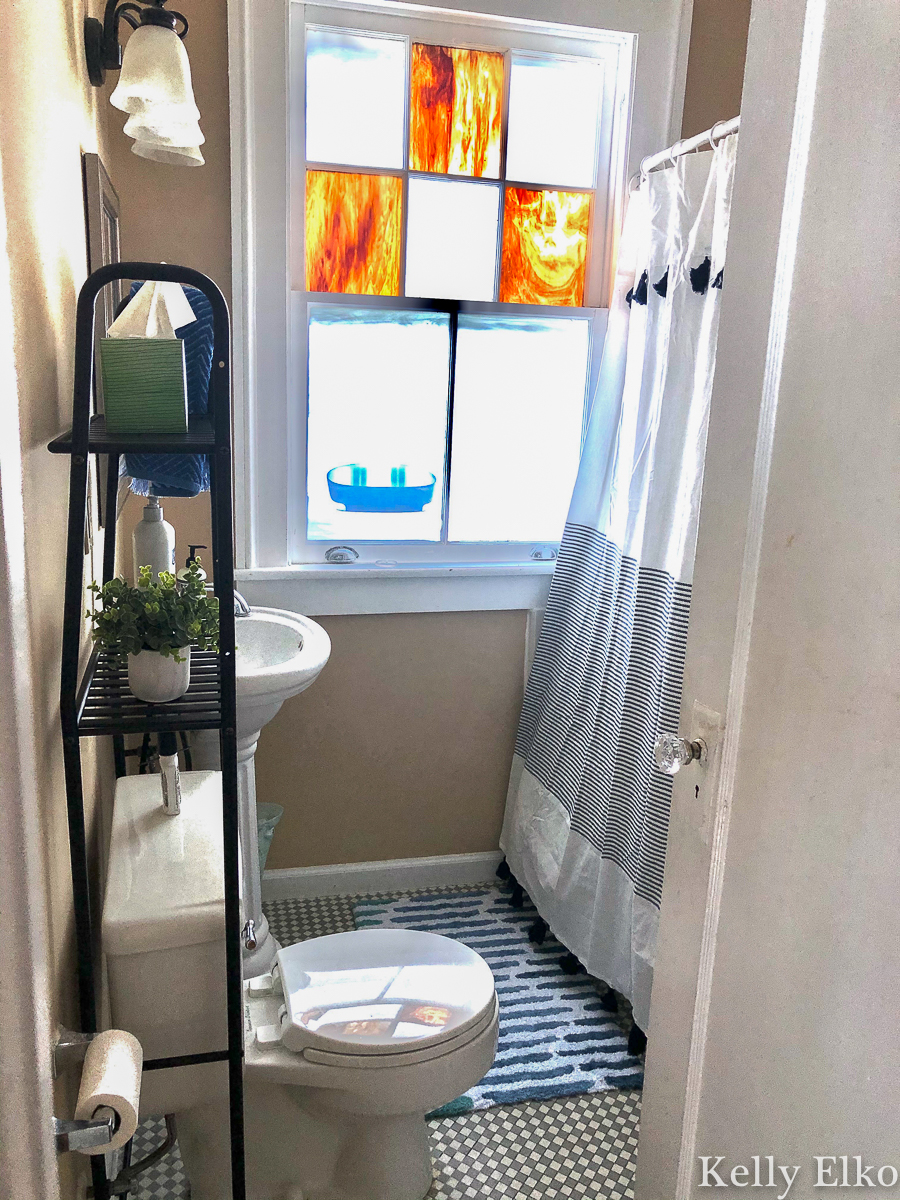 The sunroom makes me feel like I'm up in a treehouse and it's the perfect workspace for the girls. I ordered simple white tables (less than $40 each at Ikea). We searched locally for comfy desk chairs but couldn't find anything so we ordered these pink velvet chairs which will tie in nicely with the throw pillows in the living room.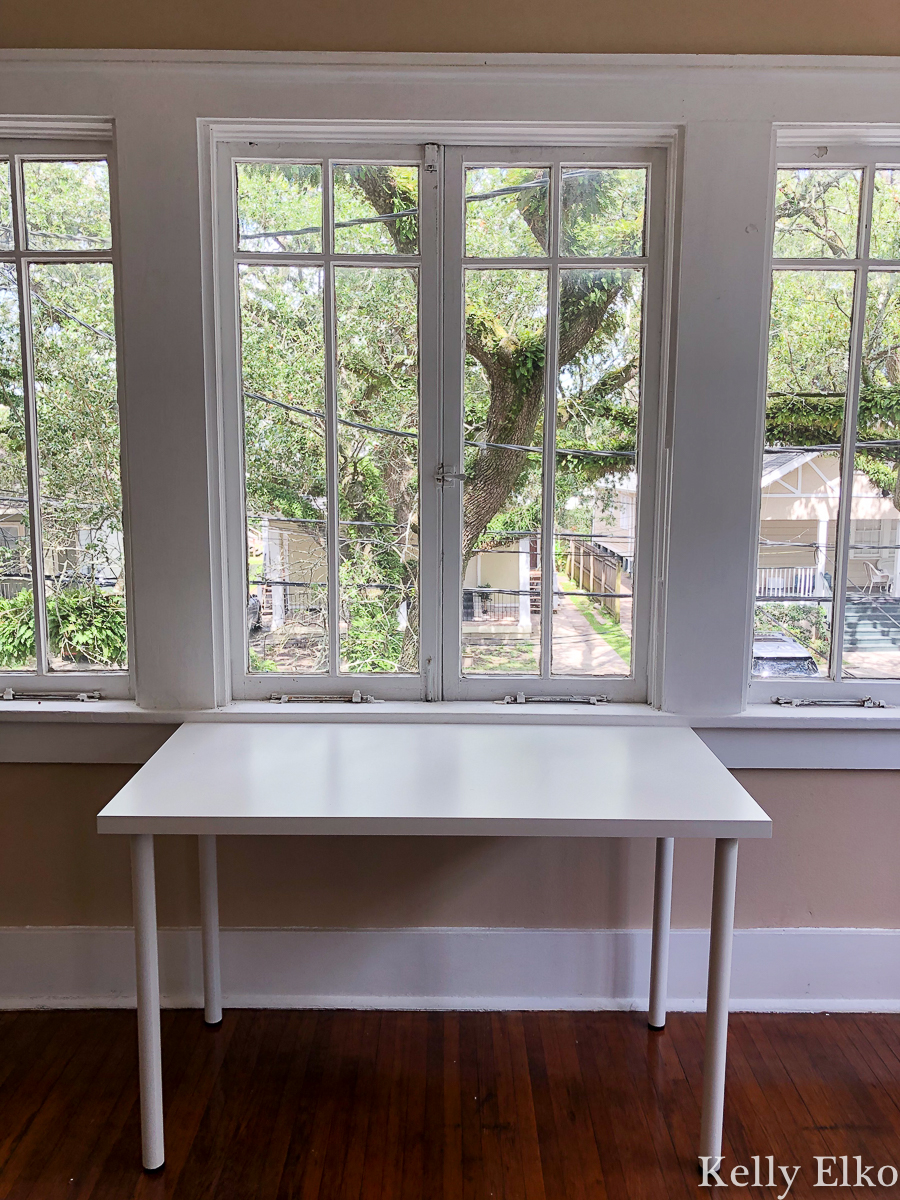 You can catch a glimpse of the futon they had in their dorm room and it's the perfect spot to sit and remove their shoes when they get home.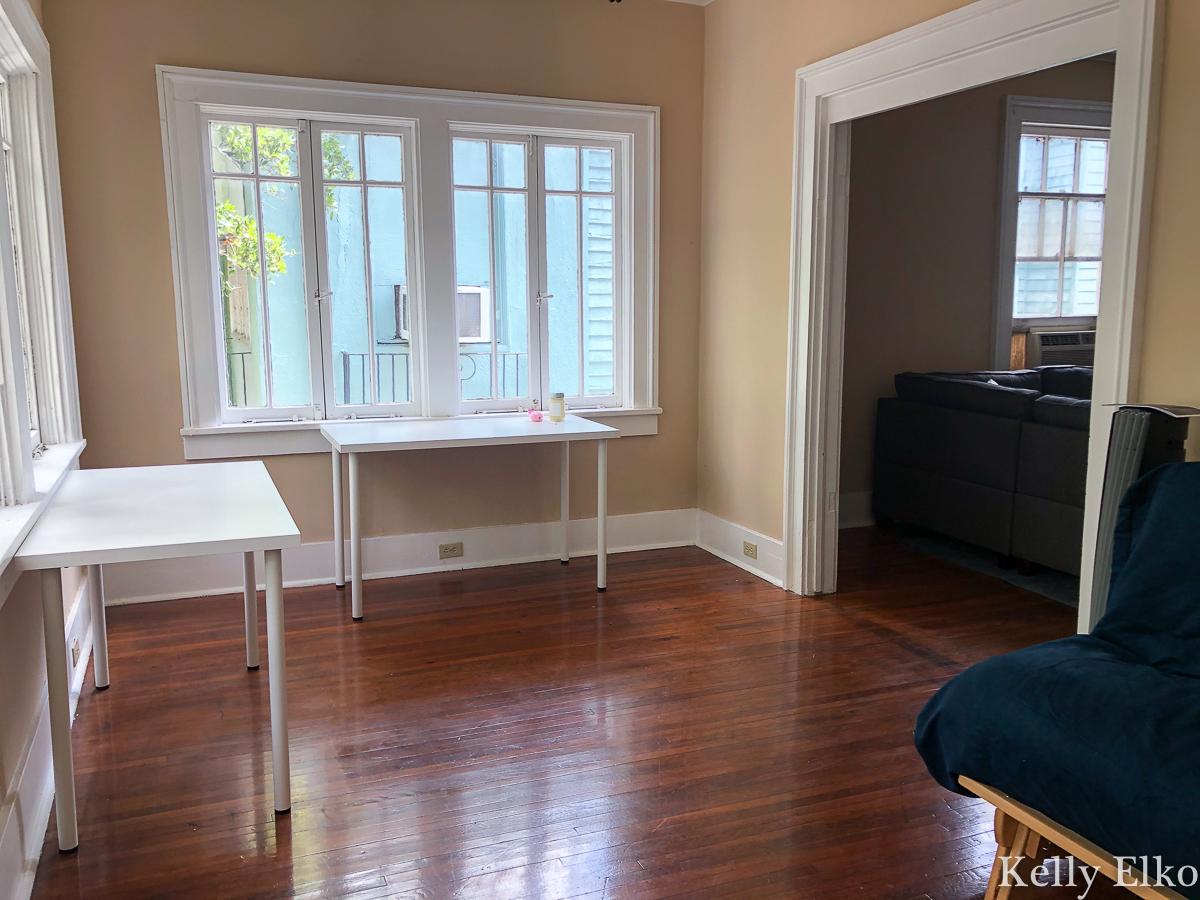 What a crazy whirlwind this was! I'm thrilled my daughter and her roommates love their new place and happy to leave them in such a cool space where they can add their own personal touches.
In two years, when the girls graduate, we plant to sell all of this and recoup some of the money we spent.
For safety, we got this keyless entry lock so the girls don't have to worry about losing their keys.
For the kitchen, we stocked it with this affordable set of cooking utensils and gadgets, this set of nonstick pots and pans, and this set of cutlery that are all budget friendly.
Don't worry, I haven't forgotten about my other daughter! Her apartment came fully furnished which means all we had to do was bring bedding and bathroom stuff and some kitchen supplies. She and her three roommates created a shared list of all the necessities and checked off items each would bring so there was no repetition. They plan on making the decorating decisions for the shared spaces together.
Now I'm officially an empty nester again. I'll be in the corner crying ugly mom tears!
Shop the Look – just click the pics below